Latest Updates: Kashmir Season Sees A Dramatic, Positive Start!
Share this story
Latest Updates: Kashmir Season Sees A Dramatic, Positive Start!
Category News
By Aswati Anand
2017-07-07
After a long heave-ho, our Kashmir season finally begins! As I write, trekkers for Kashmir Great Lakes and Tarsar Marsar would be arriving in Srinagar. I can hear our Ground Coordinator Vishnu, speaking to them, and coordinating their travel to our base in Srinagar.
As always, Kashmir season is never short of being eventful for our staff.  This is how equipment for Kashmir was loaded in the truck from our Dehradun office: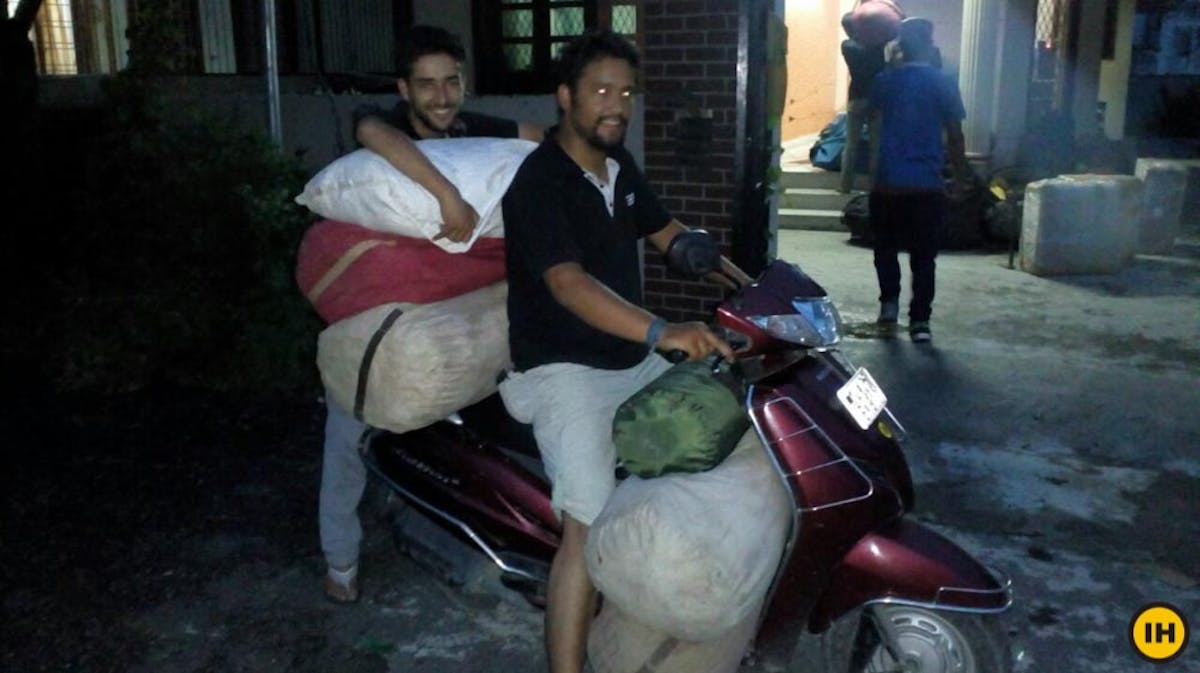 A little behind the scenes into Operations. Apologies for the bad picture quality!
Our Dehradun office is in a narrow lane where a big truck can't come in. Loading equipment, transferring it to the main road on a two wheeler was a mountainous task, considering we are talking about tonnes of equipment. Add to it heavy rain. It was an event by itself! 
Our Trek Leader Venkat and mountain staff member Munna left Dehradun in a truck with all the equipment on July 3rd. They reached Srinagar last night (6th) at 10 pm.
To give you some perspective, they should have been in Srinagar by 5th morning. It does not take more than 30 hours from Dehradun to Srinagar. The transport was planned in such a way that it would have given our staff enough time to prepare equipment for the treks.
Yesterday, the truck was just 10 km away from Srinagar around noon. They were stopped at checkpost and made to wait until 9 pm to be allowed to go. This wasn't the only checkpost they were stopped at.  Our Trek Leader and staff now have stories of sleeping on the road on a mat, waiting to be told they can go ahead!
Once they reached Srinagar base yesterday, it became a madhouse.  Our staff ran about, unloading equipment, segregating it for set up for both Kashmir Great Lakes and Tarsar Marsar trek. After this long road journey, Venkat will be leading the first batch of Tarsar Marsar.
There is going to be a curfew tomorrow–so tomorrow's batches of Kashmir Great Lakes and Tarsar Marsar will be moved during the night as recommended by the Army.
These kind of stories and hurdles our staff face are not new. We have a lot of stories from last season of Kashmir to give you an understanding of how operations are run there.  I have written down one of the stories, from one of my best friends here at Indiahikes, Lakshmi.  It will be up on the website soon!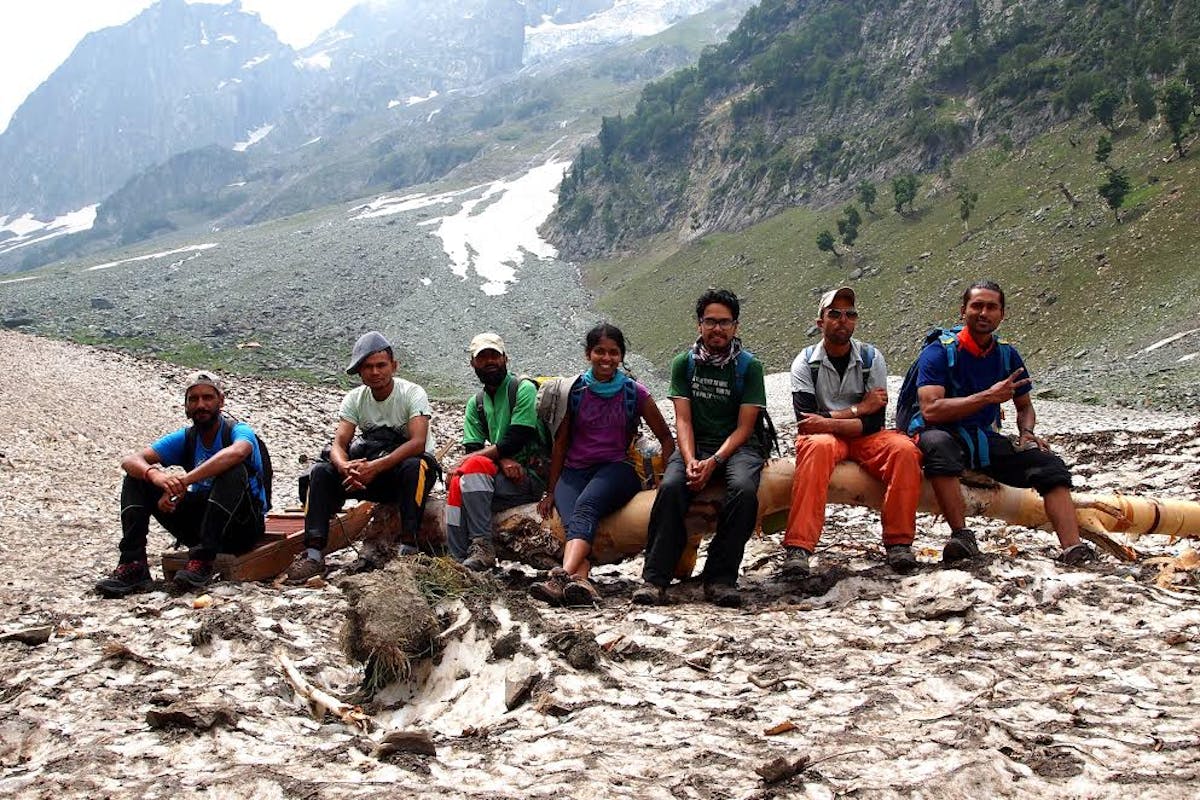 A happy picture of the staff from last season of Kashmir. This is a trek they did during one of the off-days.
Tips to gear up for monsoon treks
I had mentioned last week that Swathi would be making a video about handy tips for monsoon trekking. Trekkers going to Hampta Pass, Bhrigu Lake and Valley of Flowers will especially find this useful. You can watch the video here!
Speaking of monsoon treks, here are some updates from our running treks.
Updates from our Himalayan Treks
Hampta Pass
Last week's batch got lucky with the weather. They saw little rain on first two days, and clear skies on other days! Microspikes are still required for the Pass ascent. The rainy season has made the Shea Goru camp in the dry Lahaul Valley bloom with vegetation as well.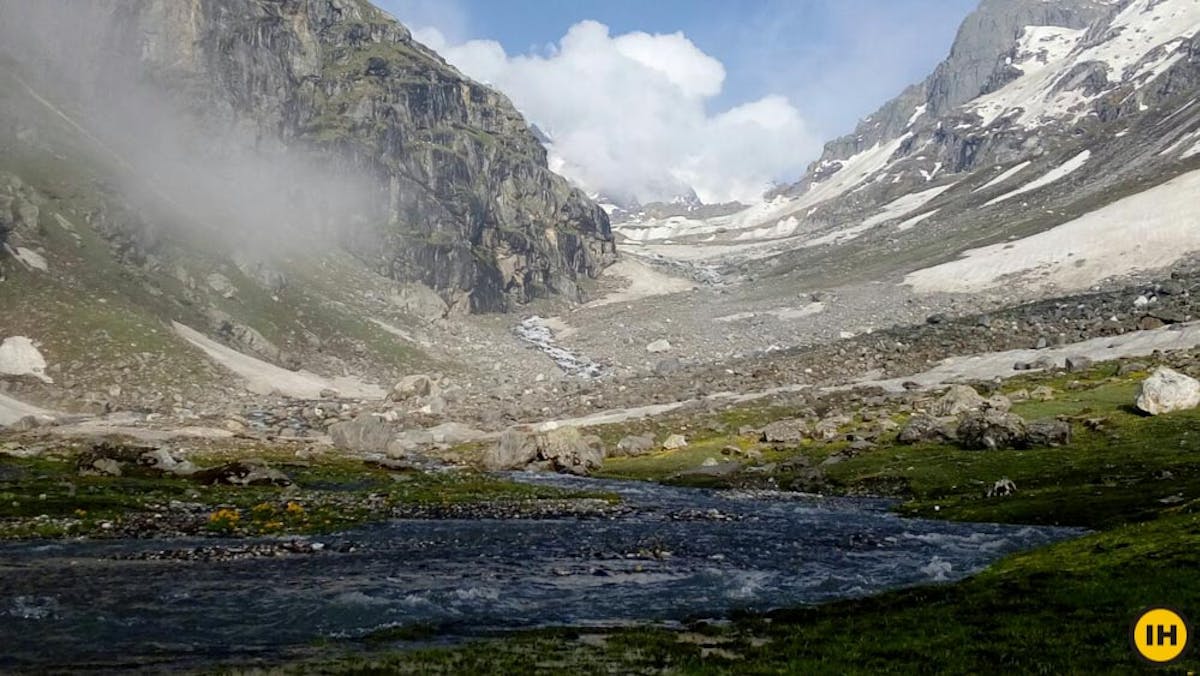 Balu Ka Ghera campsite. Picture taken by a trekker. Our Ground Coordinator Prathima sent this in.
Here is what our trekker had to say:
"Totally loved every moment of the trek! All the campsites were way beautiful. Every experience from climbing in snow or crossing ice-cold river or eating under the stars or sleeping by the river.. every experience was absolutely worth the wait.. Indiahikes staff have been wonderful. From Trek leader Aashay and Vineet to guide Tara bhai and other supporting staff like Deepu bhai. I would like to thank each and every one from the team for making this trek memorable." – Indu Teotia, June 2017 batch
Bhrigu lake
The skies were mostly cloudy for the last week's batch of Bhrigu Lake. The nights see a lot of rain. While that puts a dampener on star gazing plans, the mistiness lends a surreal feeling to the trek. "Personally, I find the trek more beautiful like this. The meadows are lush green! There is snow on the last 5 minute stretch of the lake, and the lake is clear," our Trek Leader Arvind told me.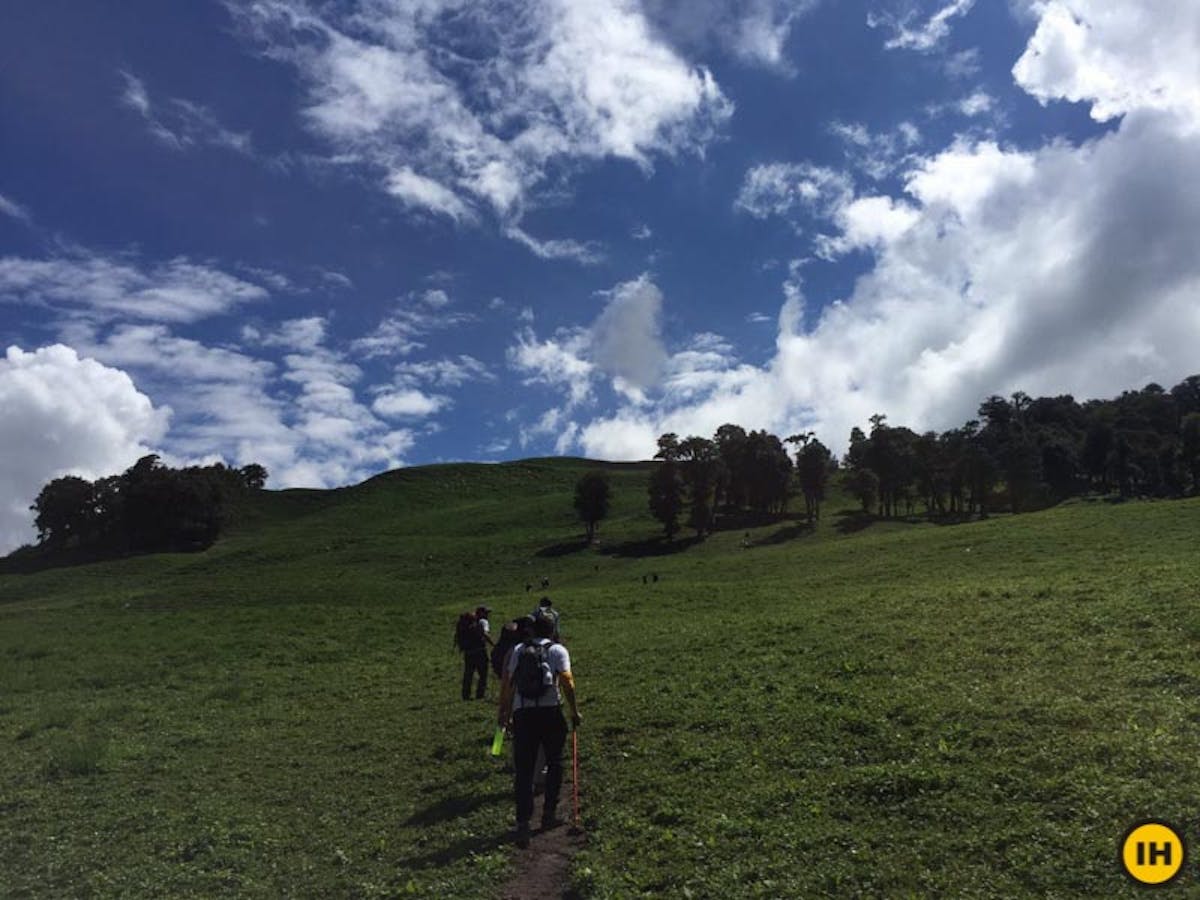 The lush green meadows of Bhrigu Lake.
Here is what our trekker had to say:
"Our Trek Leader was Arvind Kumar and supportive guides were Dholu Bhai and Charan Thakur. The trek leader was  a great company to be with. Words will fall less if I describe the guides. If Thakur Sahab wasn't there I doubt if I would be able to complete my trek.
The level of convenience and food Indiahikes provides at such altitude is incredible. The cooking staff was commendable as well . The Green Trail initiative started by Indiahikes is appreciable. It should be brought under the notice of more and more people to avoid depletion of our beautiful mother earth." – Himani Agarwal, June 2017 batch.
Like most of our treks this season, Nag Tibba also saw fog and cloud. However, look at the pictures form this trek!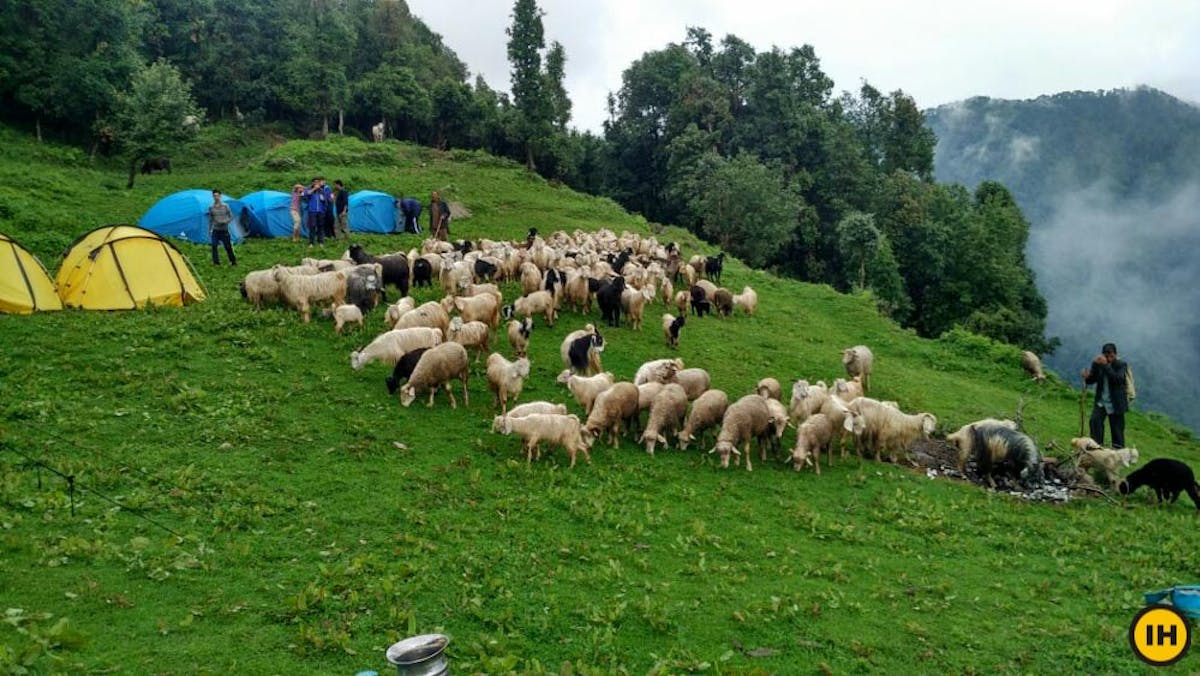 A herd near Nag Tibba base.
Here is what our trekkers had to say:
"The experience was amazing. The best part about this trek was the food. Generally the food served in mountains are not very satisfying but the food provided by the team really satiated me. Also, it was my first trek and the trek leaders took great care of every trekker. Honestly, one can travel alone with the team you make up, be it of any gender. It is safe and secure.  Thanks for this amazing experience and a great taste of high altitude. I would love to travel with Indiahikes again." – Anupriya Sachdeva, July 2017 batch
Last, but certainly not the least, let me talk about Dayara Bugyal. We ran Dayara Bugyal as an alternative for our Chaainsheel trekkers.  Since there was going to be a lot of rainfall in the area, we had our Chaainsheel trekkers shift to Dayara Bugyal. The Trek of the Year Chaainsheel batches moved to September, when rain is not likely. We will be announcing dates for Chaainsheel in September soon.
Dayara Bugyal is an old favourite that we go to for IIM Mountain Challenge Program. It was a lovely slope to return to in this season. Here are some pictures from our Trek Leader Venkat that made us green with envy!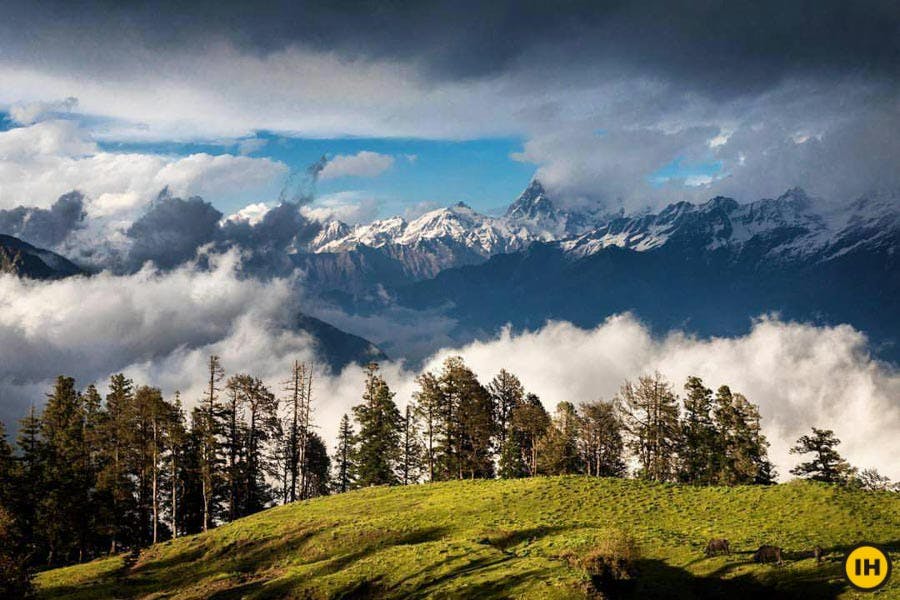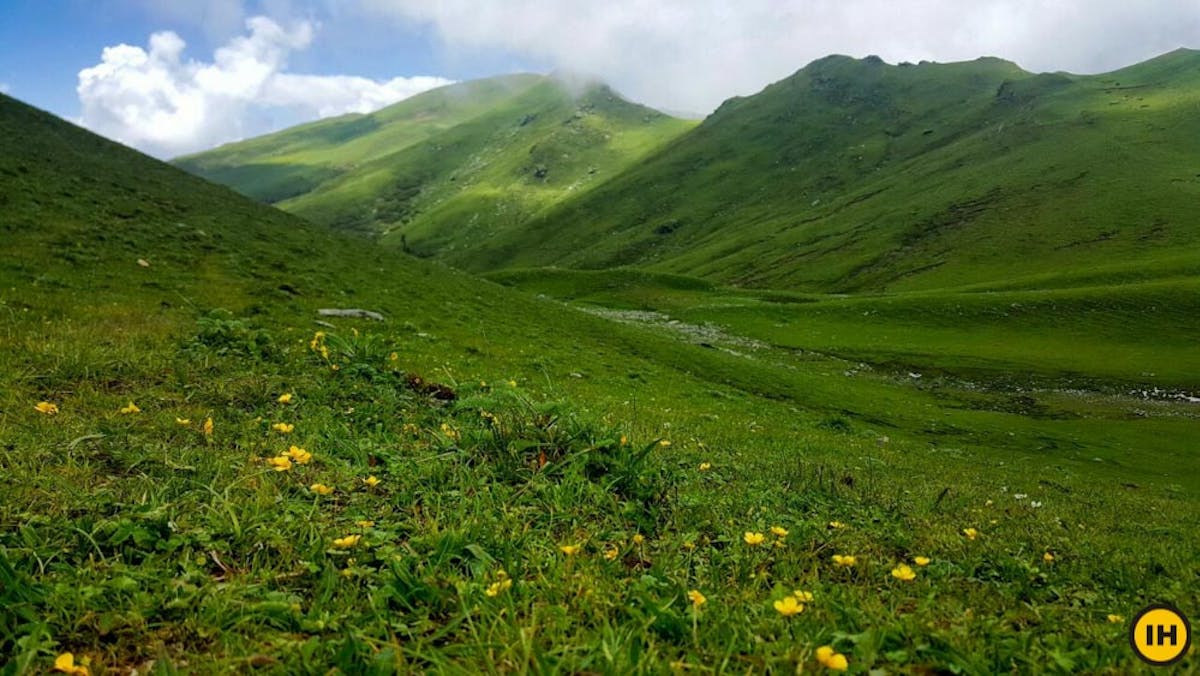 Wildflowers blooming!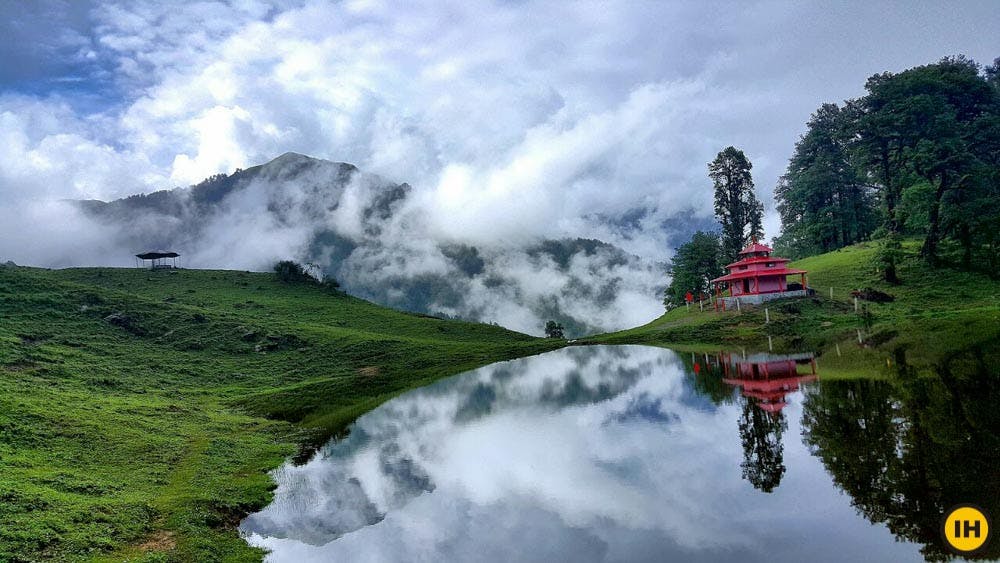 Here is what our trekkers had to say:
"This was my first trek with  Indiahikes and I must say that I had the most amazing time with the group of 21 other trekkers who finally made me feel like a family and helped me to complete the trek with a lot of positivism. I enjoyed the nature and felt more closer to mother nature. The team of people leading the trek were amazing. The credibility of having a positive and a cool mind frame goes to Venkat sir who lead the team. The kitchen staff was amazing and it was a treat to get hot food high up in the mountains. The Indiahikes team looks after the health of each and every trekker and gives them advise for their well being and health. I loved the green revolution concept in the trek which made us aware of keeping the country and the nature clean.Would love to be on a trek with India hikes and be close to nature and try and discover India at its best.Kudos to India Hikes for the best trekking experience." – Anjali Jayant Bhatia, June 2017 batch.
We are running this trek again in December! Check out our dates for December here.
Green Trails updates
Before I end the updates, I'll talk a little bit about the wind up of our big season. 2511 kg of waste has been stripped off the Roopkund slope this season. That is about 300 kg more than last year.
Our Assistant Trek Leader Ashish, who took the waste down to Dehradun landfill, has a message for everyone. 
Watch what Ashish has to say here.
Congratulations to all those who are involved in keeping the Himalayas clean. May the mountain gods be with you!
Stay tuned to our website for more updates.
Sign up for our much loved Weekly Mailer
We have terrific trekking tips, trek updates and trek talks to look forward to