Monsoon Treks Set To Begin Amidst Heavy Showers
Share this story
Monsoon Treks Set To Begin Amidst Heavy Showers
Category News
By Aswati Anand
2017-06-30
The season for monsoon trekking has begun. Our slopes are taking the brunt with heavy rains!   I would suggest all our trekkers to get their rain gear. Don't forget your ponchos and backpack covers. Cover your belongings inside your backpack as well.
My colleague Swathi is working on a video which will give you a few handy tips for monsoon trekking. If you are wondering how monsoon affects Himalayan trekking, do give this article by our founder Arjun a read. 
Now, let me talk about what has been happening on all our slopes. 
Updates from our slopes.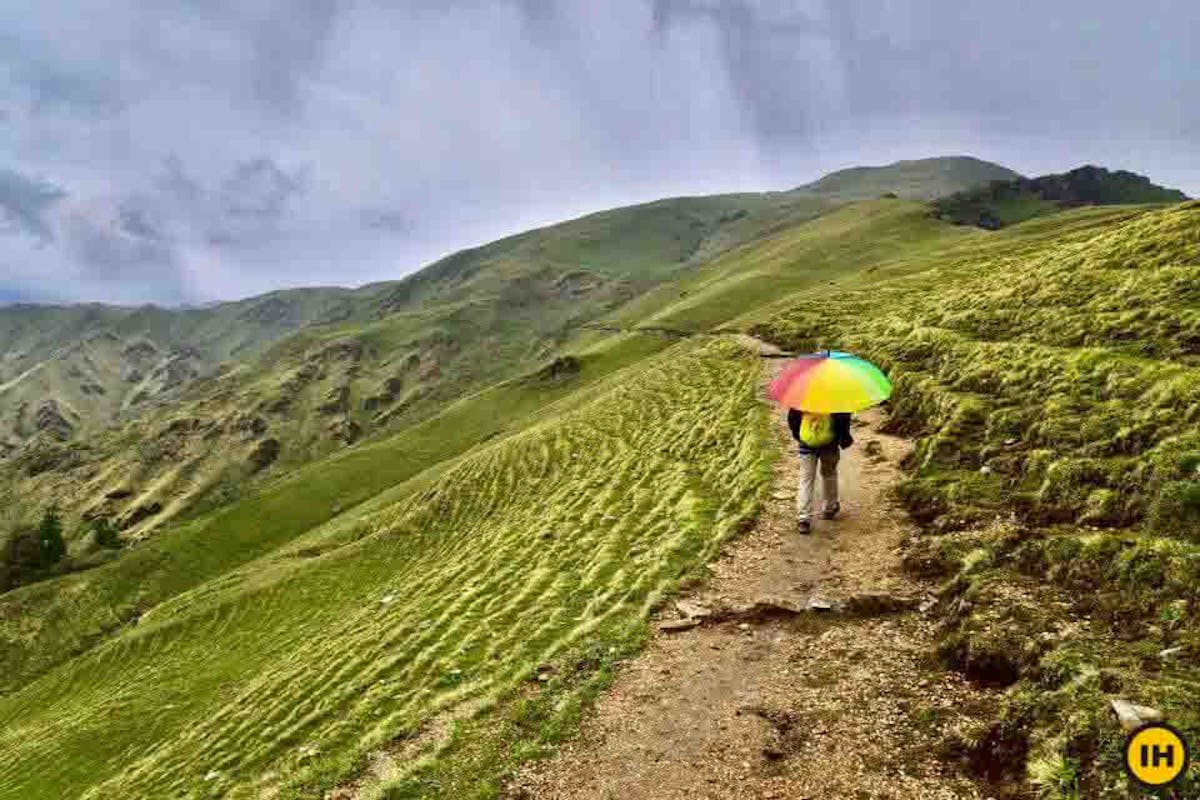 The trail from Bedni to Pathar Nachauni.
The last batches of Roopkund are currently up on the slope, enjoying the last of the summer as monsoon begins. While the last crop of batches have been facing heavy rain on the slopes, this is what they had to say about the trek.
"From the trails in jungle, the biggest bugyals I've ever seen, the windy Patar Nachauni to the
snowy and rocky Bhagwabasa, it was a treat for my eyes to witness nature's beauty. 
Everyday was a new day, a new adventure. Making to the top of the Junargali, was a once in a lifetime experience and a magical moment for me.  
The staff at Indiahikes, is simply astounding. Approachable, knowledgeable and humble 
throughout. I am very thankful to all the staff at all the campsites for making sure 
the trekkers feel comfortable. The food especially, was delicious everywhere. 
Our trek leader – Anuja Ma'am, had a strict yet approachable demeanor and watched 
out for everyone's health in the group. Safety was clearly the number one priority. 
 Definitely a leader. Had deep passion for the 
people living in the mountains and it was clear in the way she communicated with us. 
Also saw that the staff greeted her like an old friend at the campsites and that's 
evident enough for a leader. I am from an Army background and I must say, her grace 
is like an Army Officer. – Jaspal Singh Dhillon, June 2017 batch
A lot of interesting things have been happening at Lohajung. Yesterday, our team at Lohajung joined the Forest Department in planting saplings around the village.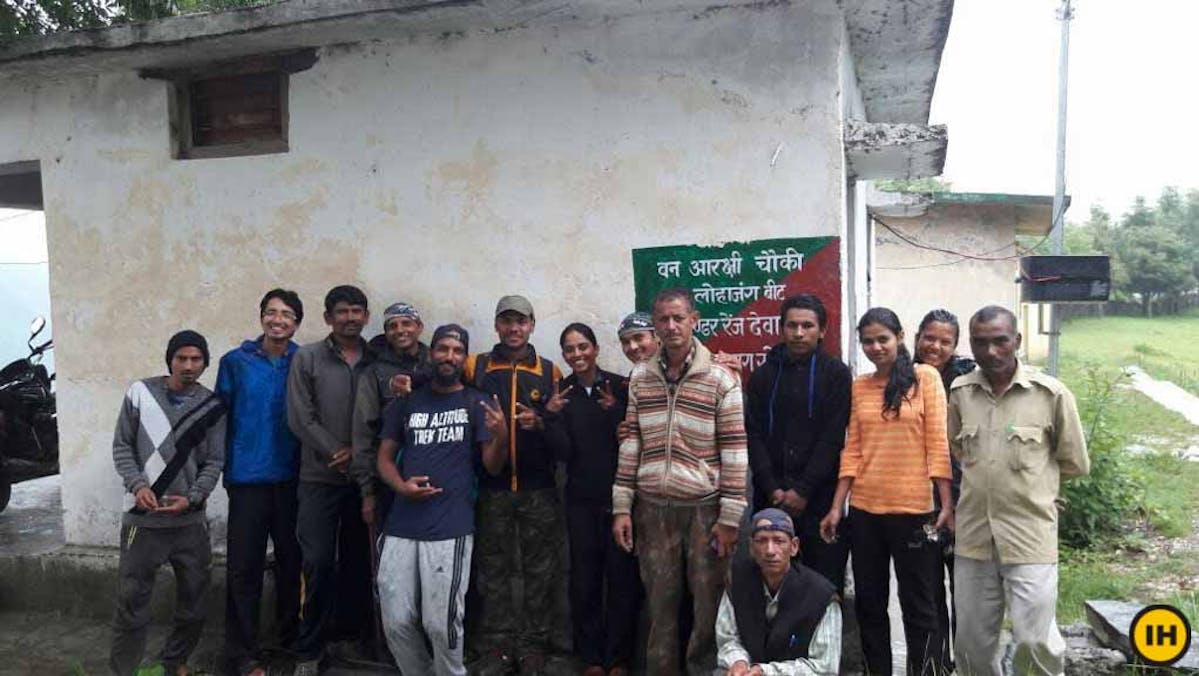 At the end of the plantation drive, here is a group picture of our staff, volunteers and Forest Department staff.
Not just that, with the Bottle Bricks the students of school and staff have made, there is now a bench in Lohajung! Have a look!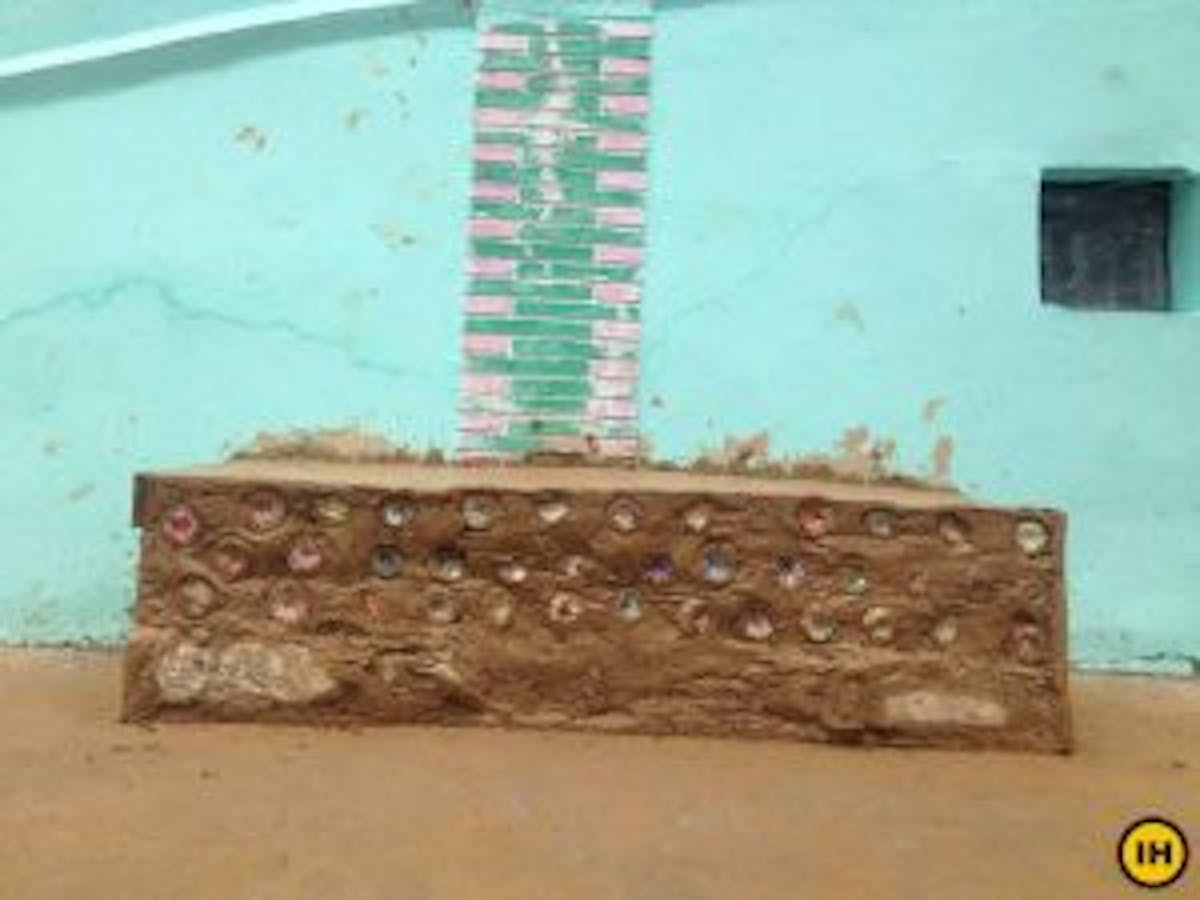 The bench at Lohajung made from Bottle Bricks.
Our interns have also been trying to switch the village women in Lohajung to the more eco-friendly cloth pads. We have been getting good reviews from them.
Let's hope Lohajung will switch to more eco-friendly and sustainable ways of living!
If you are interested in the kind of Green Trails work we do, I have good news. We are looking for interns with specialized skills to take our work forward. Read our requirements here and apply to lakshmi@indiahikes.com
The season is wrapping up here at one of our oldest base camp Lohajung. We will be back here in September–when the skies are crisp and clear, and meadows are golden!
The last batches of Rupin Pass are on the slope as well. While the rain has played spoilsport on clear views, it still makes you want to run back on the slopes!
Here is what our trekkers had to say:
"It was an amazing experience. That the trek is a beautiful one is a well known fact but to be able to enjoy the beauty, the kind of atmosphere  needed was created by your team. Geet , Manoj and Ravi – what to say, not once did any of us feel even a little "iffy" about anything – we knew if there was a concern, one of them would handle it. Not to forget the technical team on the day of the summit, though the gully looked daunting, we knew they were watching out for us and our only job was to enjoy the climb. Geet is an excellent trek leader – to be able to make people listen to you and at the same time not offend anyone – its a rare talent and perhaps one of the most important one for a trek leader.  Must also mention the Green Trails effort – it is one of the things that made me choose Indiahikes in the first place and will make me stick around with you guys. Loved the fact that we were asked not to shout once at the Pass and that we stayed a little below the summit top as a respect to the mountains. Thanks guys for making it possible for me to enjoy this trek to the fullest. Keep up the good work ! Hope to trek with you again and soon !— Radhika Gautam, June 2017 batch
On Green Trails front, 150 sacks will be brought down from the Rupin slope. This is the waste that has collected from Rupin Pass, along with Kedarkantha and Har Ki Dun. We will be sending it down to Waste Warriors. Shout out to Waste Warriors for the incredible work they have been doing up on the mountains!
Rupin Pass wraps up this week. We will be back to this grand adventure in September. Here is an article that tells you why you should be here in the second season. Give it a good read.
Meanwhile, in the parallel valley of Buran Ghati, the season wraps up tomorrow with last batch's arrival to Baruva. We will back to this beauty in September!
Now, the big monsoon season of Hampta Pass begins! Manali is seeing huge traffic jams. We strongly recommend our Hampta Pass and Bhrigu Lake trekkers to reach a day early to avoid getting stuck in the traffic jam and missing their trek.
The Manali Base camp is preparing for a the big season: they are going to be buying ration for the July season of Hampta Pass, Bhrigu lake, Kanamo Peak, and Pin Parvati.  They are getting  the Forest Permissions done as well.
Our staff is back from recce of Pin Parvati in the village of Mudh. This is where Pin Parvati trek starts and it's sister trek Pin Bhaba ends. Have you read Arjun's article about which of these you should do? If not, read it here.
As for the currently running Hampta Pass and Bhrigu Lake, both treks are seeing heavy rain. The last week's batch actually saw white outs on this trek!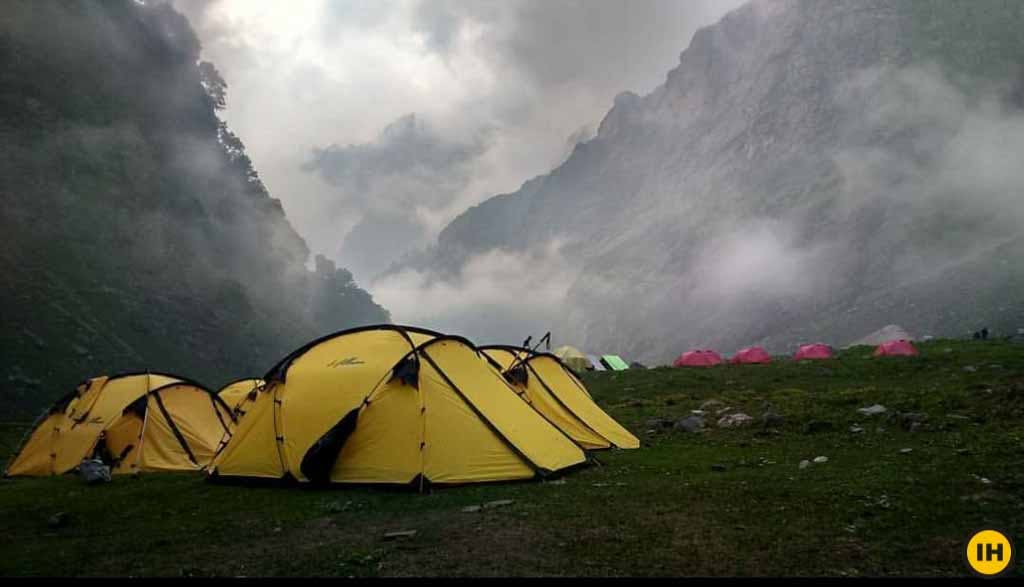 Here is what our trekkers had to say about Hampta Pass:
Doing a trek is a life-affirming experience. It is not just about soaking in the bounteous beauty of nature but getting to know about yourself and your reciprocation to nature and fellow beings. The path to self-realization began right from the moment our Ground Coordinator's demand for proof of fitness began to sound more serious. IH's insistence on the pre-trek fitness of every trekker is a move worthy of appreciation. I started walking/jogging and it brought in a sea of difference to my overall wellness. I began to be conscious of my diet and sleep patterns as well. (All this was just a month in advance, but worth the effort.) And I want to ensure that I continue it…So thanks to IH for being the catalyst in my fitness routine. Then comes the actual journey…the trek itself. At the very outset, I have tremendous gratitude and respect for our Trek Leader Gurdit Singh, Thakur ji and Shyam ji (our alternating sweeper and pilot and all time motivators) and of course the entire team of kitchen staff and helpers. But for them, the trek would not have been the same. The Pass day brought us all together in ways no one could have imagined. The inclement weather outside warmed us within and everyone kept looking out for each other. Thank you, IH for your conscientious effort in organizing treks and meticulous execution. –Shruti, June 2017 batch
On Green Trails front, the entire manpower of Manali base camp– staff, Green Trails interns– along with Mahila Mandal Pradhan, some villagers and kids cleaned up the village of Jagatsukh. Jagatsukh is the village that our base camp is close to.
We collected about 240 kgs of waste around Jagatsukh! Out of which, 48 kgs were recyclables. These recyclables have been given to the kabbadiwala. The waste was segregated with help of villagers and was taken down to a landfill near Manali. Good job everyone!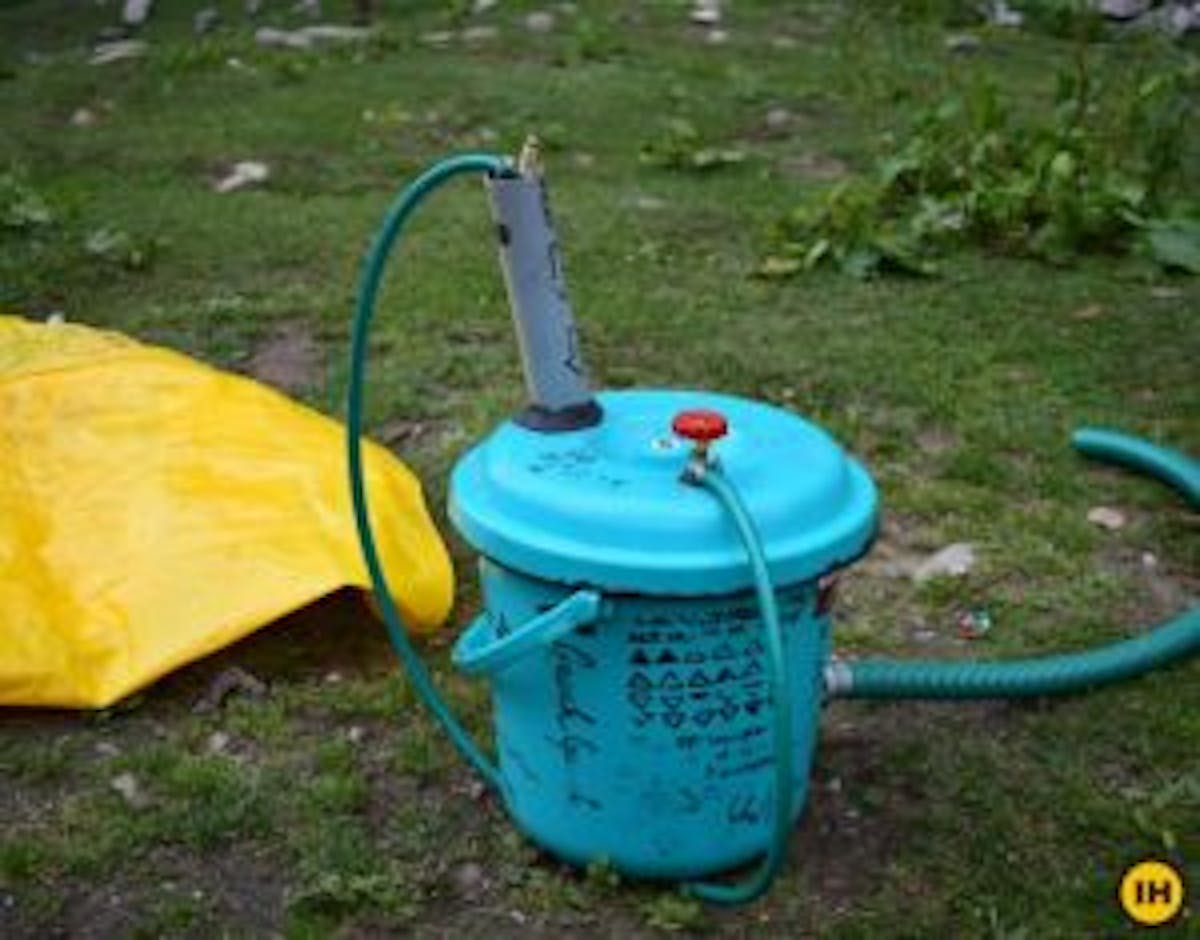 Our bio-digester design for Hampta Pass.
We have also come up with an initial design for a bio-digester for Hampta Pass trek. Our interns are going to be working on connecting our toilets to the bio-digester. The objective of the bio-digester is to handle the human waste on our treks more effectively. 
A lot of our Green Trails work is possible because of the wonderful trekkers we get. Our Green Trails intern Ori wants all of you to take it a notch further. Read his guide on keeping the Green Trails Spirit alive at home!
Also, our Trek Leader Tanmay has just come back to the Base after four explorations. We will be having those documentations on our website soon!
Other updates
Our Kashmir season is set to begin next week. Our base at Srinagar is already stocked and ready for our trekkers. Our staff will be moving there after wrapping up our Roopkund, Rupin Pass and Buran Ghati seasons.
I have a very interesting story from the last season of Kashmir to share with you all. It is from our Green Trails Head Lakshmi's perspective. It was about the time when we had cancelled the batches and our staff was stuck inside the base during curfew. It sums up what we all feel about this beautiful, volatile state. It will be up on our website in a few days. Keep a look out!
Before I end the updates, I want to talk about feedback that you all give us. Karishma joined our Content Team a month ago. She has written a very insightful article on how feedback is handled in our organisation. Quite a feat for someone who is a month old at Indiahikes! It takes time for someone to understand our madhouse– four to five months sometimes. I took two months to settle in.
The article is a must read– simply because the next time you give us a feedback, you know your words are being heard, debated, and possibly implemented as a new process.
Stay tuned to our website for updates!
Sign up for our much loved Weekly Mailer
We have terrific trekking tips, trek updates and trek talks to look forward to