9 Crowd-Free Himalayan Treks to Choose during Covid Second Wave
Share this story
The second wave of Covid-19 is upon us. Yet, trekkers are itching to go to the mountains. But there's one persistent question on everyone's mind — what are the safest treks in such a scenario?  
Safety is a top concern, even for us. It would be disastrous if our mountain staff were laid out by Covid. It could spread like wildfire in the mountains. So since October 2020, we have been running treks with a 31-point Covid Safety Protocol in place. This protocol ensures that the virus does not spread while you are trekking. 
Due to our safety protocols, more than 5800 trekkers have safely trekked with us since the lockdown opened. It is not a small number. And it did not happen in one go. 
It took us time to put the safety protocols in place. I must admit, the enormous amount of trust trekkers have in Indiahikes's safety systems played a part too.
Things have changed now. People are no more averse to travelling. Inter-state travelling with a Covid-negative certificate is easy now. And the crowd can no longer be organically contained. 
Here is where I come to the crux of my thought. Even though it is easier and safer to trek now, you must trek with common sense in place.  For that:
Mindfully choose a trek that's not crowded
Carry a Covid-negative certificate so that you and your fellow travellers are assured that you aren't carrying the Covid-19 virus.
I know it is easier said than done. To help you choose better, I've listed 9 treks that steer you off the crowded trails. I've spread them out in terms of difficulty and region.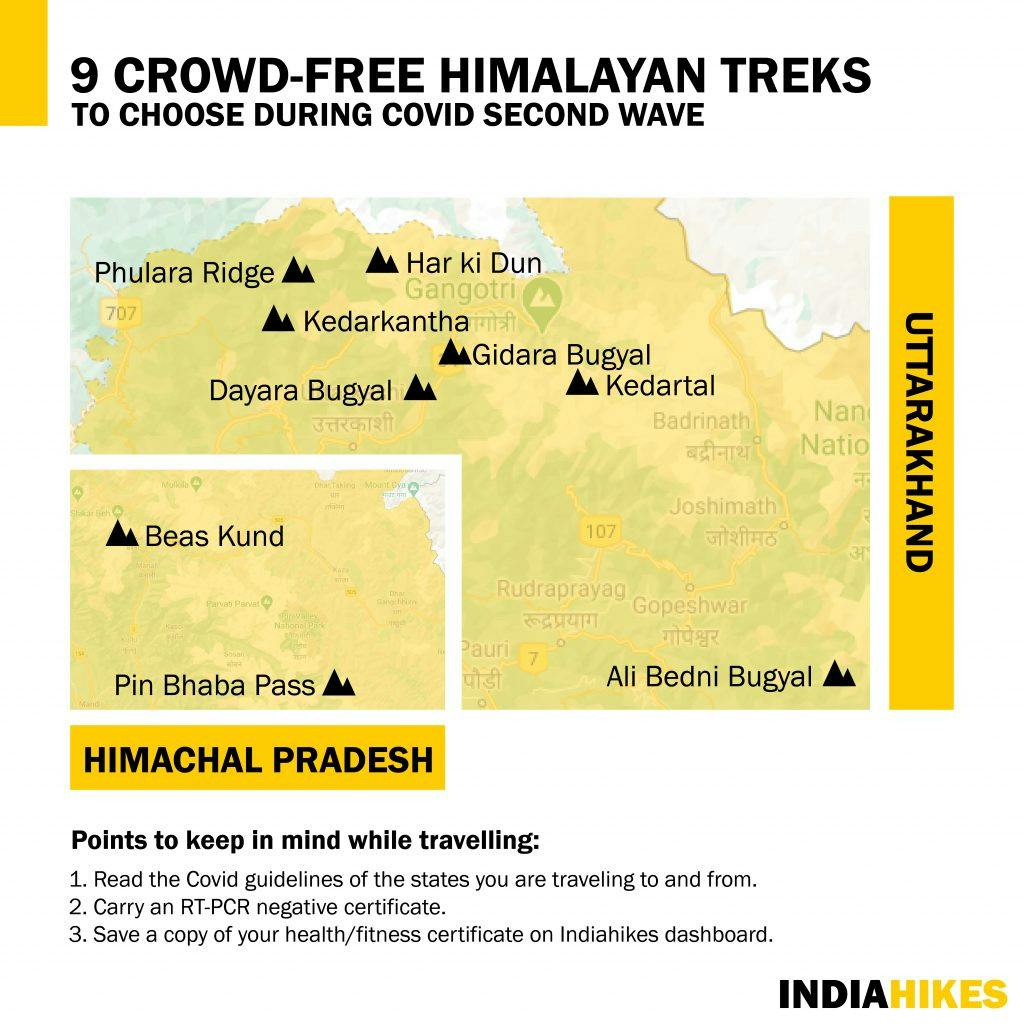 Let's get started.  
1. Beas Kund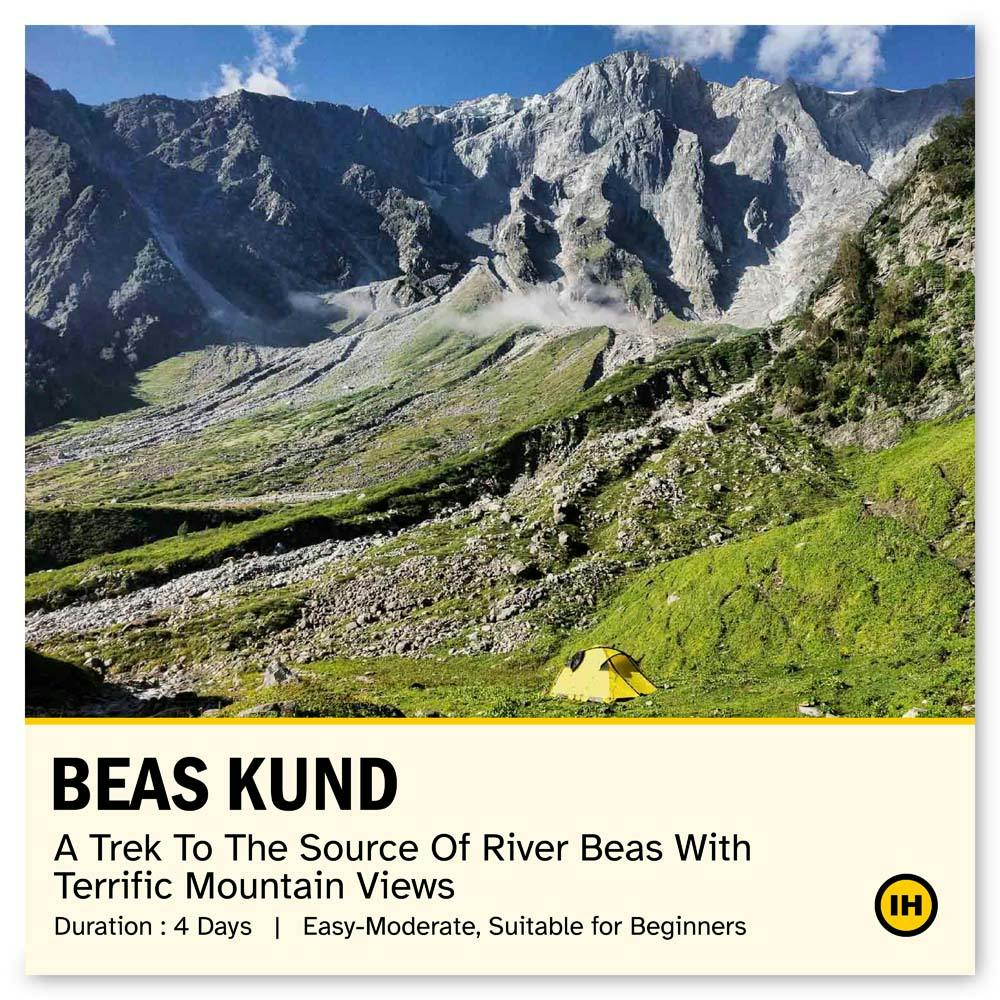 This is a trek with such minimal footfall, that it's a tragedy to see what trekkers are missing out on! 
Trekking to Beas Kund means trekking to the source of River Beas. That's ok. But what trekkers don't know about this trek is the stunning base-to-summit views of high mountains like Hanuman Tibba, Friendship Peak. 
Also, the lush greenery of the trek is something that even its neighbour, the Hampta Pass does not give.
Best for: Those starting on Himalayan treks and want to get a taste of what it means to trek around big mountains.
2. Ali Bedni Bugyal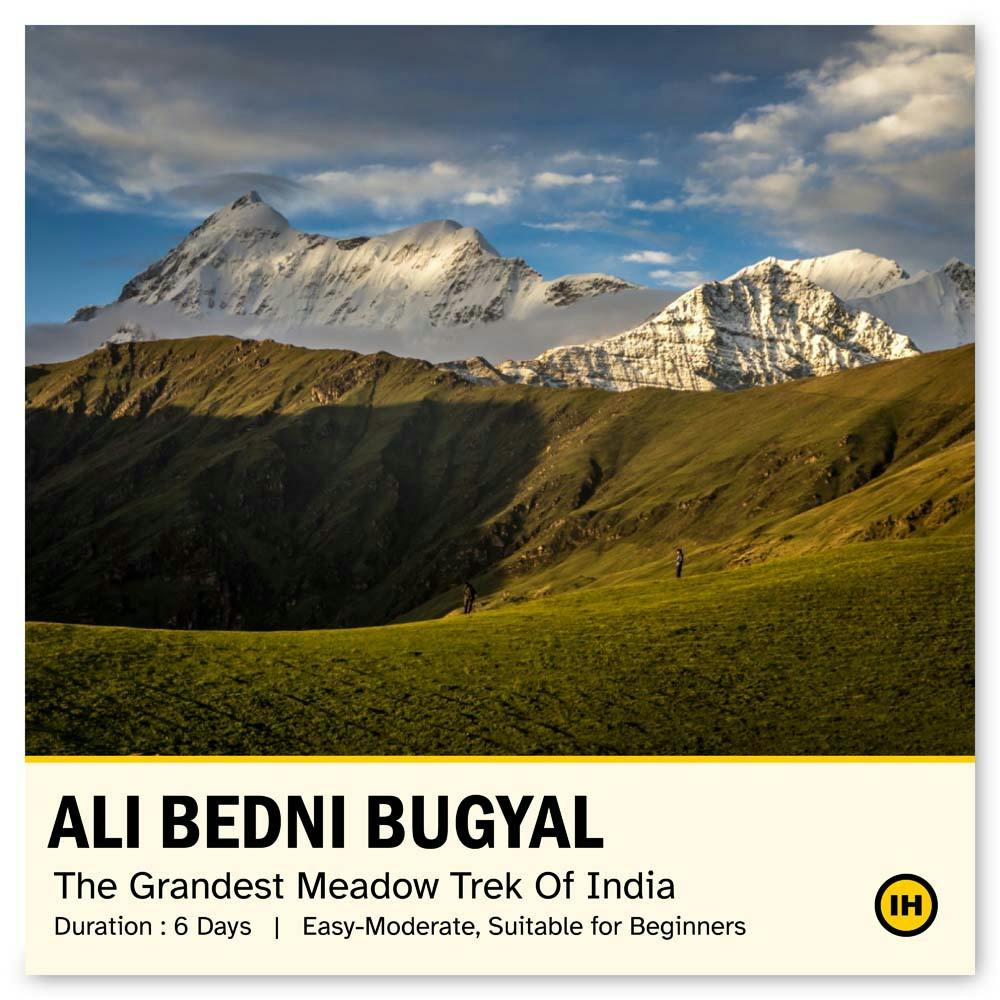 In 2018, the footfall on this trail abruptly dropped to zero. This was because the High Court of Uttarakhand suddenly decided to ban camping in high altitude meadows of Uttarakhand. (Read: High Court Order Ends Trekking in Uttarakhand). All of a sudden, most trekking trails in Uttarakhand were shut, including this trail which was part of the grand trek to Roopkund. 
Slowly, the forest department found ways to work around the ban. The state government too helped restore many of those trails that had closed. Yet, one trail never really got around to open. It was the Roopkund trek. 
While trekking to Roopkund continues to be out of bounds, it is now possible to do the grandest meadows trek in our country — the Ali and Bedni Bugyal.
There is nothing much to talk about this trek. Suffice it to say, if this trek is not in your bucket list, then there is definitely a hole in your bucket. Walking on the meadows of Ali and Bedni Bugyal with Mt Trishul and Nanda Ghunti towering over them is enough to make anyone go weak in the knees.
Best for: Again, suitable for those who want to taste what real trekking in the Himalayas is like. It does have good climbs, so do prepare before setting out.
| Note: Ali Bedni Bugyal trek is now also open for exclusive teen treks. This is our Summer Camping Trek Program, exclusively for children between the ages of 12 and 16. Read more about it here.
Explore the Ali Bedni Bugyal Trek
3. Kedarkantha from Gaichawan Gaon 
Kedarkantha from the Sankri route is one of the most crowded trails in India. But that is in winter. In summer, Kedarkantha is almost deserted, which is just what is good about the trail. 
The silent forests of the trail is what surprises trekkers. It is dead quiet in the forest, yet the colours of the forest are vibrantly alive. Trekkers have not seen such colours in a Himalayan forest. Also, look out for the clearings on the trek (they are unique to this trek). 
The 360-degree summit view is a cherry on the top. 
Best for: Do it for the forests and the clearings. Yes, experiencing a summit climb cannot be discounted as well.
| Note: If you're trekking with your family, then choose our exclusive family treks to Kedarkantha over the regular treks. Read more about it here.
4. Phulara Ridge Trek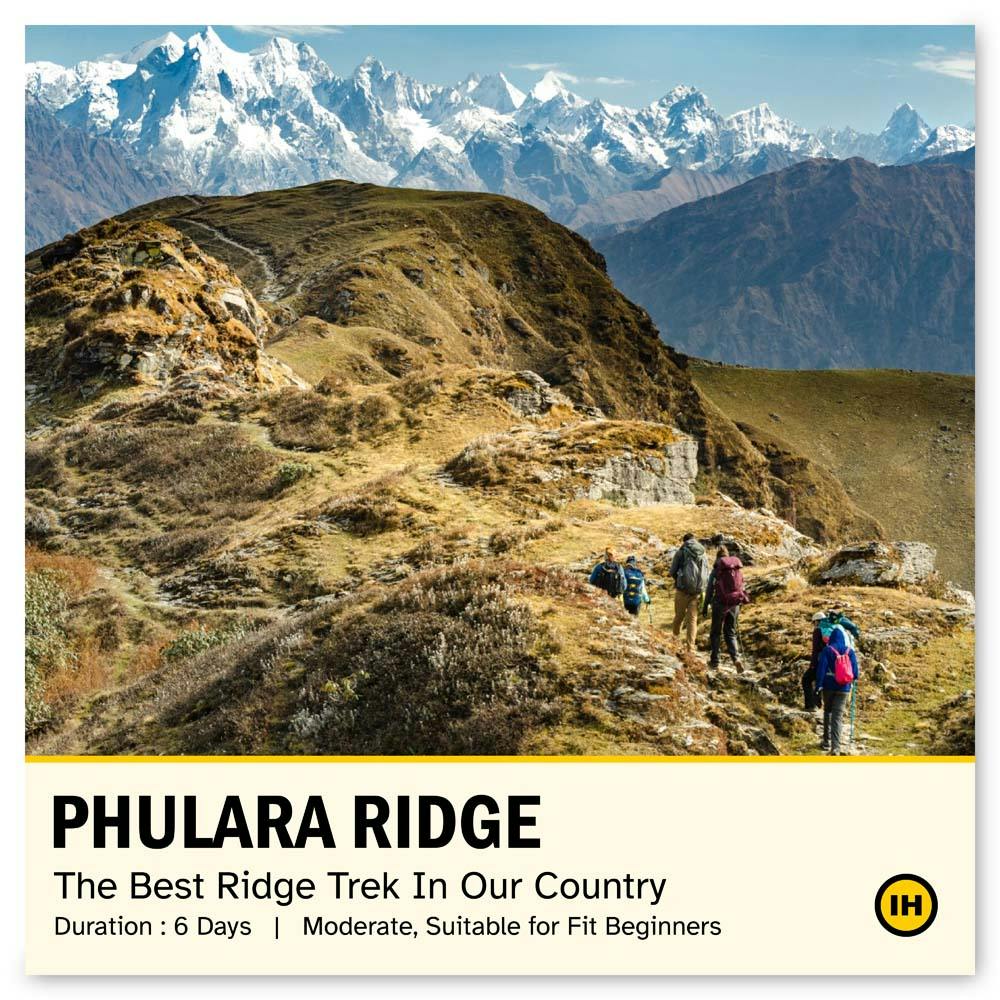 Phulara Ridge is a trek we wish we had explored earlier. In our country, we don't get treks that are ridge walks. It is extremely rare and beautiful. 
Walking on top of a ridge at 12,000 feet with snow-capped mountains running alongside you, for hours together is the highlight of the trek. I have to admit the campsite of Pushtara would be another reason. The flower-decked meadowy campsite is generally what dreamy places are imagined to be.
Best for: it is a good moderate trek. Perfect for those starting out. Yet, there are good climbs, so prepare well.
Explore the Phulara Ridge Trek
5. Har Ki Dun-Ruinsara Tal Trek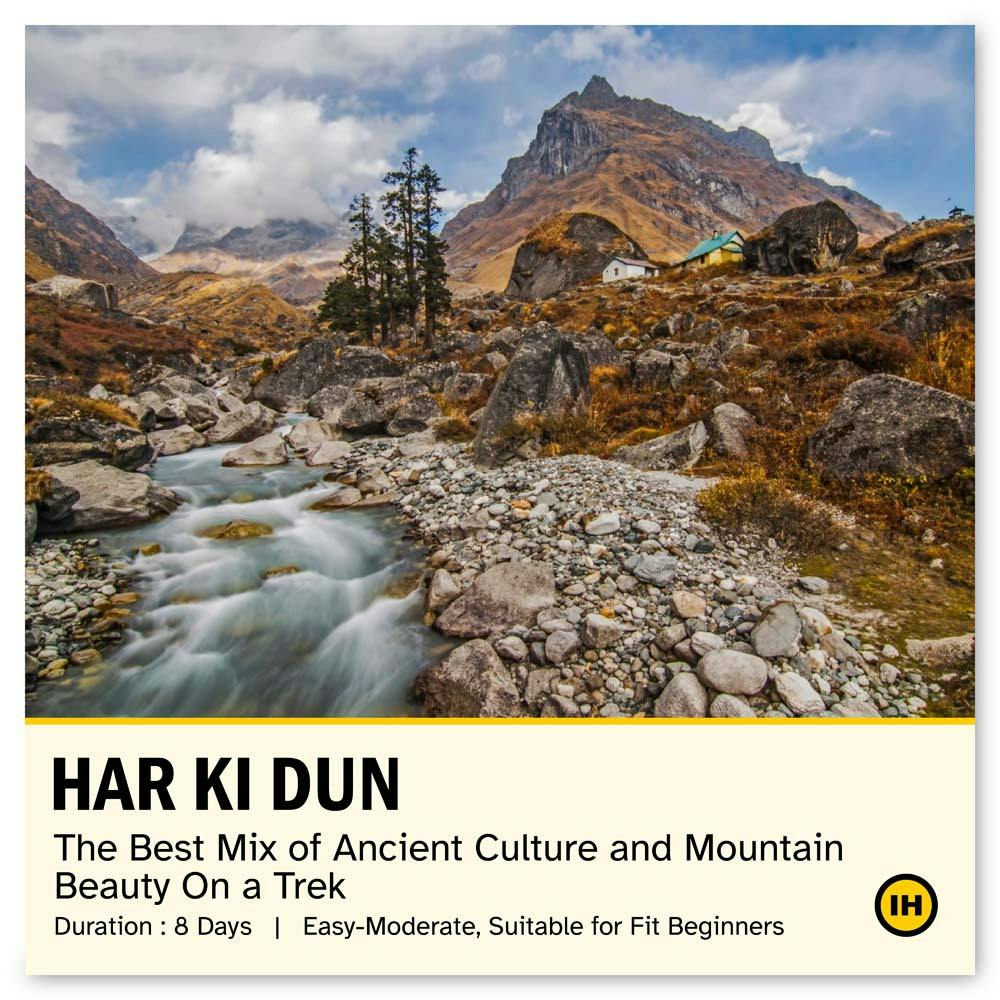 It's well-known that the Har Ki Dun trail is steeped in history. It has ancient villages and stories from the Mahabharata rise from its valley. The villages on this trail are over 300 years old. The wooden architecture will stun you. But that's not why you must do this trek.
You must do the trek for the section that cuts away from the main trail. It goes towards the Ruinsara Tal. Not many venture towards that side, and that's where the magic lies. 
The forests after Boslow are nothing short of enchanting. Deep, dark and mysterious. The trail to the alpine lake at Ruinsara is filled with surprises. 
On that route, you also camp at Devsu Thatch. It's a special experience because the clearings of Devsu almost look like a secret hidden between pine trees. You don't see it until you step on it. 
Best for: Trekkers interested in ancient cultures and terrific natural scenery. Walks are not difficult but they are long. You need good stamina for this one.
Explore the Har Ki Dun – Ruinsara Tal Trek
6. Kedartal Trek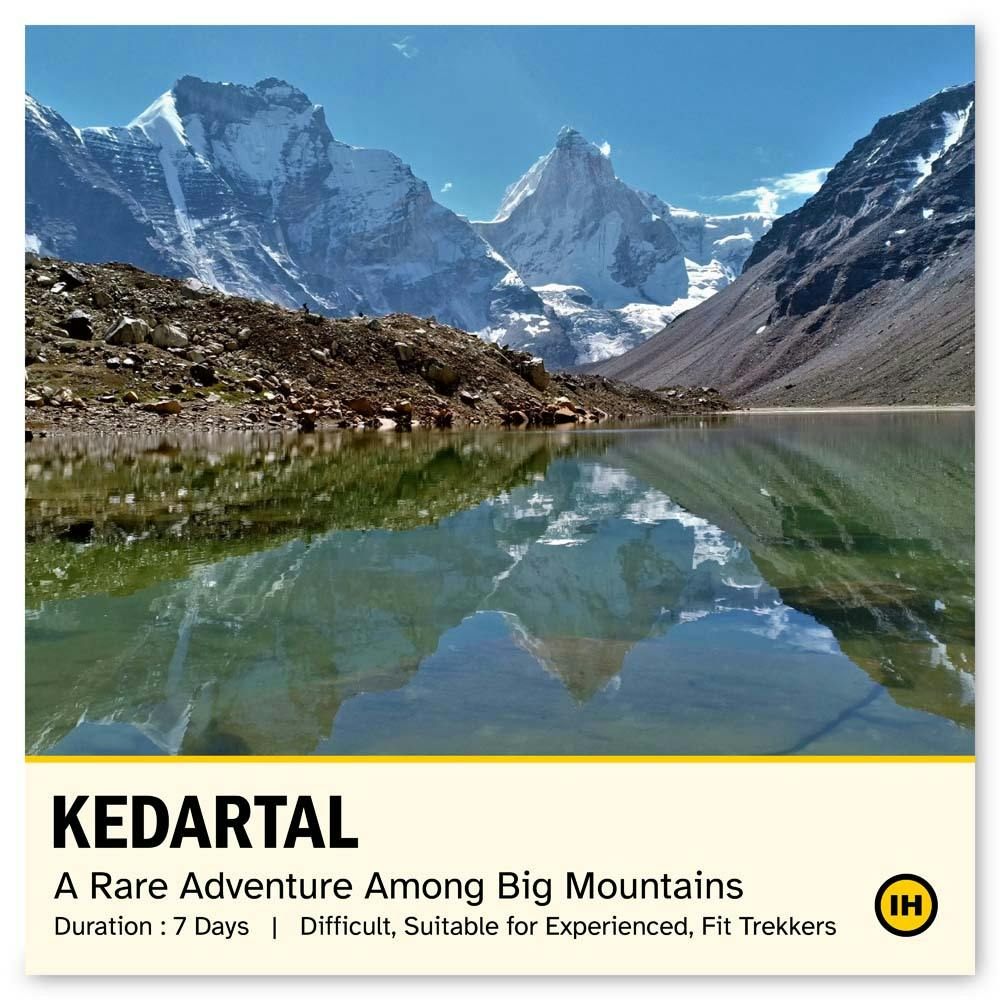 Treks to Kedartal and Gaumukh-Tapovan, both start from Gangotri. But right from the first day, you notice a stark difference between the two treks. 
Kedartal is meant for those who like doing a difficult trek, who want to feel what it means to climb to an alpine zone. It is for those who want to feel like mountain climbers. 
The Kedartal trail is very remote. There are no pilgrims, no ashrams and no human habitation at all. Instead, you see flocks of mountain deer (though they run when they see trekkers).
The trek climbs up to 16,000 ft to the Kedartal Lake, a pristine lake, a favourite among photographers for its reflections of the towering mountains. 
Best for: Experienced trekkers looking for a challenging trek. This trek requires extensive mental and physical preparation.
7. Pin Bhaba Pass Trek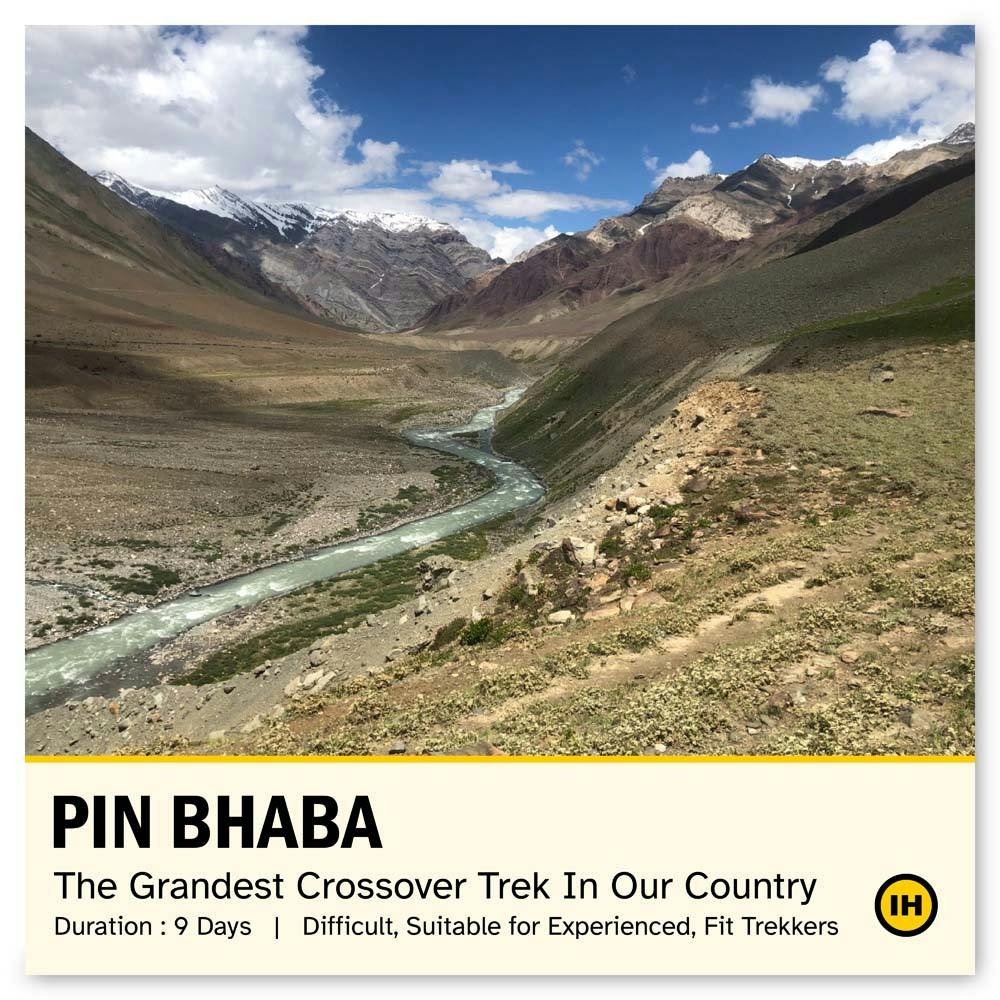 Pin Bhaba Pass trek is a well-kept secret compared to its sister trek, the Pin Parvati Pass. 
Do this trek to experience the cross-over from the green side of Himachal to the desert. On no other trek will you witness such a sharp contrast. On the Kinnaur side you see thick forests, lush grasslands. But the moment you cross the Pin Bhaba Pass, the landscape turns stark. Yet the starkness is as colourful as the green side. 
It is one of our personal favourites. For the Indiahikes team it is one of the top 3 treks to do in our country.
Best for: Experienced trekkers
Explore the Pin Bhaba Pass Trek
8. Dayara Bugyal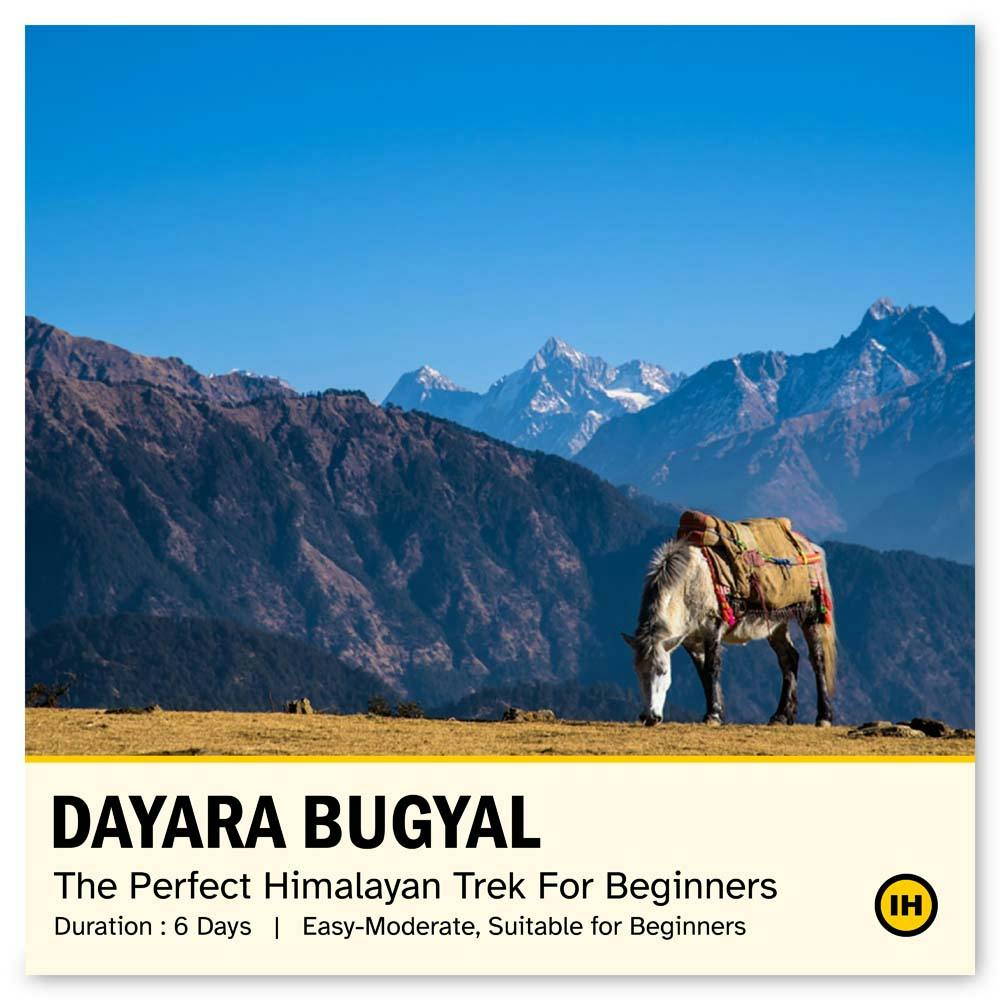 Even though Dayara Bugyal is one of the most picturesque meadow treks in Uttarakhand, it is not on the radar of most trekkers. This makes Dayara Bugyal less-crowded even in peak trekking seasons. 
Dayara Bugyal has an exquisite meadow experience with terrific mountain views of Bandarpoonch, Mt. Srikanth, Mt. Jaunli, and Draupadi ka Danda 
Dayara may not remain crowd-free for long, it is becoming increasingly well known for its easy pace and great scenery. 
Best for: If you have never trekked in the Himalayas, Dayara Bugyal is a great place to start. Also a great trek for lovers of high-altitude meadows.
Explore the Dayara Bugyal Trek
9. Gidara Bugyal Trek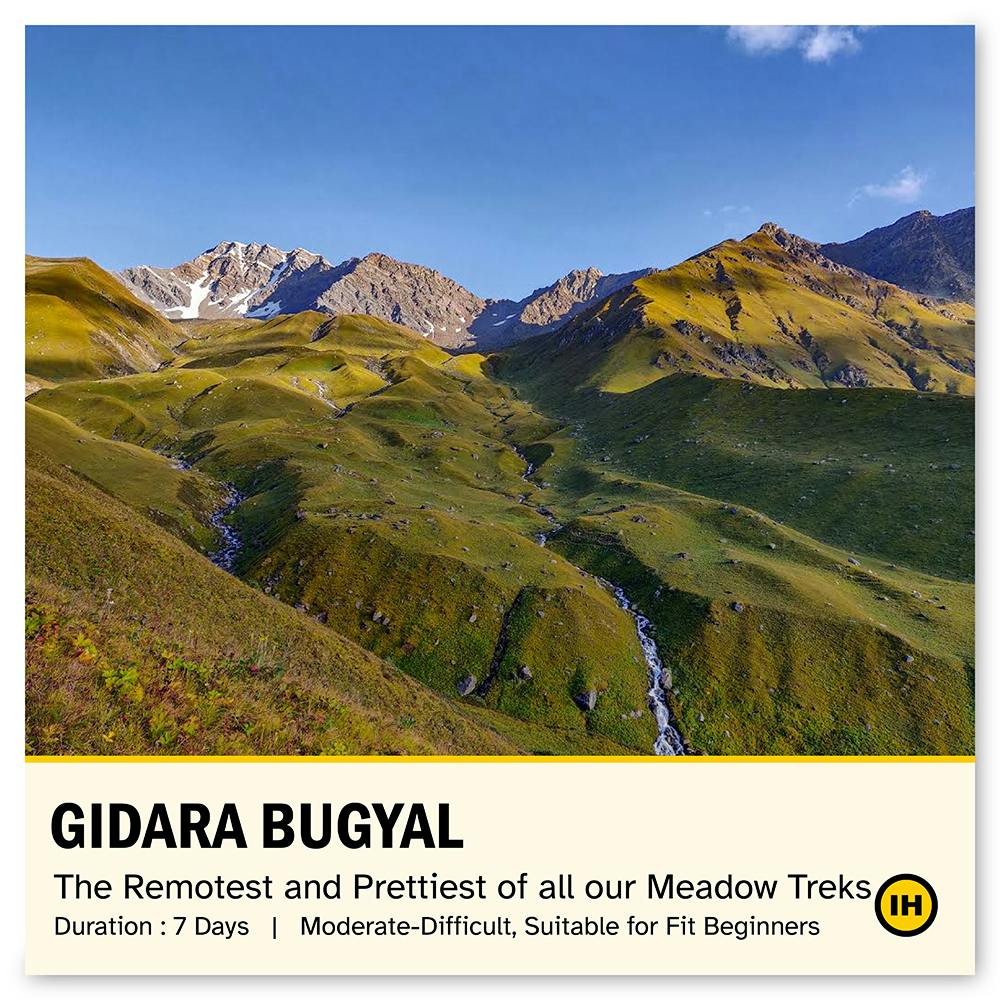 Gidara Bugyal is one of the best-kept secrets of the trekking world. Among all our high altitude meadows, Gidara is the biggest, most remote and the highest altitude at 13,900 feet. For us, Gidara is the most exquisitely landscaped of all our high altitude meadows. Our trek leaders believe no other high altitude meadows, not even Ali-Bedni Bugyal or Dayara meadows comes close to it. My secret sauce is, of course, the flowers. There are more flowers to see on the Gidara meadows than on most of our treks.
Extra Read: 5 Reasons Why You Must Do the Gidara Bugyal Trek
Best for: Do it for the experience of trekking in an extremely secluded meadows. But you need to prepare well and be really fit. The astounding rewards of Gidara Bugyal comes with some long climbs, sharp descents and ups and downs on the trail.
Explore the Gidara Bugyal Trek
Points to keep in mind while planning your trek during the second wave of Covid: 
With the swell of the second wave of Covid-19, states like Uttarakhand and Sikkim are getting cautious and requesting a Covid-negative certificate. 
Carefully read the Covid guidelines of your state and the state you are travelling to. 
Carry a RT-PCR negative certificate so that it's confirmed you are not carrying the virus. It makes your group feel safe too. 
Upload your health and fitness certificate on your Indiahikes Dashboard as instructed by your Experience Coordinator.
Do you need help with any of these treks? Do refer to the Indiahikes FAQ section. Or drop your question in the comment section below. I'll make sure someone from our team addresses your question as quickly as possible.
Sign up for our much loved Weekly Mailer
We have terrific trekking tips, trek updates and trek talks to look forward to