Life Lessons From Brahmatal Trek
Share this story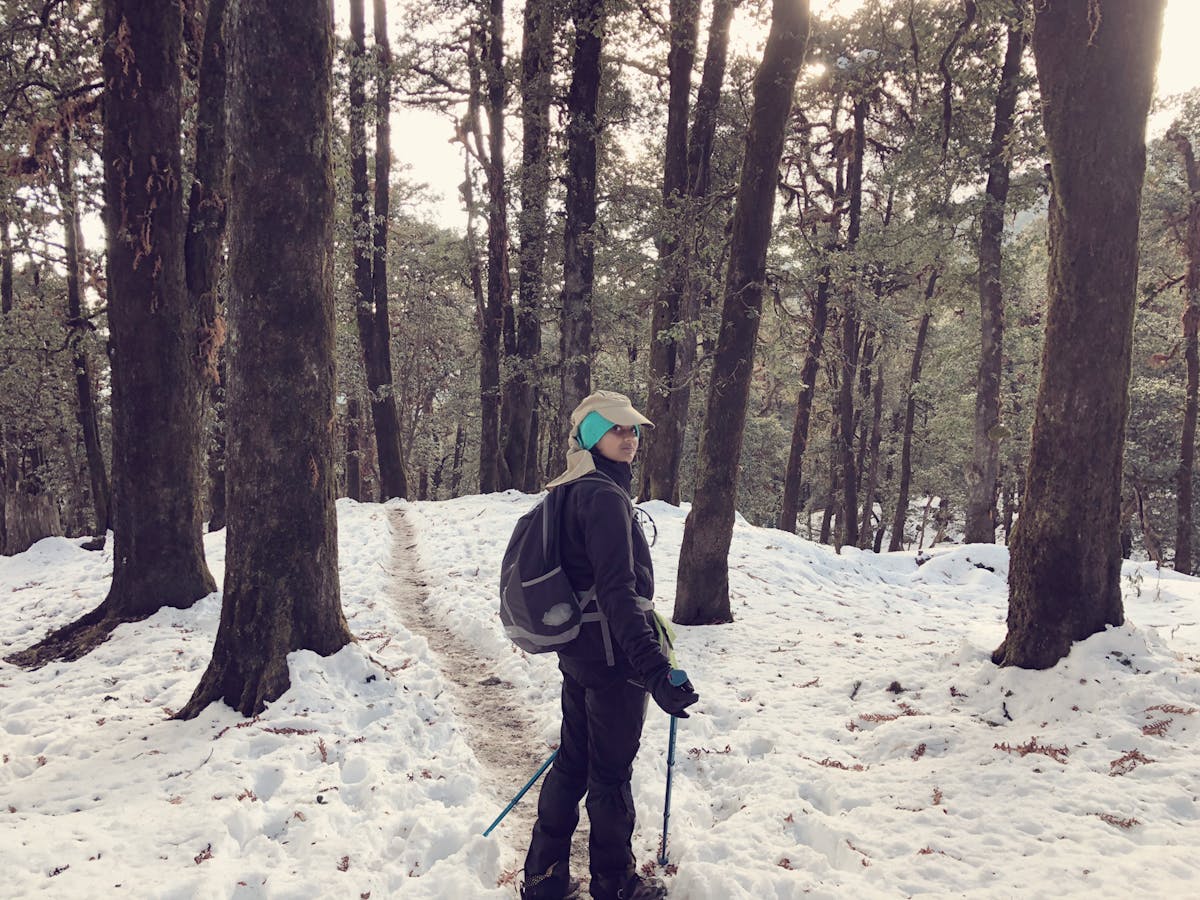 Stuti Paul on Brahmatal trek
Here's an essay by the resilient and thoughtful Stuti Paul, who trekked to Brahmatal in the winter of 2020. It was cold and snowing in Uttarakhand. And 12-year-old Stuti was way out of her comfort zone. Yet, she came back with some solid life lessons. We loved reading this essay, hope you enjoy reading it too!
Stuti Paul's essay:
It all started when I discovered the beauty of nature in the Guru Freddy Camp. I was already very enthusiastic about hiking in the mountains, as my parents had just returned from their high altitude trek in the Himalayas.
Himalayas – where the mystical Gods are believed to live.
Looking at my interest and the fact that I had never witnessed snow, my mom and I decided to go on a High Altitude Winter Trek (Any altitude above 8000 ft is considered High altitude) for fulfilling my eagerness. That's when the fun started!!! We did multiple small treks in and around Bangalore like- Nandi Hills, Antharagange and many more.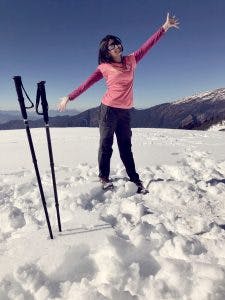 Just when everything started to fall in place, the unexpected happened! My enthusiasm had led me to a wound on my knee and to add salt to my injury, our flight was next morning!
Though having a wound, we successfully arrived at our base camp at Lohajung, Uttarakhand. The next day our trek to Brahmatal started. The first campsite was the 'Bekaltal', a beautiful lake that was frozen! On the trails, we noticed a lot of garbage, which was ruining the beautiful views of the snow-clad mountains, which was very disappointing because our heavenly mother nature was being destroyed.
The next few days we spent picking a lot of waste and garbage, on the way to other campsites, in our eco-bags for the Green Trails Project (a project initiated by the Indiahikes organization, with whom we trekked).
The views were mesmerizing!!! However, the most challenging part was the high altitude (12, 250 ft) and extreme cold climate (it went until -14 degrees at night and our tents were pitched on the snow)!
This was my lifetime experience of being in a place, which was not so chilling in a tub kind and we were literally struggling for basic needs. This taught me lessons, which probably I would never learn unless needed (back home). I felt my problems were too tiny, to even acknowledge in front of the mighty mountains.
Finally, it was the last day and my mom and I had collected a good amount of waste by then. Towards the descent, I was very satisfied, to have helped Mother Nature and take back numerous learning from the Himalayas and a badge for my achievement, home with me.
I would like to conclude by saying – Keep close to nature's heart, and break away once in a while, and climb a mountain or spend a week in the woods. Wash your spirit clean!!!"
This essay is a testimony of the profound impact of trekking on children. And we have special Family Treks if you wish to take your kids on a trek too. Happy trekking!
Sign up for our much loved Weekly Mailer
We have terrific trekking tips, trek updates and trek talks to look forward to