Local Hero Heera, The Man Behind The Scenes At The Roopkund Base Camp
Share this story
A lot of our Indiahikes employees are locals – trek managers, accounts managers, guides, cooks, and helpers. They are undeniably our biggest strength. Heera Singh Bisht is one such person.
Heera is one of the first people I met at Lohajung. I could instantly sense that, if you want something done, Heera is the man. He knows what to do, where to go and who to go to if he does not know the answer.
Green Trails work is not easy work. It requires patience and commitment. But Heera believes in and practices Green Trails in his work and his personal life. But the main reason he is our local hero this week is that he smiles through the highs and lows – something fundamental in keeping with the Green Trails spirit.
Our Bubbly Local Hero – Heera
You will always hear him singing or laughing heartily. Lovingly called Bubbly, his infectious smile and quick wit will make you feel comfortable instantly. But do not mistake his cheerfulness for naivety.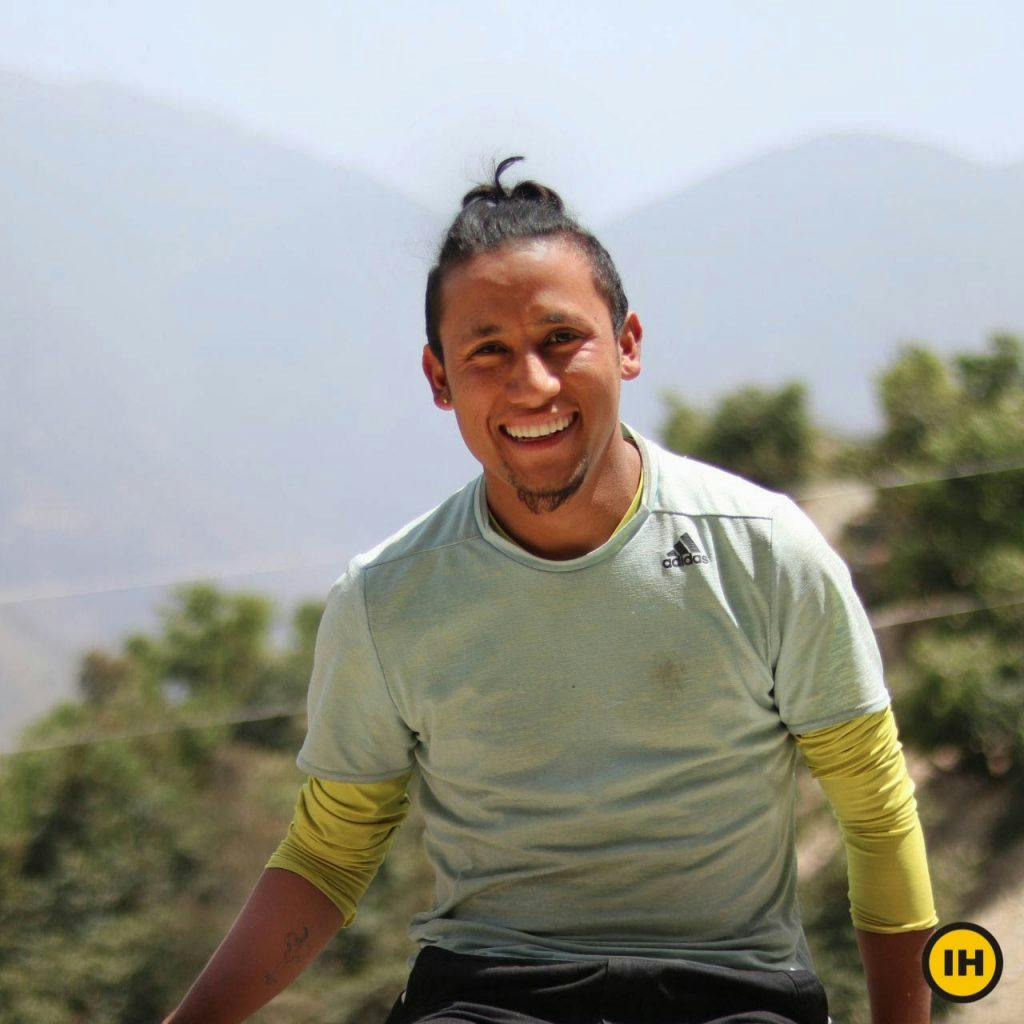 Heera is the Trek Manager at Lohajung, our base camp for two treks – Roopkund and Brahmatal. When it comes to work, efficiency is his second name. He ensures everything happens smoothly, be it handling everyday operations, a Green Trails session or cooking for everyone in his free time. He is one of the kindest souls on our campus. You will see Heera involving himself in all kinds of work at the base camp. A very hands-on person, it is not uncommon to find him having a hand and a foot in everything happening at Lohajung.
Á tireless, calm, cheerful worker, you will never find him complaining. Our Green Trails fellow Anagha asks him how he found his way to Indiahikes.
Heera's story before Indiahikes
Heera hails from the village of Baank which is visible from our campus at Lohajung.
After school, he applied for a degree in Economics, History and Political Science. During college, he was not satisfied with studying. When he saw his brother sitting at home without a job after a B.Ed degree, it made him think that education is not all that's going to ensure a career.
This motivated him to drop out of his degree halfway and walk towards something else. No, it wasn't home.
But having worked in multiple fields, Heera was looking for something that allowed him to utilise his interests and skills better. And so in 2014, when Heera heard about a job opportunity at Indiahikes, he joined us.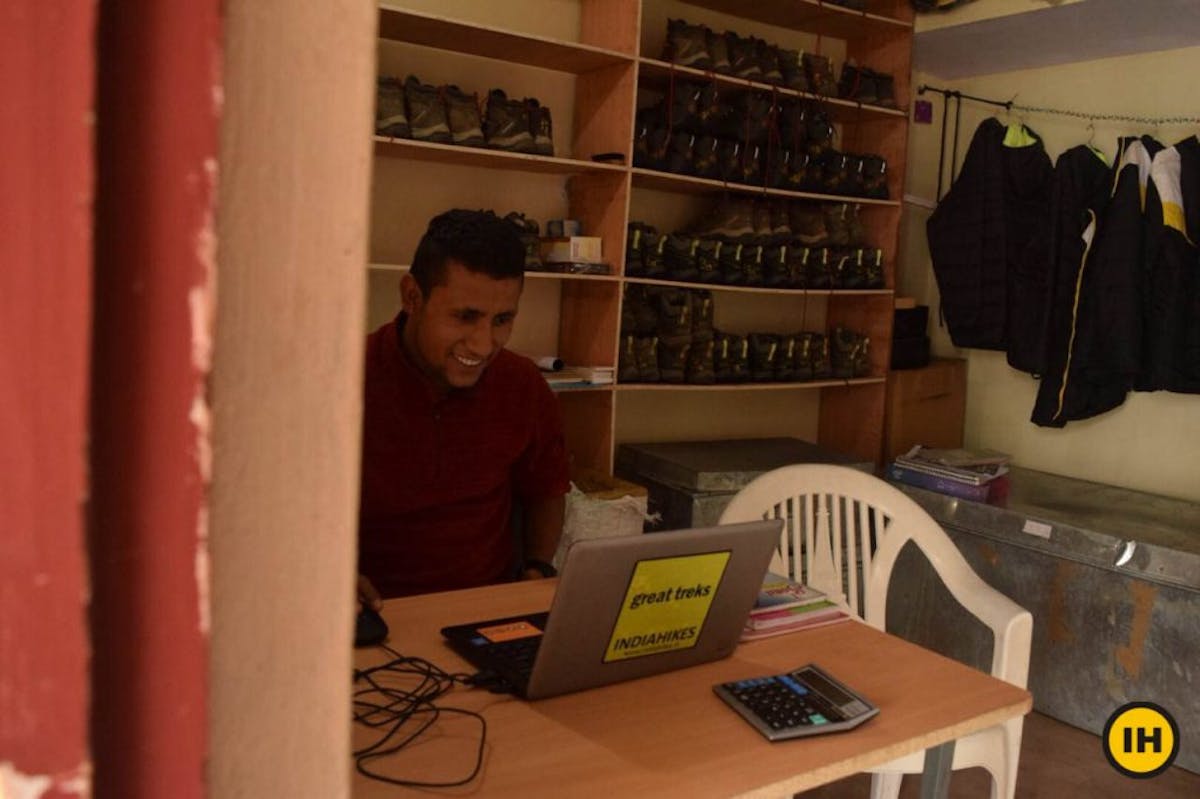 It did not take long for us to see that Green Trails was something that came naturally to Heera.
Heera Explains Why Green Trails Is Important To Him
"As a child, I have always wanted to help nature. I still remember as a kid there was an abundance of water sources and a lot of greenery. I remember drinking water from these sources but now things have changed. People throw plastic without thinking and have contaminated our water sources. Therefore, I really feel that people mindsets need to be changed. I want to help change the mindset because at the end of the day we all are impacted."
When Heera was younger, a TATA Initiative called Kassar Trust set up base in the villages of the region.
"If you look at Roopkund 10 years ago, it was very different. There were less plastic and a lot of greenery. The snowfall was timely. But since the last decade, there has been an increase in trekking companies on the slopes and the litter as well. For example, a company would come and set fire to the waste, and this has resulted in pollution and has resulted in less snowfall. Hence I believe it's very important to keep the surroundings clean and green."
At the Lohajung base camp, Heera has been instrumental in bringing down the number of unsegregated waste sacks from 200 to 50 sacks in just 1.5 weeks! And he continues to accelerate segregation at the base camp whenever he can. Our Green Trails team tells us how he ensures everyone is smiling as they go through sacks of mixed waste.
Heera always joins the daily morning segregation sessions with our team. He strongly believes the change has to start from him. He is very motivated to start a segregation unit in a plot of land that he has here and also make it a workstation for other work related to waste management.
"I have personally tried to reduce my consumption of plastic, and have told my family to reduce their consumption too. Because not everyone understands or wants to change their lifestyle, it takes time."
There is much truth in those words. Time is crucial. We do not have a lot of it. With more heroes like Heera around, we have hope.
Scroll down and send in your wishes for Heera in the comments section. We will make sure it reaches him.
Have a green idea in your mind that could help the environment out? Comment below or write to our Green Trails Head – Lakshmi at lakshmi@indiahikes.com.
What you should do now
1. If you want to serve as a Green Trails Intern: Read this article by our Green Trails Head – Lakshmi.
2. If you want to work with us: Head over to our careers page. We have lots of positions open. We also have lots of applications coming in. So the sooner you apply, the better.
3. If you ended up here by chance and were actually looking for treks to do: Then head over to our upcoming treks page. You'll find all our Himalayan treks there.
4. If you want to see the 13 best treks of India: Then get our guide here.
Sign up for our much loved Weekly Mailer
We have terrific trekking tips, trek updates and trek talks to look forward to