Local Hero Pavithra: How This 65-Year Old Finds Creative Ways To Upcyc...
Share this story
This isn't a story of a hero who collects tons of waste from the trail nor is the story of the hero who turns waste into gold. This is a simple story of a wise old lady who knows how to convert the plastic waste that she generates into something interesting and useful.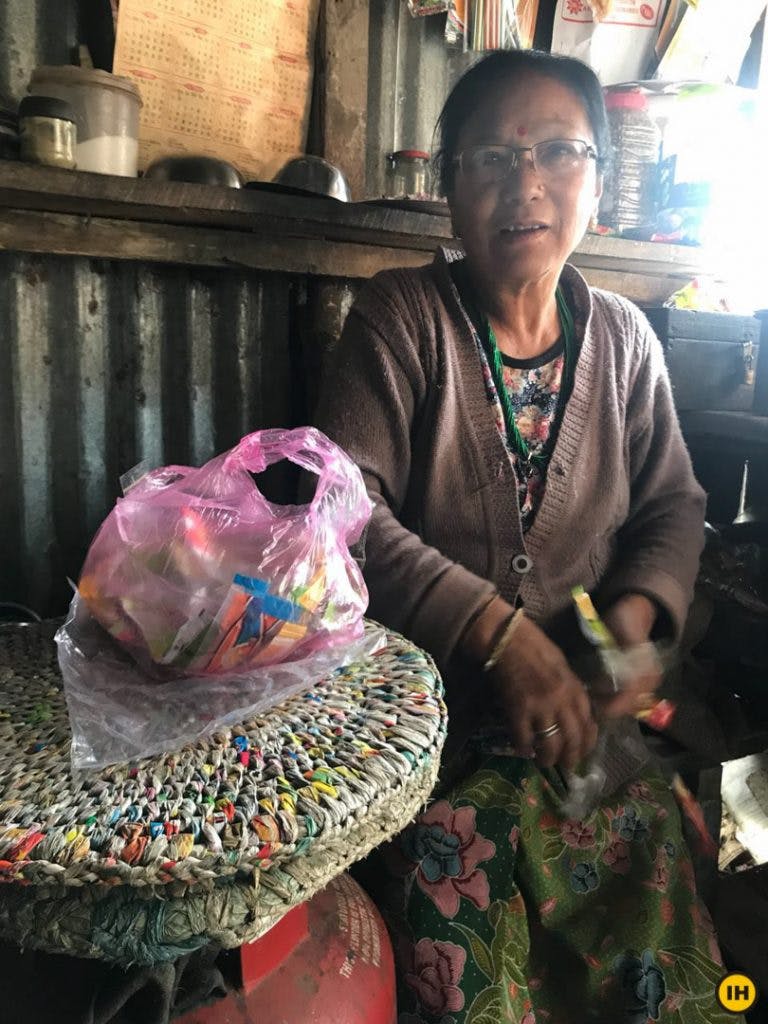 What makes Pavithra a local hero
Pavithra Thapa Manger is from Maneybhanjan, a small town close to the starting point of our Sandakphu trek. She is 65 years old and lives with her husband Balbahadur Thapa. They have been married for close to 47 years. They live in a small house near the Maneybhanjan school. She has three children, two of them working for the school and one is a homemaker.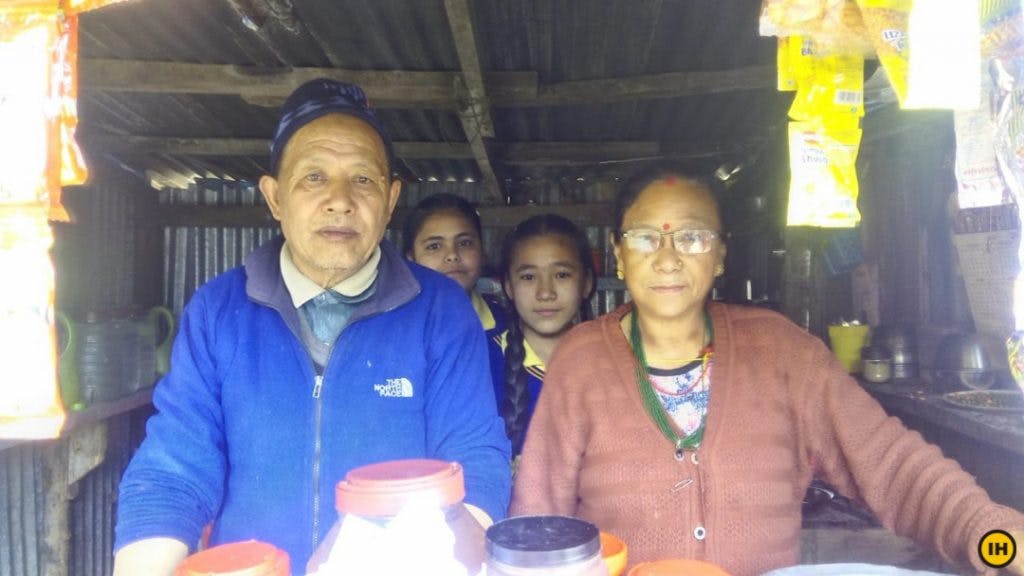 For over thirty years, Pavithra and her husband have been running a small tea shop near the Maneybhanjan school. They sell Wai-Wai and other sweet bites. They are the favourite "Bada and Badi" for the kids from the school. Most of the kids spend their lunch break and sports period near this small shop. They have friendly conversations with this elderly couple and munch on their spicy "Aloo Mimi".
Before our accidental visit to the school, little did we know about her. Pavithra has been upcycling plastic waste for almost 7 years now. So, you can imagine our surprise when we discovered what a wizard she is at turning the plastic that she generates from Wai-Wai noodle packets into beautiful mats. When we witnessed her weaving the mat using soft plastic waste, it reminded us of the weaver bird making its nest; swift, clean and natural.
The best part? She uses close to 200 plastic packets and covers to make circular mats which are 7 inches big. That is a lot of plastic being upcycled. It takes her less than a week to weave these multipurpose mats which she mostly uses at home. Sometimes she even sells it for Rs 100.
How Pavithra makes the mats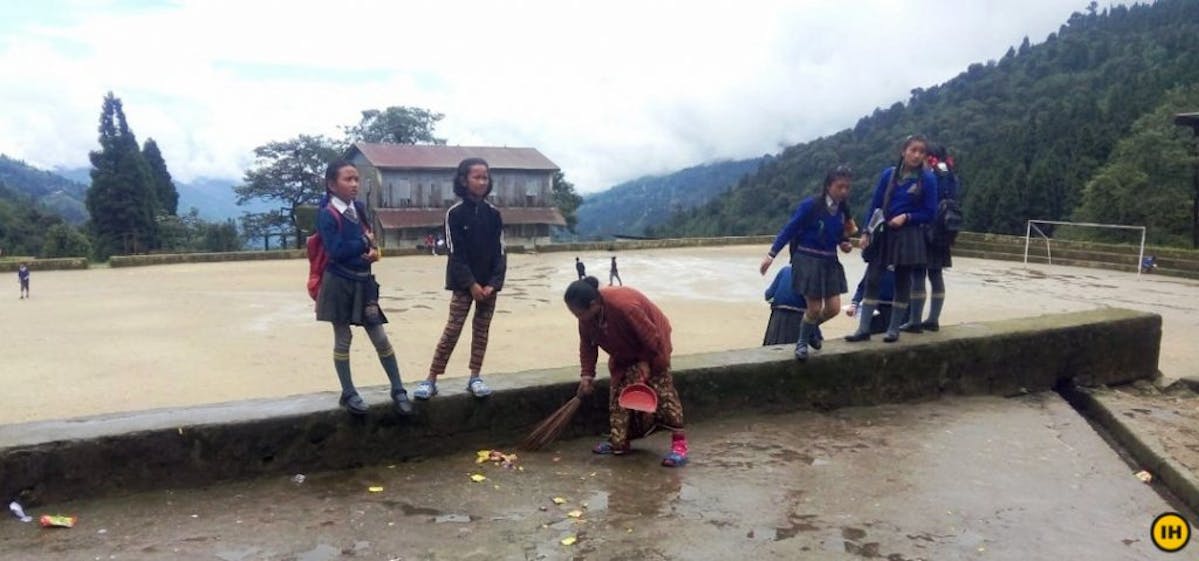 Pavithra picks up waste from near her shop.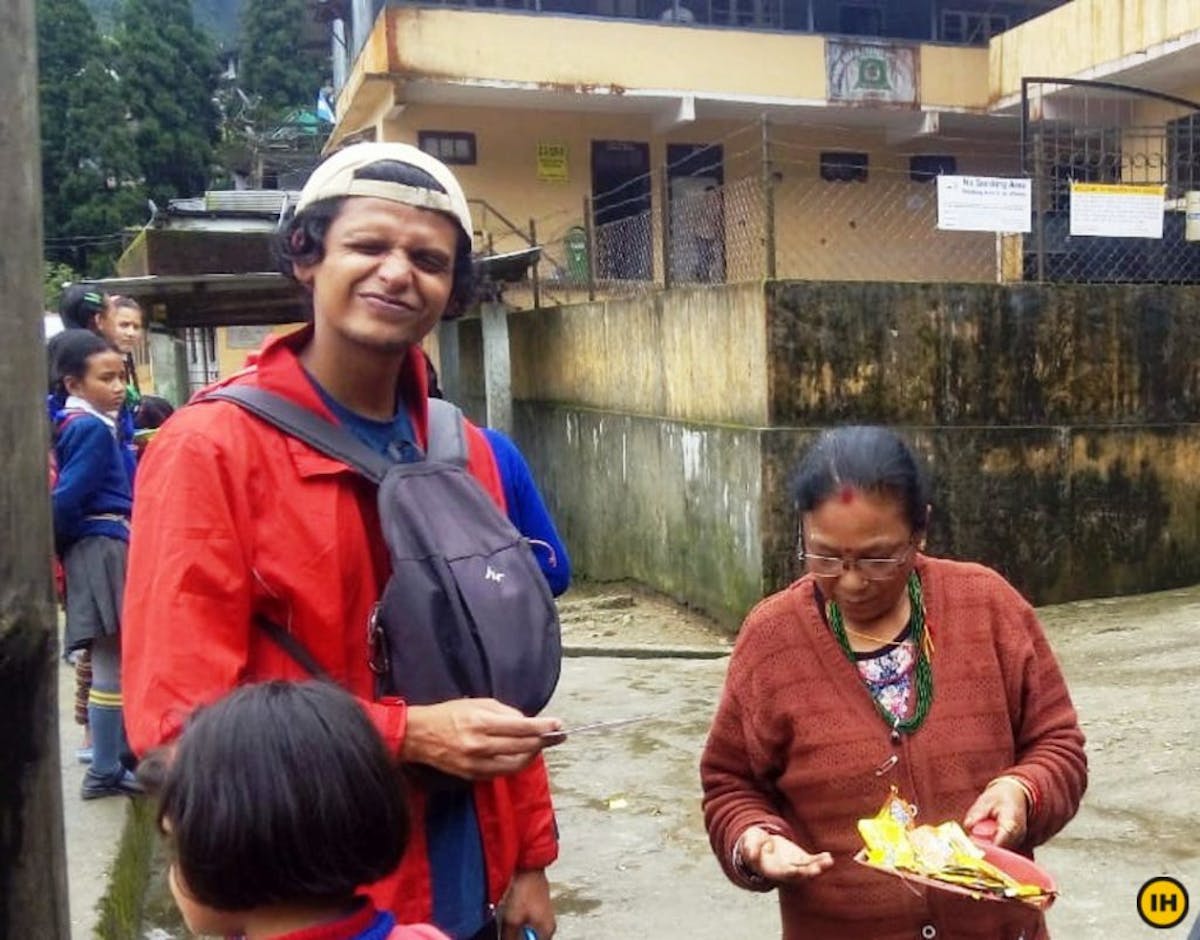 Green Trails fellow Anas with Pavithra near the school.
The first step is cleaning the plastic wrappers with water. Pavithra then wipes them out with a cloth and later chops the plastic into long strips, each about 2 centimeters thick. After this step, she starts braiding the plastic with her magical hands and the outcome of this process is the lovely mats.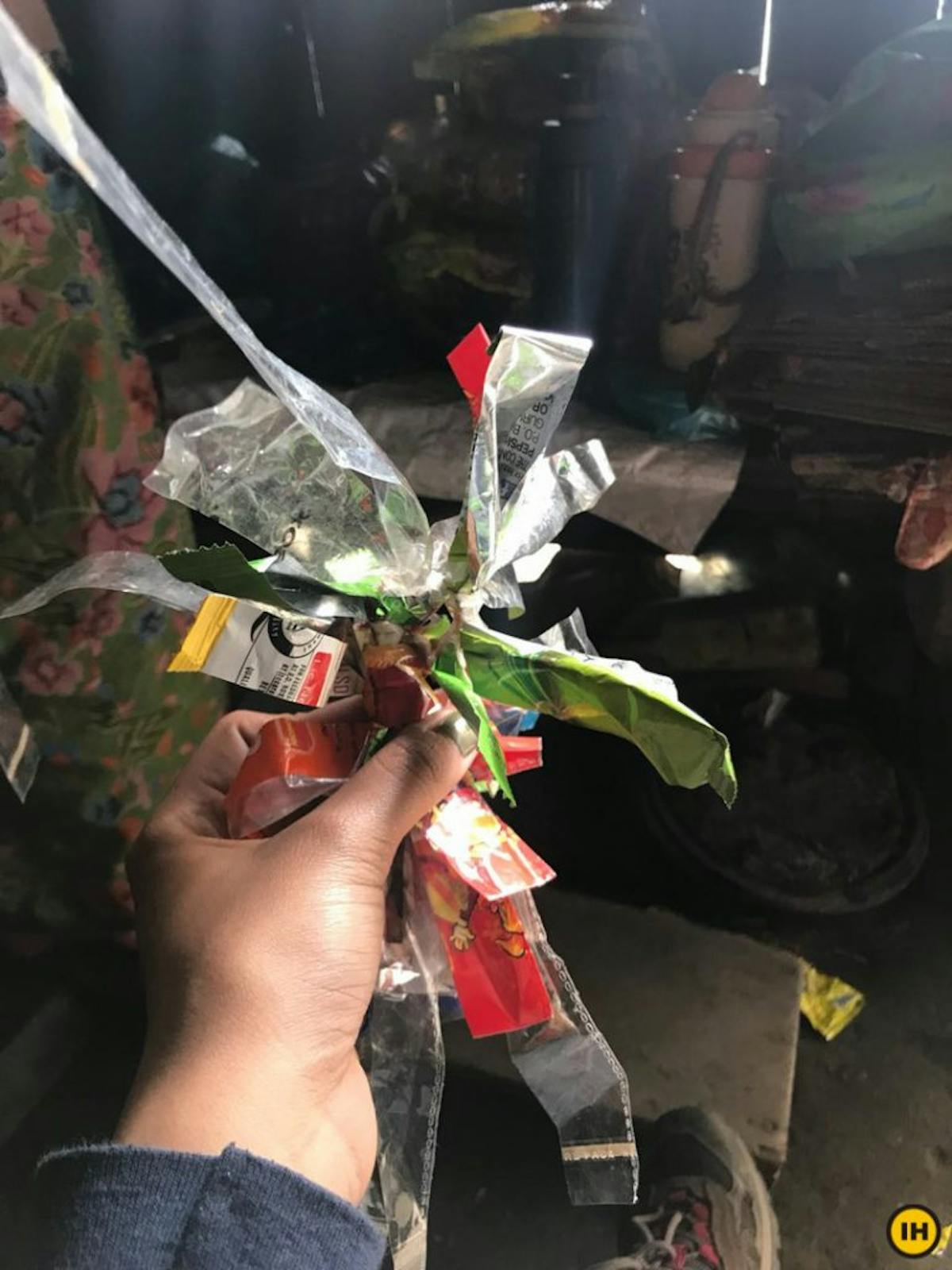 Pavithra teaches Green Trails fellow Smriti how to braid the soft plastic waste.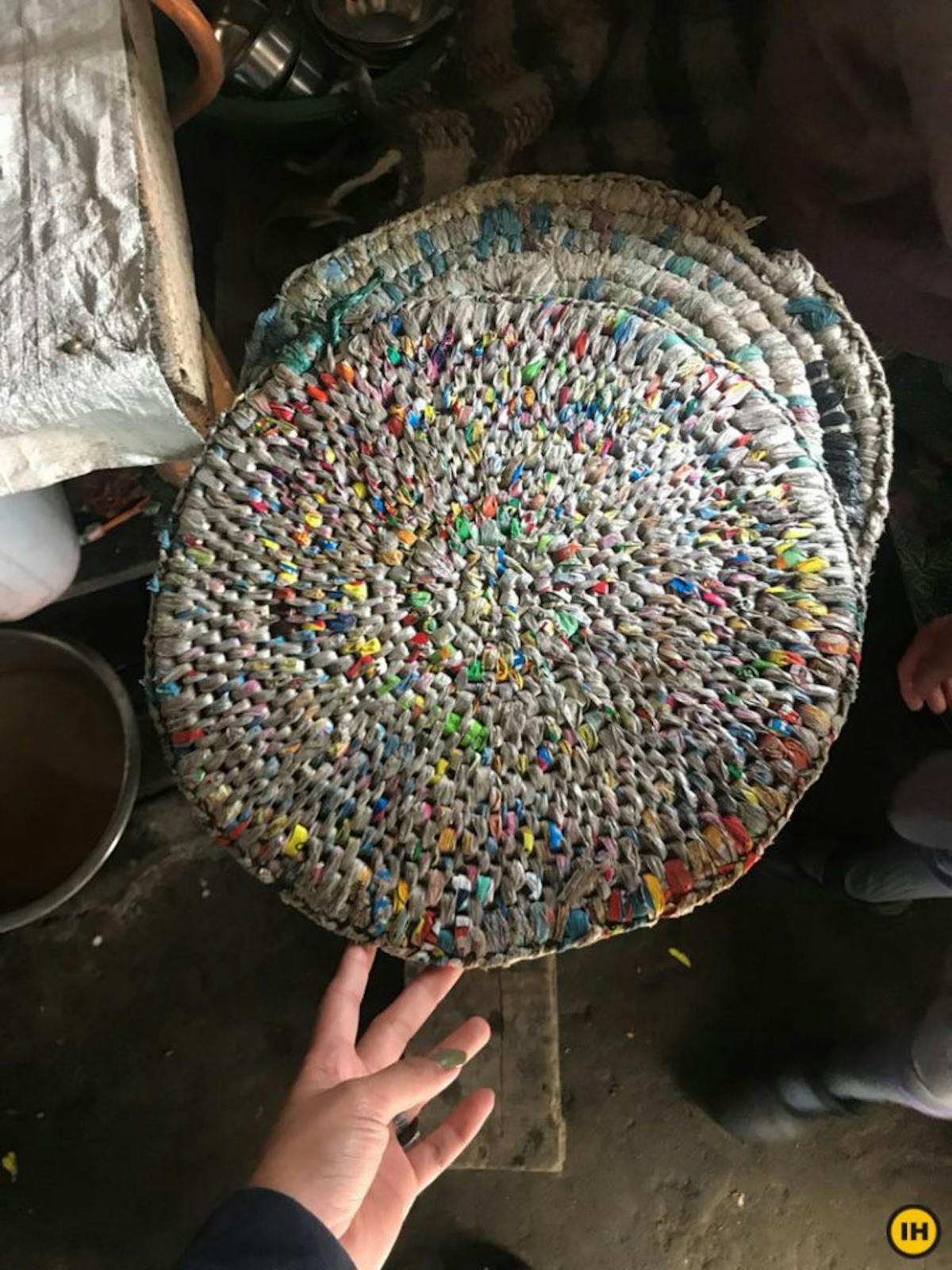 Plastic mats made from plastic wrappers from Wai Wai noodles, biscuit packets and chocolates.
Pavithra also taught us how to make these mats, even then we took few days to understand the process of making them. She is disappointed that not too many kids want to learn this, though they see them making the mats often. She says that seeing kids of this generation litter plastic waste hear and there, breaks her heart.
What makes Pavithra keep going
When we asked Pavithra what motivates her to make these beautiful mats, she says that she can't stand plastic being thrown around. Her husband added that plastic being thrown in open causes soil erosion and it can easily lead to land slides. They both believe that it is always necessary to do as much as we can in order to protect the environment. I see such a strong Green Trails spirit in Pavithra. She is someone who strives to create a lasting impact through her actions.
Scroll down and send in your wishes for Pavithra in the comments section. We will make sure it reaches her.
Did you come across a local hero in the mountains? Write their story and send it to me at neha@indiahikes.com.
Have a green idea in your mind that could help the environment out? Comment below or write to our Green Trails Head – Lakshmi at lakshmi@indiahikes.com.
What you should do now
1. If you want to serve as a Green Trails Intern: Read this article by our Green Trails Head – Lakshmi.
2. If you want to work with us: Head over to our careers page. We have lots of positions open. We also have lots of applications coming in. So the sooner you apply, the better.
3. If you ended up here by chance and were actually looking for treks to do: Then head over to our upcoming treks page. You'll find all our Himalayan treks there.
4. If you want to see the 13 best treks of India: Then get our guide here.
Sign up for our much loved Weekly Mailer
We have terrific trekking tips, trek updates and trek talks to look forward to