Indiahikes Manali Campus Team collects 221.9 kg of waste in ONE DAY!
Share this story
Indiahikes Manali Campus Team collects 221.9 kg of waste in ONE DAY!
Category News
By Latika Payak
2023-08-22
Yesterday was an exciting day for our team at the Indiahikes Manali Campus. They stepped up for an intense sustainability challenge.
"Usually we do a Green Sweep after our morning meeting for 5-10 minutes. During this, we collect around 4-5 kg every day," shares Abhishek Kumar, Indiahikes Slope Manager in Manali.
But yesterday, our staff divided themselves into three teams, and each team agreed to collect a minimum of 8 kg from around the campus that had collected and was rotting as an aftermath of the heavy rains that Himachal Pradesh had recently experiences.
It was not easy.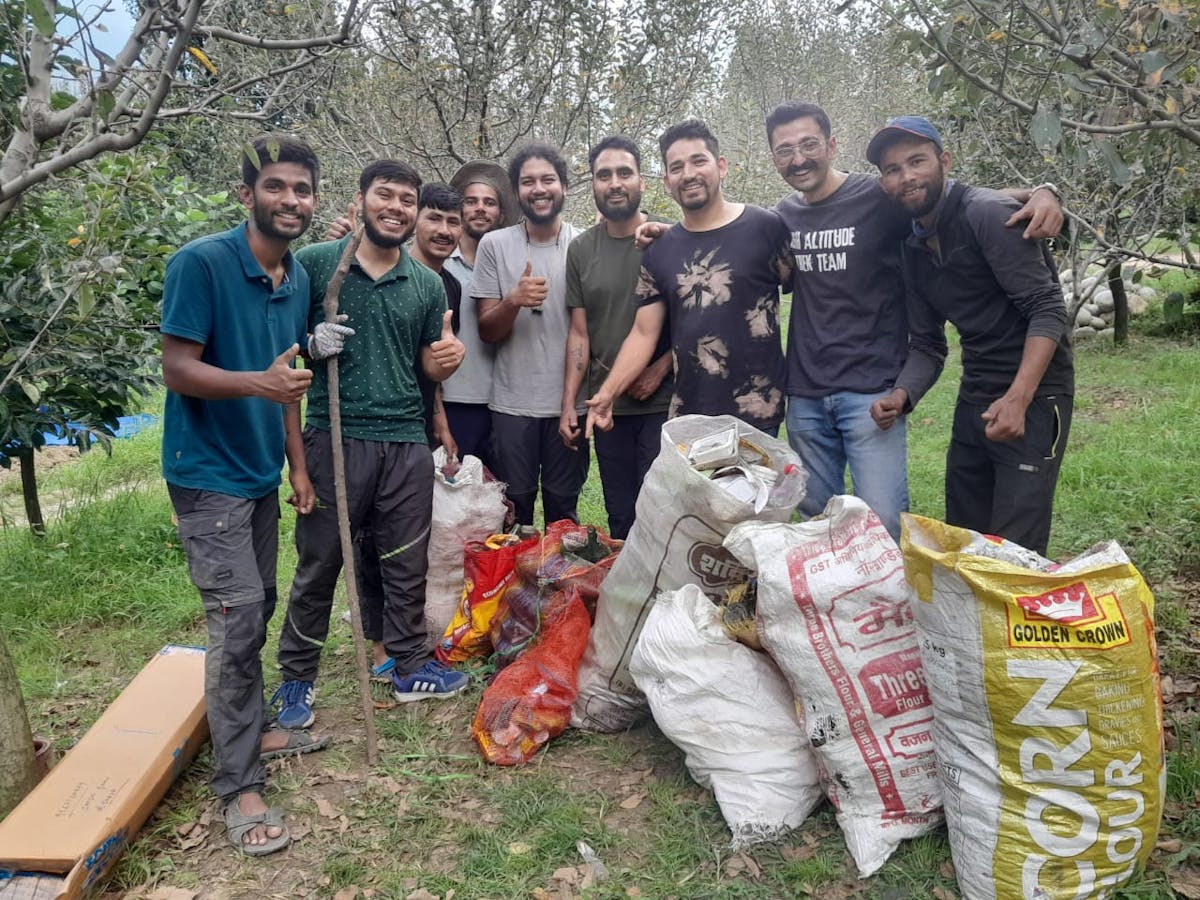 Manali team who participated in the Green Sweep. Photo by Abhishek Kumar.
"Much of the waste was rotting, so dealing with the smell was a challenge. There were also broken glass bottles that people had left behind. Handling such bottles, especially when we were carrying the waste from difficult-to-reach places was challenging. A few team members sustained small cuts due to the broken glass," Abhishek shares.
But all team members were in high spirits and collected a total of 221.9 kg of waste by the end of the challenge.
This waste was segregated and is now being sent to the Karich Organisation (http://www.karich.com.my/) for systematic disposal.
Such Green Sweeps are a part of our Green Trails initiatives. They partly address the problem of waste management in the mountains, where a lot of waste keeps lying around in the absence of a strong waste collection system. In fact, all groups trekking with Indiahikes pick up such litter from the mountains and bring it back as a part of their trek.
Read more about our Green Trails Initiative
Sign up for our much loved Weekly Mailer
We have terrific trekking tips, trek updates and trek talks to look forward to