Masartal lake on Mayali Pass trek - A Detailed Account
Share this story
Masartal lake on Mayali Pass trek - A Detailed Account
Category Trekker Space
An interview with Srinivas Sudhindra, a senior software engineer, was conducted and condensed by Sandeep Janardan for Indiahikes. Srinivas did the trek in early September 2006 with two others. Their team consisted of a guide, a cook and three porters along with the three trekkers. And here's what they found.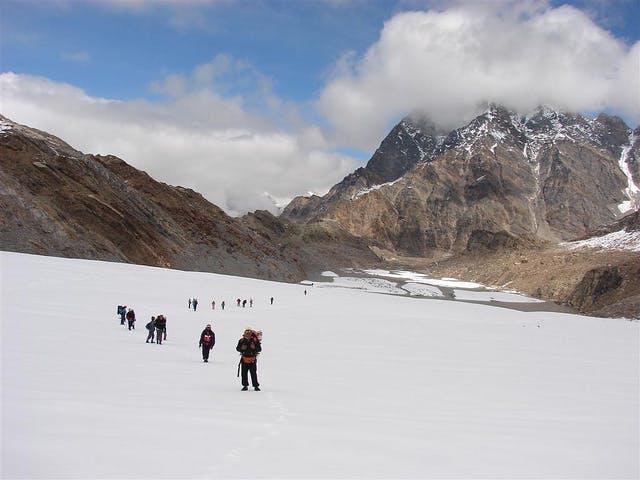 Q: Tell us something about the Mayali Pass trek.
A: It is a rare trek not many people know about. It's the pass right behind Kedarnath. You can trek from Gangotri to Kedarnath through two passes. One is the Auden's Col and the other is the Mayali Pass. Auden's Col is a technical climb which involves mountaineering.
Mayali Pass is again approachable by two routes. One is from Guttu and the other is from Mala, a village right above Uttarkashi. The route from Mala goes through a lot of grasslands and is very beautiful, but takes a lot of time. It is a two week trek. But the one from Guttu is 9 to 10 days. This is the shorter one.
We wanted to go on the longer route but we didn't get leave from office. We decided on the shorter one.  The place from where we start is called Guttu. It's a day's journey from Haridwar or Rishikesh. You start at 8.00 AM in the morning and reach Guttu by around 4 or 5 in the evening. 
Q: How do you pick up a guide? How do you double check to know whether the guide actually knows the route?
A: Guttu has very good local guides. Unfortunately they do not know much English. But if you can make do with Hindi you get good guides and porters. You will probably have to spend a day or two organizing all your gears and food. So if you are short on time you could choose to go with trekking agencies.  Make sure you choose a well known agency. Not many people know this route or do this trek even though they agree to do this. You have to double check because they might just say yes to you and still not know the route. 
Q: Guttu sounds like a small town, rather, a small village.
A: It is a small village. Probably a little more than 100 houses. It has a GMVN forest center and has a Forest Rest House (FRH). At the forest department you need to declare where you are going and pay a nominal fee, probably about Rs 200 or 300. That is about it. 
Q: So Guttu is on the banks of the Bhilangana river.
A: Yes. We would be going upstream Bhilangana till Khatling glacier and then take a deviation. The whole trek goes along the river. 
Q: Tell us about your first days trek.
A: We were pretty late and had a nice little breakfast. There are lots of these bhojnalays. We started off by 8 or something.
This trek is tough on all days. You need to be extremely fit for this trek. I mean right from day one till the last day, everything is tough. You are not going to have any easy day on this trek.
The first day's destination is Reeh. It is about 10 Kilometers and a decent climb. The first two-three kilometers is on a dirt road. The sun is out and it will sap everything. After that once you enter the forest you are in shade until Reeh. Don't be under the impression that it is going to be an easy climb. It's a moderate to tough climb of 3-4 hours.
Reeh is a very small place again. There is a very ethnic population depending on what time you go. So the first stop is at Reeh. You can take a room at the GMVN which is decent. It is a dormitory kind of accommodation with toilets and everything. We took a camping ground there, tented and rested.
 Q: Now about Water. Are there places where you can fill up from Guttu to Reeh?
A:  I wouldn't count on it although you get the forest waterfalls. Generally we don't drink that much of water on the trail. We just go with at least a liter of water and sip along. All the camping places have water in abundance. Probably for the first two days or something it is better to manage with your own water. 
Q: Do you have to trek from Reeh to Gangi in stages?
A: Reeh to Gangi is again another 10 Kms. A little tougher than Guttu to Reeh. Guttu to Reeh is like an average climb in the Western Ghats. Again Reeh to Gangi is a little more. From beginning to end its some sort of a gradient and again another similar time frame — 3-4 hours. Reeh is right below a hill. The GMVN rest house in Reeh is on the edge of it. There is a hill right behind it and it's this hill we have to climb next day to reach Gangi.
Climbing the hill takes probably an hour or 45 minutes. And then after that you know it's not that much of a gradient but still a constant climb. When you spot a lot of little farms you know you are half way towards Gangi. And when it gets really close to Gangi you see all these corn based stuff growing.
Q: I guess you pitched tents at Gangi.
A: No, actually Gangi is the last place where we have civilization. So we thought we would stay in rooms. So that day we took the GMVN rooms.
The local people are different, you know. They don't belong to our civilization. They have their own life. They dress up in their own way with all these big ornaments. Even the houses there have a typical Gharwali architecture with small entrances and wooden carvings. 
Q: I was thinking if people want to charge batteries, would that be possible?
A: I don't think we can count on it. 
Q: And mobile signal?
A:  No. The signal is dead after Guttu. I don't know if the situation has improved now. 
Q: Did you cook your food?
A: No. GMVN has this Kitchen sort of a thing meant for trekkers. So they know porters are coming. They have a hall where the porters can stay and cook. So if you take the room then this also comes along at a very nominal price. You also get food from GMVN but you have to tell the caretaker in advance. 
Q: How is the trek from Reeh to Gangi?
A: Reeh to Gangi moderate to tough and little tougher than Guttu to Reeh. The initial first climb is very sapping and then on it's easier. At Gangi the GMVN is sort of strategically located. In the morning if there are no clouds you can see snow peaks at a distance. 
Q: What's the next day's camp called?
A: Its Kalyani. This is the place where the other alternate route that starts from Uttarkashi joins. From here on it's the same route. The route from Uttarkashi to Kalyani goes through a lot of grasslands and lakes like Sahasratal, Bhimtal. If you have the time you must definitely do that route.
The trek to Kalyani is just 5-6 KMS and is not much actually. Just after we leave Gangi there are three or four stretches of heavy landslide area. Be careful while going. It looks very scary to cross them. There are no trails in between for 10-20 steps. It's real fun. 
Q: What's the trek to Kalyani like?
A: You start from Gangi and you get these two or three big landslide stretches. You cross them and after some time you get a nice little climb. Then you climb up and reach the plains of Kalyani. Kalyani is a little level ground with hills on one side and a valley below on the other.
You have an option here. You can take a day off here and visit Sahasratal. It takes two days. It takes a day to climb up. Camp near the Tal and then come down. There was another group that was doing this. You know acclimatization is very much needed on this trek. So this is a nice option. If you don't have time for it you might as well continue.
We went from Gangi to Kharsoli in one day and that turned out to be a lot of distance. Put it something like 20 KMS. 
Q: So Gangi is 10 KMS or so from Kalyani.
A: Probably 15.  12 or 15 I guess. 
Q: And Kharsoli is 5 KMS from Kalyani?
A: Kalyani is probably 5-7 KMS from Gangi. Then it is another 12-15 KMS to Kharsoli. 
Q: Are you climbing the whole day?
A: The whole day you wouldn't feel like you were climbing but it's a lot of distance and in between you are walking on the river itself. The trail gets into the river and its surface is covered with pebbles.
 Q: Is it hard to imagine you are at around 10,000 feet and still in forest.
A: Ya, but we are not at 3000 meters yet.  When we got to Kharsoli you had lots of these parthenium sort of plants and there was really no space for a camp. Kharsoli is not a great camping ground but you have a very nice view and everything but the camping ground as such is not that great. You sort of make do with little. You clear out a few plants. You still have good views. 
 Q: And water is available at Kharsoli?
A: It's always available. You are going right along Bhilangana. So water is always available. 
Q: That means you did a 20 km trek from Gangi to Kharsoli.
A: You don't have to do that. You can take it light and stay at either Kalyani or Belbhagi. The next day you can come till Kharsoli. That will do. 
Q: And the next day? What did you do?
A: So after Kharsoli the next day we went to Tavakund. It's a nice little place where you find shepherds. We are pretty close to Khatling you may even make out the Khatling glacier. Now, you won't exactly see the Khatling glacier but you can sort of make out the glacier kind of terrain. Tambakund is very close to Chowki. You get down the valley climb up the other side and you are at Chowki. So we stopped at Tambakund because we had a rough day the previous day. We could have probably gone on to Chowki that day itself. 
Q: What was the distance and time of trekking?
A: It was not much actually. You know the previous day everybody was tired so we thought ok no matter what we will take it easy and we stopped at Tambakund. Its probably just under 3 hours may be 2 -2.5 hours or something. At Tambakund you are at 3000 meters plus, 3300 or something I guess. 
Q: And is the terrain like forest cover or grasslands?
A: Tree cover would have gone by the time you reach Tambakund. From Kharsoli you are in tree cover for half the distance and slowly the forest cover leaves you. And then you start getting into the cold — you know windy valleys and then the grassland sort of thing with small bushes. By the time you reach Tambakund you don't have much trees around. 
Q: From Tambakund how far are you from the river now?
A: Very close I mean you just get down the valley and there is the river. 
 Q: So what did you do at Tambakund because it's only 3 hours of trekking? I assume by 12 or something you would have reached Tambakund.
A: Ya, we started a little late because the previous day we were tired and probably started at 10 or something. We reached by 12 or 1. We had a nice lunch and again a nice dinner. 
Q: In the evening did you walk around?
A: Not much to walk around. You can't go more than 100-200 meters. You are in a steep valley kind of area. You have a trail but you are on a steep valley face. So not much place to walk around.
Q: And views at Tambakund?
A: Very good! The views keep getting better and better. You don't see the full view of snow peaks but you know it is very close. You take another half a days time and you will see everything. The other side of the valley is also getting very close to you. 
Q: Then on the day to Chowki do you start early?
A: We started probably at around 9 and reached by 10-10.15 I guess. So what you do is just get down the valley, cross the river on a bridge or on a make shift temporary bridge, go to the other side and in 15 minutes you are at Chowki. 
Q: Ok, this makeshift temporary bridge, what is it made of?
A: I don't know actually. It may or may not be there now. Make sure before you begin the trek your porters or guides are equipped enough to build one if it is not there. Making a temporary bridge using ropes is a big activity in itself. If there isn't any bridge then you will probably lose a day – you will spend the day just to find out where to cross and build the bridge. This was a worry and one of the reasons why we camped in Tambakund. 
Q: So that means Chowki is basically grassland which I can imagine is surrounded by snow peaks.
A: Chowki is a huge grassland. It's like one of those green places where you are surrounded with all the snow peaks. There is a glacier running down on one side and its huge you know. It's almost like walking up a golf course. The glacier's river basin is spread around. Water comes out of the glacier where you can wash. But the water is so cold that you need half an hour to thaw. It is really that cold.
It's a very nice place to spend a rest day and it's very important that you have appropriate rest at this altitude. The rapid altitude gain starts from here. Chowki to Masartal is like 1500 meters in one day where you typically climb only 300-500 meters a day. You need to be really acclimatized at 3-3500 meters. So that is why we planned our trip in such a way that we have to spend at least 2-3 days at 3000 meters before we can attempt 4500 and then 5500 meters (highest point is 5500 meters). Mayali Pass is one of the highest trekkable passes. So acclimatization is very important. By camping once in Tambakund which is probably 3300 or 3500 meters for two whole days at Chowki, you should be very well acclimatized. Otherwise, I don't see how people can climb the next two days.
 Q: So you spent two days at Chowki?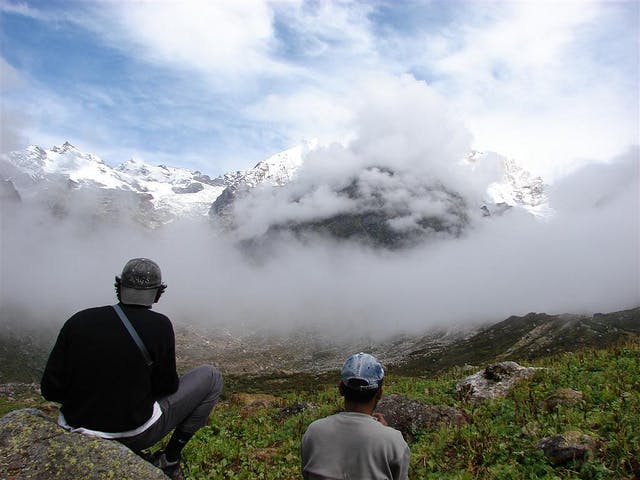 A: We stayed at Tambakund for one day and then we crossed over to Chowki and stayed there. So the both are at almost the same level. You are spending a lot of time there getting acclimatized and it is good because there are big grassland and a lot of greenery. The important thing is to enjoy the beauty of Chowki while staying there. 
Q: I think you have described Chowki pretty well. Let's move on to the next day.
A: The next day's climb is one of the toughest yet one of the most beautiful ones that I have done. You climb close to 1500 meters in one day and we did it in probably 4 hours and 15-20 minutes or so. In terms of distance, it is just 7 kilometers and you gain 1500 meters in height. It is quite a climb over a very short distance. Till the last point you have some grass cover which helps. On any other kind of surface you would definitely struggle a lot. With every step you get a better view of the whole Chowki valley. And directly opposite to Khatling glacier you are just climbing, climbing and climbing. Every step you take you start to see the whole thing from a height.  And then the horses are there. They are wild horses and they just roam around. 
Q: At that altitude ?
A: Yes. Probably they are brought in by the shepherds and they just set them free. So it's nice seeing the horses. 
Q: And finally the trail ends up at …?
A: Just before Masartal. You camp right when the grass sorts of goes and you have these rock flakes. You know surface rocks that look likes plates. You start seeing them and you camp just before they start. Right after these rocky plates you get Masartal. Again, one of the most beautiful sights. In that setting and in rocky surroundings and at that altitude it's just very beautiful. On the left of your camp there is a huge glacier. In the night we were actually woken up by some parts of the glacier falling off. It was as though there was an earthquake or something for 2-3 seconds.
Remember, I also spoke about the tough route from Gangothri to Kedar through Auden's Col? Auden's Col will get you from Gangothri to Chowki. So while standing on that ridge on Chowki we can see the Khatling glacier. And Auden's Col is behind that Khatling glacier.
The stay at Masartal, if anything, will send a chill down your spine. This is very high at 4500 meters. It's a place you can't stay long. We are just temporary visitors. 
Q: When you put up a camp at Masartal, are you sleeping on the rocks or did you manage to find a flat place.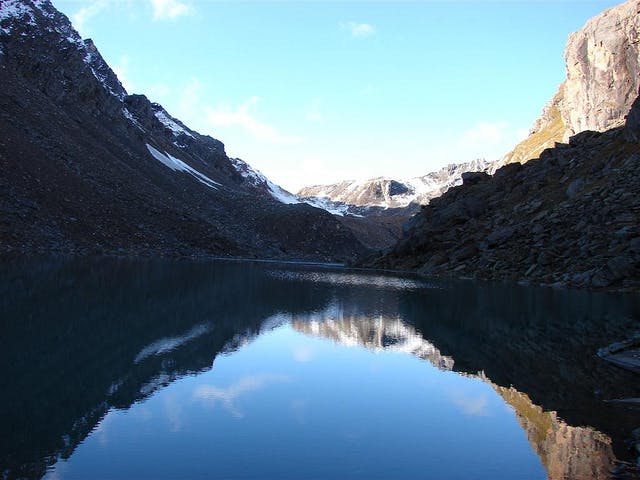 A: Yes, you can find some flat places. There is this small flat climb and you get a little flat ground. You can find a place where you can tent. Very safe and no fear of any falling rocks. In the evening we went a little high and saw Masartal. It is obviously very beautiful. It was very cloudy so we couldn't see the whole tal and we sat there for half an hour. Staying there for half an hour is a big ordeal in the cold. It's not a small lake at all, probably goes to 250-300 meters or so. 
Q: Why do porters say that it's dangerous to wander too far at Masartal?
A: It is an all boulder zone. If you go around a fold or a bend and you may not know where to find your tent. It's not that bad actually. I told you it will send a chill down your spine. At least that's the impression you get when you first step there. It is that sort of a place.
It is at a very high altitude so eating, sleeping and any movement is difficult by 4 – 5 o' clock. You must put on all your thermals and yet you will be miserable. It is very cold there. Sleeping was hard. We wanted to wake up early the next day and leave because we are crossing a pass. You should go there before sunrise before the ice and snow starts melting.
 The sunrise is very very beautiful. You will be overlooking the whole Chowki valley from a very high place and the rays of the sun covering all the Khatling peaks. It looked like an orange band across the sky. 
Q: What time did you guys leave?
A: I think we left around 5.30-6, I don't know. We wanted to leave by 4-4.30 but it didn't happen because there was another big group and we wanted to go together.
I would suggest you start well before sunrise. You need at least 1 to 1.5 hours worth of time before sunrise. So probably leave at 5. You climb and then after 100 meters or 200 meters you get Masartal.
Q: When you are doing this last climb are you climbing over snow?
 A: No, not yet. You will still be on those rocky flakes and huge boulders. Once you reach Masartal you are wondering which way the trail goes.
Right beside Masartal there is almost a vertical cliff. You have to climb up vertically! It's called Masar Top. It is just boulders and boulders and you are climbing on boulders that are icy. A thin icy film will cover most of these boulders. That is why it is very important to start early for this trip. Once the sun comes out and this thin film becomes slippery. With both your legs on the boulder you have a high chance of slipping. It may not be dangerous but it is one of the toughest climbs.
There is nothing like a level walk. You just continue climbing and climbing. It is one and a half hours of pure hell at that altitude. 
Q: From Masartal how long do you take to climb to Masar Top?
A: The time you take to reach the top depends upon your level of fitness. From Masar top you get to see the best scene of all. Nothing else comes close to this. You get on top of Masar Top and what you see is the valley that you don't see from Masartal. But once you come to Masar Top then the whole valley is visible. That's on one side. You stand on Masar Top and right below is Masartal and directly ahead of you is Khatling valley and below is the greenery of Chowki. That's on one direction and on your left there are these small peaks you can trek to (but at this altitude it will take a lot of time). And then you turn and face the other direction. The other side is a huge snow freeze, like a moon landscape and you see Kedar Dome. Nobody gets to see the other side of it. And this is the place where you see the other side of Kedar Dome. After you climb to the Masar Top, on your far left is Kedar Dome, on your right is Masar Top and in between is a huge snow field with a glacier below. It's like there is a glacier in between Kedar Dome and you and after you cross the glacier you have a huge snow field to cross. The breadth of the snow field is so vast that you lose all sense of sight. When you ultimately land there and walk across it, you don't know what size it is. It's that huge. You have nothing to compare to what you see. It is nothing but like the landscape of the moon and that's the view from the Masar Top. On one side you have startling green of Chowki, below you have Masartal, right in front of you is a huge glacier, you have Kedar Dome and a huge snow field awaiting you after that. 
Q: How much time did you spend at Masar Top?
A: We probably spent half an hour there. We went there and then waited for every body to come up. And you obviously need some rest. 
Q: I can imagine you need some time to inhale the view too!
A: Spent around 30 minutes. And after that you start on a steep landslide sort of area. You can't obviously go on the glacier. You cut across the landslide hill. It's little difficult to go through, but your guide will take you all right. After that you have stable glacier with proper snow cover.
Once you traverse through the landslide hill to avoid the glacier, then you have to cross those snow fields and after that you have a proper climb through snow and that's how you reach Mayali Pass. 
Q: How steep is this climb through snow?
A: It is average. When you cross the snow field it has an easy gradient. You cross the snowfield after which it is a steep climb. We used the rope all though it was not always needed. Then we come to cone like folds on the snow, like deep pits. Its all snow covered and you don't know where your leg is going to slip. You need a very good guide for this stretch. This is where our guide came in. He said some thing like, "that this is my territory". He went ahead and within 10 minutes he figured out the whole surrounding. He put up the ropes very quickly. He just had one look at it and told us how we are going to do it. Whatever complaints we had over our guide were gone.
The last climb is tough. It was at a high altitude and we had finished all our water. Mentally we were already drained out because we didn't have water. By the time we reached Mayali pass there wasn't much view. I don't know whether others get a view but it was covered with 50 per cent clouds when we reached there. We really enjoyed Masar Top. The view from there was amazing. I don't know if we get any view from Mayali Pass or not. A small hill where you can relax and the guide will do a puja. They offer prayers and give Prasad.
Q: How long did you take to climb the last final steep climb?
A:  It took us half an hour. This climb will be something new to you. You wouldn't be accustomed to it.
It's almost close to 5500 mtrs and you might feel very tired. I took half an hour to an hour because we were on a rope and have to go one after the other. I wouldn't say it may take more than half an hour for the last climb. The snow field would be probably half an hour across.
You are on top of Mayali Pass to celebrate. Then begins the steep down. Everything is superlative. Climbing down from Mayali Pass is something is like facing my worst fears. Its hell. So much to go down and so very steep. After all this, most people give up. It's a long distance to go down. You will probably get 1 or 2 kms of snow and then you have big and small boulders, so you have to save your ankle. It takes a lot of mental and physical strength. If you are still good it will probably take one and a half hours or two and half hours to get down. Then you camp. We didn't go till Vasukital. We camped 500 m before Vasukital. 
Q: From Mayali Pass to Vasukital you would have a section full of ice and snow initially. Later is it only boulders?
A: You will have probably a km or two worth of snow. When the snow finishes off it is full boulders. You cannot see anything and you need a guide. You just follow some body there. You can't even see people going down. Gradually boulders start becoming smaller boulders and you get yellow orange grassy landscape. You camp on these grassy lands. There is lots of camping ground. The local porters don't want to camp near Vasukital because it is very sacred to them. We camp a km before Vasukital. We had a late lunch. The whole day was in excess of 10 hours. We reached at 4 o'clock. 
Q: Without water, how were you able to go from Mayali Pass to this side near Vasukital?
A: Actually, you don't need water, but require some small sips of water. One thing I remember is I was crying for water. 
Q: What's you campsite like?
A: Little bit of grass around. Lot of plains. 
Q: Would this be around 4000 meters?
A: Yeah, it should be around 4000 m. Next day we start off to Vasukital, it's very big from one end to another and it's more than a km long. It's a huge lake. It's the only plain surface you see. 
Q: But what time do you start out?
A: Pretty late, around 9.30 to 10 clock. Vasukital is a very nice place, very spiritual, beautiful settings and no snow around this place. Small trails around. Some people take full pradakshina of Vasukital, its sacred for them. There is another climb. Vasukital is within a valley so in order to get to the other side, you have to climb to the top of the valley and then go down. This is the last climb that you have to do on this trek. Close to an hour's climb and a difficult climb. You are still in 4,000 mts territory. Your only solace is that it's your last climb. You can see Kedarnath from there. You are right beside Mandakini. Mandakini is the river that you see at Kedarnath. You are going beside the Mandakini, not the main Mandakini stream but a small stream that joins it. You can see Kedarnath way way below and you have to go down probably another one to one and a half hour's worth of distance.
Q: What is the scenery like when you are going down?
A: Again, beautiful green grass. You have green valleys on one side beside Kedar Dome. While going beside Mandakini river you can see the Kedarnath temple for an hour or so. When you reach Kedarnath you go to the temple and offer your thanks.
You land in civilization after a long time. In Kedarnath you get rooms. If you pay 20-30 rupees you get a bucket of water. Make sure you get a clean room, most things are filled with dust. Or you can still camp again if you seriously have a zeal for it.
Q: Can you camp next to the Mandakini?
A: Not next. Probably 15 minutes before you reach Kedar you can camp. You can also take some rooms. There are some places to visit around Kedarnath like Gandhi Sarovar etc. But we didn't do that. We just roamed around Kedarnath itself.
Next day you have to descend 14 kms down to Gowrikund and this will be on the regular pilgrim trail. The entire distance of 14 kms will have broad roads. From Gowrikund you will be on regular roads. And you go to Hrishikesh and Haridwar. 
Q: From Gowrikund do you get transport to Hrishikesh and Haridwar?
A: You get buses, or shared jeeps or you can book one for yourself. 
Q: I think after your discussion about Mayali Pass I am kind of convinced I have to do this trek!
A: Not many people go to Mayali Pass. Off late you might hear about a couple of groups doing this. It's not crowded. You have couple of options. Either you can start from Guttu or from Uttarakashi. Uttarakashi is the longer route; it may take more than two weeks. Getting all the porters, the amount of luggage we have to carry also matters.
There is a tough route from Guttu which goes above the hills and Mayali Pass. There is one which goes through the lower floor. It probably deviates at Gangi or a little before Gangi. This goes all the way till Khatling and then takes a right to Mayali Pass. And there is another pilgrim trail which goes below these mountains. You go straight from Gangi to Khatling and then take a right. This also lands in Kedarnath. But this is on the lower slopes. You are always on the green valleys. This one is an easier pilgrim trail. It takes 4-5 days.
Sign up for our much loved Weekly Mailer
We have terrific trekking tips, trek updates and trek talks to look forward to