Warmth... in the cold at 15,000 ft atop Buran Ghati
Share this story
Memoirs of a budding trekker
Writing a travelogue is a tall order. Words usually fall short to describe the incredible feeling one goes through, when the wanderlust in them takes them amidst nature's bounty. However, an attempt must be made to share a bit of the exhilaration that I felt when I made a trip, a trek, to the Himalayas this year. It turned out to be more than a trek of the year; it has given me memories for eternity. This one trip of the year, and probably of a lifetime, was the week-long one undertaken to Buran Ghati, a valley snug in the lap of Himalayas in my Janmabhoomi, Himachal Pradesh.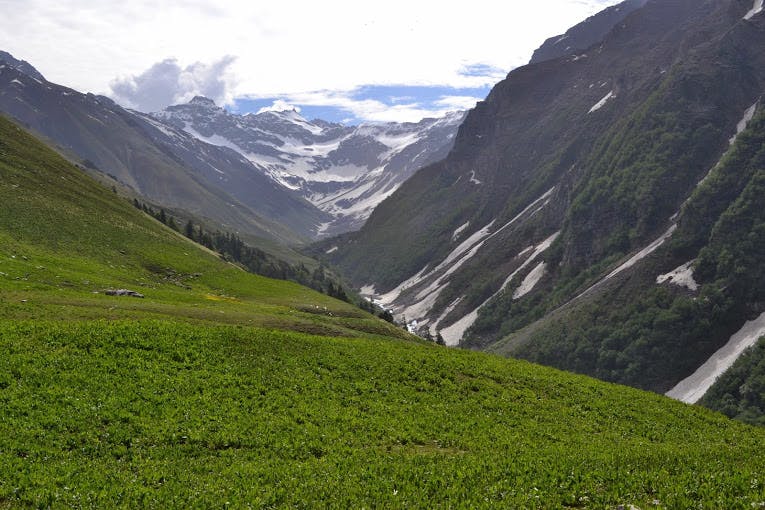 Before embarking on a long and arduous trek stretching over a period of 7 days, one usually encounters the usual questions – choosing a trek route, its duration, provision of food and water, of stay, safety etc. Fortunately, we live in an era mushroomed with many adventure companies that take care of these issues. One such adventure 'community' is Indiahikes. The website reads as follows, "If there is a trek that serves up a buffet of all our great treks put together, it would be Buran Ghati"; it also urges you further, by stating "and if you made other plans, shelve them!" This impelled me to undertake the path, which ultimately led to not only soul searching, but also so many souls meeting. Also, it was at the behest of my best childhood buddy, Ashish, that I acquiesced to go for it.
Day One: Our seven-day trek began with a pickup from Shimla bus stand at 6 am. It was a 12-hour journey, the city of Shimla slowly disappearing, the chaos and traffic giving way to lonely, dusty and bumpy roads. We covered jalebi roads and hairpin bends; what made the ordeal easier was the munching of chips and gulping of soft drinks, and sights of the mountains and streams from our windows. We finally reached our base camp at 9,200 feet-Janglik village at twilight. The porters accompanying us had already pitched our tents and we, in groups of three, had a tent to ourselves. Ashish, my childhood buddy and I along with a youngster named Amith shared a tent. Soon Saran, the trek leader, announced that dinner was ready. The dusk descended into pitch black within a matter of minutes. There was darkness all around, with the exception of light faraway in the tent where our food was cooked, accompanied by the flickering of lamps in a few nearby cottages. All of us, with the help of our head torches, ate a bit, getting accustomed to our new 'dining table' and 'dining light'.
It was quite cold. I wondered that  during the course of the trek we would be climbing up to an altitude of 15,000 feet in a matter of 6 to 7 days, and if the first night is going to be so cold, what will happen in the days and nights to come! By 8:30 pm, the trek leader announced that it was time to sleep and that we would be leaving early in the morning. My two 'tenties' and I squeezed inside our tent. What an experience! How used to we all are, in sleeping in big beds with comfortable cushions and pillows. This was very different, with our backs resting on the hard surface, with the sleeping bag providing little cushion. Was restless the first night!
Day Two: Somehow, the night turned into day and we got up and freshened. Soon, the announcement was made for breakfast and we took out our plates, mugs and spoons and enjoyed the meal while breaking ice with other trek mates. There were 22 of us, and seven of them were foreigners, from the United States. There were many female participants as well, numbering up to eight. The group was an eclectic mix of people from different walks of life- engineers, management professionals, doctors and even the legal eagles.
Saran gave us a little briefing and told us, amongst other things, to respect the mountains. He advised us to continually sip water all throughout the trek, as doing so would prevent dehydration. He further warned us against AMS i.e acute mountain sickness and told us to take the requisite medicines for it.
Then, we strapped our backpacks and with our trekking poles out, we started the journey from Janglik to Dayara at 11,000 feet, our next campsite. It was a beautiful trail passing through meadows and streams running criss-cross. The sun was blazing in the sky and the earth, the green hills, the water – everything appeared bright and clear, sharp and vibrant. It was a stunning view all around. The pine forests and dense oak trees came into view. We stopped near a lone shed, where shepherds usually take shelter. (See PICTURES 1 & 2).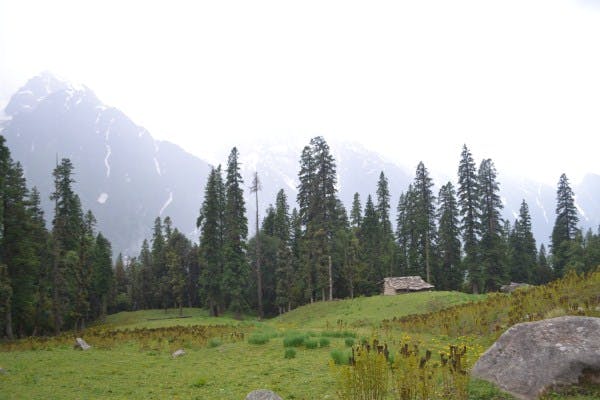 We gained altitude with each passing minute though at some places the route was flat. What a transition! From the bustling chaos of the city, to complete wilderness, devoid of any other soul except this lone group of trekkers. We finally reached Daraya. The heat had turned to rain quickly, and in moments the slow, gentle drizzle turned into a downpour. Luckily, our ponchos kept us a bit dry, but our shoes and socks were completely soaked. Kudos to the porters who accompanied us who quickly pitched the tent for us and we got inside. Outside, the storm was raging, howling, and thumping on the roof of the tent, and we felt that it would force its way inside! Moments later, hot tea and snacks were served to us inside our tents. After the fury was over, I overheard someone remarking that "Himachal ka mausmam ekdum Mumbai ka fashion aur Dilli ki sarkaar ki tarah hai – kabhi bhi badal sakti hai!" Backpacking in the mountains surely does teach one how to deal with uncertainties! I am tempted to reproduce Khushwant Singh's words in which he describes rain in his inimitable style: "Then comes the rain itself. First it falls in fat drops; the earth rises up to meet them. She laps them up thirstily and is filled with fragrance. Then it comes in torrents, which she receives with the supine gratitude of a woman being ravished by her lover. It impregnates her with life, which bursts forth in abundance. Within a few hours where there was nothing, there is everything- green and lush." After the rain was over, we saw outside our tents and had a gorgeous view of the green hills undulating into the distance.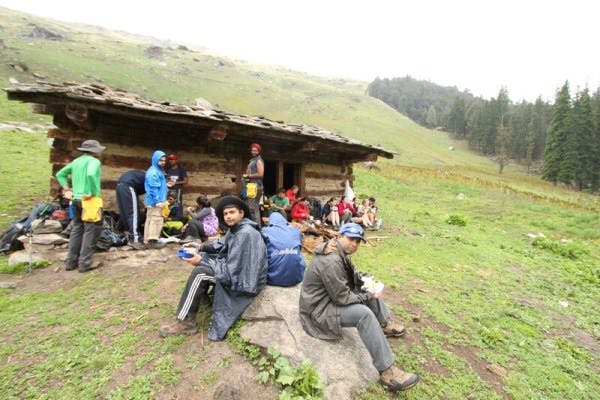 Day Three: After spending the night, we had breakfast next morning before making our way to the next stop 737 feet higher, i.e  Litham. The plates and cups spoons were deeply dug inside our backpacks and we did not have the heart to scramble through it to find them. So Ashish, Amith and I took turns from eating out of Komal's cup and spoon. This became the trend thereafter, and the four of us shared meals in this manner all throughout the rest of our journey. Yes, we understood the true meaning of sh
It was a relatively short trek of four hours to Litham. It was a picturesque campsite -we were surrounded by mountains on three sides and there was a stream of water running just a few feet below our campsite. (See PICTURE 3). The sources of water for us – drinking and washing- all throughout were streams, waterfalls and rivulets, and of course the Pabbar river. The water tasted sweet, and was refreshing. It is proverbial that pure mountain water is salubrious for health, and did indeed fill us with a lot of energy.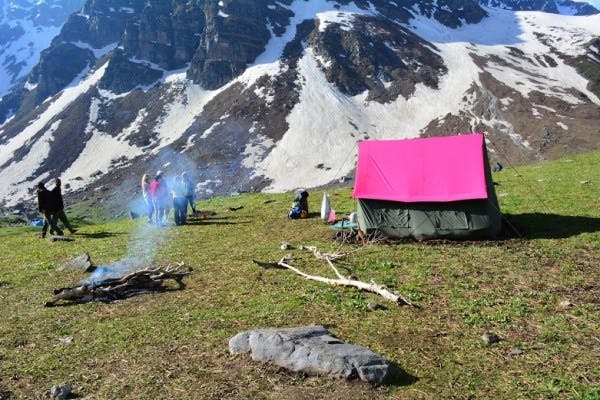 We even played cricket in the evening at a height of more than 10,000 feet! The pitch was the cliff off the mountain, the bat was a heavy wooden stump and the ball was made of some material, which weighed and felt nothing less than stone! Since we had reached the campsite early, we had time to play games like Antakshari, Dum-charades and Mafia. Even the trio of Amar, Anurag and Sugandh let their hair down and joined in the gaiety. The song Mai Re Meriye by Mohit Chauhan was sung umpteen number of times! There was a lot of mirth and merriment in all these activities, and that evening helped us all bond together in a way like never before. We were so engrossed in ourselves that we forgot the outside world, and that it ever existed.
Gradually, the soft light of dawn suffused the landscape and we lit a bonfire that evening. There was a lot of singsong till night. Nights were very early by 8:30 we were all fast asleep in our tents Sleep came instantly, and the tent was our haven.
Day Four:  The next morning's itinerary was an excursion to Chandranahar Lake. Lore has it that the lake was part of Lord Shiva's abode. When we got out of our tents, a majestic scene beheld us. As the sun was rising, the snow-clad mountains glistened in the light in their pristine glory. (See PICTURE 4)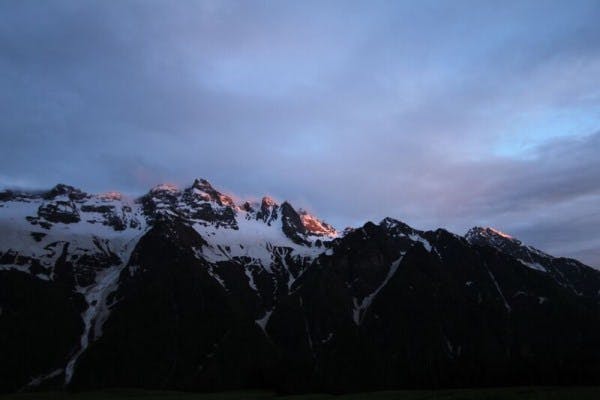 We left the campsite at Litham after breakfast.(See PICTURE 5-showing us leaving Litham enroute to the Lake) It was a steep climb and we heaved, trudged, and finally reached a snow-covered area.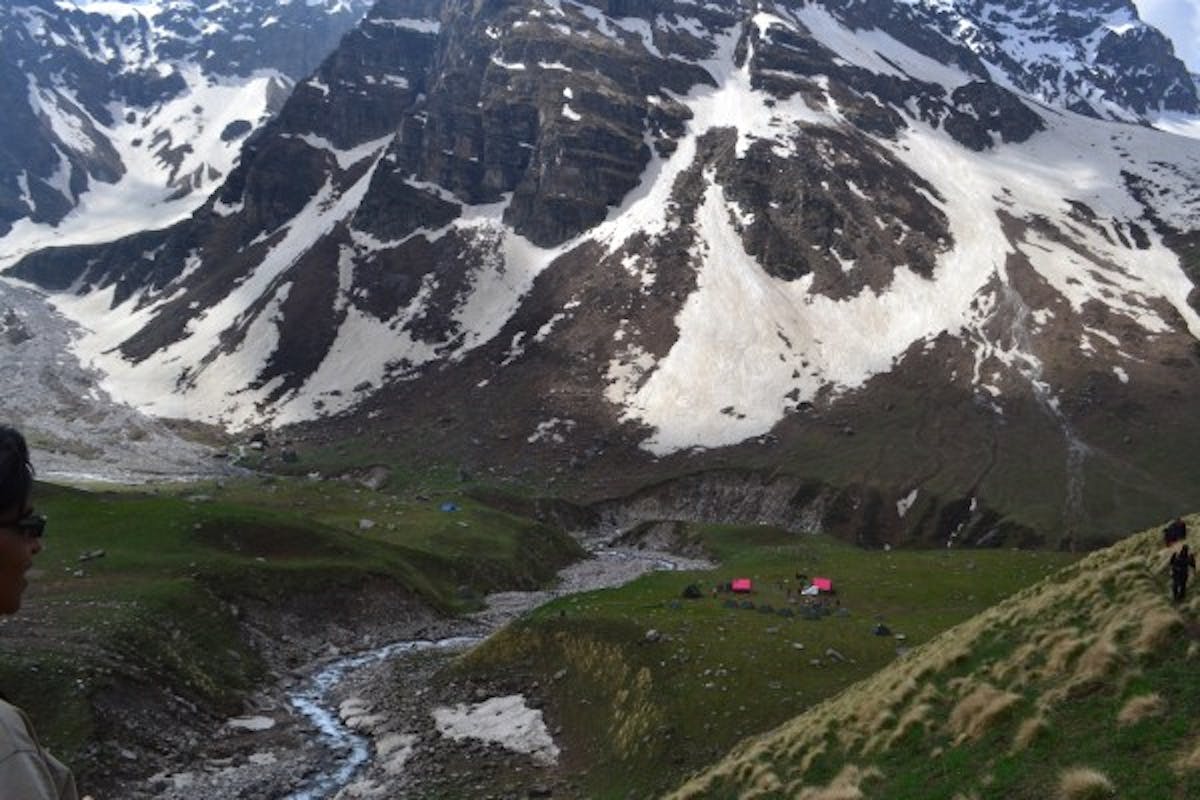 Picture 5 – Starting our trek and looking back at the Litham campsite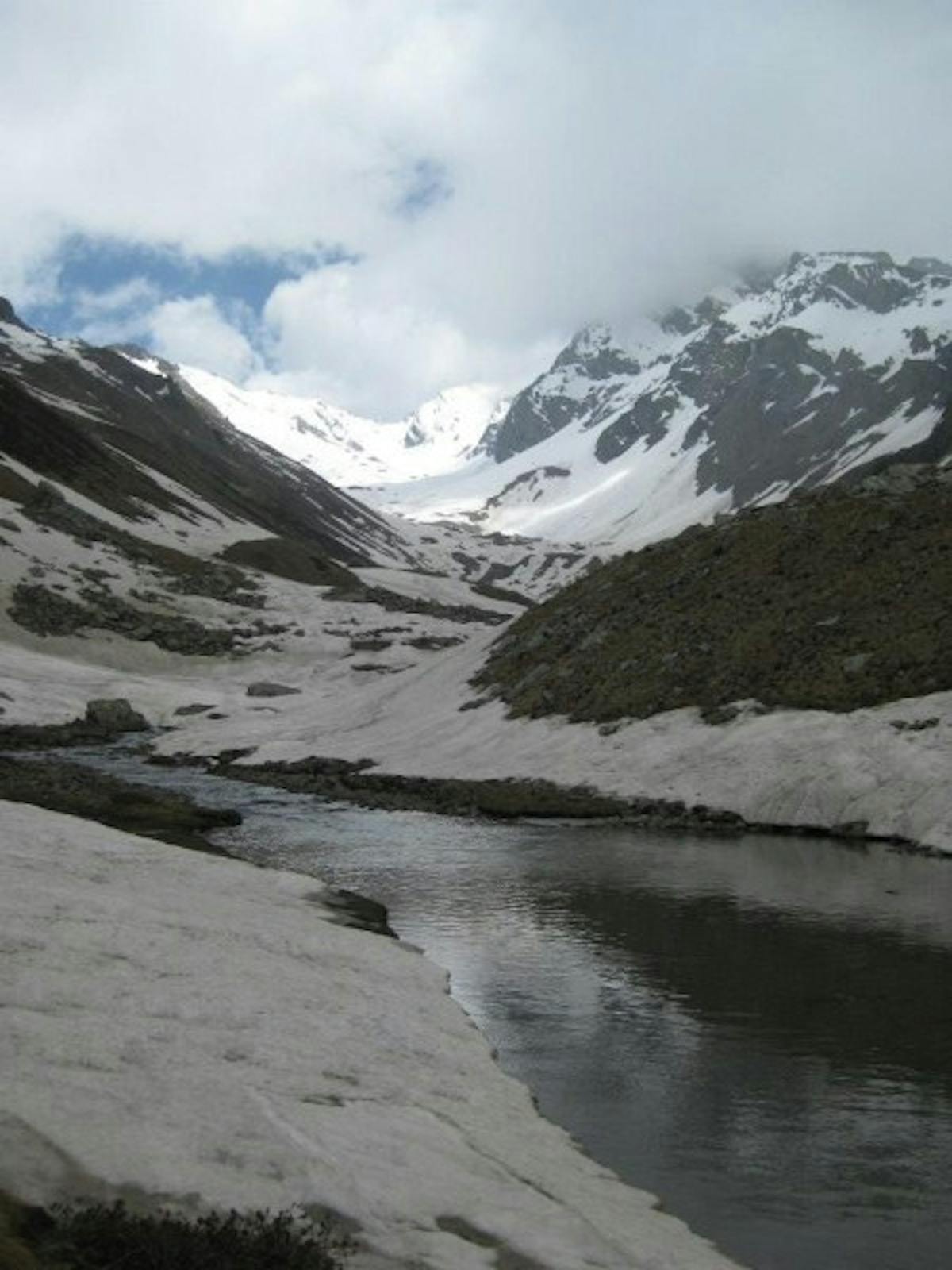 Picture 5 – The Chandranahar Lake
The Chandranahar Lake (See PICTURE 6 )was a few snow patches away and the guides informed us that the ardent devotee must travel bare-foot to reach the lake. Without hesitation, I took off my boots and socks and plunged into the icy patches of snow. Some of the other daredevil trekkers also followed suit. It was a thrilling moment! Walking barefoot on snow is an experience altogether. And, nature has its ways of equalizing, for providing respite – after each patch of snow there were a few patches of brownish yellowish coloured grass. The moment when our feet were on the verge of freezing, and the moment we landed our feet on the grass, instant relief was provided, as if we had never set foot on snow in the first place. Thus, we reached Chandranahar Lake, washed our faces and dipped our feet into it. I offered a silent prayer. Thereafter, we trekked downhill back to Litham.
Day Five: The next day was the assault at Dunda, nestled at 13,300 feet. It felt that the climb was interminable, arduous to say the least. Our knees were almost touching the mountains when we climbed. But, it was heartening to see that all of us pulled up each other and encouraged each other physically, as well as by encouraging words. We often halted for the ones who were lagging behind, and there was immense camaraderie. Saran,the trek leader ensured that Harleen completed the trek, with a little help from me, Gaurav and Veer. Also, Abhishek and Vibhor showed exemplary spirit despite their age.
On the way to Dunda, there had been a natural landslide, and the stones that fell from the mountain had blocked part of a stream of water. This resulted into forming of an artificial lake (See PICTURE 7). The brave lad from US, Nathan Dewey took off his clothes and jumped into the icy waters! The turquoise green colour of the lake offered a breathtaking view. We sat there for a while in silence absorbing the purity of nature. As I write this, I'm transported back to that afternoon near the lake and my heart fills with joy, and I can't thank nature and God enough for such bounty. Also, the campsite at Dunda was a heavenly like experience- literally, we were surrounded by snow-clad mountains on all sides on top, and beneath we were enclosed with snow patches.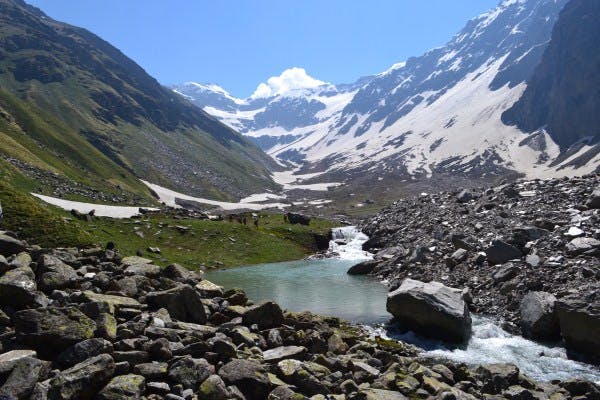 Day Six: The day next was the proverbial 'climax scene'. Our mission was to pass from Dunda to Munirang via Buran Ghati.It was an ardous journey, as we climbed from 13,365 ft to 15,000 ft  and further descend to 11,800 ft in 8 hours.The sheer climb on snow was unnerving at times, thrilling the other. We all formed a line as we trudged uphill, using crampons to get a grip on the snow. There were moments when we stopped to take a breath. And when we did that, the view took our breath away! Finally, we reached the summit, and at 15,000 feet, we felt like "on top of the world!" There were cheers of jubilation and we hugged each other! There were photo-ops, posing, and distribution of sweets. Sachin and Minal distributed Snickers to all of us. (See PICTURE 8). We felt like we were at the rooftop of the world. It was an awesome spectacle. Below, far in to the distance were vast sheets of snow and after that, patches of greens and browns. At the eye level we could feel the perennial silence of the great heights, accompanied by the whoosh of strong winds at times. We took a slow turn to get that stunning panoramic 360° view of the magnificent Himalayas.(See PICTURE 9) What a journey! We scaled more than 15,000 feet, one of the tough treks of India. A deep sense of fulfillment engulfed me. Felt ready to take head-on all the challenges of the world!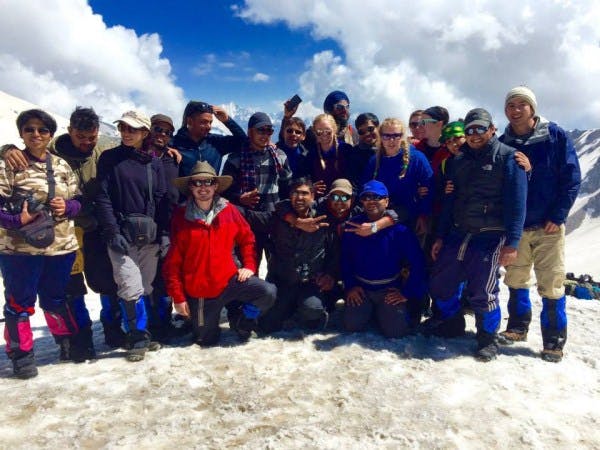 Just when we thought it was all over, our trek leader pointed out to the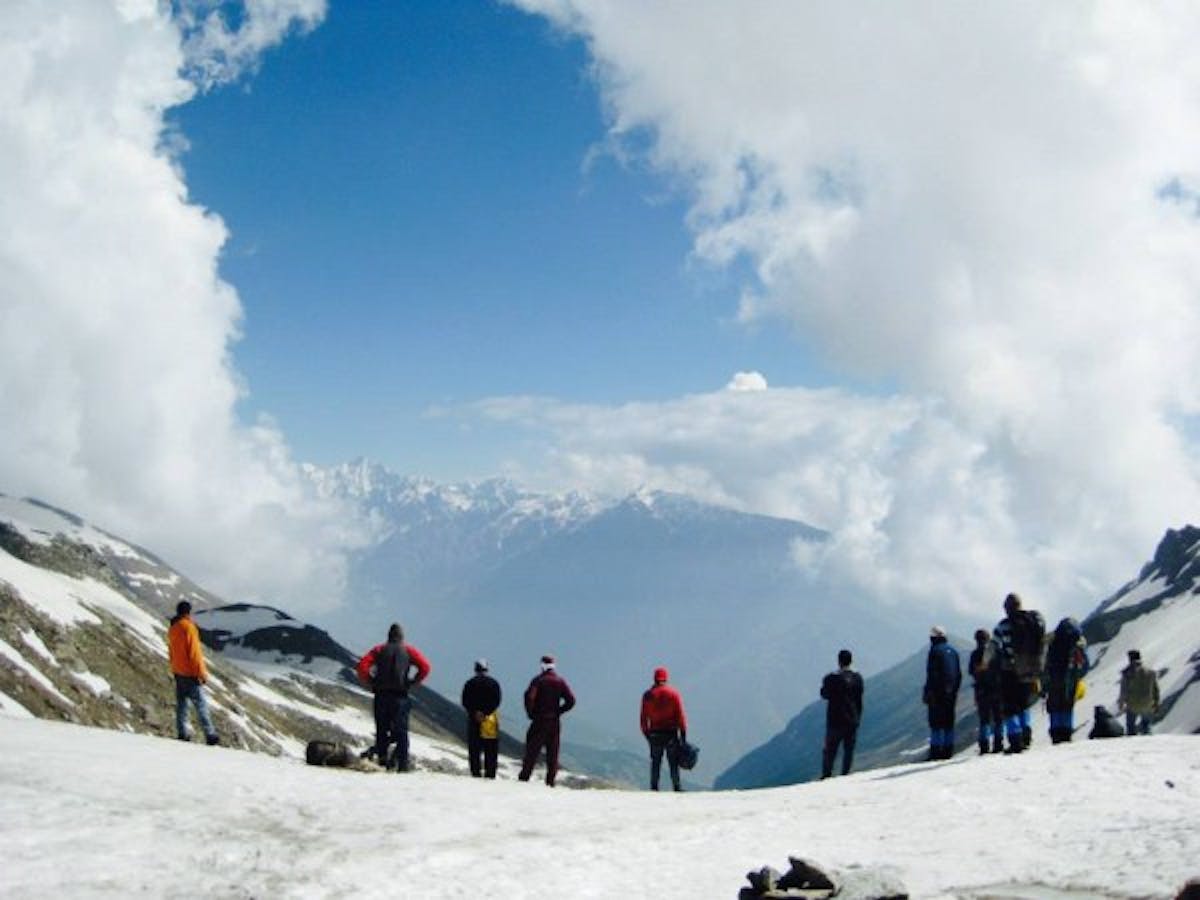 Picture 8 – All of us stunned by a 360 degree view of the Himalayas
We used the ropes to climb down a part of that sheer almost 70 degrees descent, and then we did the unthinkable – we slid down rest of the descent on our backs! Like kids on the slide, the difference was that our turf was the snow-laden mountain. It was pure delight, sliding down at neck break speed with the small chunks of snow hitting our face as we gained momentum. However, an unfortunate incident happened. One of the porters who was sliding with us crashed on to a stone and was badly injured. But the brave soul hopped and limped with the help of crutches and reached the campsite at Munirang.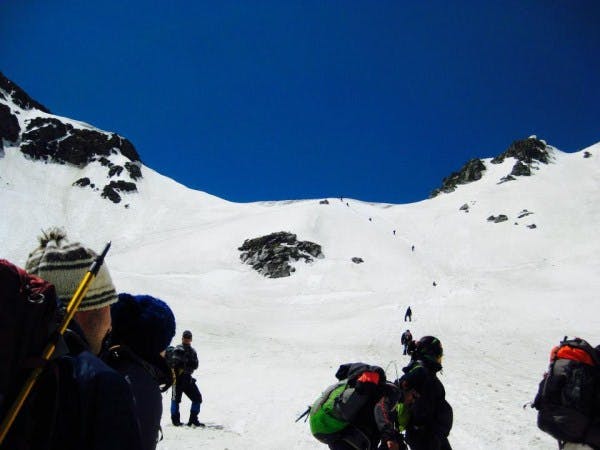 At Munirang, we rested. The evening was a memorable one and Saran distributed to us our well-earned certificates of completion of the trek. We shared our experiences with the group. All of us were full of gratitude towards Saran, Pankaj, our guide, and the porters, cooks and the entire team.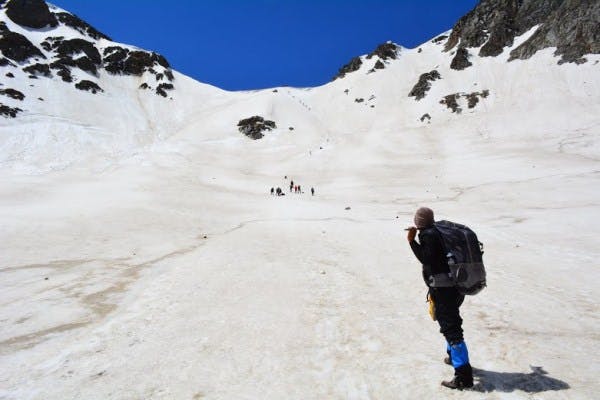 Day Seven: The last stop was Baruva Village. We descended 5,100 feet quite rapidly. The descend tested our knees beyond measure. On the way we came across apple orchards and Gaurav and I couldn't resist plucking the green apples from the trees..We also ate strawberries freshly plucked. The experience of eating fruits from its source is to be felt. The greenery around the track dazzled us, stupefying us with its striking beauty and exotic aromas. We kept moving forward utterly absorbed by our surroundings. The village folk also welcomed us and offered us to sip their traditional Apple 'juice'! Komal even got an offer to be a daughter in law from the local villagers!
From Baruva we took two vehicles to finally leave for Shimla.The journey back was memorable too. Ashish, putting the stereo on fire, the choicest songs belted out out by Vibhor, and the "shifting of gears' by 'high-on- apple- juice' Keshav, an otherwise suave youngster with a US-Brit accent!
Back in the real world now. Back with renewed vigour, enthusiasm and determination. We survived the trek. It did take a toll on our minds and bodies at times, but we endured, and triumphed. We learnt that the mind and body are capable of doing much more than we think. We learnt to push our limits. Apart from these invaluable lessons of life, I must say that those beautiful memories still linger on. Some nights when I look up at the sky, am taken to the nights where one could see all the stars and constellations in the sky. I miss the cadence of falling water, which lulled us to sleep. I wistfully remember the nights when Komal used to come to our tent, sometimes with ace photographer couple Sachin and Minal, and we used to hear songs on her mobile phone and sing along.I knew that I've made friends for a lifetime, and each of us have returned home, richer, better and wholesome human beings. Most of us have the pics of this memorable trek as the cover photo on Facebook.The impact was profound, indelible.
So, when the next time you have week-long holidays coming up and have made plans, shelve them for the trek of a lifetime to Buran Ghati!!
(Photo credits: The best trekmates ever! – Ashish Kochhar, Amith Nagarajan, Komal Sivadasani, Anurag)
Sign up for our much loved Weekly Mailer
We have terrific trekking tips, trek updates and trek talks to look forward to