How mental preparation for a trek can mean the difference between life...
Share this story
This is the first post in a three-part series written by Arjun Majumdar, founder of Indiahikes. In these articles, he speaks about the importance of safety on a high altitude trek and the measures that Indiahikes has put in place. 
Trekking in the mountains is everything about being slow. It's not a race from camp to camp with the aim of reaching a destination. You want to savour every moment, every sight of the trek. You want the mountains to penetrate your being.
But the mountains have a quirky habit of reminding us every now and then that there are times when speed is of the essence. Premanand's story is a great example.
Premanand was a terrific trekker. In his youth he had done his Basic and Advanced Mountaineering courses. Though in his fifties now, his love for the mountains had not diminished. A high flying corporate life had scuttled opportunities to visit the mountains as often as Premanand would have liked. Now he was in a hurry to make up for lost ground. I noticed he was signing up on many of our treks.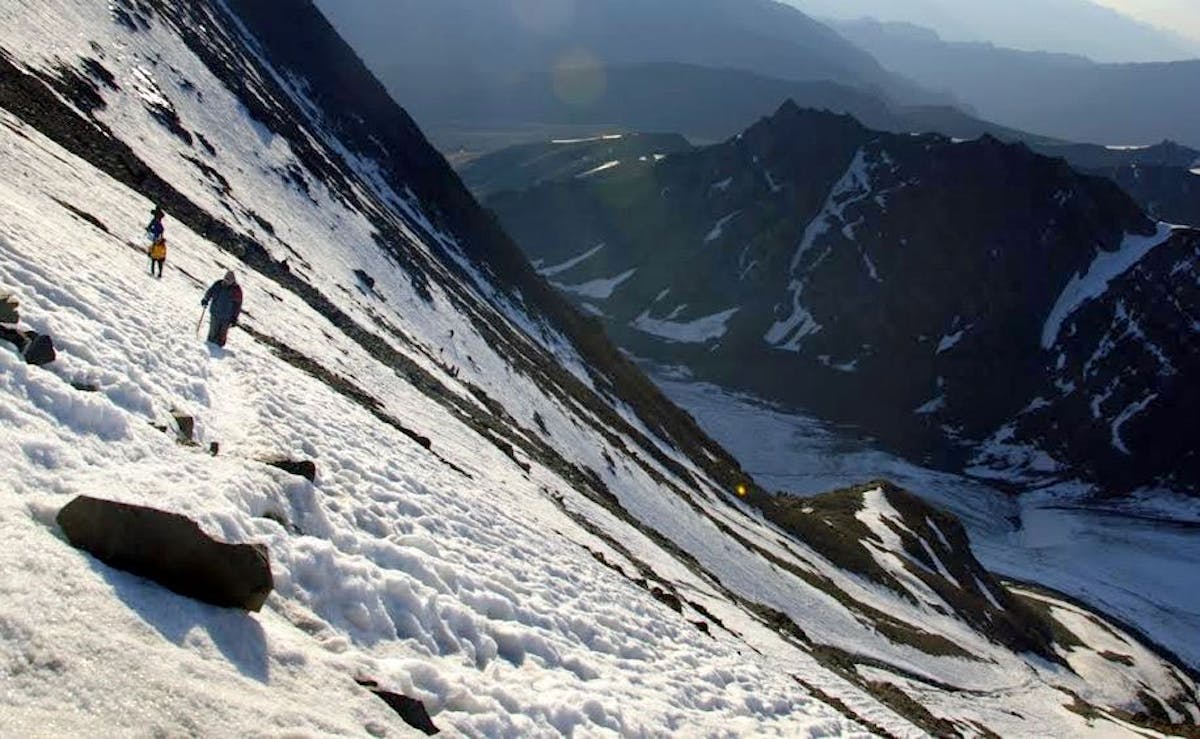 Notice the steep flanks of Stok Kangri. The trekker was descended down these flanks.
In 2014, on a trek to Stok Kangri, India's highest trekkable summit at 20,086 feet, Premanand suddenly collapsed just as the team reached the final summit shoulder at around 18,500 feet. He was motionless, recorded no pulse and had no heart beat. Our trek leader immediately administered CPR, put him on oxygen, injected a dose of Dexamathasone, a steroid, and resumed the CPR. Premanand continued to be comatose without any response. He appeared to have died suddenly.
Taking desperate measures, his Trek Leader dragged him to the edge of the ridge, positioned him down a steep snowy chute, and holding him close, slid down the flank of the mountain. They shot down the mountain side losing altitude rapidly and within a few minutes were down to around 18,000 feet.
The trek leader, along with the unconscious Premanand, continued the combination of slides and drags, descending rapidly. During one of those slides, almost like a movie scene, a miracle happened. Premanand suddenly woke up with a gasp. He had sprung to life! Relief rang across the mountain slope. After resting for about half an hour Premanand was able to walk himself back to the base camp. It was incredible.
There are many reasons why Premanand is alive today — the biggest would be the speed at which he was attended to. Every action had a role to play: the CPR, the oxygen inhalation, the steroid injection and the heroic descent down the mountain flank. Yet, it was the rapidity of actions that really saved him.
In the mountains, situations arise out of nothing. Taking quick, even imperfect steps is critical. Trekkers don't understand this. They stand by watching helplessly — hoping things will improve. One of the big reasons for this is the lack of preparedness. This is something that worries me greatly.
Most situations happen when trekkers are not physically and mentally prepared for the trek. Usually, a friend plans out an itinerary and others in the group follow the plan. They arrive on a trek without even knowing what the next camp is. They have not spent time exercising or getting their kits in order. They do not know about Altitude Sickness and what to do about them. When they are affected by an issue they dismiss it lightly.
Denial, I have seen, is the biggest cause of emergencies in the mountains. When situations are spiraling out of control trekkers feel things will get better.
Trekkers need to learn how to recognise and take care of immediate emergencies. They need to learn basic first aid and about medicines that work during altitude sickness. They need to read up on situations that can develop on the mountains. It doesn't take more than a few hours to learn about them. Before the trek starts, trekkers need to familiarise themselves with the route, the highest altitude points, camps on the way, the terrain, and a map of the trail. These are fun tasks and makes the trek come alive.
While the mountains demand that we take things slow, when things come to head, it is your preparedness and quick actions that save the day — however imperfect they may be.
This is the first of a three-part series written by Arjun Majumdar about safety on a high altitude trek. Read the next post here.
This article was first posted in Discover India, a monthly travel magazine.
Sign up for our much loved Weekly Mailer
We have terrific trekking tips, trek updates and trek talks to look forward to