Miyar Valley - The Yosemite of India
Share this story
In July 2016, Indiahikes Trek Leader Vyshak Nair went on an expedition. A local guide, some research and a few days of ration was all he had. He came back from the Miyar Valley with detailed documentation of the the trek as well as lots of interesting bits of facts. Here, he jots down his major observations about this magnificent trek.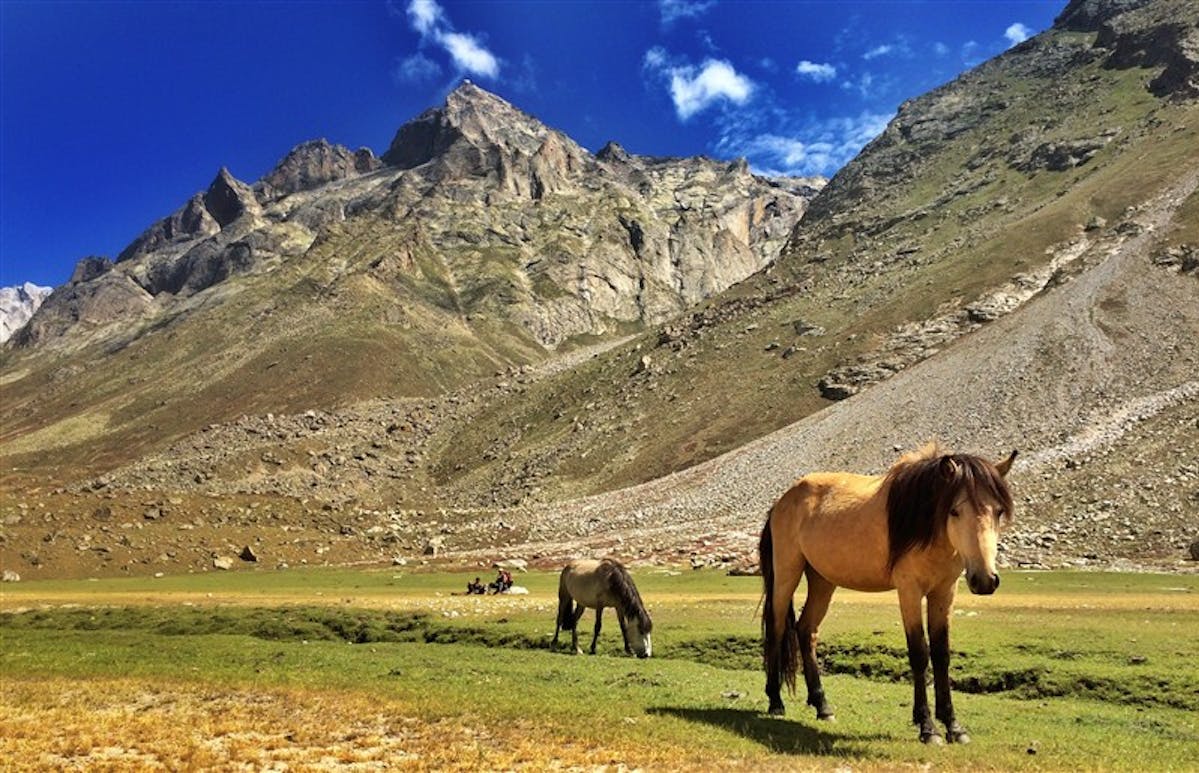 Closer to nature
My first exploration
Miyar Valley had been on my radar for a while. I knew it was a special place when Sir Chris Bonington described it as the 'Yosemite of India', due to the number of climbing possibilities in the region. And when the news arrived that I am part of an exploration team to Miyar Valley, I was ready and raring to go.
It is in our human nature to go after the unknown. We are born as curious creatures. We want to see more, explore more and experience more. Every new trek we explore and open to the world stands testament to our belief that 'everyone should trek'. The Miyar Valley exploration has strengthened our beliefs further and has left our exploration team hungry for more. This is exactly why one should trek to the remotest places in the world.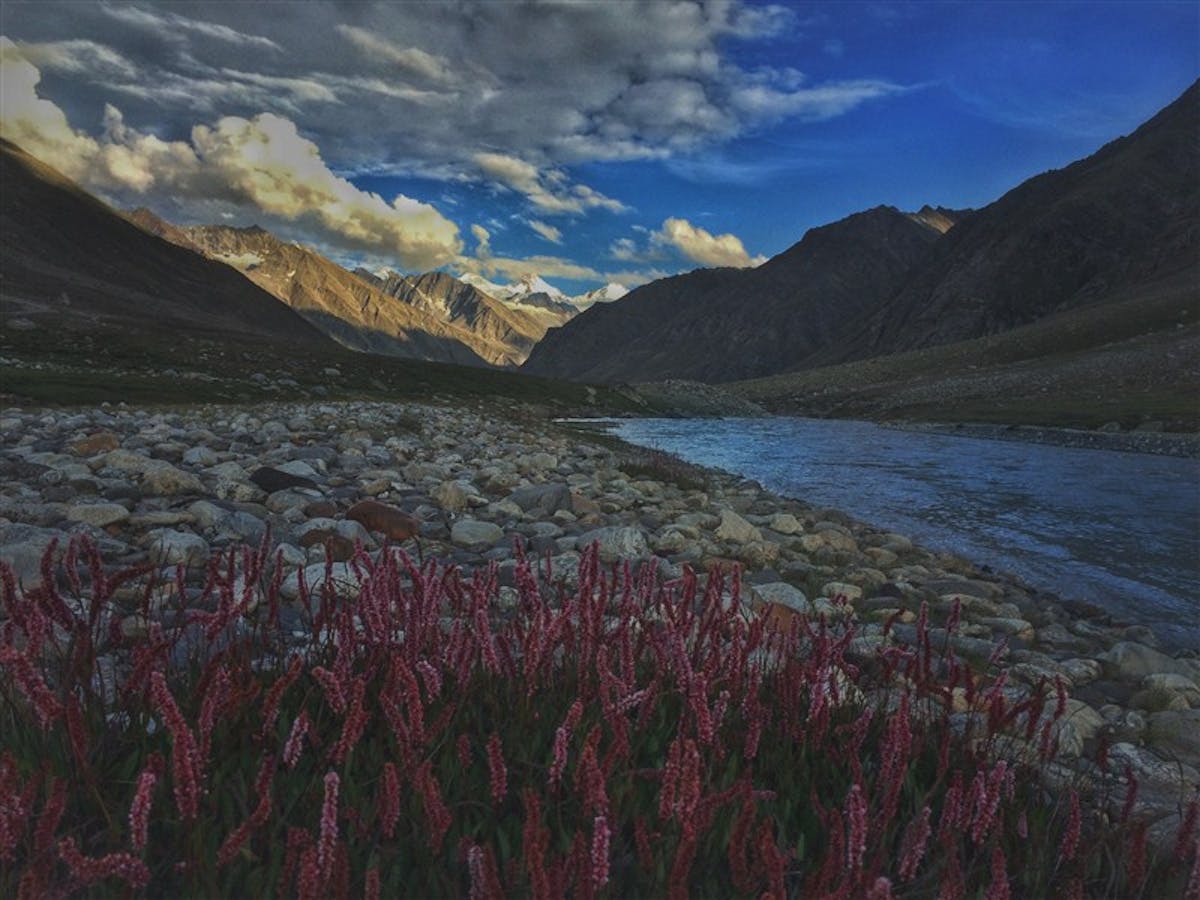 Beautiful flower beds
Why it can be a first timer's trek?
Almost all the treks in our mighty lower and middle Himalayas includes ascents and descents because of the topography of the same. It is very uncommon to find flat valleys with little or no inclination at all. It was then when  our team found out about a remote valley in Lahaul District of Himachal Pradesh which boasts some of the best peaks for rock climbers but one that has a predominantly flat approach route.
If one wants to trek upto the base camp of Castle Peak, Palphu and see the approach routes of the famous Mahindra peak, then this trek will serve that purpose. It is apt for an amateur trekker. As we explored the area we found dozens of glaciers on the upper reaches of the mountain. Under good weather conditions, it is possible for a team to reach Chodung Glacier and head back to Palphu through the same approach route of moraines.
Where exactly it could be difficult?
There are only two routes that could be make the trek challenging:
The route after Palphu starts with moraines and has no end until the glacier. It is not uncommon for people to feel the walk through moraines tiring. The fact is that it is not physically tiring, but the mental activity of calculating before taking each step makes it tiring. Once you learn to trust your shoes get used to the terrain, negotiating it becomes much easier. It is important to note that this is not a flat walk, but an ascent.
The approach route from Gompa to Palphu includes passing several river crossings. The water in it can be really cold depending on the sunlight. Contradictory to what happens at sea level, the sunnier it is, the colder and deeper it would be as it originates straight from the glacier above.
Why so remote?
To reach Miyar Valley, one has to cross the famous Rohtang pass and travel for 7 hours which is not for the faint-hearted. Just like Ladakh it is inaccessible for most part of the year through Manali. Urgos also gets cut from most of the main cities during winter.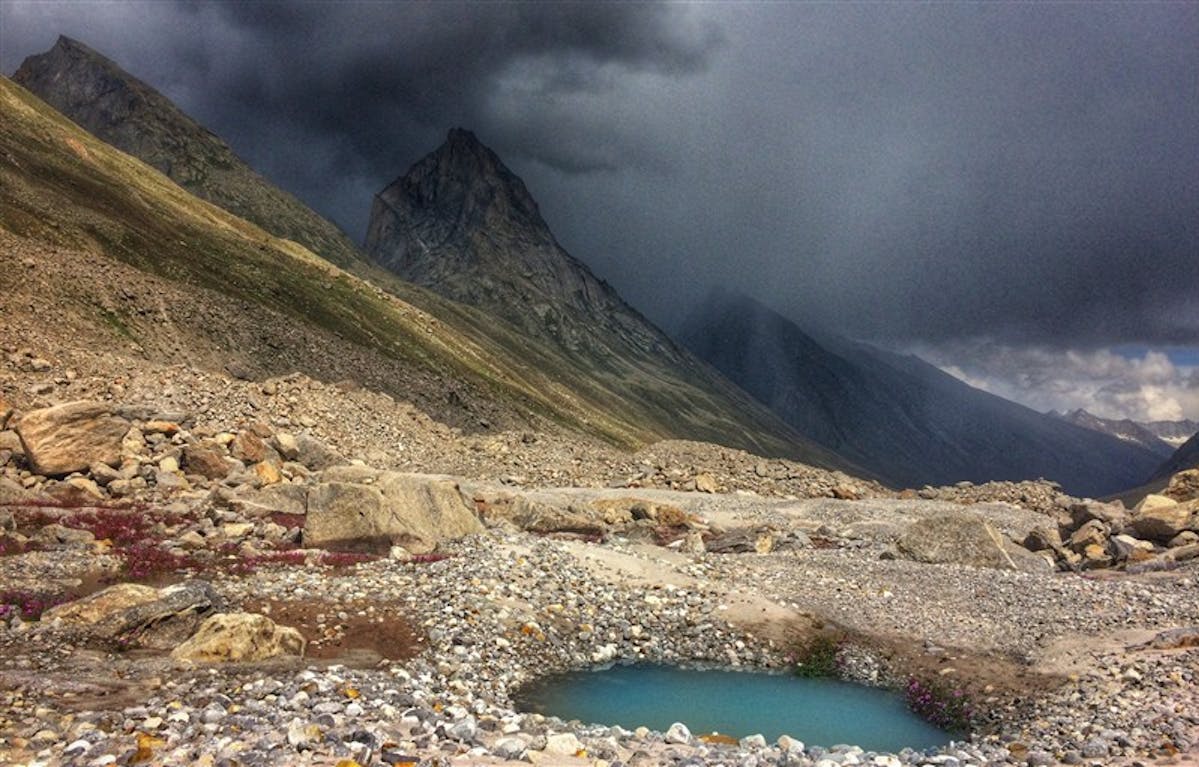 An ethereal pond
The life of shepherds
It is not uncommon to find herds of horses, dzos, yaks and sheep grazing around without any shepherds. It will be very rare to spot a Shepherd though. The shepherds trek about 500 km from far away villages like Chamba to leave their herds at this secluded Valley today graze for several months. The journey from chamba might start in a group of five with hundreds of sheeps but only three might reach back chamba. The other two will stay back for the season until it starts snowing when they head back to chamba. The shepherds have made makeshift homes out of rocks and stores dry cow dung as their fuel source for cooking.
The Folklore 
The locals of Urgos says that lamas used to stay up in and around Gompa. Many decades ago, because of various reasons the lamas decided to abandon the place. The remains of their shelter are still intact to this day. Some of the lamas passed the Kagna Pass and settled in Zanskar and rest of them went down through Urgos. It is believed that the horses of a lama fell down while approaching the stupa and it has left the markings on a stone. There is a stone en route Khanjar from Gompa that has the markings of the fall. The cairns made out of mountain goat horns are not an unusual sight. The elders believed in giving sacrifice of the mountain goats as a part of their prayers.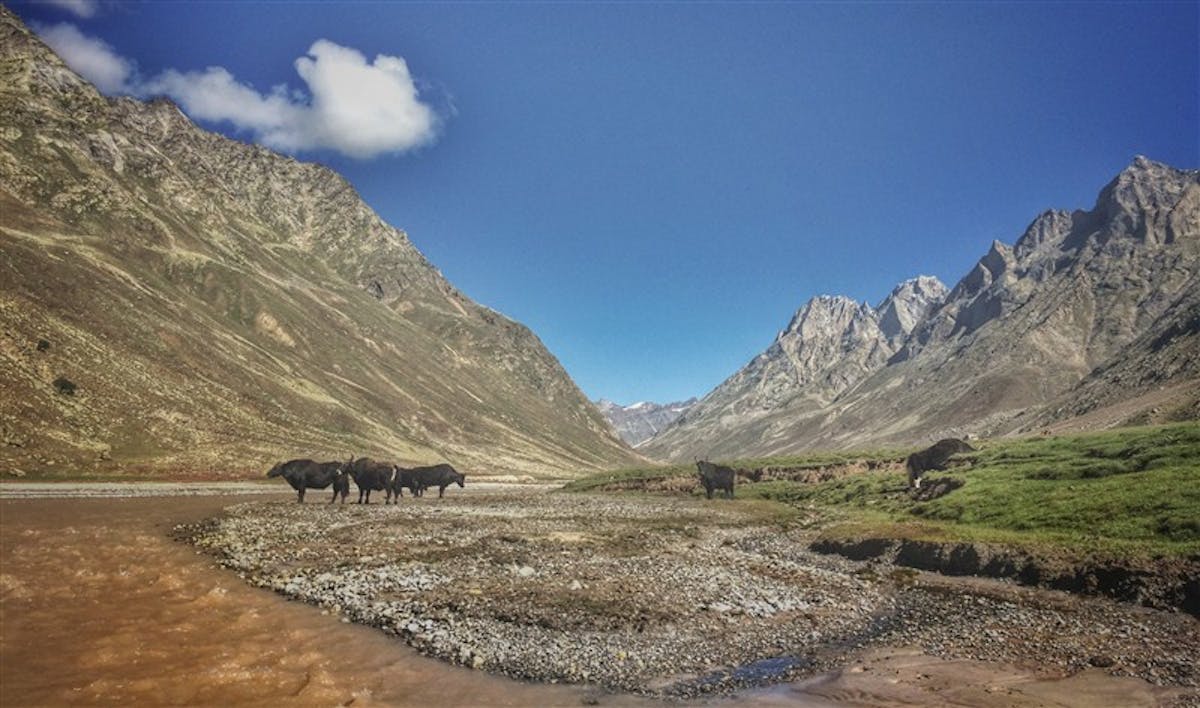 Otherworldly Charm
Why the valley is so famous among the climbers?
This fairly inaccessible valley at the extreme western corner of the large district of Lahaul and Spiti has a lot of stories behind each peak. It has seen drama, emotions, confusion, respect and sacrifice. The valley still had a number of virgin peaks with some of the best routes to climb. Climbing.com writes a very interesting article on an Colombian expedition that had happened in Miyar Valley.
Excerpt from Climbing magazine: 
"Roberto, the leader of an Italian expedition, had opened several routes on castle peak over the past years. He had given the name to Castle peak, as well as to Iris peak, which he named after his wife who died in a motorcycle accident the past year. A stupa or memorial was placed on the summit with her ashes. He was back to live his dream of climbing the three summits. We could see the disappointment and fear in his eyes when he learned that we are going after the unclimbed summits also. Without any further thought, we decided that the valley is  so large and there are so many other unclimbed peaks that we could find another goal. This was Robert's peak and we wanted him to have it. When we told the Italians about the decision Roberto was very happy and gave us both a big hug. We hauled our gear back the terrain and were content about the decision."
Read the full article here
To conclude, this trek will remain special to me for many reasons. The experience has given me a better understanding of Lahaul district and an introduction to Buddhist culture and traditions. As a trekker, I got to experience a trail that was completely different to any other trail. This is the only Himalayan trek that is predominantly a flat walk, thus becoming a trail that is the only one of its kind.
Sign up for our much loved Weekly Mailer
We have terrific trekking tips, trek updates and trek talks to look forward to