How I Took My Mom On A Himalayan Trek To Phulara Ridge
Share this story
People a lot more eloquent than me have written about how the mountains humble you.
Look around for a second, instead of at your own scurrying feet, at Churchgate Station during peak time. In that roaring ocean of people, it will dawn upon you that even if you were to simply disappear in Thanos's finger-snap, there will STILL be the same number of people here tomorrow, bustling about their own lives, entirely unaffected by your existence. Except maybe to shove you out of their way. You will feel depressed.
In the mountains, as you stand against the vast expanse in the middle of nowhere, you get that same feeling of being inconsequential. On this miniscule planet of one tiny galaxy spattered on some part of the unending universe, you are STILL smaller than a speck of dust. In that moment though, the feeling of being a nobody is liberating.
Before going on a trek, I am re-enacting every office drama in my head, ruminating over spats with friends, daydreaming about divine justice being meted out to the jerk who cut across me while driving and moping over the guy who never texted back.
The Himalayan wind carries all of that away. I come back to the city skipping and singing que sera sera. It's like getting your mind re-serviced, until it gets rusty again. Then you book another session of trek therapy.
However, this time, I came back not only with a sense of abandon, but also with a sense of responsibility. Towards the society at large, my family and also to myself.
Allow me to explain.
Me: I am going on another trek
Mom: I also want to come.
Me: You are not
exactly fit
to do a trek, you know?
Mom: So take me before I become
entirely unfit
to do a trek.
My mother had made this request when I had gone on treks earlier too, but I had brushed it off. "Some other time", I used to say. But I knew she really really wanted to come. Besides the expertly induced guilt, deep down I too agreed with what she said about her health. Knowing that, I knew I would loathe myself if I did not fulfil her desire. So being a doting daughter, just short of the typical Bollywood actress who croons "Mammaaa" in a fake tone and pinched voice with deliberate helplessness, I agreed.
The moment I told her I had booked a trek, she said "ok", walked out of the room with determination and became regular with her yoga and walks from the very next day.
Now read this while imagining the sound and video of a reel being fast-forwarded:
Choose Kuari Pass for its easy level and short duration,
Get transferred to Phulara Ridge
Go shopping where Mom acts all picky over the colour of her fleece jacket
My uncle (Mom's brother) comes to know I am taking Mom for a trek and threatens me with mortal harm should anything happen to her
Get stalked by a creep in Delhi
Play with an adorable baby on the train to Dehradun
Drink a new kind of tea –  one with chaat masala in it!
Enjoy the pleasant scenes en route to Sankri with pleasant potential trek mates
At the base camp itself, everyone looked at my Mom with admiration for having the zeal to try trekking for the first time at this age. I also sensed the concern. But everyone was still encouraging and indulging of her. Even Ashish, the trek leader for Kedarkantha walked up to me and said "No need to walk fast. If you notice, all trek leaders also walk at an easy but steady pace." Though he was speaking to me, I knew the message was for Mom.
First two days of the trek, everything went well. We walked through pretty forests, sprawling meadows and beheld purple-grey-hued mountains. Mom soaked it all in.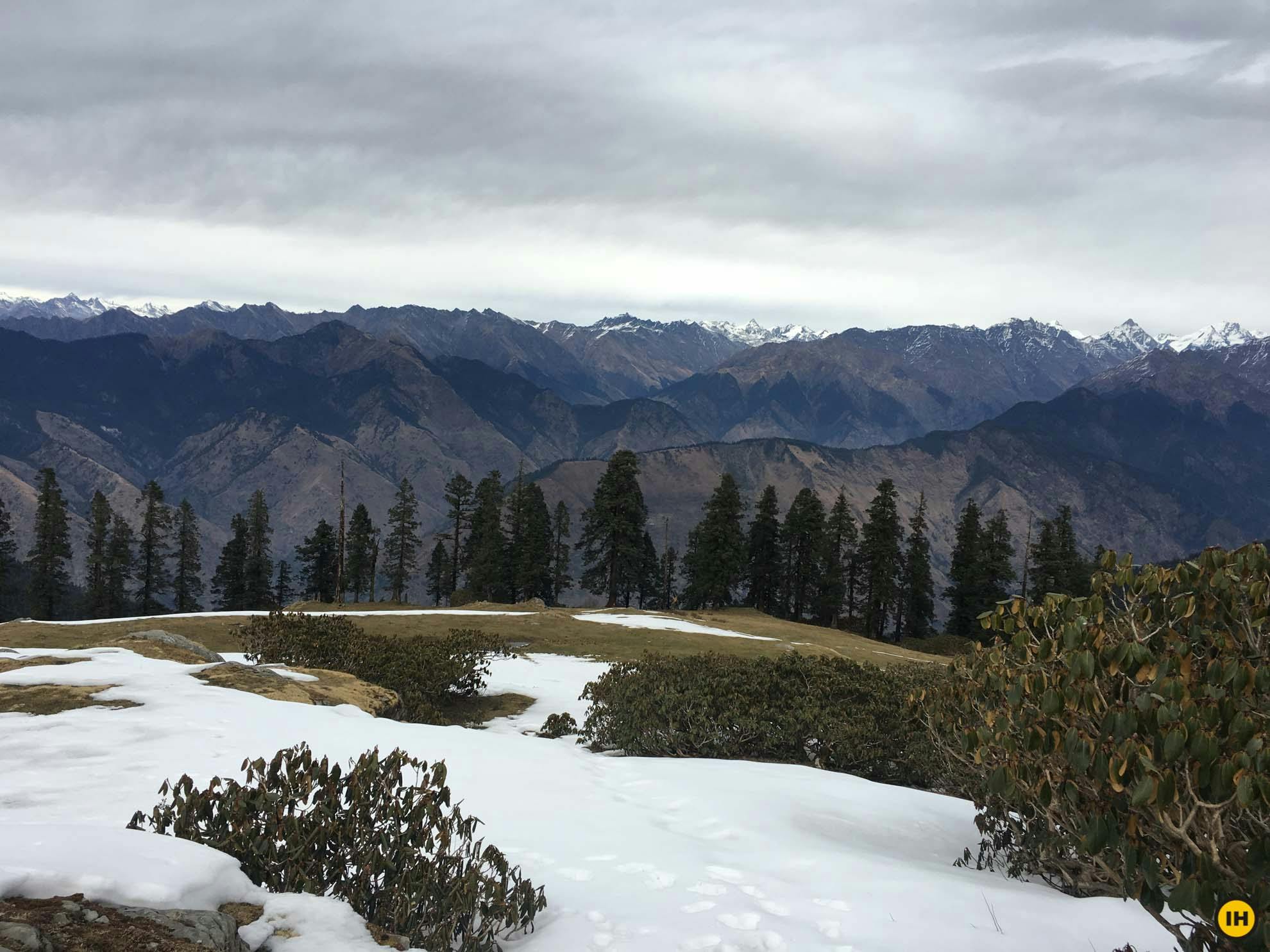 Though I could see her getting tired and wanting to rest, she was determined that nobody else should get inconvenienced because of her. And I know her willpower is stronger than all of us combined. So she still walked consistently and routinely kept telling me to walk carefully instead. I rolled my eyes every time she did that.
Mom enthusiastically posed with the snowman and devoured all the desserts. She had obviously cast her diet away as you would toss a snowball down into the valley. She also basked in all the attention she got when everyone clapped for her every time she reached the camp. All the trek mates – Hemantji, Anandji, Paul, Sonam, Yash, Drashti, Parin, Purna and Vijay – were such sweethearts! They never showed any sign of indignation and showered my Mom with lots of praise and adoration. They insisted on posing with her on the highest point on the ridge. I thought to myself – this is all going really well.
Just then, what I had feared came true. And it turned out to be even more nasty than I expected. My Mom suffers from knee pain, but it is not chronic. However, during the last two days, walking through the thick blanket of snow in spikes and the continuous descend aggravated it. She was in immense pain. Her speed reduced considerably and she was on the verge of giving up completely at any second.
She managed to complete the trek by Godly grace and the willpower of hers that I mentioned. I would be remiss to not mention trek leader Rajkumar and guides Jayram and Rameshji. They uncomplainingly held her hand, walked with her patiently and also joked cheerfully all along to keep her spirits up.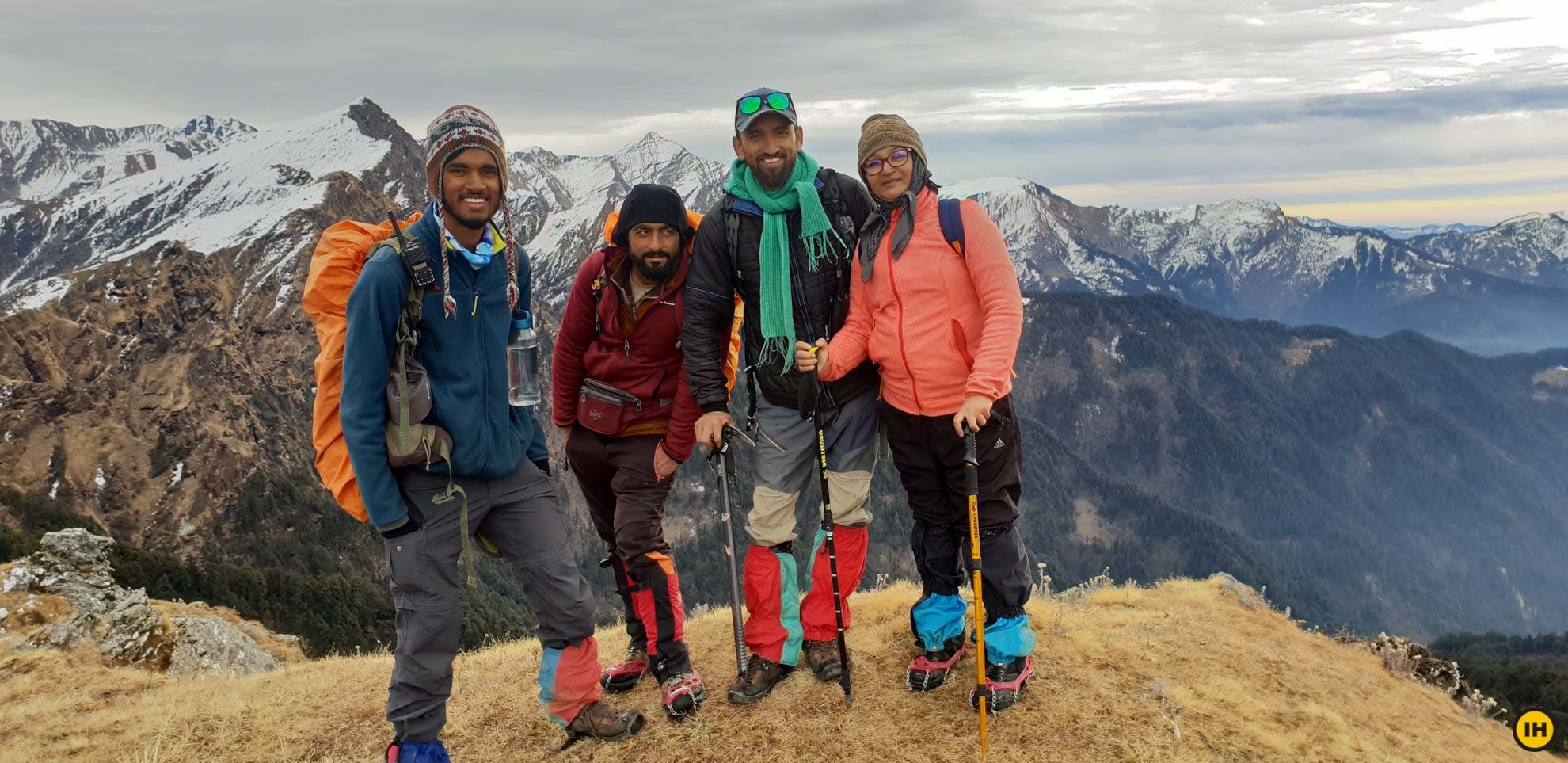 Back at the hotel in Dehradun after the trek, I realized exactly how tormenting completing the trek must have been for her. Her legs had swollen to the size of stumps. It took weeks for her to recover.
The average home-maker is never truly appreciated and her desires are always treated as secondary to the rest of the family's. She has made her home her world and has few dreams of her own. When she endeavours to do something different, normally she is read out a list of reasons on why she cannot do so.
Same happened with my Mother. She was dissuaded by most from going on a trek. The harrowing last two days were indeed a scare. Mom has disappointedly resigned to the fact that trekking is no longer an option for her.
You might say that all the naysayers were right, then. It was a stupid and risky action on our part.
When your mother tells you, that despite all that happened, trekking in the Himalayas was a DREAM COME TRUE for her – I say the stupidity and risk was worth it.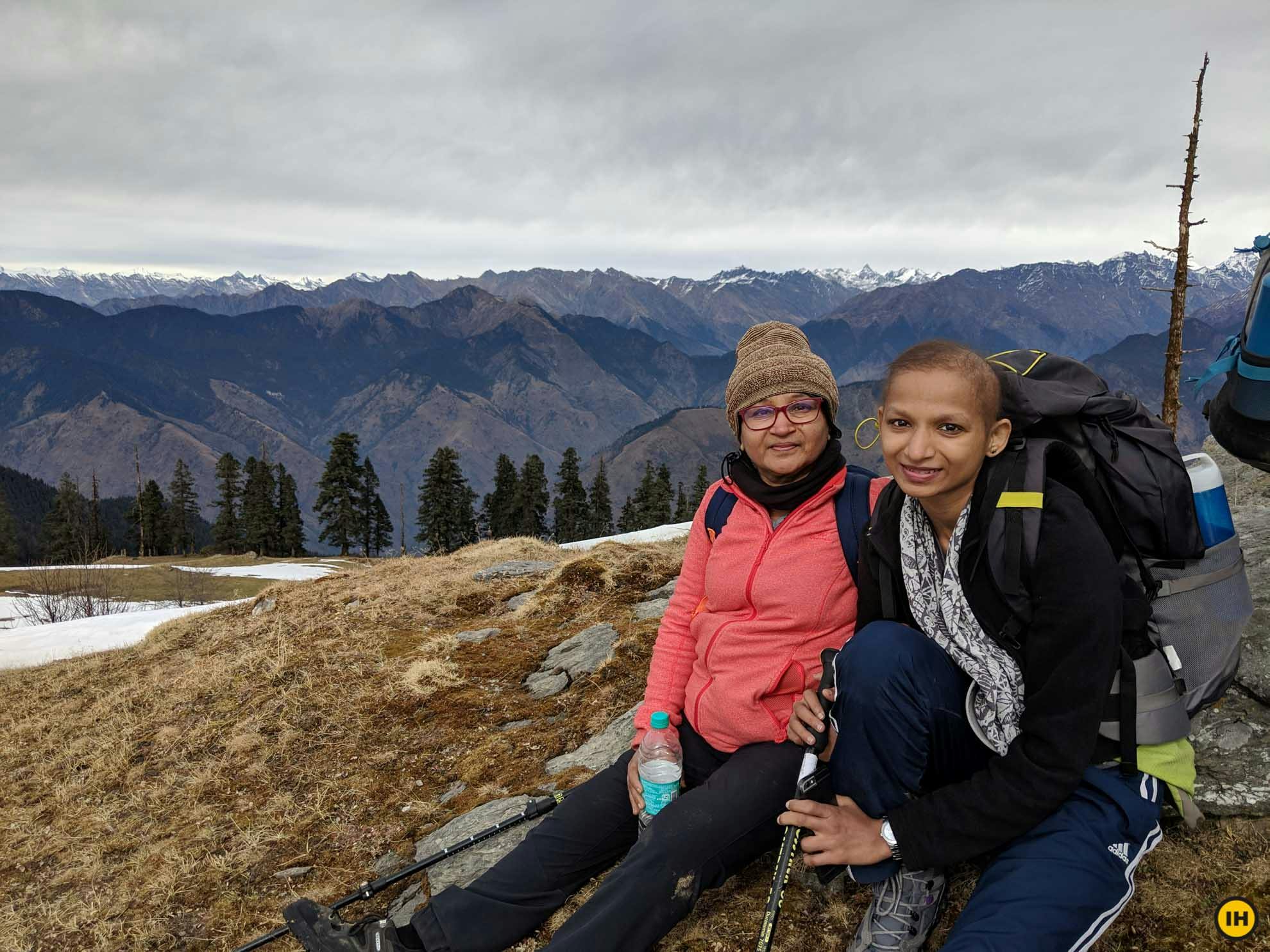 Here is explaining the sense of responsibility:
I normally trek for my own pleasure. This time I trekked as my Mom's attendant. My favourite part was tucking her into the sleeping bag every night. Like I used to tuck my stuffed toys into bed as a child. It felt like an amusing but endearing role reversal where I became Momma to my own Momma.
Despite her limitations, my Mom was determined to make her dream come true – and it did. My only regret is that it took so long. I know I am responsible in a way. I should not have been so selfish and listened earlier.
But the lesson is learnt.
STOP WAITING. Shake off the passivity and complete those unfinished projects. Time will never be "right" and you will never "feel" like it. Go for the hustle instead of waiting for things to just magically fall into place.
I have now started writing again after more than a decade and re-discovered how much joy I derive from it. I can't seem to recall why I had stopped in the first place. I have mastered my brother's motorbike and gained the confidence to go zooming on the highway. I have also become more conscious of my plastic consumption and exercise consistently, instead of in short bouts of motivation. I would have said I study regularly too, but that's still work-in-progress. :p
My gratitude to Mother and Mother Mountain.
PS: I overheard my Mom saying to her friend over the phone that she has heard of this Chhattisgarh Jungle Trek. "Since it's a forest, it will probably not have as many steep descends. That toh I can do, na?"
I smiled, pretended to have not heard it and went about my work. We'll get there when we get there.
Sign up for our much loved Weekly Mailer
We have terrific trekking tips, trek updates and trek talks to look forward to