Our Mountain Lovers Gold Calendar 2019 Is Here!
Share this story
Our Mountain Lovers Gold Calendar 2019 Is Here!
Category Announcement Archives
By Swathi Chatrapathy
2018-12-18
We have been receiving lots of calls and mails of late, asking if our annual calendar is ready. So it is with utmost excitement that we're announcing this!
Our Mountain Lovers Gold Calendar of 2019 is finally here! 
There's a buzz in the office with everyone poring over the new calendar.
And why not! The calendar has turned out to be a class apart! Take a look at it yourself. 🙂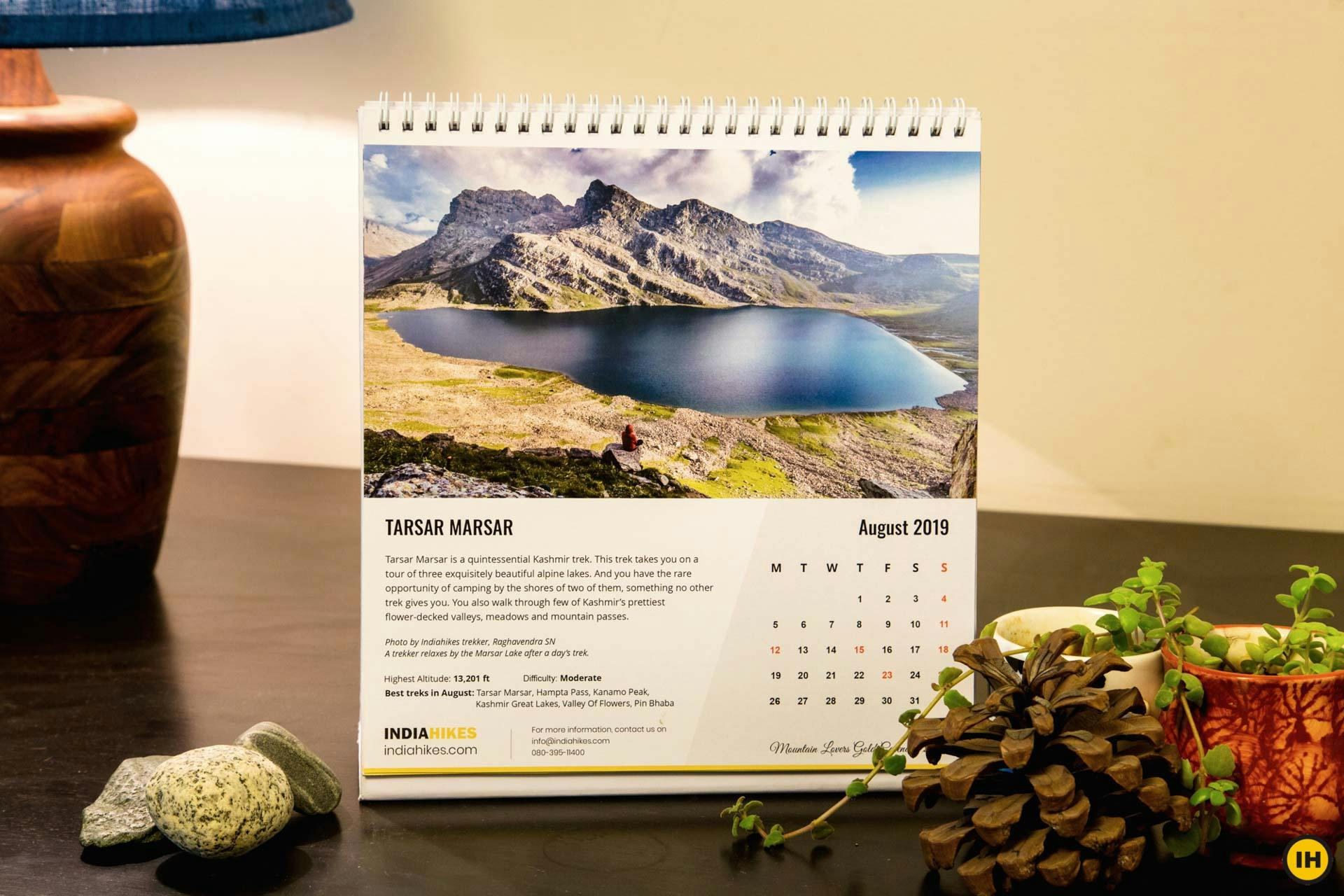 It took us months to put this calendar together.
First came the process of selecting pictures. It's a Herculean task! Deciding which treks to feature itself was a tough task. We love all our treks dearly, so just zeroing in on 12 out of around 25 treks was difficult. So imagine selecting just 12 photos out of more than a 1000 photos!
Then designing it. Our designer Ryan has done a fantastic job making the calendar look so elegant. He was patient enough, even though we suggested hundreds of changes with each draft.
And then came working with the press, getting proof copies, re-reading them, editing them to perfection.
In a way, every single person in our office has contributed to the calendar. And we love how this Mountain Lovers calendar brings us all together.
The final product is totally worth it! 🙂
The Mountain Lovers Gold Calendar 2019 has 12 stunning pictures from our Himalayan treks. Each picture seems better than the other. The photographers must take a bow for creating these story-telling masterpieces!
We have already received several orders without even announcing that the calendar is out (really wonder how word gets out!). And we usually run out of stock soon. These are limited edition calendars. We won't be reprinting them.
So, needless to say, order yours soon! It makes for a great gift to yourself or to anyone you know who is a mountain lover.
Buy the Mountain Lovers Gold Calendar 2019 here.
It costs Rs 290 inclusive of the shipping charges.
We will be shipping from December 23rd onwards, from Bangalore. It should take around 2-3 days to reach any other mero city. A day or two longer for other cities.
We hope this calendar takes you on many more treks and makes you proud to be a high altitude trekker!
Also, we don't have a wall calendar this year — While the wall calendar is one of the most prized possessions of our trekkers — something many of you were looking forward to — we won't be printing it this year. It was taking too much effort and time of everyone at office to send it to you. With the peak winter season on our heads, we had to take the hard decision this year to not print it.
So unfortunately, we don't have the wall calendar this year. We know trekkers loved it, we loved it too (Still have ours from 2016, 2017 and 2018). But we'll not have it this year. Perhaps next year we'll see if we can bring it back.
The desk calendar more than makes up for it. So make sure you pick one up soon! 🙂
Merry Christmas in advance! 
Sign up for our much loved Weekly Mailer
We have terrific trekking tips, trek updates and trek talks to look forward to