How can we Make Mountaineering an Active Sport in India
Share this story
Despite the Himalayas being a large part of the country, India just does not produce mountaineers. This is rather dismaying for a country where mountaineering could flourish. The number of Indian mountaineers seems too few for a country that is blessed with the Himalayas.
There are only three institutes in our country that impart training in mountaineering. These are the mountaineering institutes in Manali, Uttarkashi and Darjeeling. While there are a few other mountaineering institutes, almost all of them are affiliated to these three institutes and run their courses through them. Three institutes for a country like India are far too less.
These three institutes directly fall under the Government of Himachal Pradesh. While the curriculum is generally good and rigorous, there is a hidden problem. The basic course in mountaineering in these institutes is a month long program. Unless you are a college student, very few can afford a months' time to attend training in mountaineering.
Thirty days training for a mountaineering course is too long a period for anyone to afford. But what if we could split the training into capsules of 10 days. Each capsule could be a level to achieve. This could help us get a lot more people interested in the sport of mountaineering.
Even when a participant is able to make time for the course with a good grade, the next big hurdle is to find a team that is actually climbing a mountain. Most expeditions are carried out by foreigners who already have the required number of team members. The only way an Indian can get in is to join the team in an official capacity – like a liaison officer or base camp manager.
So, the next best option is to try for an Indian expedition. An Indian expedition is a rarity. They are usually arranged by a group of mountaineers, who know each other well. No one knows much about the expedition. And they rarely talk about it online.
Another way to go about it is to go for an Indian Mountaineering Foundation (IMF) – sponsored expedition. A visit to the IMF's office in New Delhi revealed to us thick files with resumes of applicants, all with terrific grades in their mountaineering courses, waiting to go on an expedition. Sadly, the expeditions organised were too few. (IMF is the apex mountaineering body in India. Most peaks come under the purview of IMF).
And then there is the final hurdle. Participating even in the smallest mountaineering expedition can set you back by Rs.40,000 – 60,000. It is an amount very few can afford. No wonder keen mountaineers look for a sponsor to fund their expedition.
One way to tackle the financial hurdle could be that the entire training could be conducted on the mountain slope, while on a summit attempt. In this way, the mountaineering enthusiasts would not have to look separately for an expedition. This will help them participate in an expedition and learn the ropes of mountaineering in a practical way.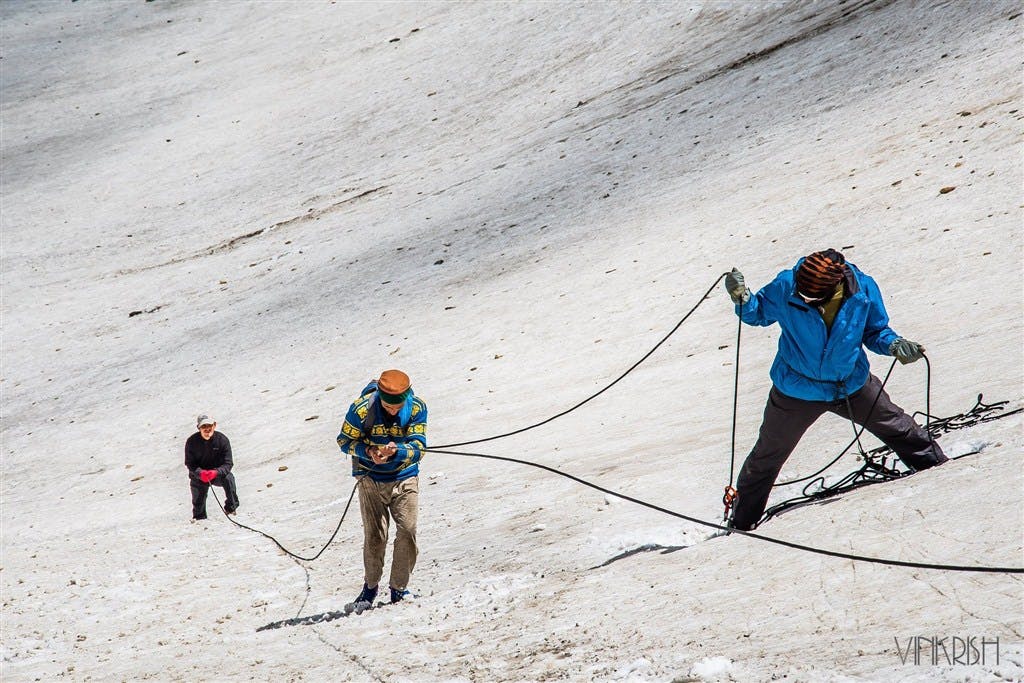 Next, the training method could also be modified. Instead of a generalized training, training could be specific to the grade of the mountain being climbed. For example a Grade 1 mountain (which is a mildly technical mountain) requires a different training than a Grade 2 mountain (a bit more technical). Similarly a Grade 3 mountain would require different training than a Grade 5 mountain (like the K2).
Finally, the costs of summit attempts have to be worked out so that they don't cost much more than a regular trek (not more than Rs.25,000 – 30,000). The hobby needs to be nurtured every year with an expedition or two without the worry of money. 
Sign up for our much loved Weekly Mailer
We have terrific trekking tips, trek updates and trek talks to look forward to