My Experiences Of Being A 2-Time Green Trails Intern
Share this story
D ay-dreaming about the Himalayas while you pretend to be focused at your workplace or in college lectures, is common.
But what do you imagine when it comes to the Himalayas?
The snow clad mountains?
Those huge pine trees?
The gushing waters?
Small villages still left untouched by city culture?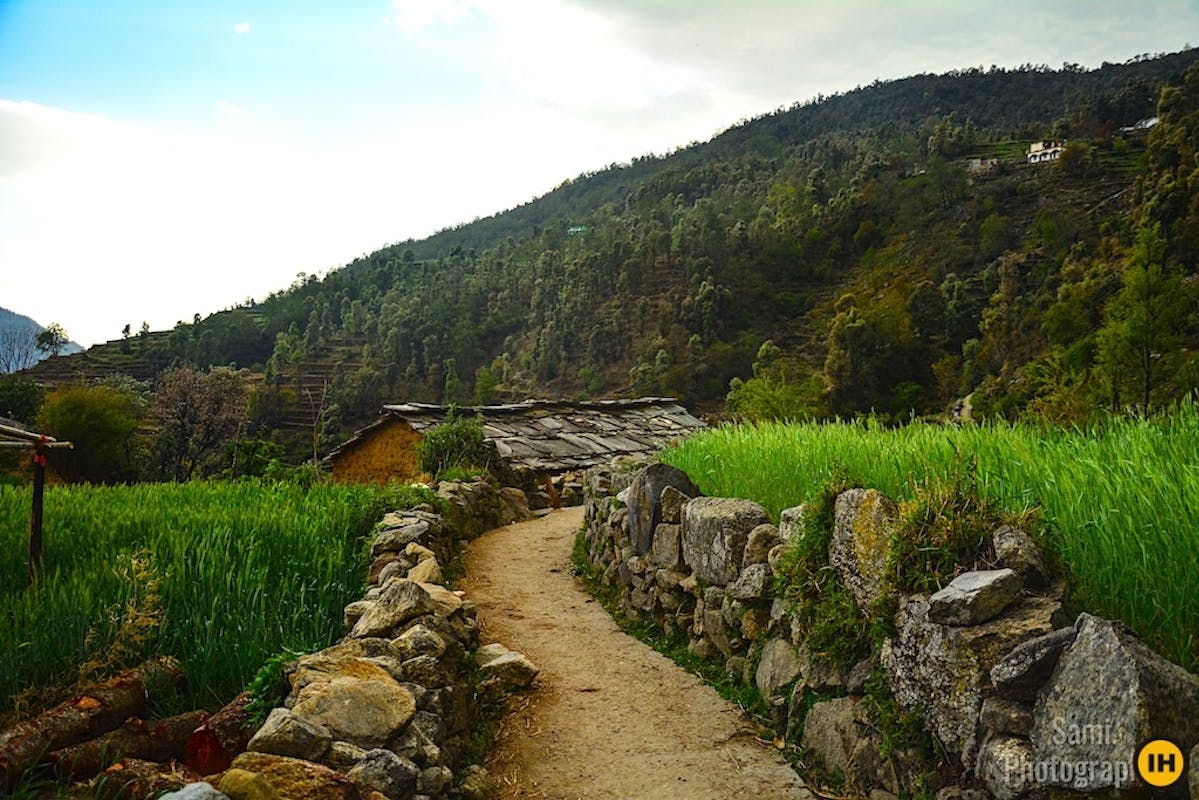 A fancy trek view? This is a view of the Sari village at the base of Deoriatal Chandrashila Trek. PC: K. Samitha Vivek
Well, these are the things that I imagined before I trekked to Kedarkantha in January'17. And needless to say, the mountains didn't disappoint.
But, there was an addition to all of those things that I imagined, just like the Terms & Conditions on an attractive offer. It was waste! Of all kinds! Everywhere!
Hello, I am Abhinav, a 2-time Green Trails Intern, a finance student from Mumbai, father to three 4-legged babies and a passionate trekker.
Why I joined Green Trails
Post my first trek to Kedarkantha, I have been associated with Indiahikes as a Green Trails intern at Jagatsukh, Manali and Sari, Uttrakhand.
Saying I love mountains would be an understatement. The high altitude passes, valleys, peaks, and villages have always fascinated me. You see those peaks and realize how small you are, your life is. It didn't take me much time to make this decision.
I was assured that I was with an exceptional group of people at Indiahikes who shared the same love for the mountains.
Ever since my internship started I've been for treks in Uttarakhand and Himachal Pradesh. Alongside those breath-taking views, it pained me to see tons and tons of plastics. Waste of all different kinds. I had never imagined of such a scenario.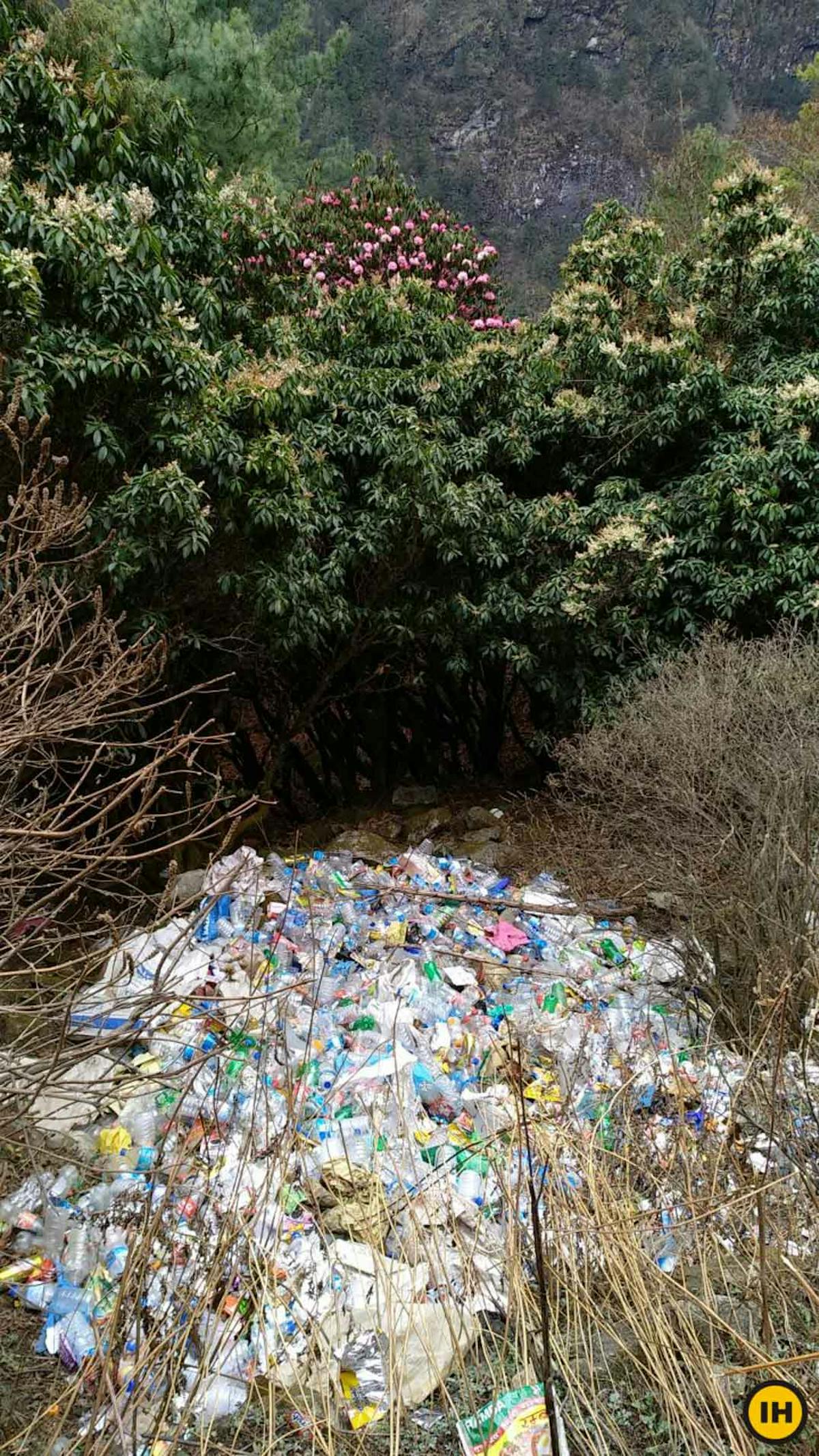 Open waste dumping is a common scene even on the Everest Base Camp trek. Picture By: Trek Leader Geet Tryambake.
Former British Prime Minister David Cameron once wrote, "We can only protect the values that matter to us if we take action when they are at stake."
Driven by this belief, I decided to join Indiahikes as a Green Trails Intern.
In the last decade or so, there has been rapid construction and rise in tourism in mountain villages such as Aleo in Manali, and Sari. As humans we have had such major impact on these places that I feel in coming years, there won't be any difference between our urban towns and these scenic villages. This is something that worries me a lot.
Does rapid development need to come at the cost of rapid waste mismanagement? Do benefits of construction activities outweigh the increasing carelessness towards nature?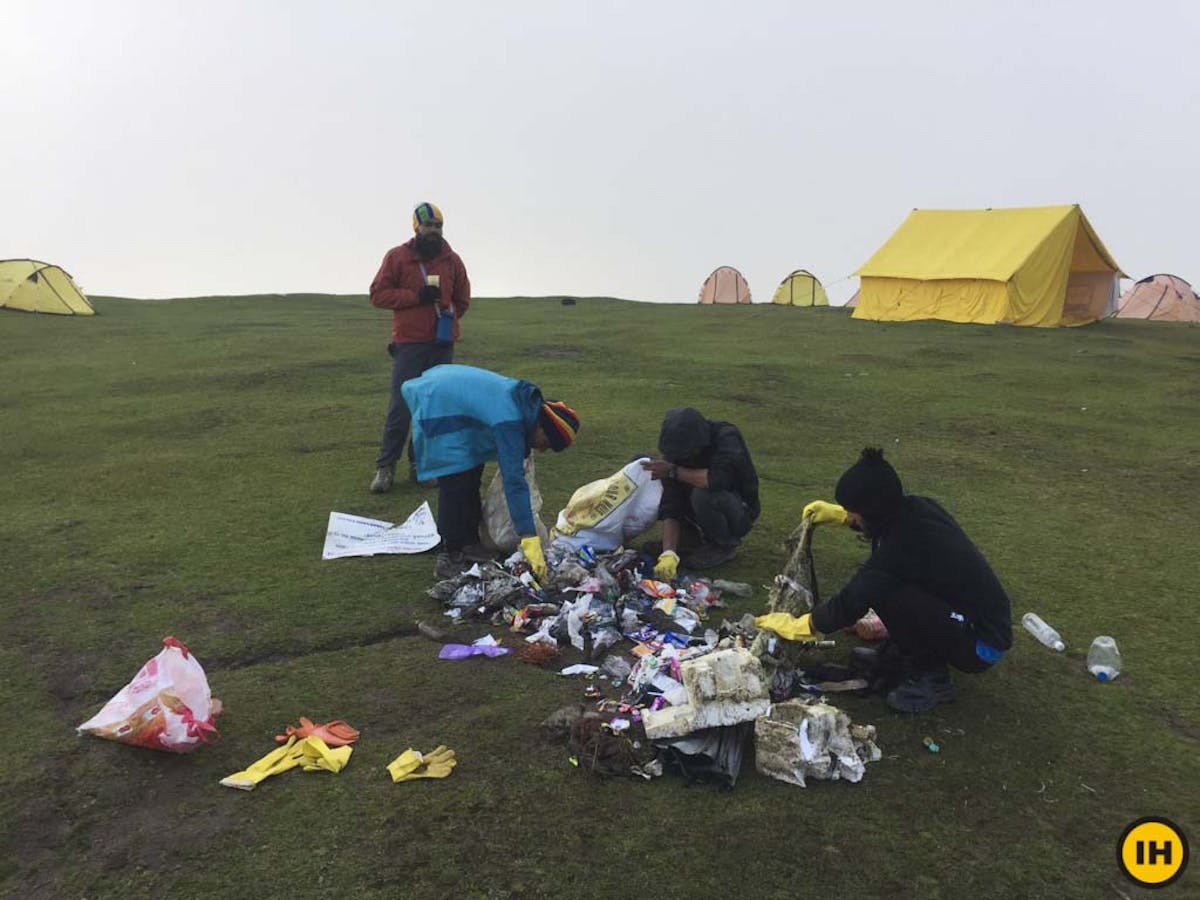 Trekkers segregating waste brought down from the mountains at the Bedni Bugyal campsite.
No one in Sari or Jagatsukh likes to see these plastic waste near the water stream thrown from the road above. After a bit of fact-finding, I found that these people had no other option but to do so. The flowing water is the only way to take these waste down below and away from their homes.
Lack of awareness, improper or no waste management system and non-implementation of policies and regulations has given commercial establishments and villagers an easy way out to dump their waste recklessly.
And I believe you would agree with me when I say that this is the sole reason why we see an unthinkable amount of waste at all unimaginable places.
When I joined Green Trails, I came with just this single notion in my mind. How can I improve the situations as they are now? How can I work in stabilising these systems that have become way too imbalanced?
My Learnings at Green Trails
Green Trails is an initiative which has the potential to make a considerable impact on waste management in these far-flung mountain villages and trails.
Being a Green Trails member is a great opportunity. The feel of standing in front of a group of villagers or trekkers and speak to them is an empowering one. The mere fact that I am in a position to affect their thinking by my words and actions is no less than a reward.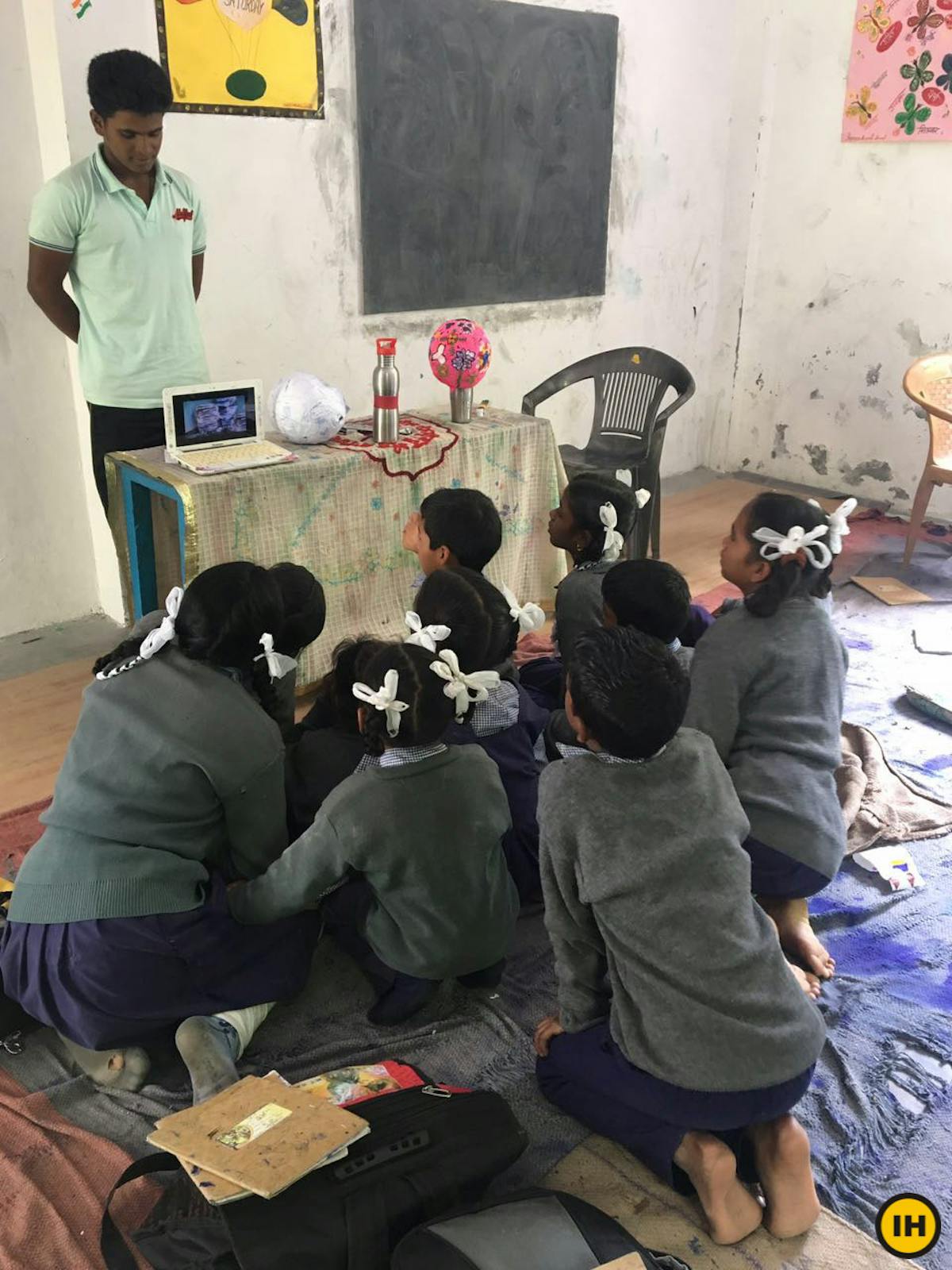 GT intern Prashanth spoke about waste segregation to the students PC: Gayathri
As a Green Trails intern, I have always felt that sense of responsibility and commitment to the values that we are trying to protect.
Over time, I have met some villagers who feel the same way as we do. Lakpatsingh Ji or Nagendra from Sari, Sanjeev Ji from Jagatsukh to name a few. Having spoken to them, I feel assured that the village collectively is aware of what is at stake if issues of waste management are not addressed.
What they are waiting for is a helping hand. A hand that tells them the difference between right and wrong when it comes to waste management principles.
And I believe we at Green Trails, are that hand.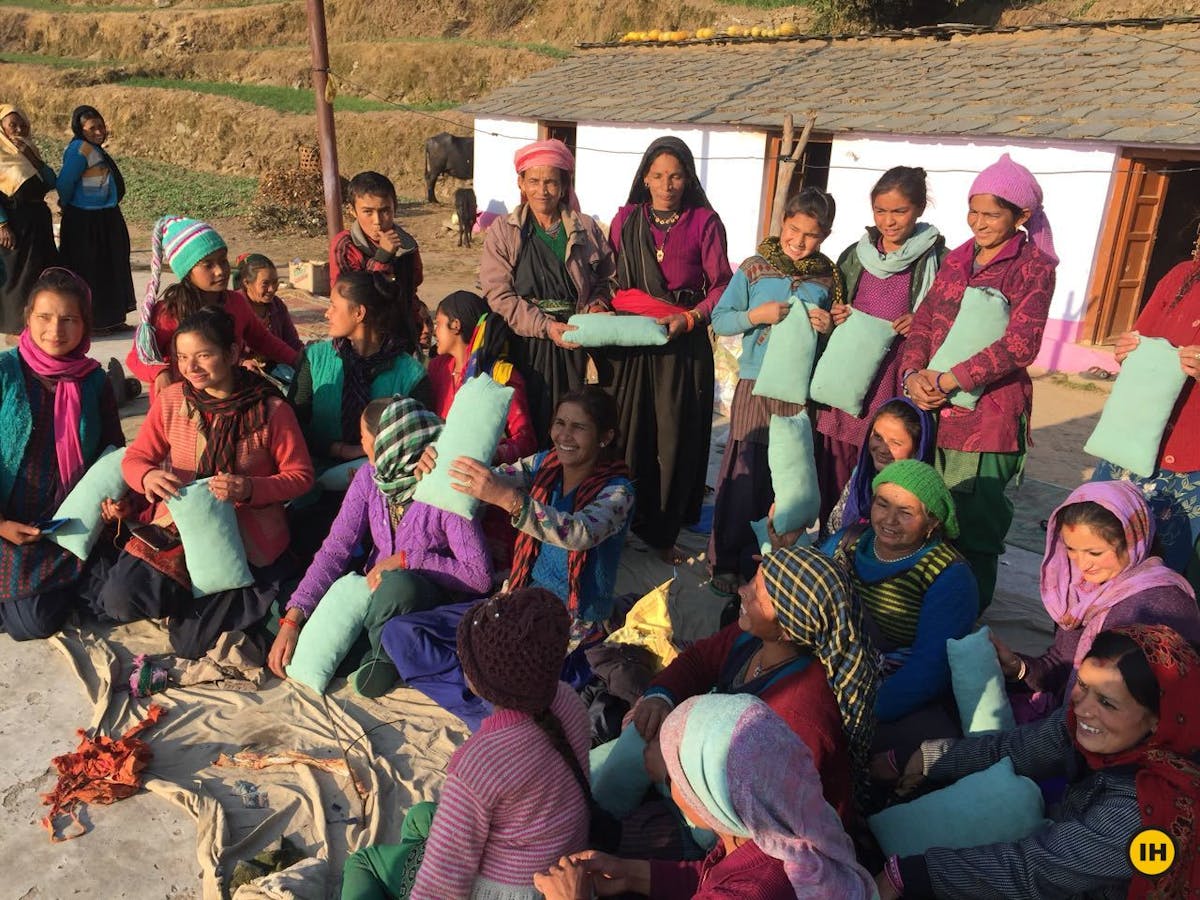 Women of village Wan, pose gleefully with their self-made upcycled pillows during one of our sessions. Picture by Green Trails Fellow Anagha
We already have many initiatives such as bottle bricks, pillow projects, eco-clubs, awareness camps on all our treks and we are seeing fruitful results.
It addresses issues that have been overlooked for quite some time now. Through trekkers and villagers, the change we try to bring has the potential to shape a positive and sustainable future.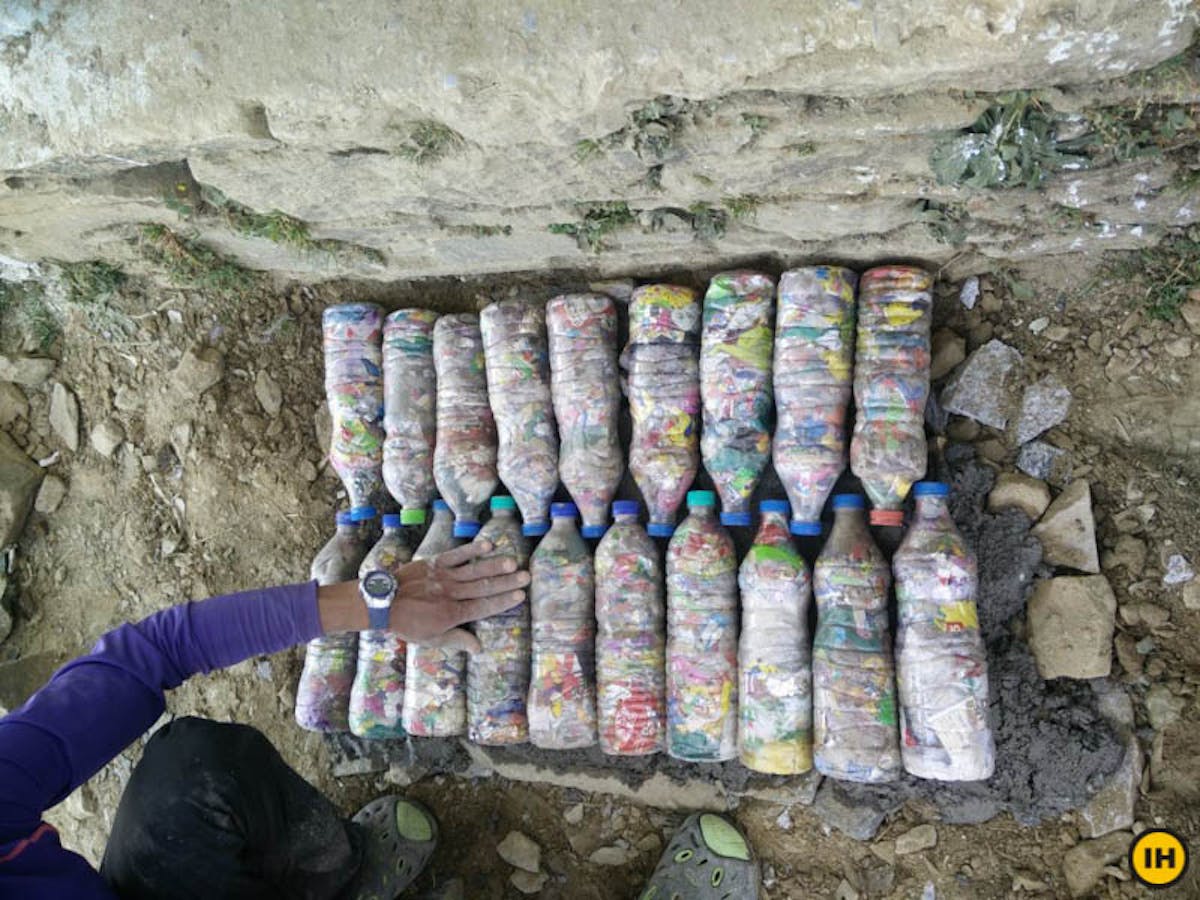 The bottle bricks made using plastic waste. Filled plastic bottles are hardened using cement.
Through Green Trails, I have spread awareness amongst kids, addressed waste issues at an administrative level. I have interacted with trekkers, worked on their suggestions and created a system for diverting improper waste disposal to us.
You can read more about what we do in our regular updates.
What are the challenges a Green Trails Intern faces?
A Green Trails Intern, throughout his stint, brings in many ways to tackle the problem of waste. There are multiple ways to tackle this impending crisis.
Clean-ups?- YES
Rallies?- YES
Awareness camps?- YES
But are these ideas and activities enough to do good?- NO!
As human beings, we need to be considerate of the environment around us and not just think of our small homes. There is a disturbing attitude amongst villagers, especially those who own commercial establishments and generate such waste. They think they can dispose the waste from their workplace or home in ANY way.
Once they do that, the waste is not their concern, it is not their responsibility. They think it is okay if the waste stays there. They also think it is okay for cows to feed on the plastics and die a painful death even while they worship the animal.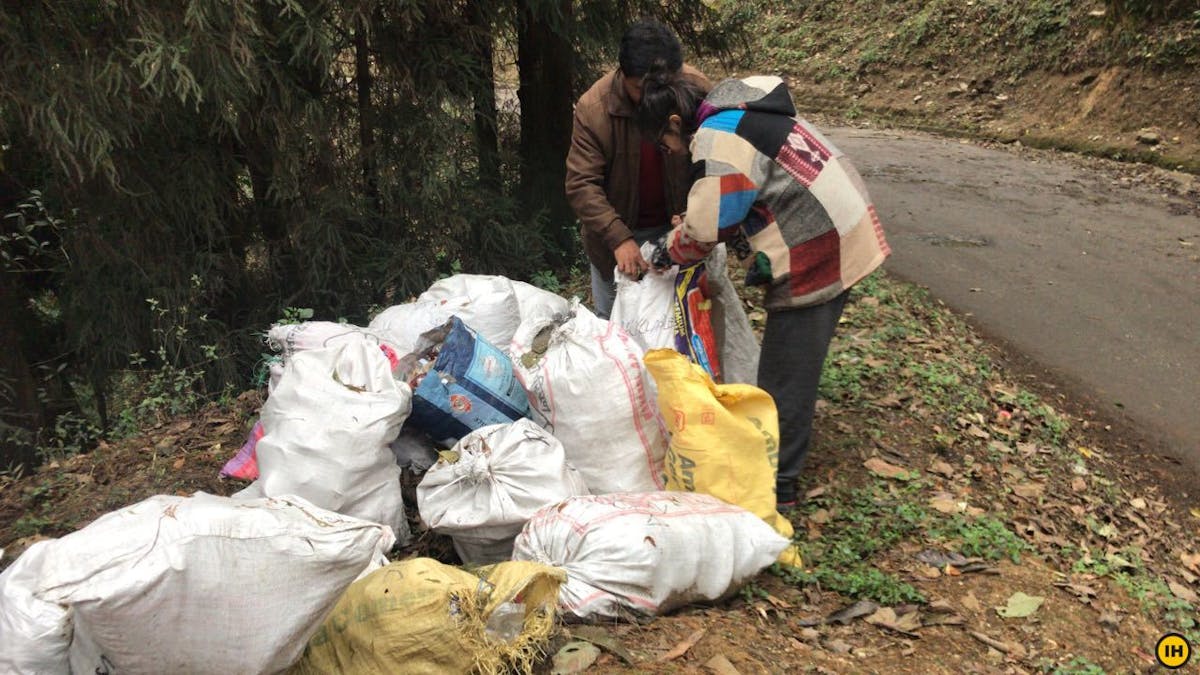 Green Trails fellows trying to segregate the waste by the roadside, in absence of a shelter for waste management at Jaubhari. Due to our persistent efforts the District Forest Official has agreed to build a green shelter out of bamboo for this purpose.
In fact, when we point out the amount of waste to them, they blame others instead of realizing the fact that no matter whose waste is it, once in the open, it's the waste of entire village. Each of them is responsible for it.
To change this mindset is a big challenge. These people need to understand that this waste if not properly re-cycled or re-used will harm the environment – affect the groundwater, pollute the land and lastly harm all humans and wildlife.
So that's the biggest obstacle that we face at Green Trails.
What can you as a trekker do?
As trekkers, your role towards the Green Trails initiative is also very vital.
For instance, you need to understand that the shopkeepers and dhaba walas sell Maggi, aerated drinks, packed chips because we tourists and trekkers demand it.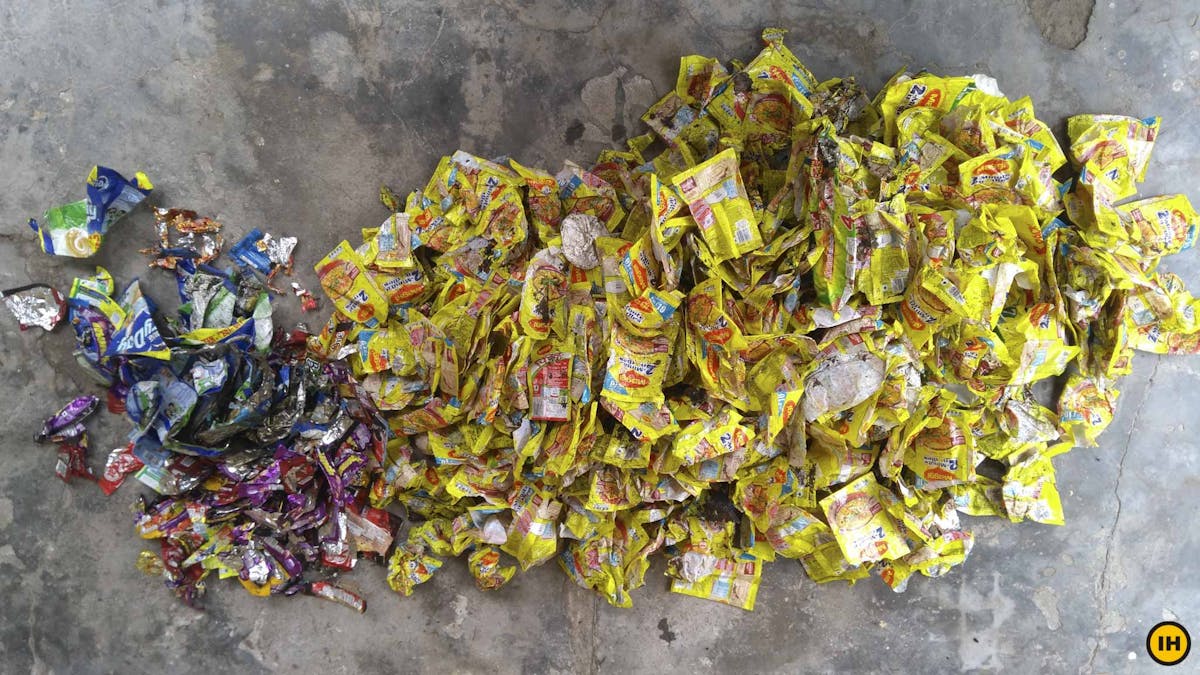 A rucksack worth of waste is three-fourths full of Maggi packets.
If we change our preference for such products to local and traditional foods (hot paranthas are amazing in mountains), together we can help bring down the waste generation considerably.
Carrying toilet papers instead of wet wipes and re-using cutlery are small things that can collectively result in a big change.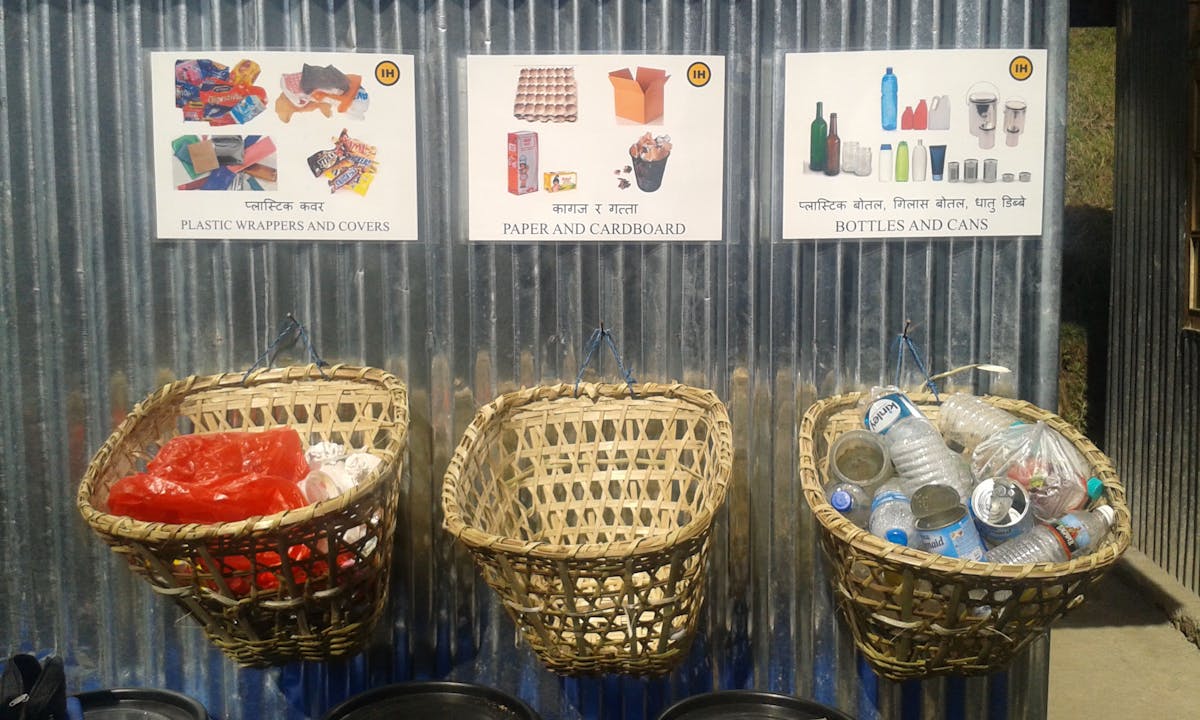 Segregation of waste at Jaubhari campsite.
And not only in mountains, such practices must be adopted in our daily lives in cities for a sustainable life.
My fellow GT Intern Pragati uses homemade body lotion, shampoo, and toothpaste because she realizes that avoiding market products will not only reduce her plastic consumption but also avoid the harmful chemicals.
Another fellow trekker from Chandrashila trek, a doctor from Chennai, told me how she segregates her household waste and minimizes her waste generation. She uses compost pits at her home and also rides an electric vehicle.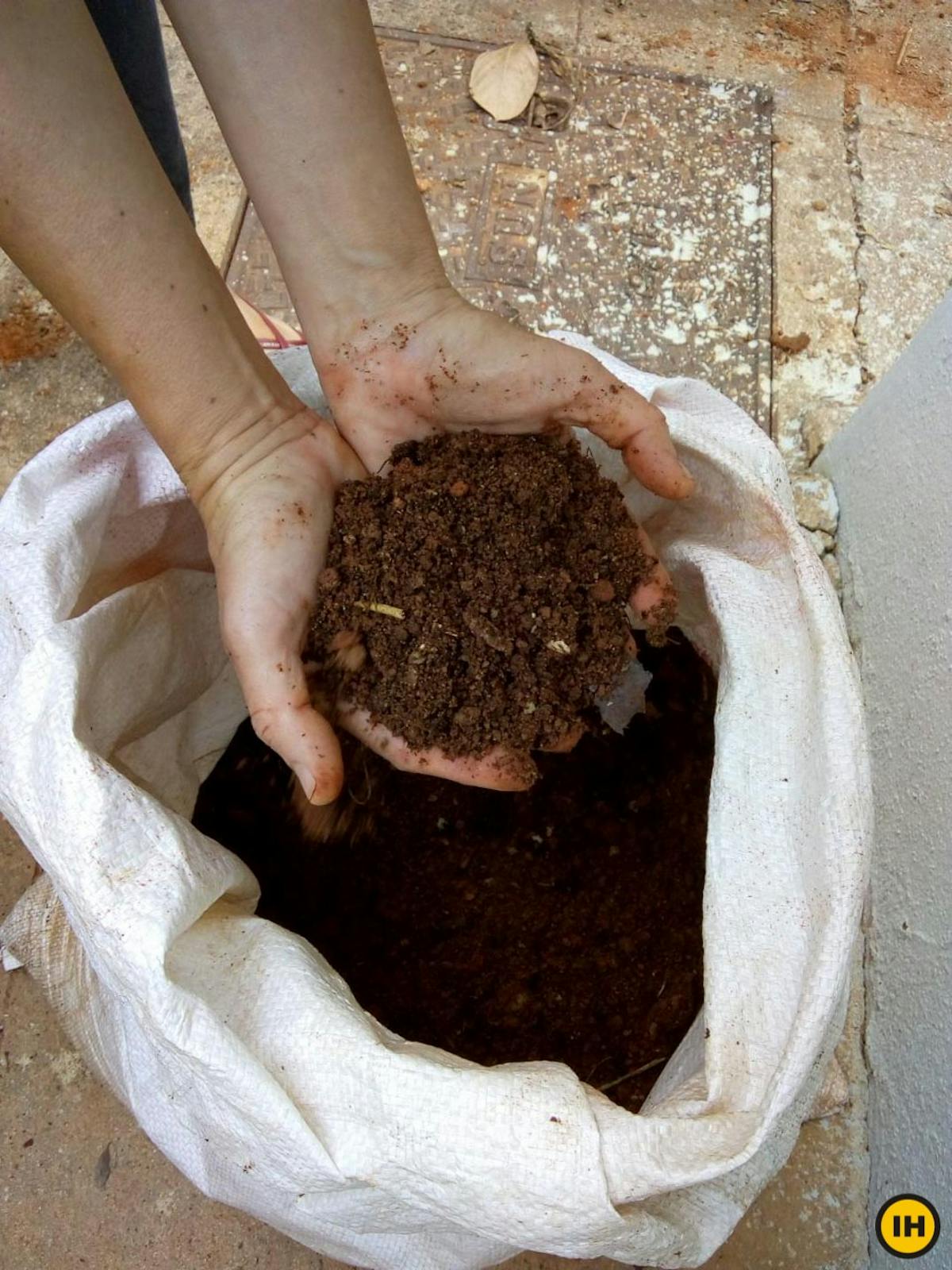 A bag full of compost prevents kilos of wet waste from reaching landfills.
Contributing in these small little ways and adopting eco-friendly practices are always a win-win situation.
As a Green Trails member, I believe that it changes our habits, our outlook, and develops a sense of responsibility towards society and makes us more accountable to our environment.
For me, it is treating mountains and environment with due respect. Whether by being here in the city or in the mountains – small efforts will later make an avalanche of change.
It will not be wrong for me to say to say that even post my internship I will continue to be a Green Trails believer. The lessons I learnt by volunteering here will stay with me forever. Green Trails has become a way of living, one which I will forever cherish.
What you should do now
1. If you want to serve as a Green Trails Intern: Read this article by our Green Trails Head – Lakshmi. Send in your application to lakshmi@indiahikes.com.
2. If you want to work as a Green Trails Fellow: Read this article by our Green Trails Head – Lakshmi. Send in your application to lakshmi@indiahikes.com.
3. If you want to work with us: Head over to our careers page. We have lots of positions open. We also have lots of applications coming in. So the sooner you apply, the better.
4. If you want to see the 13 best treks of India: Then get our guide here.
Sign up for our much loved Weekly Mailer
We have terrific trekking tips, trek updates and trek talks to look forward to