My Happiest Trek Moment – Personal Stories of Humility, Ecstasy and Fa...
Share this story
What is the My Happiest Trek Moment campaign?
Frankly, we're tired of all the negative news around us. You must be too.
We are cooped up at home, not meeting people dear to us. All we get is bad news about Coronavirus spreading its devilish arms. Almost any conversation becomes about Coronavirus. It's become quite frustrating.
So we have created a space that takes us as far away from Coronavirus as possible — to the trekking world where we all yearn to be.
As a trekker, we're sure you relive moments from your trek every now and then — it could be that euphoric moment when you finally reached the summit! It could be that moment you were moved to tears by a beautiful sunrise. It could be the reflective time you spent by yourself at a campsite.
With no further ado, here are some fantastic stories that trekkers sent to us! 🙂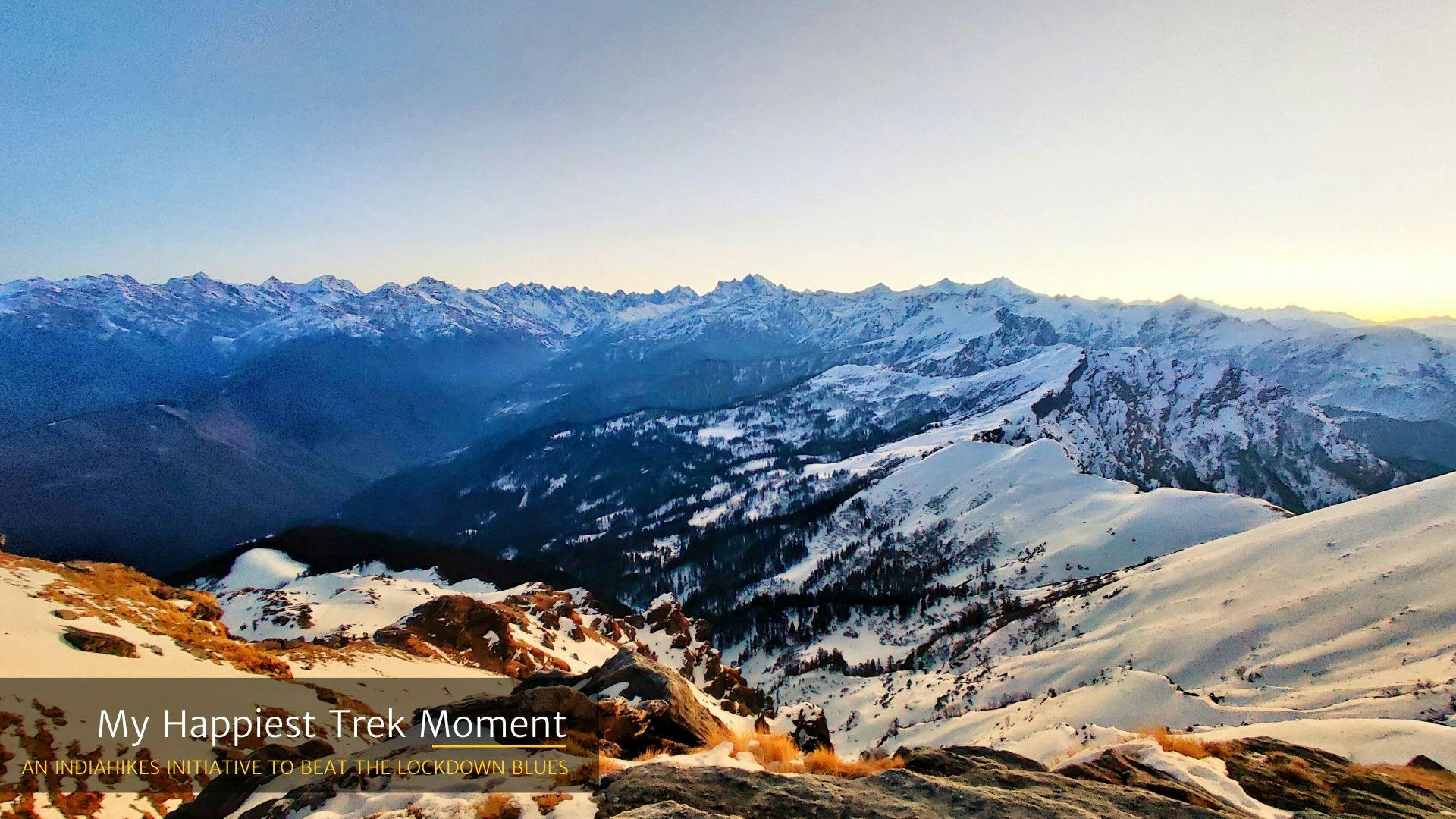 | My 2 A.M. adventure to the summit!
"We had to go to the Kedarkantha summit, but the worried part is to wake up at 2 am in such Minus degree temperature OMG (to be experienced atleast once in a Lifetime)!!!
For the first time in my life had breakfast at 2:30 am, as we needed to head to the summit at 3 am to see that breathtaking Sunrise view.
Before reaching half the way, I was totally exhausted, felt like my legs were jammed and couldn't make a move further. It's importantly my inner spirit which motivated me to move ahead and I made it!!
After 4 hrs of continuous trek with 2 mins break of sipping a hot hot tea in between at that minus temperature which is much much needed, absolutely enjoyable, we then continued our trek and reached the destination.
Trek Leader then congratulated on reaching (at this) point as everyone of us made it to the peak without a giving up!!
"Never Give up"mantra worked out in a very well way to me.
I was spellbound by the atmosphere, WHITE SNOW all-around, rocks, trees and the view though.
The pain vanished in the View!!" – Brindha Palanivel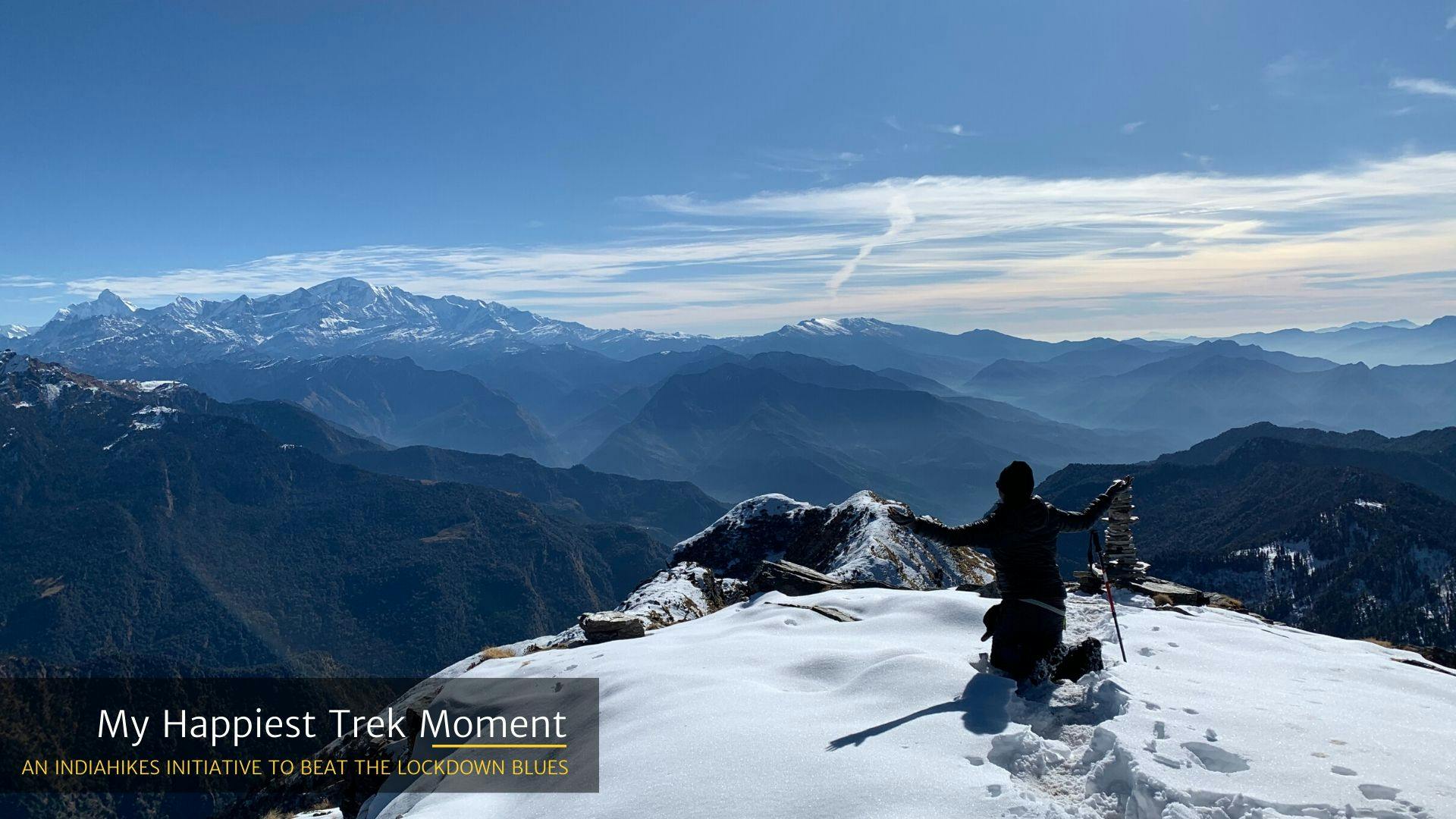 | A sense of accomplishment atop Chandrashila
"This photo was taken on the last day of the Deoriatal Chandrashila trek and it was my first Himalayan trek. The morning we woke up around 3 am and started marching towards the summit. I was experiencing the snow walk for the first time en route to the summit. Being Fresher in the Trek category, I never had a thought that I would make it to the summit. Once I reached there, I lost myself for about 30 minutes. Then I decided to start praying for the prosperity of the nation and people in front of Mt Nanda Devi. It was just 5 mins prayer and I told her (Mt Nanda Devi), Bless my Parents, Family, Friends, and Nation. I felt like I achieved something great in my life for the first time which is almost equal to Neil Armstrong's achievement in 1969.
This was the most memorable moment for me, I was the happiest person in this world for 30 mins. However, the peaceful moment did not last long, on our way back I got some severe pain in the leg. But, I had promised my legs already I would show them paradise. I will cherish this moment forever. Thanks a ton, Indiahikes." – Sainath Vignesh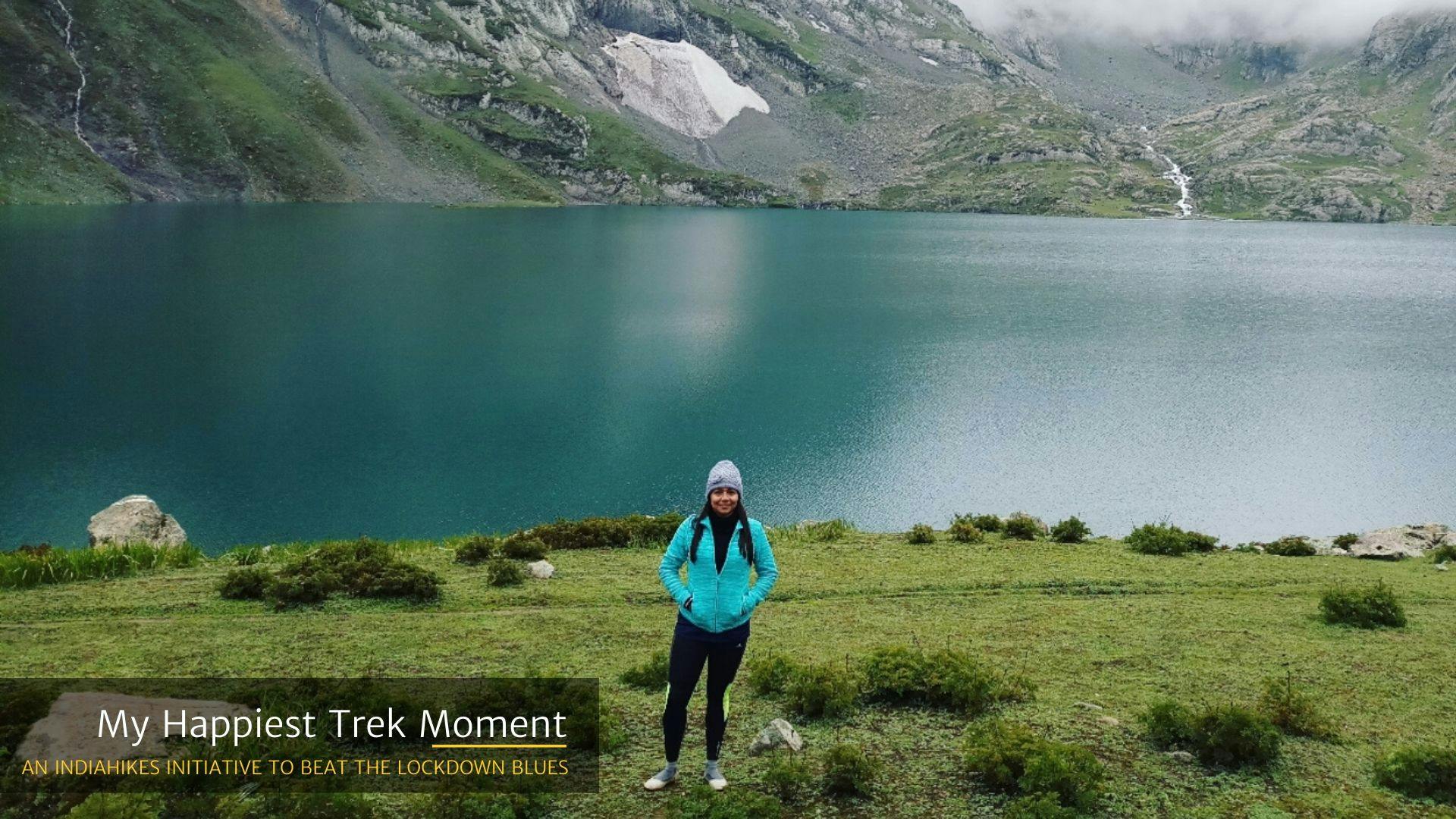 | Rendezvous with my first alpine lake! 🙂
""If there is a heaven on earth, it's here, it's here, it's here". This thought kept resonating through my mind from the beginning of the Kashmir Great lakes trek but it was truly exemplified when I saw the first and the most beautiful alpine lake – Vishnusar Lake.
When we started KGL Trek on the first day the sky was clear and the weather was good but on the second day it seemed like a battle for survival. It had started raining very heavily, the pressure of the wind was tremendous, the trail was completely covered with clouds. I was cursing the rains and was praying for some sunlight and eventually the rains did stop.
All the hardships faced on the trail suddenly disappeared when I had the first glimpse of Vishnusar Lake. I was completely taken aback by the spellbinding beauty of this Lake. You can never get tired of watching the sparkling water in the sunlight and the small streams from the melting glaciers on the adjoining mountains quietly flowing in the lake.
Sometimes I wonder that would this have looked as beautiful as it does now without this blanket of clouds? Every painting becomes a piece of art when there is that special touch by the artist and just like that in this canvas painted by Nature the clouds definitely gave that special touch.
Conclusion – Every Cloud has a Silver Lining!!!" – Neha Shah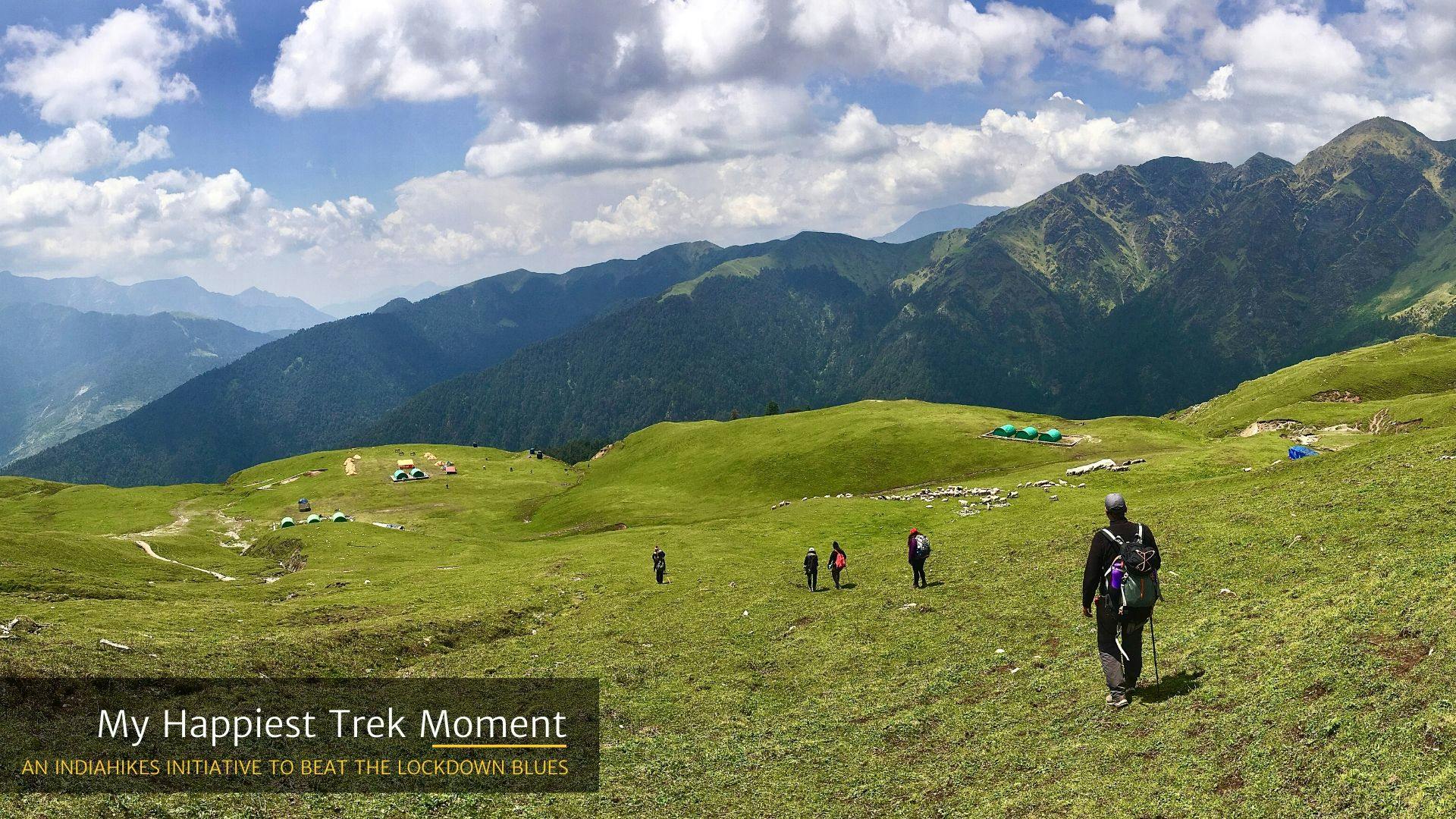 |The moment when I let the inner child take over me
"This was on the Day 2 of the Roopkund trek. We were trekking from Ghairoli Patal to Bedni Bugyal via Ali Bugyal . When we reached Ali Bugyal I was stunned. Never had I seen such lush green meadows, it was one of the most beautiful and breathtaking moments of my life.
On the trail we reached a point from where we could spot the campsite and we had to descend to reach the campsite.
This picture was taken at that exact spot.
The minute my friends and I saw the campsite we ran down through the meadows towards the campsite like little children let loose after a long school day.
In our daily life we deal with so much stress and pressure that we forget about these small joys of life.
Running down these meadows reminded me of when I was kid, carefree of all the stress and pressure of life. It was great to feel that way again. This was one of my favourite moments of the trek!" – Simran Pokar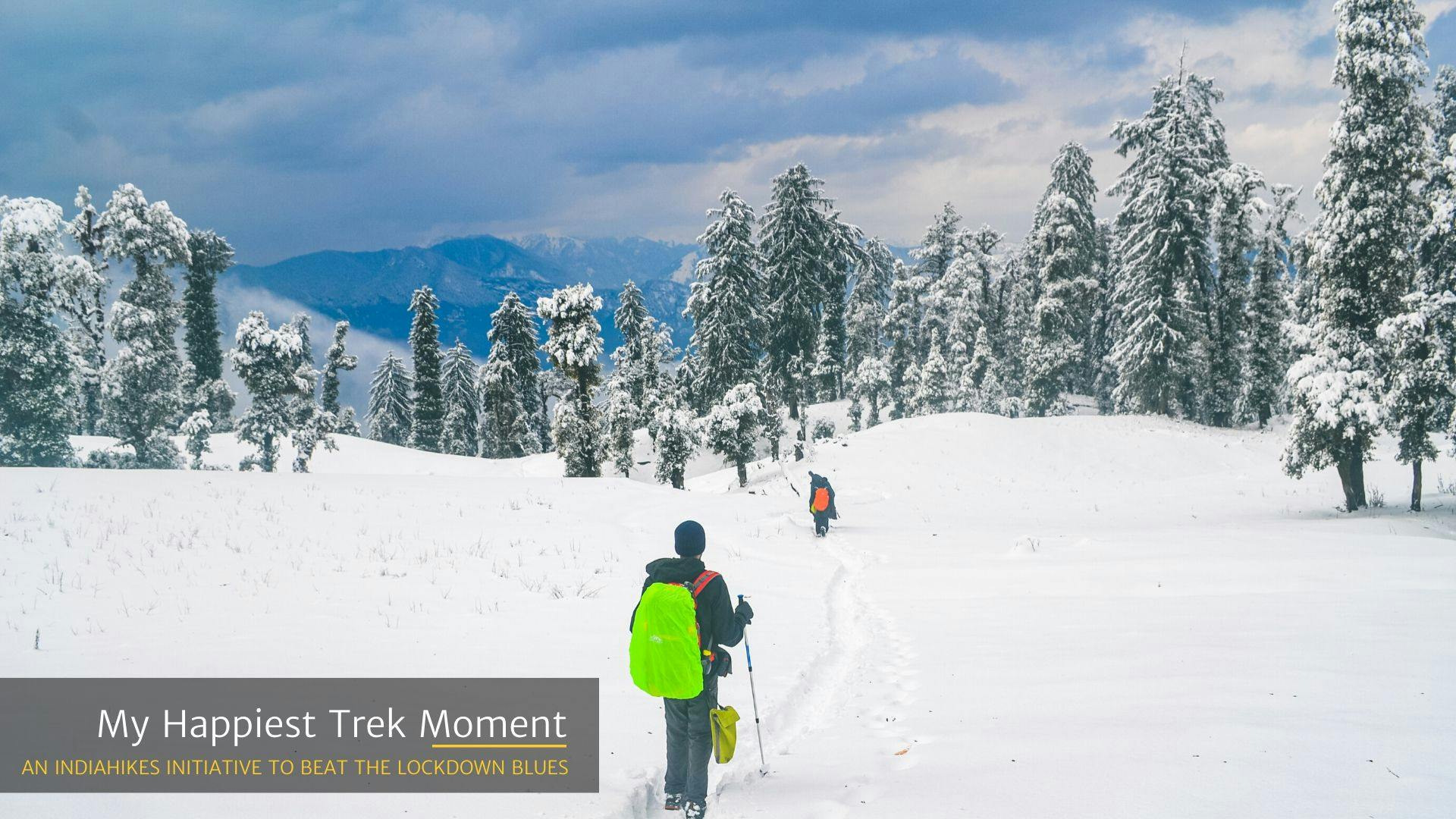 |The day I stepped out of my comfort zone is the day I lost my heart
"It's like a dream unfolding in front of my eyes which I don't want to end. With four layers of clothing and shivering in that extreme temperature, my eyes got filled with tears of joy. I think my camera hasn't done justice with the image but I am happy that my eyes and soul did.
Its been 3 years and still the thought of that strenuous walk in the snow valleys of Kedarkantha gives me goosebumps in the weekends and my heart knows how I want to relive that moment every single time. With cloud covered skies and knee deep snow, this picture reminds me the time we climbed with our faith and determination rather than our trek pole and legs.
The snow filled valley of Kedarkantha never looked so breathtaking with pines covered with snow and temperatures sulking down with each ascending footstep. The mind still lingers on that trek and how a plain snow white can gift you such vibrant memories.
Our comforts can sound heartwarming but believe me once you step out of that, there is a world full of adventures, rainbows, snow, life and beautiful memories awaiting us." – Saikat Mazumdar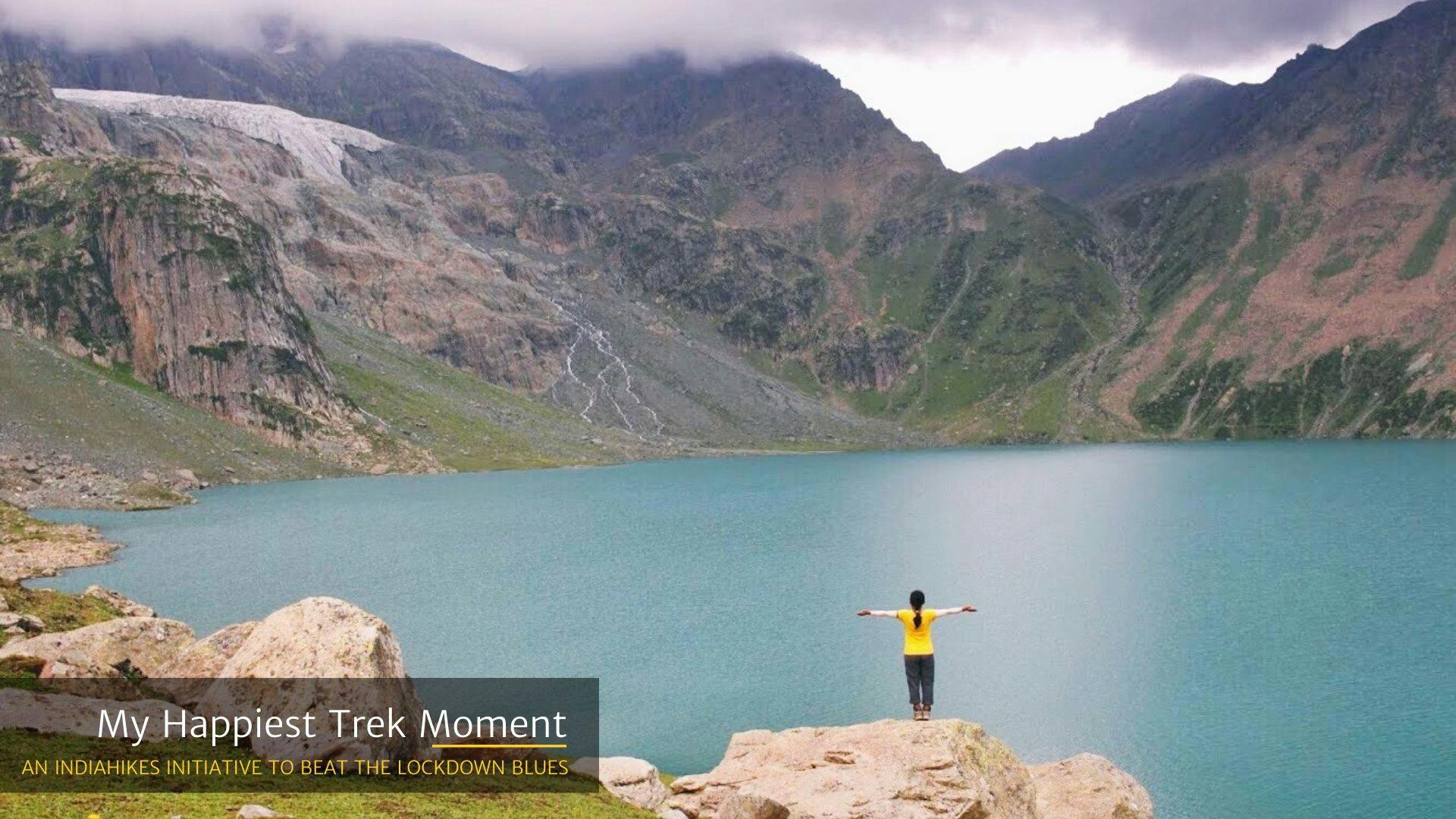 |If there is a heaven on earth, it's here, it's here, it's here!
"This was on Kashmir Great Lakes trek back in 2018.
We were in Gangabal campsite and utilizing our buffer day for the much appreciated Indiahikes Green trail initiative.
We tried our best to clean the nearby area and were ready to get back to the campsite. Almost everyone had left for the camp since it was cloudy and rain would start at anytime.
Those last few minutes spent at the Gangabal lake were the happiest moments of my life.
I remembered the saying by Jahangir, the Fourth Mughal Emperor, "If there is heaven on earth, it is here, it is here and it is here".
And I truly felt that I am in heaven." – Rajani Hegde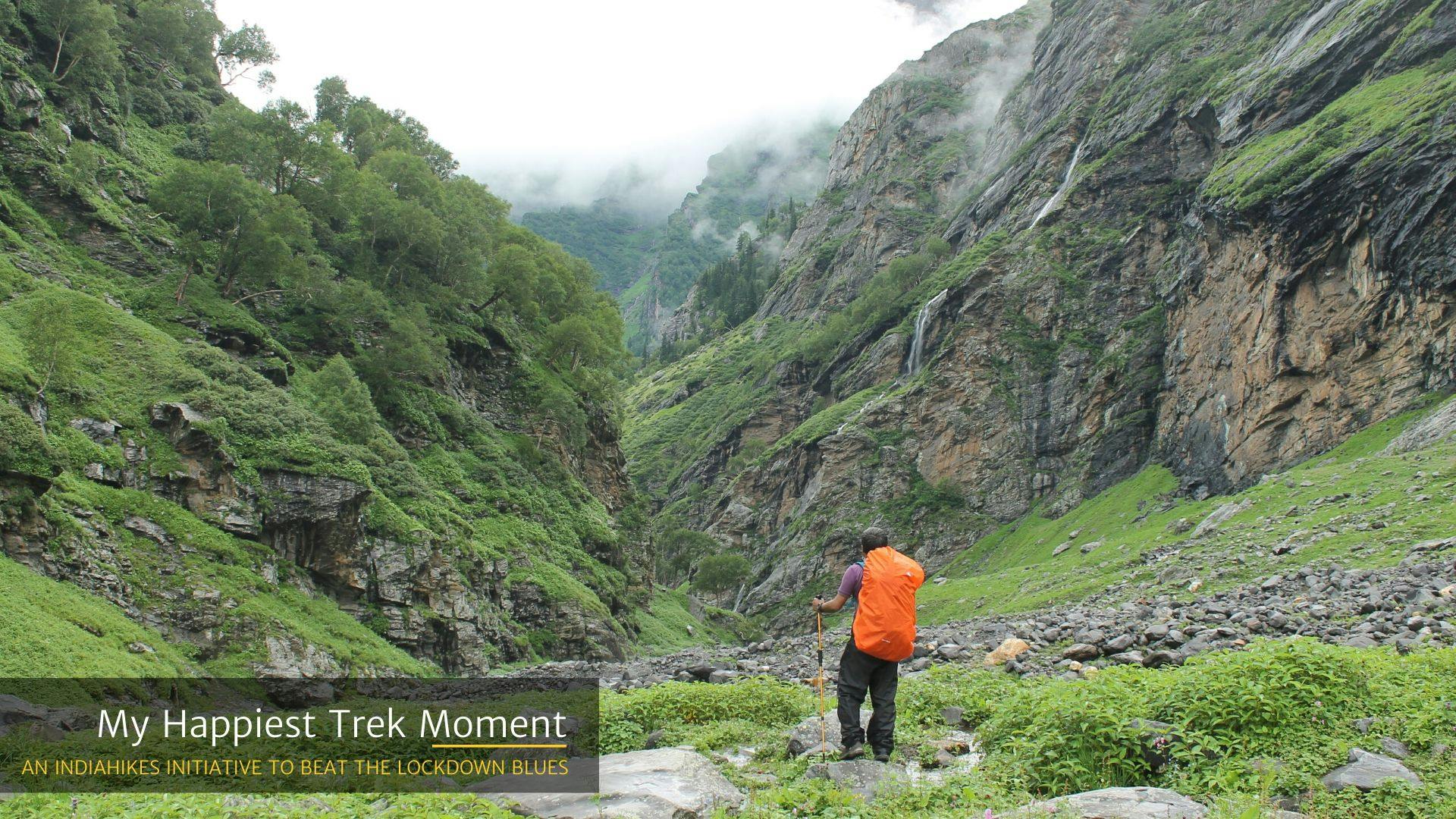 |When rain washed the valley green!
"One of my happiest trek moments is from Hampta Pass trek. This is one trek which is very close to my heart. I always do one Himalayan trek every year and Hampta Pass trek I did in 2016.
We started from Jobra and after trekking for 1 hour it started heavy raining. This was 1st time I encountered rain on a Himalayan trek. It was memorable to trek in rain in the valley.
After trekking nearly about another 2 hours we reached Jwara, our camping site. By the time we reached the tents were pitched by the porters as we were trekking in rain. We rushed into tents. There was heaving rain after we entered. It was like a storm in the cup as I feel in the tent. Heavy rain and wind was shaking our tent. After 20 min the clouds passed and there was a pin drop silent out side.
I was shocked and slowly opened my tent. As I was opening the tent it was like a scene from a movie, the huge mountains with clouds over them and green pasture surrounding us. It was a memorable view I had in the mountains.
Though it happened around 5 years back, I have my memory still fresh as I had viewed it today. I was running out of words to express. I stood there for 1 hour without talking to anyone and enjoyed the view. I did not rush to grab my camera to take pics as I wanted this view to get fixed in my mind. After 1 hour I took my cam and took few pictures. Though I took few pictures, the image which I captured by my eyes is far better than lens. " – Bharath Ram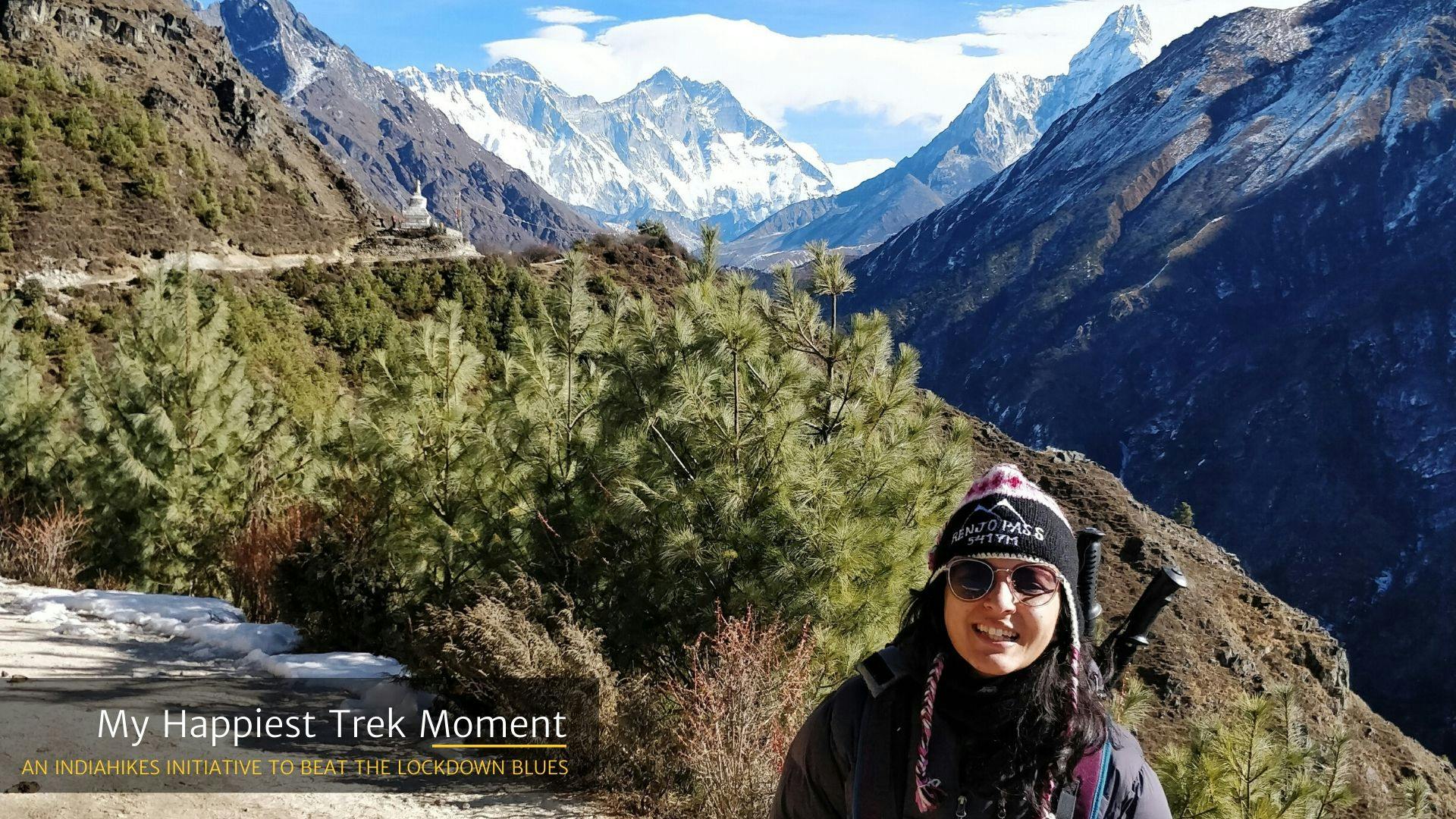 |My first encounter with the mighty Mt Everest! 🙂
"The smile comes from the first view of Mount Everest during my recent trek to Gokyo Ri in Nepal. I was walking on a trail from Namche Bazaar to a tiny hamlet called Dole situated at an altitude of 4000m.
It was the month of December with temperatures ranging between -10 to -20 degrees, the cold dry wind making the walk even harder. It almost seemed never ending when my guide suddenly pointed to the mighty Everest that popped up in front of us (it is the highest distant peak on the left side of the picture). For a moment, I only stood gazing at it. It felt like all my pains, woes and the tiredness were gone in a split second.
December, though one of the coldest months, is also one of the best months to trek in Nepal due to the clear blue sky, unrestricted views of the peaks, the snow here and there, the sun on top of you and definitely because there is no crowd!
As much as the Everest region is hyped now as compared to many other equally thrilling and adventurous treks, the thought of being close to the tallest peak in the world can still give you that sudden adrenaline rush. It made the whole experience all the more worthwhile." – Natasha Saikia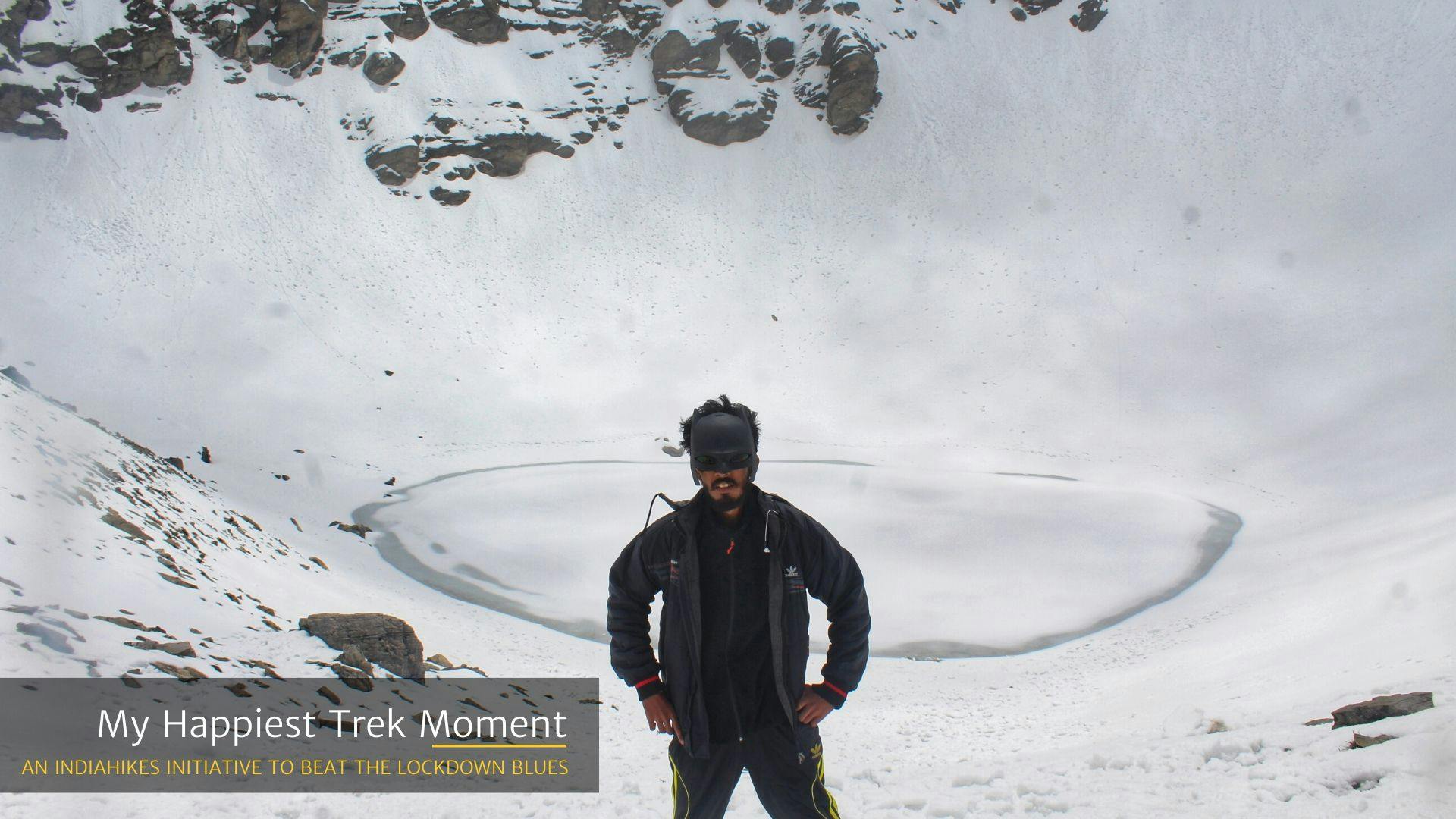 |The moment my arrogance melted into humility
"Roopkund was my first Himalayan Trek, it was more than a trip, I was going through some rough time back then. We were attempting summit directly from Pathar Nachuni and not from Bhagwabasa as most people do, so we had to start early but we got late by almost 1 hour of the target time that too because of one person from the team, I lost it real bad, and we somehow reached Bhagwabasa and saw few people return from Summit push as weather was getting bad, our guide told us to take a break, I was angry like never before, another failed trek on top of all the bad things going in my life, it was just too much to handle.
But in a while our Guide came and asked us to get ready for Summit, I thought he was joking, but he wasn't, we started Summit Push from Bhagwabasa at 8 am can you even believe that, at that time most people come back from the Summit. Yet we started and I was still angry and told a member of the team in arrogance that I am not sure about you guys but I am going to the Summit for sure today at any cost and started, I wore this Batman Mask and decided to be my own Hero.
We met some people along the way who did the Summit and were coming back, they were all wishing us Good luck and I replied 'Thank You' in Batvoice just to lighten up my own mood and also of people along the way. We made it to the Summit in less than 2 hours and as soon as I saw the Lake, it was a complete meltdown, all the anger was gone, the arrogance was gone, I just went and sat down and didn't say a word for like another 45 mins, it's hard to explain that feeling.
From that moment on, I started a journey to be a better version of myself, won't say it was life changing moment but it was the moment from where it all started. You sometimes have to go through a lot to reach somewhere and the journey at times feels like a lost cause but you have to go through it, not just for that one moment but someday you will remember the entire journey in a good way just like I did.
P.S. Doing Summit late meant we got some clear views, really good weather and the entire summit for just 6 of us. That's super rare on a trek like Roopkund." – Kartik Mehta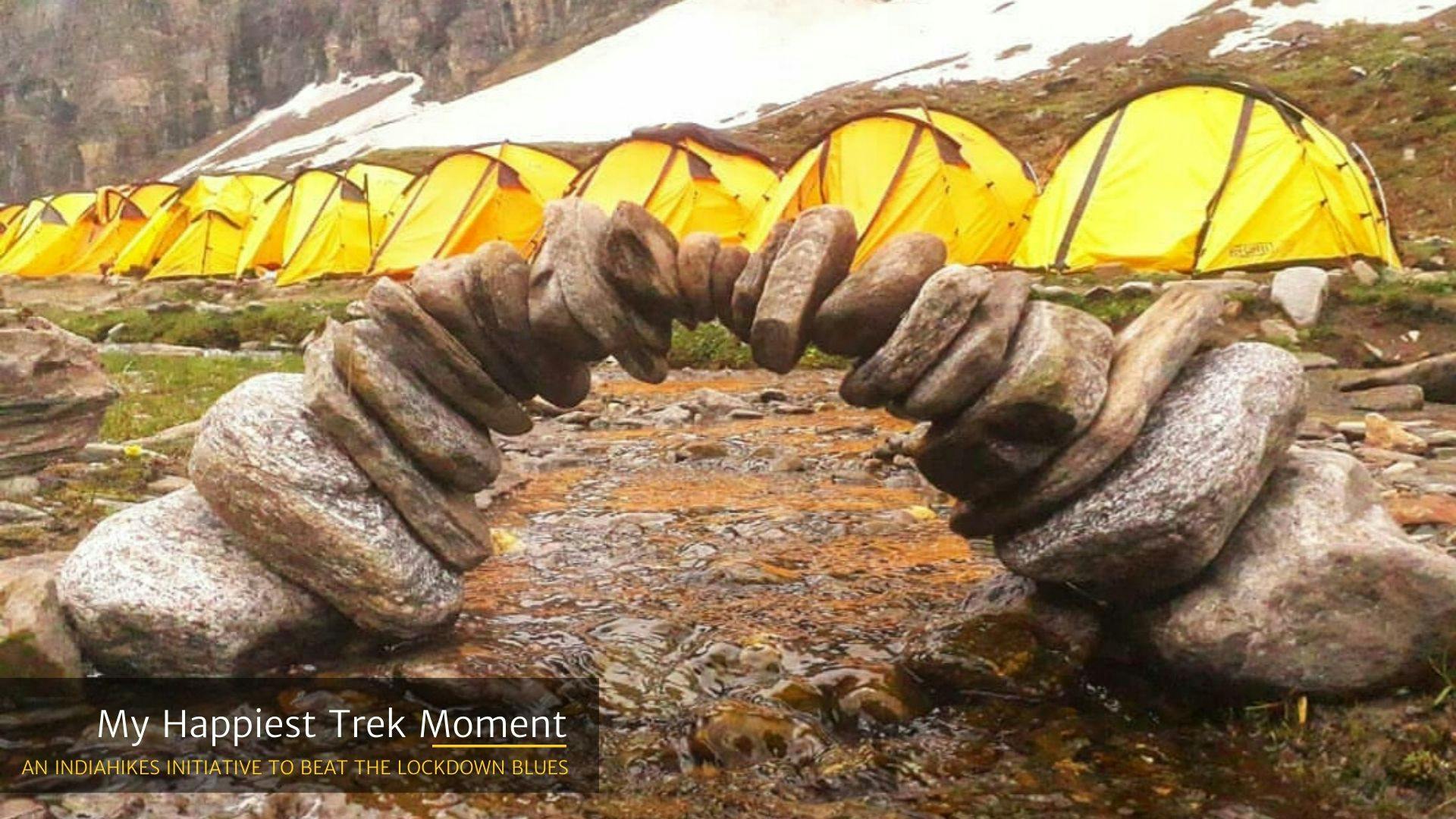 |The Impossible Bridge!
"I was on the Rupin Pass Trek with Indiahikes last year. It was fifth day of the trek and we reached the famous lower waterfall campsite by afternoon that day.
After some rest, all of us got out of our tents and started strolling around, trying to take in every moment with the nature around us . Few of us started building stone cairns for fun. Suddenly Nakul from our batch cried out loud 'let's build a bridge' and without waiting for anyone started searching and collecting rocks. One more guy Vikas also liked the idea and hopped on to the venture. They were hoping to build a bridge by forming an arc just by putting rocks together.
All of us out there mocked the pair saying it wouldn't hold up. I even remember saying 'its impossible guys it won't stand up'. But both of them just kept at it, trying and searching for suitable rocks that will hold up. And what do you know! After about 20 mins of their combined efforts there it was! A bridge made of just rocks put together forming an arc without any other support. All of us who stood by watching it, burst into applause and cheers.
Then and there was my moment of reflection. Sometimes we come across things that our mind will label as 'impossible' and will even look for reasons/excuses why it can't be done. But if you believe in something then nothing is impossible with your conviction and perseverance. Whenever any such hurdle comes my way, my mind goes back to this moment and I say 'this looks like an impossible bridge. Let's do it!' " – Aniruddha Gokhale
We're just 10 stories away from ending the campaign…
We have so many more beautiful stories shared by trekkers. But, we've got space for only 10 more such stories on our website!
If you'd like to contribute your photo and story, send them to tws@indiahikes.com
Use the subject line: My Happiest Trek Moment
We'll be featuring the best of entries that we get on social media.
Meanwhile, stay home, stay safe. While we're locked down physically, let's allow our minds to wander and feel the joys of trekking.  🙂
Sign up for our much loved Weekly Mailer
We have terrific trekking tips, trek updates and trek talks to look forward to