Indiahikes Opens Up A New Winter Snow Trek to Mukta Top
Share this story
Indiahikes Opens Up A New Winter Snow Trek to Mukta Top
Category News
By Swathi Chatrapathy
2018-11-22
Every once in a while, we come across a spectacular trek that has enchanting forests, meadows, superb mountain views and a very satisfying summit climb. Sometimes, they have the bonus of being completely isolated too.
Mukta Top is one of those brilliant treks.
Read details about the trek here.
This trek is at par with celebrated winter treks like Kedarkantha, Chandrashila and Dayara Bugyal!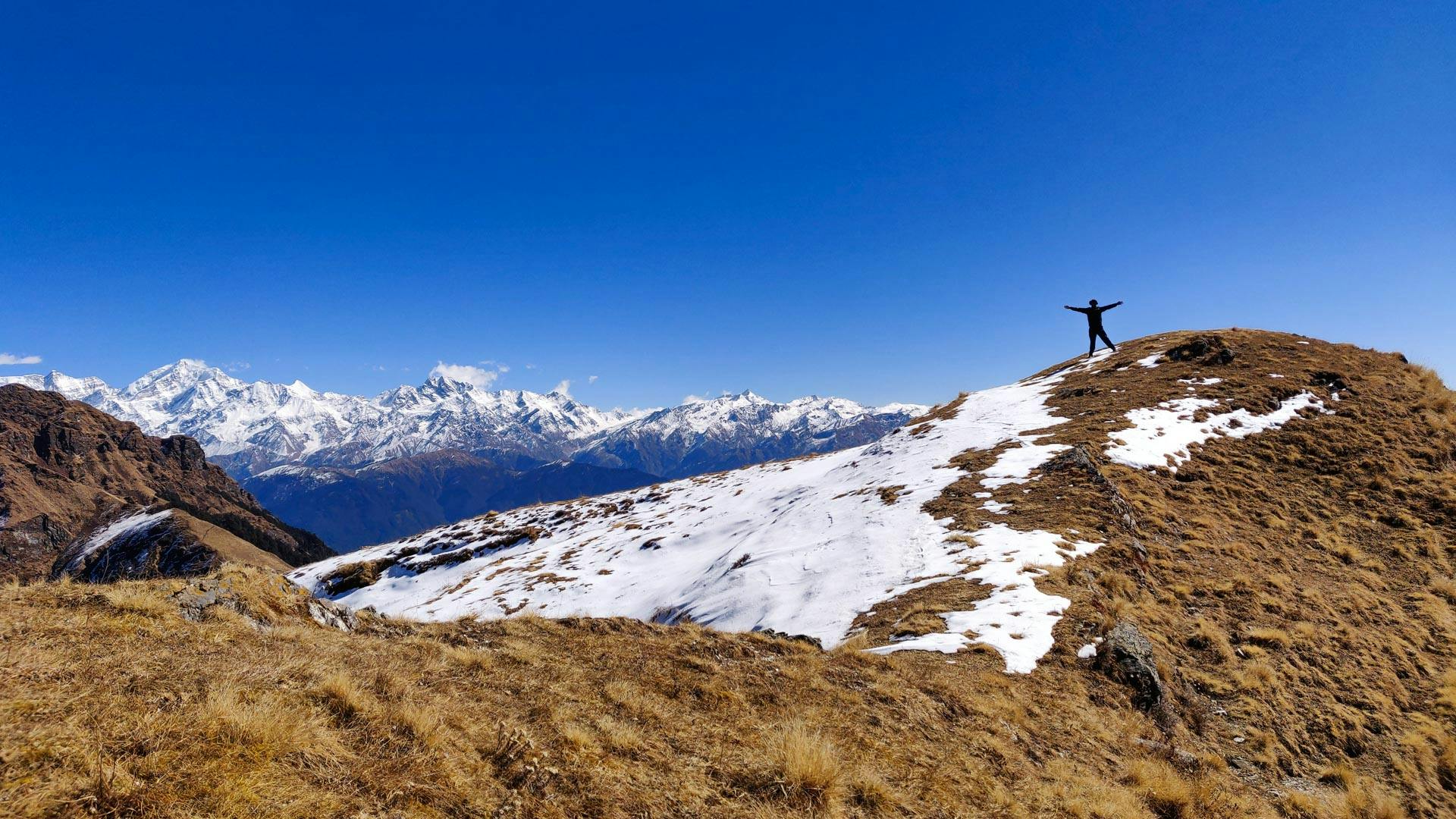 Highlights of the Mukta Top Trek
The forests
A rare highlight is that the trek has two entire days of forest trails. Most treks have 3-4 hours of forests, leaving you craving for more of those canopied trails you left behind. But this one has deep, dark forests for two days that are a pleasure to walk through. You even camp in them!
Psst… Because of the abundant forestry, there are lots of birds on the trail! On our exploration alone we spotted 20 different birds — including the majestic Himalayan Monal, russet sparrows, blue whistling thrushes, Himalayan bulbuls, lemon rumped warblers and more. So if you're a bird watcher, then this trek is for you.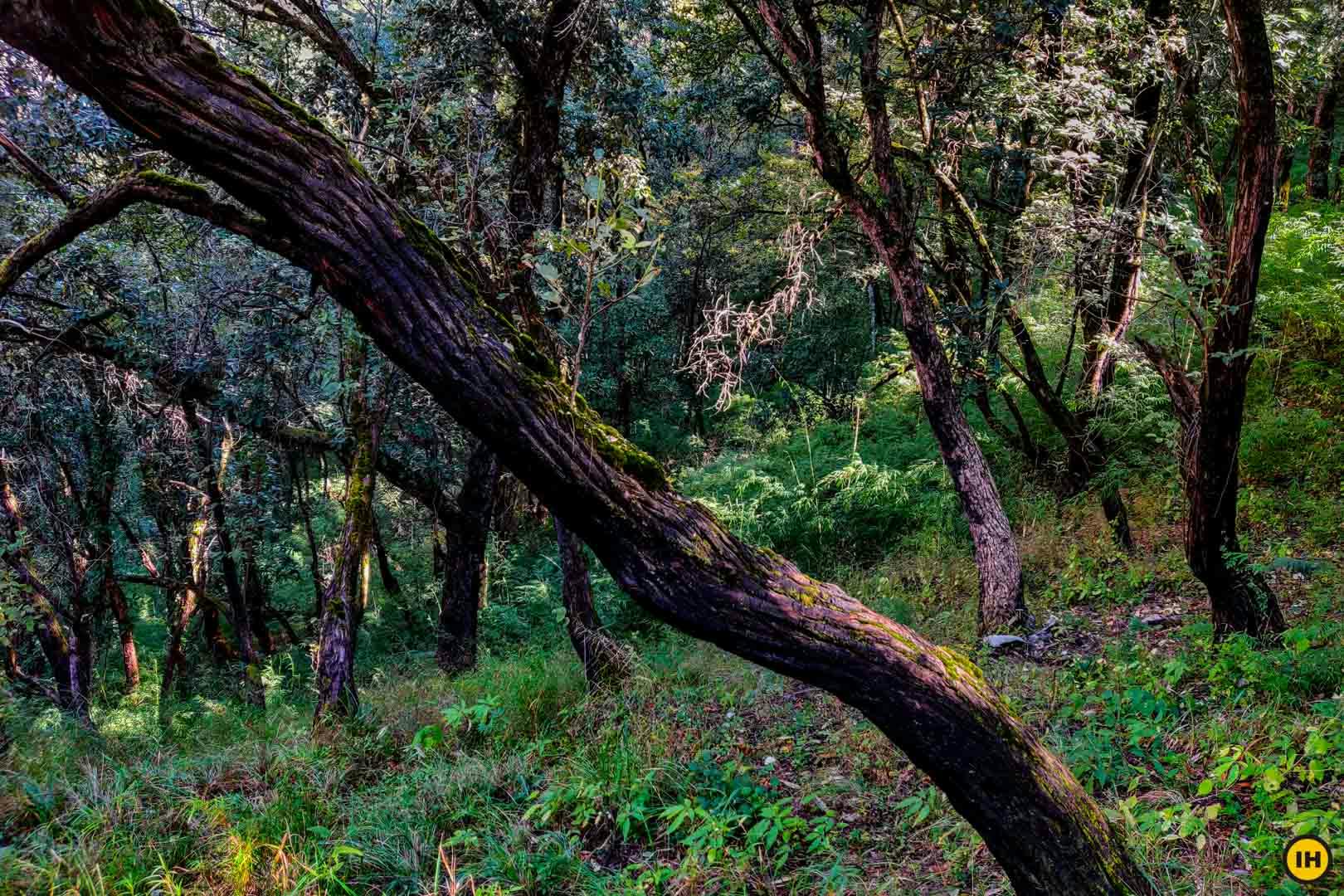 Terrific Mountain views
After the forest trails end, when you're still reeling in delight, the trail suddenly opens up to meadows, revealing few of Uttarakhand's high mountain peaks. And from the summit, you get a 360 degree view of all of these mountains!
On a clear day, you spot the Mt Jaonli (6632 m), the Gangotri Peak (6577 m), Mt Kalanag (6387 m), Bandarpoonch 1 (6316 m) and 2 (6102 m), Draupadi Ka Danda 1 (5716 m) and Draupadi Ka Danda 2 (5670 m). You also spot the trekkable the Nag Tibba top (3022 m).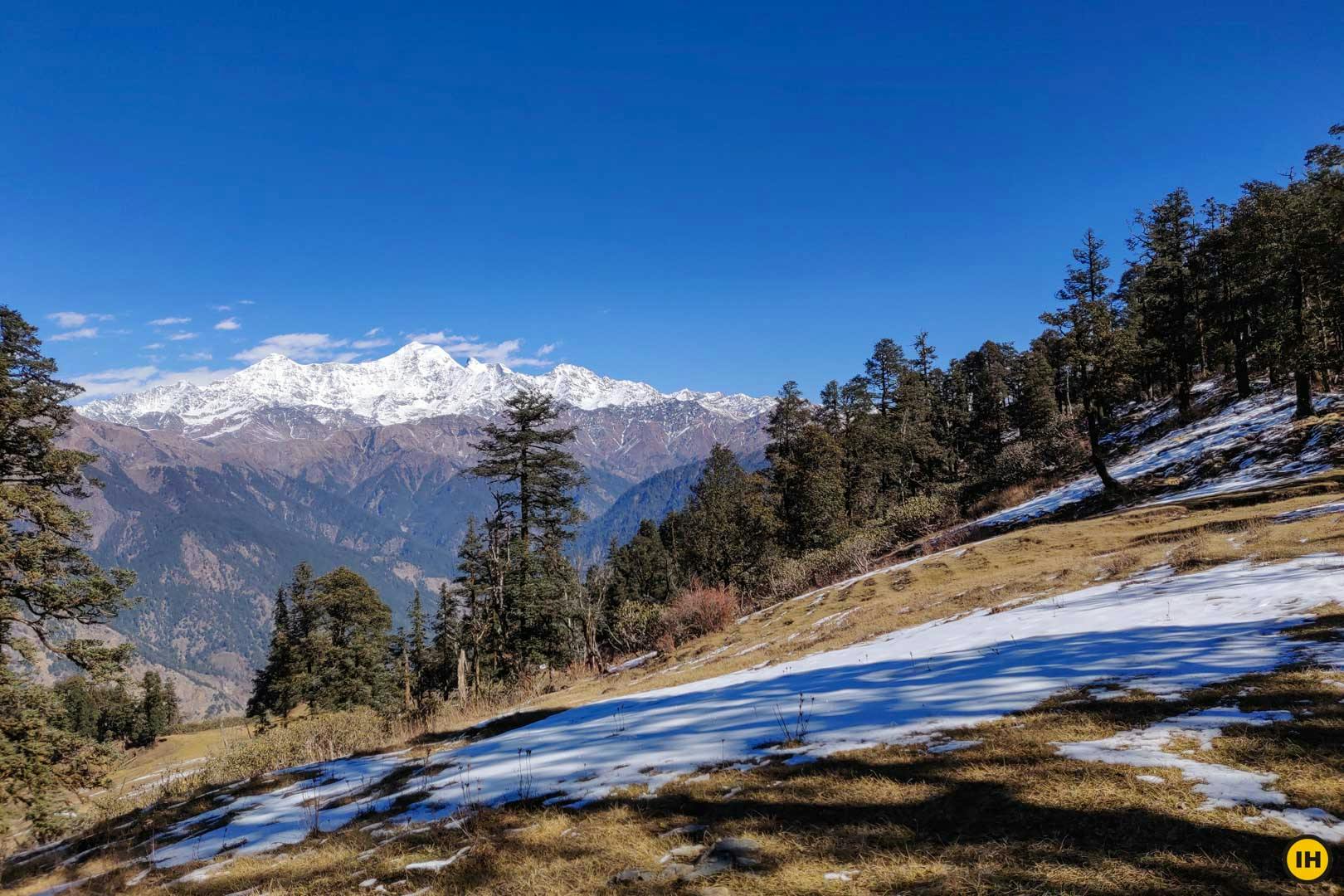 Snow in winter
As you can see in the pictures, there's already snow on the trail. 🙂 These pictures were shot last week by our explorer Leo, on 18th November to be precise.
And the best part is that this is untouched virgin snow! It's fresh and powdery — not one footstep in it.
In fact, the entire Mukta Top trail is an absolute virgin trail — it has seen almost no footfall. This is a blessing if you compare it to the popular winter treks. Unlike those trails, here, you will be one of the only trekkers on this trail.
So if you enjoy secluded, peaceful trails, then do the Mukta Top Trek. You will love it.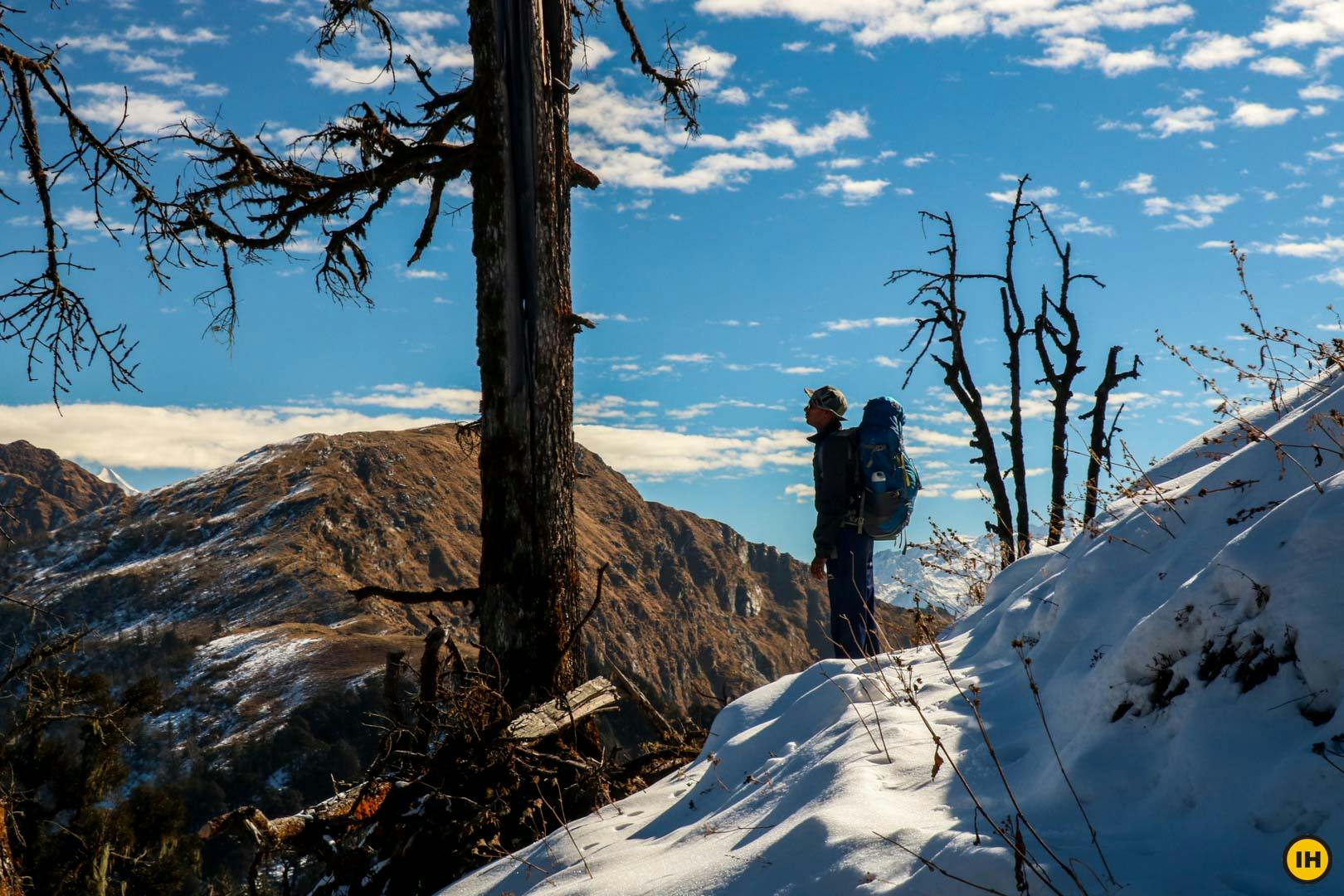 Whom is this trek meant for?
If you are trekking for the first time, this is a wonderful way to to start your trekking adventures. Just make sure you are fit enough and equipped enough to go on the winter trek. 
This is also a great trek for anyone who has already done a few Himalayan treks and is looking for that rare secluded experience.
What to expect on the trek
The difficulty level of this trek is very similar to Kedarkantha, Dayara Bugyal and Brahmatal. It is an easy-moderate trek.
It is 6 days long from Dehradun to Dehradun.
The trek starts at 4,600 ft and climbs to a maximum altitude of 11,838 ft over 4 days. So expect a few of steep ascents.
You need good fitness levels to do this trek, especially in winter — covering 5 km in 40 minutes consistently will help you do the trek comfortably.
This is a typical winter trek in Uttarakhand. The temperatures will drop below -5 degrees.
You will need a minimum of 5 warm layers.
Expect snow on the trail in winter (mid-December to mid-April is typical snow season.)
Kaflon is the base camp of this trek, 155 km from Dehradun. It takes around 6-7 hours to cover this distance from Dehradun.
When are we running the trek?
We have opened dates for this winter, that's the end of December, during holiday season. If you find that our other treks are full, then these dates will be useful for you.
Unfortunately, we have just two dates as of now. So start planning right away!
You'll find more details about Mukta Top here.
If you need any help, drop in a comment below. One of us from Indiahikes will help you out!
Sign up for our much loved Weekly Mailer
We have terrific trekking tips, trek updates and trek talks to look forward to