Paany Water Filter Bottle Review: A Water Purifying Bottle For Trekker...
Share this story
Paany Water Filter Bottle Review: A Water Purifying Bottle For Trekkers and Travellers
Category Accessories Trek Gear Review
By Arjun Majumdar
2022-01-11
One of the biggest concerns trekkers have is whether the water they are drinking on a trek is clean. And it's a legitimate question. Not everybody is trekking in the middle of the Himalayas, where you get sparkling clean water. In fact, even in the Himalayas, we don't always get clean water. Trails have gotten crowded; there are cattle grazing on the trails; villages and dhabas have sprung up. So not all water is clean.
Closer to home, even if I'm trekking around my area, I sometimes have to go to a muddy pool of water and that is the only water source I have. So water is a very big issue for any trekker. 
It's the biggest blessing for trekkers if they get sparkling clean, hygienic water to drink. And that's why I am impressed with this new water filter bottle called Paany, made by NOK, Japan, one of the largest companies in water filter technology in the world.
Why we liked using the Paany Water Purification Bottle
One of the reasons we liked using this bottle is that you can use it in any kind of water — muddy water, grimy water, tap water, even water at railway stations and airports. 
It removes most disease-causing bacteria and parasites, microplastics, chlorine, dirt and organic chemical matter. Clinically, it is tested to remove 99.9999% of bacteria and parasites.
Which means you can pick up water from any stream or river or tap on your trek and drink the water without having to boil it. 
We tested it in a muddy pool of stagnant water on our recent trek, and when we poured the water, we got absolutely crystal clear water. We couldn't differentiate between water at home and mountain water.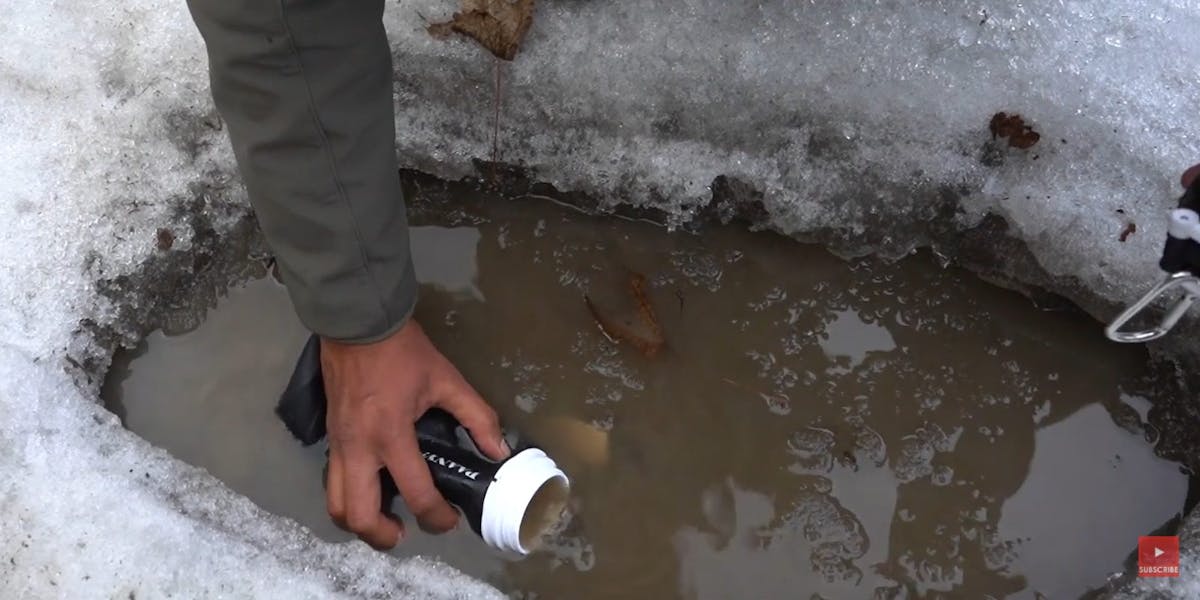 The filter cleans even water from muddy, stagnant pools
Pros: 
Filters over 99.000% of harmful bacteria from any kind of water
The bottle has a high flow rate, which in comparison to other water filter bottles is much higher. You don't have to wait more than 20-30 seconds to fill a whole mug of water.
The bottle is made of silicone, which is easily foldable. You can separate the filter from the body, fold the bottle and tuck it away in a corner of your backpack. 
The bottle is very light, at just 245 g. 
Easy and hygienic opening and closing mechanism
Can easily be used by travellers and not just trekkers. You'll never have to buy mineral water again.
Cons: 
The bottle is not completely leak-proof. If kept upside down or in a lying position in your tent, it could leak a few drops.
Silicone material cannot withstand very hot water. So if you're on a trek and want to drink hot water, it will have to wait. 
How the Paany Water Purification System Works
The Paany Water Filter Bottle has a two stage filtration. The first is a filter, which you see when you open the lid. The hollow fiber microfiltration technology has many layers of Polysulfone membrane, which is what does most of the filtration work. 
In addition to this, there is a second carbon filter, which improves the taste of the water, aside from its own additional filtration.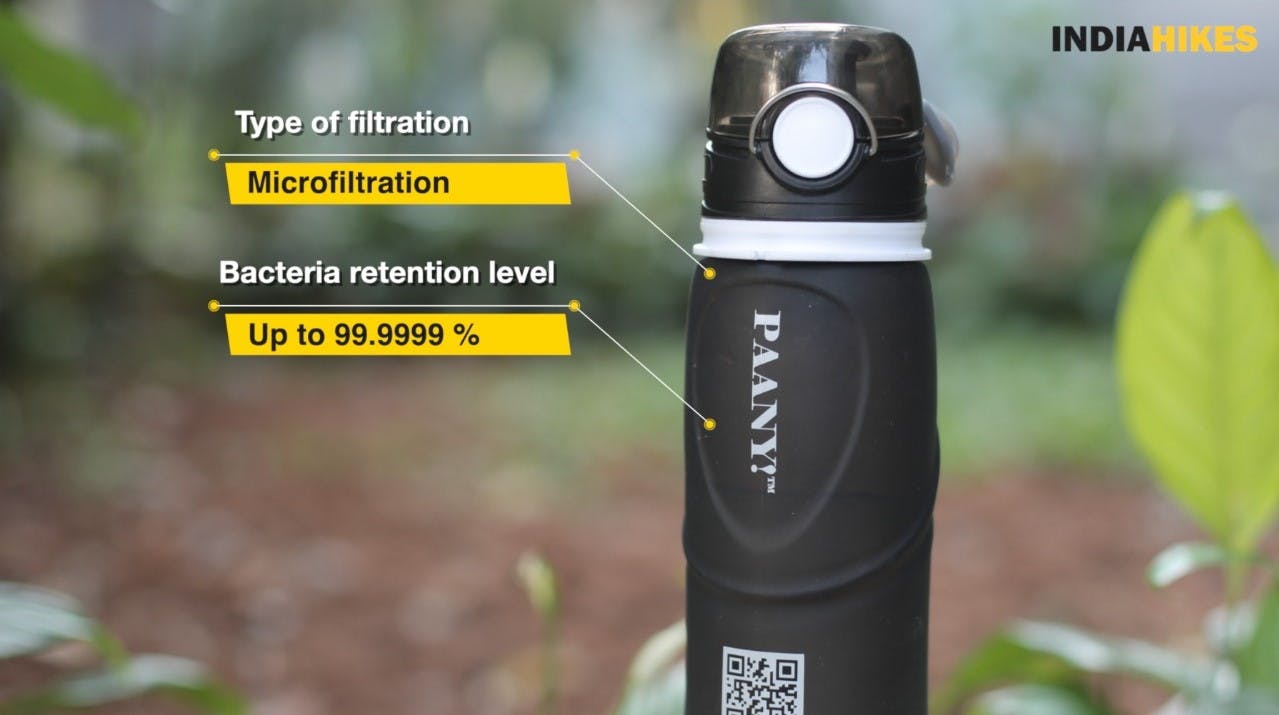 The filtration is based on an outside-in filtration, where contaminants are retained on the outside of the fibers and only pure water flows through the hollow-fiber center.
So when you fill water in the bottle and squeeze it, you immediately have clean water. 
How long does the filter last? 
You can filter roughly 1000 litres of water before you have to replace the filter. Most of us are going to be using it only while travelling or trekking, which means it will easily last you 5-6 years. 
Once it runs its life cycle, you can get the filter replaced from the company.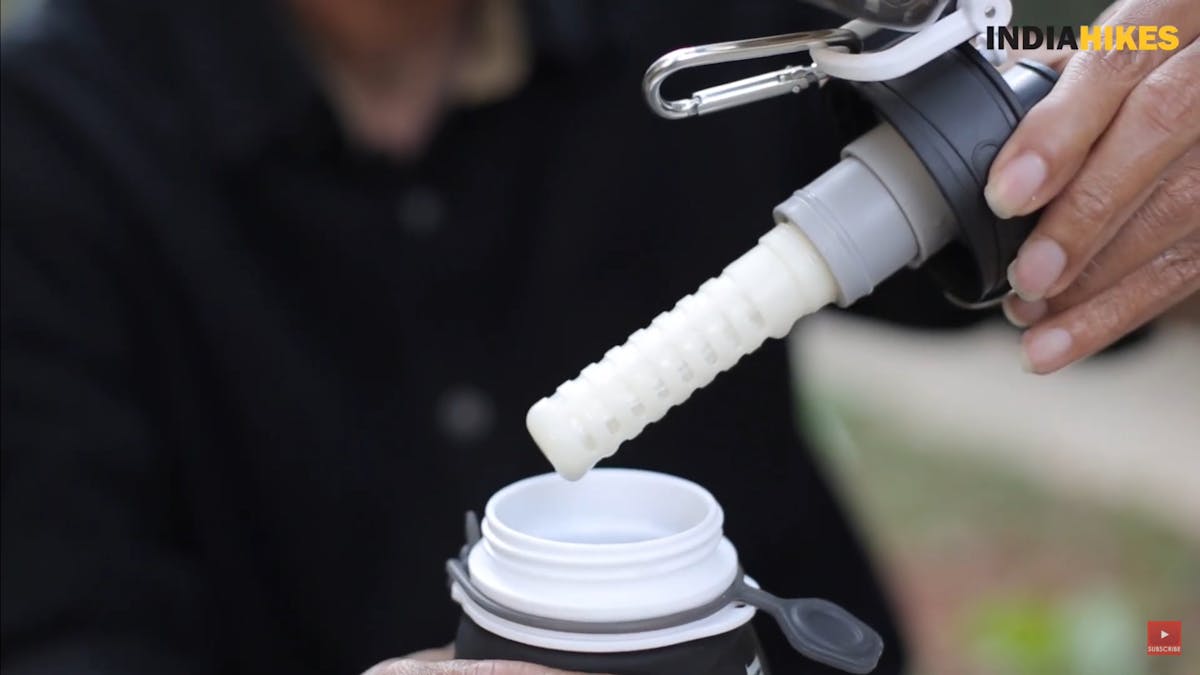 The water bottle works with a 2 stage filtration, first with a hollowfibre filter and then a carbon filter
Pricing of the Paany Water Filter Bottle
The price of the Paany bottle is comparable to any other water filter bottle, I wouldn't say it is much higher or lower. 
What I have observed is that there are very few water filtering bottles in our country. Even fewer do their job well. This is one that does, and the filtering is very easy and very fast for me, that fast filtering is very important because I want my water quickly.
So at around Rs 2,000 I thought it was normally priced. 
Special discount for Indiahikes Trekkers
NOK, Japan is introducing this water filter for the first time in our country. They're offering a special waiver for Indiahikes trekkers. 
Indiahikes trekkers can purchase the bottle for Rs 1599. 
They're not going to keep this waiver for a very long time. So click on the button below to buy the water filter bottle at a discounted price. 
Click to avail discount and buy
Use the code INDHIK400 while checking out to avail the discount.
Final verdict
Overall, I found this water filter bottle by Paany very practical for a country like India, where you don't always have easy access to drinking water. It works very well in railway stations, bus stands, airports where you suspect the water and you don't know what you're getting. Of course, on a trek too, it is very practical for drinking water from streams, lakes and puddles. 
My advice is to use it as a filter and not as a water bottle. Use it and let us know of your experience. 
Sign up for our much loved Weekly Mailer
We have terrific trekking tips, trek updates and trek talks to look forward to