20 Never-seen-before photos of Sandakphu
Share this story
20 Never-seen-before photos of Sandakphu
Category Photo Story
The Sandakphu-Phalut trek has some unseen sides that no one talks about. Everyone (including us) talks about the Sleeping Buddha and the astounding mountain views. (Watch: Why Sandakphu is not just about the Sleeping Buddha)
Today, I want to do justice to the trek. I'd like to show you a side of the Sandakphu trek that few people see. I am going to take you on a photo story of the uniqueness of the various forests of the trek. I am also going to show you the unique sherpa culture and the colourful tea houses. 
Personally, I am thrilled to have discovered this side of the Sandakphu-Phalut trek. I am so excited to share what I've seen with you through these never-before-seen pictures.
See it, and tell me what you think about it.
We'll start with the most rewarding, but least talked about part of the Sandakphu-Phalut trek.
Enchanting forest of Singalila National Park
Many trekkers don't realise this, but on the Sandakphu-Phalut trek, you are trekking through this rich, pulsating Singalila National Park for 65 km! That's a long distance to trek amidst rare flora and fauna.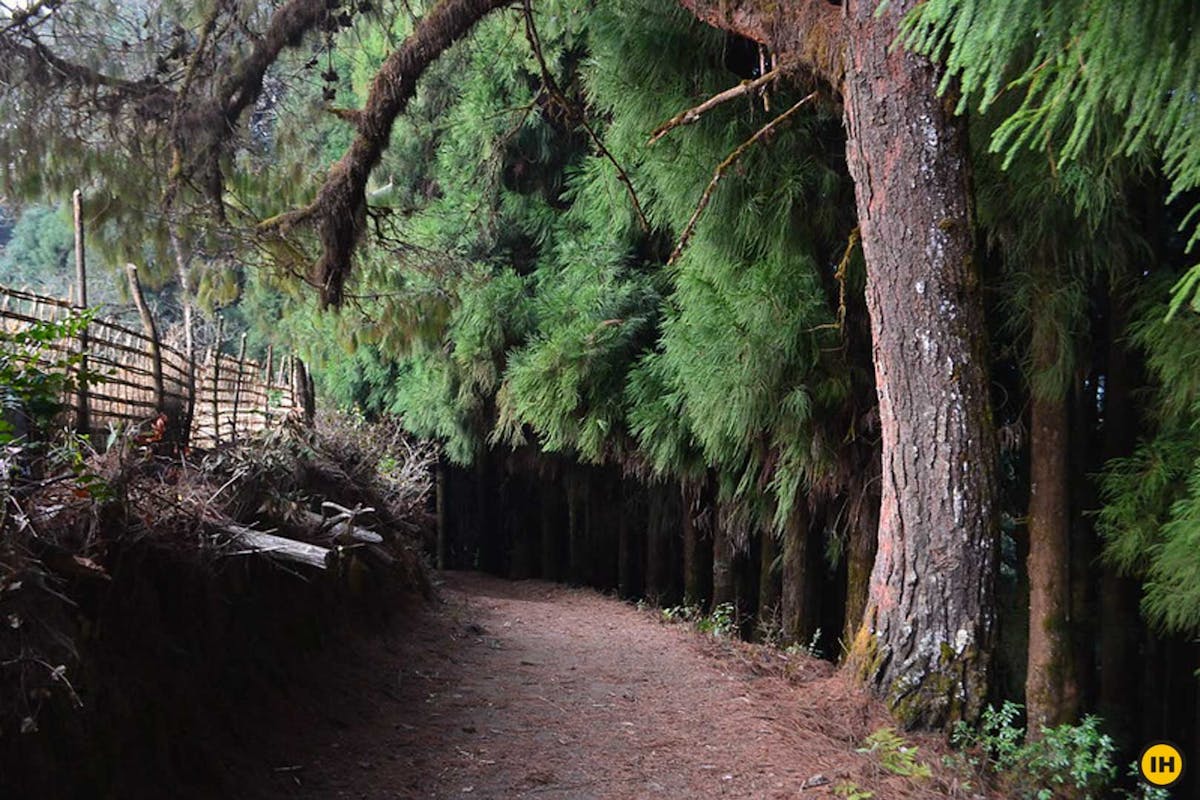 You start the trek by stepping into one of the densest pine forests you have seen. It almost feels like you are about to step into a deep, dark adventure. Photo by Sandhya UC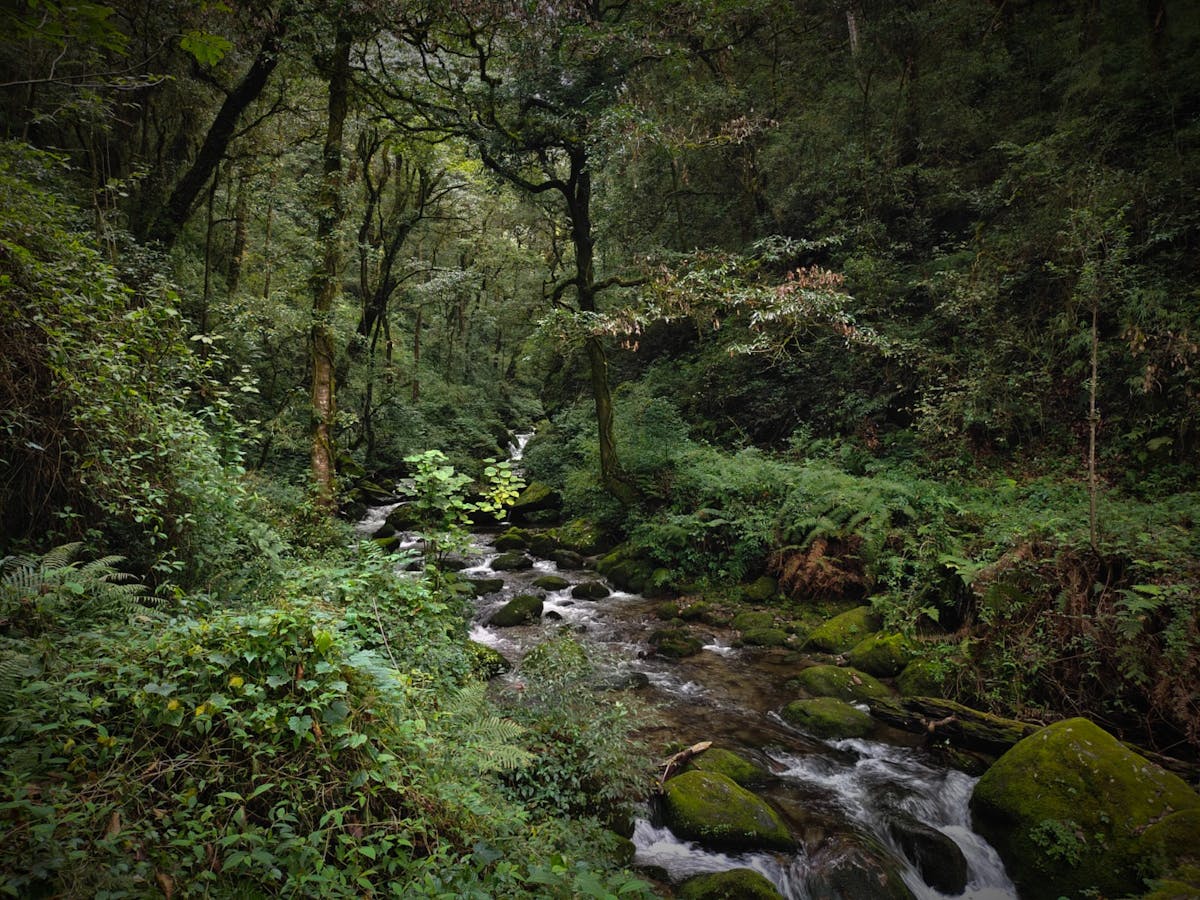 An hour ahead, it is thick with dense undergrowth, mossy stones, and tall pine trees. Photo by Suchandan Bhar.
Here is an interesting story about the forests of this region.
A long time ago, there was a battle between humans in this region and a giant called Yeti.
The area was split into Yeti-land and human-land to put an end to the conflict. The boundary was marked by a stone called Sopedonga. If you go a little off the trail, you'll see this stone right before reaching Samanden.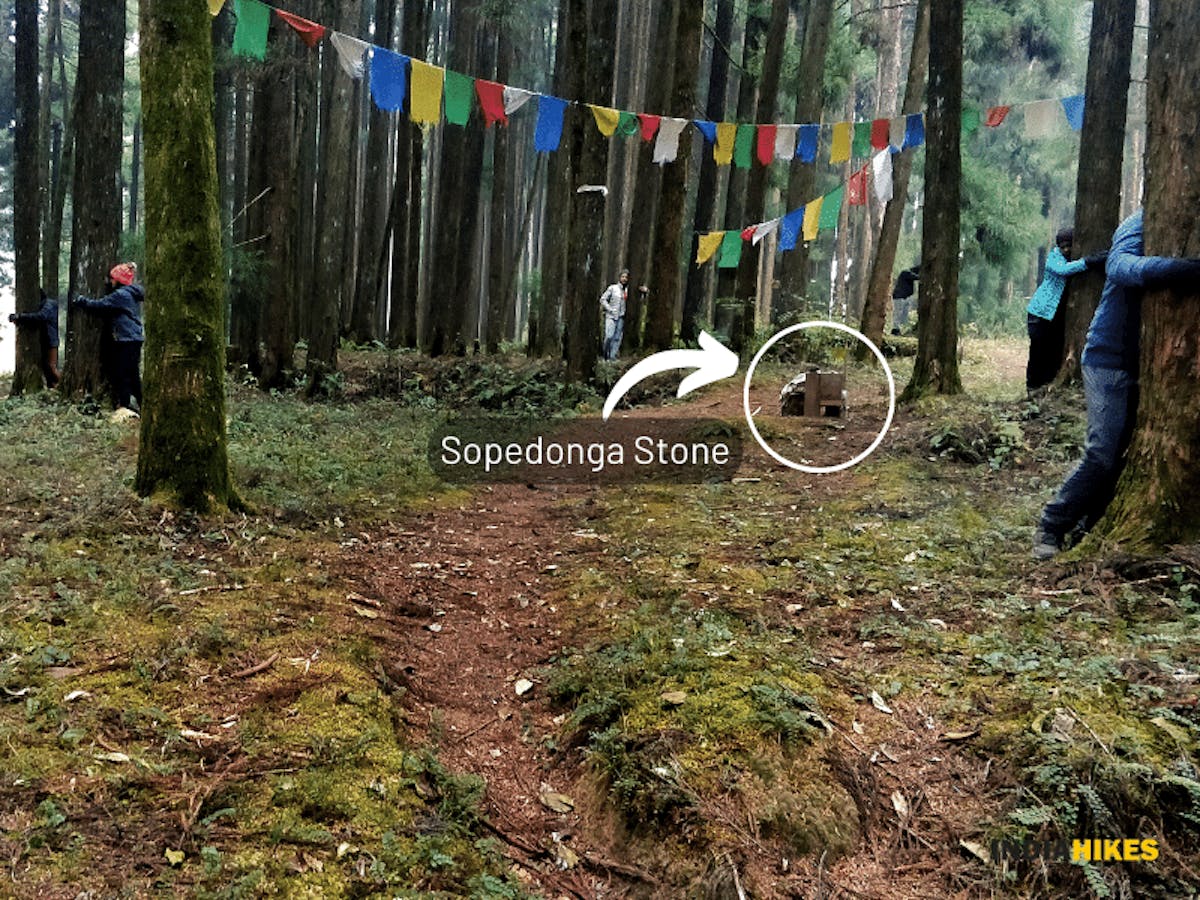 Trekkers 'hug-a-tree' in Yeti Land and Human land around the Sopedonga stone. Photo by Dhaval Jajal.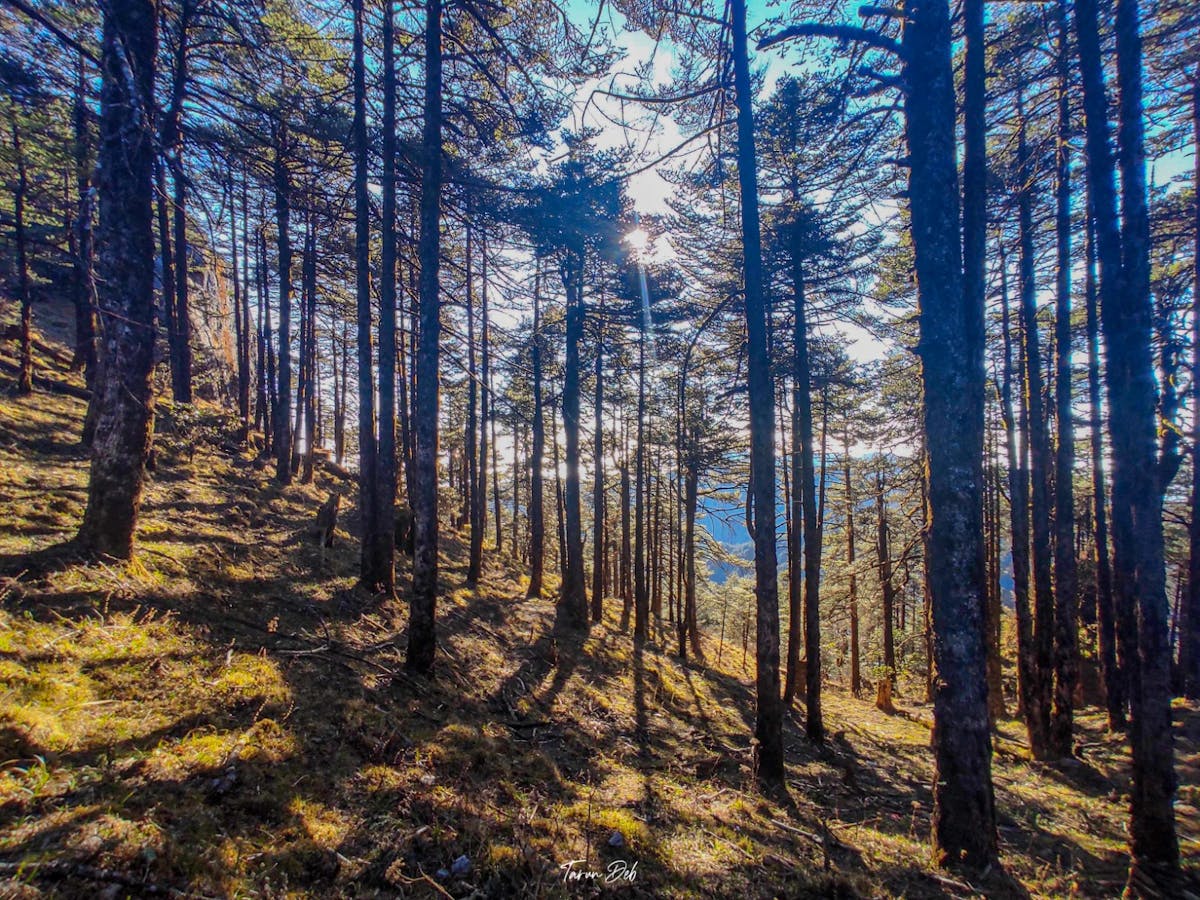 You come across this delightful section of pine trees just as you start trekking from Samanden to Molley. "It's a steep ascent of 4 km." "But what stays with you is how well-placed the pine trees are," shares Akshay Upreti. Photo by Tarun Deb
Soon the forest shifts its character.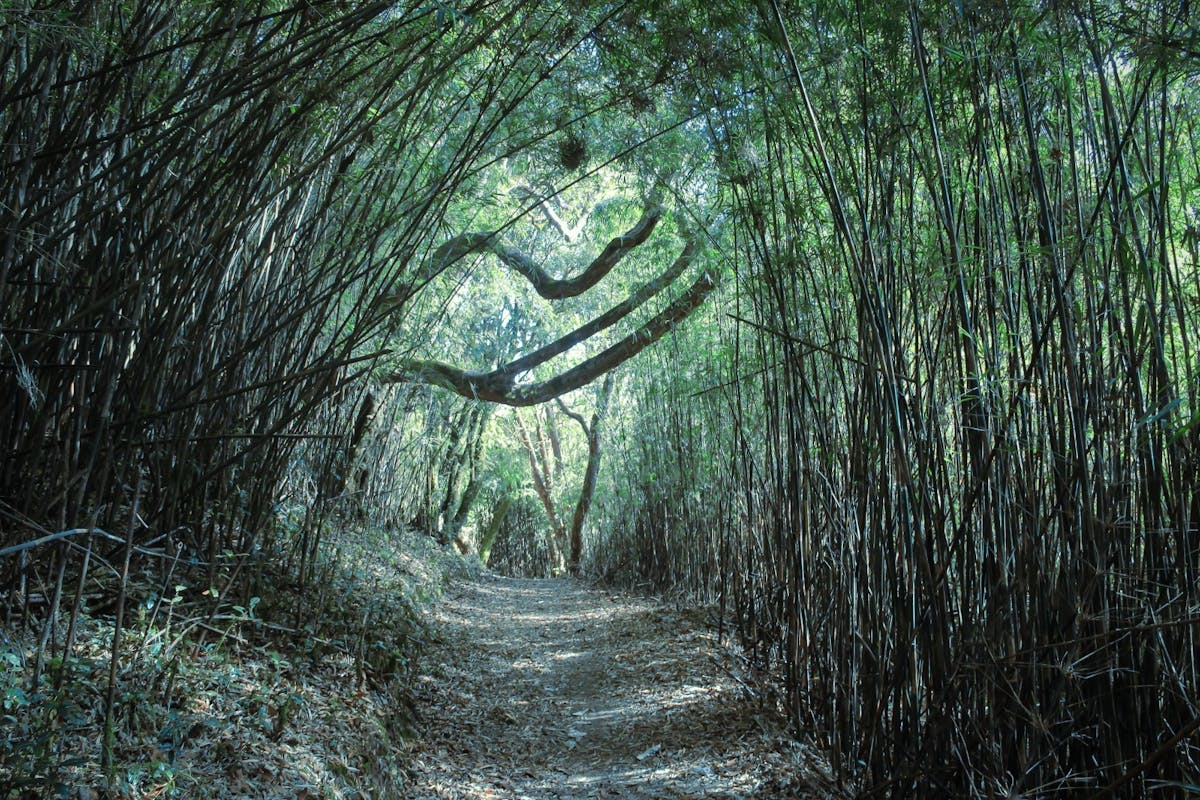 You enter a bamboo forest! The bamboo groves flank you on either side of the route. In some parts, the bamboo forest gets so dense that you can hardly see further than a few meters into the jungle. Photo by Abhijeet Metkar
In these very forests, if you are lucky enough, you will see one of the shyest creatures from the endemic Himalayan fauna—the elusive and endangered Red Panda. They forage in these forests, as their diet primarily consists of bamboo shoots. Photo by Ajit Hota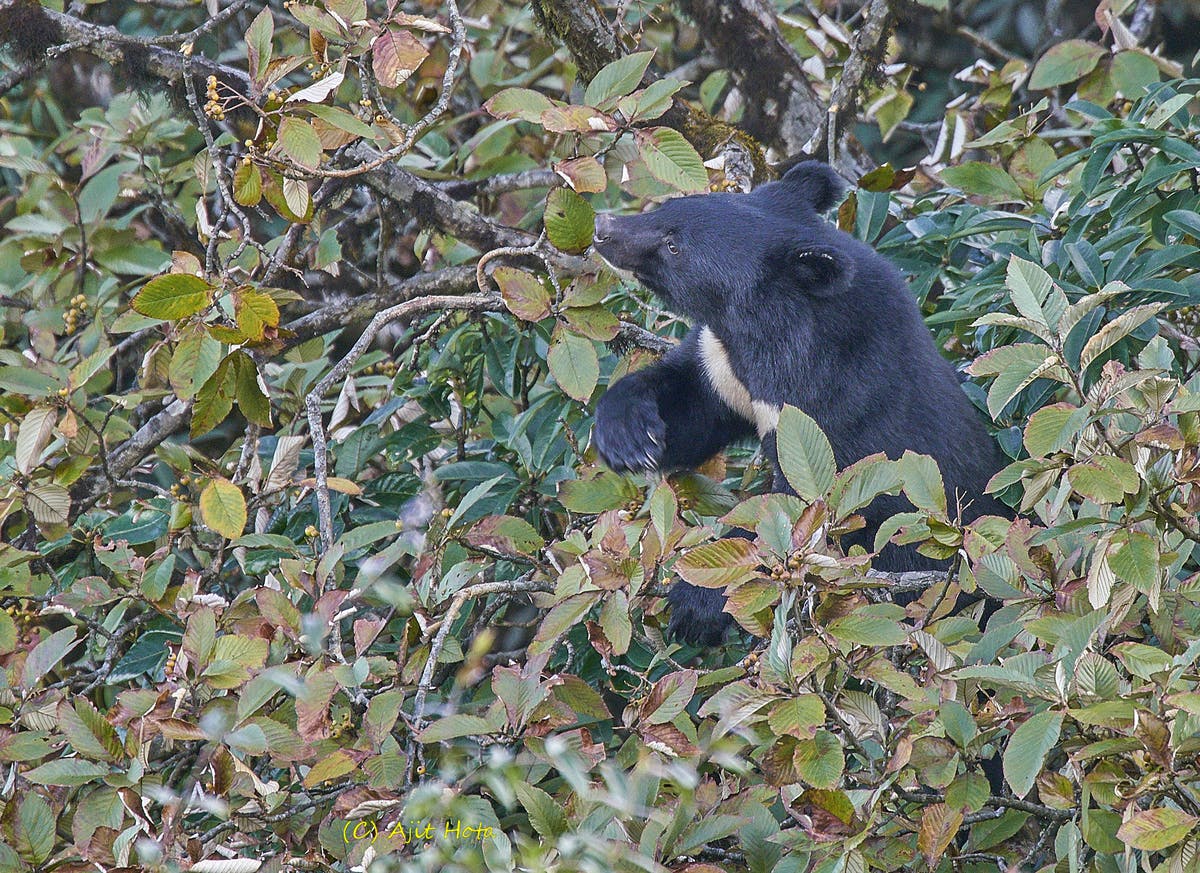 The entire route from Samanden to Molley is through a dense forest. Asian black bears are known to dwell in these forests, and several trekkers have even had close encounters with them. You can identify them by the distinct moon-shaped patch of white hair on their chest. They are generally not aggressive and will leave your path if you are approaching them. Photo by Ajit Hota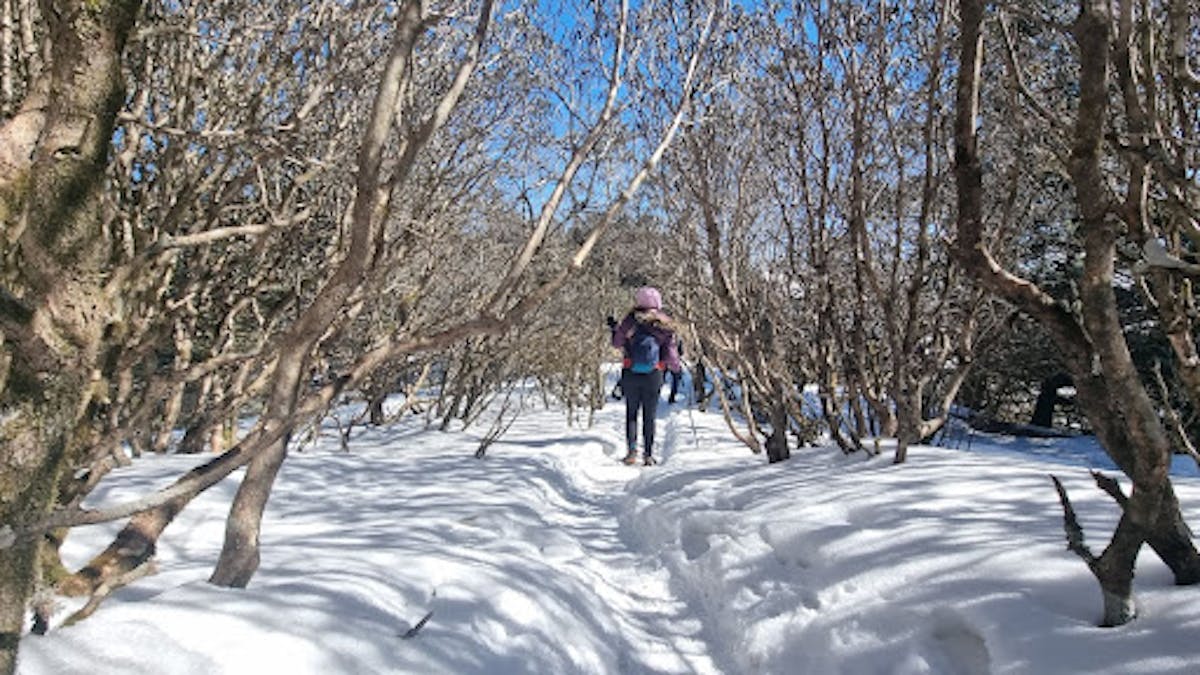 Higher on the trek, right as you are about to reach Molley, the forest shifts yet again. Now you are surrounded by a dense growth of dwarf rhododendrons. In early spring, you may find this section covered in a blanket of snow. Photo by Dhaval Jajal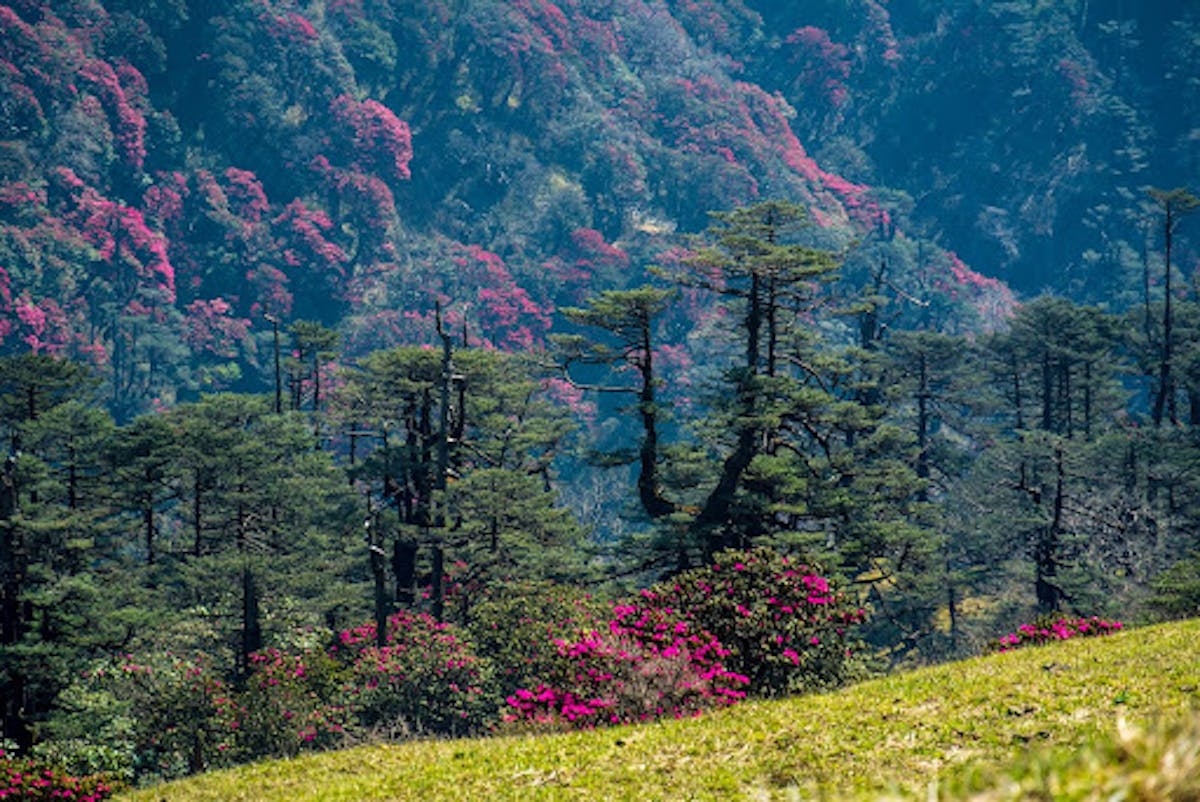 "This picture is from a section between Aal and Sabargram. "It's one of my favourite sections on the trek," says Akshay. "It's an undulating stretch of 10 kilometers, right above the tree line. You can see hundreds of rhododendron trees blooming from here. That makes for an unforgettable sight." Photo by Nikhil Jain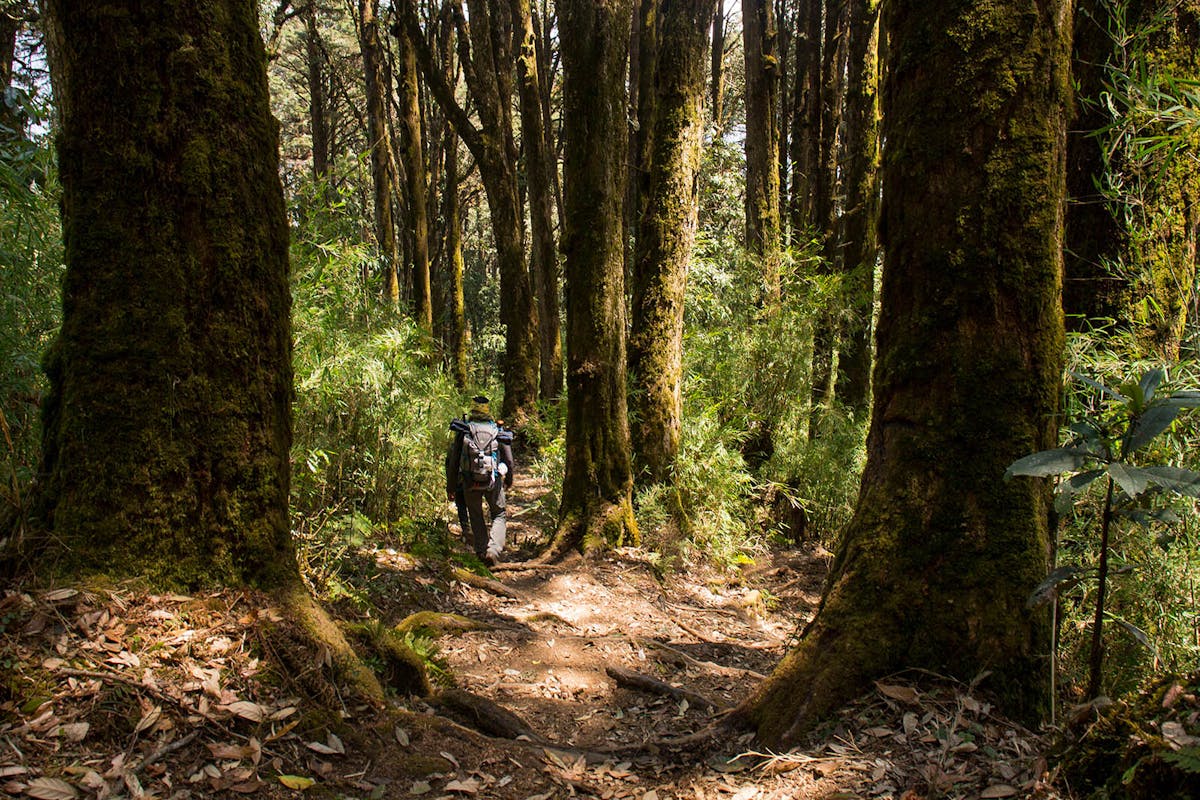 On the other side of the trek, you again enter the oak and pine tree forest while on your way to the base of the trek. Photo by Divya Dugar
Indo-Nepal Villages
Another fascinating aspect of the Sandakphu-Phalut trek is the intriguing blend of two world cultures. On this trek, you are constantly skirting the border of India and Nepal. So much so that sometimes one part of the trail is in India and the other is in Nepal. 
In such a setting, the cultures of both countries get intimately entwined. You witness this while trekking through the unique villages on the trek.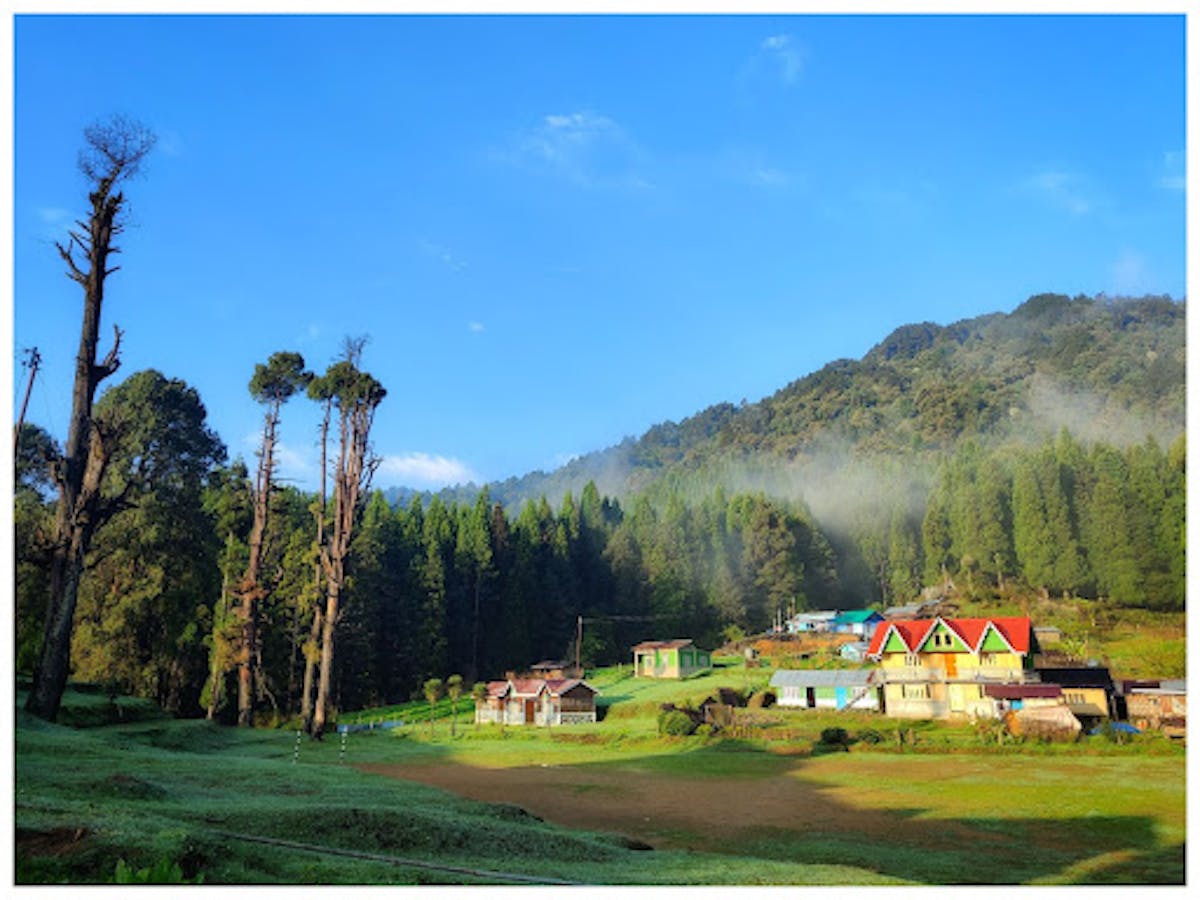 Surrounded by deep, dark forests, this is one of the most beautiful villages on the trek. Samanden. Notice how the houses—belonging to a handful of Sherpa families—are neatly placed amidst farmlands. These families actively practice farming. They grow potatoes, peas, beans, and corn. Photo by Subhajit Chakrabarti.
To avoid the motorable road, we take a different route to Sandakphu. On this route you come across 5 villages (Sepi, Srikhola, Ramam, Samanden, and Gurdum) on the trail. The video below takes you through this new route.
There's one peculiar thing you'll notice in all the villages.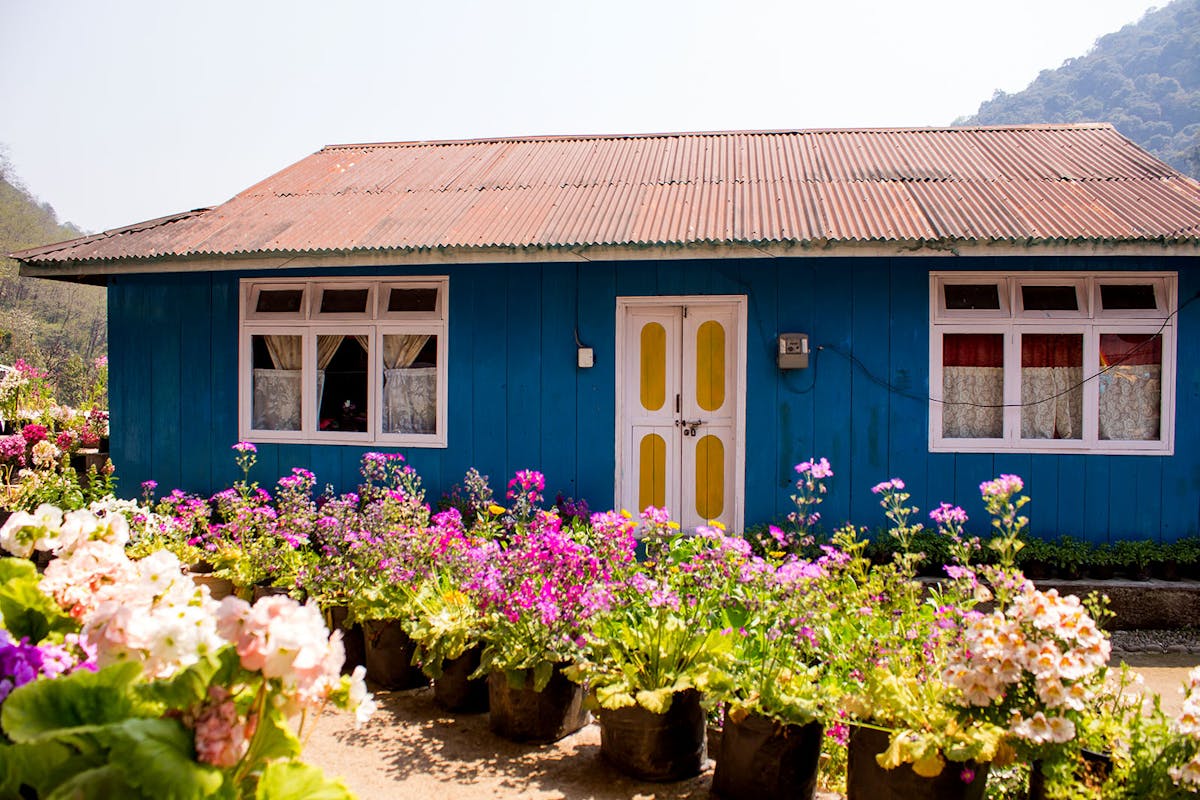 Every house in these villages has a tiny garden and colorful flowers blooming on the porch. It's charming to notice that flowers are an integral part of their interiors. Photo by Nikhil Bhat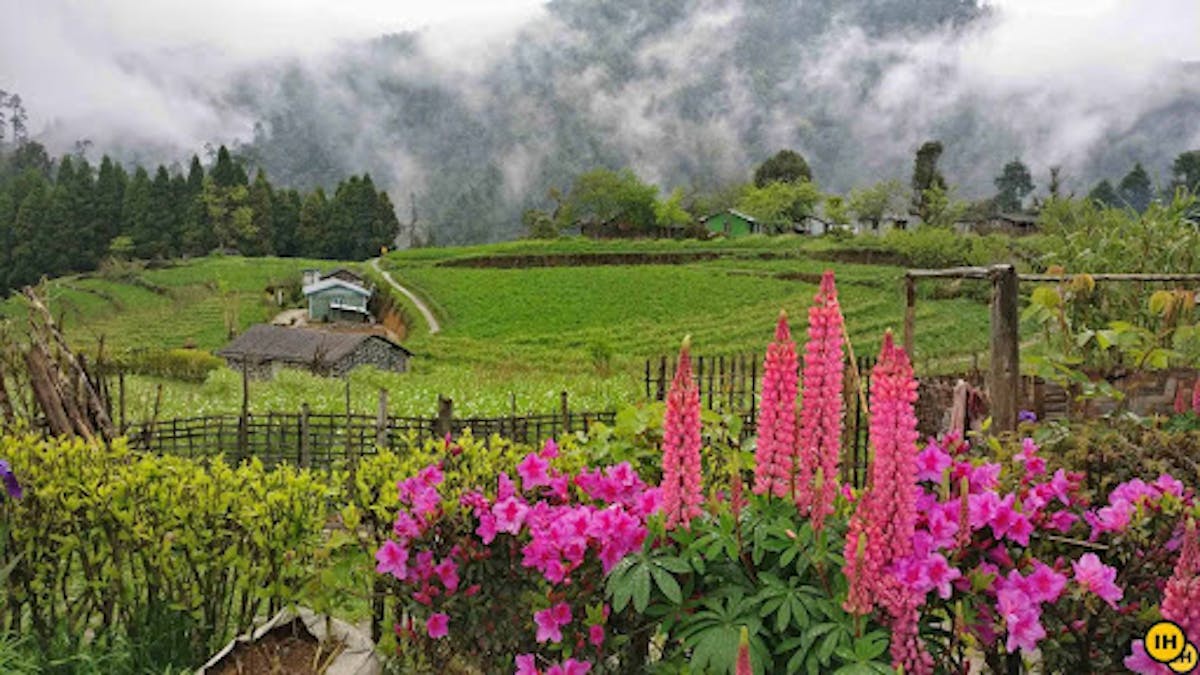 In spring, it's a medley of flowers inside and outside the houses! Photo from Indiahikes Archives.
A vibrant culture of tea-houses
Stepping into these tea houses instantly transports you to another world. A tranquil, zen-like calmness descends over you as you enter the tea house. 
Each tea house is different. On this trek, you will stay in three tea houses.
Families living in the tea houses predominantly follow a Buddhist culture. You'll find an altar like this in almost every teahouse you visit. Photo by Divya Dugar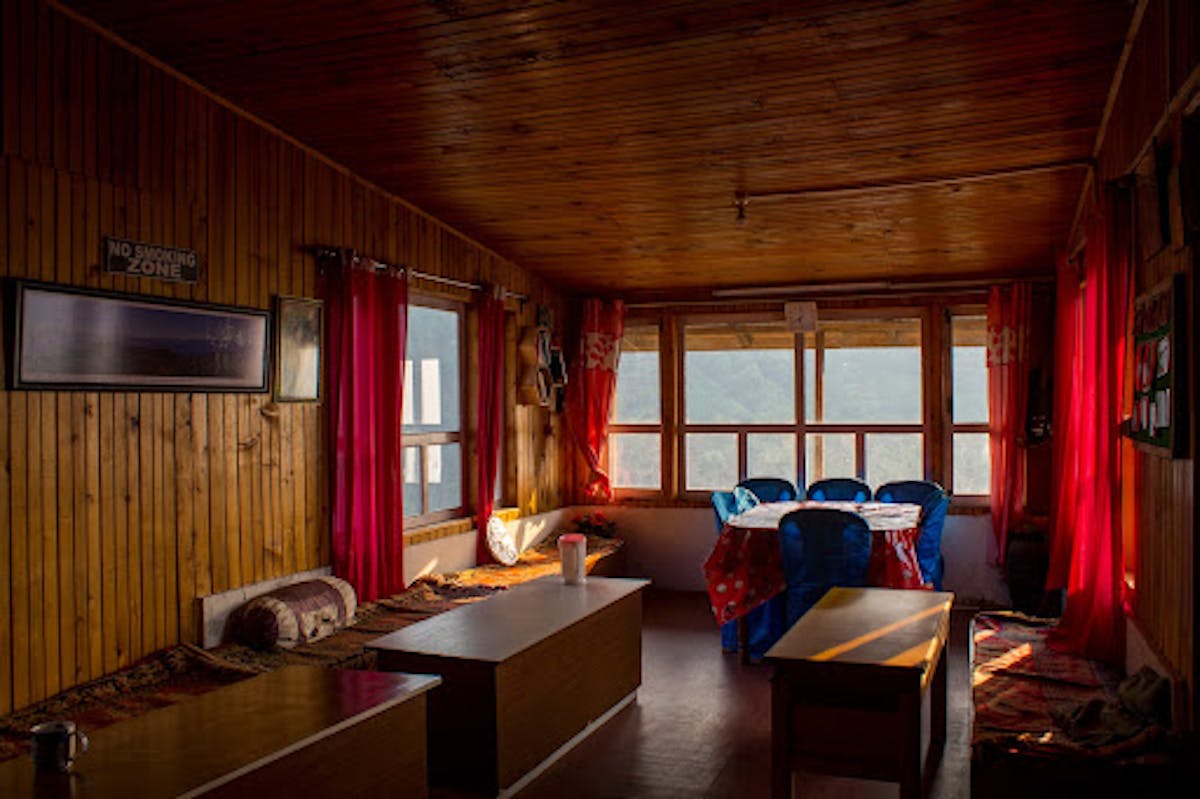 Tea houses are also known for their cozy settings. It's a great place for people to come together to eat and share stories from faraway lands. Photo by Divya Dugar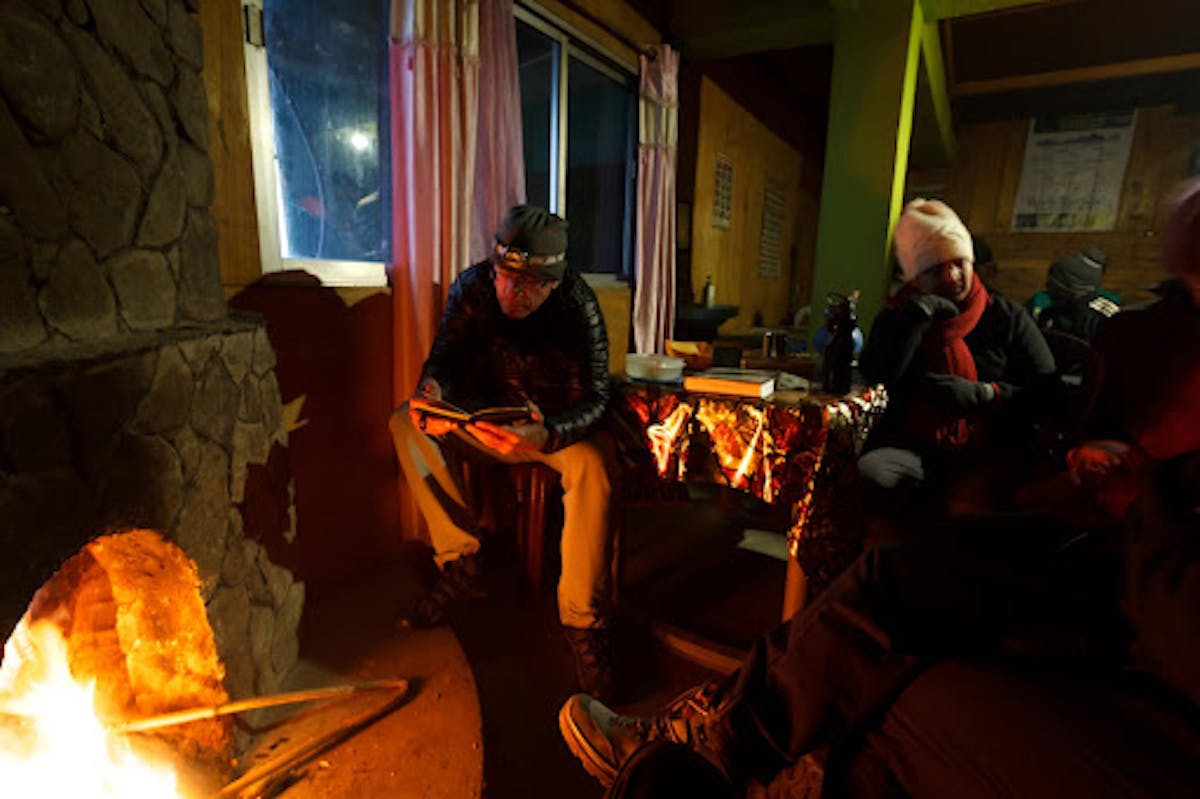 On a cold night, you can cozy up by the fire in a tea house with a book, chatting with your fellow trekkers. Photo from Indiahikes Archives.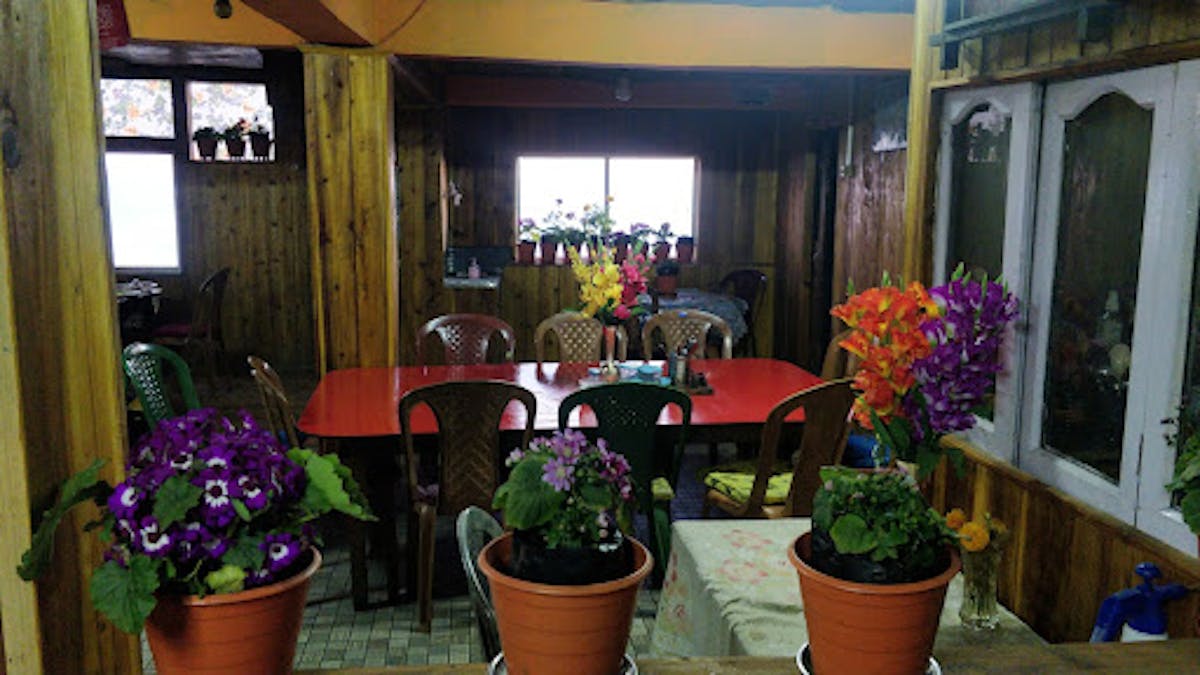 Flowers, as mentioned earlier, form an integral part of the interiors here. In a tea house, you'll find flower pots everywhere! Photo from Indiahikes Archives.
I am nearing the end of this photo story. But like any other photo story about the Sandakphu-Phalut trek, even this one feels incomplete without the mention of the grand mountain views from the trek. It's something you simply can't ignore. 
So here goes.
Grand Mountain Views
Trekkers from all over the world step onto the Sandakphu-Phalut trek for the stunning views of the Sleeping Buddha and the Everest Cluster. And rightfully so. 
You do get some rare views of the tallest mountains in the world from this trek. More than that, the experience of trekking for 2–3 days with the Sleeping Buddha in sight is unforgettable.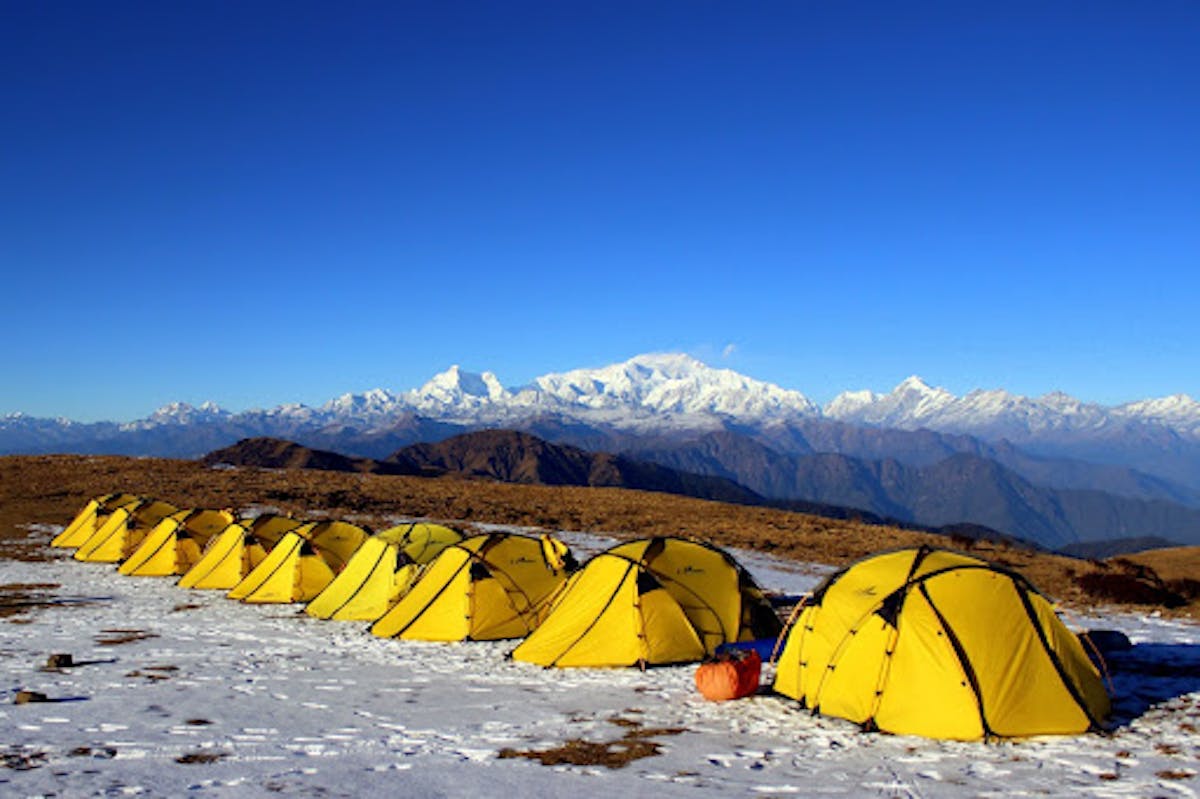 You awaken at the Sleeping Buddha from our Sabargram campsite. The view often leaves trekkers teary-eyed. Photo by Aakash G Ratkal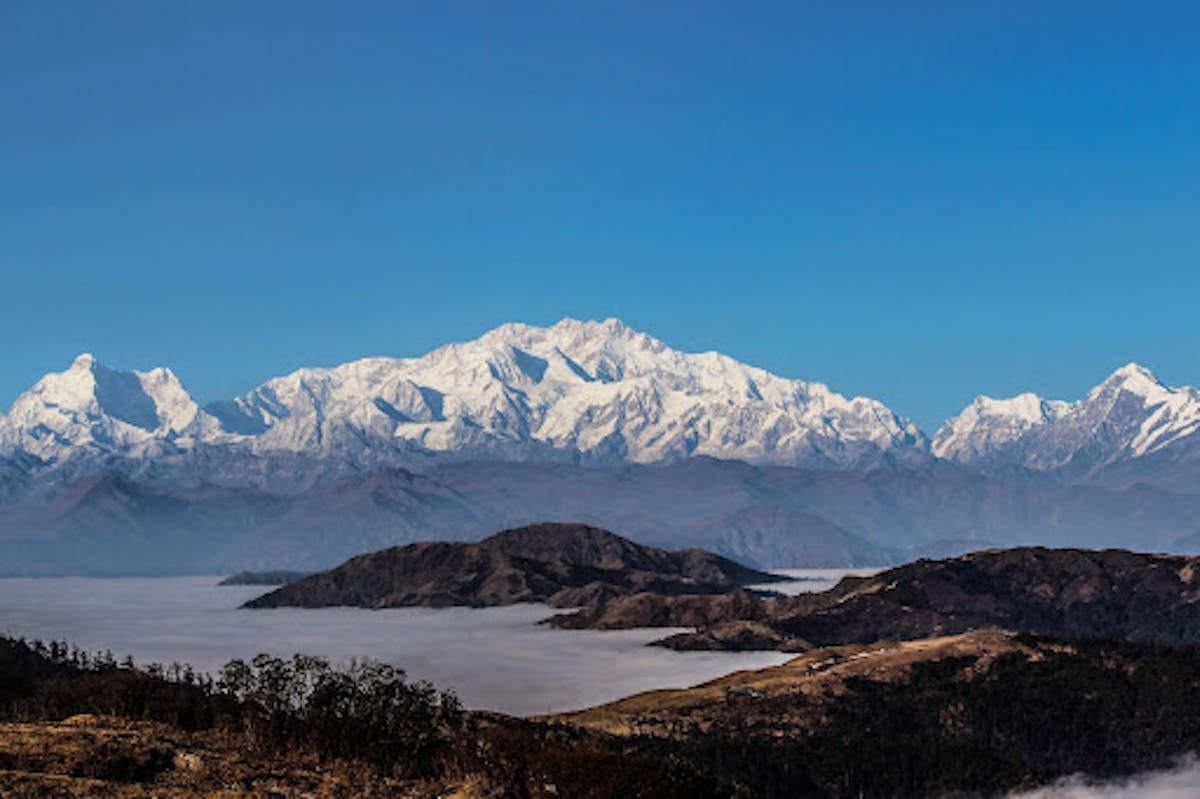 Outside the tree line, you trek on the ridge for 2–3 days. And on all these days, you witness spectacular views of the Sleeping Buddha. This photo was taken from above 11,000 ft. You are very close to Aal at this point. Notice how mountain tops are jutting out from the sea of clouds. Photo by Sanjay Nargund

A brilliant alpen glow on Sleeping Buddha. Notice how the entire Kanchenjunga range is rising above the sea of clouds. Photo by Swathi Gavde.
With that, we come to the end of this photo story. 
This time, I wanted to pull your attention to some of the underplayed aspects of the Sandakphu-Phalut trek. These unseen details intrigued me and got me hooked. They made me see the Sandakphu-Phalut trek in a totally new light. 
Do you have any rare photographs of the Sandakphu trek? Do share with them.  I'll include them in my next photo story. 
Sign up for our much loved Weekly Mailer
We have terrific trekking tips, trek updates and trek talks to look forward to