Pin Bhaba Pass vs Pin Parvati Pass: Which trek to choose?
Share this story
These sister treks, Pin Bhaba Pass and Pin Parvati Pass are often spoken about in the same breath. Both are high cross over treks. Both have similar difficulty levels. Both have the extraordinary mountain scenery of Spiti Valley.
So which do you choose?
I'll lay out the attractions of both treks, then at the end, I'll help you choose.
As we have it, Pin Parvati Pass is the more glamorous cousin. The glamour lies in its legacy. It is one of the oldest extreme altitude treks in India. Seasoned trekkers have done this menacing trek and often been awestruck in the end.
Pin Bhaba Pass, on the other hand, is a trek people have vaguely heard of, if at all. Yet, head to head, the Pin Bhaba would be the docile, prettier sister of the two.
Altitude
Sometimes, trekkers do treks simply for the altitude. For them, getting to a very high altitude is a worthy prize. On this point, Pin Parvati scores. It rises to 17,450 ft at the pass. Pin Bhaba, on the other hand, is at a modest 16,100 ft at the pass. I say "modest", but to give you a comparison, at the Pin Bhaba pass you are higher than most Indiahikes treks. So don't scoff at it.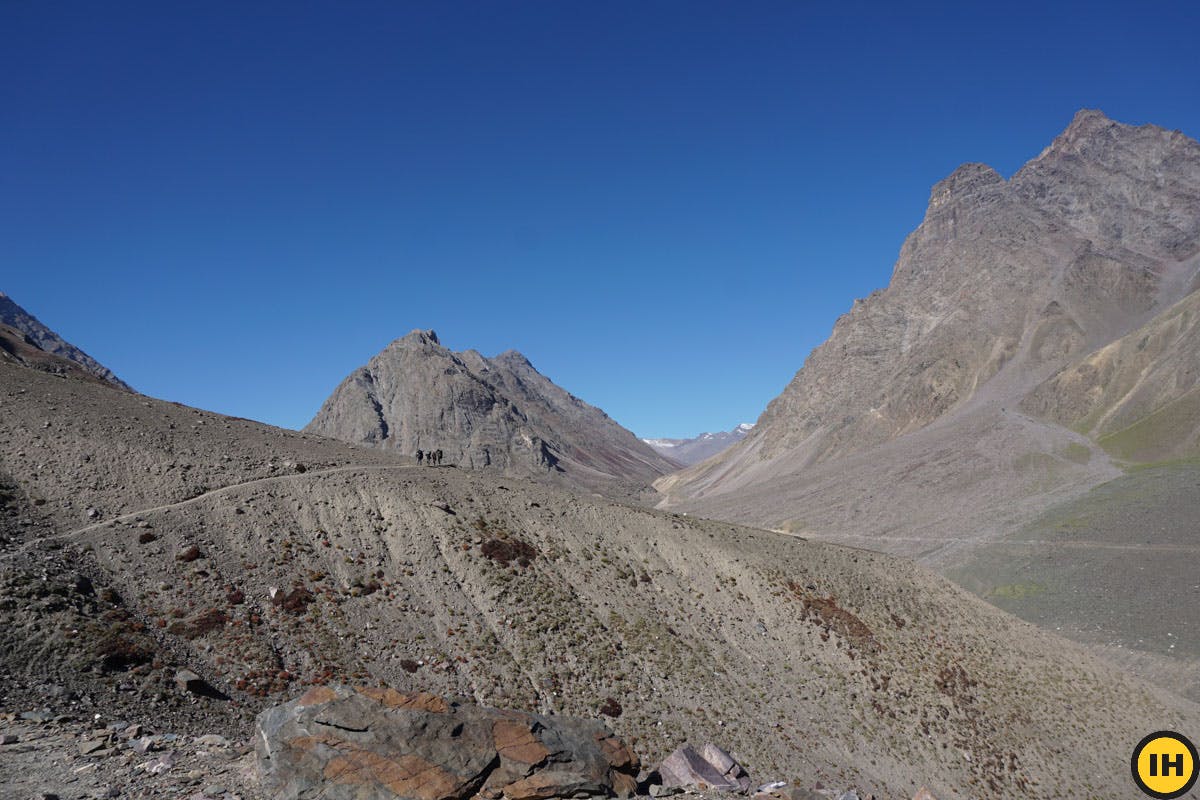 Difficulty
When you compare the two, Pin Parvati is a longer trek. It takes 9-10 days to complete this trek. Most trekking days are long too – easily 7-8 hours on an average day. Some days are longer.
Pin Bhaba is a more relaxed trek. The trek lasts 6-7 days, with trekking time topping at around 6 hours per day. Like most treks, the pass day is long on the Pin Bhaba trek. It takes about 10 hours.
From a trekker's angle, the effort required on the Pin Parvati trek is much higher. The Pin Bhaba trek is difficult too, but not as difficult as Pin Parvati.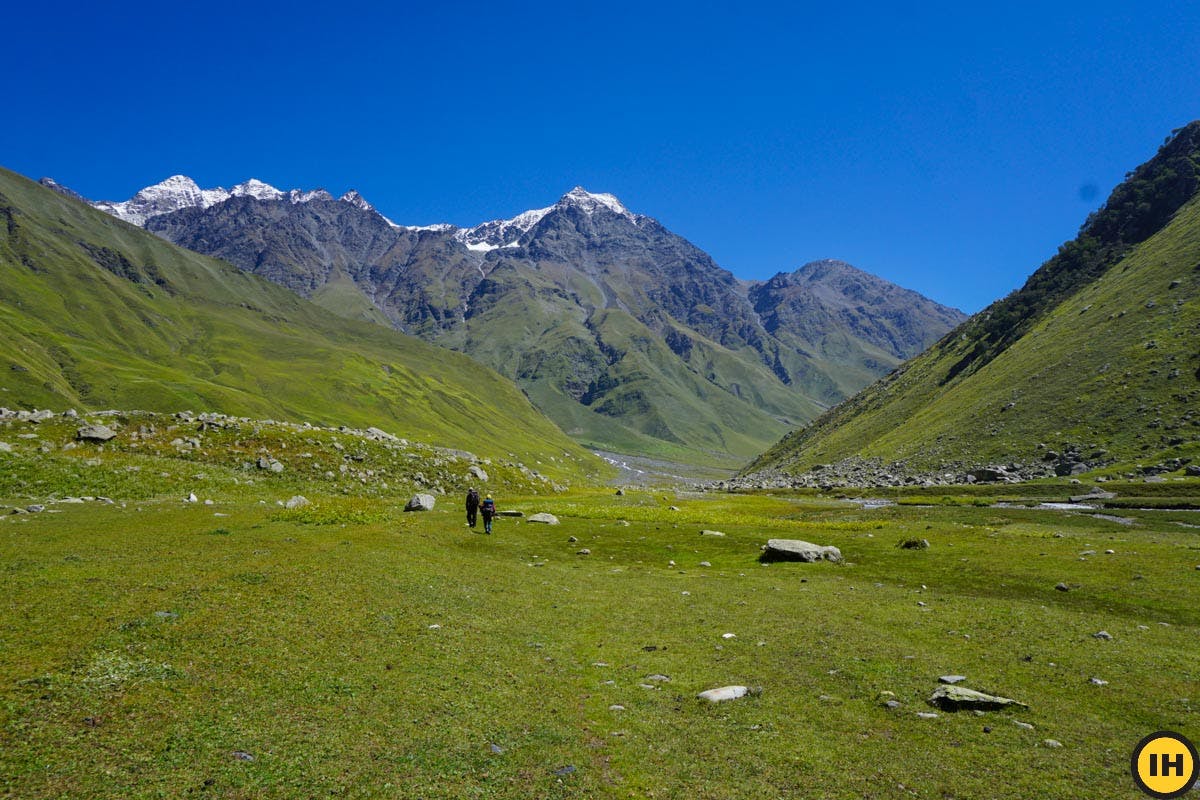 Terrain risks
Pin Parvati has rugged terrain, there are no two ways about it. There are precarious overhangs over the Pin river on Day 2, which are not for the faint-hearted. Descending from the pass in never-ending scree is rough on the legs. The trail is often slippery too. Later, around Tunda Bhuj, there is a palm-sweating river-crossing over boulders. Such a river-crossing is never easy when there is a thundering river flowing below.
In comparison, Pin Bhaba has no such life-threatening risks. The trickiest section would be when you are getting off from the pass. The slope is steep. Snow slides are eminent. Later, the descent is on a rough stony trail that is hard on your knees. But it presents no danger.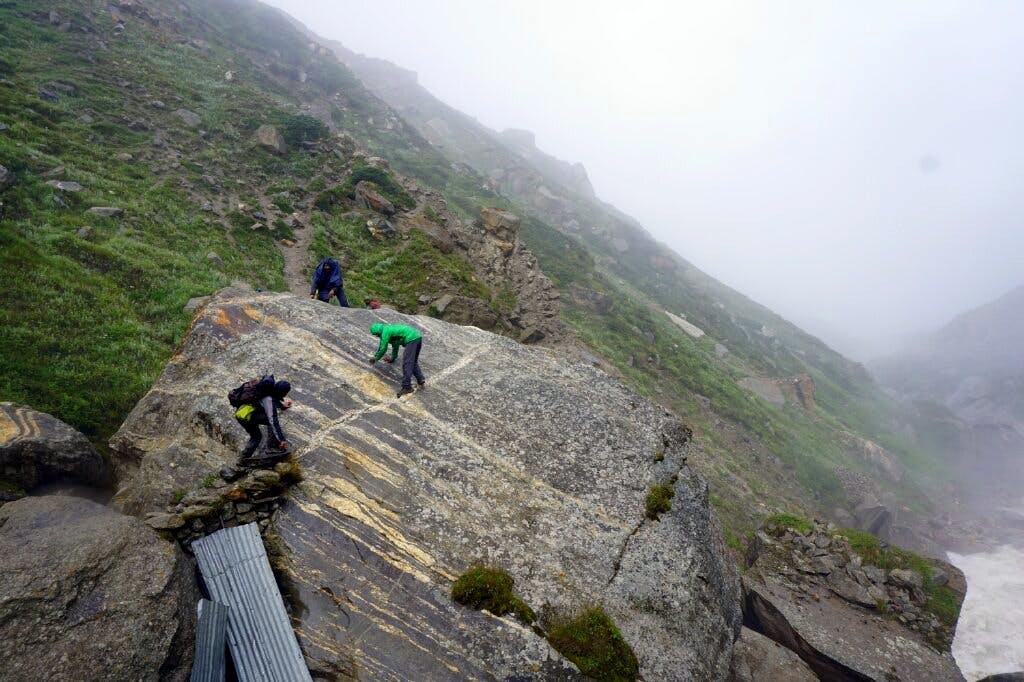 Scenery
The Pin River
Well, both treks have spectacular mountain scenery. They have Spiti in common. Pin Parvati starts from Mudh in Spiti, whereas Pin Bhaba ends in Mudh. It is one of the most remote corners of Spiti. So you get to see a desert landscape that is even better than Ladakh. However, even though both trails run alongside the same Pin river, the Pin Bhaba side appears more attractive. It fans out wider on the Pin Bhaba side, making it more aesthetically pleasing.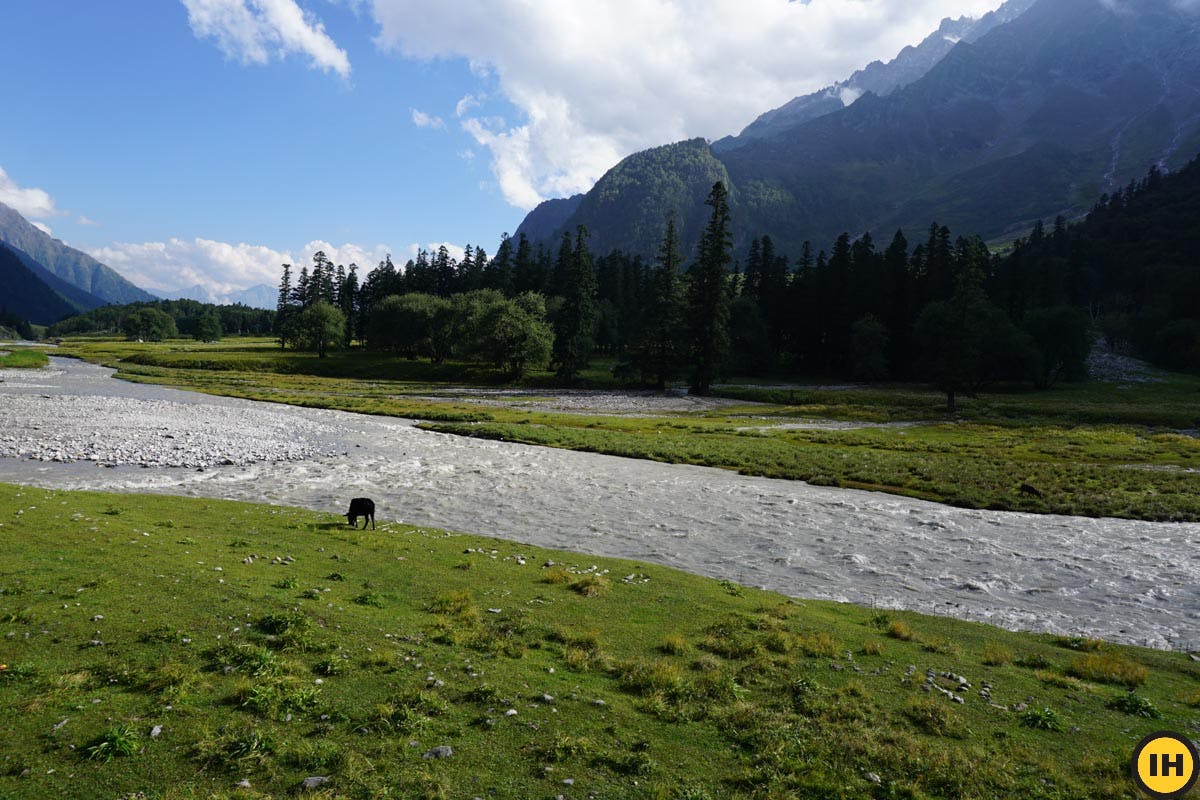 Forest trails
Head to head, Pin Bhaba has a lovelier forest trail than the Pin Parvati. That's because the Bhaba River cuts through the forest in unimaginable beautiful curves. Added to that, the forest, with its delicious pine and maple cover is fairytale-like.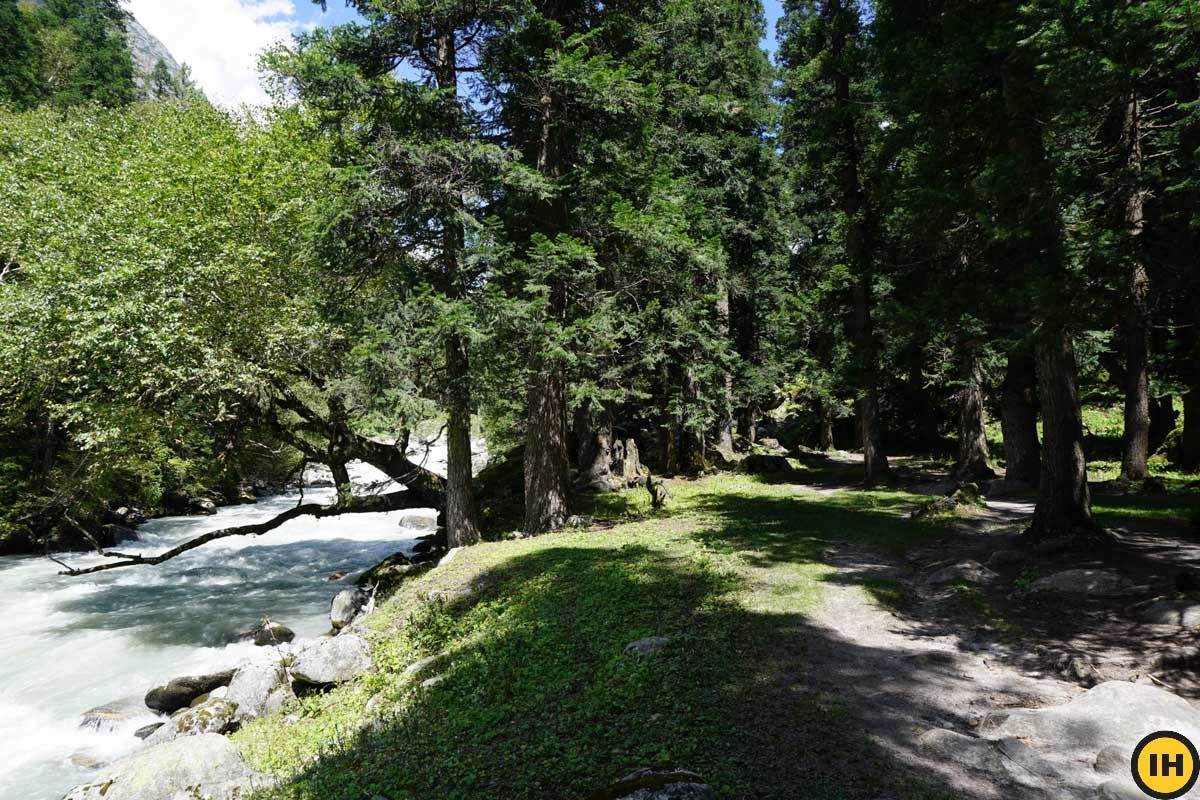 Grasslands
Higher up, popping into expansive grasslands, Pin Bhaba overshadows Pin Parvati. The meadows and grasslands are very Kashmir-like. The grasslands sweep with clusters of forests in between. The high altitude grassland camp at Khara is a feast for the eyes. The final camp at Phutsirang beside a river delta is dreamy. With a rest day here and an endless opportunity to explore the inner hills, it makes it even more special.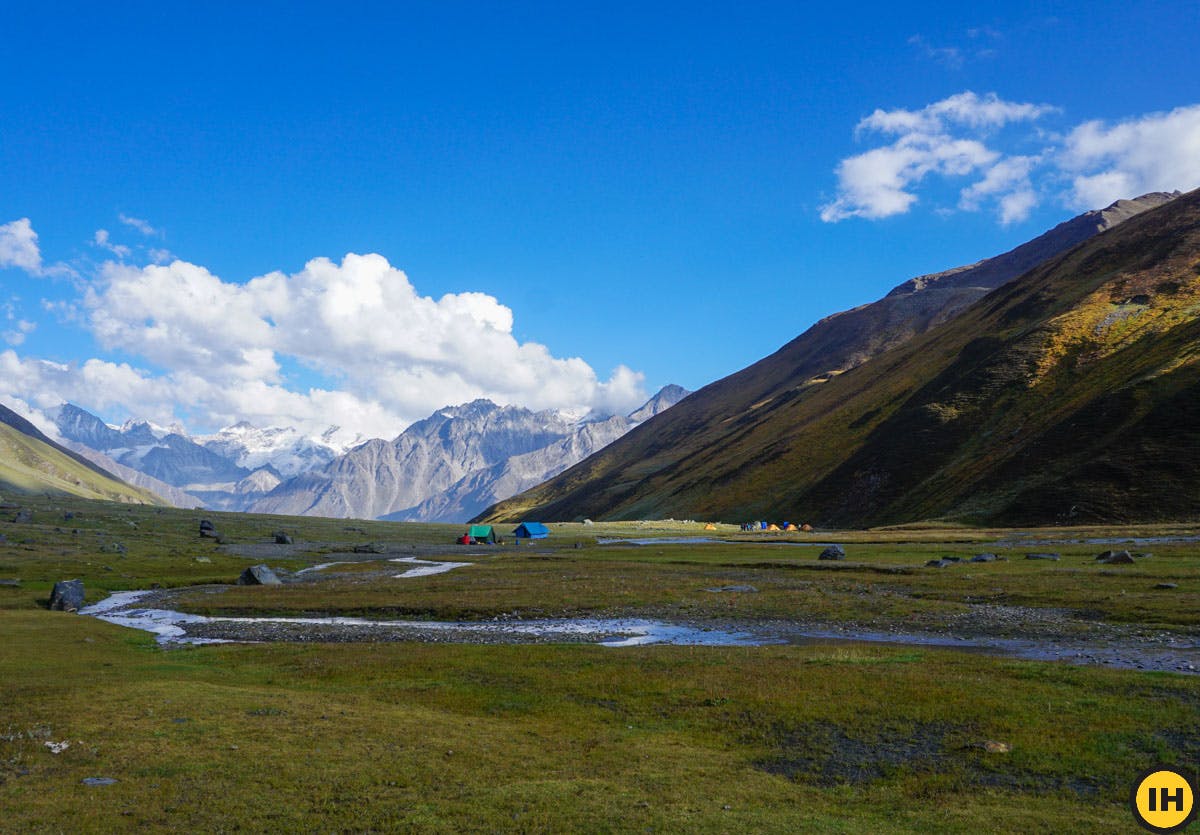 Wide Valley Views
Pin Parvati, on the other hand, has terrific wide valley views, especially between Mantalai and Odi Thatch. Both camps at Mantalai and Odi Thatch are settings trekkers swear by. With flower beds around with the Parvati gently floating by things don't get better than this. Even the snowfield after getting off the pass is so vast that it boggles the mind. Later when the valley narrows shrubbery increases. From Tunda Bhuj the trail gets into a lovely forest until Kheerganga. The forest continues until Barshaini, which is rather nice.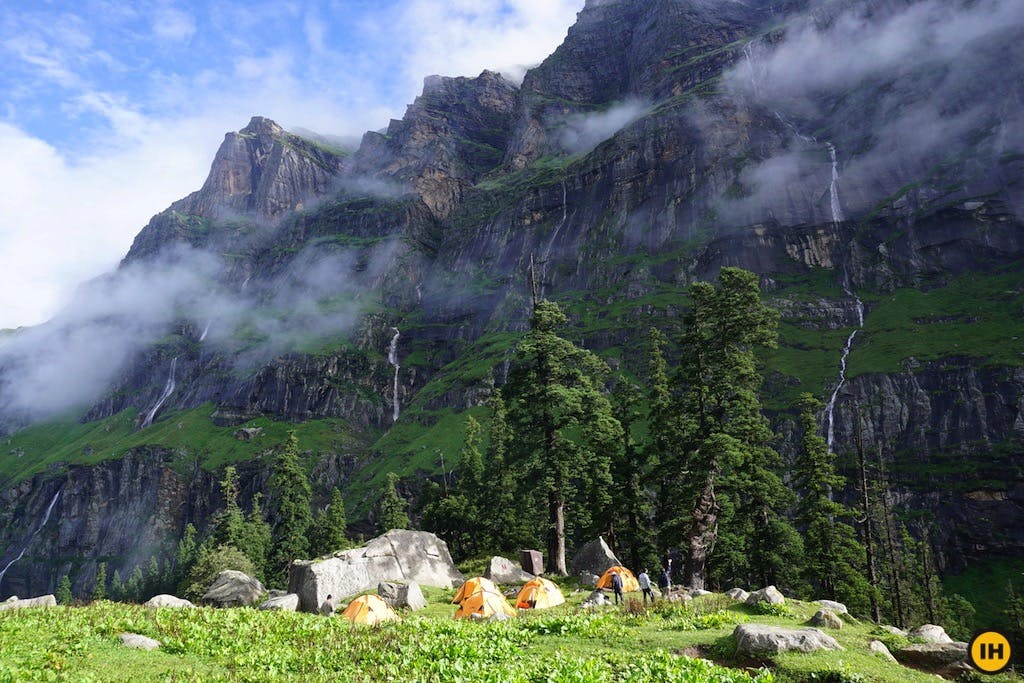 Snow
Both treks are best done from July until September, perhaps going up to mid-October. In July, you are likely to see a good amount of snow on both treks. Pin Parvati has more snow on the pass than Pin Bhaba. No surprises there about why snowfields are such a big attraction at Pin Parvati.
September is when you get the least snow cover, which is perhaps the best month to do these treks.
Expect the first bout of winter snow in the first week of October. This can make climbing on both treks somewhat tricky. Which is why after mid-October it is not wise to do these treks.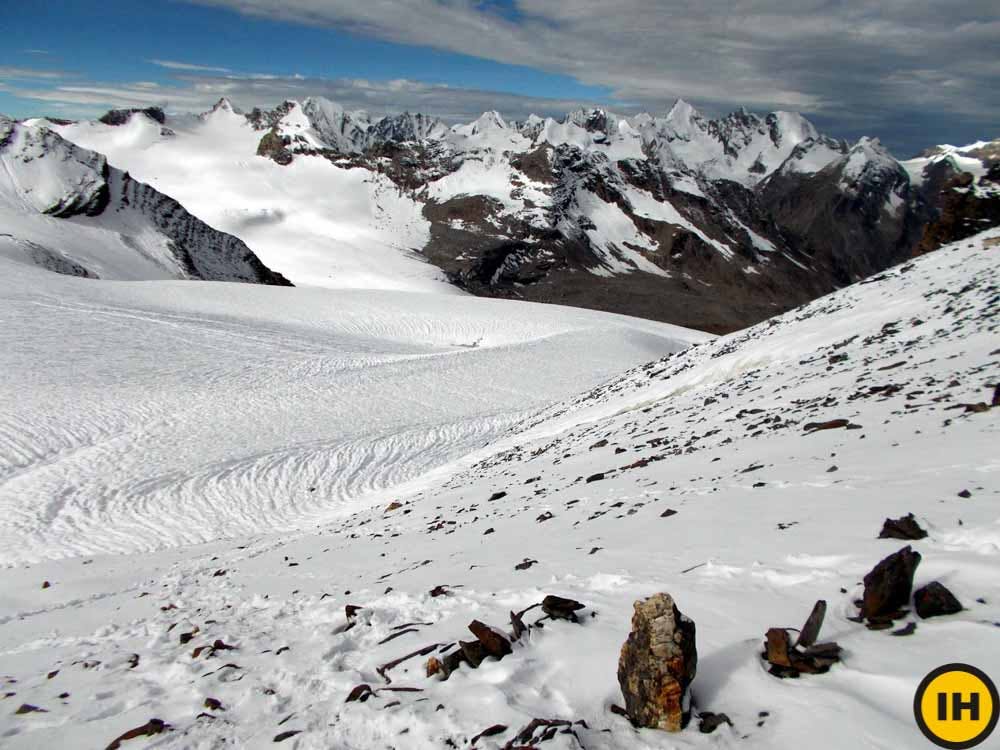 The verdict
Both, Pin Bhaba and Pin Parvati are terrific crossover treks. Trekking in the colourful deserts of Spiti is a dream most trekkers cherish. On both these treks, along with Spiti, you see a luscious green side of Himachal. I don't think trekkers can ask for anything more.
Both treks are challenging. They require good preparation before attempting them. They have well-deserved rewards too.
But if I have to choose from the two, I'd go for Pin Bhaba. What would move me towards Pin Bhaba is the mountain scenery. I have not seen such graceful grasslands, such lovely forests, and terrain with a different landscape every day in quite a while. And that's only on the Bhaba side. On the Spiti side, well, less said the better. The colours of Spiti are astounding. The challenge of climbing a 16 thousand feet pass is there to take too.
All in all, it is a trek for those who want to move beyond the Rupin Pass and the Roopkund's. Pin Bhaba gives the thrill plus the jaw-dropping scenery that leave you thunderstruck for a long long time.
If you have any questions or queries regarding Pin Bhaba and Pin Parvati, please drop in a comment below and someone from Indiahikes will get back to you!
Sign up for our much loved Weekly Mailer
We have terrific trekking tips, trek updates and trek talks to look forward to