Quechua NH150 Trekking Shoe Review: Excellent Budget Shoes For Himalay...
Share this story
A lot of trekkers find themselves in two minds about the NH150 trekking shoes by Decathlon. Firstly, these are budget-friendly shoes and only cost Rs 2,500. As compared to any other shoes, which are around Rs 5,000-6,000, these seem extremely affordable. So naturally, everybody's eye goes towards them. 
On the other hand, they are not considered trekking shoes. Decathlon marks them as off-road, hiking shoes. So, a lot of trekkers are unsure if it will work and are hesitant to buy them for a Himalayan Trek. 
I, too, wanted to know if it is good for trekkers. So I thought, why not pick them up myself, use them on a Himalayan trek and see what it's like. I'm going to share with you what I found out.
Performance of the Quechua NH150 Trekking / Hiking Shoes by Decathlon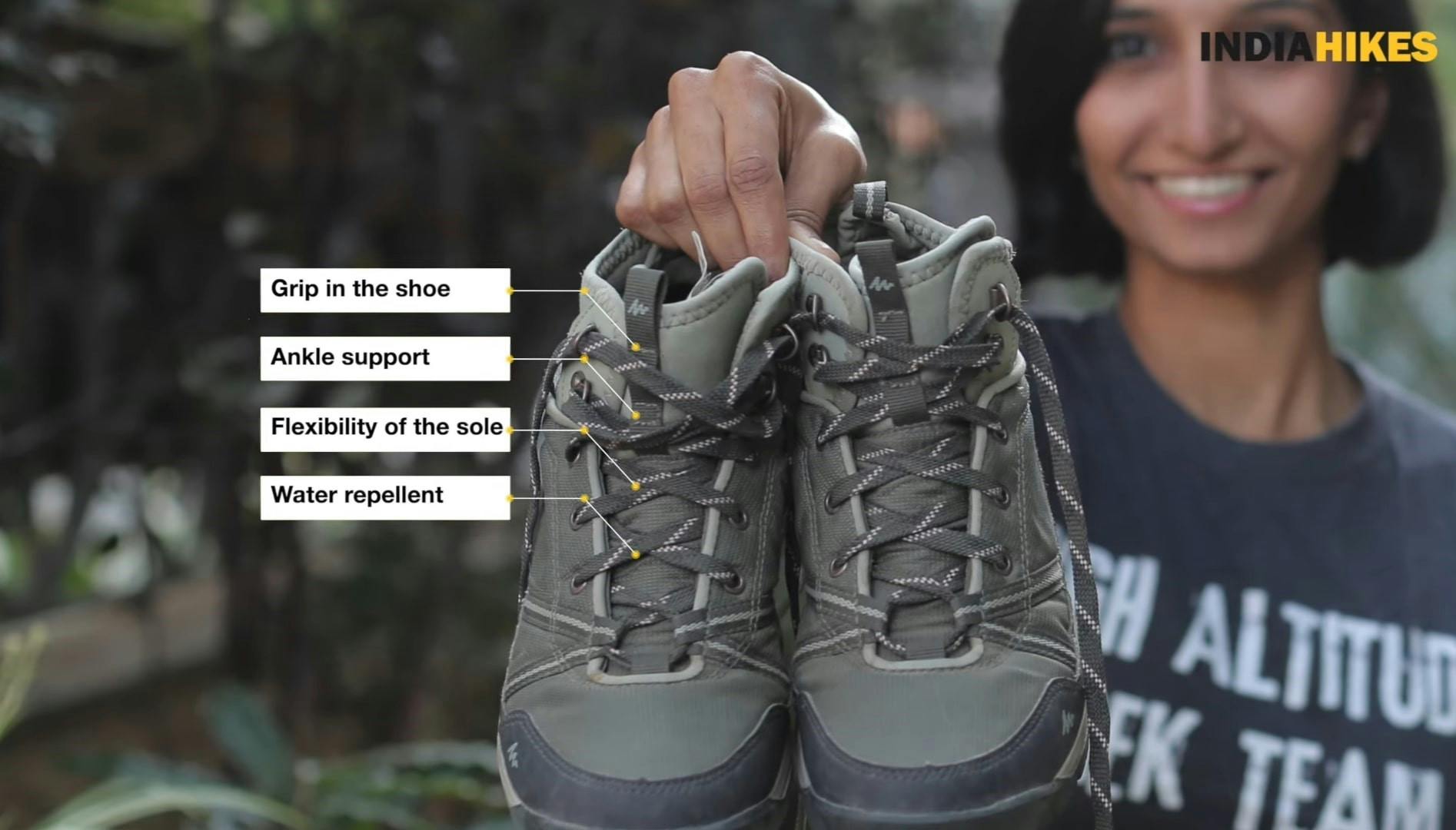 ➤ Testing Shoe Grip on Slippery Trails
The NH150 trekking shoes have a cross-contact sole. What most people don't know is that this is very similar to the high-end models of the Decathlon shoes, many of which cost Rs 5,000 – 6,000. When I used them on my Gidara Bugyal trek recently, these worked perfectly well. 
I can say this with confidence, since I trekked in snow, on ice, in a little bit of water and on a lot of uneven terrain as well. The sole performed very well on all of these. I did not slip even once! I was really impressed with the grip of the shoes. It is almost as good as high-end shoes. I did not find any negative points in this area.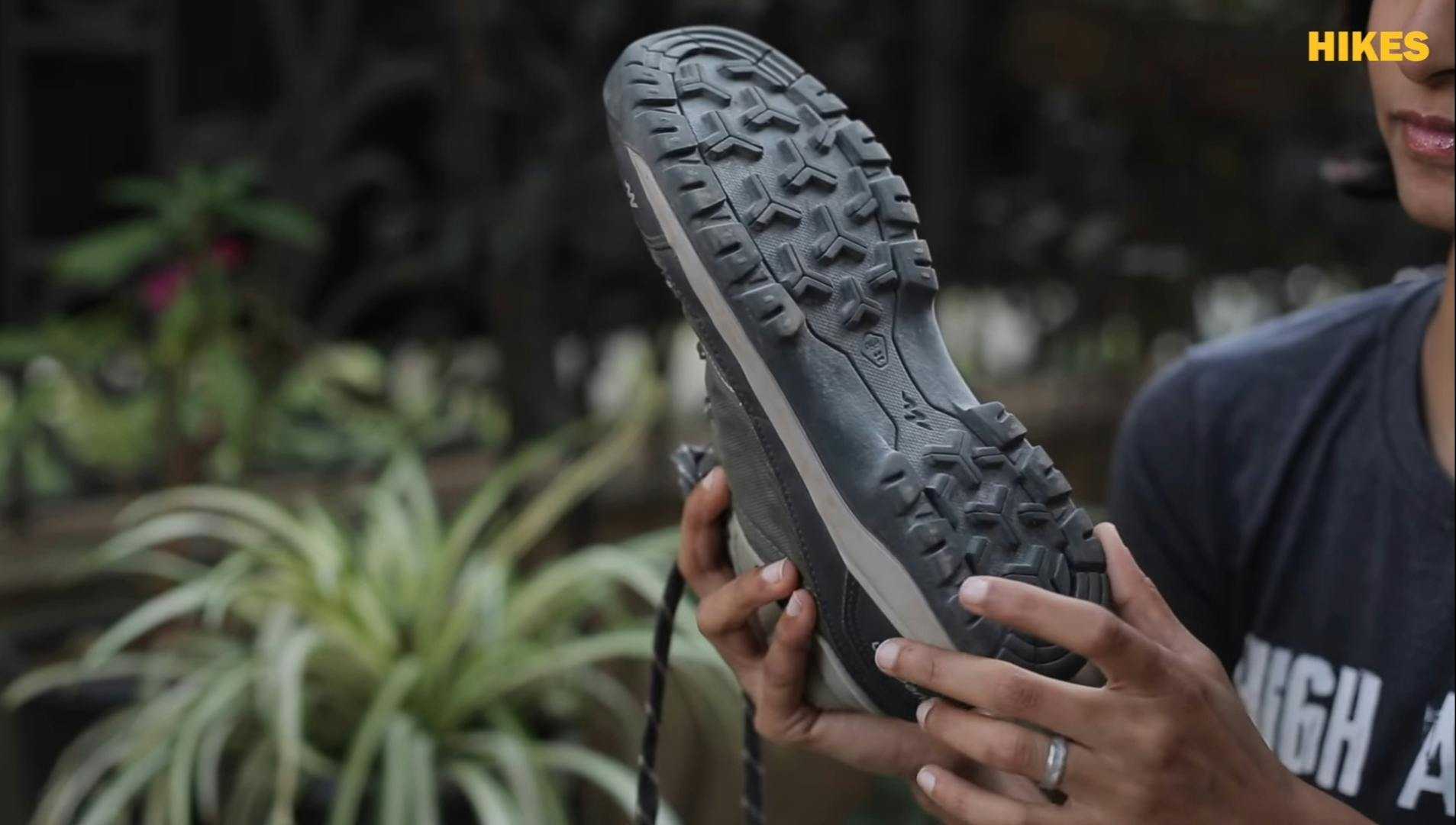 ➤ Sufficient Ankle Support
When it comes to ankle support, many people doubt these shoes — and I don't blame them. This is because they have a fairly soft ankle support. People think that it needs to be firm and more padded to actually support your ankles. But that is not true. 
It is the length of the ankle support that matters. And this one, at mid-ankle length, works perfectly well. One particular day on the trek, we descended from nearly 13,000 feet to 10,000 feet. Throughout the 3,000 feet descent on extremely shrubbery, leafy, and uneven trails, the shoes worked perfectly well. 
Only in one section did my ankle twist a little bit. However, the ankle support was good enough to hold it back and avoid an injury. 
➤ Sole Flexibility on Tough Trails
Unlike many hard and clunky shoes, the NH150 has good cushioning and flexibility. On the trek, we climbed up on several boulders where my feet had to be in very different, awkward positions. However, the shoes did a very good job. 
A plus point was that they seemed like an extension of my feet. It did not feel as if I was wearing something very heavy and clunky. 
➤ Testing Water Resistance in Snow and Streams
Decathlon labels these shoes as water-repellent. In reality too, they kept my feet dry when I was walking in water. 
Even though the trek was not a winter expedition with daily snow, there were substantial sections with ankle-deep or shin-deep snow. In spite of the fact that the entire shoe was buried in snow, it came out without getting wet. Although the outer part did get a little wet, it dried up very quickly. 
We even crossed many small streams. During that, we were in water for about 30 seconds to a minute. I had my shoes on the entire time as I waded through water and hopped and skipped on boulders. Water kept splashing on my shoes and yet they did not get wet. The little wetness on the exterior dried up overnight, even in those negative temperatures. 
Neither the insole, nor my socks got wet. Not even for a second did I feel my feet getting wet. In this area, too, the shoes had a good performance. 
➤ The Looks
Finally, one added (and rare) benefit of these shoes is that they look very good. They have women's and men's versions, which are both available in three colours. In my opinion, they go well with any kind of trekking pants you wear. In fact, they can even be put to everyday use in the city!
➤ Our Verdict
Taking all this into consideration, I would definitely recommend these shoes to you. Many people think that the more you spend, the higher the quality of the shoes. But if you ask me, that's an endless journey. You could spend anywhere from Rs. 6000 to 35,000 on a pair of shoes. Is it worth it though? I don't think so. Infact, if you are a first time trekker, we highly recommend you rent your gear for 1/20 of the cost.  
At Indiahikes, we've always believed that you spend less and trek more. Which is why I bought this pair of shoes for myself.
Whichever trek you're going on, might it be Kedarkantha, Deoriatal or the tougher ones such as Rupin Pass, Buran Ghati, Goechella, you can definitely use this pair of shoes. Moreover, it will easily last you around six, seven Himalayan treks of this caliber. 
It will also last you innumerable local treks. So don't think twice and go for it! It's a very good model. If you have used it yourself, I'd love to know your experience of it. Drop in a comment below with your experience of the shoes.
On another note, we are making more such reviews of trekking gear. So if you have any gear that you'd like us to review, just tell us in the comments below. 
Related Videos
4 Tips To Choose Trekking Shoes | ट्रेकिंग शूज़ खरीदने के लिए 4 Tips | Chalein Trekking!
Trekking Shoes vs Sports Shoes -- Which To Choose For Your Trek
How to choose the right trekking shoes
How to tie your shoelace so that it doesn't come off
Sign up for our much loved Weekly Mailer
We have terrific trekking tips, trek updates and trek talks to look forward to