Why I Regret My Trek to Kedarkantha after Completing Rupin Pass
Share this story
Why I Regret My Trek to Kedarkantha after Completing Rupin Pass
Category Thursday Trek Talk
By Swathi Chatrapathy
2020-03-23
I've been putting this post off for a long time. Nobody likes to write about their own failure. But I realised that as a trekker, you might be able to pick something up from this post. So try and make it to the end and I hope you understand Why I regret my trek to Kedarkantha.
Last year, on January 1st, I was at the Kedarkantha summit. I stood at 12,500 ft, with the people I hold closest to my heart, watching the sunrise over the Himalayas. On the one hand, I felt extremely pleased and thankful. But within me, I felt a deep resentment.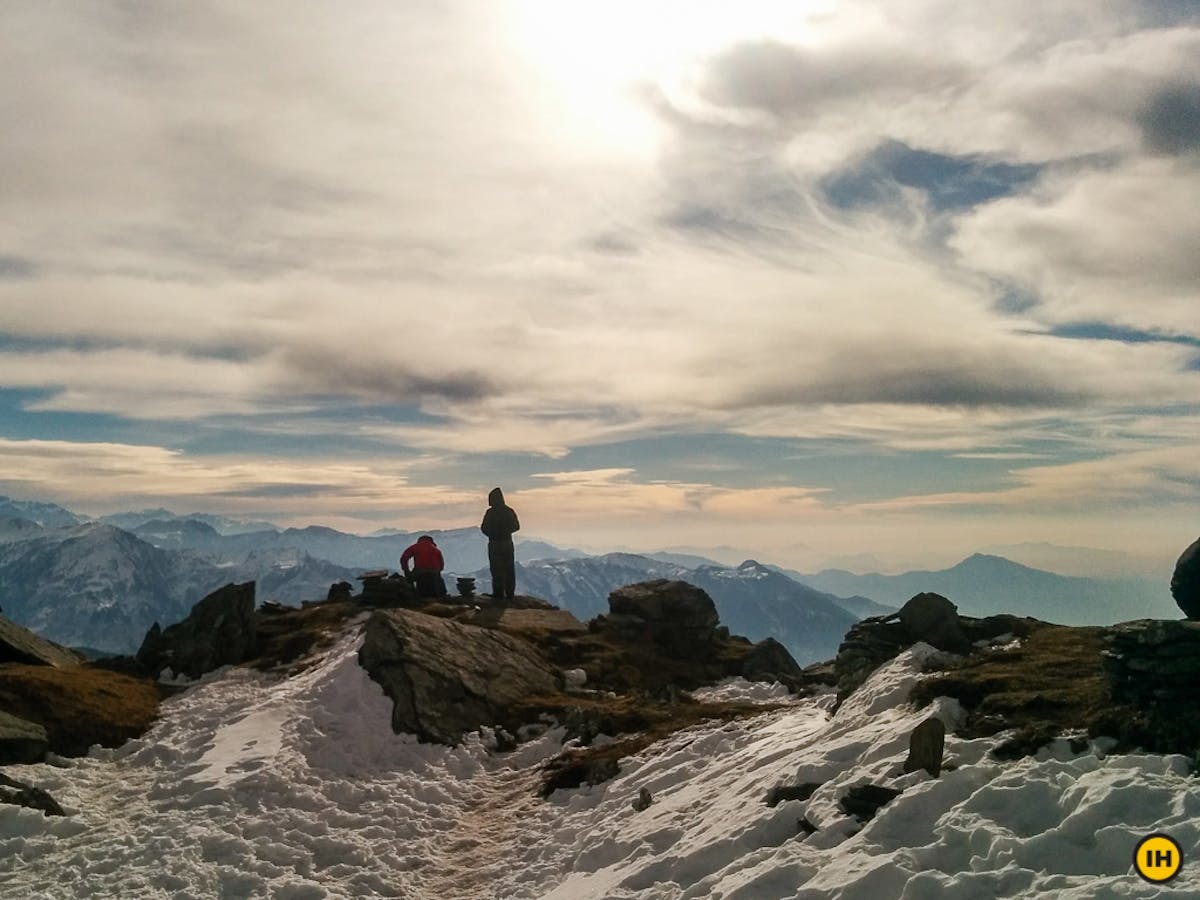 The kedarkantha summit. Picture by Swathi Chatrapathy
I repressed that feeling of resentment for many months after the trek. In fact, a couple of months later, it faded away completely.
It was only after four months, in April when the feeling showed up again. It was when Arjun and Sandhya announced that I would go to Rupin Pass on May 29th.
What I felt was not excitement or thrill. It was fear.
I feared Kedarkantha would repeat itself.
The whole trek came back to me in flashes. Driving past Purola and Mori, reaching Sankri and acquainting myself with the village, starting the trek to Juda Ka Talab, seeing the first clearing under a blanket of snow…
While I could recollect vivid images of the prettiest sights, other images involuntarily came back – the heaviness in my legs, the exhaustion in my body, the inability to breathe. My first night at the Juda Ka Talab campsite was a nightmare. I shivered incessantly, felt nauseous throughout the night and kept at least six others worried and awake. After that, my climb to the summit was worse. I was just ten steps into the summit climb when I told my sister that I can't go on. She and eight others I'd gone with egged me on. But instead of enjoying my climb, I found myself bending over my pole every few minutes. I had a strong desire to give up and turn around. I had no stamina to endure four days of trekking.
I hated recollecting those images. Who wants to accomplish a trek like that? What's the point in making it up to the summit?
I was in denial about it for a long time. I used to convince myself that the trek went great and everything was sunshine and happiness. But that was far from the truth.
The truth was that I was not fit enough to do the trek.
I was fooled by the "easy" tag. My previous trek to Chandrashila had been a cakewalk. So I'd let my ego get the better of me. I had prepared intermittently for just two weeks before the trek. And I got what I deserved – a trek that boasted of success on the surface but was underlined with bad memories.
So when Sandhya and Arjun mentioned Rupin Pass, I was scared. It was that "difficult" trek that everyone always spoke about. It was that trek where you have to climb the near-vertical gully. Even trek leaders had glorified it as an adventure. "If you want an adrenaline rush, this is the trek to do."
I tried to talk them out of it. But they felt this was an experience I needed at that point in life.
It was settled. I had a month and a half to prepare.
I started jogging the very next day. I downloaded Nike Run and created a "Rupin Pass Challenge" for myself.
I started slow, with around 2.5 km, then pushed it to 3 km and 4 km within a week. Around two weeks into my fitness routine, Komal told me, "Do 5 km every day. Doesn't matter how much time you take. Just push it to 5 km." So I pushed it to 5 km. It was not so tough.
The toughest part, however, was waking up early. I hadn't done that consistently ever since my football training days. But the thought of the Rupin Pass gully was enough to push me out of bed. I couldn't afford to get complacent.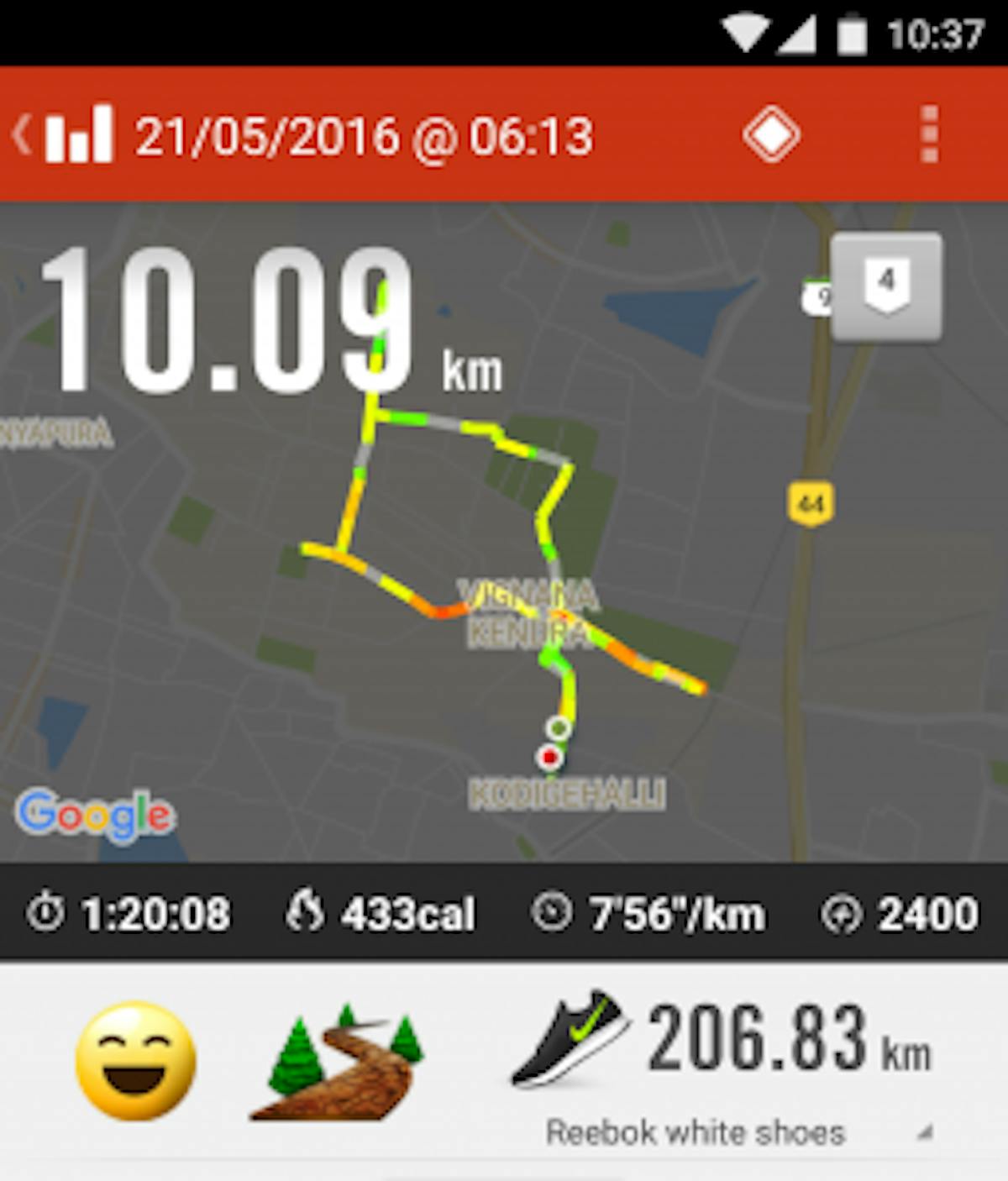 With one week to go for my trek, everyone in my office decided to go on a 10k run. I was a bit nervous because most people in my office did 10k runs just for fun. Nevertheless, I went along. Surprisingly, I did a 10k run! I was flying with confidence after that!
When I left to Dhaula on May 29th, it was with a light heart.
On May 30th, I started my trek from Dhaula to Sewa. The 9.5 km walk was fairly easy. I was in the middle of the team, not ahead, not left behind. I didn't lose my breath, I was comfortable. Nothing compelled me to pause but the view of the Rupin Valley. Oh, it was glorious to be able to stop and enjoy the turquoise waters of Rupin.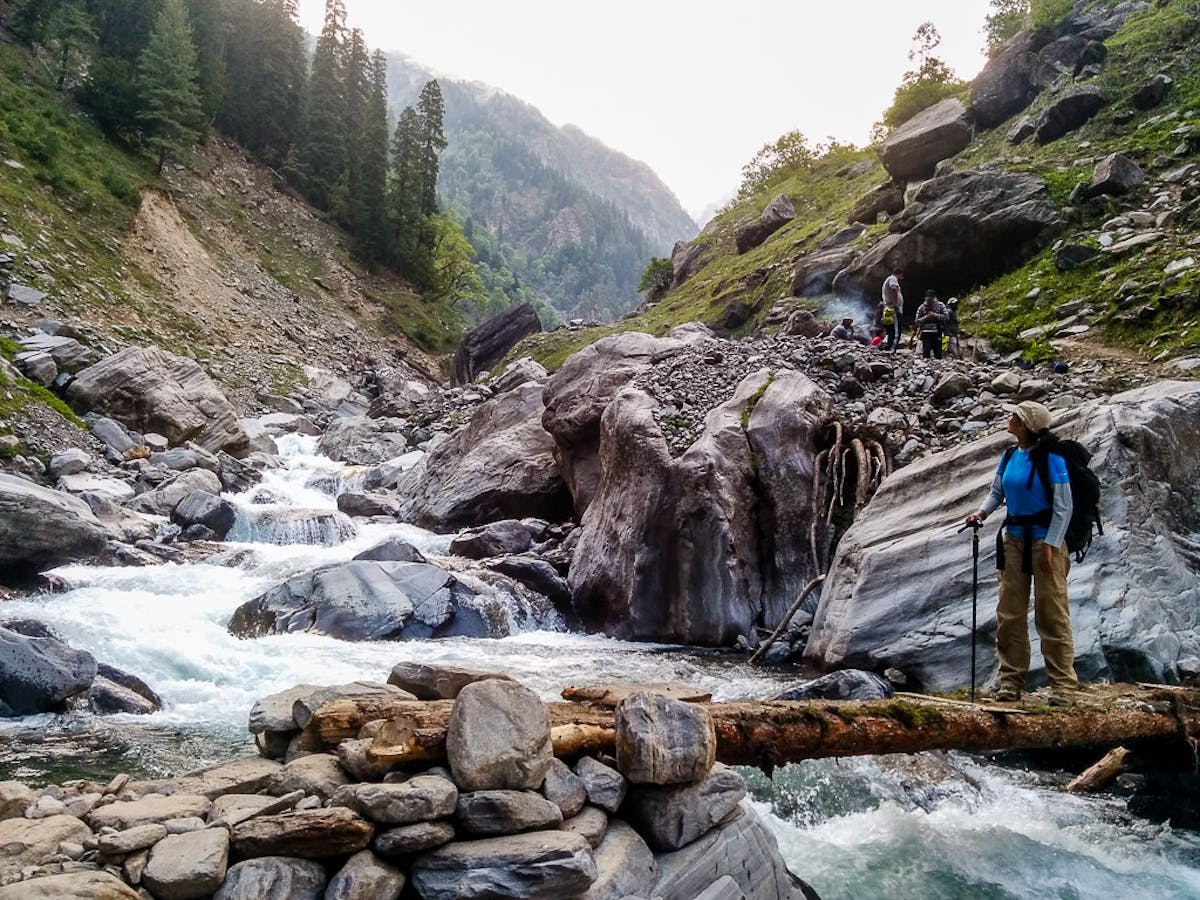 Trekking alongside the gurgling turquoise water of Rupin river is a joy
The next two days went well. I was particularly impressed by my stamina on the way to Jiskun. It is the most taxing day on the trek apart from the Pass-crossing day. You start from Sewa, lose a whole lot of altitude and climb up to a much higher altitude. I wasn't running up the mountain, but I was steadily climbing. While others paused, I didn't find the need to. I remembered how Arjun always said, "In the mountains, slow is fast." I was amongst the first three to reach Jiskun.
It felt great to be able to reach so quickly. Not only did I have enough time to roam around in Jiskun, but I also had a great time on the trail as well. I had the luxury of stopping and deciding which tree to hug or just marvelling at the size of the fortress-like cliffs around.
I saw the best views on the way from Udaknal to the Lower Waterfall Campsite. Trekking through the glacial valley with the many crisscrossing waterfalls was thoroughly delightful! There were little flowers underneath my feet, colourful bugs that buzzed around tirelessly, the cows and sheep that grazed about – I was walking through a fairytale. It never struck me that I was walking or exercising. The best surprise was when we were welcomed by the Rupin Waterfall to our campsite. Man, did our jaws drop! That view stole the show.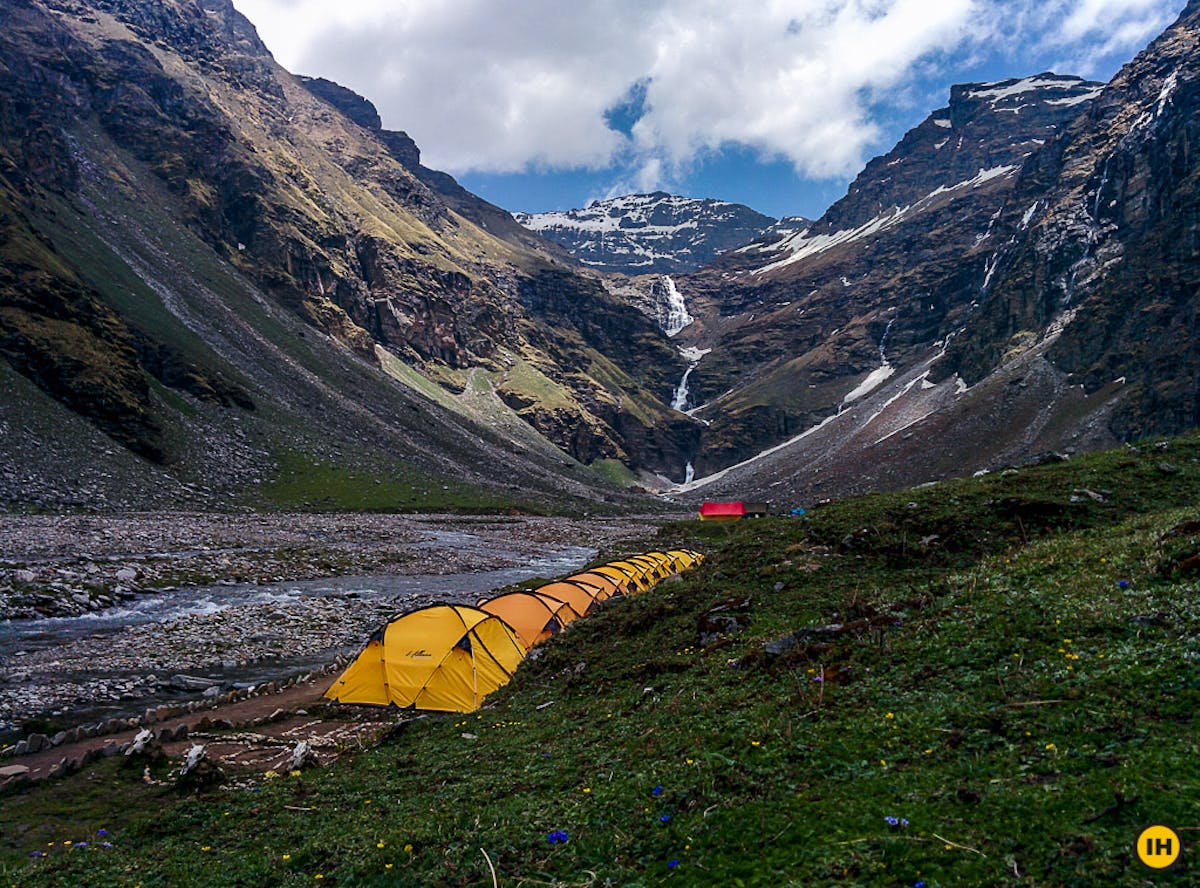 The stunning lower waterfall campsite. Picture by Swathi Chatrapathy
But on the sixth day, while climbing from Lower Waterfall to the Upper Waterfall campsite, my body faltered. I was struggling to breathe. Every step felt like the last one I could take. With several breaks, I made it to the Upper Waterfall campsite. But my confidence was a little shaken. Why did I struggle when everyone else did this so smoothly? And why despite the fitness?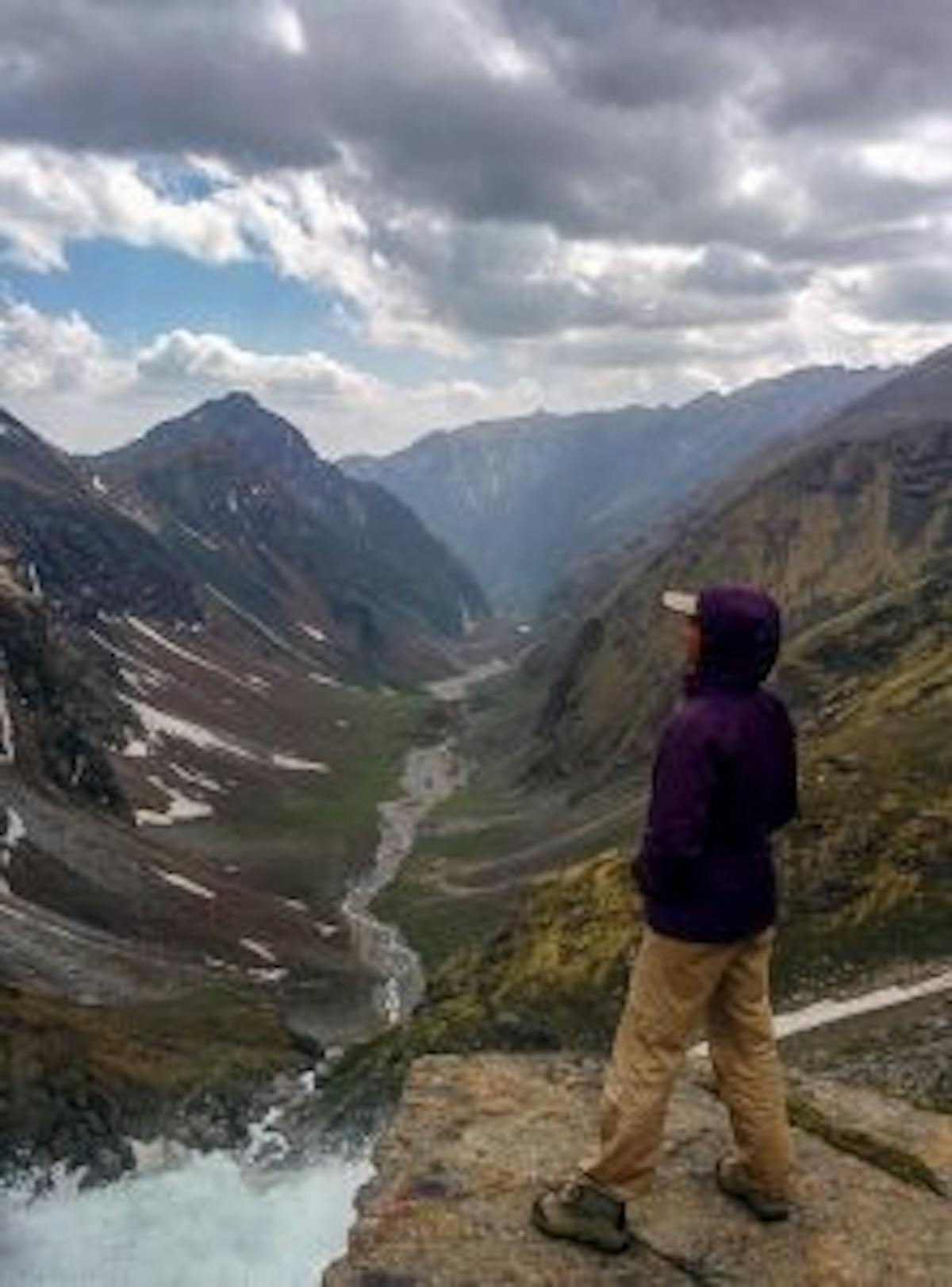 The view of the whole rupin valley from the upper waterfall campsite is mind blowing to say the least.
I was quite nervous after reaching the campsite, looking at the snowy terrain around – something I would have to brave the next day. But the mellifluous flow of the river calmed me down. To add to that standing at the tip of the waterfall and looking at my previous campsite far below brought back the lost confidence.
The day of the Pass Crossing
The next morning, my eyes flew open at 4 am. My stomach did a flip on the Pass Day. It was finally here!
All geared up, we gathered in the darkness. It was around 5 am. In the silence of the mountains, I could hear my heart thumping. My extremities tingled with excitement. Our Trek Leader Ankit explained the plan – We would get to the pass in three phases. The first climb from upper waterfall to Rata Pheri and from there, walk to the foot of the gully and then start the gully climb to the pass.
With all instructions in place, we started our climb. On uneven bouldery terrain, we had to take pretty lengthy steps upwards. I noticed that those around me were already tired. I found myself encouraging them to climb, not feeling an ounce of fatigue myself.
I made it through the first phase with ease. We reached Rata Pheri in around 45 minutes. To think that Indiahikes used to camp at Rata Pheri left me mind-blown! It is a humongous snowfield surrounded by cliffs of caramel and vanilla. What spectacular colours!
Then I saw it – the gully.
I could easily recognise it from the pictures I'd seen.
It looked tiny from afar. Like you could cover it in ten steps. Geared with microspikes, we started our trek towards it. The closer we got, the more it grew vertically.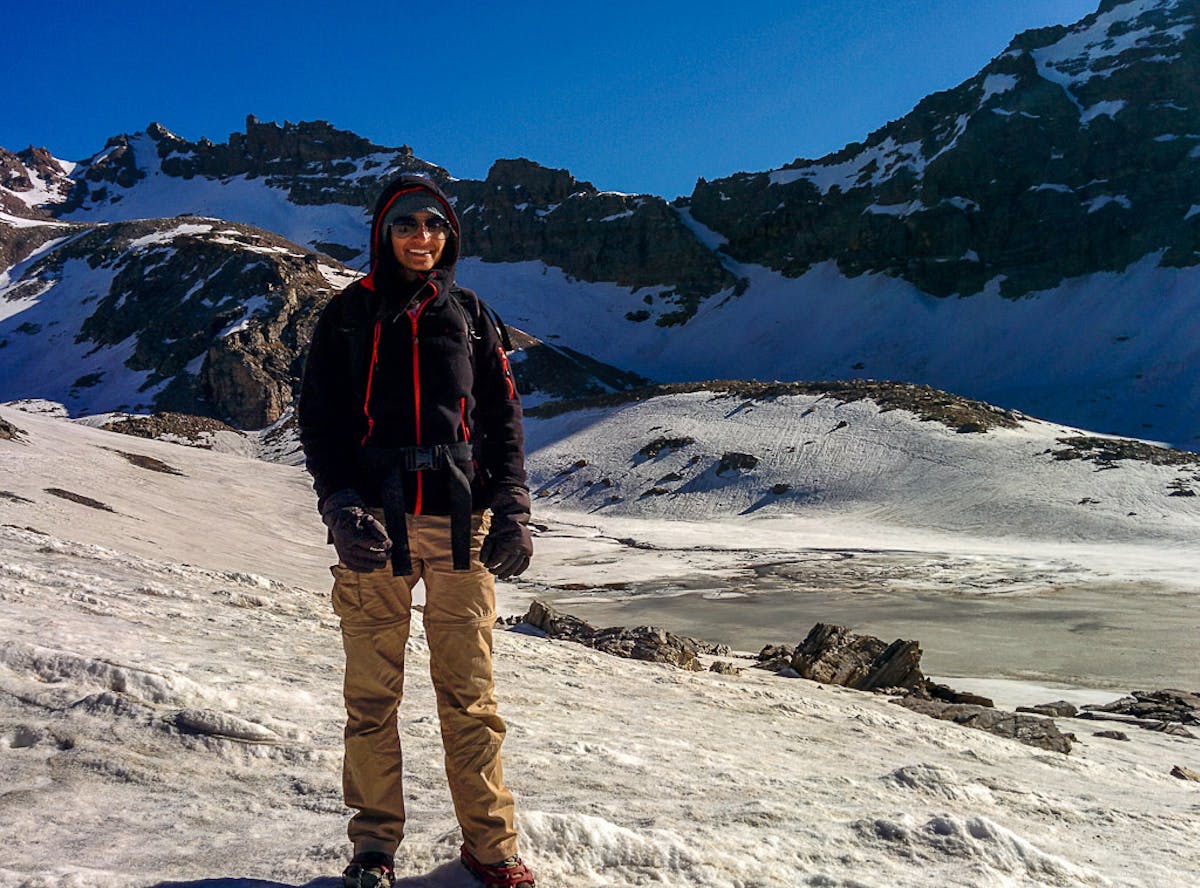 Just before crossing the Rupin gully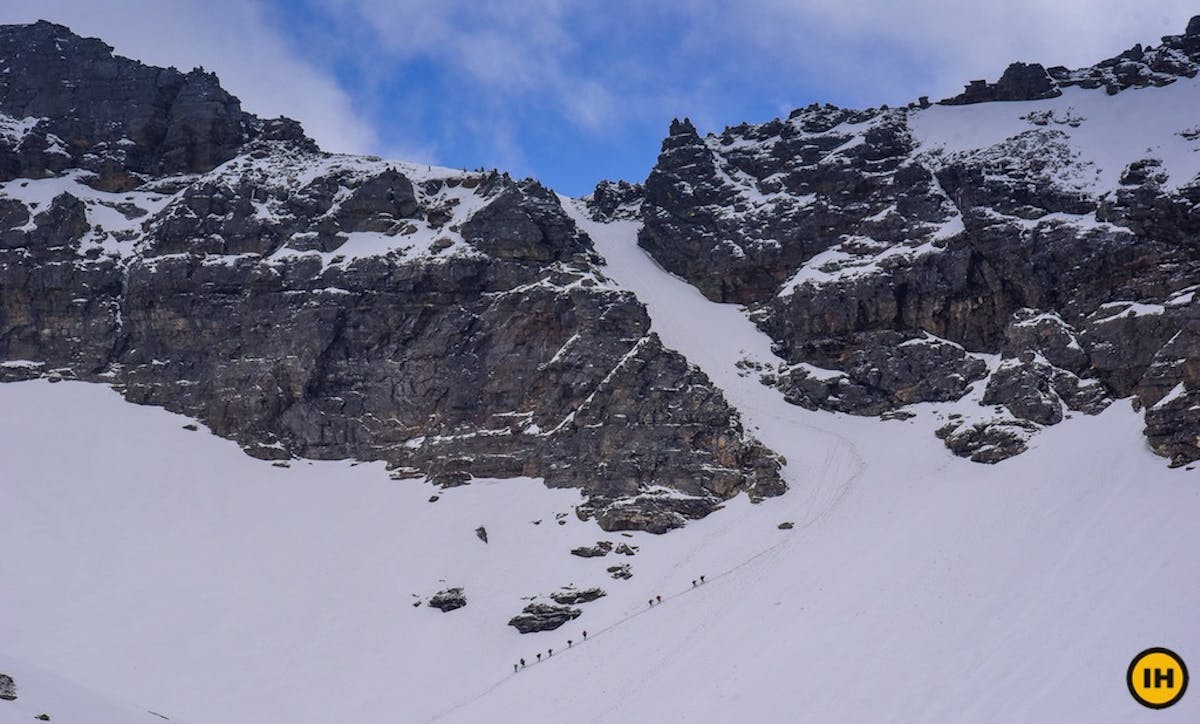 The famous Rupin gully. Picture by Vishwas Krishnamurthy
I remembered how the Kedarkantha summit seemed to go farther and farther away as I trekked towards it. My exhaustion had been playing mind-games with me, telling me that the summit climb wasn't worth it – to turn around and descend.
But this time, I was not tired; I wasn't even breathing hard. What I felt was sheer excitement! My legs wouldn't stop. I was too restless. I wanted to climb that gully!
When I reached the foot of the gully and looked up, I gulped.
This was it.
We started our climb in a line. No one would overtake anyone. We would wait for the technical guides to carve out steps in the ice.
Halfway up, someone said, "Don't look back." Of course, I immediately looked back. Expecting to find land behind me, I turned, only to be greeted by thin air. Level ground was far below me. Bloody hell!
It was a moment that struck a deep chord in me. For some inexplicable reason, my eyes flooded with tears. I couldn't believe my own strength.
And just like that, within ten minutes, I stood at Rupin Pass.
The sense of achievement I felt standing at the Pass, surrounded by snowfields, meeting the mountains of Kinnaur at eye-level, was unmatched. I had earned those 20 minutes at the pass. It was my achievement – something no one could take away from me. The confidence I felt while standing up there still stays with me to this day.
After crossing the pass, I almost raced down to Ronti Gad. I started last from the pass, but was amongst the first to reach the campsite. I felt invincible.
Now, when I look back on this trek, I can only picture the beauty of the river, the glacial valley and the lovely trees and meadows. I can feel adrenaline rush to my skin when I think about the climb to the pass. What an unblemished experience!
And all it needed was a good level of fitness.
Why I regret my Kedarkantha Trek
If only I'd been fit on the Kedarkantha trek. Standing at the summit, I would have marvelled the golden shimmer of the sun on the mountains. Instead, I was fishing for a spot to sit down. I would've clicked pictures, made a hundred memories. Instead, I sat on a rock eating an apple. That's all I can do now – ponder about what could've been.
What I experienced at Kedarkantha was like a relationship gone sour – something I don't want to look back on. It was the complete antithesis of a good trek experience.
Luckily, I work at Indiahikes and have the liberty to go there again. Not everyone has that luxury.
Another big lesson I learnt after Rupin Pass is that fear is a solid ingredient to have before a high altitude trek. I took my Kedarkantha trek too casually. The idea of Rupin Pass, on the other hand, made my heart race. Which is why I gave fitness top priority.
The thing is, more or less every time you step out on a trek, you complete it "successfully." But whether you enjoy the on-the-way experience or struggle through it is what sums up your trek experience. That's what ultimately lasts in your memory.
Like Ruskin Bond says, "The adventure is not in arriving, it's in the on-the-way experience."
If you have any such experiences to share, do let me know in the comments below. I'd be less embarrassed if I had company.
Sign up for our much loved Weekly Mailer
We have terrific trekking tips, trek updates and trek talks to look forward to