Rent Trekking Backpacks
Share this story
We proudly announce the arrival of Adventure Worx for Indiahikes Backpacks, now available for rent to our trekkers through our store.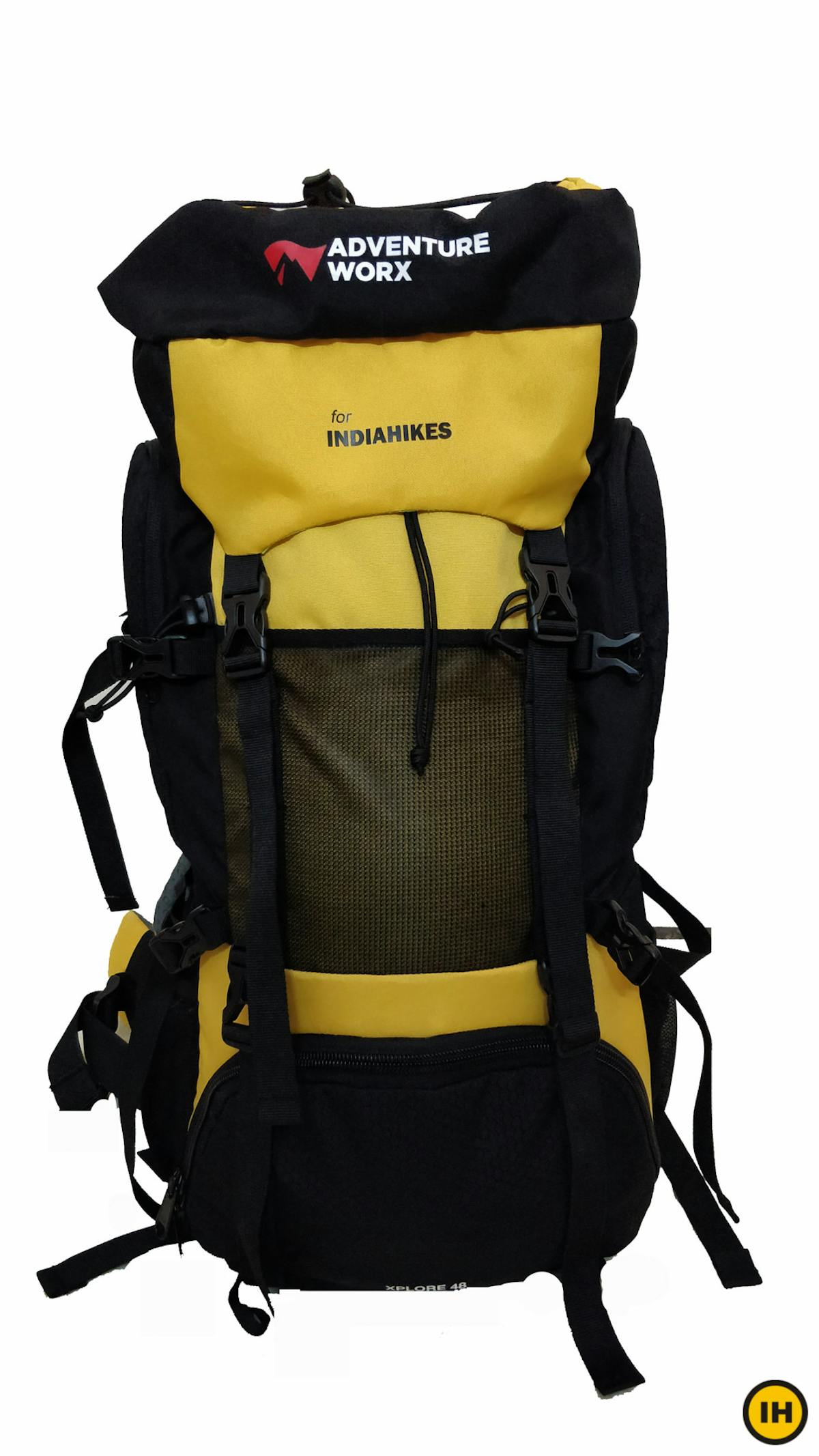 The Adventure Worx for Indiahikes Backpack comes with a top load section with meshed back support for carrying loads easily.
This backpack is available for all our treks.
With 7 external pockets to carry all your gear, the Adventure Worx for Indiahikes backpack has a dreamlike suspension that enhances mobility and comfort while you carry heavier loads through your treks. We've worked extensively with Adventure Worx to make this perfect backpack.
Features
1. Top-loading main compartment with fully padded contouring that promotes ventilation and upper body mobility.
2. Anti-Gravity, 3D suspended, ventilated mesh back panel that contours automatically to the body, according to load, providing outstanding fit.
3. Integrated rain-cover that protects your content from foul weather and rain.
4. Dual stretch meshed side pockets, zippered hip belt pockets, and large front stash pocket offers additional storage and organization.
5. Volume – 48 Litres, enough for an 8 day Himalayan trek.
Points to Note
1. The rental cost of Rs 390/- is for the full duration of the trek.
2. An extra refundable deposit of Rs.1000 (in cash) is charged at the base camp. This money will be returned once the backpack is returned at the last campsite.
3. The gear should be collected at the base camp.
Our plan is to create a revolution in the gear merchandising industry by making good quality gear easily affordable. Why should a person buy an expensive backpack when he can take the same backpack on rent? Trekking is a minimal adventure sport and we want to encourage people to spend less on equipment and more on experiences. – Vinay Rajapuram, Head, Rentals & Merchandise, Indiahikes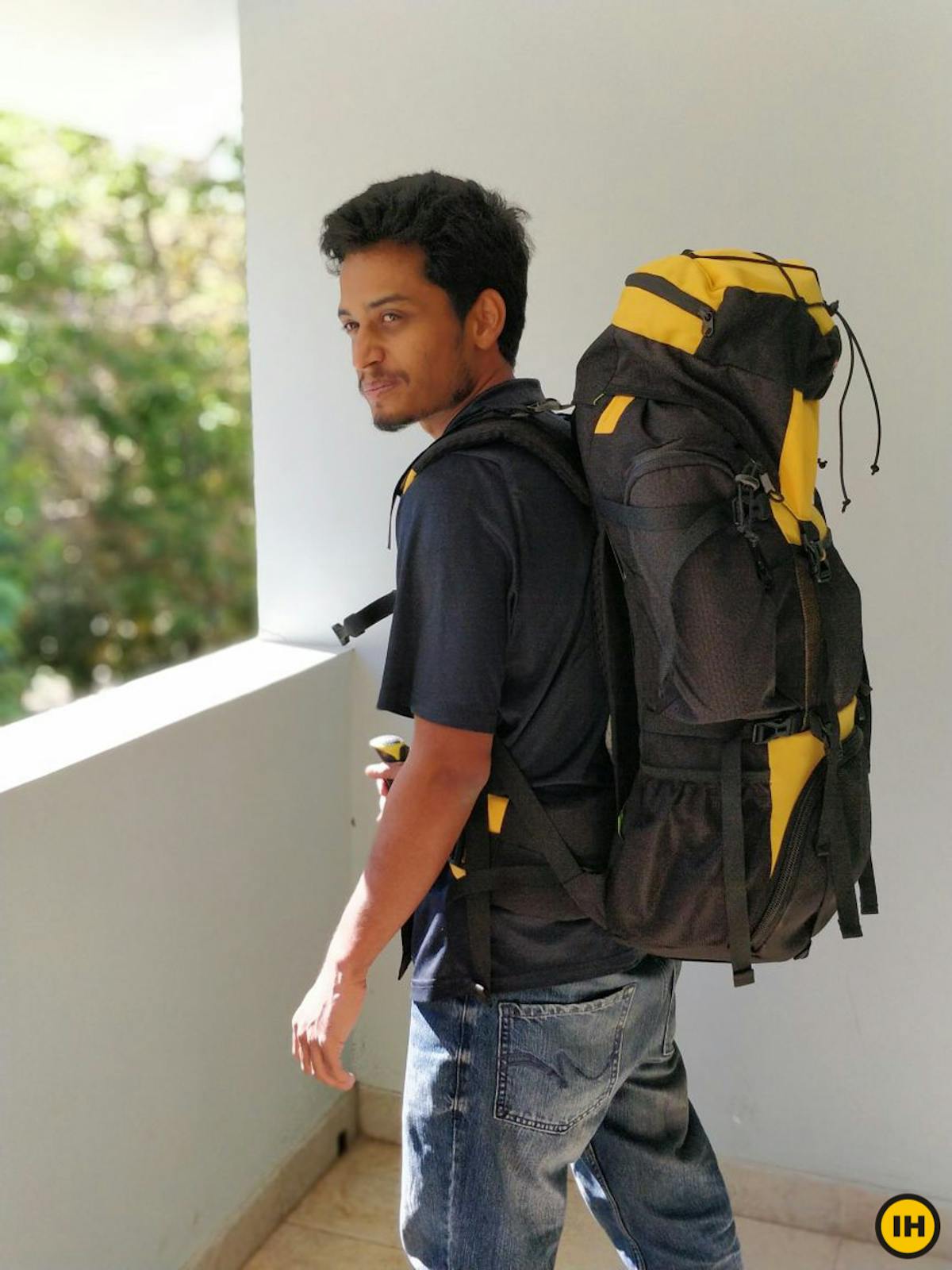 The stylish 48 litres backpack that comes with 7 external pockets to organise all your gear.
Why you should rent gear and not buy it
A huge part of planning a successful trek deals with using quality gear. But it pains us to see trekkers spending more on their gear than on their trek! And backpacks occupy the top most position in their list of gear.
So to make trekking more economical we started renting gear in 2017. Every piece of equipment available for rent is specially crafted for our trekkers. So when you decide to go on a trek, there's one less thing you need to worry about!
With our simplified rental system, you can rent gear, use it well and return it with ease. Furthermore, with our advanced delivery at the base camp, trekkers hardly need to worry about missing out or carrying a gear all the way from their city homes.
Do let us know if you think this is going to help the Indian trekking community. We already rent out trekking poles, jackets, ponchos, shoes and backpack. Comment below and let us know what trekking gear you want to see in our store next.
What you should do now
1. If you want to rent out gear for your trek: Head over to our store.
2. If you ended up here by chance and were actually looking for treks to do: Then head over to our upcoming treks page. You'll find all our Himalayan treks there.
3. If you want to work with us: Head over to our careers page. We have lots of positions open. We also have lots of applications coming in. So the sooner you apply, the better.
Sign up for our much loved Weekly Mailer
We have terrific trekking tips, trek updates and trek talks to look forward to