Roopkund Base Camp On Its Zero Waste Journey, Updates from Lohajung
Share this story
In this week's news, we bring you the latest updates from Lohajung, our base camp for Roopkund and Brahmatal treks.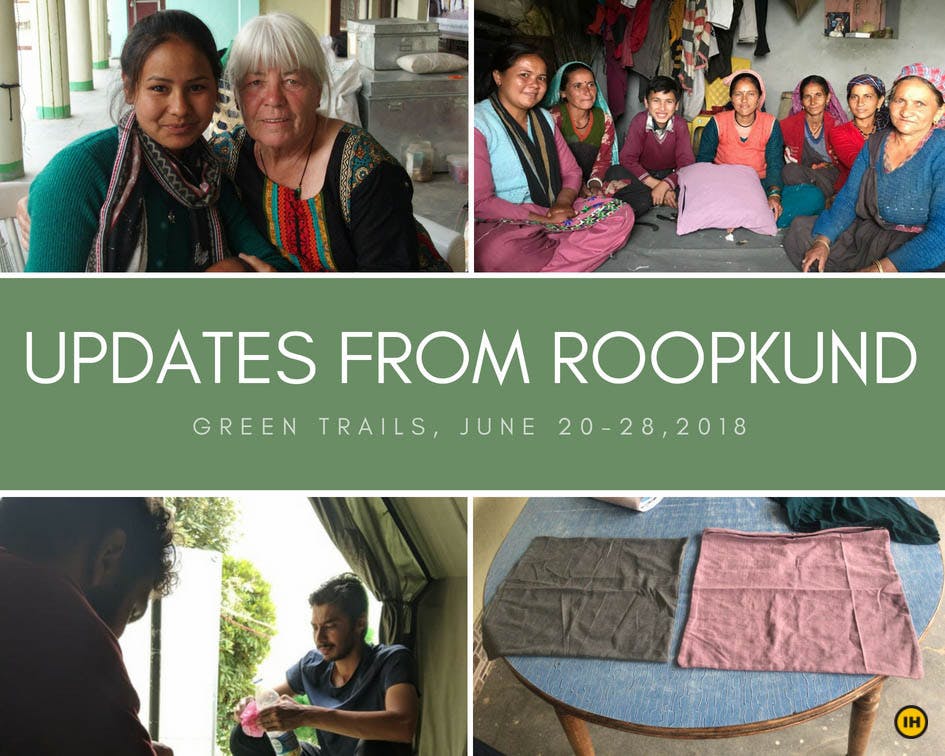 I am very excited about our new project to train local women to become Assistant Trek Leaders.
Our Green Trails fellow Laura had the idea to get local women more involved in the trekking community. She saw that many of them were keen to learn and practice trek leading.
Laura believes women play a key role in rural societies. She observes that opportunities for women are limited to the field and house work. She hopes this project will give them confidence to branch out into other job avenues. While it is a new source of income. It will also enable an increased awareness of the situation on the slopes – the social, environmental and economical implications – all the aspects Green Trails addresses.
To help us with this project we have Elizabeth from Kuling village. Elizabeth has lived in Kuling for more than a decade looking after the education and welfare of the local community. An avid trekker and a Green Trails propagator, Elizabeth has offered to help us recruit women. And Kavita is our first trainee.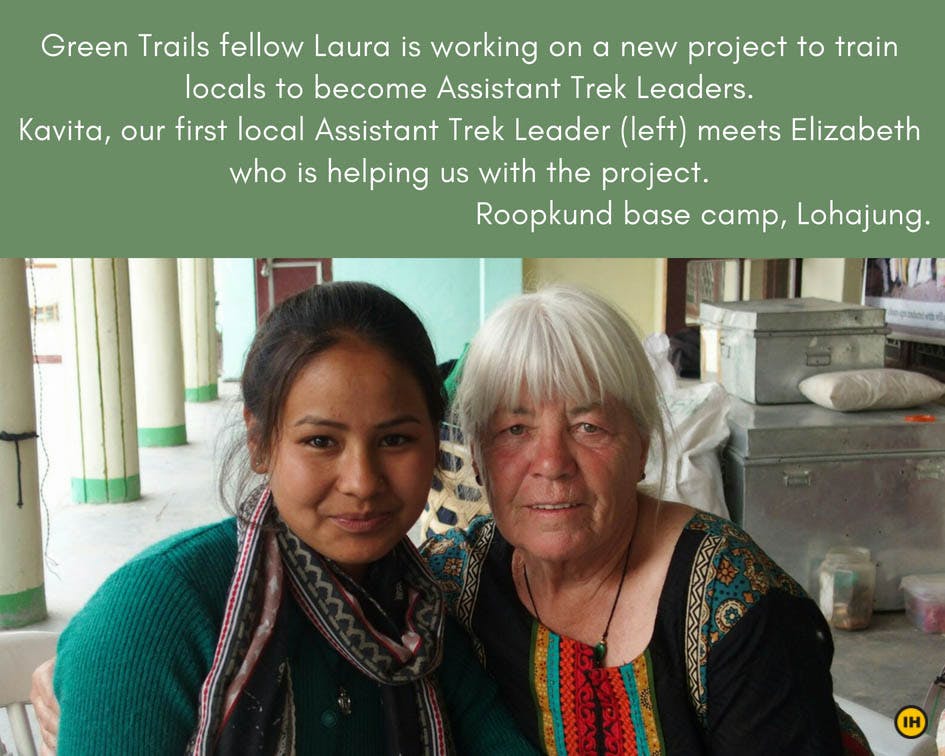 Eager to learn, Kavita has been picking up really well. Laura beems as she tells us that timid Kavita has been becoming more confident over the sessions. Elizabeth also drops in for the training sessions where she shares her experiences in the mountains and talks about treks she has done. Last week, she went with Kavita to pick out equipment for the trek.
Once Kavita completes the training and orientation, she will go on a trek with a Trek Leader to put to practice what she has learnt.
Clean up drives with trekkers at Bedini Bugyal
Green Trails intern Krish went on the slope last week, to check how everything was working – waste collection, segregation and rainwater harvesting.
At Bedini campsite, he reported that our trekkers helped collect waste.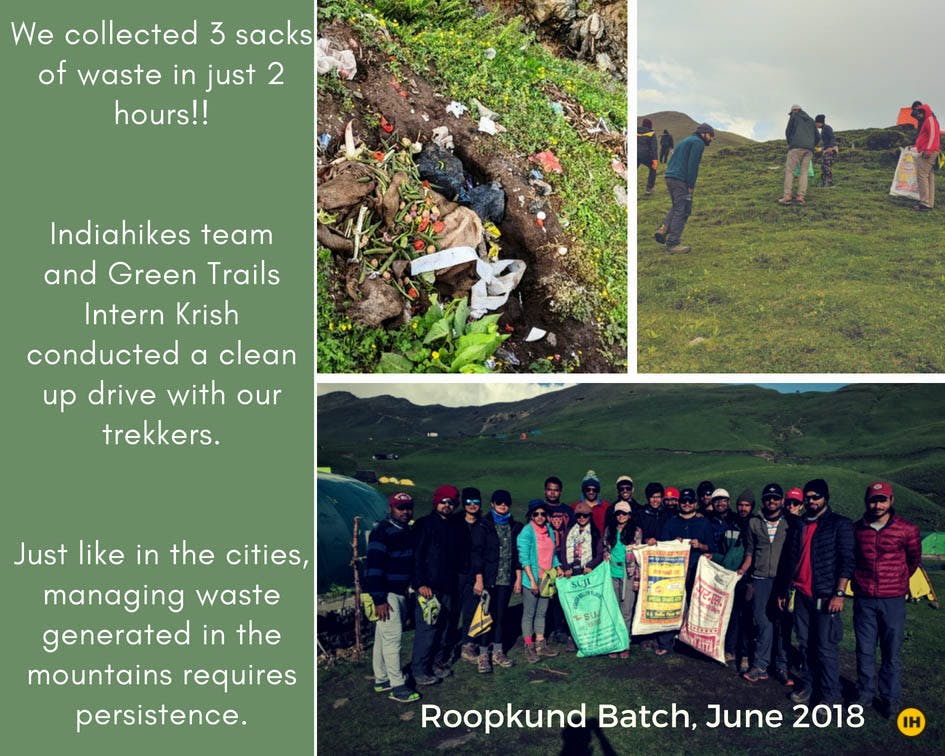 New pillows in new sizes
So far we have have been making rectangular travel pillows. We have decided to give big square cushions a try. That means more plastic waste put to good use and a higher grade on the cozy scale.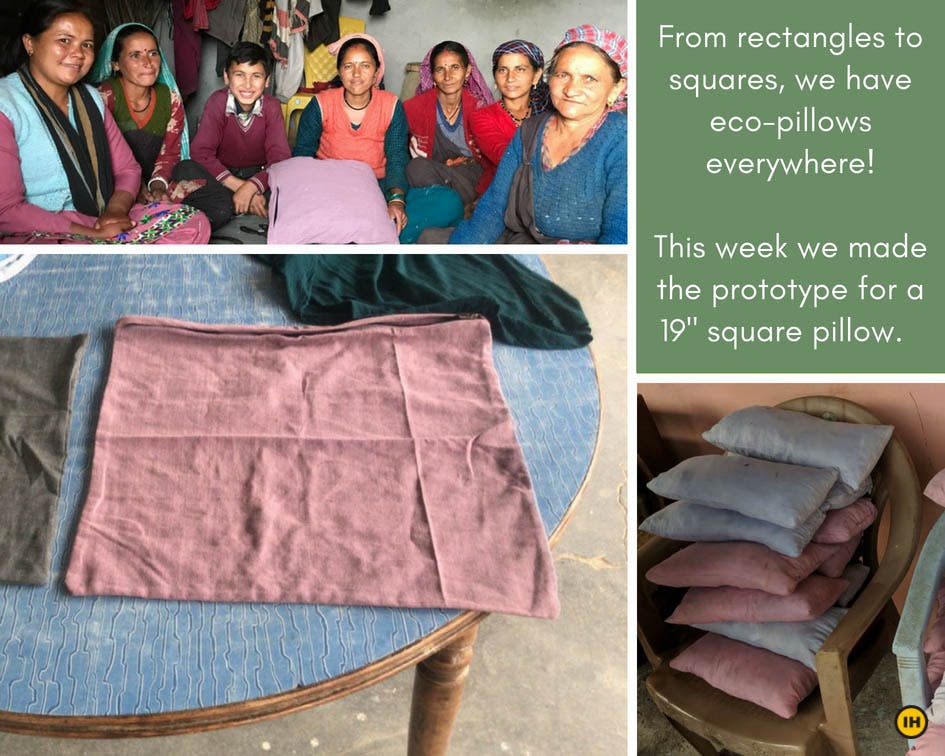 We have stitched the inner covers and are making the eco-pillow. We have some really classy outer cover colours. So make sure you pick your pillow next season!
Locals on a Zero Waste Mission
Our team has decided to tackle the problem of 'no segregation' head on. There is nothing like individual interaction and hands on teaching.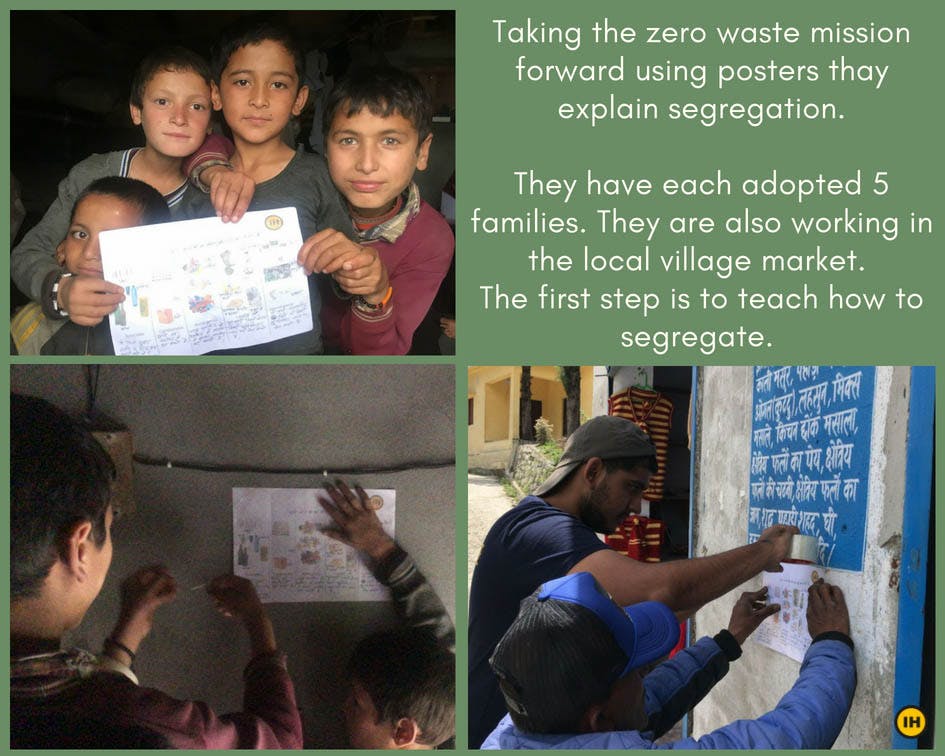 When putting up the posters at the local market, locals spontaneously decided to help us put it up.
Petition to sustain our waste management system
While ground level initiatives are great starting points, we need a system in place to sustain the new ideas and practices.
Our team wrote a petition to the District Forest Officer (DFO) regarding the enforcement of regulations for sustainable trekking by private organisations and camps. We are helping decide the kind of regulations that must be in place with the local communities of Lohajung. The petition will be signed by the villagers before we submit it to the DFO.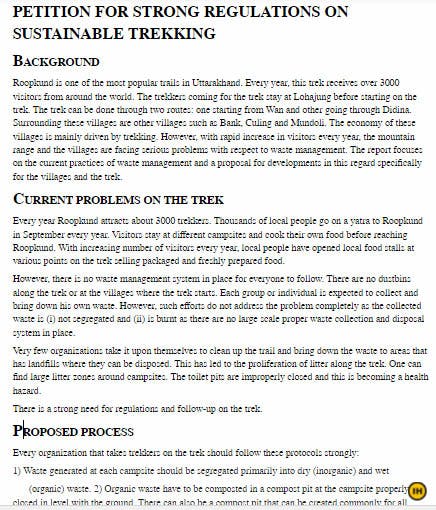 Powering through segregation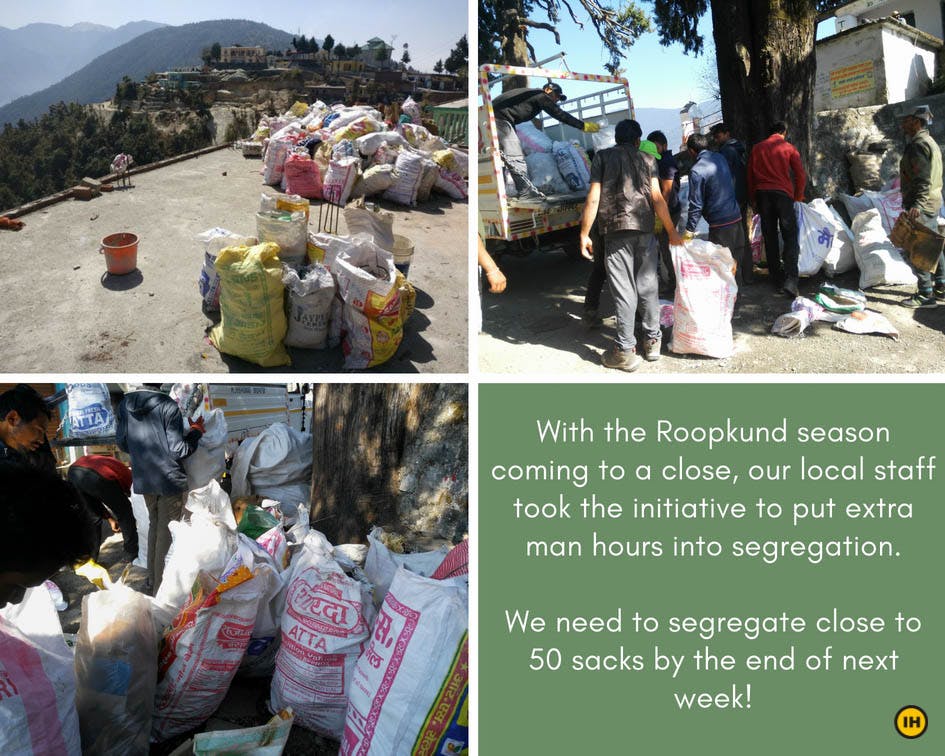 With that folks, I sign off for this week. Stay tuned for next Thursday where we will give a full update of the end-of-the-season happenings at our Roopkund base camp.
Have a green idea in your mind that could help the environment out? Comment below or write to our Green Trails head – Lakshmi at Lakshmi@indiahikes.com.
What you should do now
1. If you want to serve as a Green Trails Intern: Read this article by our Green Trails Head – Lakshmi.
2. If you want to work with us: Head over to our careers page. We have lots of positions open. We also have lots of applications coming in. So the sooner you apply, the better.
3. If you ended up here by chance and were actually looking for treks to do: Then head over to our upcoming treks page. You'll find all our Himalayan treks there.
4. If you want to see the 13 best treks of India: Then get our guide 
Sign up for our much loved Weekly Mailer
We have terrific trekking tips, trek updates and trek talks to look forward to