Rupin-Summer-2013 Photo Contest
Share this story
The contest results are out !  The top three winning photos are below. Our Judge Srinivasa Prasath shares with you why the pictures turned up winners. Post your comments below.
First Prize: Shariff Ahmadulla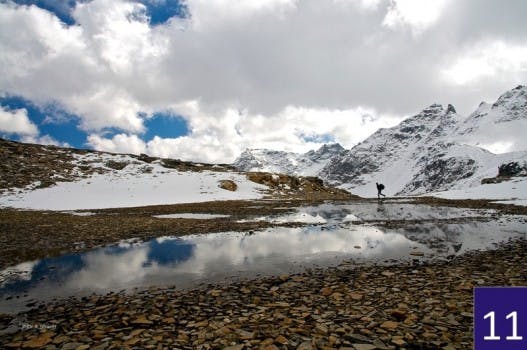 A lone trekker under the shadow of a cloud
"This is a brilliant capture by the photographer. It has all layers filled up with interesting elements to make a wonderful landscape photograph. To begin with, the foreground is filled with interesting stone formations all along the lake bed. And the shore line gently curves around from left to right and moves towards a lonely man walking across the lake to introduce the mid-ground subject. Finally the giant snowy mountains with dramatic sky form a beautiful backdrop to this entire scene. Also their reflection on the lake adds to another level of interest. Depth is cleverly demonstrated using foreground-midground separation. Highlight spots across the sky and on the mountain explains the dynamic lighting that was available at that time. Overall a fantastic frame and deserves to be number ONE." says LSP
Second Prize: Tushar Samal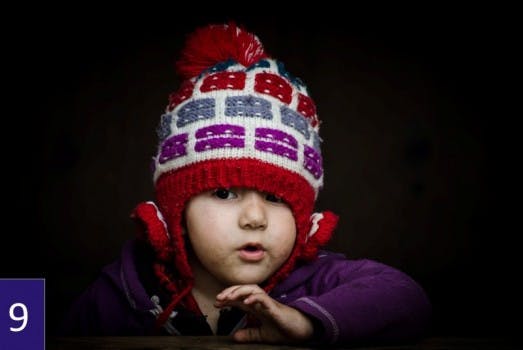 Undisturbed & Silently Captured
"A classic travel portrait of a kid from the mountains. Candid capture helped in bringing out the cute natural expression of the kid. Light on the face is very soft & diffused and the falloff is rapid and beautiful. The shallow depth also makes the kid stand out against the background darkness. Colors are eye-catching and popping out against the black. Rightly placed number TWO in this contest". says LSP
Third Prize: Ruby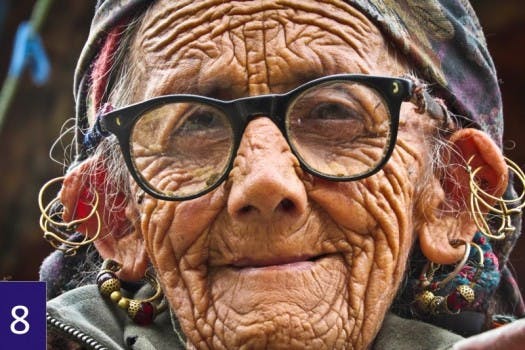 Who says wrinkles make you look ugly?
LSP says "Again a nice travel portrait of an old lady from the mountains. It was an intelligent choice to go up-close and fill the entire frame with her texture filled face. It is striking! Also ignoring that small gap on the left, composition wise there is a good symmetry, making it visually pleasing. Only wish the photographer shot this photograph in black and white to enhance her textures perfectly! That will also make this picture perfectly timeless! Stands number THREE in this contest."
Here are the shortlisted 12 best photos of the Rupin Pass trek. Trekkers were asked to submit their best photos from the trek for the contest.
Our Judge L S Prasath will now run through these photos and choose one among them as the winner. Before the judge chooses, tell us which of these photos deserve the best photo award (use the comments box below).
The photographs selected here are in random order. The numbers attributed to the photos are to identify the photographer and does not denote any ranking by Indiahikes. Use the number and the name of the person to make your comments. Please click on the photo to view the enlarged image.
A note from Indiahikes:
The winners get the following awards from Indiahikes.
The winner of the photo contest gets a Rs 5,000 Trek Voucher from Indiahikes.
Rs 2,500 Trek Voucher
Rs 1,000 Trek Voucher
 About our Judge:
 Our Judge – Srinivasa Prasath is a trekker, traveller and a freelance photographer. A software programmer by profession, he loves to travel length and breadth of this country to document its beauty,  diverse lifestyle and culture of the people. When he takes a break from his mundane life, he simply hangs out in the higher shelves of Himalayas, totally relaxing in the lap of Mother nature. You can find his work here…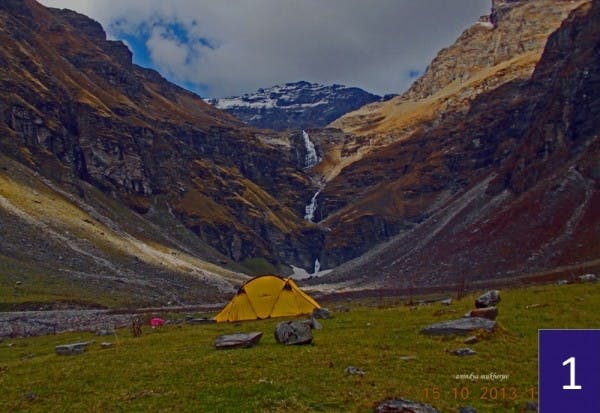 1. Photographer: Anindya Mukherjee
Place : The photo was taken at the lower waterfall campsite, just after we had reached there after a very beautiful trek from saruwas thatcha around 3.00 pm.
"This campsite was the most beautiful of all the campsites, a beautiful meadow with mountains surrounding us on three sides and a cascading waterfall, it was awesome. This beauty compelled me to capture this shot". says Anindya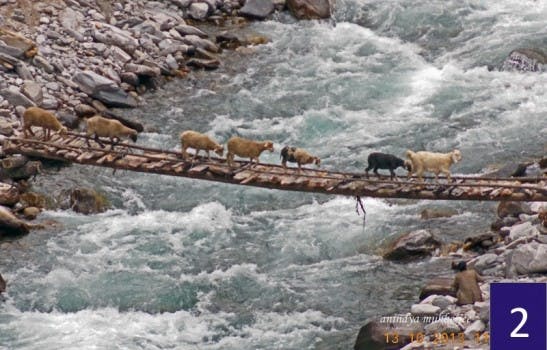 Crossing over.
2. Photographer: Anindya Mukherjee
Place : Somewhere on the road to jhaka taken from the road above the rupin river around 11.00 am.
"This was on day 2 of our trek, coming up from the sewa capsite and going towards Jhaka, we had been walking on the left side of the Rupin river. This crossing of sheep and goats over a bamboo bridge caught my attention as the animals were crossing very systematically just like humans. I have seen sheeps and goats crossing makeshift bridges before but this was different. The animals tend to herd together and sometimes this kind of crossing results in some of them falling into the river". says Anindya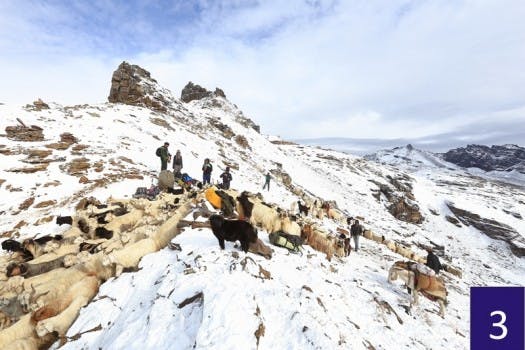 3. Photographer: Anu
Place : Taken atop the Rupin Pass on 12th October at 9.00 Am
A hard climb and one expected to be alone at top of the World, The herd of sheep we encountered made it a very crowded place indeed!! We were forced to wait on the side till the rush petered out. Made sure to capture the moment of our encounter on top of the world. says Anu on why and how she took this photograph.
Camera settings : F 9.5, 1/350  ISO 400 at 16mm focal Length, Camera canon eos 6D, Lens 16-35
__________________________________________________________________________________________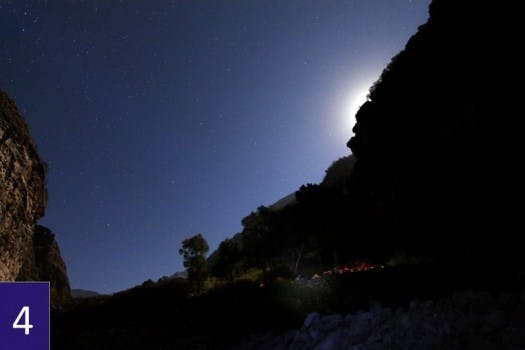 4. Photographer: Dheeraj
"The view from the Camp site was amazing where you see mountains all around lit with moon light and thousands of stars shining above you and then there is your camp. So i just thought to capture it and in the process I tried my hand first time to do night photography". says Dheeraj on why and how he took this photograph
Camera Settings : Canon 1100D, Focal Length 10, F – 3.5, Shutter :15 Second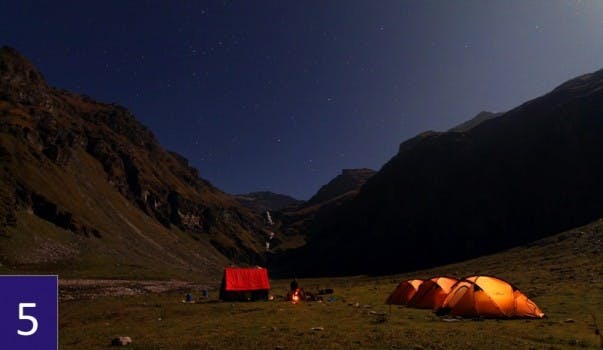 5. Photographer: Dheeraj
Place : Lower Waterfall Time: 9:35pm
This was the camp site where i didn't feel like sleeping, the sight was breathtaking where there is a waterfall bang in the middle of mountains. So couldn't myself, came out shivering and clicked it. The Interesting part was that I didn't have a camera, I borrowed the Camera body, lens and tripod from three different people from the trek team to click both pictures. says Dheeraj on why and how he took this photograph
Camera Settings : Canon 1100D, Focal Length 10, F – 3.5, Shutter: 20 Second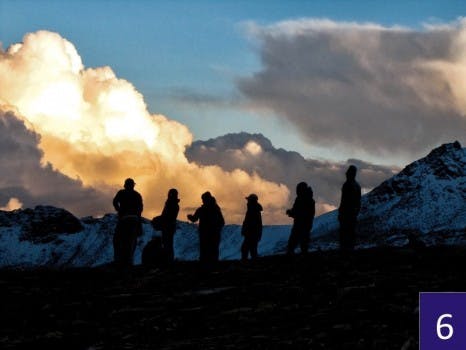 6- Photographer: Krishna Chaitanya
Place : This image was taken near Rathi Pheri camp, when we went on an acclimatizing walk over a mountain near by in the evening (4.30 pm to 5.30 pm).
" When we went on an acclimatizing walk in the evening, on our way back I saw our team walking in line with sunset in the back drop. What caught my eyes attention the clouds behind them and they as silhouettes, so i gave it a shot" says Krishna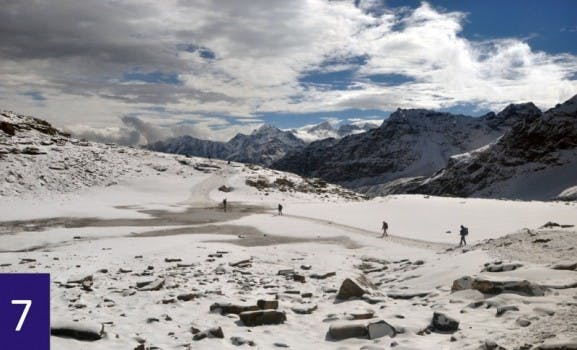 7. Photographer: Ravindra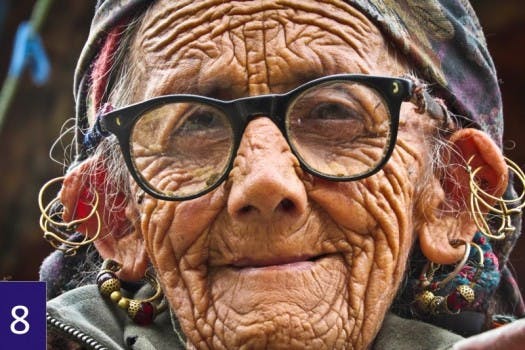 Who says wrinkles make you look ugly?
8. Photographer: Ruby
Place : This photograph was clicked on 30th September around 2pm at Jhanka village. We were just leaving Jhanka village after fulfilling lunch and delicious HOT Maggie
Ruby says" I have keen interest in portrait photography to cover different Culture-Age group-Candid expressions. This Century old lady with numerous piercing caught my perfect attention". on why and how she took this photograph.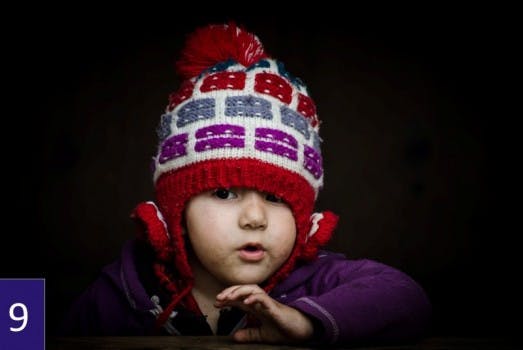 Undisturbed & Silently Captured
9. Photographer: Tushar Samal
Place : Jaka Village, Homestay , Sep 30th 2012, 4.08pm
Tushar says "A very rare natural , candid , soulful ,  innocent, and beautiful moment from a kid who is undisturbed, in her own world & unaware of  camera could not be missed and that gave me enough reason to click her".
Camera Settings : Body : Nikon D7000 , Lens : Nikkor 70-300 VR , FL – 300mm,  F- 10 ,  S-1/39,  ISO-400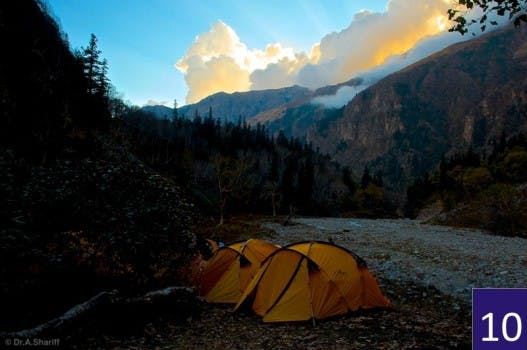 The sun setting the clouds on fire!
10. Photographer: Shariff Ahmadulla
Date: 14/10/2013; 05:29:09 PM
Fourth day of the Rupin Pass trek with Indiahikes. Just reached the camp site at Buransh Kati. Was watching the sun set behind the hills while enjoying a cup of hot tea in the chilly winds! Momentarily the orange-yellow colour of our tents in the foreground echoed that of the clouds lit up by the setting sun forming a perfect background… I just froze that moment in my camera! says Dr Shariff
Camera Settings : Nikon D90, AF-S DX VR Zoom-Nikkor 16-85mm f/3.5-5.6, Settings: ISO 1000, 16mm, -0.5 EV, f/11, 1/20 sec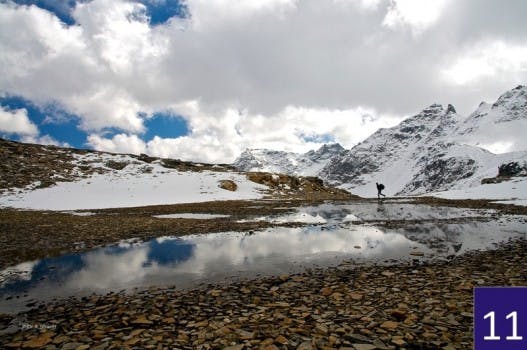 A lone trekker under the shadow of a cloud
11. Photographer: Shariff Ahmadulla
Date: 17/10/2013; 10:56:56 AM
On our descent from the Rupin pass to Ronti Gad. I was walking on the stony rubble by an ice-cold puddle of water when I noticed one of our guides, Rajvir Rana, taking a short cut to join us. I composed the pic, with the rubble & reflections in the foreground and the snow clad mountains in the background, waited for Rajvir to come to the right spot and clicked! says Dr Shariff
Camera Settings : Nikon D90, AF-S DX VR Zoom-Nikkor 16-85mm f/3.5-5.6, Settings: ISO 200, 16mm, +0.5 EV, f/16, 1/60 sec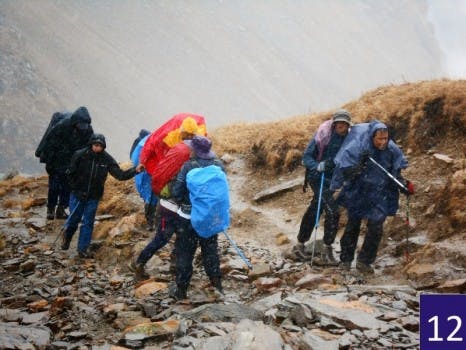 12. Photographer: Dr Vineet Ahuja
Sign up for our much loved Weekly Mailer
We have terrific trekking tips, trek updates and trek talks to look forward to