How to do the Sandakphu Trek on Your Own
Share this story
Want to do a trek without any trek company? Say yes to Sandakphu Trek!  Sandakphu is a good trek to start trekking on your own. You have reliable sources around the area to take shelter or to have a cup of tea. In addition, one of the strong points of this trek is its connectivity with roads. Unlike the treks of Himachal and Uttarakhand, you won't be feeling isolated. Therefore, the Sankaphu trek is not risky. However, this trek is not to be done entirely on your own. According to the rule, it's mandatory to take a guide always, this could be a bummer, but it will help you, especially if you are doing this for the first time.
How to get a guide 
Guide charges as of 2020: Approx Rs 1000
1. Mane Bhanjang: Mane Bhanjang is a small village surrounded by a few shops. This route for trekking is active and popular. There is an association of Land Rover Owners; from there, people can also book cars for their trips. There are two guide associations in the small market of Mane Bhanjang; its setup is like an arcade. You can find association offices on the right and left sides of the road. Approaching them is easy, you have to explain your requirements, like the date and time of your trek, and your guide will be allocated.
Your trek will start from Mane Bhanjang, after crossing Tumling and Kaliphokri, you will reach Sandakphu, and then you can choose your exit point.
2. Srikhola: This route is three hours drive from Mane Bhanjang.Unlike Mane Bhanjang, this route is less crowded and doesn't have connectivity with the roads. So, you won't see many people moving around in a car on this route. 
The route to Srikhola is through Rimbick, a crowded place similar to Mane Bhanjang, the distance between Srikhola and Rimbick is 40 mins. You can buy essentials and also approach a guide in Rimbick. However, there is only one Guide Association in Rimbick called Rimbick Tours and Associations; from there, you can get in touch with a person who can assign you a guide. But, nobody usually prefers this route for trekking because it's not very popular or active.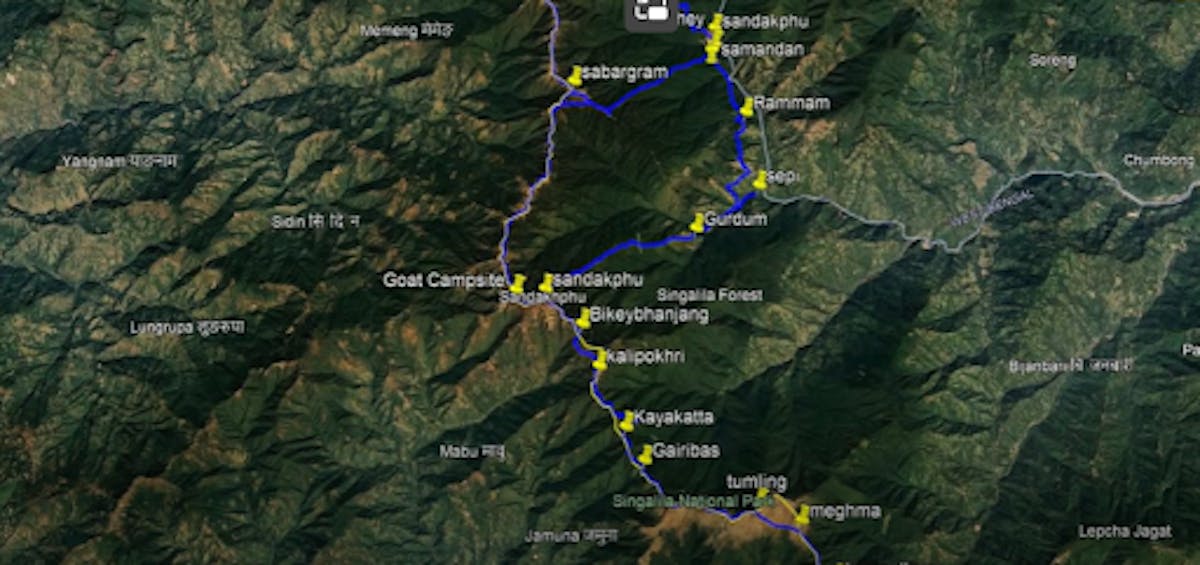 Take this route if you wish to do the Sandakphu-Phalut trek on your own.
Things to remember when you are looking for a guide 
Registration of guides with associations as per their location, and the forest division office is essential. The range officer will have the list of registered guides of Maneybhanjan and Rimbick. You should remember the following things while looking for a guide:
The guide should be registered with the association and the forest division office
How to obtain the permit 
The entire trek runs in Singalila National Park. You will have to pay for the following:
For yourself 
Tent 
Mules 
Two approaches for the payment 
1. Pay it concurrently: There is a forest office in Maneybhanjan near the entrance of the National Park; over there you will get all the permits.
2. Pay on the go: Once you enter the National Park, you will come across different forest beat offices; you can take the permits for each day.
In detail, there is no fee for Mane Bhanjang to Tumling because you are not in the National Park yet; however, when you go towards Kalipokhri from Tumling, after a 10 min walk, you will reach a forest beat office from where you get your necessary permits. There are two separate fees for visitation and Camping.
Charges 
For Indian Citizens: Between Rs 120 to 150 per trekker per day, for tents: Between 100 to 150 rupees, and for mules: 400 rupees.
For foreigners: Per trekker per day: Rs 400
Our Suggestion 
Since the trek moves in and out of the Singalila National Park, we recommend getting permission daily at each forest check-post, based on the route you choose every day.
What to expect while trekking on your own
You can find many tea houses during your Sandakphu trek. Those are the homes of the people, they provide lodging as well as food. So, it is like a hotel, but the setup is more intimate. Also, during your trek, you will come across many spots for having lunch or snacks. 
Advantages of Sandakphu trek
1. Evacuation is easier compared to any other trek. If you want to discontinue the trek, you can with the help of people around the place. However, getting a car will be expensive
2. Good connectivity with roads. 
3. Not an isolated trek; you can always reach out to people. 
4. Safer than any other trek 
Expected Expenditure 
1. The only concern in this trek is the guide. The cost for a guide till 2020 was 1000 rupees.
2. The six days of trekking would include the following places: Tumling, Kalipokhri, Caral, Sabalgram, Samande, and at last, Rimbick. So, the cost for the guide would be 6000 rupees for six days. 
3. Stay in tea houses at Tumbling, Kalipokhri, Caral, Sabalgram, and Samande for  five days. However, there are no tea houses in Sabalgram; you can see a small forest office and a room office. The in-charge of the office permits people to stay there, he charges 500 per day for the room and provides basic snacks.
4. The charge for the remaining four days would be 800-1000 per day If you reach at a tea-house during the evening and leave by breakfast. So, 800 rupees for four days would be 3200 rupees. You will have lunch on the way and at least one snack each day, costing around Rs 1000. So, the following is the cost breakdown of guide, stay, and accommodation:
1. Guide: Rs 6000
2. Stay at four places: Rs 3200
3. Lunch and snacks on the way: Rs 1000
4. Sabalgram stay: Rs 700-800  
Therefore, the total budget would be around Rs 10,900. 
One more add-on to the cost is the permission. The charge for the permission is 150 rupees. You will have to take a permit for four days. You have to take permits for Kalipokhri, Caral, Sabargram and Samanden. Therefore, the cost for four days' permission would be 600 rupees. So, your total cost would be Rs 11,600. 
This trek is more expensive compared to other DIY treks; however, I would like to recommend this trek for people who like to trek on their own but have no idea about it, because this trek is safer and you will feel more secure. 
When NOT to do the Sandakphu trek on your own 
From Mid-December to Mid-January, as it's near Christmas and new year, the place will be crowded. So, during this time, many people from Darjeeling and Nepal come to this site to spend their holidays. Due to that, there will be a shortage of tea house accommodations. Also, the cost of tea houses will be much higher than in other seasons, and the quality of hospitality will also be affected.
Key takeaways:
1. Always take a guide, and don't forget to look for their registered ID card. 
2. Choose the popular route, as that would be safer. 
3. We recommend getting permissions daily at each forest check-post, based on the route you choose daily.
4. Avoid doing this trek from December mid to Jan mid, as it will be challenging to find a place to stay.  
So, What are you waiting for?! Pack your bags and go one step ahead in the world of trekking and explore it on your own.
Sign up for our much loved Weekly Mailer
We have terrific trekking tips, trek updates and trek talks to look forward to