Students, Shopkeepers, Govt Officials At Sari, Uttarakhand, Go The Gre...
Share this story
If you thought the last update from Sari was happening – we have updates that take the game one notch higher.
Things at Sari have progressed by leaps and bounds.
Scroll down to hear what our Green Trails team Pragati and Satej have to say about last week.
Getting kids to see the difference and make one too – school garbage pit in use
Remember the garbage pit we had created at the local school for segregation last month?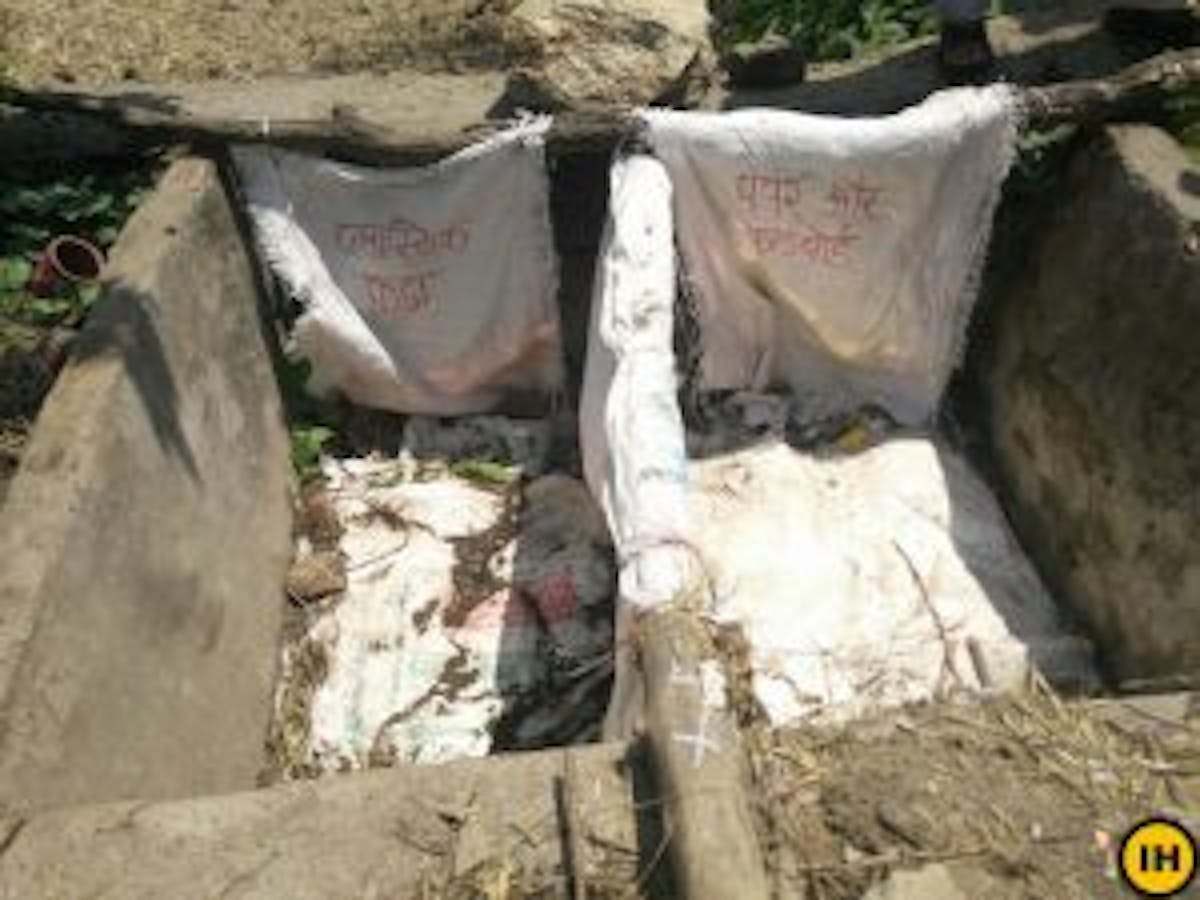 School garbage pit segregating paper and plastic
Students have been meticulously segregating their dry waste into plastic and paper. When our Trek Leader Satej Nazare visited the school last week, the pit was almost full!
Students helped Satej and took out all the garbage.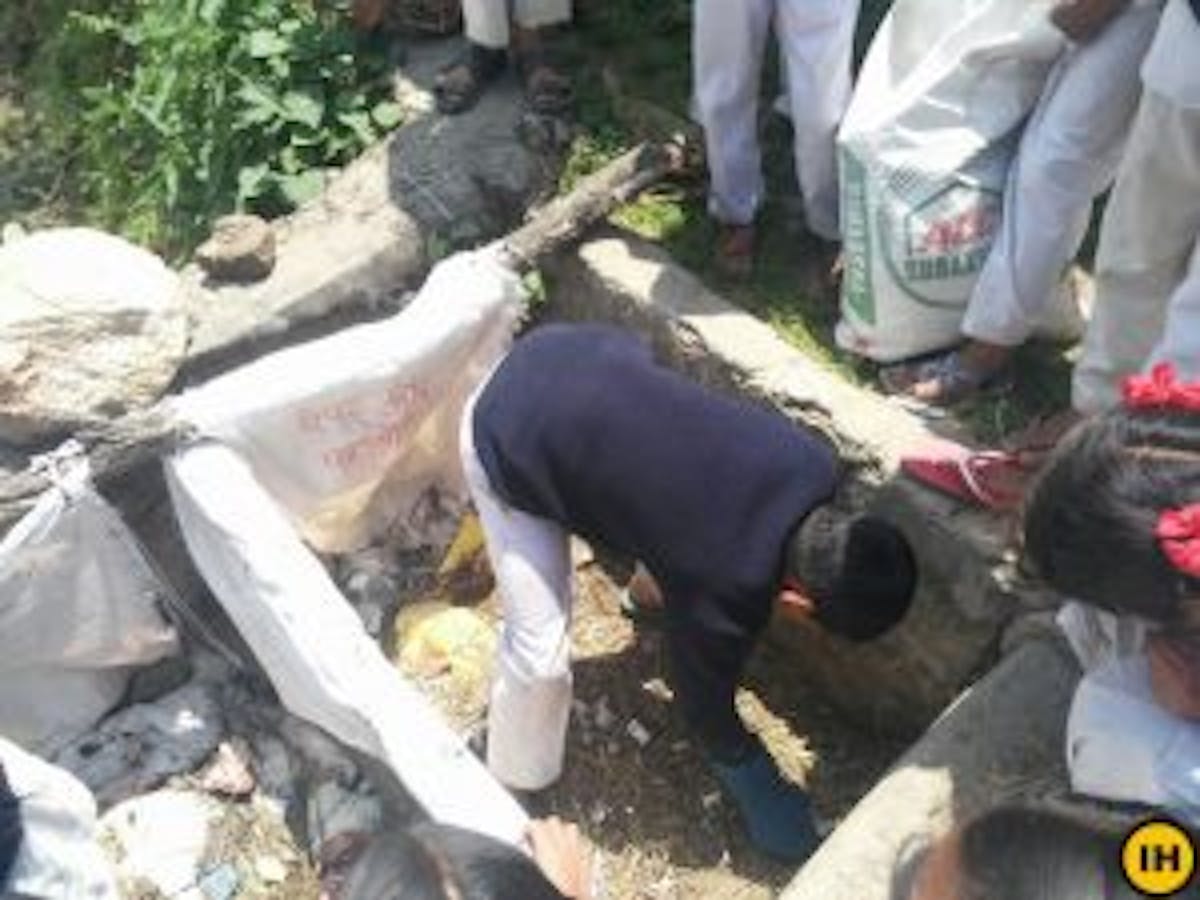 Students help Trek Leader Satej to collect waste from the school garbage pit.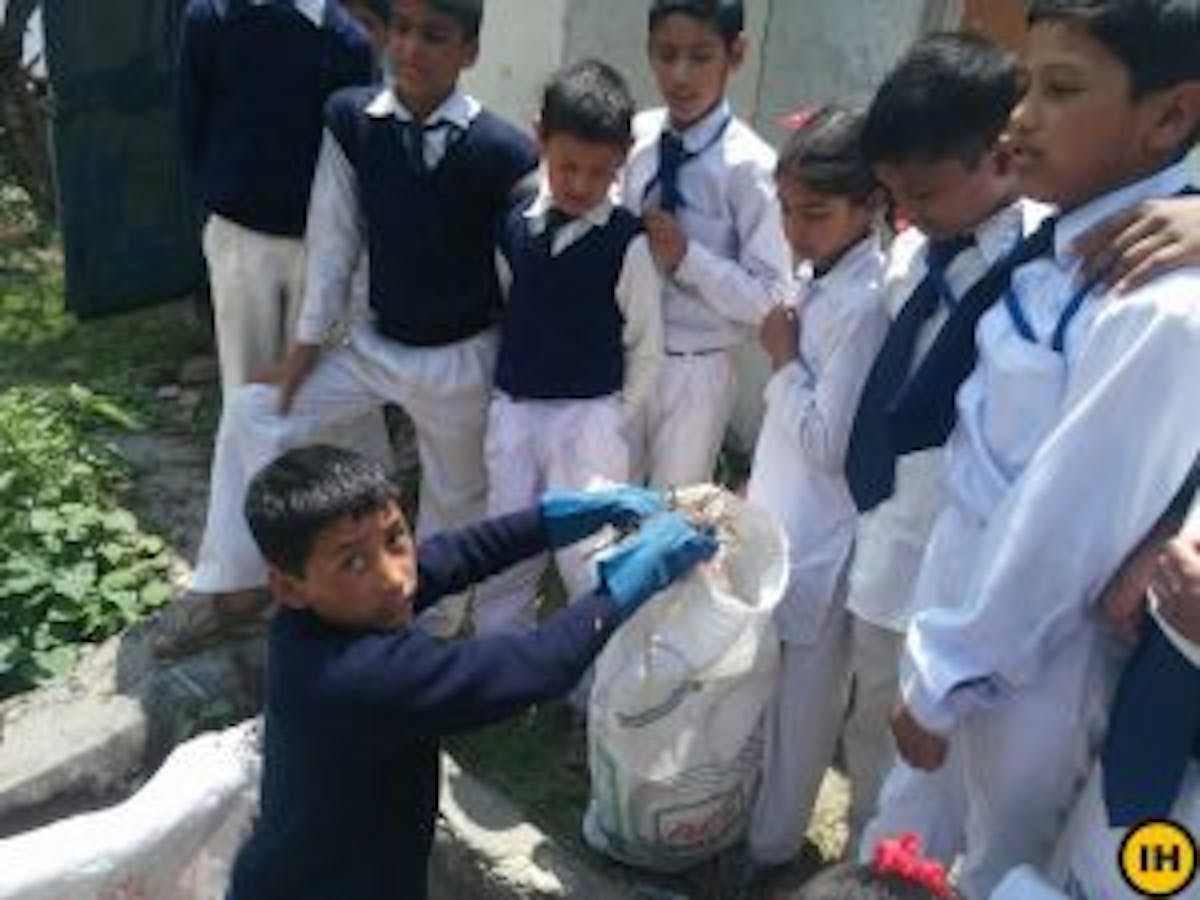 Putting segregated waste into respective sacks. The waste will be transported to Sari base camp.
Now, this is what I love about kids. Their inquisitive minds and ever-readiness to translate ideas to action. Nothing seems impossible to them. They truly harbour the spirit to take Green Trails forward.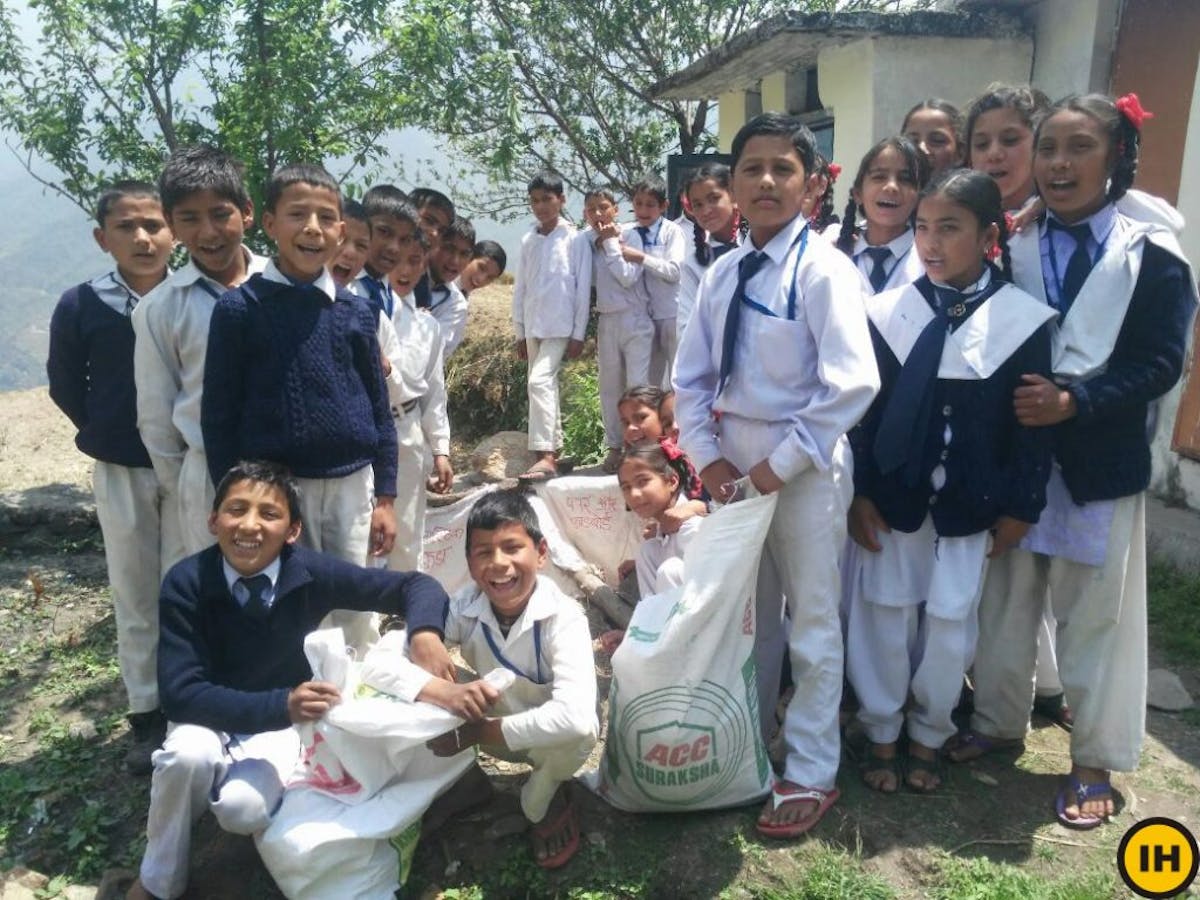 Waste segregated, collected and ready to transport.
Satej said he was happy to work with the students who were a helpful bunch – eager to take part and learn.
More workshops on waste management, more awareness
Intern Pragati and Trek Leader Satej were encouraged by the level of engagement from students at the local school of Sari. They conducted a number of sessions in the primary and secondary schools. The sessions largely focused on waste management and upcycling activities.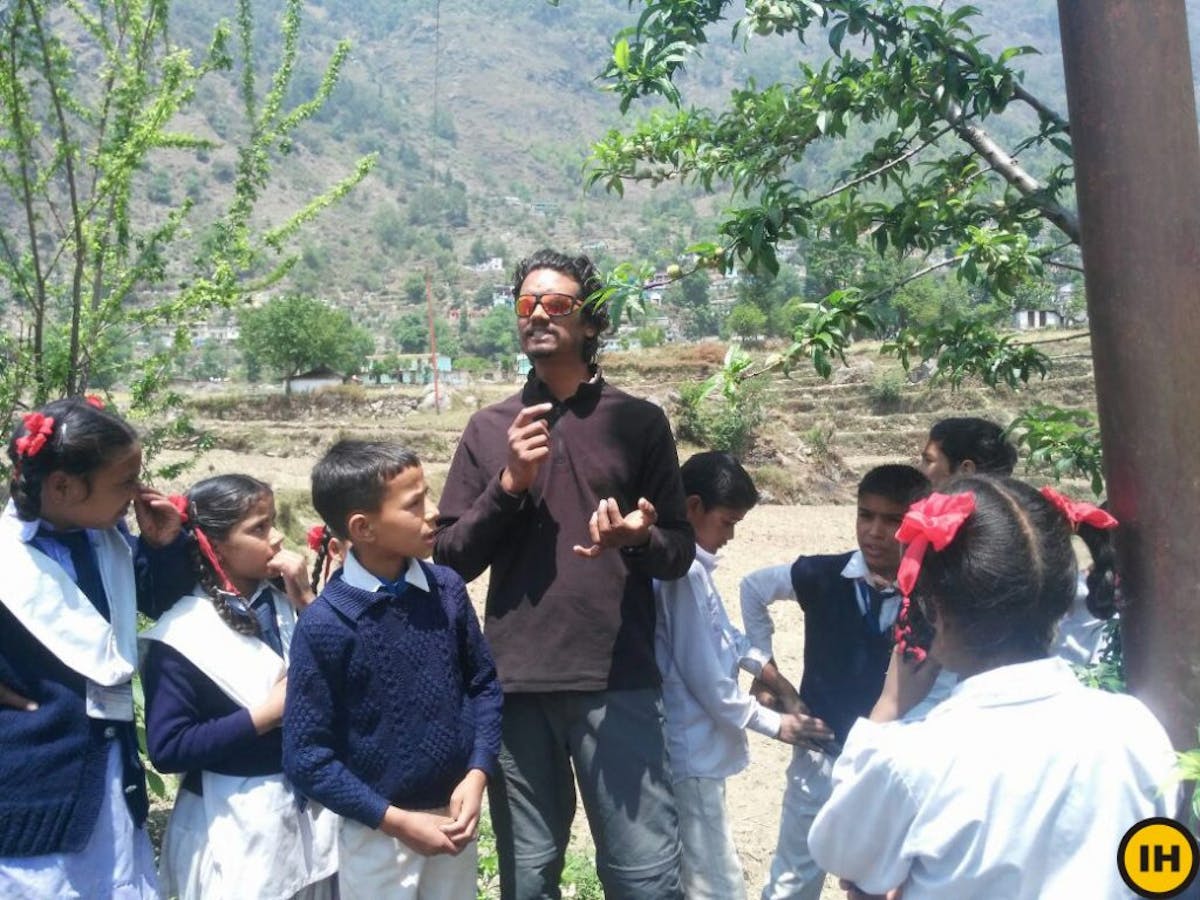 Satej explaining environmental damage on farms due to contamination by plastic and non-recyclable waste.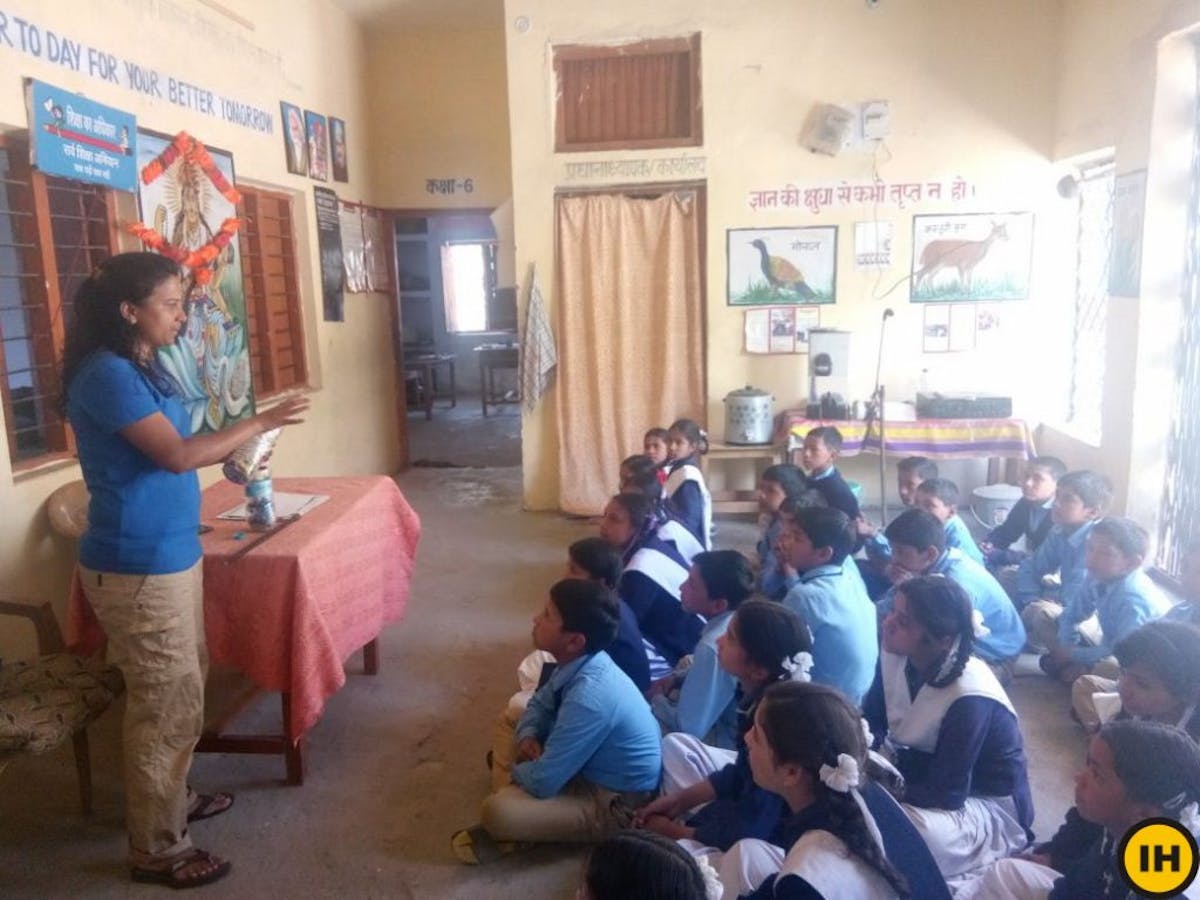 Intern Pragati taking a workshop on how plastic can be upcycled using bottle bricks.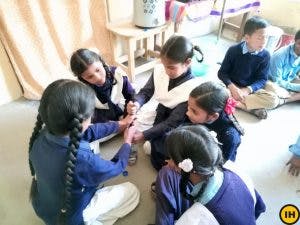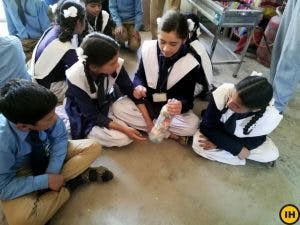 Meditation sessions for teachers and students
Seeing the students' enthusiasm, Satej decided to try something new.
Meditation, he felt, will help an individual connect with themselves and nature.
He taught students the vipasana meditation technique (ana- pana).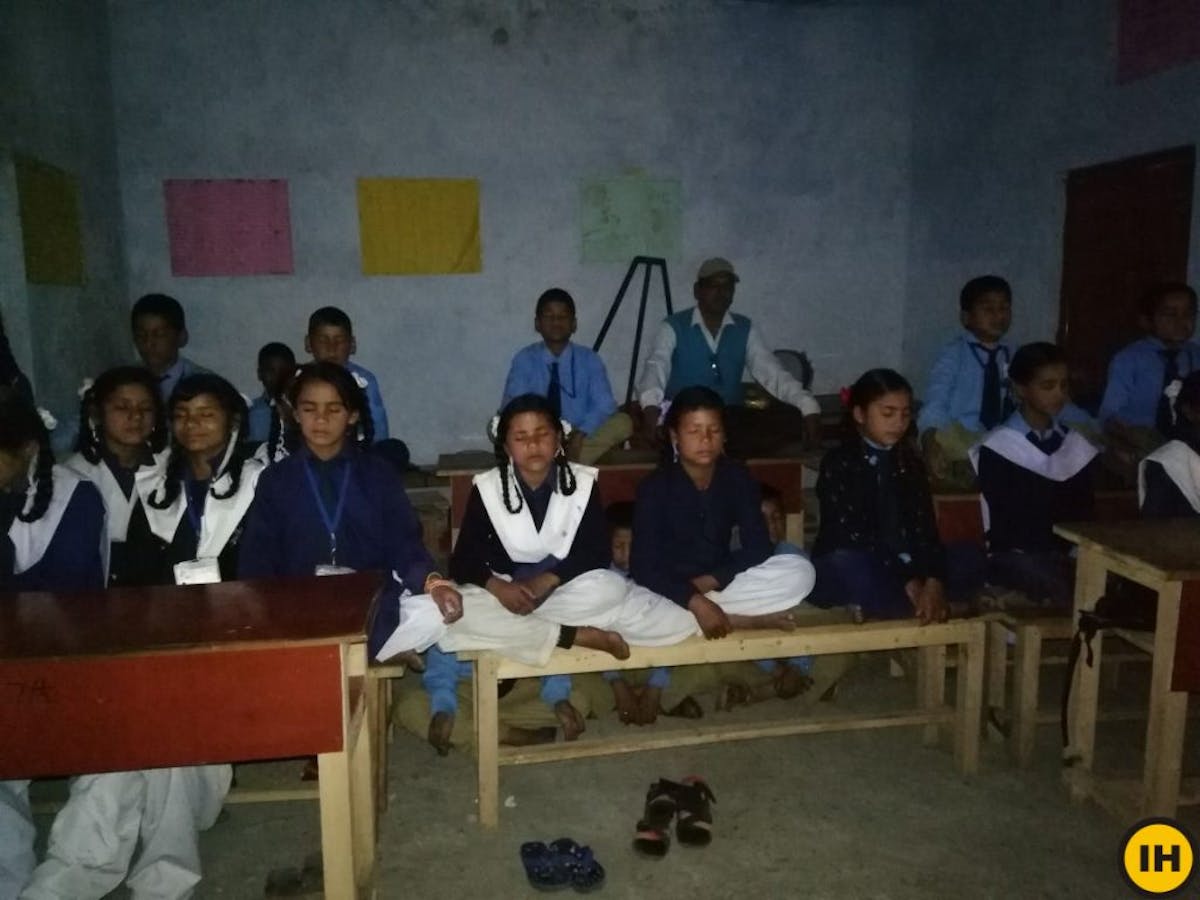 Students in a meditation session.
The school responded positively to the session. Pragati had a second follow-up session. Satej hopes this will be a regular trend.
Almost 250kg waste segregated in one morning
It is often difficult to understand the magnitude of the situation of waste until you see it first-hand.
For instance, waste collection and segregation in Sari village has been picking up tremendously. With every batch of trekkers, we collected a significant amount of waste – almost 2 sacks per batch on average.
Last week, there was a clean up drive at the Chopta campsite. Trek Leader Satej and Pragati segregated almost 250 kg of waste in one morning!!
A post shared by Lakshmi Selvakumaran (@lakshmiselvakumaran) on Apr 24, 2018 at 2:43am PDT
Segregation session at Chopta
After segregation at the Chopta campsite, Pragati and Satej found a shocking number of reusables.
> 4 snow baskets
> 18 zip locks
> 18 spoons
All found to perfectly reusable after a wash.
Also discovered were numerous plastic tupperware in extremely good condition.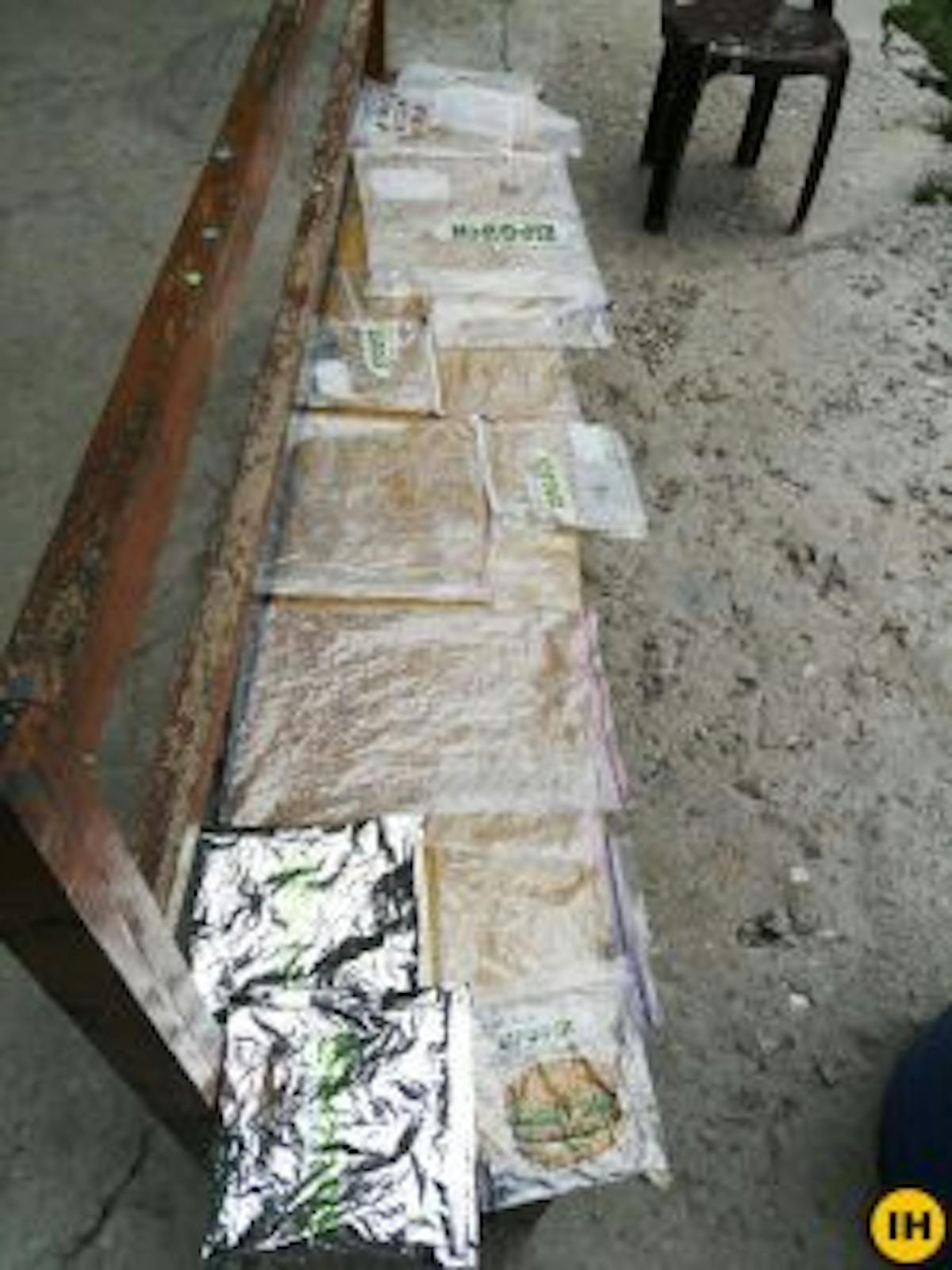 Reusable zip locks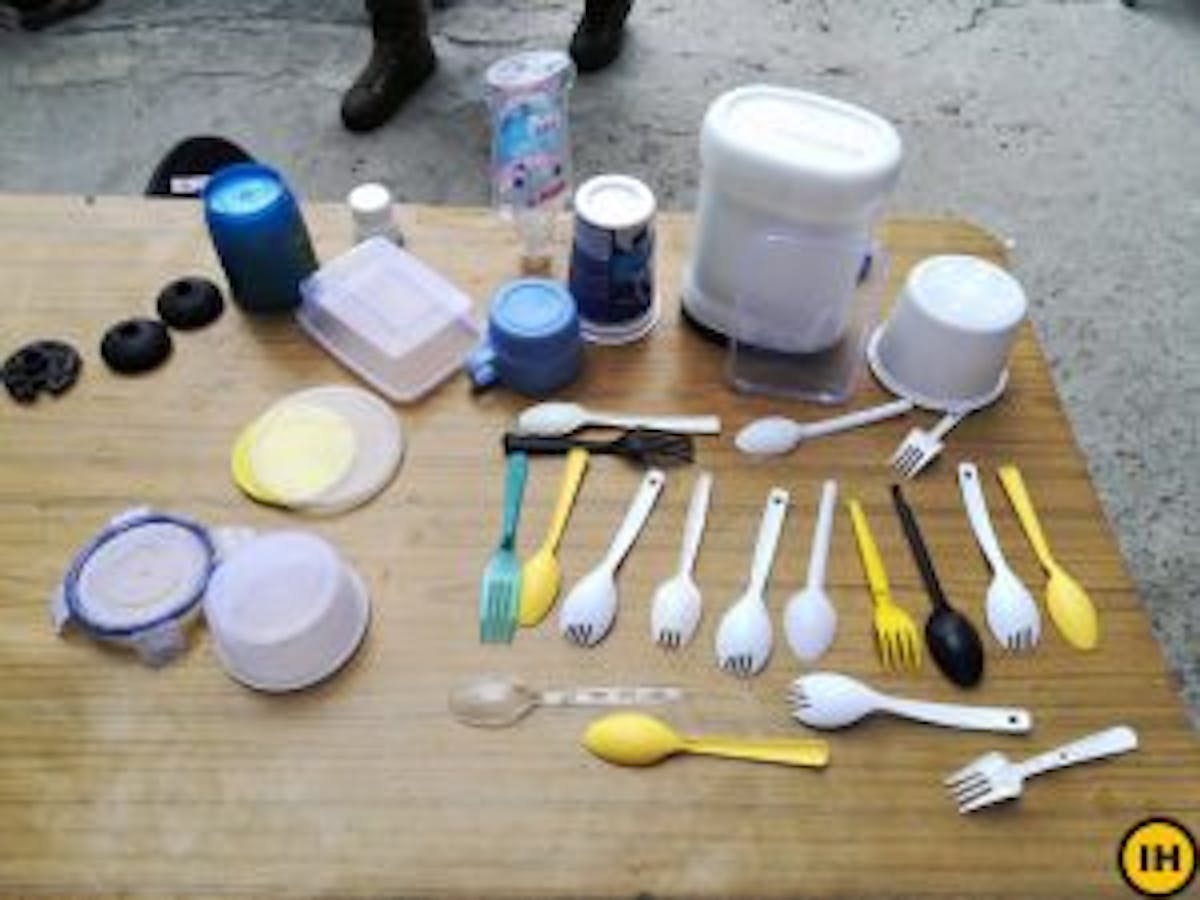 Reusable tupperware and cutlery found in the garbage bin.
Can you imagine that all of this would have gone to landfill had it not been collected and segregated?
Worse still, it could have remained in the mountains.
A local shopkeeper offered to take the tupperware off our hands. He said would be able to put the tupperware to good use in his shop. Inspired by the Green Trails segregation practice, he wants to start segregation at his shop.
Seeing the pros of waste segregation, people are slowly coming around; wanting to find out how to have a proper waste management system. Read below to see how.
Getting local dhabas to segregate – Bringing about three basic changes
You have probably read about how Maggi is a major source of plastic waste in the mountains.
So Pragati has been talking to local dhabas and restaurants to refrain from having Maggi on their menu.
This is easy when people see the need for sustainable alternatives. Getting them to experiment, implement and change their ways is then only a matter of a conversation or two.
Local dhaba owner, Lakpathsingh ji is one such person. On learning about the plastic waste Maggi generates, he asked Pragati how he can do things differently. Together, they came up with three ideas.
Change 1 – Segregating garbage
Firstly, Pragati decided that simple segregation can be set up. They discussed what is the most amount of waste generated.
Lakpathsingh ji set up a segregation system outside his dhaba. Using sacks he separates recyclable plastic and plastic bottles.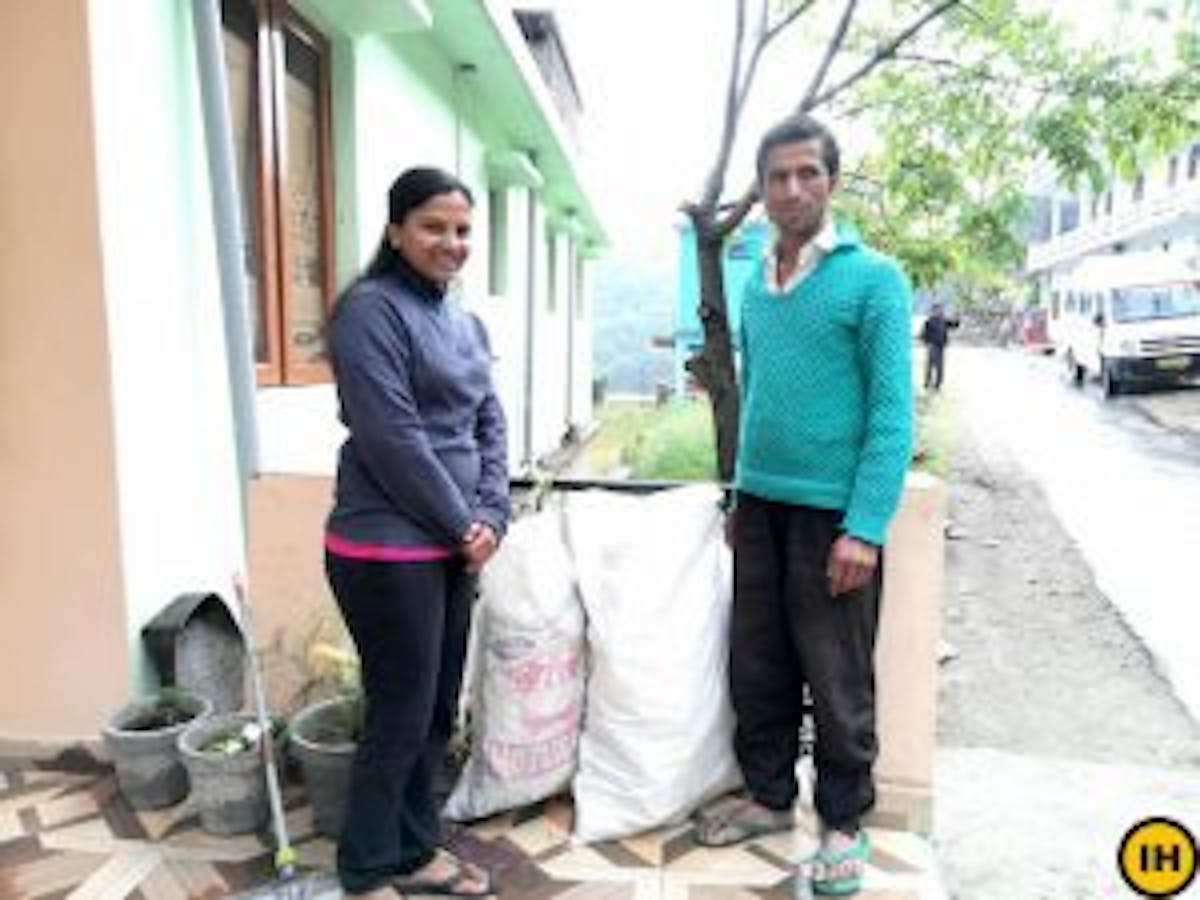 Lakpathsingh, the first shopkeeper-dhaba wala who segregates his garbage.
Lakpathsingh has been giving the plastic bottles to villagers to reuse in ceremonies and marriages. He periodically takes down other plastic waste to our base camp for bottle brick making. All this – out of his own initiative. We are thrilled to say the least!
Change 2 – Alternatives to Maggi
Next, Pragati helped Lakpathsingh to come up with alternatives to Maggi. They had cooking sessions where they mastered the art of making pasta and macaroni – yummy alternatives to Maggi.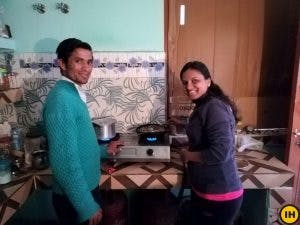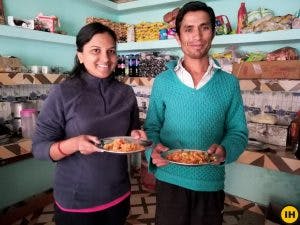 Macaroni is procured in sacks. Lakpathsingh ji will reduce plastic waste by switching to macaroni.
Change 3 – Eco Menu cards
Even Trek Leader Satej pitched in! He made Eco menu cards from the waste cardboard for Lakpathsingh ji'si dhabba.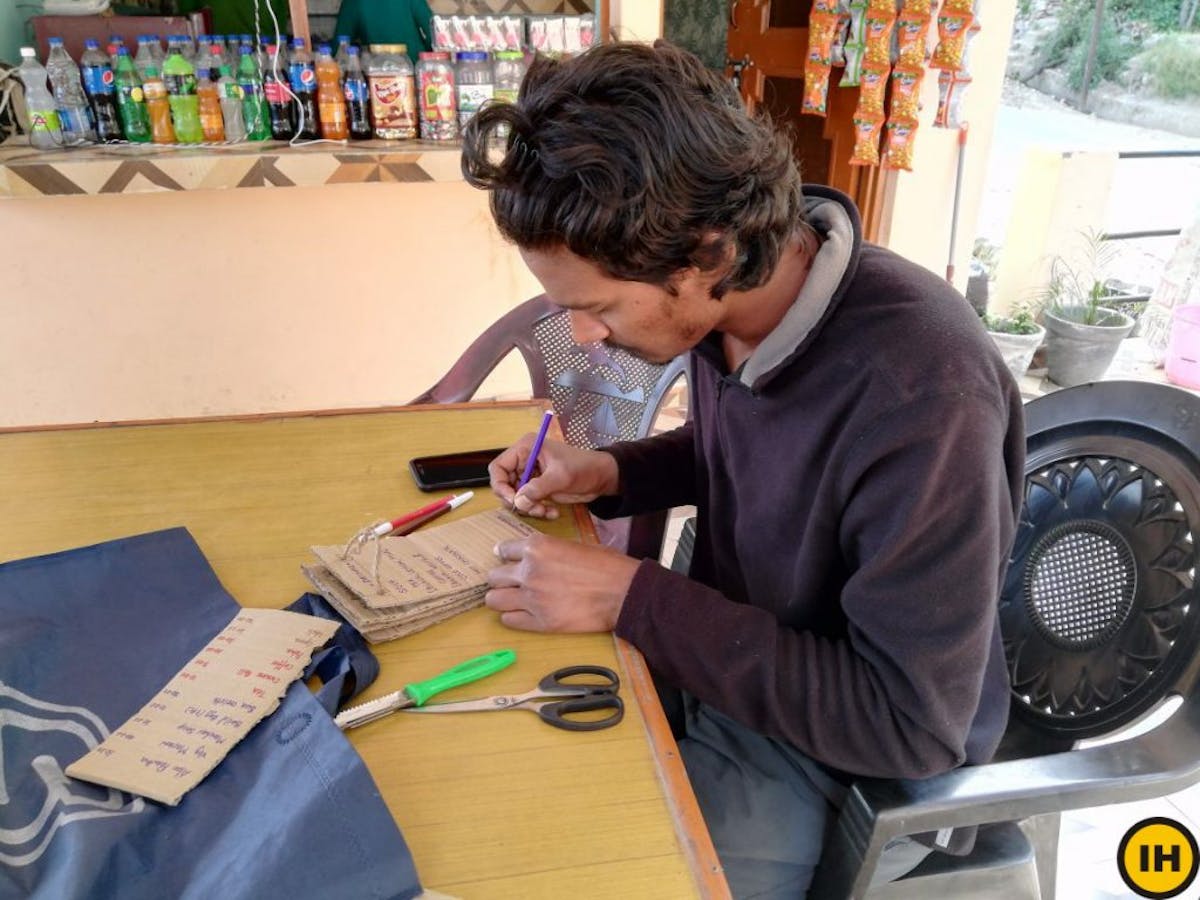 Trek Leader Satej cutting out old cardboard to make Lakpathsingh ji's new menu cards.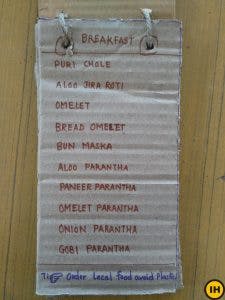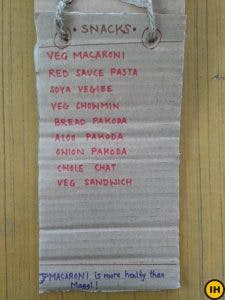 It is not always a piece of cake when it comes to getting people to understand the problem of waste.
Pragati reported that despite her repeated efforts, many shopkeepers are unwilling to segregate. Besides, removing the popular comfort food from their shelves would remove a large source of income as well.
But as in the case of most of our base camp villages, we need to be persistent. As more Lakpathsinghs tend to sustainable ways, the trend will pick up. With time, awareness and provision of necessary infrastructure, we are determined to change the state of things.
Our focus is to build a relationship first. This is important. Once on good terms, people will be more amenable to hear to what we have to say.
Tricky dilemma – Are macaroni and pasta really better alternatives?
But the thing about finding sustainable alternatives is that it can get quite tricky. We cannot afford to look on the surface.
Macaroni comes in sacks. So we avoid Maggi's plastic packaging.
We must not put the health of villagers and trekkers at risk. It is unsustainable.  Sustainable solutions need to be holistic. This is painstaking at times but a necessary measure.
Our teams are looking into where the macaroni and pasta is procured from to ensure our alternatives are truly sustainable.
Not so sanitary – Sanitary pads in the valley
Our Trek Leader Satej conducted a cleanup activity at the Deoriatal Valley.
He had troubling news.
Numerous wet wipes and sanitary pads were found in the valley and the forests.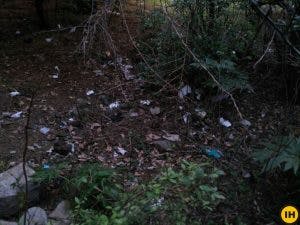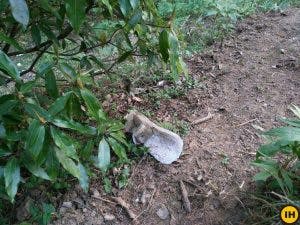 Trekkers were appalled as they helped clean-up the trail.
Yet it is hardly something you want to pick up.
Satej took the opportunity to elicit that trash we produce in the mountains should find a proper disposal unit or should be taken back to cities.
The mountains are not ours to dirty.
Pragati and Satej also mentioned that it is not uncommon to see animals eat plastic. They consume it, often confusing it with food, due to the lingering smell of leftovers.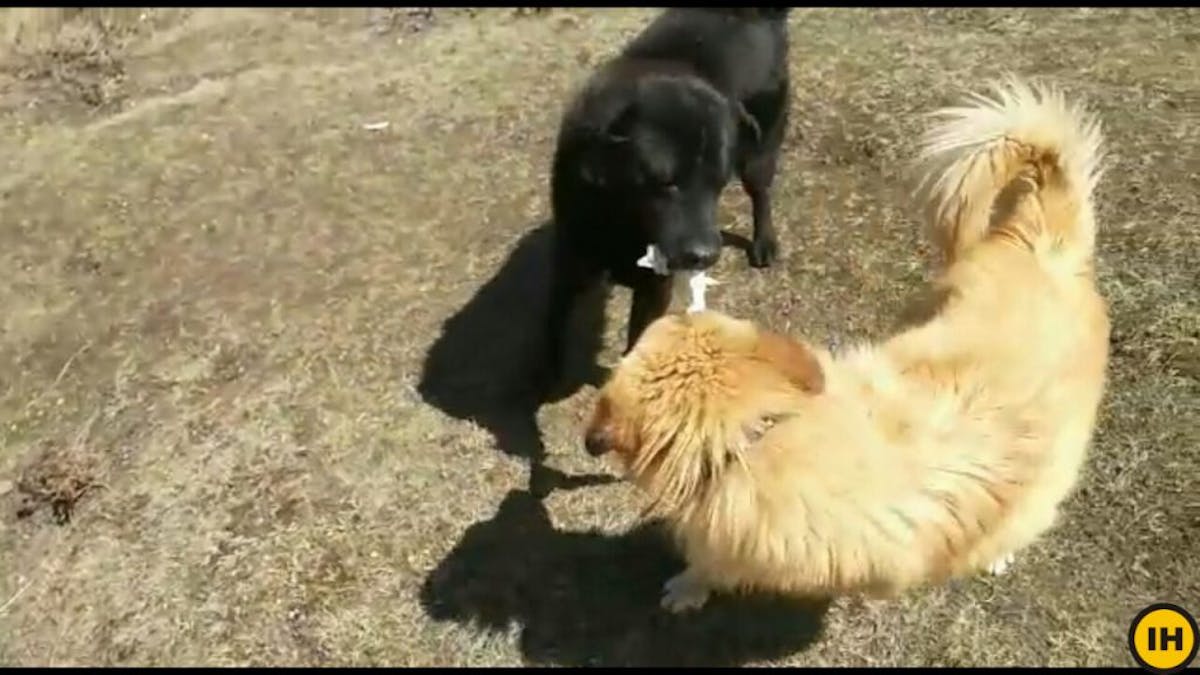 Dogs fighting over a piece of plastic in Sari village.
How do we tackle the issue of sanitary pads?
Pragati and Satej feel that with more awareness, more cleanup drives and more upcycling activities, we will see a shift in the status quo.
Pragati is a step ahead. She is already on to a potential solution.
Eco-pads: potential eco-warriors
Pragati has been working on designing DIY cloth-pads. Her idea is to use old cloth strips to stitch washable pads that are leak-proof and long-lasting. If her experiment succeeds, she will teach the women in the village how to make these on their own.
We do collaborate with Eco Femme and provide women the option to buy cloth pads at all our base camp villages. However, through Pragati's project, we could ensure the women are not dependent on external sources for sustainable alternatives.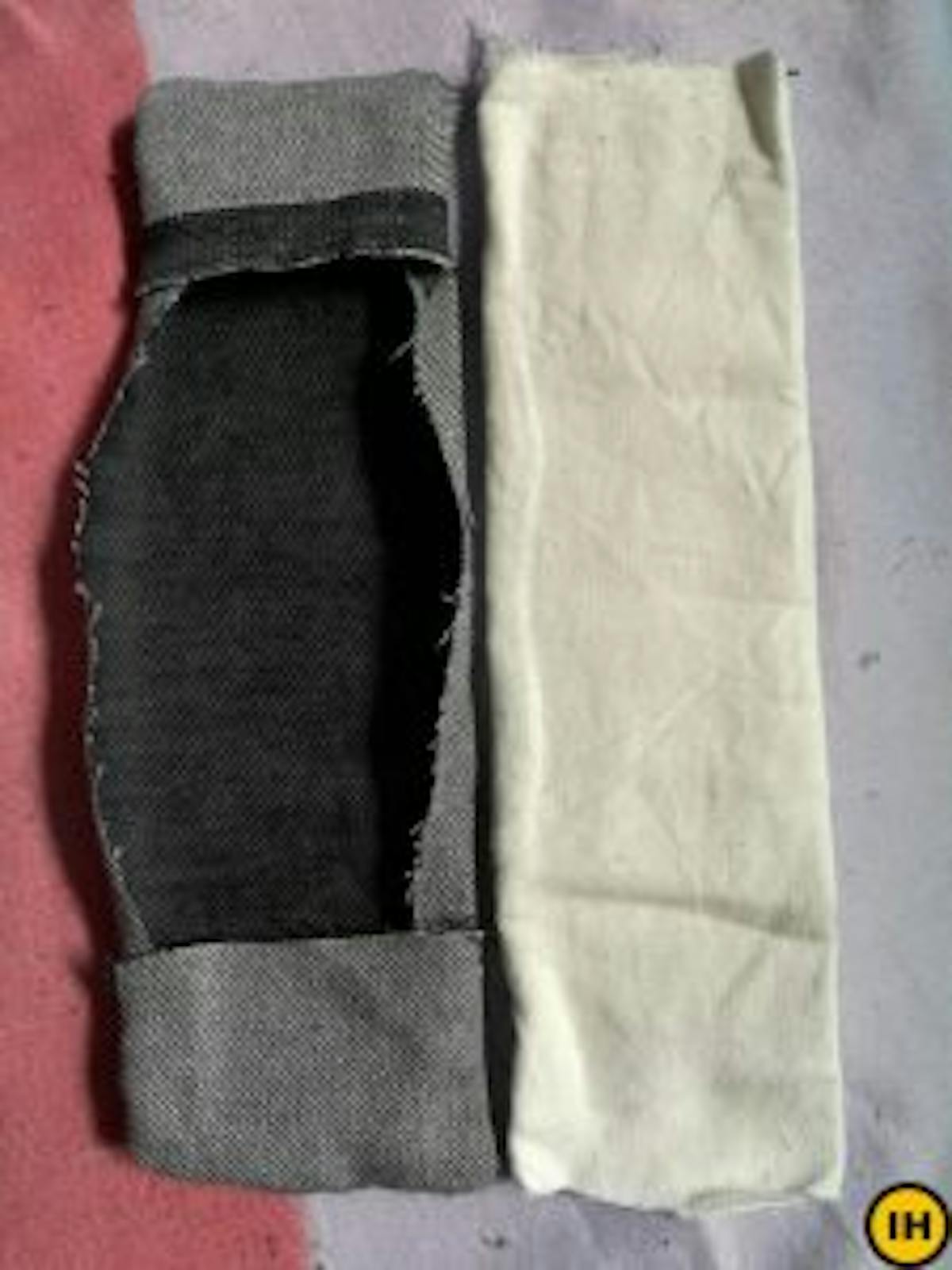 Pad desgin 1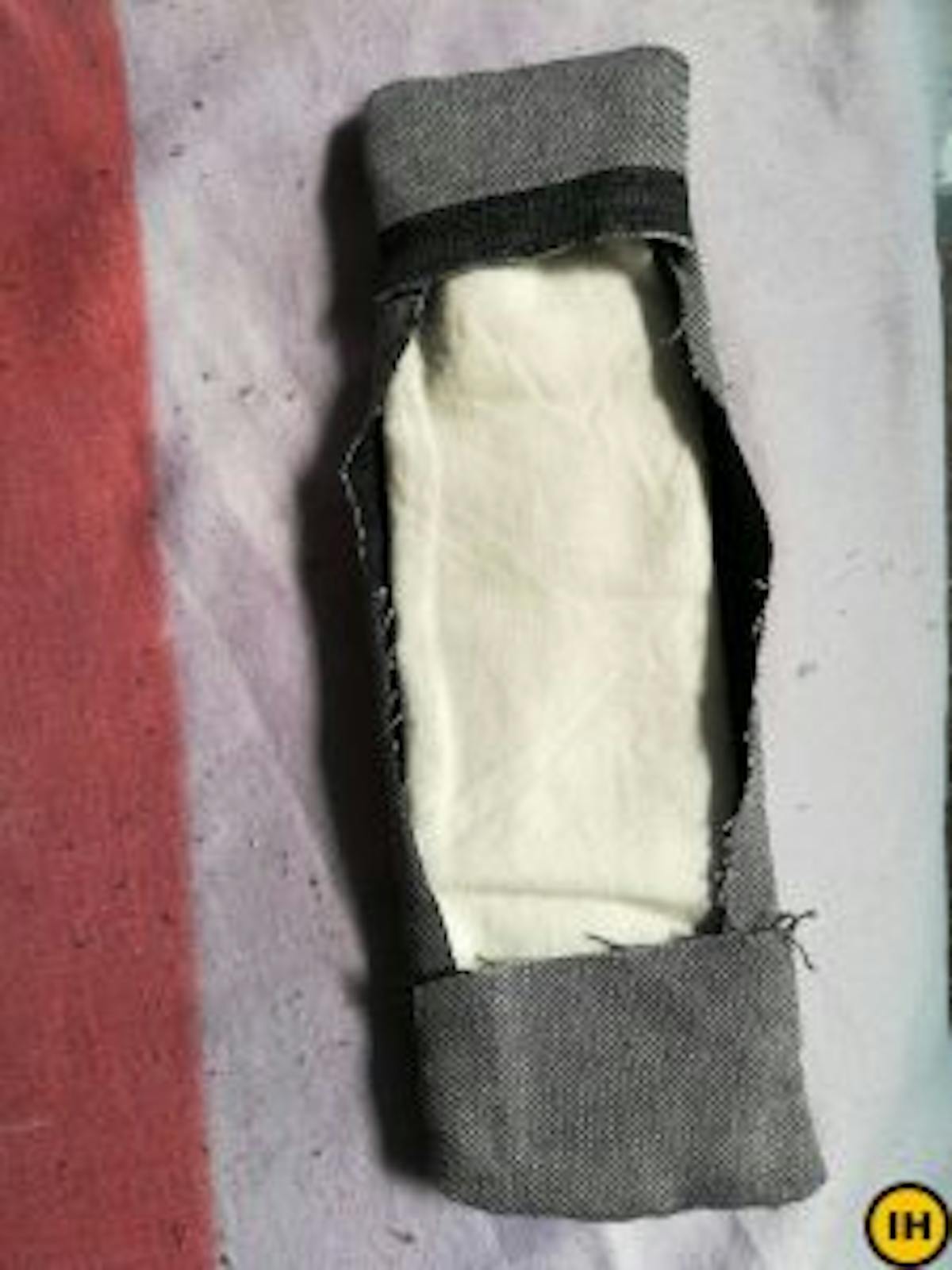 The design uses denim from old jeans and cotton cloth.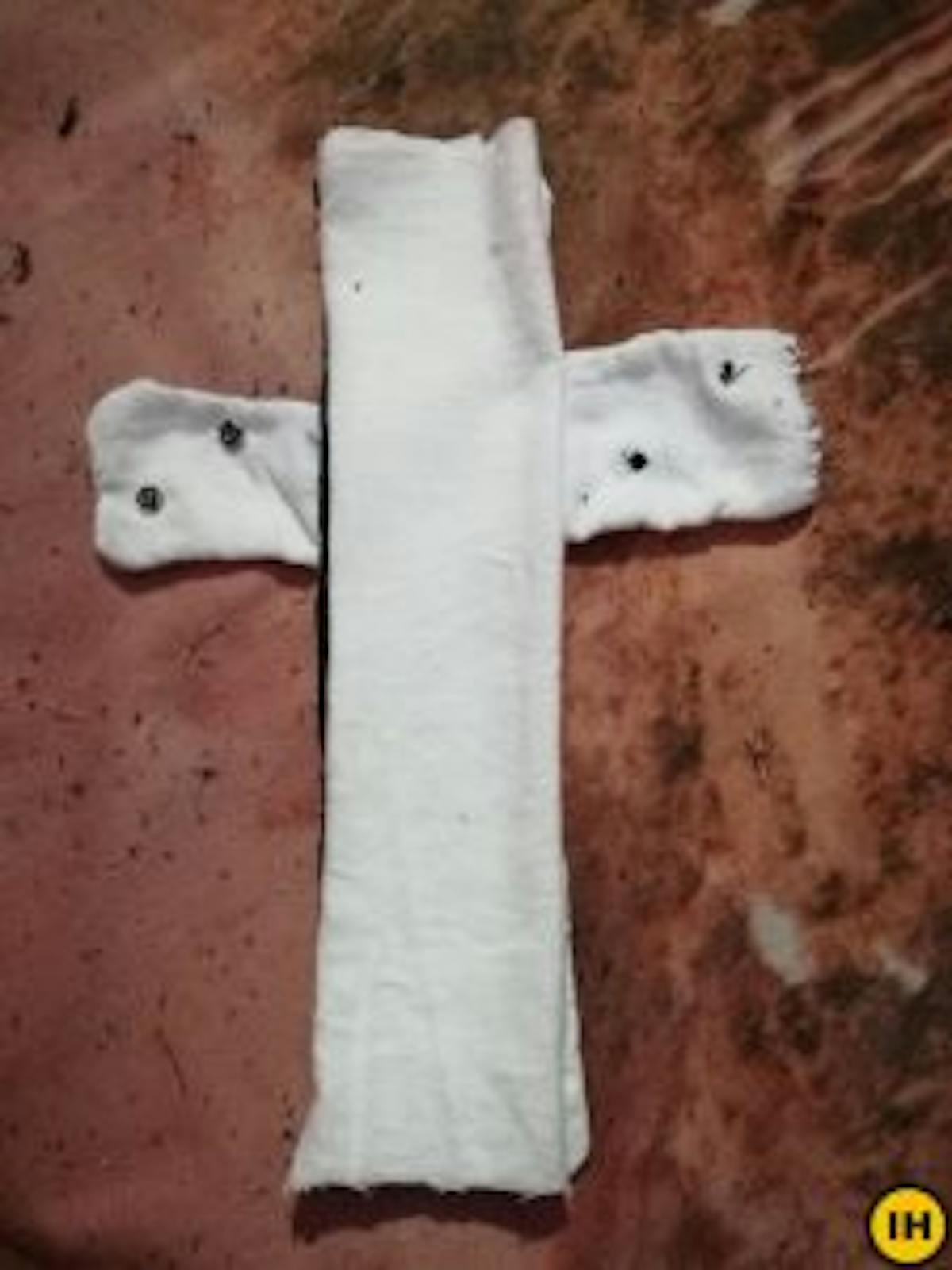 Pad design 2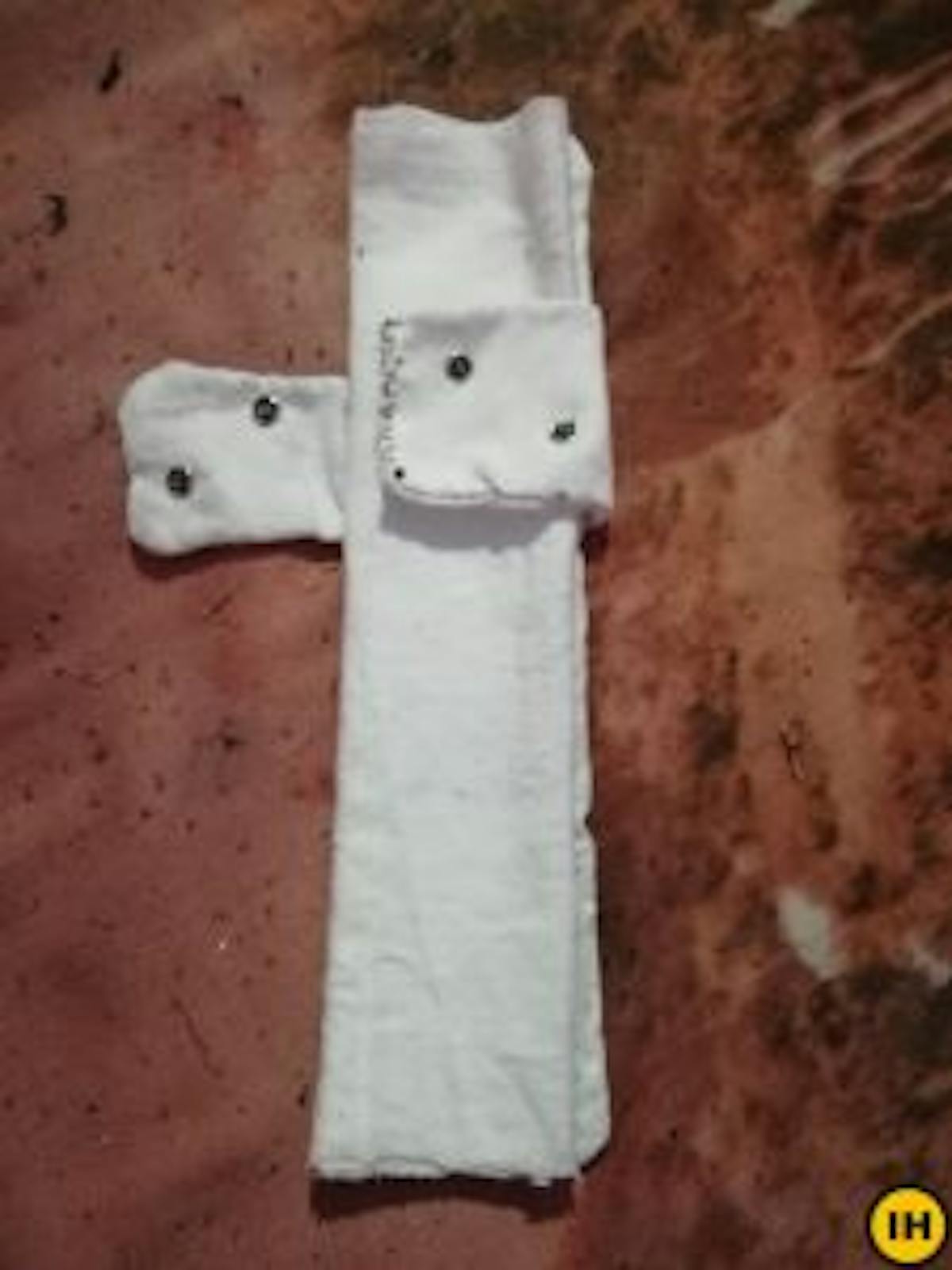 Using plain cotton and cloth for a button up pad.
Once Pragati has the perfect design, we will say no to disposable sanitary pads that take 500-800 years to decompose!
Grabbing the attention of the Assistant Conservator Of Forest
The Assistant Conservator of Forest visited Sari. He chanced upon our team segregating the waste. Curious, he wanted to know more. Pragati explained the Green Trails initiative and the status of the ongoing projects. Impressed, he told our team that he was willing to help in any way he can.
Pragati expressed that the support of the Forest Department is crucial to enforce the stringent waste management systems and laws.
They discussed the next course of action in Sari village, including regular clean-ups and implementation of waste management systems to stop burning of waste. The Conservator said he would bring up the issue with the Department and ensure firm action is taken.
This would be the much-needed push we need to get things moving in Sari. A promising end to an action-oriented week!
Having completed her internship, Pragati told us her time at Sari was a tremendous learning opportunity. "The whole village was my classroom…. I have evolved so much personally as well as socially".
She left Sari last week. But not without giving us good news.
Pragati wants to come back to continue her work at Sari next month. She has a lot of ideas and would be happy to take things forward, in her second time around.
This is reassuring in more ways than one. Having a familiar face is helpful for villagers to be able to connect with the Green Trails team and mission.
That's all folks!
Thoughts, ideas, comments? Write to me at neha@indiahikes.com
We are always looking for people to work with us. Interested? Just drop us an email at lakshmi@indiahikes.com.
Stay up to date with our latest Green Trails happenings on Lakshmi's Instagram account lakshmiselvakumaran.
What you should do now
1. If you want to serve as a Green Trails Intern: Read this article by our Green Trails Head – Lakshmi.
2. If you want to work with us: Head over to our careers page. We have lots of positions open. We also have lots of applications coming in. So the sooner you apply, the better.
3. If you ended up here by chance and were actually looking for treks to do: Then head over to our upcoming treks page. You'll find all our Himalayan treks there.
4. If you want to see the 13 best treks of India: Then get our guide here.
Sign up for our much loved Weekly Mailer
We have terrific trekking tips, trek updates and trek talks to look forward to