Sari
Base of the revered Deoriatal Chandrashila trek
Category
By Aayush Jakhete
2022-07-18
Category: Basecamp
Altitude: 6,381 feet
GPS: 30.5181°N,79.1534°E
Population: Less than 1000 w
Languages spoken: Hindi, Garhwali 
State: Uttarakhand
Nearest City: Rishikesh
Electricity & Charging Points: Available
Mobile & Internet Network: All major service provider's networks. 4G network available all around Sari.
Cloakroom: Available (for Indiahikes Trekkers)
Accommodation: Swiss-style tents with bunk beds (Indiahikes trekkers), Homestays (tourists)
Treks starting from here: Deoriatal Chandrashila
Sari Village
Sari is a 400-year-old village located right in the heart of Uttarakhand. It is the base of the revered Deoriatal-Chandrashila trek. So while you're there, don't be surprised to see enthusiastic trekkers roaming around the village.
The word 'Sari' is a Hindi word meaning 'everywhere'. The village name came about as Sari has fields around it everywhere. The village is rich in wheat fields, apple and peach orchards, and its boundaries are lined with bright-coloured Rhododendrons and Oak trees — A regular site on the Deoriatal Chandrashilla Trek.
You will see about 150 houses in Sari. They are usually cemented houses with many doors and windows. There are also a few abandoned rock houses that are about 100 years old! If you roam around the village, make sure to ask locals about the evolution of the houses over the years.
If you reach Sari when the sun is still out, walk around the village a bit. The paddy fields are so prettily laid out that they almost beckon to you. The views around the Sari village are gorgeous. You get your first glimpse of the summit of Chandrashilla from here!
Apart from that, Sari as a village is quiet, quaint, uncommercialized and not too touristy. The villagers go on about their daily lives of farming and livestock rearing. This means that if you have forgotten any trekking gear, there is no market to buy it here.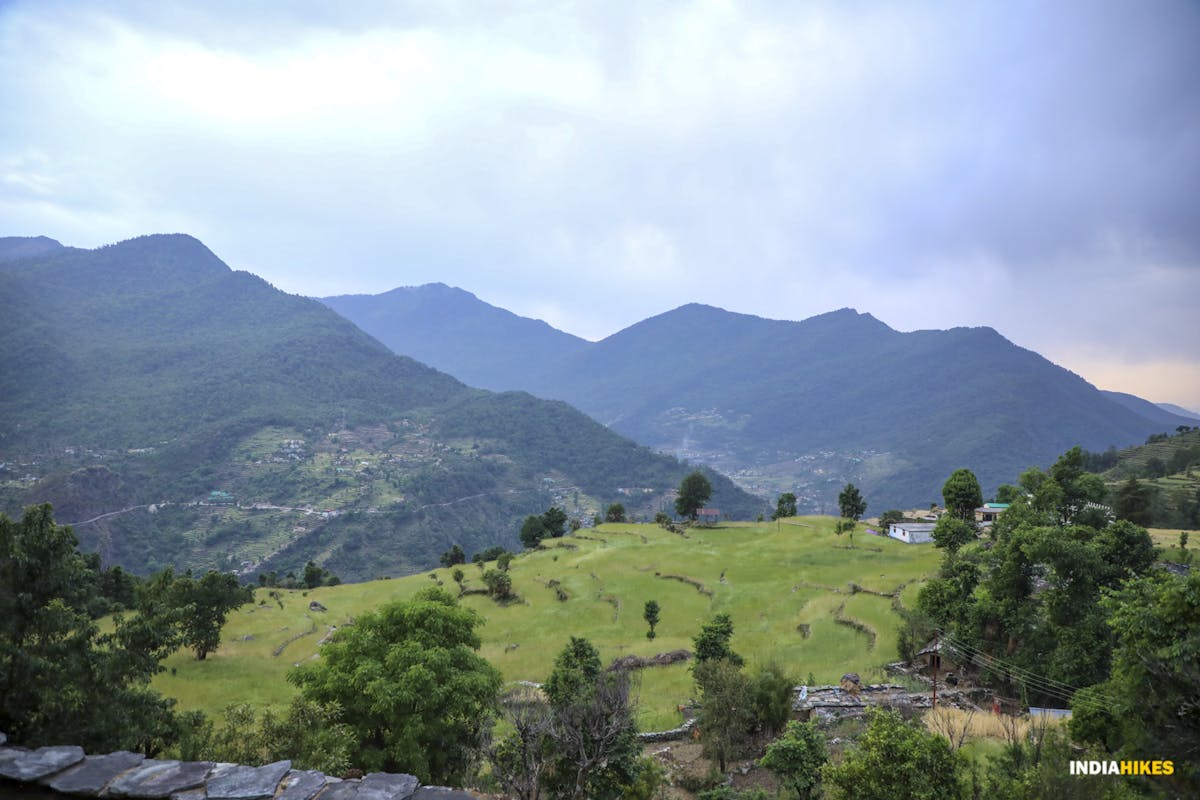 Paddy Fields all around Sari. Picture by Jothiranjan
Life at Sari
In Sari, the men spend their days digging soil and sowing crops while the women spend their days cultivating it. The kids spend most of their time either in school or playing.
Within farming, Sari has a self-sufficient agrarian economy. People eat what they grow and rear. Crops are grown following a 6 month cycle — Summer and Winter. 
In winters, you'll notice a sea of wheat and potato fields all around the village. People harvest and eat these crops in June. During this period, you'll see most of them eating boiled potatoes with flavoured salt. If you are in Sari, try it out. It is a delight!
In summers, people grow Soybean, Ragi, Red rice, pulses and beans. All being heat generating foods, they are harvested and eaten in the winter season. 
Apart from farming, Sari has a communal culture. You'll see large extended families all living and eating together.
As per festivals, every year the people of Sari host a Mela to celebrate Janmashtami at the Deoriatal near Sari as a ritual. It is a huge festival and even people from surrounding villages come to celebrate it! If you are in the region during Janmashtami, make sure you don't miss out on it. 
February is an extremely special month for people in Sari. They celebrate the Basant Ritu – A festival to mark the start of the spring season. A lot of engagements and marriages in Sari happen in this period. You certainly won't miss out on Melas, Garhwali Dhols and wedding dances all around Sari! 
Holi is another widely celebrated festival in Sari. As an old ritual, children spend their days gathering rhododendron flowers to offer it at a nearby Shiva temple. If you're in Sari, be prepared for a day full of colours and worship!   
Accommodation in Sari
The rise in popularity of the Deoriatal Chandrashila trek has led to an increase in homestays all around Sari. However, demand is cyclical. You will comfortably find stays during the off-season. It may not be the case during the peak winter and spring seasons. It's advised to book a month in advance. 
You can get a bed for Rs 600-800 a night in the offseason reaching Rs 1000-1200 in the peak seasons.  
Things to do around Sari
Deoriatal Trek
A lot of people visit the Tungnath temple starting from Chopta and later visit Sari to do the Deoriatal Trek as a bonus. 
The Deoriatal Trek is a short three-hour trek that starts from Sari. You will trek along a well-defined trail experiencing beautiful forests and stunning Rhododendron trees. You will also come across a small temple dedicated to Lord Shiva that locals worship. 
At the end, your surroundings will open up to a grand view of Deoriatal, with the Chaukhambha massif looming in the background. It's a breathtaking view!
Deoriatal is a picturesque lake. You can go and explore the trails. The forests around here are lovely. You'll be able to see and hear several rare Himalayan birds.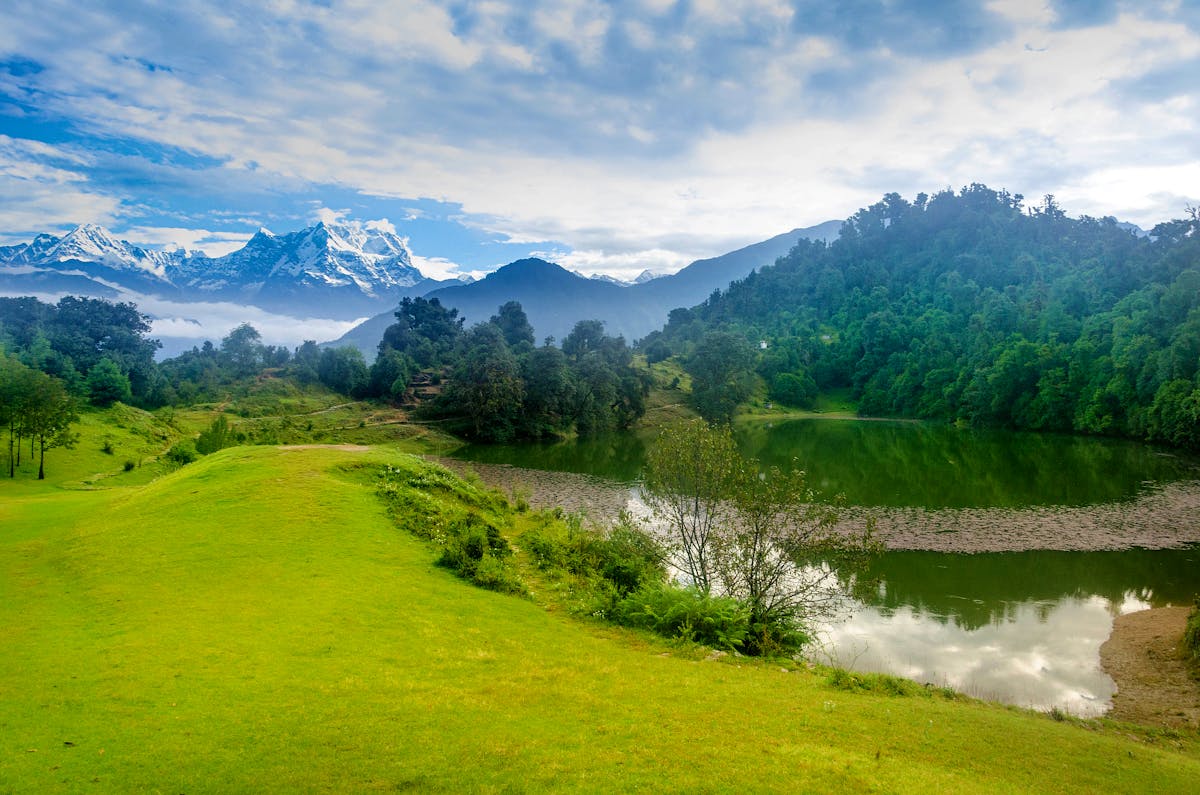 The Revered Deoriatal has multiple legendary stories connected to our epics. Picture by Rupendra Yadav
Mini treks to Cafes
The rise in popularity of the Deoriatal Chandrashila trek has led to an increase in homestays and cafes. These cafes are located on the hill above the village. You can see these cafes clearly from the main road.
The feeling of drinking coffee in the cold after a nice 25 minutes hike through a small forest trail is something to die for!   
The Indiahikes Campus at Sari
Our Indiahikes Campus in Sari is special to us for so many reasons. It was our first-ever pilot with intentions to bring the trekking community together. We wanted to create a space for everyone to come together and interact much before the trek. 
The campus has made a significant impact not only to the trekking community but also towards sustainability and the local economy! 
If you are ever at Sari, visit the campus for some chai and a game of cricket with our slope team.

Sari Basecamp. Picture by Jothirajan
The Kedars
In the Garhwali district, you'll extensively hear about the five famous Shiva Temples. Known as the "Panch Kedar'', millions of pilgrims visit these temples every year.
Kedarnath  
Madmaheshwar  
Tungnath 
Rudranath  
Kalpnath     
You're in luck if you are in Sari. 2 out of the 5 kedars are nearby Sari! All under close proximity to the village. 
Tungnath: Tungnath temple is closest to Sari. Most people visit Tungnath while in Sari. You can reach the Tungnath temple two ways: 
1) Drive from Chopta to Sari. It is 15 km and usually takes about 30 minutes. From Chopta, it is a short 3.5 km trek to Tungnath temple. 
2) Trek the Deoriatal Chandrashila trek that starts right from Sari Village.
Madmaheshwar: The madmaheshwar temple starts from Ukhimath which is a 25 minute drive from Sari. 
Our Finance Manager, Gautam has documented everything there is to know about Madhmashwer for you to see! Madmaheshwar Trek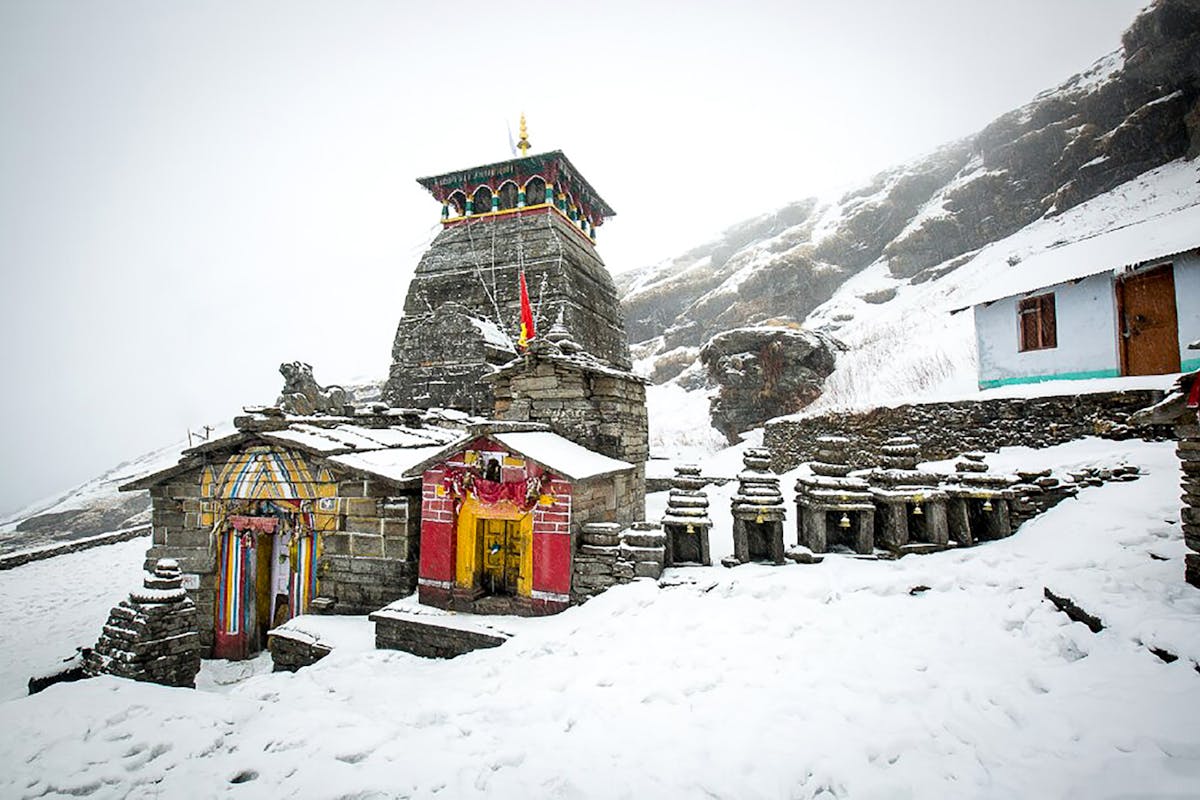 Tungnath Temple. Image by Indiahieks trekkers
Sari discovered through photos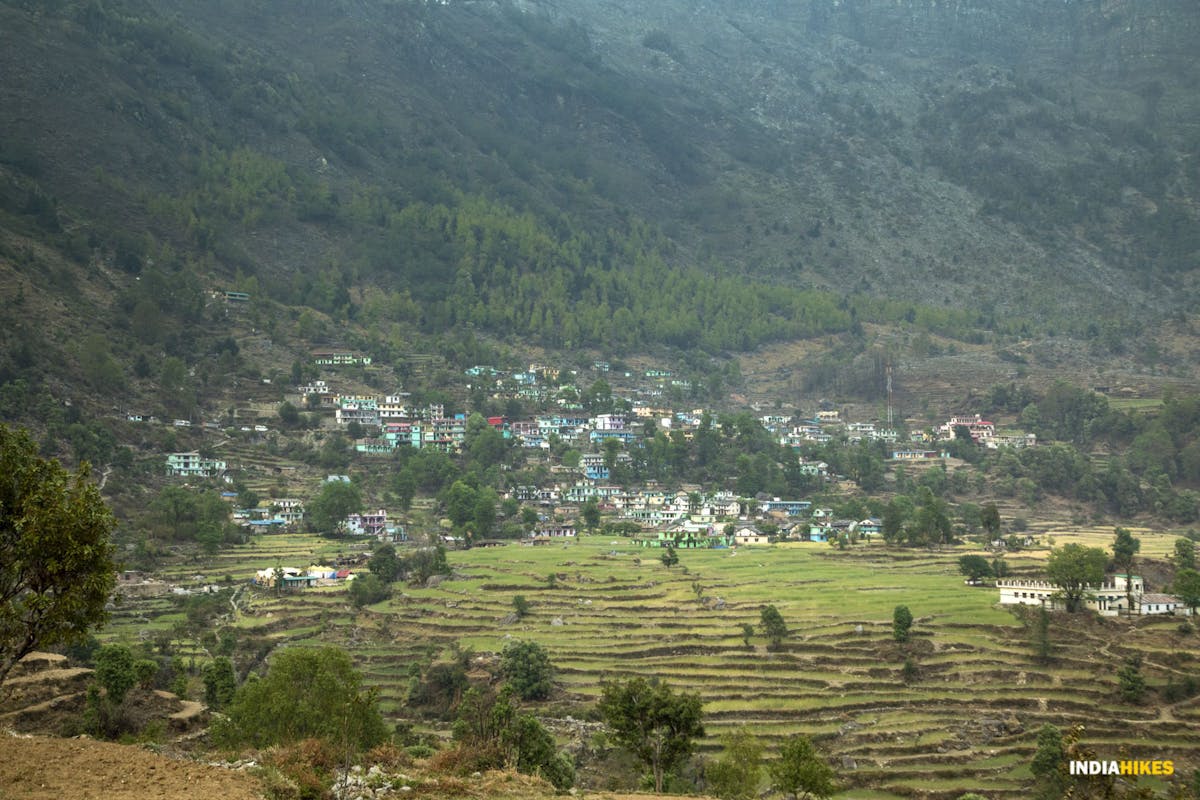 Beautiful view of Sari Village. Try spotting our basecamp!. Picture by Jothiranjan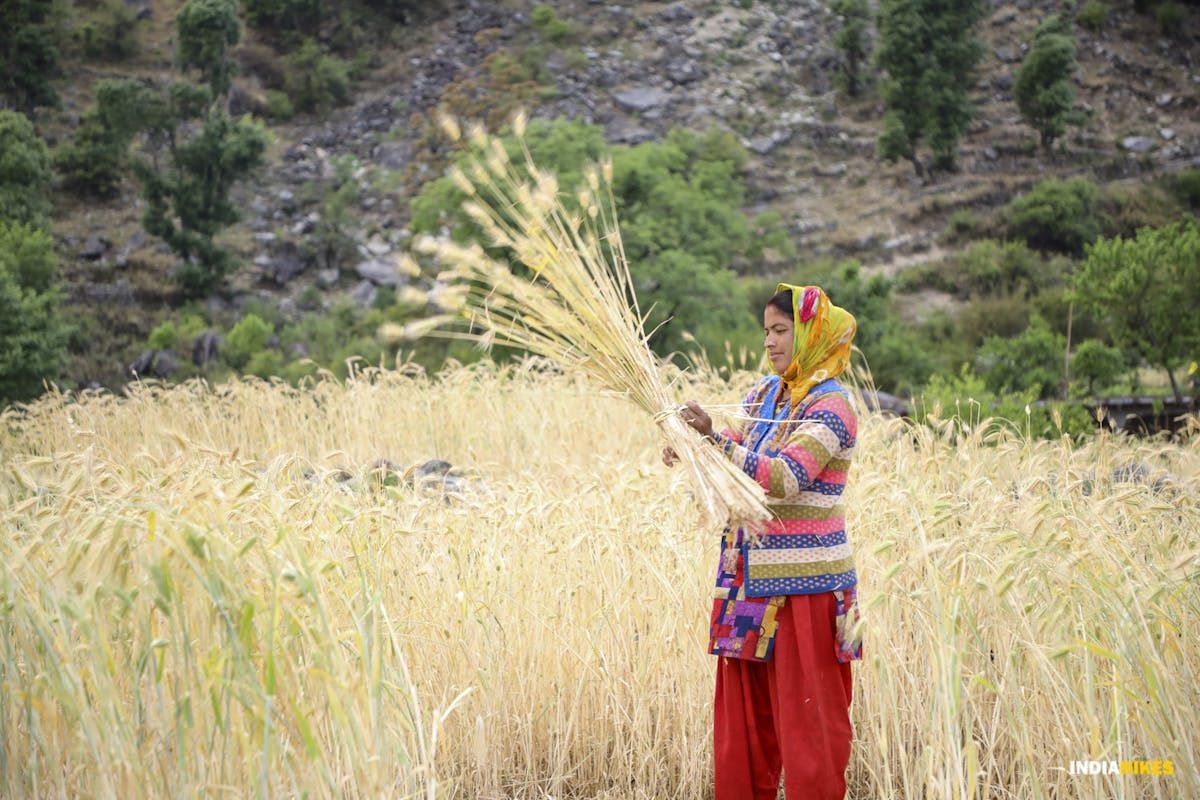 A local cultivating crops. A daily sight in Sari. Picture by Jothiranjan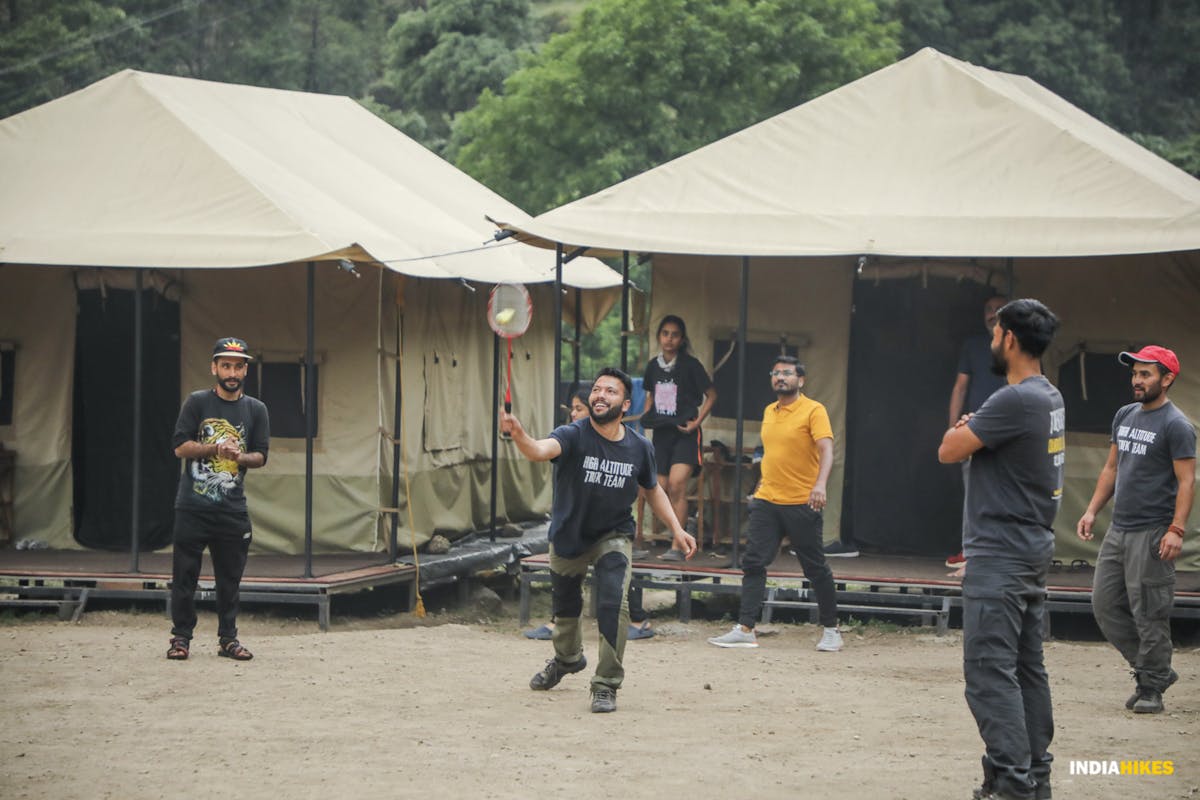 Trekkers and staff playing at the Indiahikes Basecamp. A great place for interaction. Picture by Jothiranjan.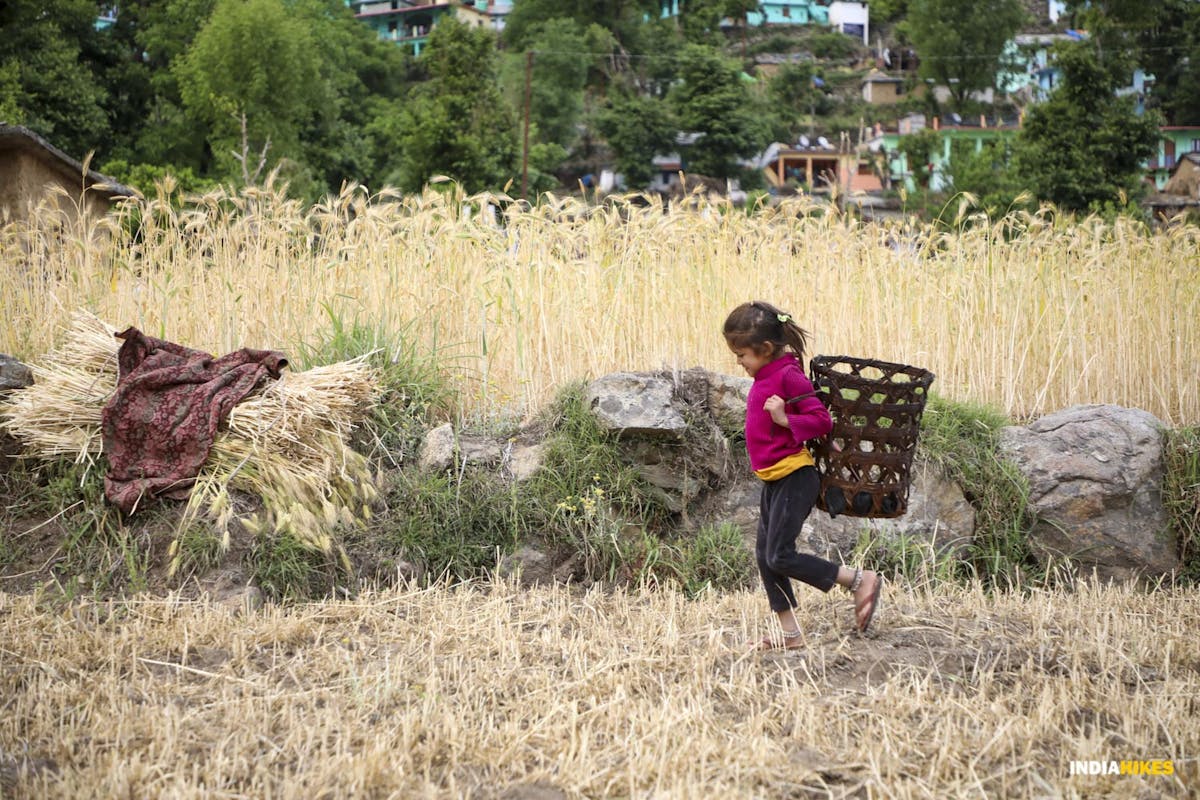 Little girl playing. Another daily site in Sari! Picture by Akshay Kevin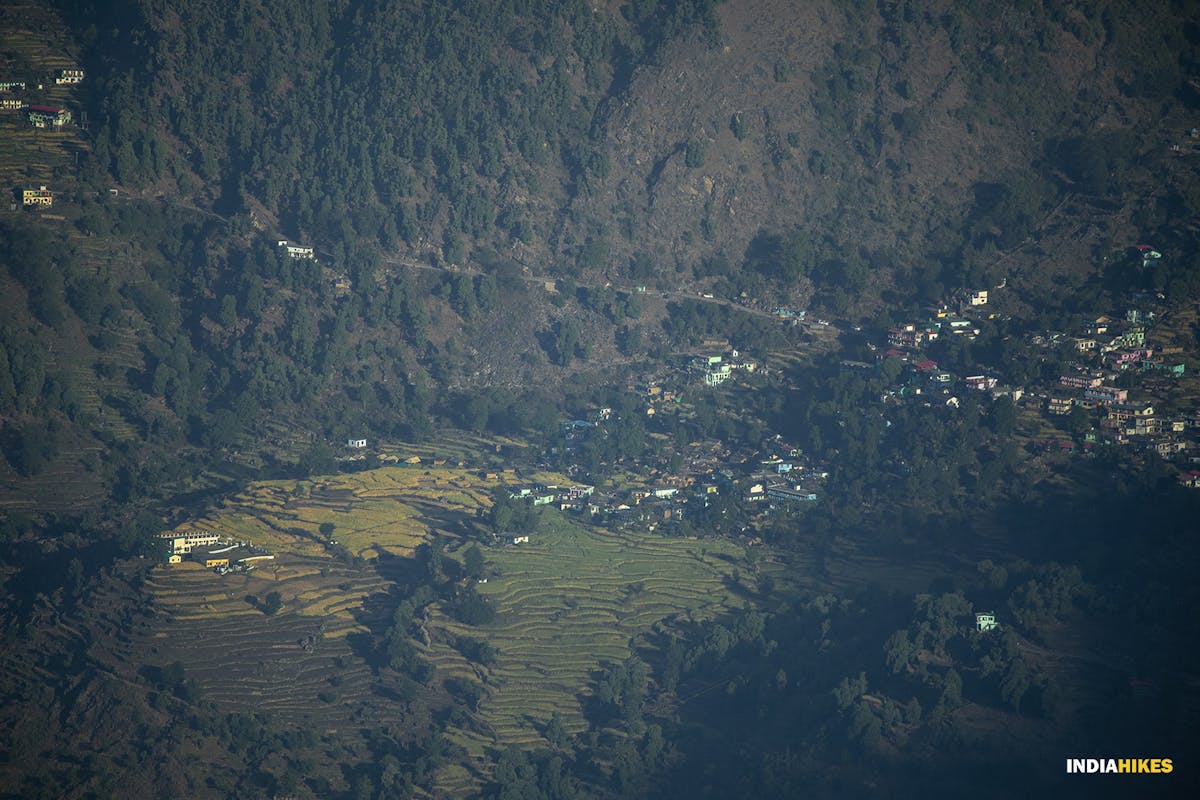 View of Sari enroute to Deoriatal Trek. Picture by Jothiranjan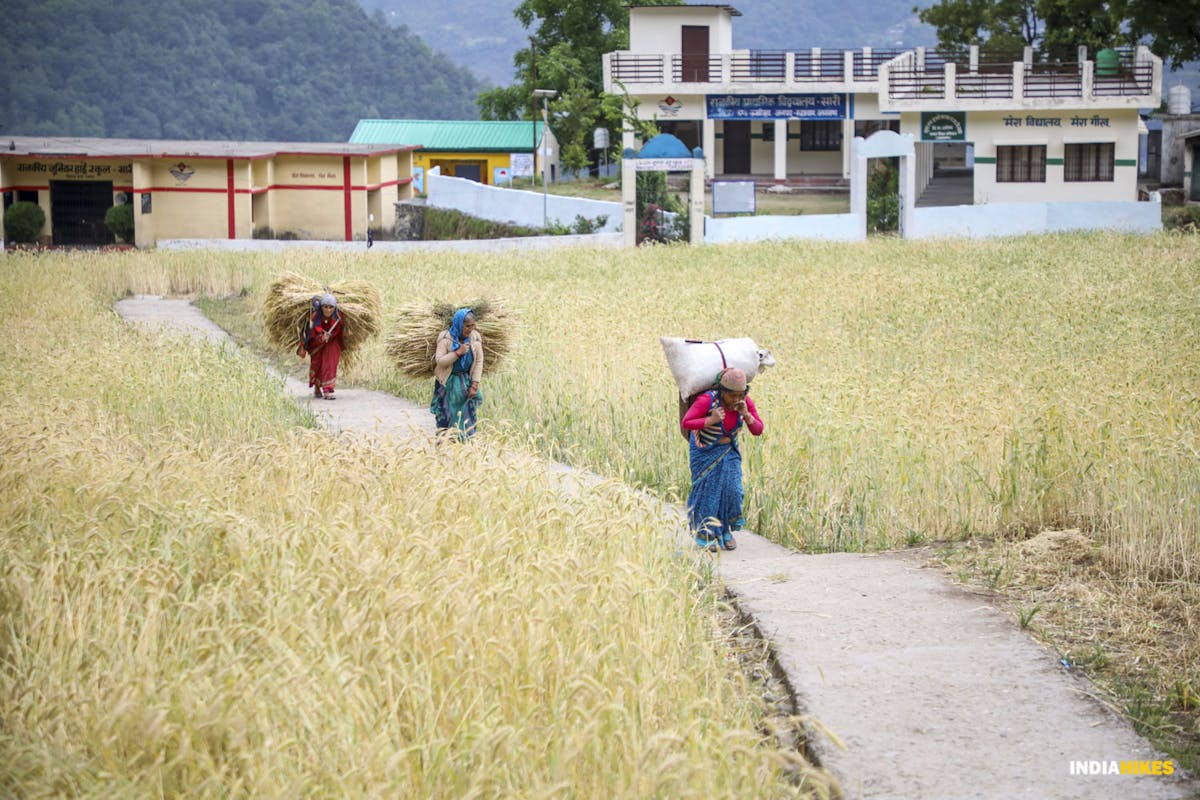 Women carrying bags of crops. Picture by Akshay Kevin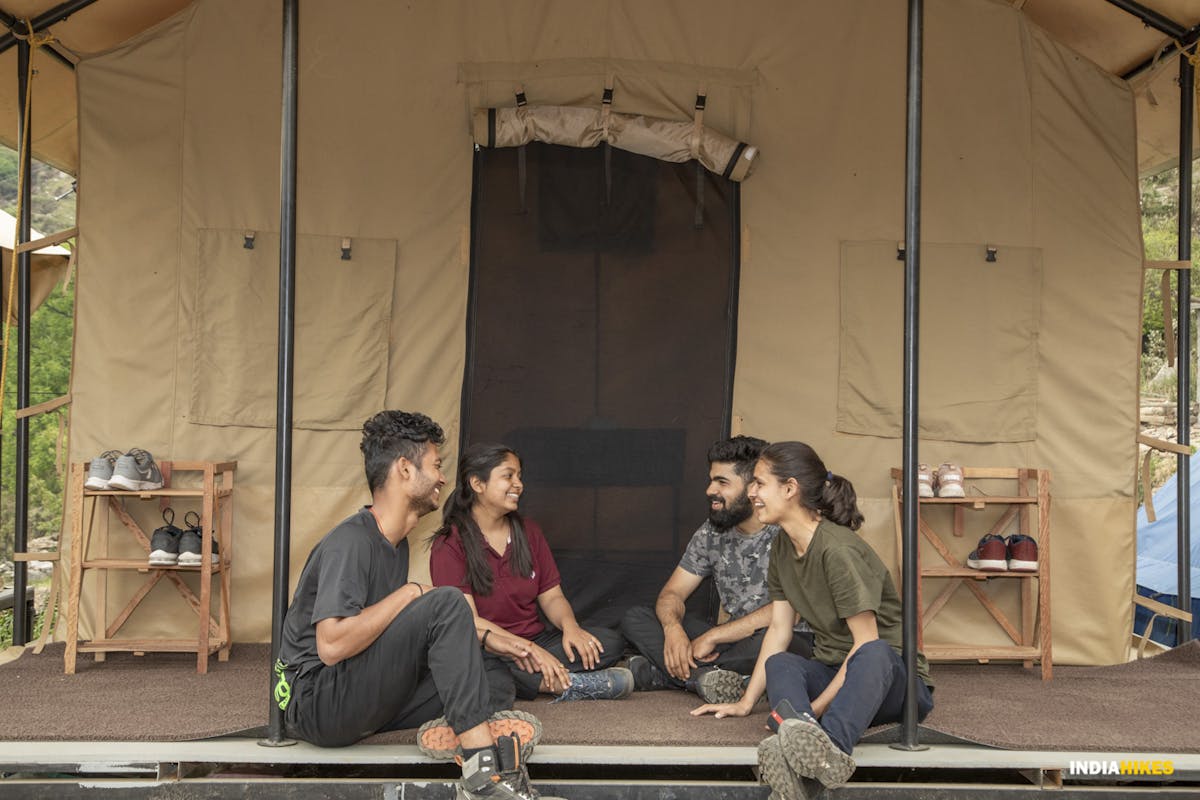 All smiles at the Indiahikes campus. Do give us a visit sometime! Picture by Jothiranjan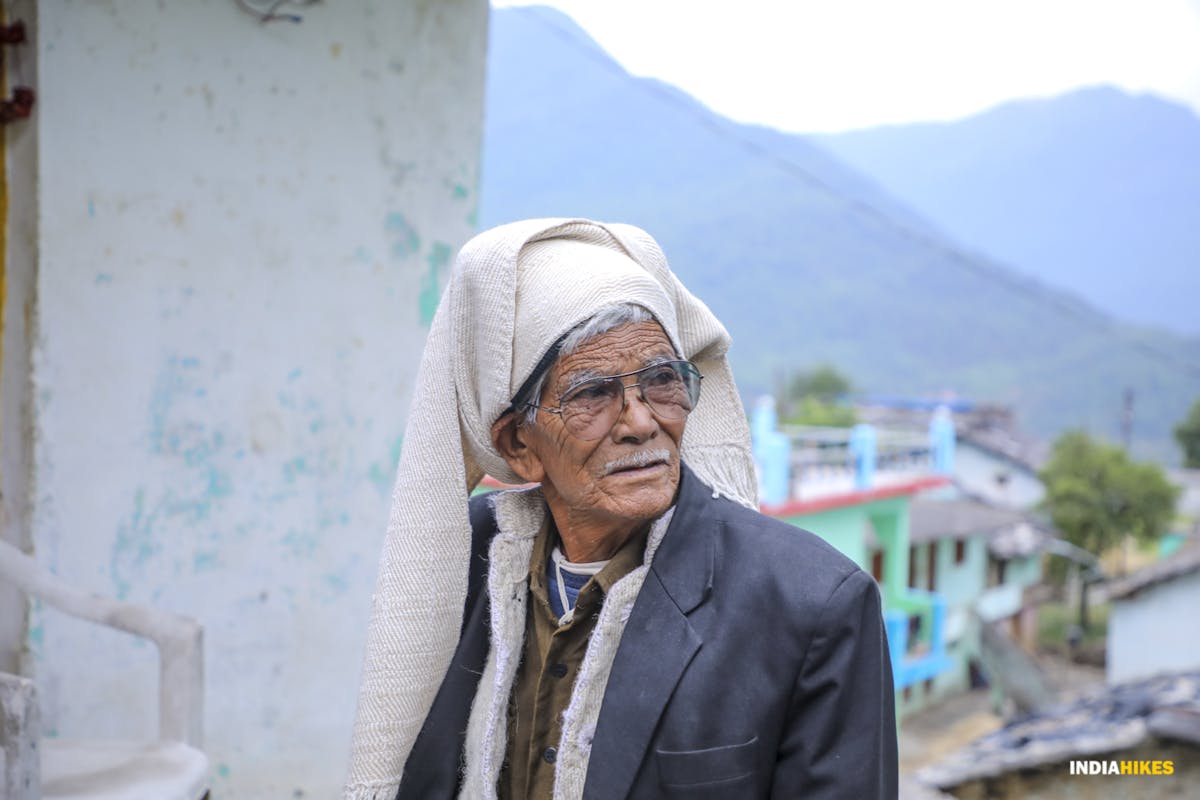 Local onlooking as Trekkers go for the Deoriatal Chandrashila trek. He is more than a 100 years old! Picture by Jothiranjan
Sign up for our much loved Weekly Mailer
We have terrific trekking tips, trek updates and trek talks to look forward to