Latest Updates: Snowy Spring Season On All Our Treks.
Share this story
Latest Updates: Snowy Spring Season On All Our Treks.
Category News
By Aditya Shankar
2018-03-30
S pring has arrived in the mountains! Most of our rhododendron treks have come alive with flowering trees in their full glory. The views everywhere have been spectacular. And there's more. Winter is not ready to leave yet – with frequent snowfalls on most of our treks, our trekkers are having the best of both worlds.
Scroll down to see what I mean. But before that, let me tell you, if you want to plan a trek, now is the time to do it. These weather conditions will stay for another month. So pack your bags and get going!
Kuari Pass
If the beautiful forest trails, outstanding campsites and mountain views were not enough reasons for you to choose this trek, then let me give you another reason – regular, fresh snowfall. Yes, you heard it right. Kuari Pass is refusing to let the winter go. With snowfall on most days last week, the trail at places has snow as deep as 2-3 ft. The beautiful meadows of Gorson Bugyal have turned into snow-dunes. Trekkers going there this month can expect to see India's own Winterfell. Word of caution: please carry enough warm layers to protect yourself from the cold. Read this article to know more.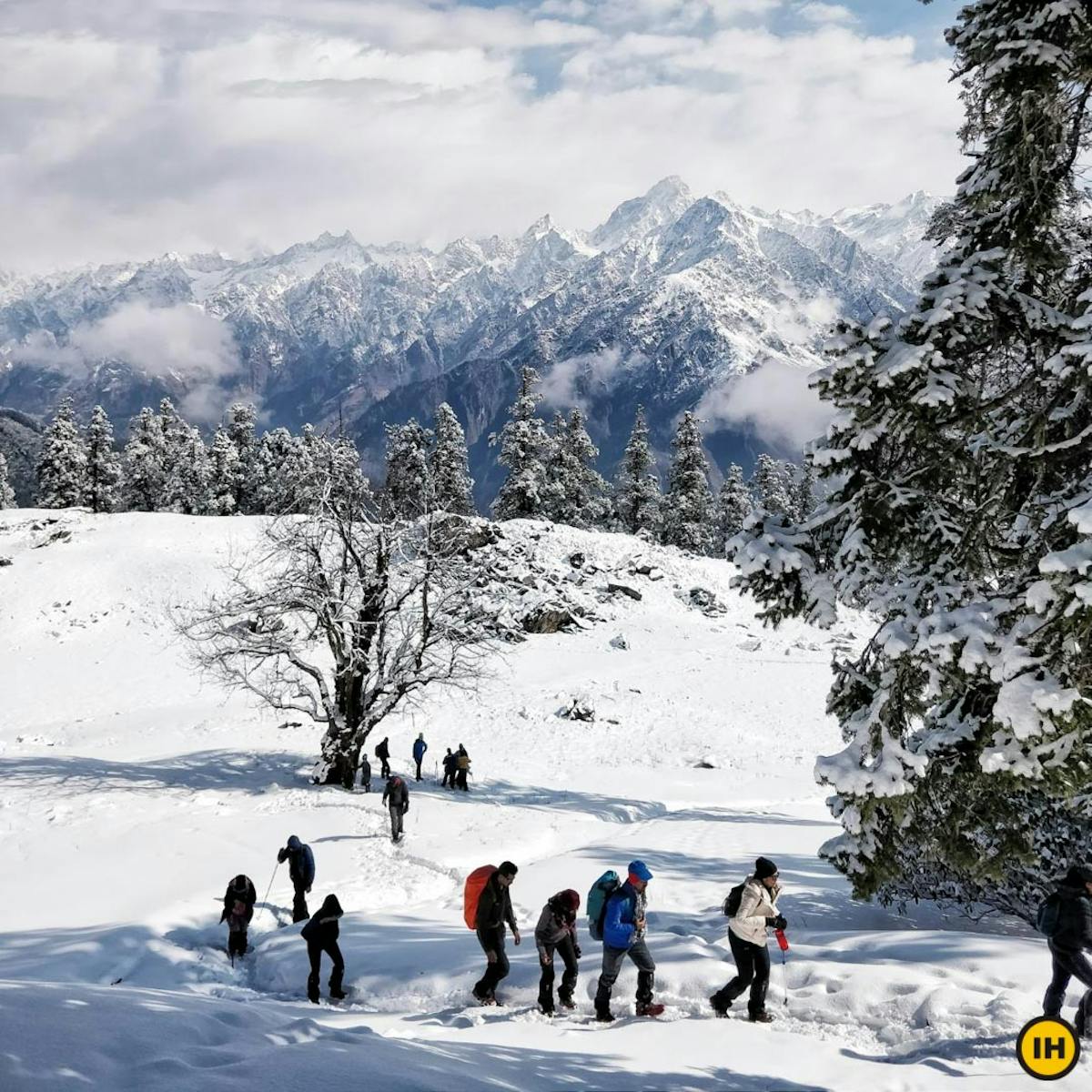 Trekkers make their way through the snowy trails of Kuari Pass. Picture by: Vishnu Vasudevan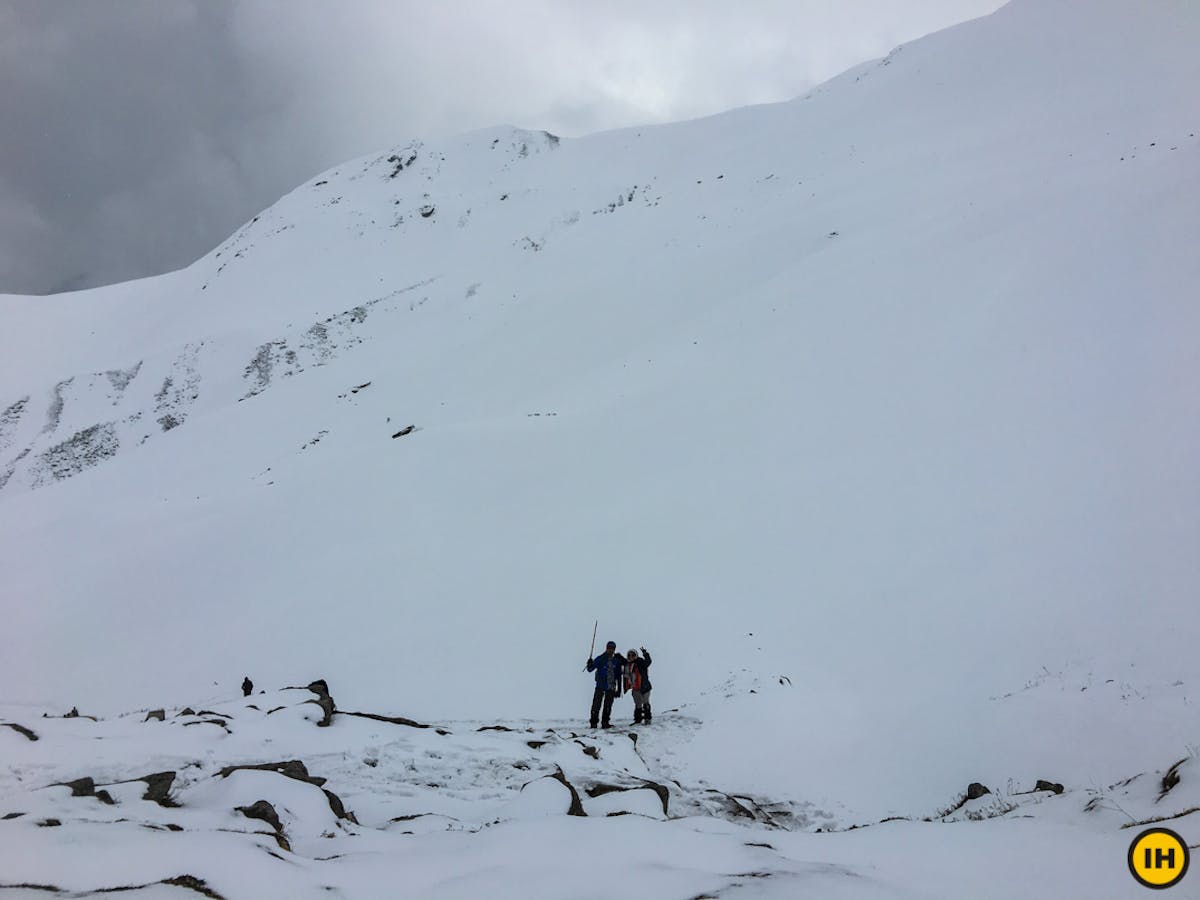 Wall of Snow? Nah! Gordon Bugyal meadows in Kuari Pass. Picture By: Wong Tsu Haw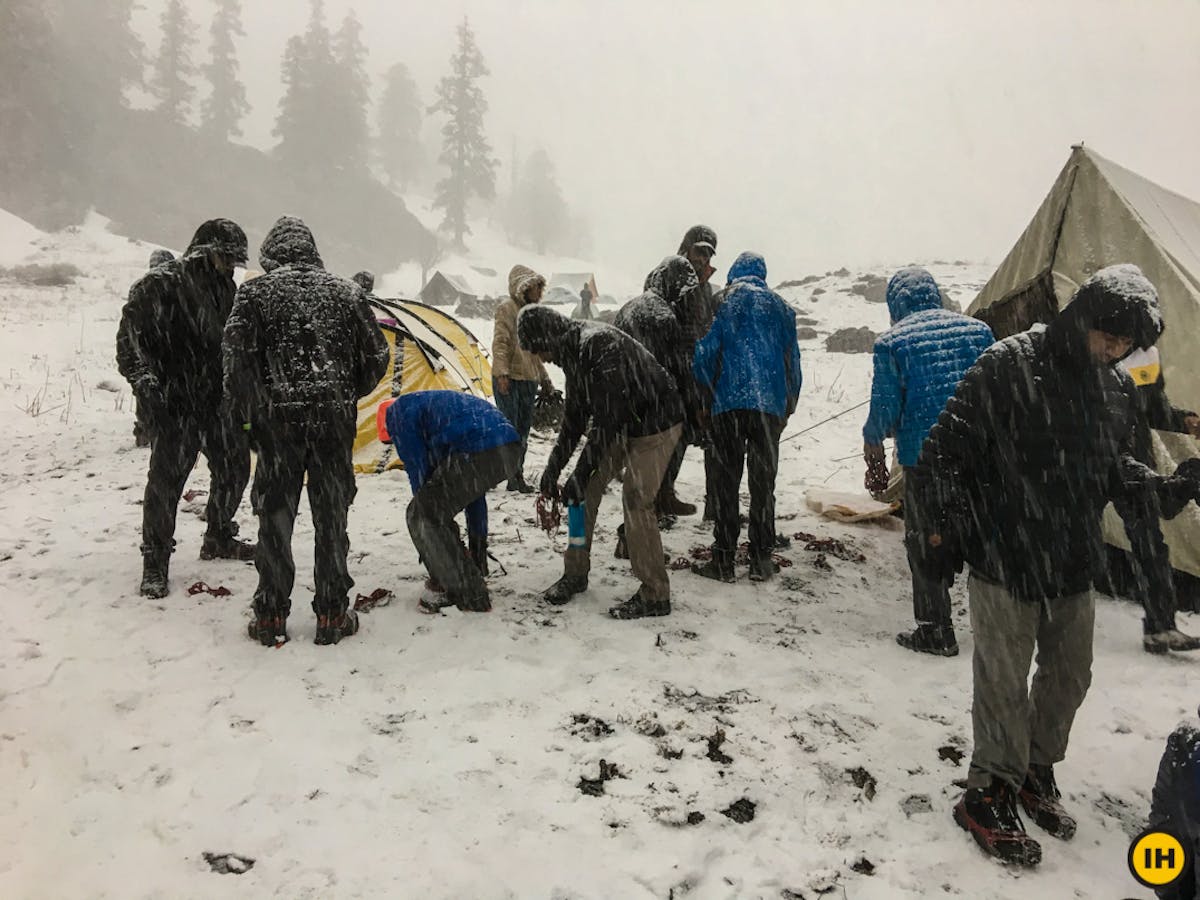 Trekkers play in snow at the Khullara Campsite. Picture by: Wong Tsu Haw
An Alternative Trek To Prashar Lake
We've completed all batches of Prashar Lake trek for this season. Being a weekend trek, we encourage trekkers to do this trek on their own. Interested trekkers can go through the documentation on the website.
For those of you who still want the fun of an organized weekend trek, head over to Kheerganga Buni-Buni Pass trek in Himachal Pradesh. The excursion to Buni-Buni Pass stands out as a jewel, as trekkers climb out of crowded Kheerganga and into the dense oak forests.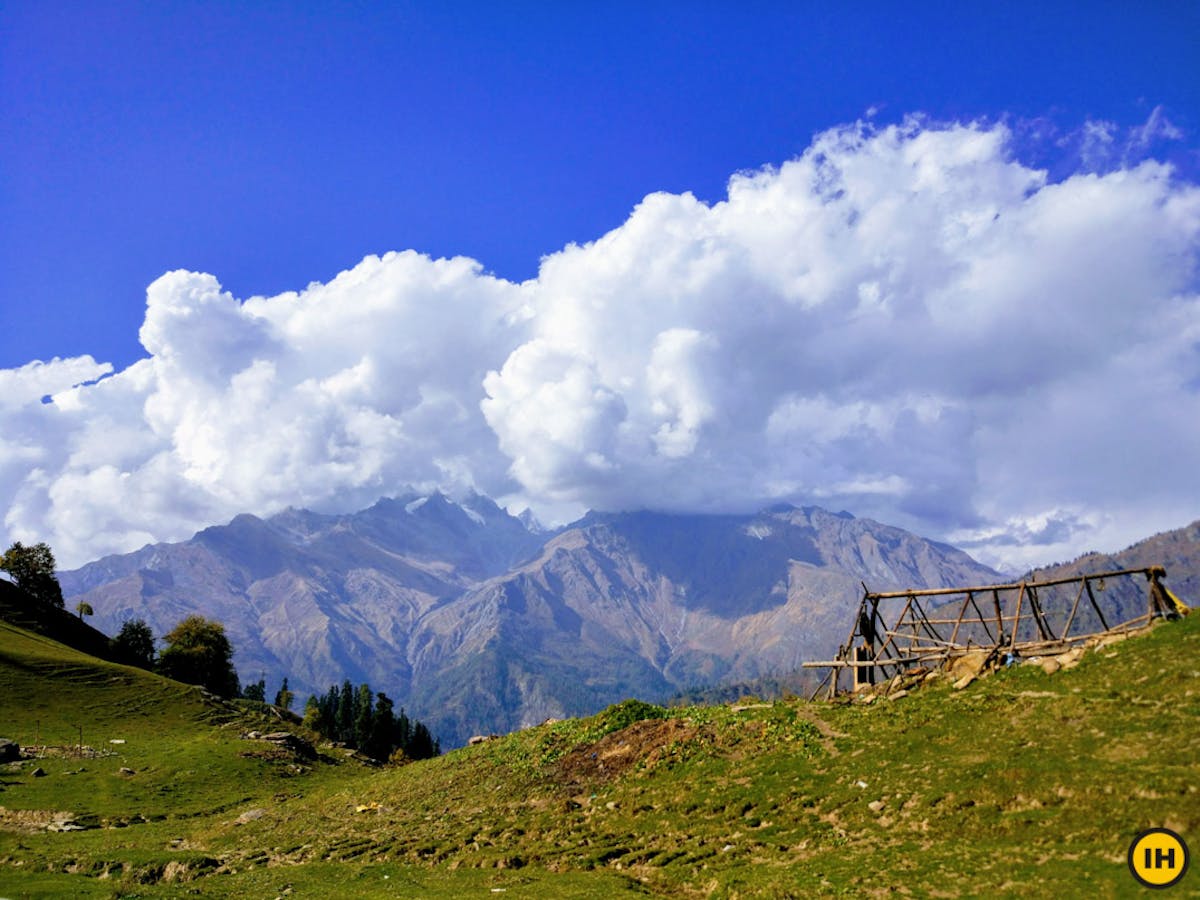 A shepherd's camp on Buni-Buni Pass. Picture By: Manish Kumar
Nag Tibba
This trek in the Garhwal Himalayas near Mussoorie is getting frequent rains. Much rainfall is expected in the coming week. We suggest all trekkers carry a poncho and a good pair of trekking shoes. Being a weekend trek a lot of trekkers come in regular sports shoes. Our Trek Leaders warn that this could be dangerous due to slippery forest trails in such season. Trekkers going on this trek need to pay proper attention to their footwear.
Har Ki Dun
Har Ki Dun is giving tough competition to Kuari Pass in terms of total snowfall received, as it had a snowstorm yesterday. All our trekkers are safe and sound. Few tents were damaged and had to be repaired once the snowstorm subsided. Our trekkers were very excited to have experienced a snowstorm. Once the weather cleared they cheerfully assisted the local staff in digging out the tents and played with fistfuls of snow.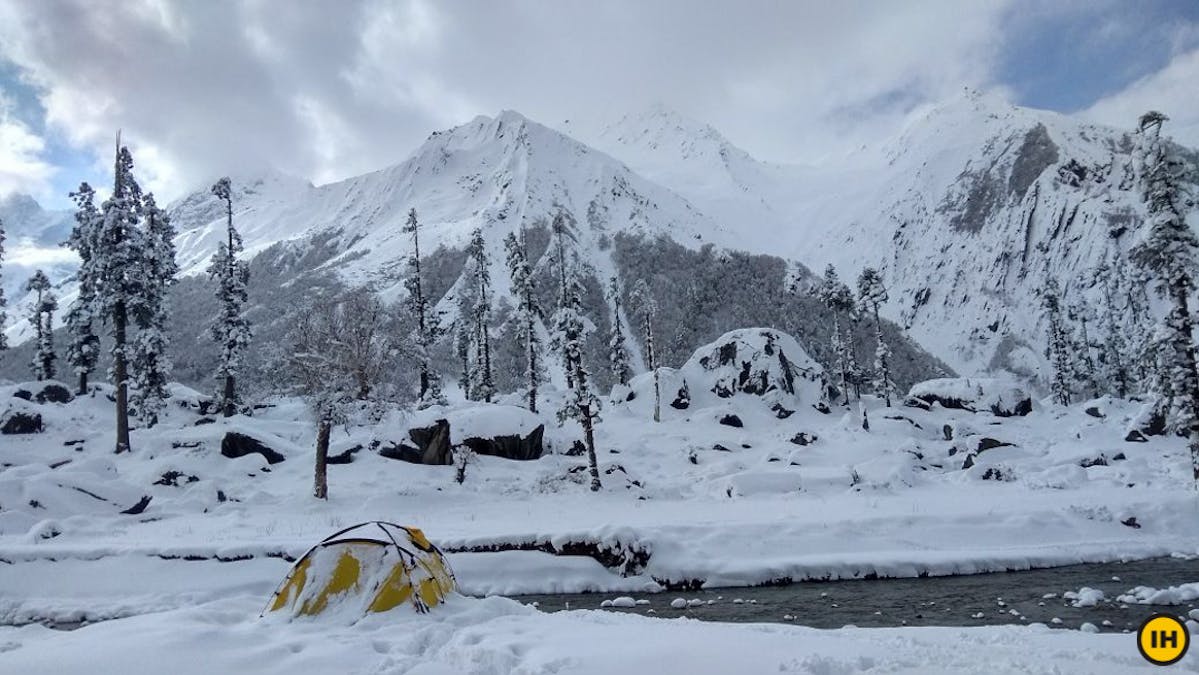 The Har Ki Dun campsite buried in snow. Picture By: Saul Matthew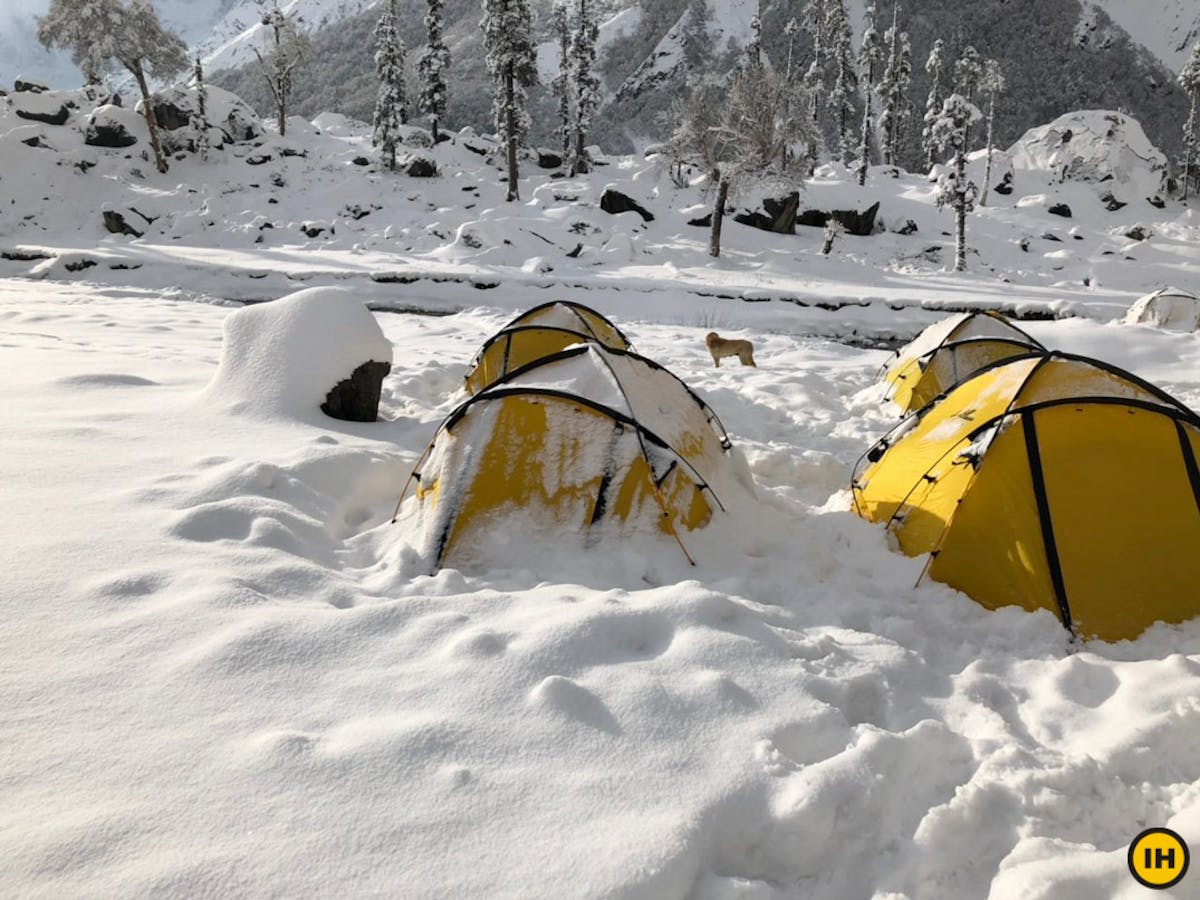 Another angle of the Har Ki Dun Campsite. Piture By: Akash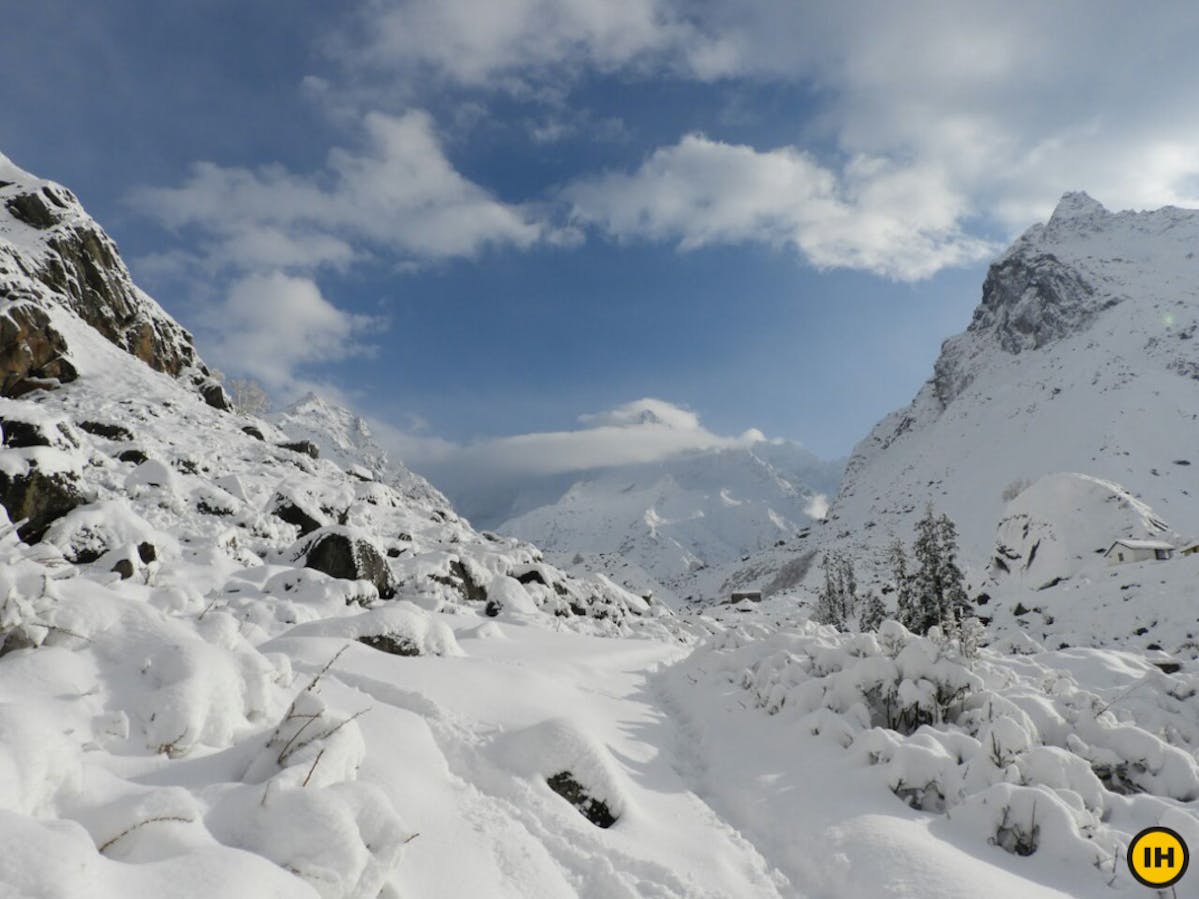 Snow as deep as 2-3 feet on the way to Har Ki Dun. Picture By: Niloy Sengupta
Deoriatal Chandrashila
The well-behaved, good boy of Uttarakhand treks – Deoriatal Chandrashila has had good weather throughout last week. Not a lot of snow on this trek, but the weather is favourable with a sharp decline in night temperatures.
Trek Leader Naada recommends being well-prepared for this trek since the third day of this trek involves trekking from Deoriatal (7,841 ft) to Chopta (8,790 ft) via Rohini Bugyal – a tough trail of 14 km. Furthermore, the subzero night temperatures have led to the formation of verglas. Be careful while walking over them. Do not rush over them since they are slippery and lead to injurious falls. Do take help of your trek leader and fellow trekkers.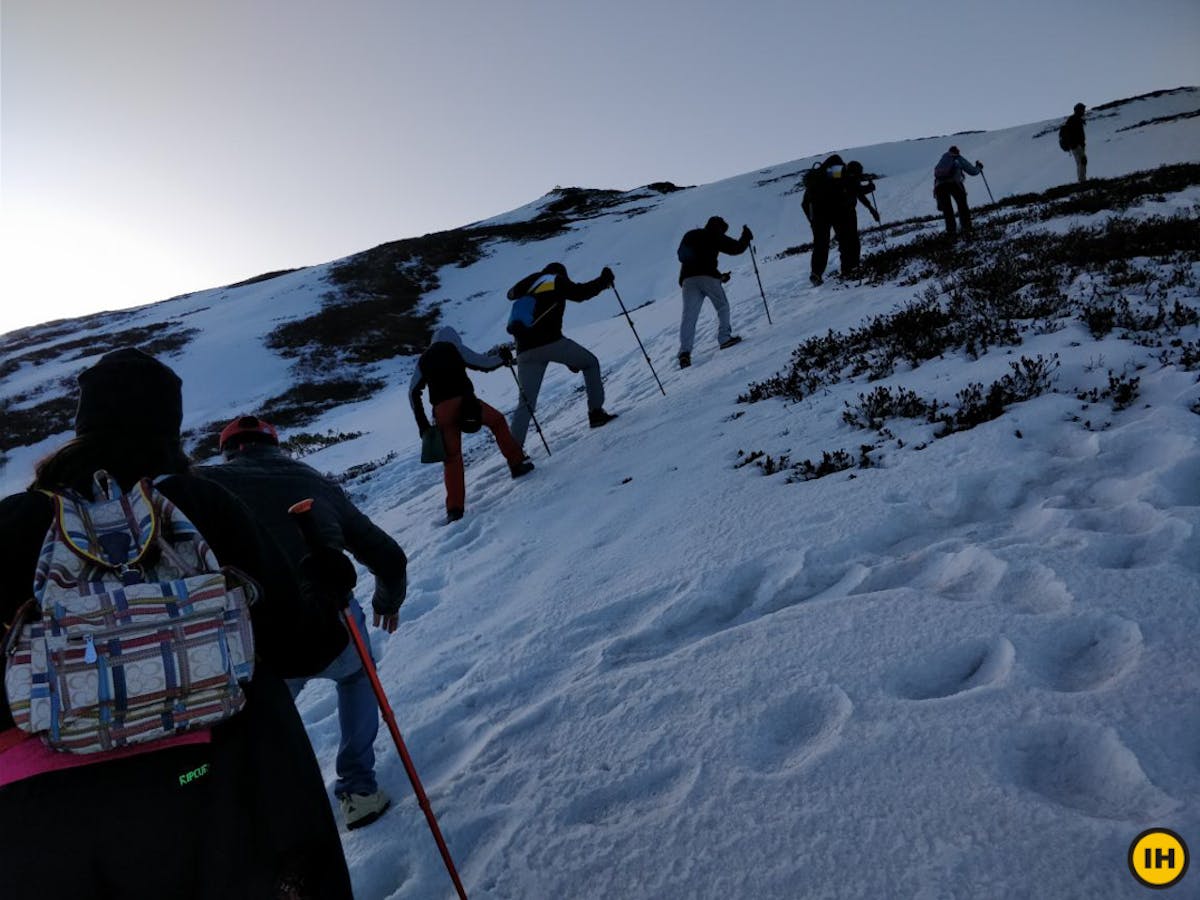 Trekkers make a beeline while ascending the snowy slopes of Chandrashila.
Sandakphu
The grand old Sandakphu trek of West Bengal had some hailstones and snow last week. All trekkers were pleasantly surprised. The weather has been clear throughout giving trekkers beautiful views of Mt Everest and the Sleeping Buddha. All batches are running smoothly without any hindrance.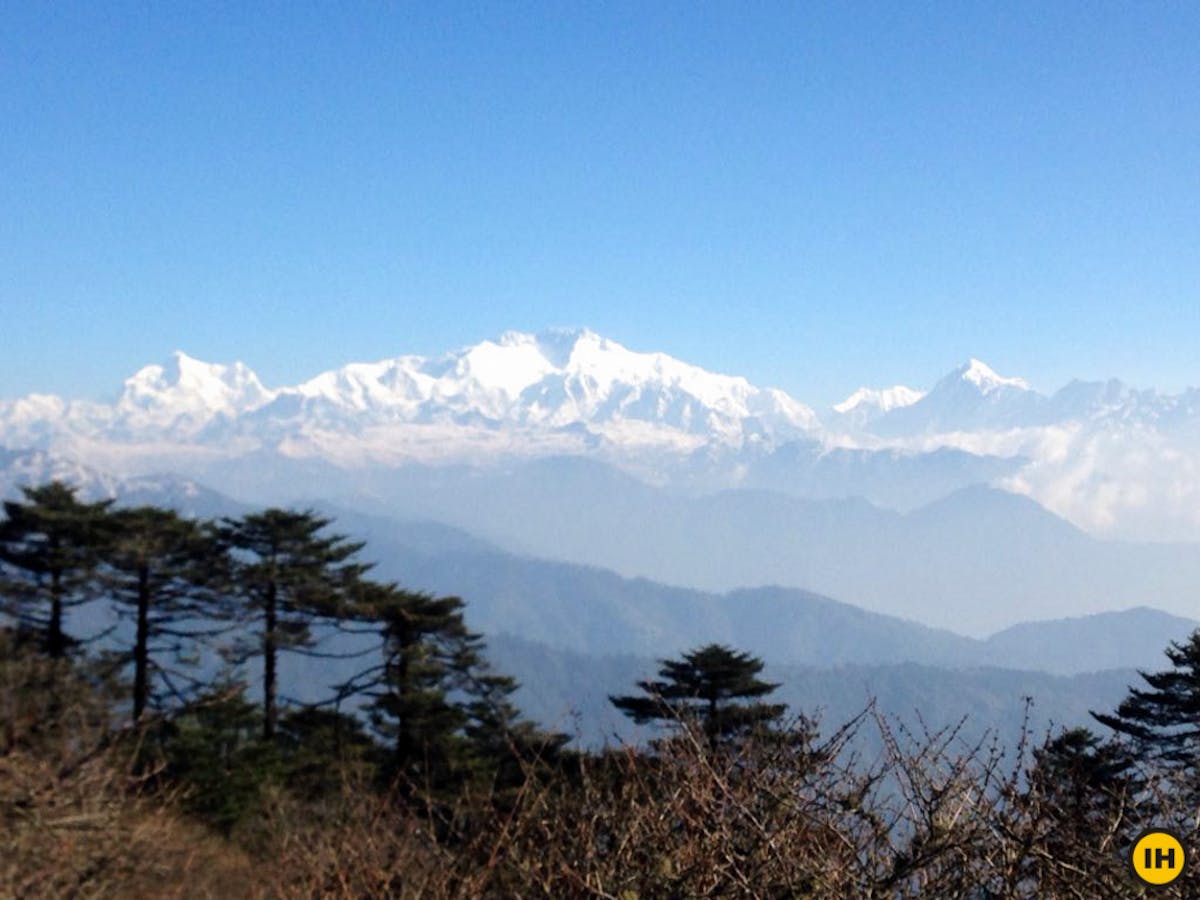 The Sleeping Buddha stretched across the scenery on the Sandakphu Trek. Picture By: Mahendra
Brahmatal
The season for this grand winter trek is now coming to a close. Trekkers welcomed the new descent route via the Tilbudi camp. Although this new campsite has had plenty snowfall, there has been an issue with drinking water. Due to the absence of any natural source of water nearby, it is getting tough for our operations team to meet the water requirements. Hence, the last 2 batches of this season will be taking the old route via the Brahmatal Top. Check out few pictures of this trail below: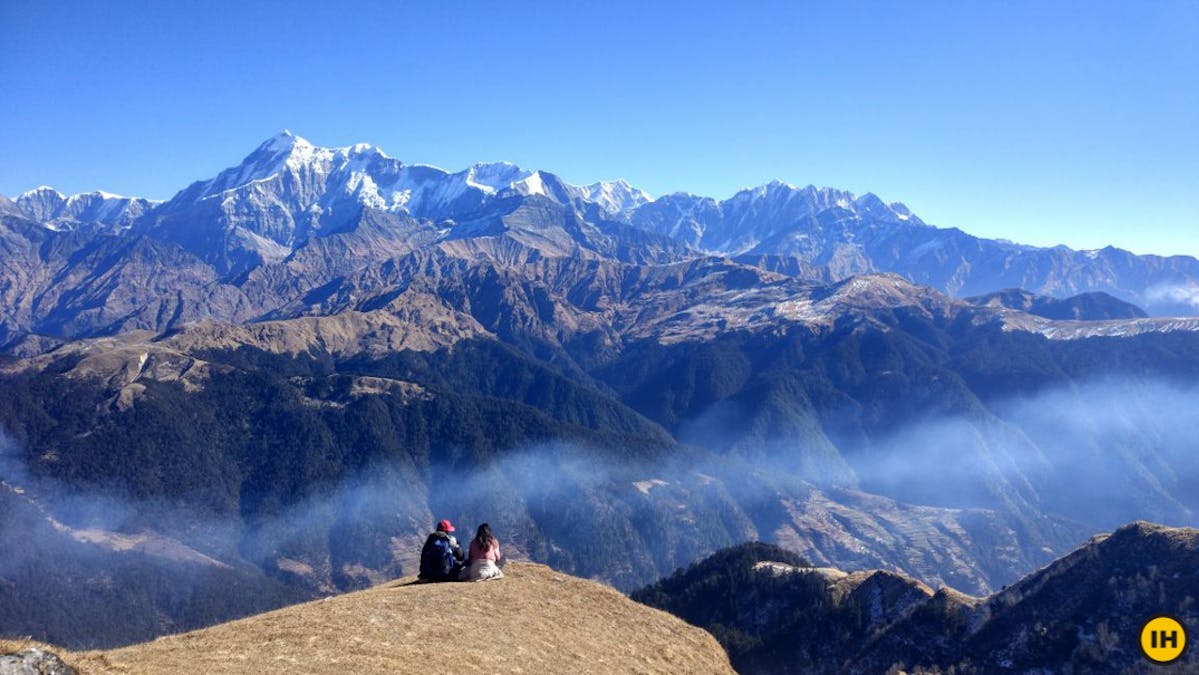 The mesmerizing view from the Brahmatal Top.
Kedarkantha
We absolutely love this evergreen winter trek, and why not? This trek has given so much joy to all our trekkers with its regular snowfall, vast forest clearings and some picture perfect campsites.
Last week was no different. Trekkers had the time of their lives as they enjoyed every second on the Kedarkantha trek. The happiness on their faces as bright as warm sunshine on a wintery morning. Check out some beautiful pictures by our trekkers below: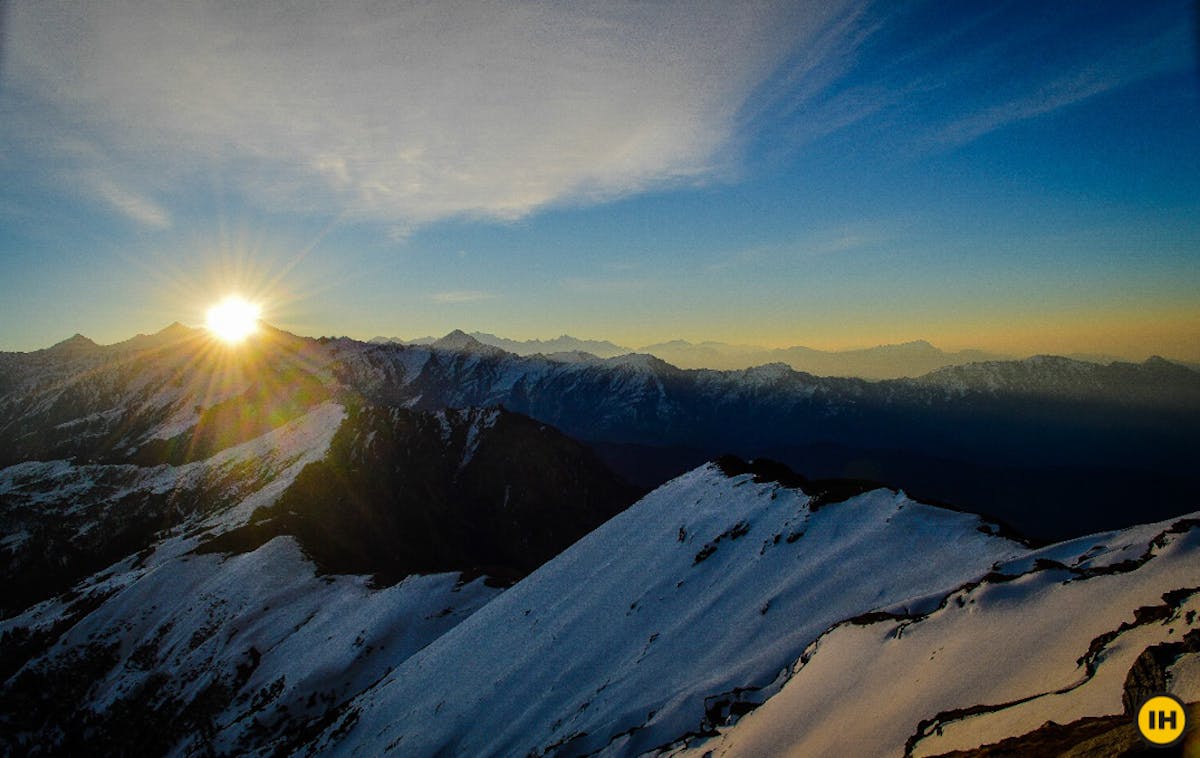 Sunrise behind the mountain ranges as seen from the Kedarkantha trail.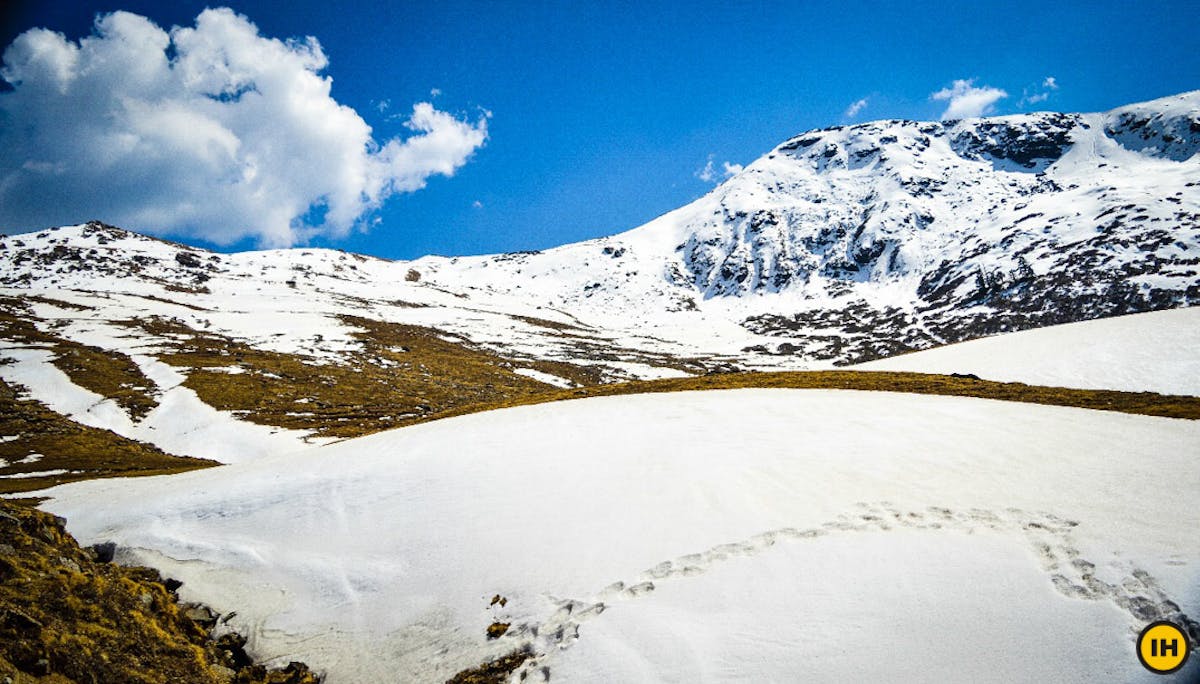 Meadows on the Kedarkantha trek enveloped in snow. Picture By: Mano Shankar.
Dayara Bugyal
With the onset of spring, the best meadow trek in India is now filled with rhododendrons. The trek is absolutely a sight to behold. To top it all, snow came in few days during the last week and gave trekkers the best of both worlds. Now is absolutely a terrific time to go on the Dayara Bugyal trek. Being an easy-moderate trek we recommend this trek to all families. Come over with your children and let them have a wonderful taste of the Himalayas.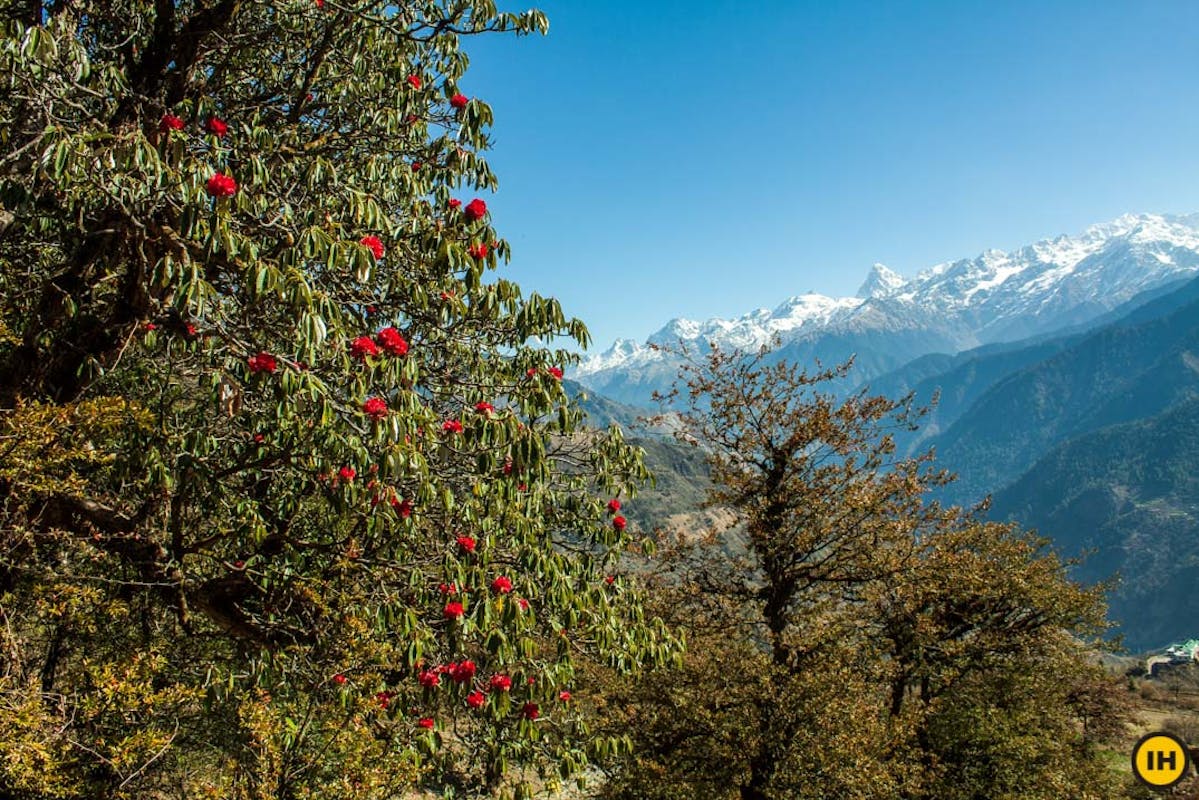 Rhododendrons on the trail to Dayara Bugyal. Picture By: Amar
Everest Base Camp
Our first batch for Everest Base Camp is going to start tomorrow. Trek Leader Karthik and managers – Dhansingh and Mukesh reached Kathmandu last week. A batch of trekkers who were scheduled to arrive at Lukla today got delayed due to bad weather but are expected to reach tomorrow in the morning. All trek preparations are complete and we are eagerly waiting to welcome our trekkers at Lukla.
On a side note, in an amazing feat of achievement, our Trek Manager Dhansingh trekked all the way from Kathmandu to Lukla – an astounding distance of 56 km in 3 days. This distance is usually covered by most people via bus or an airplane, but our Dhansingh had different plans. Here's a picture of him post the trek: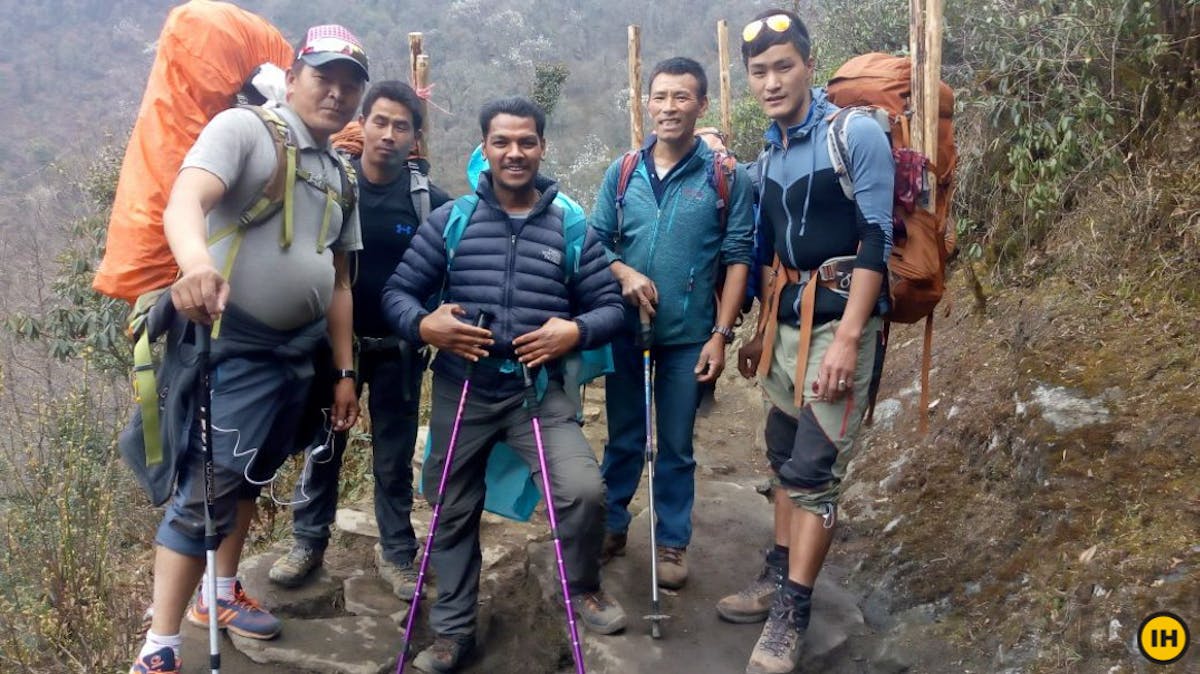 Our Trek Manager Dhansingh poses with local trek guides after completing his trek.
Annapurna Base Camp
The first batch of Annapurna Base Camp left last week under our able Trek Leaders Geet Tryambake and Himanshu Thapa. Although the weather is cloudy with heavy hails and snowfalls, the trek is running at the scheduled time. Check out this picture below: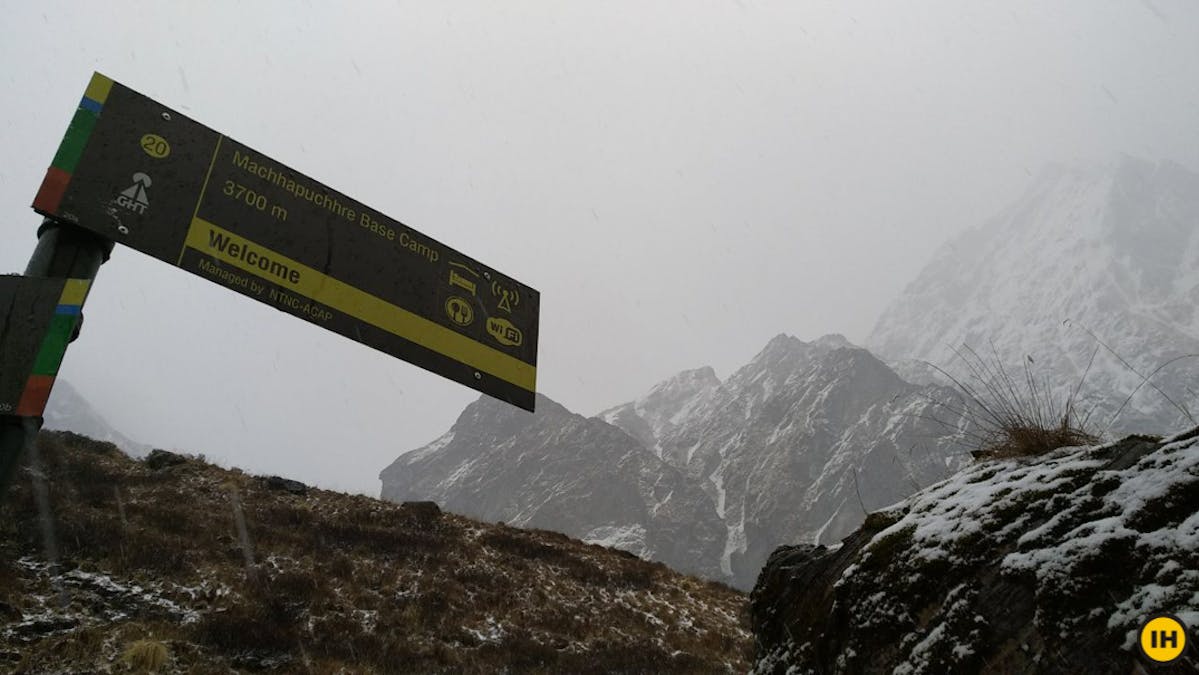 Hails mark the trails to Machapuchare Base Camp. Piture By: Geet
That's it from the mountains this week. I hope you have decided on a trek by now. Just go to our Upcoming Treks page or comment below if you need help in choosing a trek.
Important Note For Kedarkantha And Har Ki Dun Trekkers
Due to Forest Department's rules, all trekkers to Kedarkantha and Har Ki Dun need to submit their ID Cards and receipts generated from Govind Pashu Vihar website. For more information drop in an email to Suhas@Indiahikes.com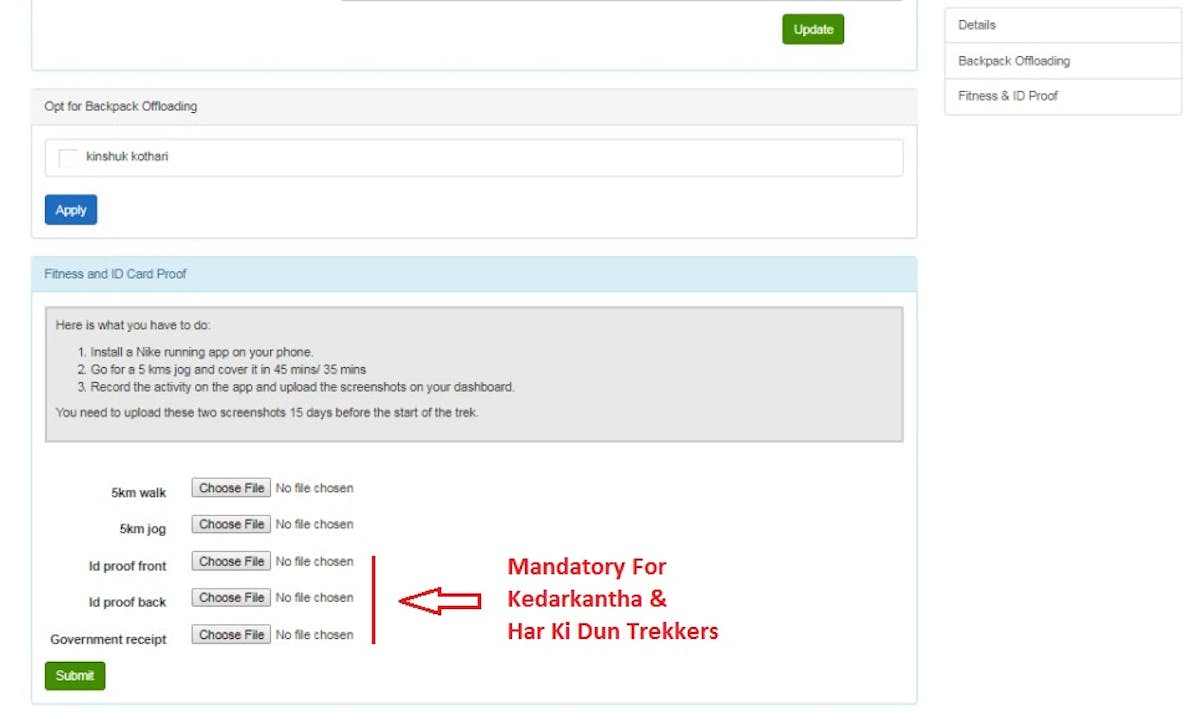 Snapshot of the new mandatory feature in the Booking Dashboard.
New posts on the website
1. Green Trails Updates: Read this post to know how locals in Lohajung, Sari and Jaubhari came together to participate in the Green Trails Mission.
2. Author's Pick: Debate: Why 'Altitude Sickness' is killing the spirit of exploration – Our editor, Swathi has drafted a brilliant piece of observation and is looking for your thoughts on it. Go over to the article and express your views, now!
Sneak Peak – Behind The Scenes Of A Trek
Before I sign off, I want to tell you the amazing work put in by our Operations team to bring a 'once-in-a-lifetime' trek experience. The way they gear up for the peak trek seasons is beyond comparison. Our Operations Head Manish Pasad has been having sleepless nights coordinating with all stakeholders.
Just to give you an estimate of the rationing in one season, we buy close to 13 tons of wheat and rice. Add to it the various types of trekking equipment (tents, sleeping bags, microspikes, trek poles, etc.). All of this then needs to be transported to various base camps using trucks and minivans. Such activities create immense employment opportunities for locals across inventory management, transport, finance and other support roles. Close to 100 locals work with us in managing a trek all through the season. Here's an article that speaks more about it.
I am telling you this just to give you a picture of what goes behind the scenes in making your trek experience a unique one. We honestly believe that we can still improve and hence ask for your feedback in all ways possible. Do comment below and tell us what you think of this. Looking to hear from you.
What you should do now
1. If you want to work with us: Head over to our careers page. We have lots of positions open. We also have lots of applications coming in. So the sooner you apply, the better.
2. If you ended up here by chance and were actually looking for treks to do: Then head over to our upcoming treks page. You'll find all our Himalayan treks there.
3. If you want to see the 13 best treks of India: Then get our free guide here.
Sign up for our much loved Weekly Mailer
We have terrific trekking tips, trek updates and trek talks to look forward to