Stok Kangri Trek - 2013 Photo Contest
Share this story
The contest results are out !  The top three winning photos are below. Our Judge Srinivasa Prasath shares with you why the pictures turned up winners. Post your comments below.
First Prize: Priti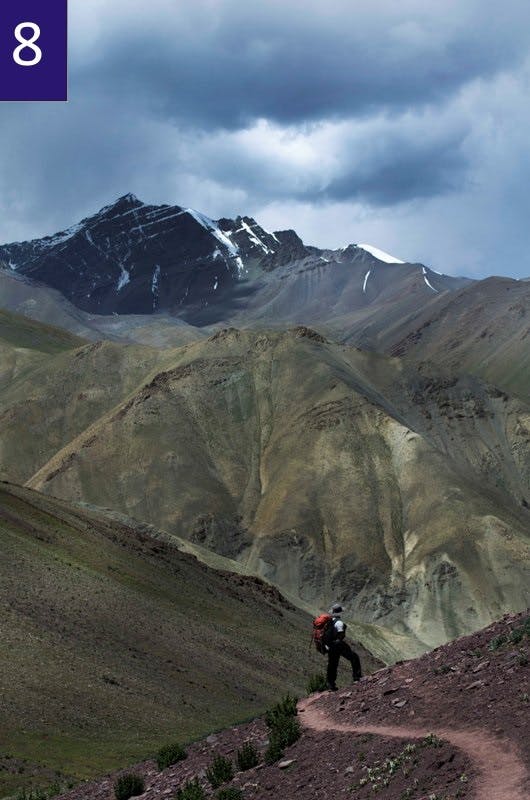 I can and I will.
Lsp says "Totally love the trail time story telling aspect of this photograph! A person viewing this photograph can literally feel with the trekker. This picture has passion and 'never give up' attitude written all over it! First off, it was a great choice of the photographer to go for a vertical composition in this case, inspite of a landscape scene. Vertical orientation highlights strength. Majesty of the towering target and the inner strength of the trekker complements each other very well in this composition. Secondly, clever use of layer separations. Placement of foreground subject is brilliant with the curving trail leading the viewer's eye to the subject comfortably. Midground is the majestic target waiting to be scaled. The tormenting scary clouds form a dynamic background to this picture. All adding a certain degree of interestingness to this photograph! Exposure is well chosen and the depth is perfect. I can see both the trekker and mountains in sharp focus and clarity. There are natural lines running everywhere inside the frame creating a visual sense of dynamism overall. Without doubts number ONE in this contest!"
Second Prize: Gurunandan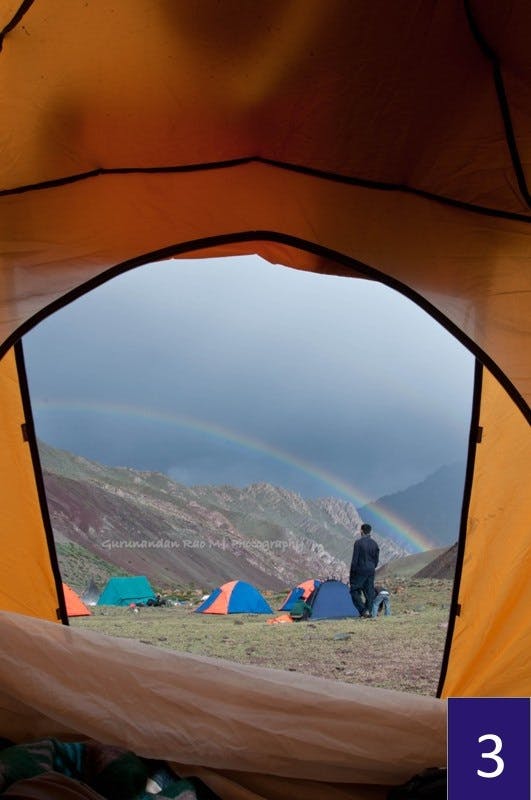 Rainbow, an apology for the bad weather
Beautiful framing of the scene using the opening of the tent. Have to appreciate the photographer for his presence of mind to use this available window to create a frame within a frame, which creates a more compelling composition and a three dimensional feel. Also the POV is well chosen. It creates an illusion of giant movie screening happening inside the tent! The positioning of subject is good and the clear rainbow in the background adds a lot of interestingness to this photograph. Exposure is good and there is a uniform soft light all over. As far as displaying the depth is concerned, just wish the photographer included something in the immediate foreground that a viewer can associate closely, like a pair of relaxing legs would have generated that impact. It would have also created a more stronger foreground and a clear 3 layer separation inside this frame. Nevertheless this is a beautiful depiction of the scene and rightly qualifies to be SECOND in this contest!
Third Prize: Shriram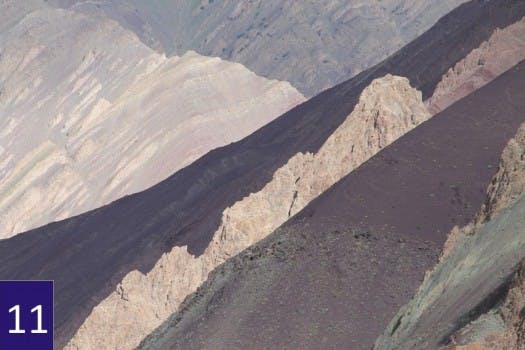 Ups + Downs + Happy + Sad = LIFE!!
Very rarely we get to see a picture with good sense of abstractness in landscape genre of photography! This picture quickly grabs a place in that category. Very well spotted by the photographer. The natural form, texture and tones are brilliantly captured. Alternating bright and dark patterns are really eye catching and very interesting! Use of lines in the composition is brilliant. It was a good idea to tightly fill the frame than a loose composition. Details are sharp throughout the frame. This frame would have been even more striking and powerful in monochrome, for the monochrome highlights the alternating tones, texture and patterns much better than colors. Quickly grabs THIRD position in this contest!
Here are the shortlisted 15 best photos of the Stok Kangri trek. Trekkers were asked to submit their best photos from the trek for the contest.
Our Judges will now run through these photos and choose one among them as the winner. Before the judge chooses, tell us which of these photos deserve the best photo award (use the comments box below).
The photographs selected here are in random order. The numbers attributed to the photos are to identify the photographer and does not denote any ranking by Indiahikes. Use the number and the name of the person to make your comments. Please click on the photo to view the enlarged image.
A note from Indiahikes:
The winners get the following awards from Indiahikes.
The winner of the photo contest gets a Rs 5,000 Trek Voucher from Indiahikes.
 About our Judge:
Our Judge – Srinivasa Prasath is a trekker, traveller and a freelance photographer. A software programmer by profession, he loves to travel length and breadth of this country to document its beauty,  diverse lifestyle and culture of the people. When he takes a break from his mundane life, he simply hangs out in the higher shelves of Himalayas, totally relaxing in the lap of Mother nature. You can find his work here…
For slideshow, click on the pictures..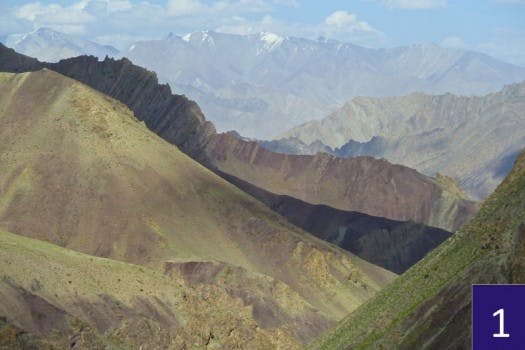 An injustice to what you see for real
1. Photographer: Ganesh Jagadeeshan
Place : Some where near Shang Pu, Photo was taken at around 5:30 in the evening.
"Photo was taken on a stroll to get some water after a days hike. Magic of evening light on the wedgey, textured mountains made me place the camera between myself and the mountains.." says Ganesh on why and how he took this photograph.
Camera Settings : was @ F 5 & Shutter speed of 1/500, ISO 80 & Focal lenght 28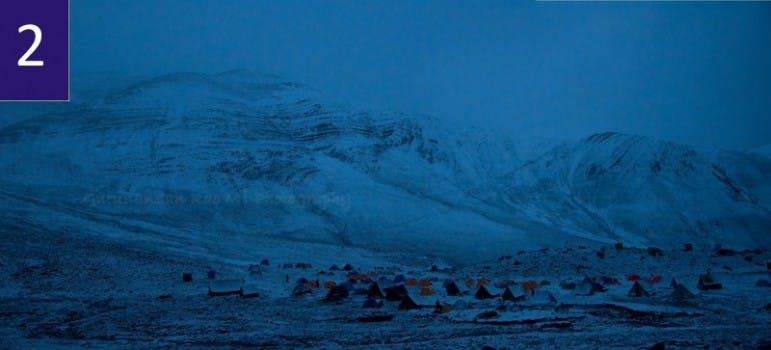 Heights of civilization
2. Photographer: Gurunandan
"The team wakes up for the first attack by the snow. The entire valley of the stock kangry base camp was filled with thick snow. This photo was taken on the first glimpse of day light. Extreme low light but the amazing valley is tried to be captured. At an altitude of 17,000 ft above sea level, Finding all the people with a hope for the weather to clear and continue their trek to the summit is an inspiration that gets you high!" says Gurunandan.
Camera Settings : f-stop- f/3.8, shutter speed- 1/20, ISO- 1250, Focal length- 21mm, camera-  NIKON D90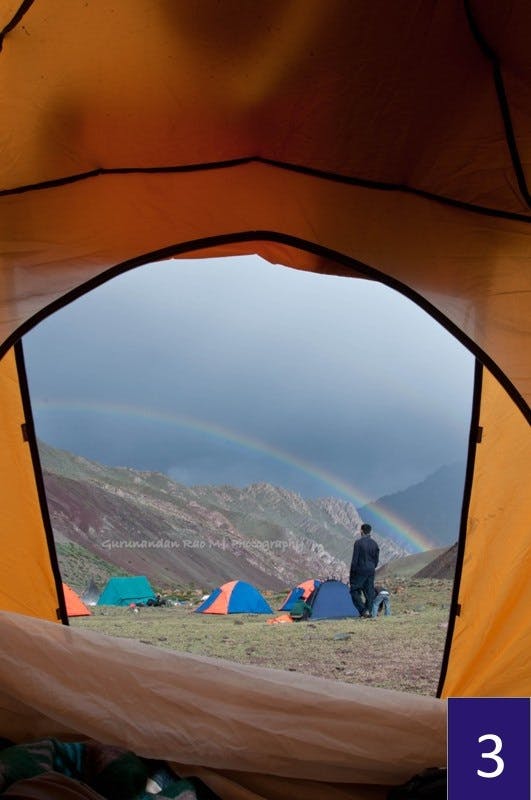 Rainbow, an apology for the bad weather 
3. Photographer: Gurunandan
"The rains hinder our trek all day long and at last when we end the days trek the nature god gives you a beautiful rainbow as an apology". says Gurunandan
Camera Settings :  F-stop – f/22, shutter speed – 1/45, ISO – 200, focal length – 18mm, Camera – NIKON D90.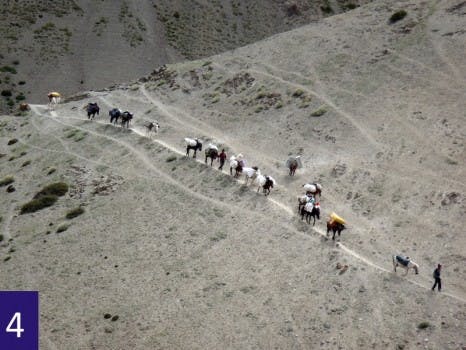 Porters approaching Shang-Phu
4. Photographer: Himmesh
Place : Shang Phu camp @ 12.35 PM on 06 th August
Himmesh says "@ Shang Phu , While waiting for our porters to unload our bags and tents saw these other group coming towards us from other side.."
Camera Settings : Auto…Landscape mode…Olympus stylus tough 8010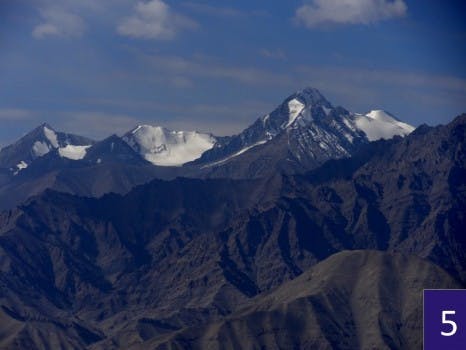 stok kangri forever 😉
5. Photographer: Herby
Place :  10.9.2013; round about 10:00
"It was after the trek on next day in leh .. motivation was to keep the picture of stok kangri into my mind forever ". says Herby on why and how he took this photograph….
Camera Settings : I just have a small camera – Sony cyber shot AVC HD; I used the zoom and a mode called "optimized scene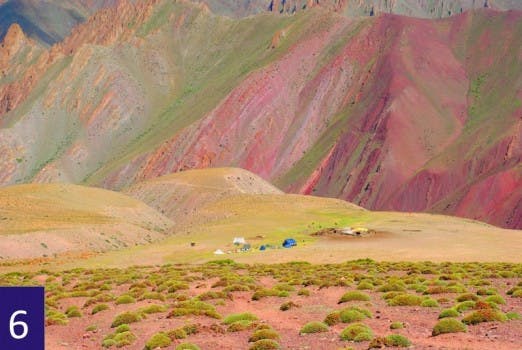 6. Photographer: Kalpesh Dhotre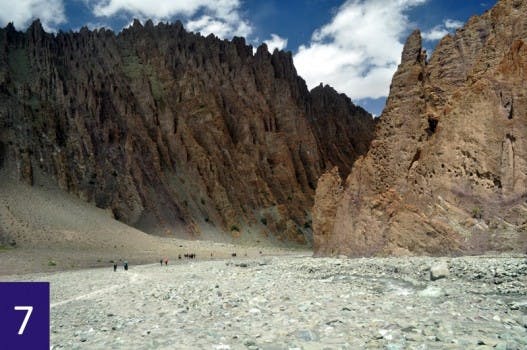 7. Photographer: Parag Lagu
Place : On way to Stok Village from Base Camp,1st September, 2013.
"Walking down from the base camp, I came across these massive rock formations. I framed it to capture the men in the foreground and the formations in the background so as to feel the mesmerizing scale. Looks like ants around a giant ant hill". says Parag on why and how he took this photograph….
Camera Settings : Aperture: f/8, Shutter speed :  1/250, ISO : 320, Exposure bias : -1 stop (to capture the clouds), No flash, 27mm focal length.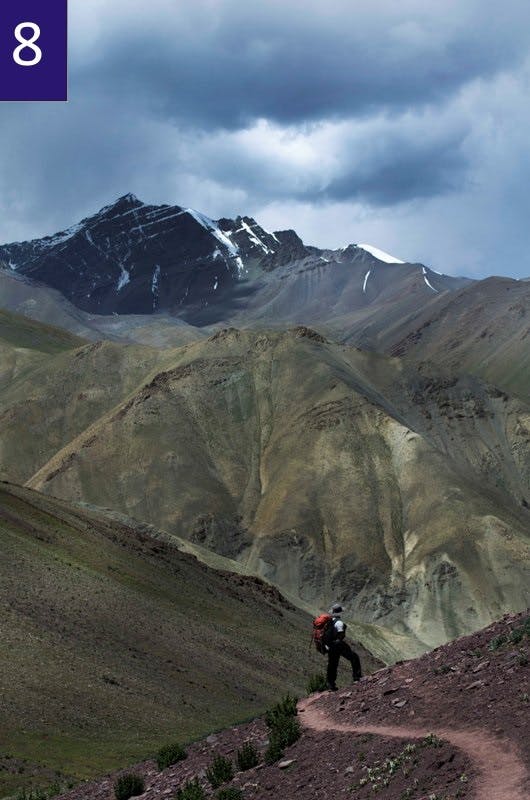 8. Photographer: Priti
Place : This photograph was taken when we were about to reach Mankorma base camp at 12:06pm.
The insurmountable was getting closer, and the adrenaline was rushing hard. Aiming high was in his mind, and his passion inspired me to capture the scene. says Priti on why and how she took this photograph…
Camera Settings : Camera: Nikon D5100, F-stop: f/5.3, Exposure time : 1/640 sec, ISO speed: ISO-100, Focal length: 40mm, White balance: Auto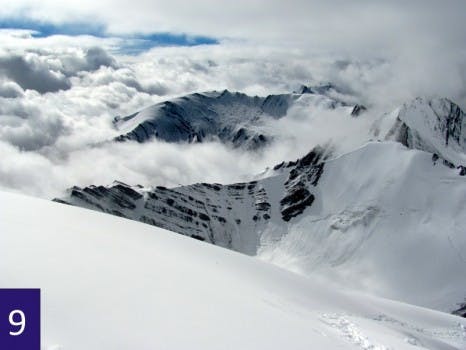 9. Photographer: Raghu
Place : Stok kangri Summit (1653m), Time: 8:20am
"After 6 days of battling rain and hail all along the way, team of 20 had to retreat from the base camp to Leh due to a snowstorm. However, the 4 of us, with a never give-up attitude trekked back the next morning to attempt the summit that night. This is a picture taken from the summit, where the sun shone upon as we trekked the last few steps of our journey, becoming the first team, that week, to make it to the summit". says Raghu on why and how he took this photograph..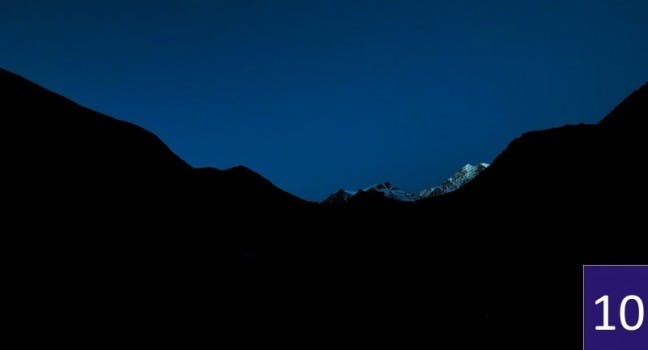 10. Photographer: Rakshith
Place : Gangpoche Camp Site (Before the Stok base camp and time was around 5:30 am
"It was Gangpoche camp site, When i decided to wake up early in the morning to take a few shots of the stream flowing next to our cam site. Then this scenic view caught my attention where Stok Kangri's peak was highlighted by the first light of the sun. It was surreal. I decided to capture this sublime view of the mighty mountain with my ultra-wide angle. ". says Rakshith on why and how he took this photograph….
Camera Settings :  Camera: Nikon D3000, Lens: Tokina 11-16 2.8, Aperture: f7.1, ISO: 200, FL: 12mm, Shutter speed: 1/6 s, Metering: Spot with +2.5 Exp bias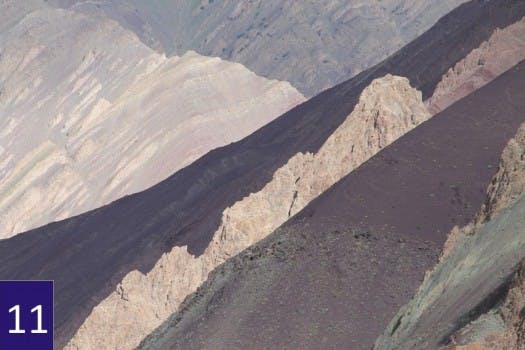 11. Photographer: Shriram
Place : Name of the village: Shang
"I love capturing nature and other interesting things in my camera. Evey time i take a snap having my desktop screen in mind… So im particular about framing. I never want to edit or crop my fotos. I found these multicoloured ridges an amazing feast for my camera!! Something that doesn't move or change immediately. So i was trying all modes and was experimenting while i was called for evening snacks by my team….,"says Shriram on why and how he took this photograph….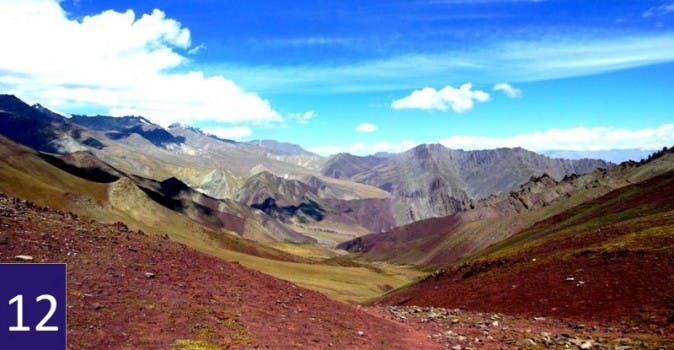 12. Photographer: Sridevi Nair
Place : Matho Doksa La @ 1.30 pm
"When I reached this spot I didn't want to go further… lest I lose this image. What if I lose this spur or that ridge from my focus…and yet I wanted to see more…what if the clouds shift and the yellows turn to ocher? On a trek this is a problem indeed 🙂 ". Says Sridevi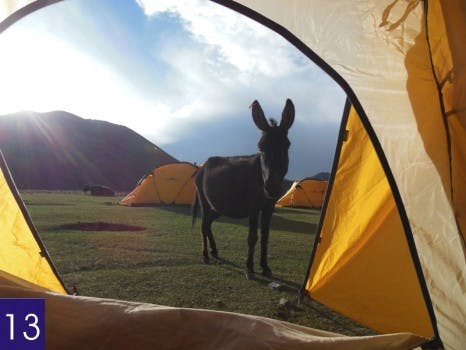 13. Photographer: Sridevi Nair
Place : Camp Gangpoche @ 4 pm
"What got my attention was the donkey's curiosity…and his open friendliness, not unlike the people I met there. There must be a philosophy to every land, and on this trek I found it to be friendship and beauty in the unlikeliest places….". says Sridevi on why and how she took this photograph….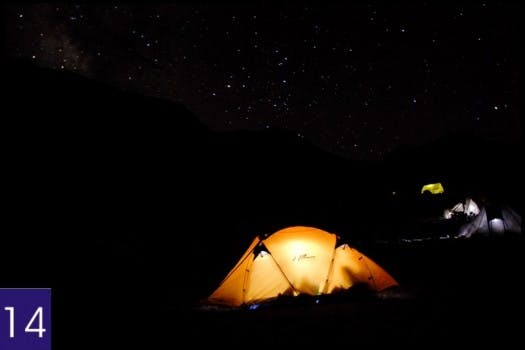 14. Photographer: Varun
Place : Clicked on the night of 8th August, 2013 at 9.30pm at Mankarmo. It was the 4th day and 4th  campsite of our trek to the summit of Stok Kangri.
"Words fall short and only a picture can do justice to describe the beauty and joy we experience when camping amidst awe inspiring peaks, under a gleaming star studded sky.
Camera Settings : Camera: Nikon D60, Lens: 18-105mm, ISO : 800, Shutter speed: 30sec, focal length: 18mm, Aperture: f/3.5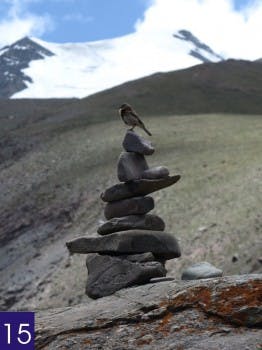 15. Photographer: Vivek
Place : It was on the last day of climb to Stok base camp.
{fcomment}
Sign up for our much loved Weekly Mailer
We have terrific trekking tips, trek updates and trek talks to look forward to