11-Year-Old Stuthi's Trek To Kuari Pass - A Second Call To The Mountains
Share this story
The excitement in my voice rose as I came to know that I was to go on another trek after a gap of three years, the previous one being Dayara Bugyal.
The experience of being in the mountains once again has added another feather of memories in my hat. I, Stuthi Aithal, 11 years old, would like to share my experience of going to the Kuari Pass Trek in March 2022.
On the 20th of March we reached Tapovan, our basecamp, from Rishikesh. The previous day, I had an exciting flight all the way from Lucknow to Dehradun. The next day we had a rather long but mesmerising trip from Rishikesh to Tapovan. After a short introduction with the guides- Laxman Uncle, Anil Bhaiyya and Trek Leader Parthy Sir, we retired to our rooms.
The next day we started our trek, which was very tedious and reminded me of my most tiring days. It was a difficult day as we had to acclimatize properly and the trail was dusty and dry leaves and twigs crackled under our feet as we treaded on them and in places the lush green grass felt soft and mushy.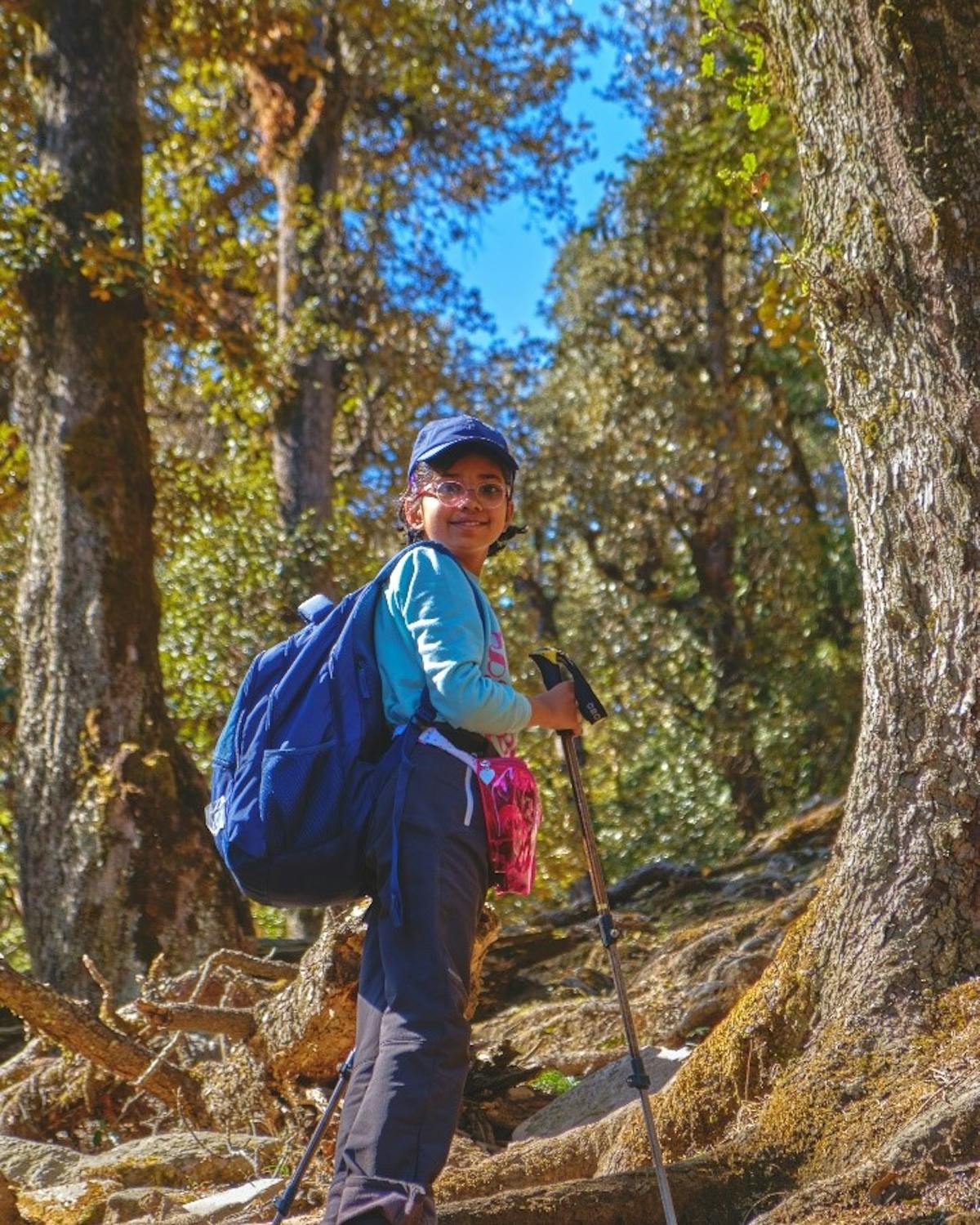 The first day's climb was a challenging one for me, perhaps the most tiring day of the trek.
With steep ascent and frequent encounter with beautiful trees along with the wonderful stories about Uttarakhand and nature from Anil Bhaiyya we finally reached the best campsite that I had ever been to – Akhrotghetta.
At Akhrotghetta, our tent was located just beside the famous walnut tree with the wonderful view of the mountain peaks - Hathi-Ghoda, Rishikund and Dronagiri.
That afternoon, I went walnut hunting and found many in their shells but many of them were charred. While telling my experience and discovery to my mother I entered our tent and put my walnuts into a bag.
The following day, we woke up early and were able to witness the beautiful sunrise over the Himalayas sipping the refreshing black tea. I bid goodbye to Akhrotghetta and the tiny stream which gurgled joyfully and lulled me to sleep at night.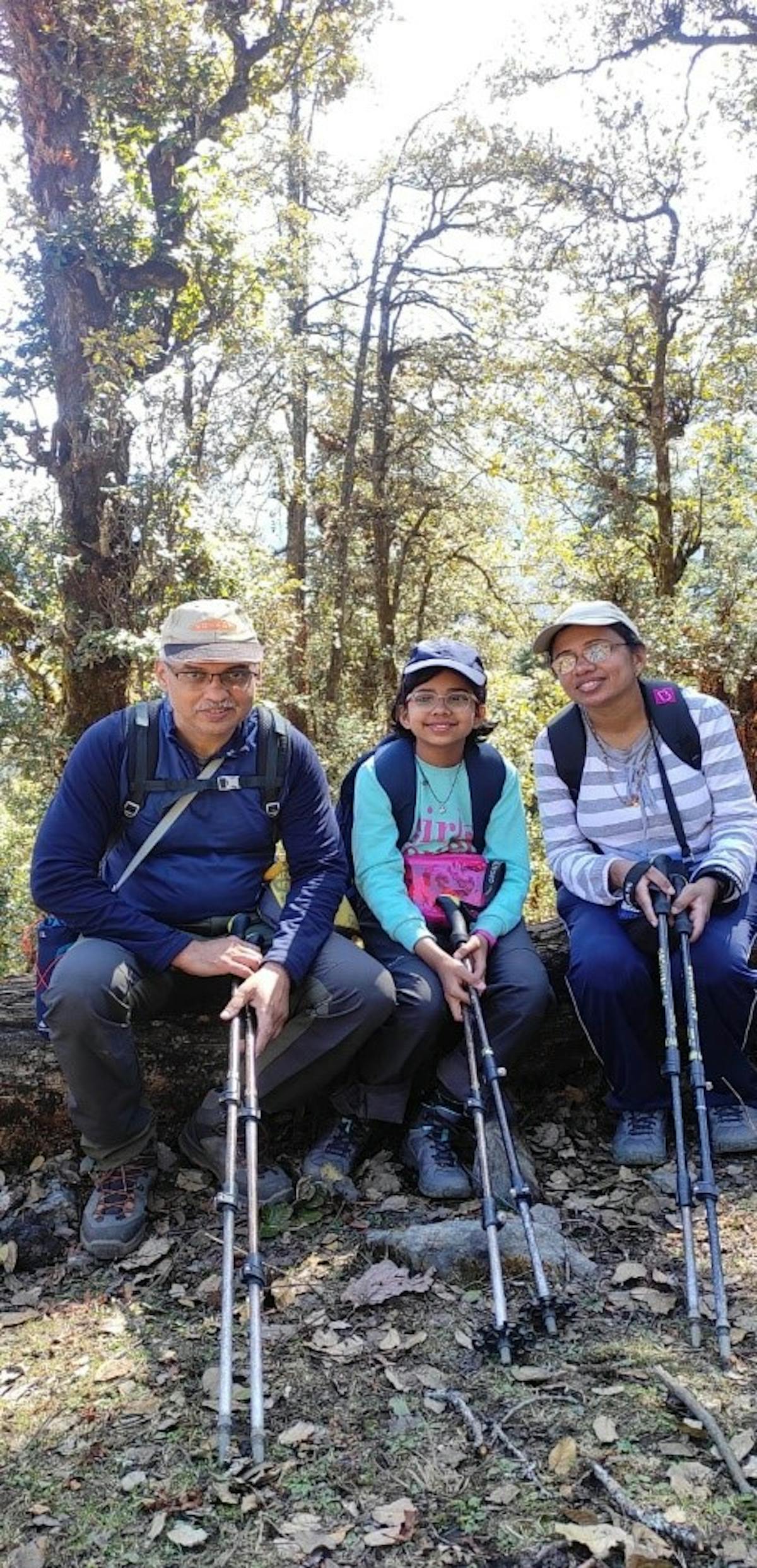 That's me with my mom and dad on the first day of the trek.
On the second day of our trek which was fairly easy, we spotted patches of snow! On the way to our second campsite Khullara we paid our respects to Lord Ganpati at a tiny temple. We finally reached a rather overcrowded Khullara and had a filling lunch. There it was very windy and colder than Akhrotghetta, so we were always packed in warm jackets and sweaters. In the night, the temperature went down to -5 or -6 degrees.
When I came to know that I was to climb the summit the next day, I was very excited and had a deep sleep dreaming all about playing and sliding in the snow. We woke up around 4:30 am in the morning so that we could start our trek for the summit day early. The temperature was -0.1 degrees when we had started to walk on snow.
Throughout the day's trek we had to tread through the snow. I trekked along with a lot of enthusiasm although at times, I nearly lost hope of reaching the summit. The scariest part was around a corner where many boulders with melting snow on them and a cliff on the other side, but thankfully with the help of Anil Bhaiyya I could cross the section with ease.
When I finally reached the summit, I triumphantly pranced around with a piece of chocolate promised by Harshil Bhaiyya (one of the trekkers). Everyone praised me for being able to conquer the summit of Kuari Pass at the age of 11.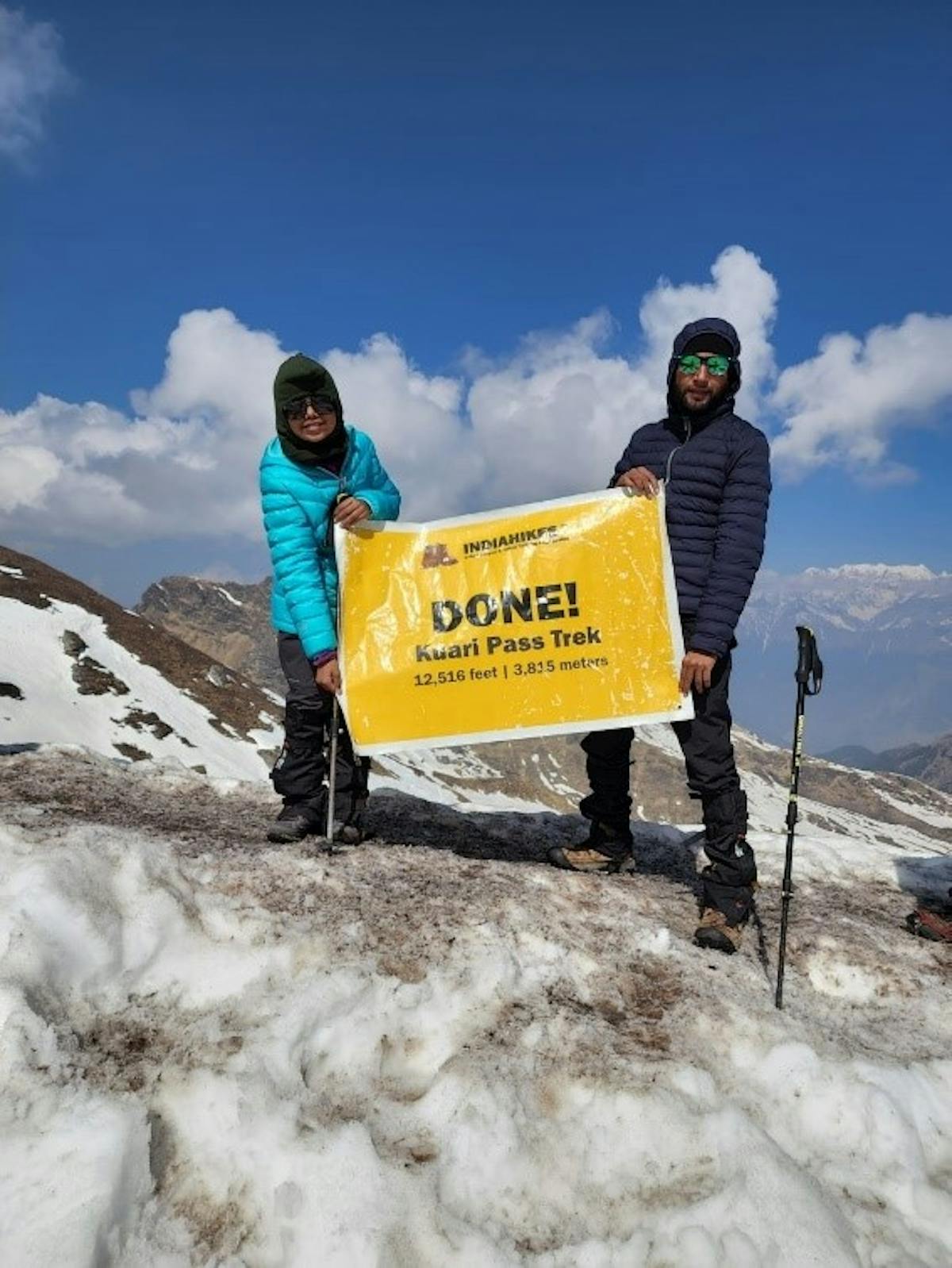 Reaching the summit was a wonderful achievement for me.
After enjoying the view of 32 peaks, clicking many photos and hearing the story from Anil Bhaiyya on why the trek was named Lord Curzon's Trail and Kuari Pass we started to descend down . At a particular point, I started to slide down and it was rather fun but, in the end, I always used to slide down like a ball on a slide.
When we were nearing the campsite an almost 90-degree descent section came where Anil Bhai went to help my mother. There I decided to rest and sat on the nearby tree trunk, but uh-oh! As soon as I sat on it, I tumbled headfirst and momentarily was totally upside-down. I was so stunned that I remained in the same position for a few seconds.
Regaining my balance, I stood up carefully and sat on the cold rock-like snow beside me and waited for a while. The coolness of the snow was pretty soothing to my aching thighs. After a short while my father came and we both started to descend down further. Then again, I slipped on ice and cried in pain. Finally, when we could see Khullara, I felt a new surge of energy and relief in my body and rather energetically started to descend down.
After reaching Khullara I sensed a feeling of accomplishment of reaching the height of 12,516 feet successfully. That afternoon it snowed slightly but my joy knew no bounds to be able to see the snowfall and the snow.
The cherry on top was that it snowed that afternoon at Khullara. My joy knew no bounds!
Later that evening in the dining tent we watched the '14 Peaks' movie halfway through. After a sound sleep that night, we woke up nice and fresh the next morning. With a hearty breakfast we started to descend down towards Karchi village. Laxman Uncle took me shortcut by shortcut and thus I reached the village first. Raksh Bhaiyya (one of the trekkers) clicked many photos of mine. After a short drive to Joshimath we had our lunch and went to our dorms. The following morning, we started our journey back home.
On the way back home, I was reflecting back on my experience of the trek I realised that I had learnt a lot of things, like- being independent, being physically and mentally fit for any challenge in life, being determined & having a never-give-up spirit, being more social, adjusting with others and many more.
The sight from the Kuari Pass summit will always remain in my heart. This trek has proved to me that the mountains will keep calling me time and again and I will keep doing more treks in the future.
Hope that the next call comes soon…
Sign up for our much loved Weekly Mailer
We have terrific trekking tips, trek updates and trek talks to look forward to