Starting Too Late? There is No Such Thing for This 50-Year-Old Trekker
Share this story
F or 50-year old ultra-runner and trekker Suma Sampath, age isn't just a number. It's a factor she considers, and overcomes every day.
Suma only started trekking a few years ago. Like everyone else, she had to deal with all of the concerns facing a first-time trekker. She also had to deal with cold allergies and health complications.
But from speaking to her, you wouldn't know the magnitude of her accomplishments. Suma has a simple and bubbly personality, and ends every sentence in her written communication with an exclamation mark. Well, you could put an exclamation mark at the end of each of her achievements too!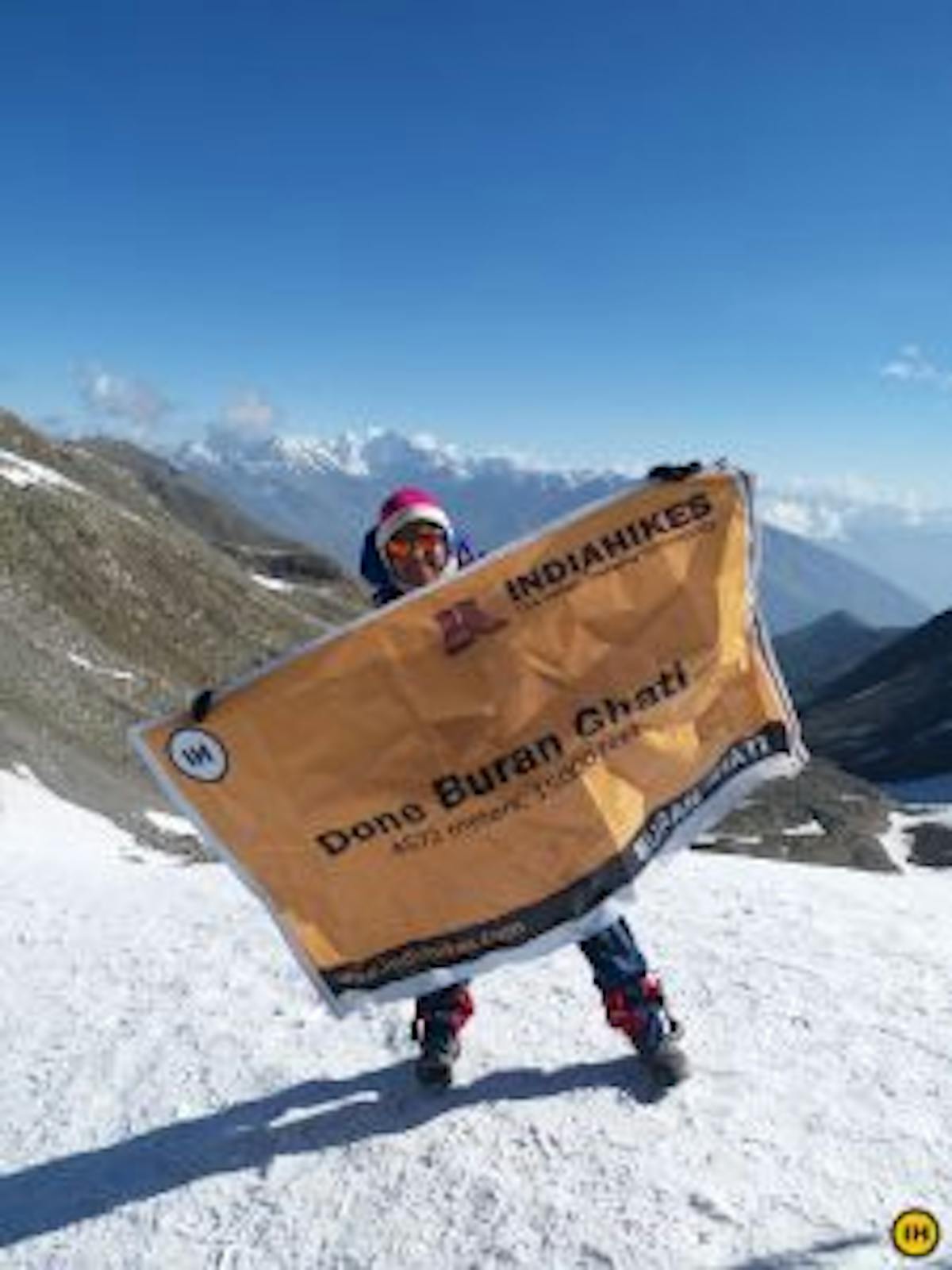 Suma's latest adventure was trekking up to Buran Ghati.
It's all the more impressive when you find out that the beginning of her fitness journey wasn't so long ago.
Chipping away her health troubles
"I only picked up running when I was around 44. Back then, I had a lot of health issues. I'm still a hypothyroid patient. I had a hysterectomy at 32. But even considering those problems, I started running," says Suma.
She is very nonchalant about her health history. But it's not easy to turn your lifestyle around, especially when you think exercise might exacerbate your existing issues.
Suma wasn't of that mentality.
"I think it's a myth that we might get knee or leg injuries if we start running, especially at a later age. For me, those things have disappeared after I started running. As it turns out, I overcame almost all of my previous health issues! So, I would say, unless you have a major medical problem, push those worries aside and just go for it."
What is Suma up to now?
Suma only started running in 2013. She started trekking in 2016.
But in a short span of 5 years, she's become a superstar athlete and a seasoned trekker. She already has 50 half-marathons, 4 marathons, 1 ultra-marathon, and 4 Himalayan treks under her belt.
Recently, Suma was featured as one among five athletes throughout India to be part of Star Sports Believe Hero campaign. This year, she has been shortlisted to be a brand ambassador for the Bengaluru Marathon.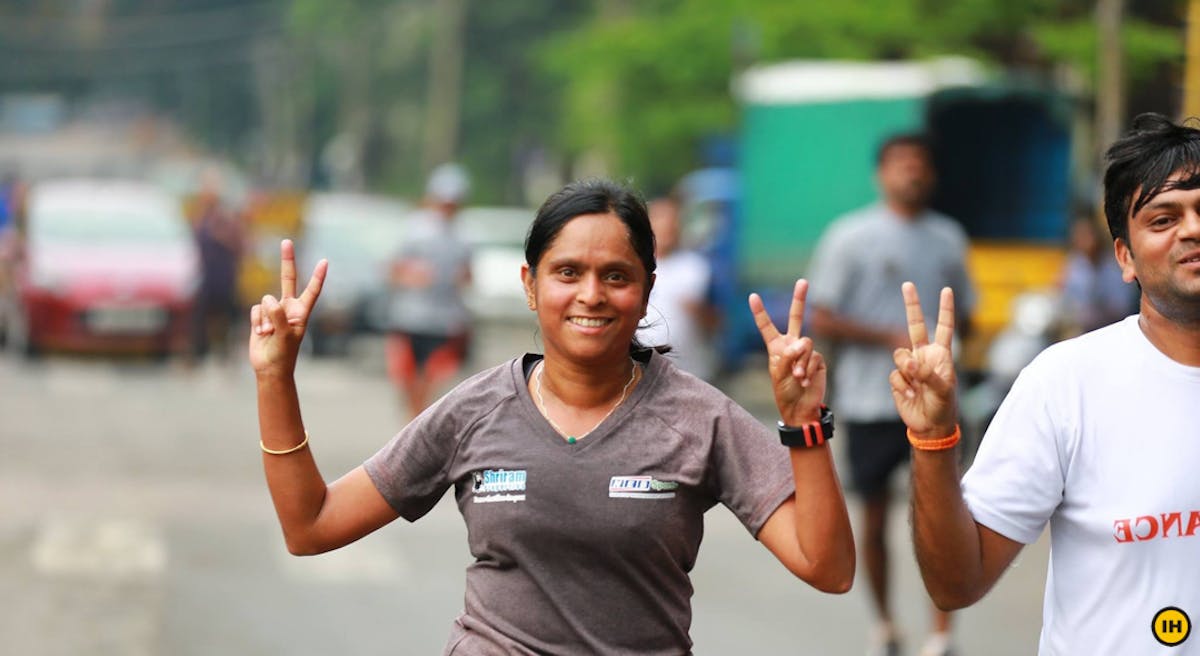 Suma is a regular marathoner now. This picture is from Bangalore Marathon.
How fitness inspires Suma's trekking lifestyle
Suma was a runner first, and then a trekker. But she believes that the two of them go hand in hand.
"Apart from running, I've been doing lots of cross-training, yoga, cycling and bodyweight workouts for the last 5 years."
"In 2016, when my niece introduced my husband and me to trekking, I discovered that trekking and long distance running require a very similar mindset. They both require a lot of effort over long hours. Also, I always carry my backpack when I trek because I have built a good amount of strength and endurance through running."
Suma has a serious workout regime in place.
She also has a personal coach, who helps her get ready for treks with tailored work-out sessions including mountain climbers, ab exercises and staircase runs.
"There is of course still a struggle in trekking, considering the weather conditions and high altitude of the Himalayas. But I feel I am able to withstand it with fewer difficulties due to my regular fitness plan."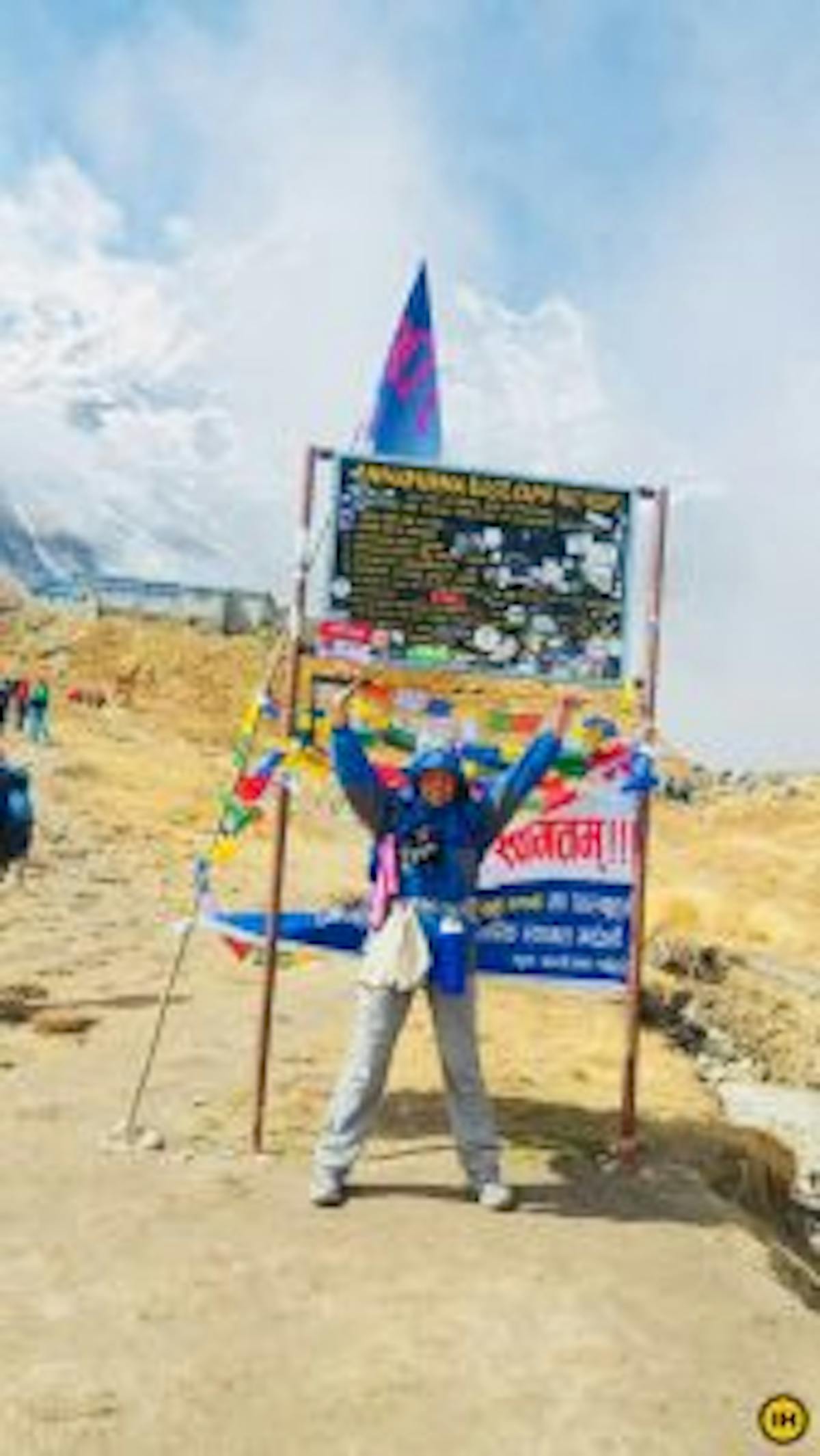 Suma at Annapurna Base Camp – Indiahikes
This is the most important part about being a trekker. If you're unfit, your tiredness prevents you from appreciating the beauty that surrounds you. On the other hand, Suma is free to take in everything around her.
"On my very first trek in Sandakphu, there was a moment that will last forever in my mind. I was walking alone for a short stretch, when I first saw the Sleeping Buddha. The moment felt very divine. There's no other word for it. This was very strange and not at all something I was used to. Even in temples, I don't experience this feeling. But there, I had tears in my eyes and I didn't even know why!"
Learning from every trek
Suma is humble about the stories she has to tell, and recalls every moment as a learning experience.
"Every trek teaches me a lot."
She further explains: "When I went to Pangarchulla, I had never trekked in snow before. Just the experience of climbing a snowy peak was something else altogether! A slip would have killed me. But it's a memory I'll never forget."
Recounting her memories from the Annapurna Base Camp trek she says: "It was only 360 degree views of peaks and streams all around me. The sunrise felt like a golden sheet spread across the sky. I don't think anyone can experience this feeling  unless they're trekking."
Suma clearly knows a few things: There are a few joys that only trekking can bring, and no one is too old to learn the lessons of the mountains.
At this point, you might still be wondering: Is there really no such thing as too old?
Is age just a number?
"I never think about my age but it's a factor that I don't neglect. We keep hearing that age is just a number — I don't agree. I think we have to consider it whether we want to or not. But I also know that if we fixate too much on age, nothing will work out."
For Suma, she complements her physical capability with a very strong will power and mental stability.
She makes an example out of herself and says: "If I could start trekking in the Himalayas at 47, even with my health issues and allergy to the cold, then anything is possible. Now I can withstand the cold to the extent that I never miss an early sunrise in the mountains. Your mindset is important – I just make up my mind that I will do this."
Suma has done four Himalayan treks with Indiahikes. In fact, she just returned from Buran Ghati last month. She celebrated an important milestone in June too — her 50th birthday! And what better way to celebrate than with a cake lovingly baked by our cooks at 15,000 ft?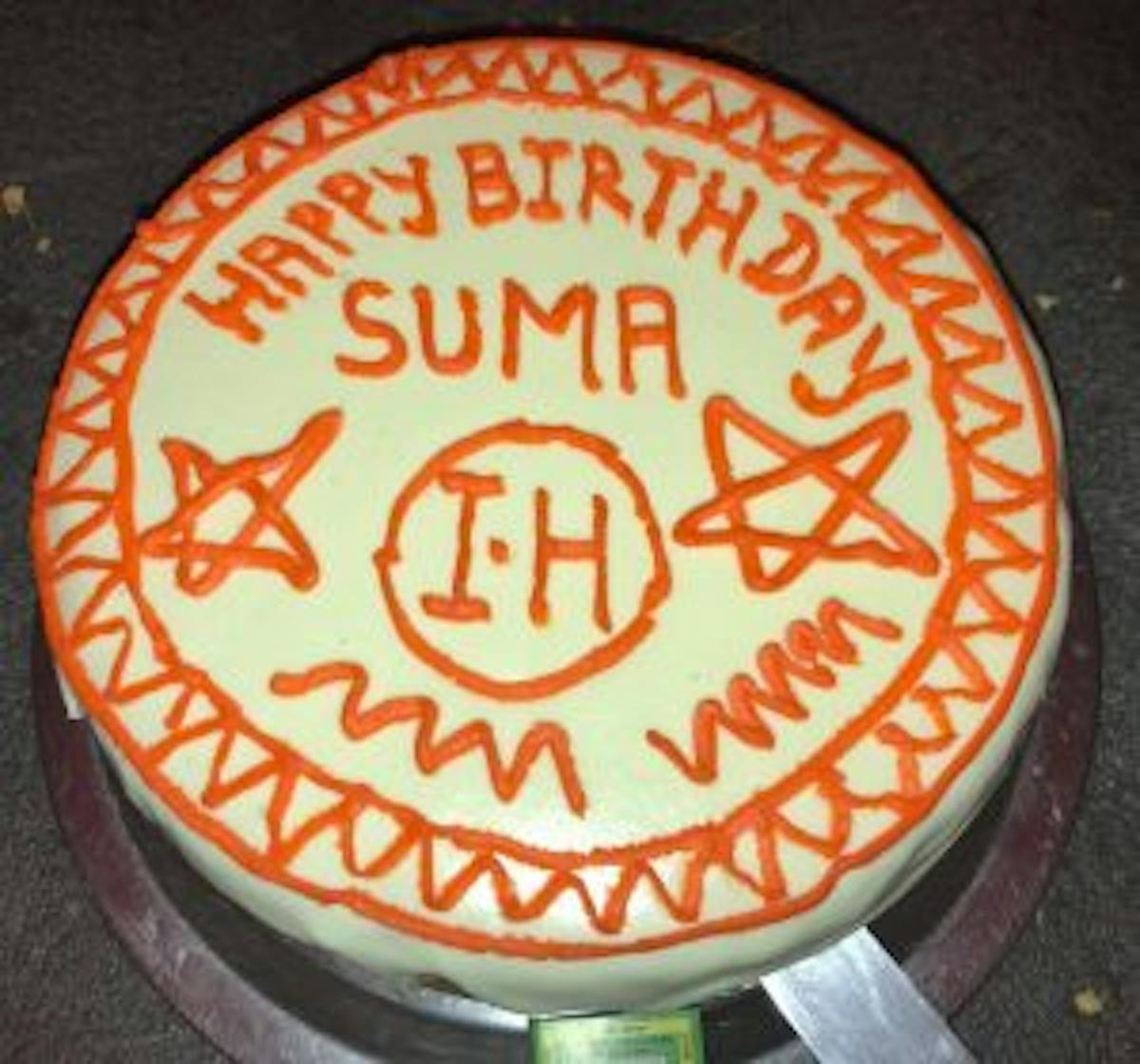 Suma's 50th birthday cake was cut at an altitude of 15,000 ft on the Buran Ghati trek.
It's the right way to celebrate this superwoman. Suma doesn't just love the mountains, she inspires others to go explore them as well. She has gotten so far in such a short journey, and we can't wait to see where she goes next.
Have you met someone like Suma on a trek? Tell us what inspires you about their mindset and determination in the comments below!
What you should do now
1. If you want to read more such inspiring articles: Head over to this page. Or check out these articles:
2. If you want to work with us: Head over to our careers page. We have lots of positions open. So the sooner you apply, the better.
3. If you ended up here by chance and were actually looking for treks to do: Then head over to our upcoming treks page. You'll find all our Himalayan treks there.
4. If you want to see the 13 best treks of India: Then get our free guide book here.
Sign up for our much loved Weekly Mailer
We have terrific trekking tips, trek updates and trek talks to look forward to