Video: Myth about height of Chandrashila Peak busted!
Share this story
Video: Myth about height of Chandrashila Peak busted!
Category Trekker Space
By Vaibhav Chauhan
2014-11-25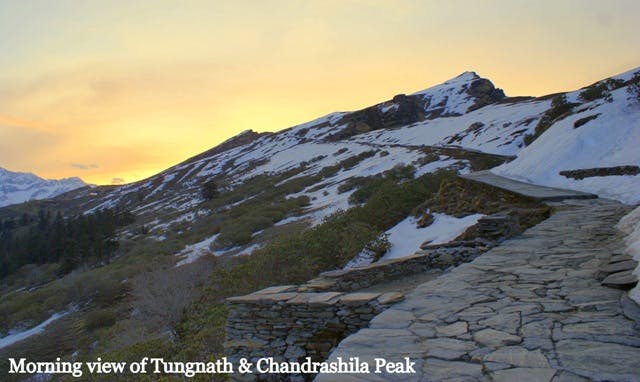 Many are of the opinion that the height of Chandrashila peak is around 13000 feet. But GPS tells a different story
Shiv temple of Tunganath looked divine bathed in rays of the morning sun on the Chandrashila peak. A Griffon vulture encircles the summit every now and then. And a spectacular 360 degrees view of Garhwal and Kumaon mountains can be seen from the summit of Chandrashila. The Exploratory Team of Indiahikes had set off for this summit at 5 am in April 2014 from Bhrujgali camp. And by 8 am they were at the top.
Sunrise from this spot is the best you will get to see in Himalayas. And a walk  past the Tunganath temple will reveal some majestic mountains of Ukttrakhand like Nanda Devi, Trishul, Nandaghunti, Kamet, Dunagiri, Chaukhamba, Kedardome, Thalaysagar, Gangotri ranges and Jahanukut . There are even chances that you spot a Griffon vulture encircling the summit as you stand there.
Quite a few say that Chandrashila stands tall at around 13000 feet. But a look at the GPS reveals something else. Take a look at this video of Chandrashila summit to find out what is the actual height of Chandrashila peak.
Sign up for our much loved Weekly Mailer
We have terrific trekking tips, trek updates and trek talks to look forward to