Promoting Sustainable Menstruation In The Mountains: The Story So Far
Share this story
"Kya aapko pata hai ek nari apne jeewan mei 10,000 sanitary pads jalati hai nahi toh garhti hai?"
(Do you know that a woman either burns or dumps 10,000 sanitary pads in her entire menstrual time?)
This was Shweta and my daily mantra during our time on the slopes of Sandakphu. We took into our hands the difficult problem of sustainable menstruation on this slope for our Green Trails fellowship.
Our weapon of choice?
Menstrual cup.
It is a type of reusable feminine hygiene product. Menstrual cups are made of silicone which makes it 100% skin friendly. It's a small, flexible funnel-shaped cup that you insert into your vagina to collect period fluid.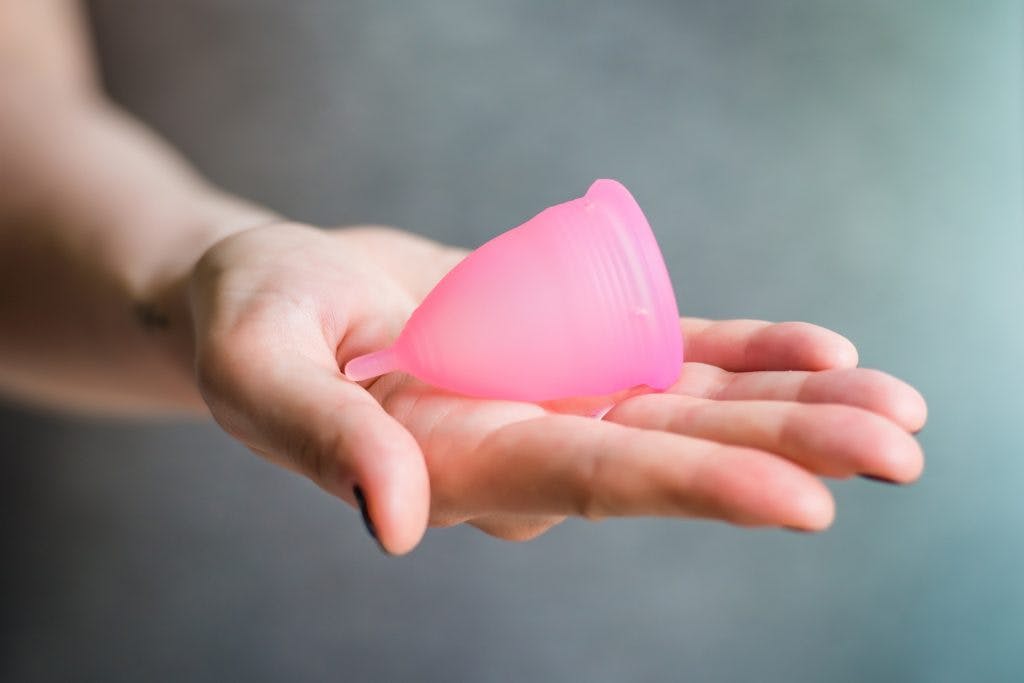 The catch?
The hurdle we faced was to put across the idea of inserting a menstrual cup into one's body. These women lived in remote parts of Darjeeling which meant that they had little exposure to the kind of information a person from a big metropolitan city may have. The task was bit daunting but we were ready to give it a fair shot. 
One thing we had going for us was the economic benefits of the menstrual cup.  A woman spends around INR 1000 per year on sanitary pads. One menstrual cup costs anywhere between INR 200 to INR 1500 – definitely a preferable option for a customer. 12-years, one single cup – is there anything that could compete this durability?
How we began our journey of promoting sustainable menstruation
Our first challenge was to influence at least one local inhabitant who would be ready to switch from sanitary pads to menstrual cup. When we met Anjala Rai for the first time, we knew that she was the most suitable person to take this step.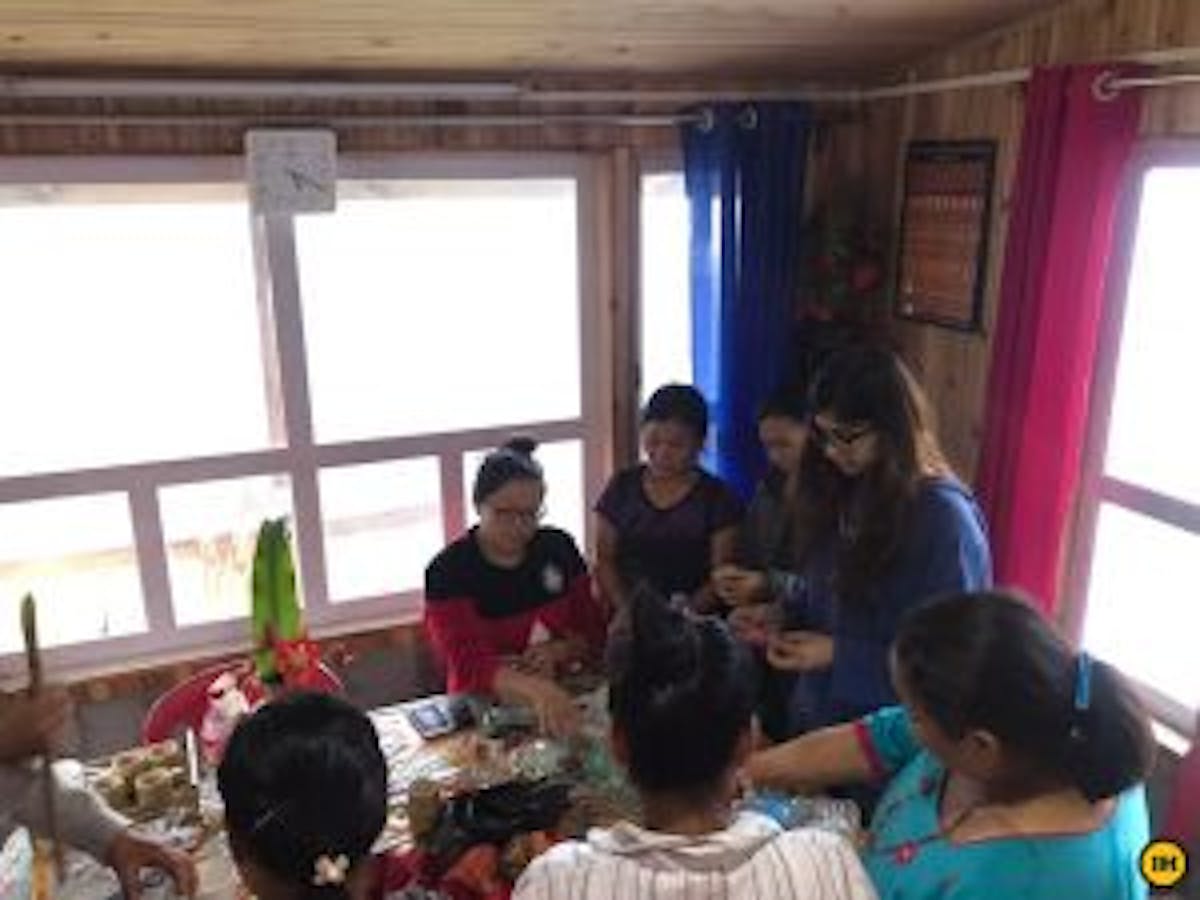 Anjala, a social working in Sandakphu region conducting a workshop. She helped bridge the gap between the Green Trails team and the locals.
Anjala Rai is a young female entrepreneur and a social worker native to the land of Sepi, the last door of the Sandakphu trek. On her own, she has been working on women development. She was not the least hesitant to first try out the menstrual cup herself. Given the nature of work she is involved in, she subsequently introduced the idea of menstrual cups and sustainable menstrual hygiene to the local women.
We found our first and most important ally in her – she accompanied us to two workshops. As she belonged to the area, she could explain in Nepali the benefits of menstrual cups, how disposal of sanitary pads affects nature and put forward her own experience with the cup.  This helped women warm up to the idea in the first place and from then on, Shweta and I carried on to conduct 40 more workshops.
The scale and magnitude of the workshop grew faster than we expected and the locals began to know us by the name "Cup Girls".
We armed ourselves with pictorial placards that explained the anatomy of the female body, the menstrual cycle, why the sanitary pads are harmful and why menstrual cup is a more desirable alternative. We also talked about how to use a menstrual cup.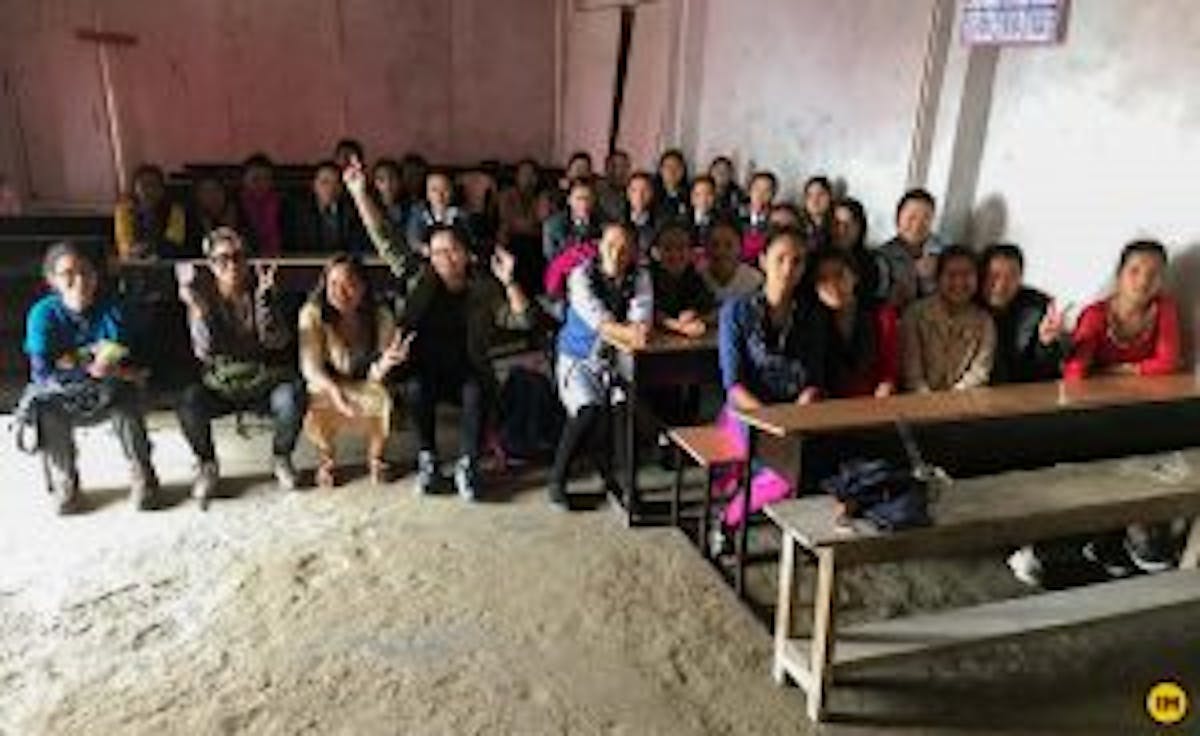 Session on sustainable menstruation and waste management with girls of classes 11 and 12 at Bansbotey.
Being menstrual cup users ourselves, it was easy to express the hazards, not just environmental but also of health that comes with the plastic-coated sanitary pads. As Shweta says, "Plastic prakriti se janme koi bhi chiz ke liye anukul nahi hai". (Plastic is not compatible with anything natural).
We started our sessions with our personal experiences of the sanitary pad and our own problems with them. This encouraged the women – young and middle-aged like – to talk about the problems they face with the pads.
This was the murmur of the students from one of the first schools that we went to:
"Ahem..rashes!! Errr…Itchy!!  Sweating!! Foul smell…!! Hee hee hee"
While the students had juvenile outbursts over their very adolescent awkwardness of their changing body, the women from various Self Help Groups (SHGs) and shops on the other hand, spoke of their 7-day battle.
Then, we brought in the biggest issue with sanitary pads: disposal.
How do they dispose of it?
They burn them. The following statement makes it quite evident why:
"Jalane ka man toh nahi karta.. lekin kya karein ghar mein toh jama ke nahi rakh sakte." (We do not burn pads willfully, but we cannot store the used pads).
Well, that is not very irrational right?
This was when we introduced the menstrual cup as a perfect solution to all their problems. Trekking, dancing, travelling, swimming, cycling, household chores or merely getting wet in the rain are all possible just like any other "regular" day when you have menstrual cup to the rescue. The best part is- their life cycle unlike a sanitary pad, is for 12 years.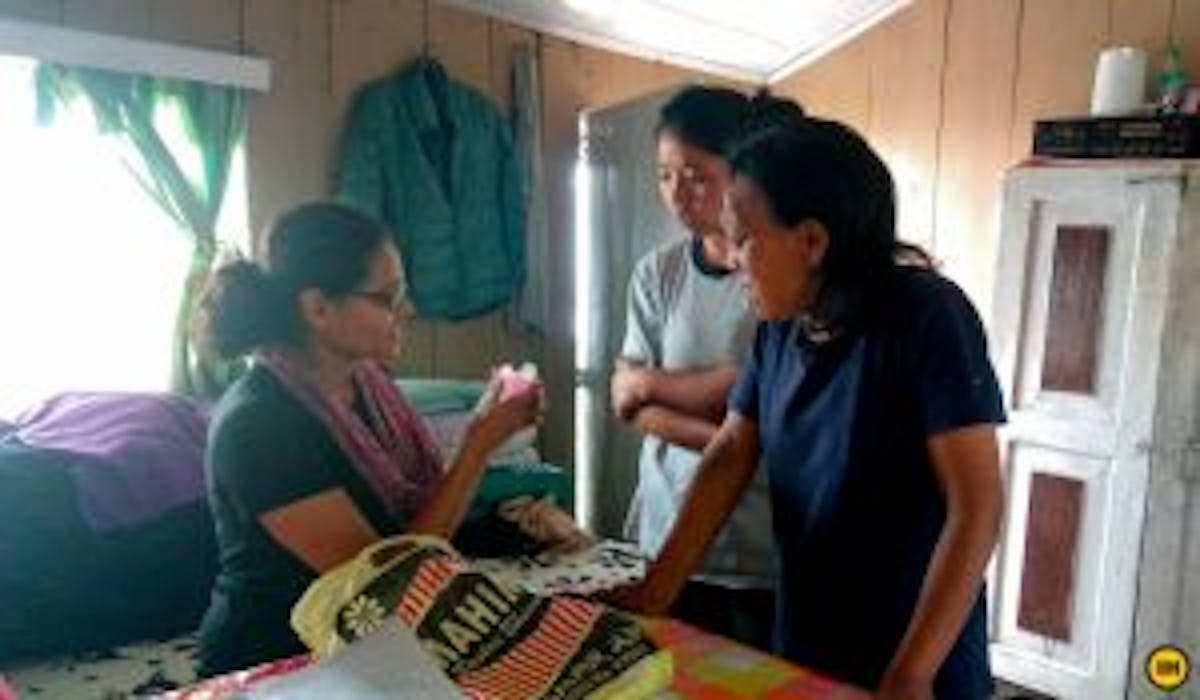 A Green Trails fellow at an menstrual cup awareness workshop
As Shweta and I ventured deeper into the menstrual life of the women, the alien concept of menstrual cups became more accessible to them. We always carried a menstrual cup with us to the workshop – so the women could touch the cup themselves, feel the texture of the silicone themselves. Shweta and I, seeing the sensitive nature of the topic, often took it upon ourselves to roleplay – making the information light to receive.
For example, in schools, when we were doing a workshop with students, we would make a skit out of how to use the cup.
"Momita, you told me to insert the cup but it looks too big!"
"Shweta, you have to fold the cup!" I would say and then proceed to show the students different ways of folding the cup.
"Well, how do I take it out? Do you think the cup will get lost inside my body?"
We used this kind of roleplay format to give them information while addressing very real fears they would have about using the cup.
We then became more elaborate with the workshops to answer questions on the anatomy and whether or not you need to take the cup out when you pee. We shared our personal experiences and encouraged them to share theirs.
We gave them our numbers – telling them if they need us to talk through the first time they are inserting the menstrual cup, we will be there (Full disclosure: we have gotten calls from women inserting the menstrual cup for the first time – we encouraged them, joked with them and helped them ease into the process).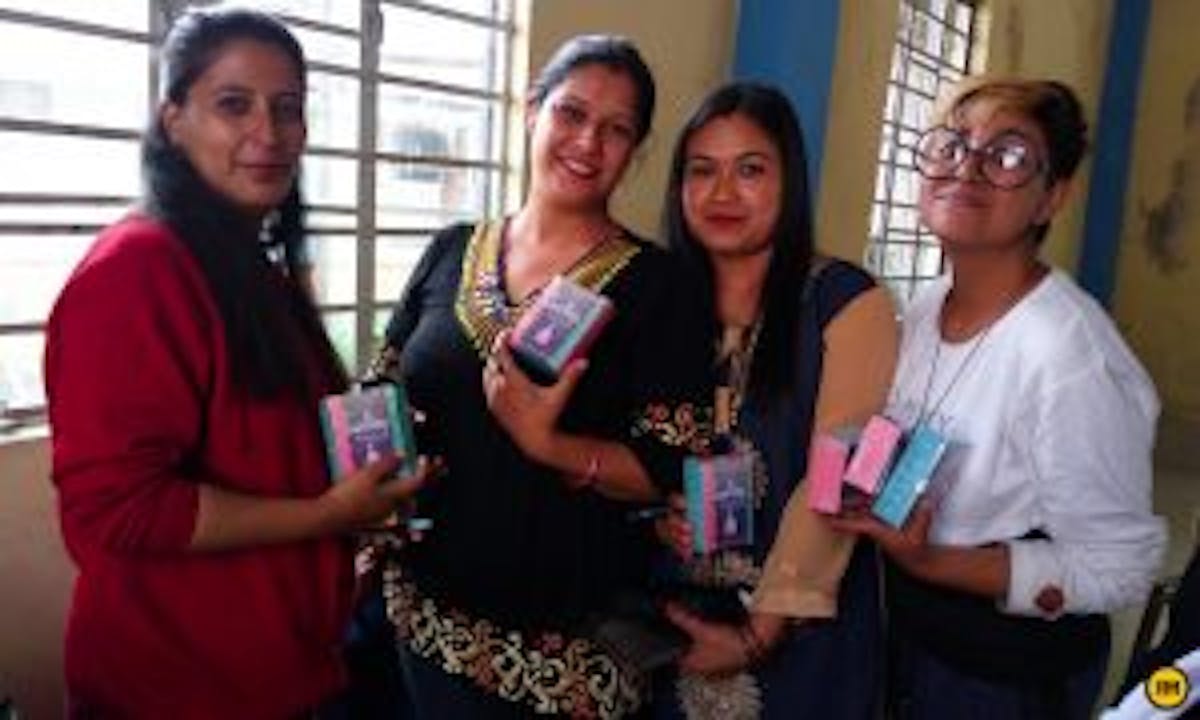 Women with their menstrual cup purchase after a workshop
The women started requesting us to make the menstrual cups available to them, since ordering online was not a feasible option. We contacted the companies that manufacture and promote menstrual cups. We got an incredible response. So much so that bulk orders were placed at a subsidized price. The incredible support from Sannap and Hygiene & You helped us take the awareness on menstrual cups a step forward and make it available for these women. We even had Diva, cups from Canada  donated by Green The Red  for the cause.
In places such as Jaubhari, active women like Malathi di, grabbed a menstrual cup right after the workshop. 16-year old girl Supriya, from Rimbick High School, became the young icon who inspired her young friends and sister after using the cup herself. "Music" laughed Supriya "helped me calmed myself when I first inserted the cup".
The outcome of talking about sustainable menstruation?
Today, we can proudly announce that there are 62 women who are happy users of menstrual cup along the Sandakphu trail.
Statistically speaking, there will be 62,000 pads less burnt/disposed/buried. In a span of a little over 2 months, if 62 women can switch to menstrual cups, there can be no brighter ray of hope. Change begins at one place and runs its own marathon.
It doesn't take long for fire to begin from one small tree to cover the forest.  This story of sustainable menstruation was one such case.
What should you do now?
1. If you'd like to read more stories about sustainability and our battles against waste, head over to this page.
2. If you have further ideas where we can bring in sustainability in the trekking world, drop in a comment. We'd love to hear your thoughts.
3. If you would like to see the 13 Best Himalayan Treks in India, get your PDF here.
4. If you landed up here by chance and were actually looking for treks to do, head over to our upcoming treks page.
Sign up for our much loved Weekly Mailer
We have terrific trekking tips, trek updates and trek talks to look forward to