The Hidden Cultural Gems of Kinnaur that No One Tells You About
Share this story
When Swathi, the Head of the Content Team at Indiahikes, first threw the idea of writing about the culture of Kinnaur, I was rather nonplussed.
I asked her, "But the only trek we have in Kinnaur is the Pin Bhaba Pass and that too, travels through wilderness. There's not much culture to be seen on this trek except the drive from Shimla to Kafnu?"
"That's exactly the point!" she said. "Not many of our trekkers know about the rich tradition that Kinnaur has to offer. It's just Kinnauri apples that are famous. But Kinnaur is a hidden gem."
So I embarked on discovering this cultural treasure that Kinnaur had to offer.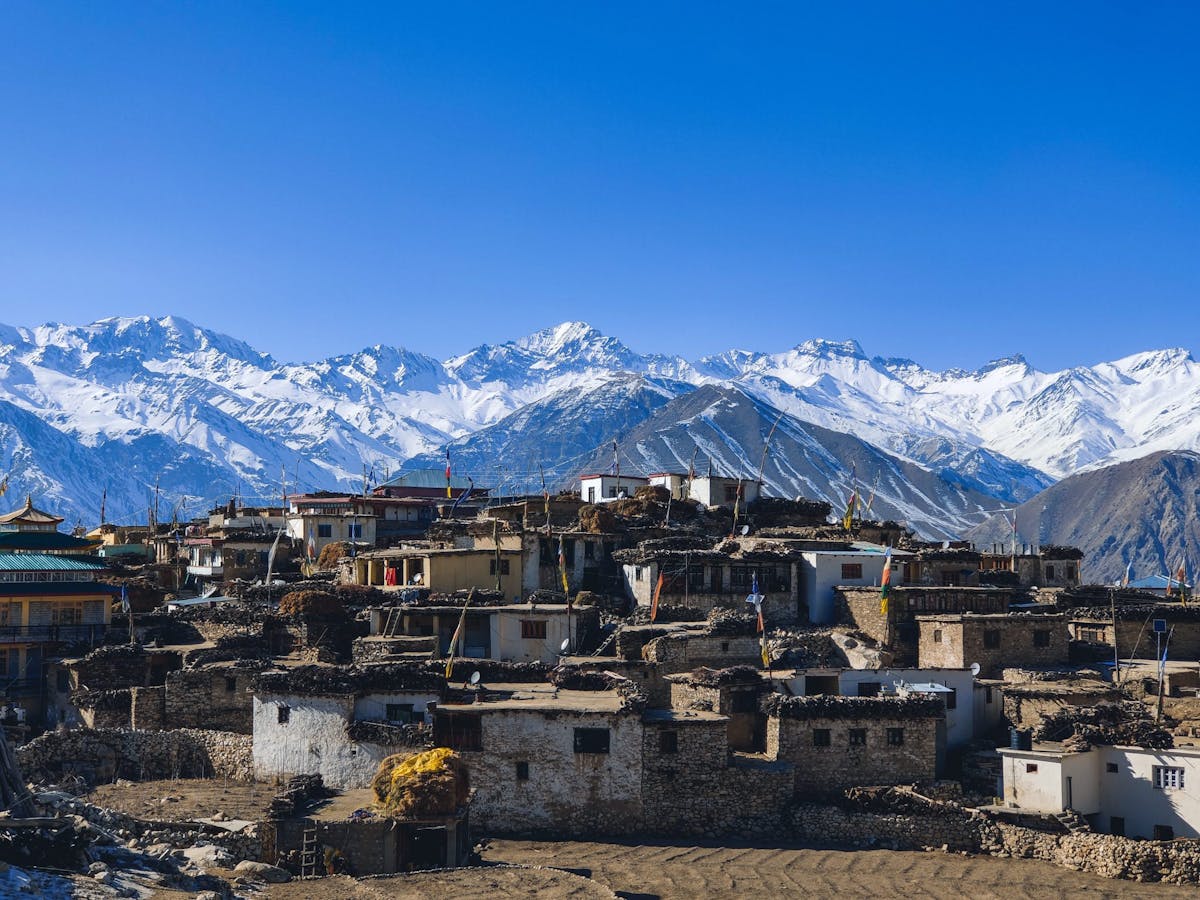 The Nako Village of Kinnaur. Picture by Sahil Mehta.
If you're trekking anywhere close by, you should definitely stay in Kinnaur for 1-2 days to experience the rare culture of the region.
Kinnar Khand
This valley of the gods, famously known in the Puranas as 'Kinnar Khand' is 160 km from Shimla. Sharing its border with Tibet on the east and the Garhwal Himalayas on the south, Kinnaur is filled with apple orchards, rich green forests of deodar, gurgling springs, snow capped ranges and deep ravines of the River Sutlej. Kinnaur is truly a beauty to behold.
But, what will completely enthrall you is its exotic ancient culture.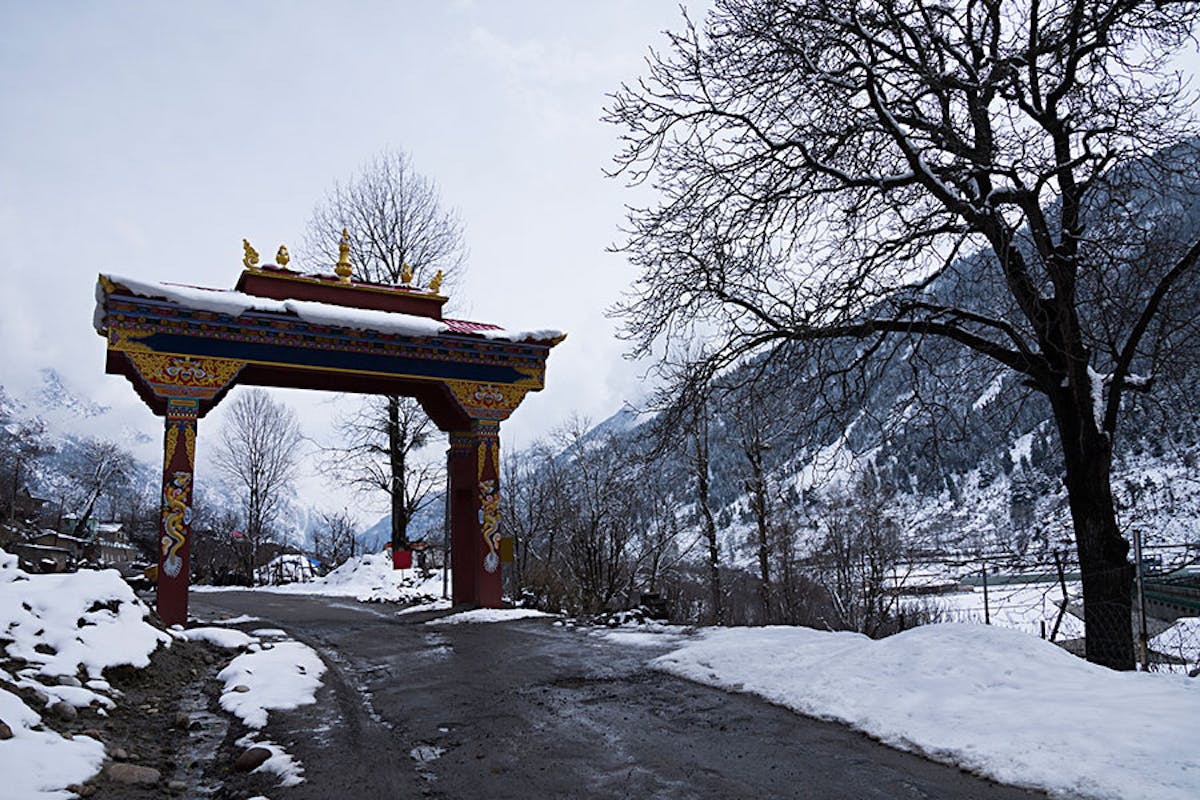 The beautiful ancient gate is seen on a road in Kinnaur Valley. Picture from Images Bazaar.
A fusion of Hinduism and Buddhism exists almost in totality. Every Kinnauri village has a Hindu temple and a Buddhist Gompa and all worship both. The people of Kinnaur have been able to preserve this unique blend of Indo-Tibetan tradition. 
It is a cultural intermingling of Dolis and Monasteries, of indigenous Pahadi gods alongside their Buddhist counterparts, of Tibetan architecture alongside carvings of Indian deities. .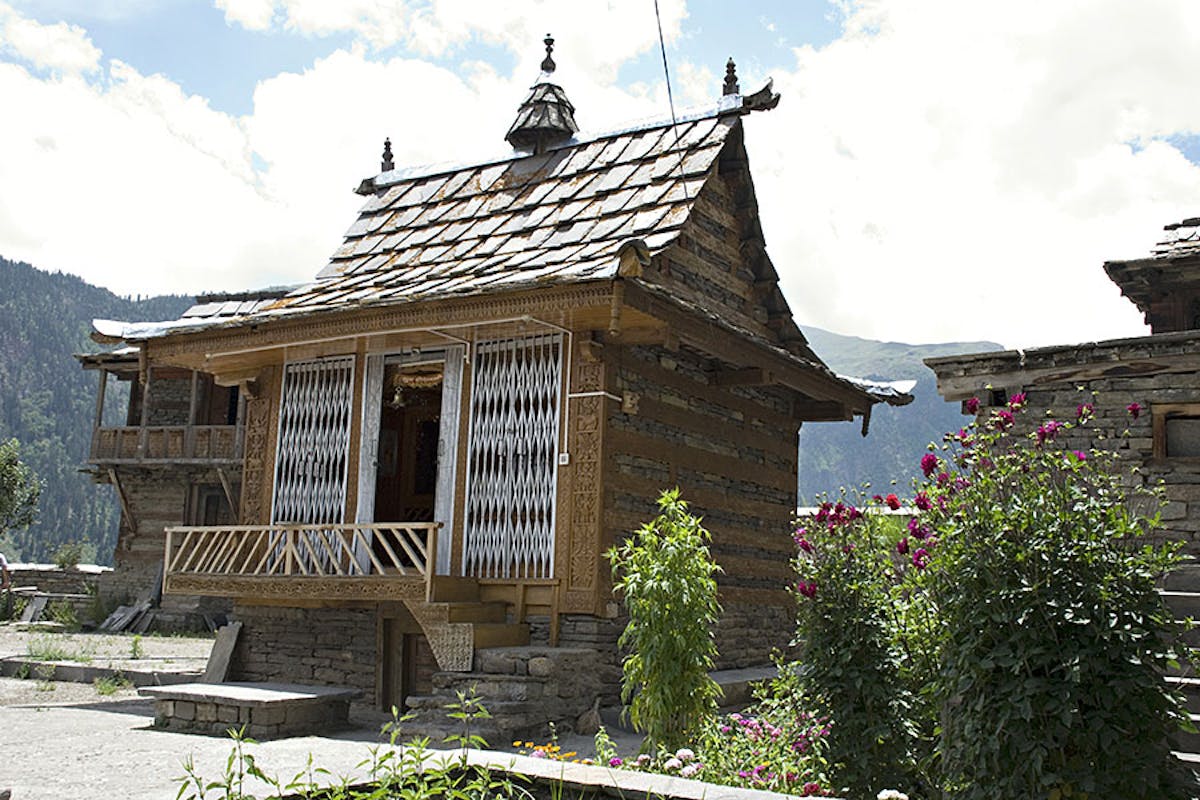 A Hindu Temple spotted in Kinnaur Valley. Picture from Images Bazaar.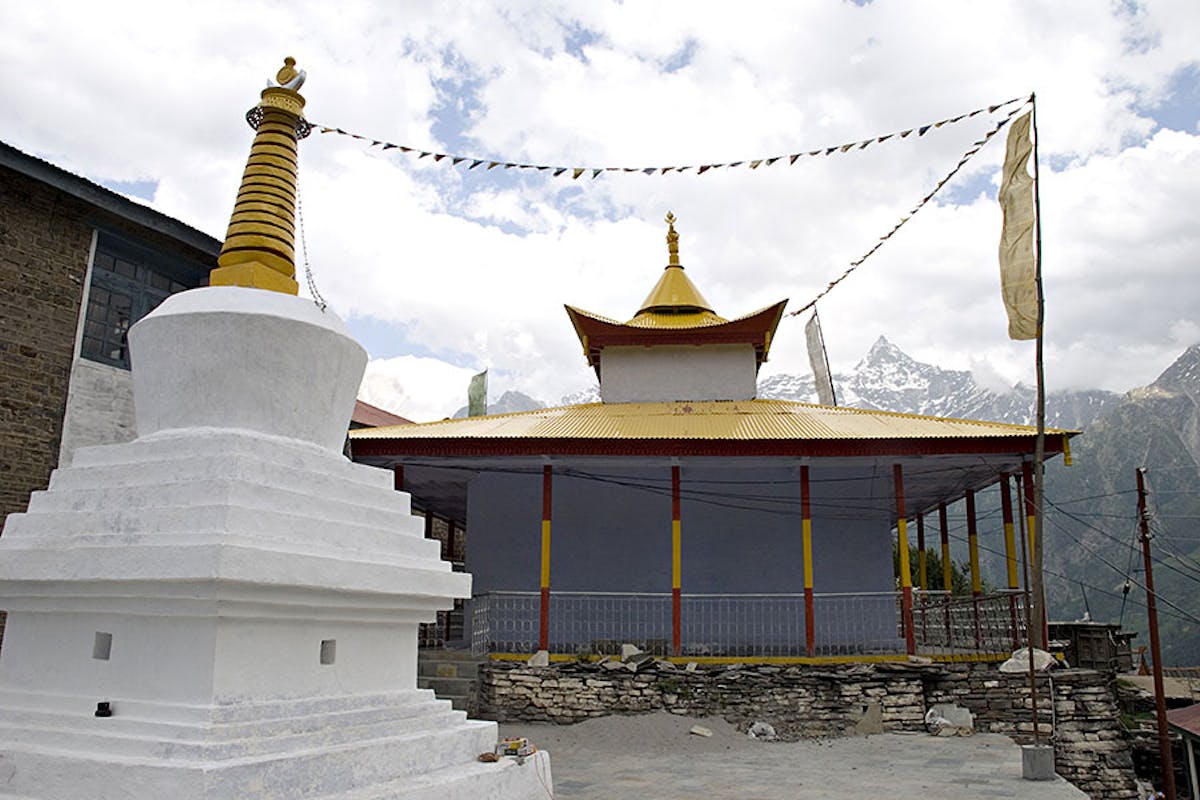 A Buddhist Temple spotted in Kinnaur Valley. Picture from Images Bazaar.
Treks like The Pin Bhaba Pass, Rupin Pass, Charang Ghati and the Kinner Kailash Shivlingam will, in some way, give you grand views of this lush valley of Kinnaur. 
When it comes to religious beliefs, Kinnaur is a land suffused with an extraordinary unusual heritage of mythical stories, superstitions and strange customs. 
The uniqueness of Kinnauri Architecture
Kinnauri architecture has strong influences from Hinduism and Tibetan Buddhism. Its long-standing heritage of wood carving and ornamentation has fostered an architectural tradition unique to the region. The temples and monasteries in the region best exemplify this.
The buildings here are made of Deodar wood and stone, with huge pagoda roofs similar to a Buddhist monastery. Go closer and notice the ornamental motifs that are intricately carved on them. You will find Hindu deities as well as Buddhist ones together. The trident of shiv is a popular motif on Kinnauri homes and temples alike.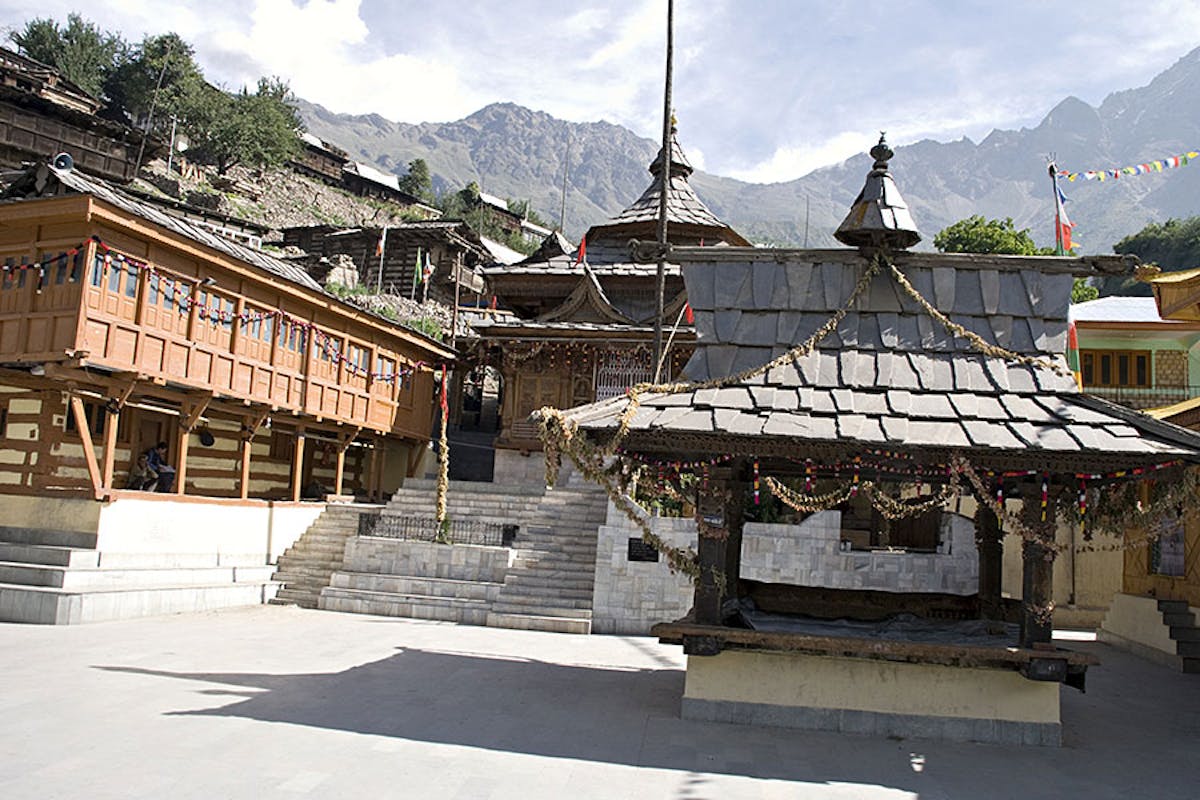 Notice the wooden house & temple structure having trident of Shiv. This is a common sight in the villages there. Picture from Images Bazaar.
These traditional houses follow the Kath Kuni style, where strong walls are built interlocking wood and stone. The panels above these houses have ornamental carvings of floral motifs and designs. The stone images date back to the Kushan era. 
Intriguing furniture in Kinnauri homes 
Besides the structure and architecture of the houses, what will surely pique your interest is the furniture inside these houses. 
Inside every  Kinnauri home you will notice what are called Khayarcha. These are goat hair mats used for sitting. 
In winters, villagers put the furry skin of a sheep, goat or any wild animal over it to keep warm. This is called Pakpa. Sit on a Pakpa and look over from the tiny windows — you will get to see sweeping views of the village, the green terraced fields, flocks of sheep and perhaps a snoozing cow or two.
Unique Irrigation systems
The Khul irrigation system is particular to this region of Kinnaur. You will notice this type of system as you cross through the various terraced fields. This system comprises a series of ditches that help preserve as well as transport water from the natural springs and rivers onto the fields. 
You will pass through fragrant orchards of apricots, apples, peaches and plums that are irrigated through the Khul system. Take a small break next to these gurgling man-made streams and pluck a Kinnauri apple for yourself. Munch on its delightful juiciness and surely, apples will never taste the same to you again.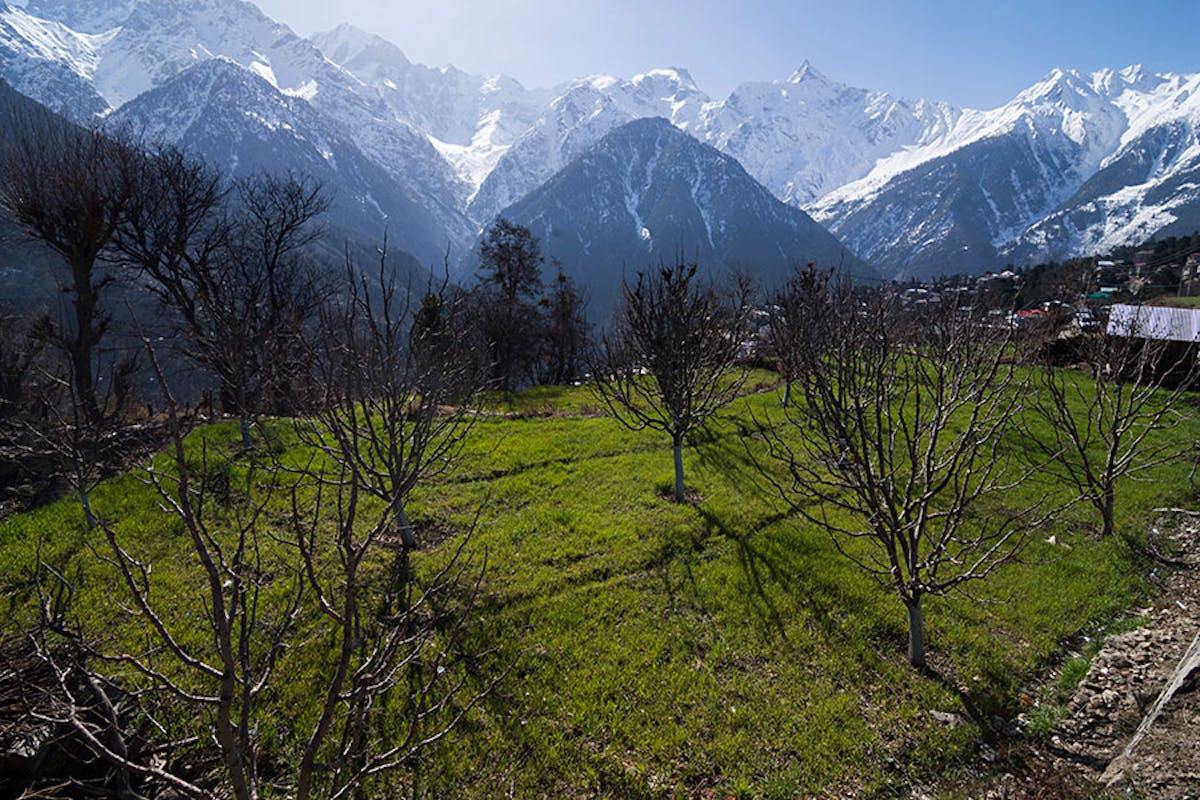 An Apple Farm in the Kinnaur Valley. Picture from Images Bazaar.
History of the Kinnaur Tribe 
The Kinnauris belong to an assimilation of ancient tribes. The people have their own distinct identity, wear distinctive green caps with ornately woven shawls and speak a Tibeto Burman dialect, Kinnauri, that makes them distinct from the rest of the Pahadi tribes.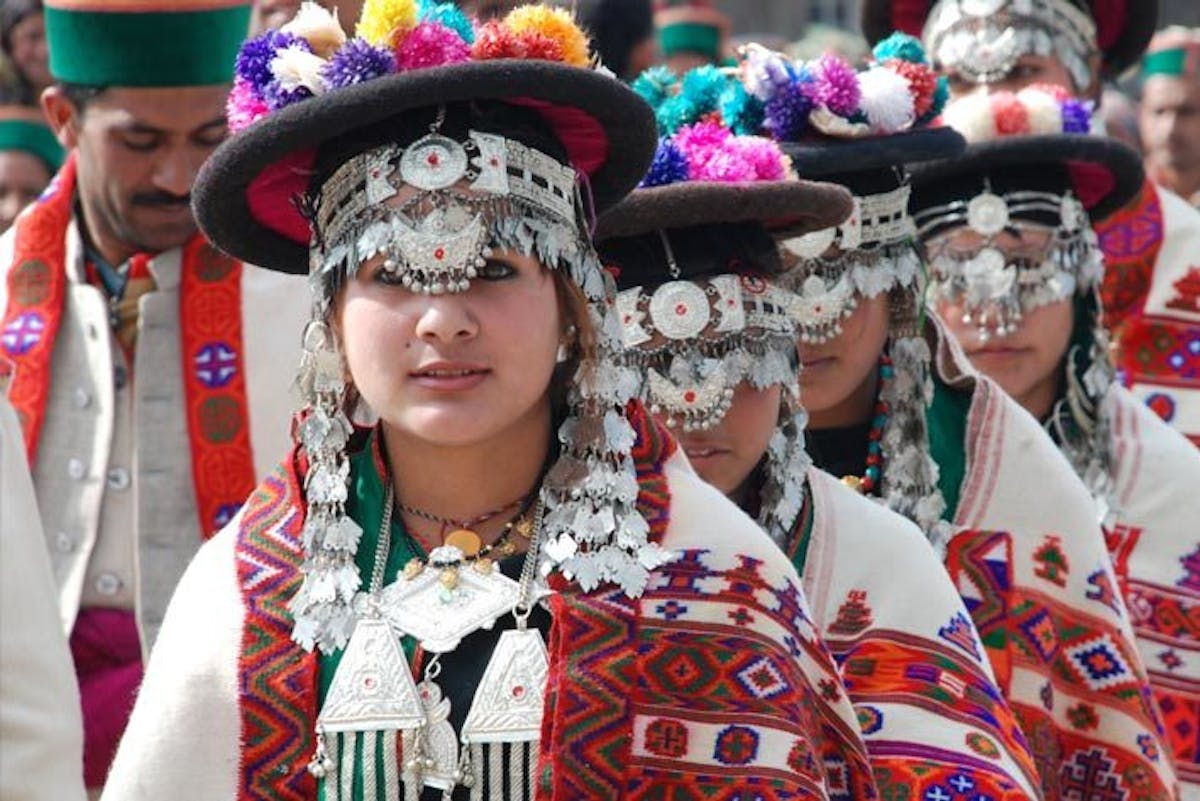 Women in their traditional Kinnauri attire. Picture by Mathini Travel.
Historically, Kinnaur, like Spiti, belonged to the ancient Zhang Zhung kingdom. Bon, an ancient tribal religion, was practiced in this kingdom. 
With the arrival of Buddhism from Tibet, this tribal religion synchronised itself accommodating both Hindu and Buddhist practices to create an assimilated tradition. 
Further integration and cultural  assimilation took place in the 7th century A.D. when the Kinnauris were pushed deeper into the mountains by the Kashmiri Khash cultural group (also known as Khas and Khasia) who they ultimately blended with. This integration produced a beautiful blend of people. 
The women of Kinnaur and their Ornate jewellery 
The Kinnauri ladies wearing their traditional gold and  silver jewellery are unparalleled in their grandeur and beauty.
To discuss the dress and the ornaments of the Kinnauri women is nothing short of describing a fairy tale. If you are lucky, you can witness a traditional Kinnauri wedding in which the bride is adorned from head to toe with gold and silver jewellery. There are ornaments for the head, for the forehead, the ears, the nose, the neck, the wrists, the fingers, the ankles and the toes, amulets and brooches and the ornately woven colourful shawls that add a touch of mysticism to their already unparalleled  beauty.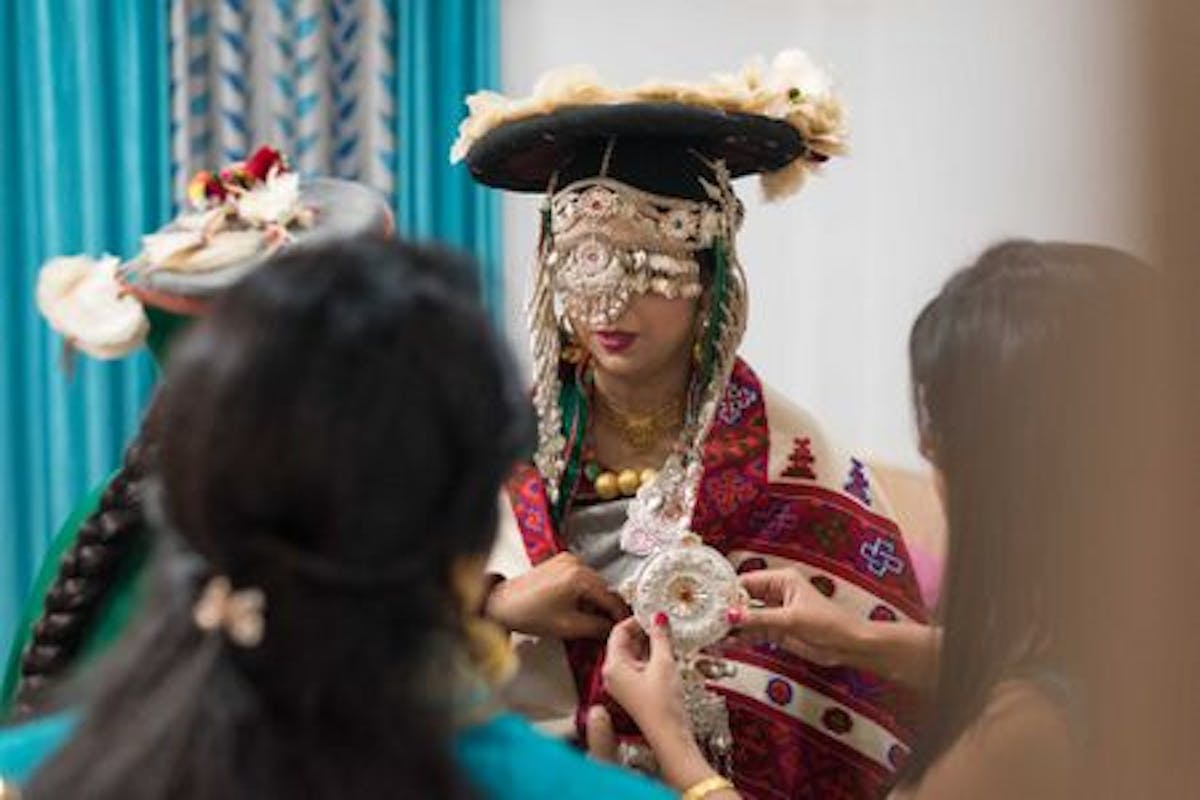 A Kinnauri Wedding. Picture by Sahil Nanda.
Kinnauri weaves
Weaving has been practiced in Himachal Pradesh for at least 5,000 years. The art of weaving decorative motifs on wool garments came to Kinnaur from Tashkent, in Uzbekistan, via China and Tibet through the erstwhile Hindustan-Tibet Road also known as "The Wool Road." 
You will come across shawls and garments with Chinese and Uzbeki influences such as the motif of the diwar-e-chine (great wall of China), which is still a traditional motif for weaving .
These weaves are generally produced in household looms. You will be amazed to find out that each Kinnauri household has a personal heir loom for weaving traditional garments.
Folklore and Beastly fables
If you're lucky enough to be staying with a Kinnauri household, you will be told many stories, especially after dinner. Stories of bright and shiny days, of an abundant harvest, of love and hope. While the stories might be from the past, they  will be familiar as it happened  right here, in this village, by that stream, on that mountain slope.
Each mountain and each hilltop is inhabited by an awe inspiring local deity or spirit. It is said in Kinnaur that the Kalis or hill fairies protect the fauna of the land. Be careful when you're walking through the pristine green forests, the spirits of the Kalis are believed to reside in the Deodar trees. Try not to disturb the peace of wild things therein as the locals deeply revere this sacred tree.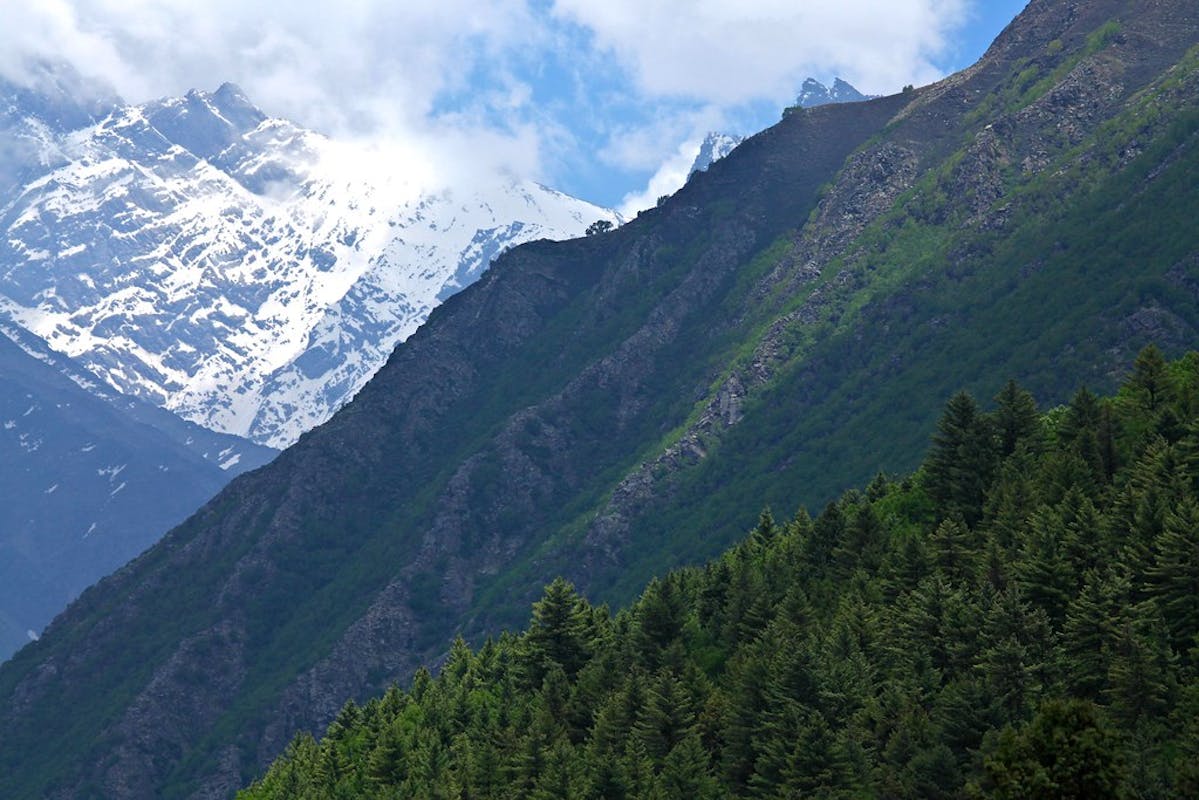 Kinnaur has some mesmerising pristine green forests. Picture from Flickr.
The locals religiously worship the Matingoes — the underground fairies and Ban Shiras — the spirits of the forest. You will find that the Kinnauris are deeply religious and superstitious. You may very often come across a festival in  the villages that is being held to appease one or few of the local gods or spirits. It will definitely seem to you  that the gods of Kinnaur are temperamental and require constant cajoling.
Ask your local guide of the ghost story of Chon or Chan and be prepared for a sleepless night in the tent!
The stories will mesmerize you and take you into a magical world where man and beast live side by side with spirits and demons. Listening to an actual person narrating a story, not a screen or an audiotape, will definitely give you goosebumps. 
The gaddis, or the nomads of Himachal are a semi pastoral tribe that migrate with their livestock in summers to the meadows and wait out winters at their homes.  
M.S.Randhawa, botanist and historian who has rigorously documented the paintings and the history of Himachal, also collected their folk songs. He quotes an uninhibited Gaddi song,
 If the husband dies
One may wander 
If the lover dies
How can one live?
If a blanket is torn ,
One may put on a patch.
If the sky is torn,
How can you sew it ?
The Kinnaur valley sits firmly at a crossing space between many  spiritual  and physical cultures. 
This majestic green place has many traditions that knots its people into tight communities — each preserving, documenting, living and breathing a dynamic tradition into the very heart of the Himalayas.
If you've been to Kinnaur do share your experience about its culture with us in the comments. 🙂
Latest Videos
"5 Culture Stories of Sandakphu Nobody Knows"
"Introducing The Miyar Valley Trek in Lahaul"
"7 Mistakes Beginner Trekkers Make"
Sign up for our much loved Weekly Mailer
We have terrific trekking tips, trek updates and trek talks to look forward to