The Impact Of Kashmir Great Lakes On Trekking
Share this story
We're glad to bring to you the next story in our series — 9 Treks That Transformed Indian Trekking. Today, we're talking about one of our favourite treks and how it impacted trekking in Kashmir — the Kashmir Great Lakes trek.
Indiahikes has the legacy of stitching together the Kashmir Great Lakes trek as we know it today — starting from Sonamarg, navigating across 7 great lakes and ending at Naranag — and putting on the map a magnificent trail for trekkers.
Indiahikes also holds the legacy of christening the trek with the now famous name, "Kashmir Great Lakes."
But there are several larger implications that this exploration had on both, tourism in Kashmir, and the trekking industry in India.
Here, our founder, Arjun Majumdar, with his penchant for story-telling, gives us a scoop of how the exploration happened, what went on behind the scenes and the significance of the exploration.
Read the full story below.
One day In The Summer Of 2011
It was an ordinary day. But we were very animated. We were sitting around a coffee table discussing the best lakes we had seen on our treks.
We listed many: Kedartal near Gangotri, Vasuki Tal near Kedarnath, Masar Tal on the Mayali Pass trek, Roopkund in Uttarakhand, Deoriatal near Chopta, Lam Dal in Himachal, the Samiti and Cholamu lake in Sikkim.
We were still counting, but something stirred in me.
I said, "This list is pretty useless if we don't include the lakes of Kashmir in it." Everyone was a bit taken aback. No one had heard much about trekking in Kashmir or the lakes in Kashmir.
"Kashmir is filled with meadows, grasslands, trees and lakes that you have not seen before," I continued.
I told them about the journals I had read about Kashmir. I told them about my many visits to Kashmir when I was a little boy, much before terrorism started.
"There is a series of alpine lakes somewhere in the higher reaches of Kashmir near Sonamarg. To get there, you need to trek through forests and meadows. These forests and meadows are so beautiful that they make Himachal and Uttarakhand look silly. The clear water of the lakes is so full of trouts that you can actually fish there."
I leaned forward, "Look, when you make a list of the greatest alpine lakes trek in India you need to see if the journey to the lake is as attractive as the lake itself. Most of the lakes in our list, except a few, don't have great approaches. Kashmir has them."
"Honestly, none of us have trekked in Kashmir and its beauty is a notion in our minds. We imagine Kashmir to be like Himachal or Uttarakhand. If we think like that – we are making a big mistake. Kashmir comes closest to Europe in its beauty of the mountains and countryside."
There was a very long silence in the room after that. Sandhya* looked up after a while and asked quietly, "Can we go explore Kashmir?"
(*Sandhya UC, is the co-founder of Indiahikes)
I didn't have an answer. No one had imagined trekking in Kashmir. There wasn't any precedence. Despite our combined trek experience we didn't know of a single person who had trekked in Kashmir.
We turned to our resources, but we couldn't dig out much. In the online space there was no information either.
In our research we came across two photos of alpine lakes of Kashmir. They didn't look real. They didn't even look to be in India. But they looked fantastic. If these lakes were a precursor to what we could expect in Kashmir, we were going there! 
What Trekking In Kashmir Meant
Over the next few weeks Sandhya doggedly pursued the idea. Trekking in Kashmir had gripped her. She knew what it meant for Indian trekking.
If we did manage to explore Kashmir it could be one of the biggest turning points in Indian trekking. We knew we would open up trekking in a region that no one imagined would be possible — but was perhaps the most beautiful of all.
That year of 2011 was probably the greatest year of Indiahikes explorations. We were bringing out the defining treks of our country.
We had already brought out the Roopkund and the Rupin Pass. We had explored the Hampta Pass and the Dayara Bugyal. We had set foot on Kedarkantha, which we knew was going to be our country's first true winter trek.
In the very high altitudes, we had done the Kugti Pass and the Stok Kangri.
We had already decided on exploring the Chadar Frozen River trek later that year — another trek that could define the future of trekking.
And now we had Kashmir in our minds.
We knew that Kashmir would be the biggest challenge of them all.
Kashmir was known for strife. The atmosphere in the valley was tense. Militancy was in the air. Information about treks was non-existent.
Our family members thought we were out of our minds. Why Kashmir? they asked. Why do you want to go there? Do you want to get killed?
Putting Together The Kashmir Exploration
When we pored over the maps of Kashmir, we found lakes above Sonamarg in very close proximity to each other. But there seemed to be separate trails to these lakes. Most people visited the lakes above Sonamarg, Vishnusar and Kishansar, but didn't go further.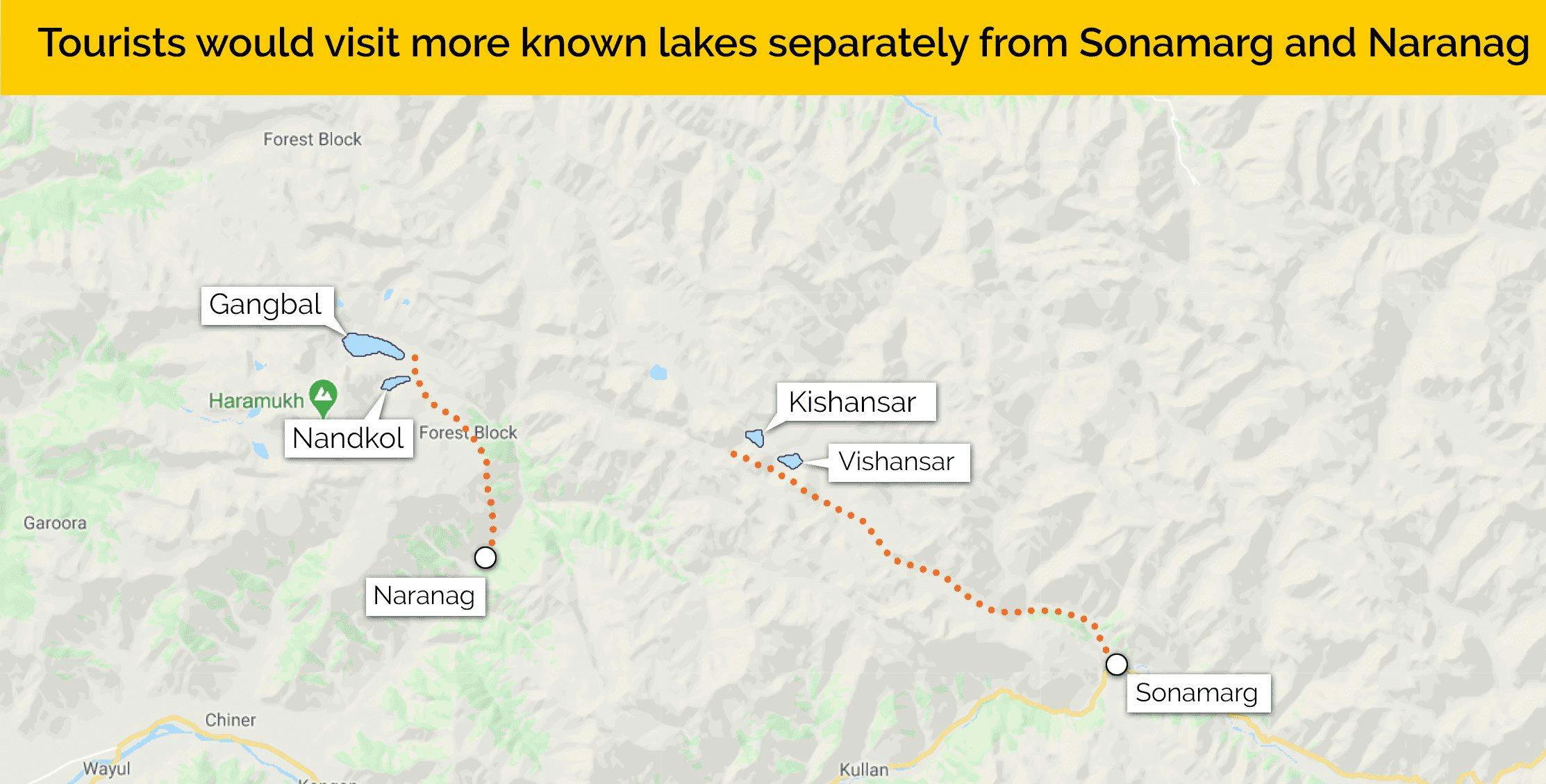 On the other hand, there was a trail above Naranag, a relatively unknown village, that led to two other big lakes, the Gangabal and Nandkol.
A thought nagged Sandhya. Were these lakes connected by a trail? Especially the Gangabal and Nandkol with the Vishnusar and Kishansar? There seemed to be more lakes in between.
Sandhya researched further. Her hunches were right. There was a trail connecting the lakes. It was uncomfortably close to the LOC.
Her now growing contacts in Kashmir revealed, "There are a few madcaps who do the trek connecting all of these treks. But they are so few that not many know about these lakes."
Sandhya declared to all of us. If we do explore Kashmir then we would do the trek that connected these lakes. That would be our greatest adventure — and perhaps our greatest find.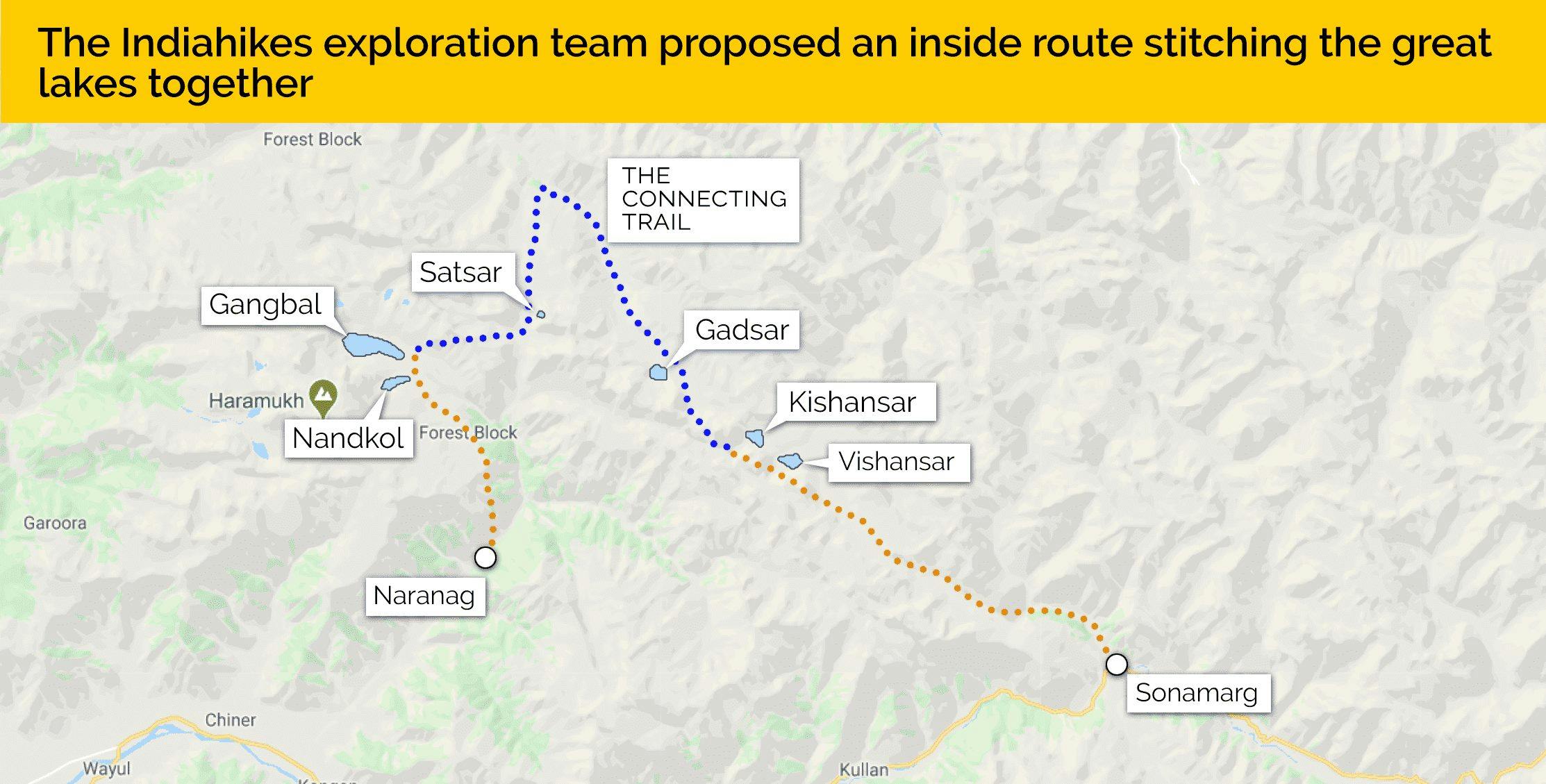 She quickly put together a local Kashmiri team to help us explore the trek. We announced the exploration to a few of our trekkers. Only 9 trekkers signed up for the exploration. The fear around Kashmir was real.
At the back of our mind a new gnawing question haunted us. Even if we explored Kashmir successfully, would trekkers really want to trek in Kashmir?
Changing the trekking scene in Kashmir
To write this piece, I visited Sandhya's old thoughts about Kashmir. She had written about them in an article. She wrote:
"Back then, we did not know much about Kashmir, leave alone the trek. We just knew that Kashmir was supremely beautiful. So, the trek had to be beautiful too. Our idea was to simply go to high altitude lakes. We thought that was enough to make the trek superb. We did not know what else to expect."
"The final exploration team consisted of only nine trekkers, though we had made arrangements for 10. Somehow, people were very hesitant to step into the unknown. Nevertheless, we set out."
"As we drove to Sutkari, our start point near Sonamarg, my only instruction to our team was: We are doing an absolutely new trek. What we take back and show is going to be the way the world will see the trek in future."
It was so ironic. Kashmir had phone signal at the start of this trek. None of our treks in Uttarakhand and Himachal had a signal.
I distinctly remember the phone call from Sandhya even today. She called me an hour into the trek. She was beside herself. Sandhya, who is usually very stoic, squealed out, "this is the best first day trek I have done in my entire life! We have just started! We are already in the meadows! I can't tell you how beautiful they are. I have not seen anything like this before!"
I kept down the phone quietly. My heart raced wildly.  
Sandhya continues in her journal, which I reproduce here:
Within an hour, I knew that this was by far the most beautiful first day of any Himalayan trek that I had done.
By the second day, we were in the greenest and widest valleys I had ever walked on. Rivers and streams followed me everywhere.
On the third day, Vishnusar lake was bluer, clearer and prettier than any other lake I had ever seen. 
In the next few days, everyday, we would camp by a lake. I would think, okay, this must be the best day of the trek. But it kept getting better. 
When the trek ended at Naranag, I could not decide which was the best day! Even Naranag was picture-postcard perfect!
But the army camps on the way were not friendly. They were stunned and suspicious to see us trekking there. They told us, "we have never seen Indians trekking before, that too in a group. A few foreigners come — but one or two and very rarely. From where have you landed up?"
They harassed our horseman and pushed him around. In one of the camps they landed a good one under his ears. Our guide who was boisterous and confident with us, didn't utter a word in front of the officers. His fear was palpable. But the army camps didn't detain us — they let us trek ahead. 
Coming back from the larger-than-life exploration:
When I looked back at the trek, I felt it was created on a larger than life canvas. All our other treks were like watching a movie on a small screen. The Kashmir great lakes was like watching a movie in IMAX 3D. It was on a different scale of grandeur.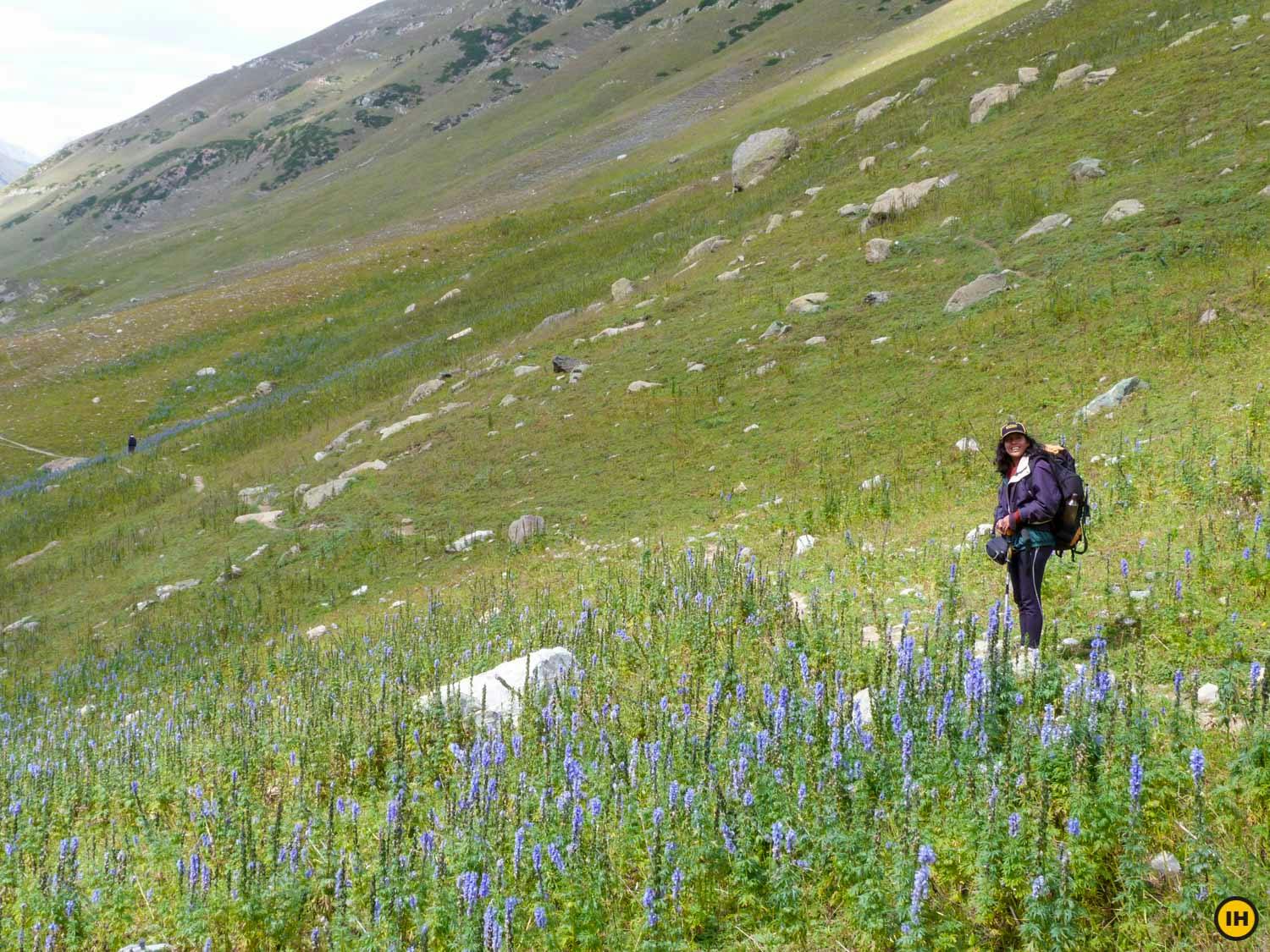 How The Name Kashmir Great Lakes Came About
When we got back from the trek, it was imperative that the trek had to be named. So far it was nameless.
Two things were clear in our mind. We wanted to celebrate the lakes, even though the trek had the most exquisite grasslands we had seen. We also wanted to bring focus on Kashmir. We wanted trekkers to see Kashmir positively — not with the eyes of strife and terror.
We mulled around with many possibilities.
"The Lakes of Kashmir trek". 
We thought that was weak. The lakes Sandhya had seen and shown us were at a level of beauty quite unseen. 
How about, "The Great Lakes of Kashmir Trek". That would highlight the lakes. Yes, this was closer to what we were looking for. But we were not totally satisfied. Kashmir was now taking a backseat. We didn't want that. We wanted Kashmir to be celebrated.
And that's how we finally settled on "The Kashmir Great Lakes Trek". Kashmir was at the forefront. Kashmir was being celebrated first, yet the lakes did not lose prominence.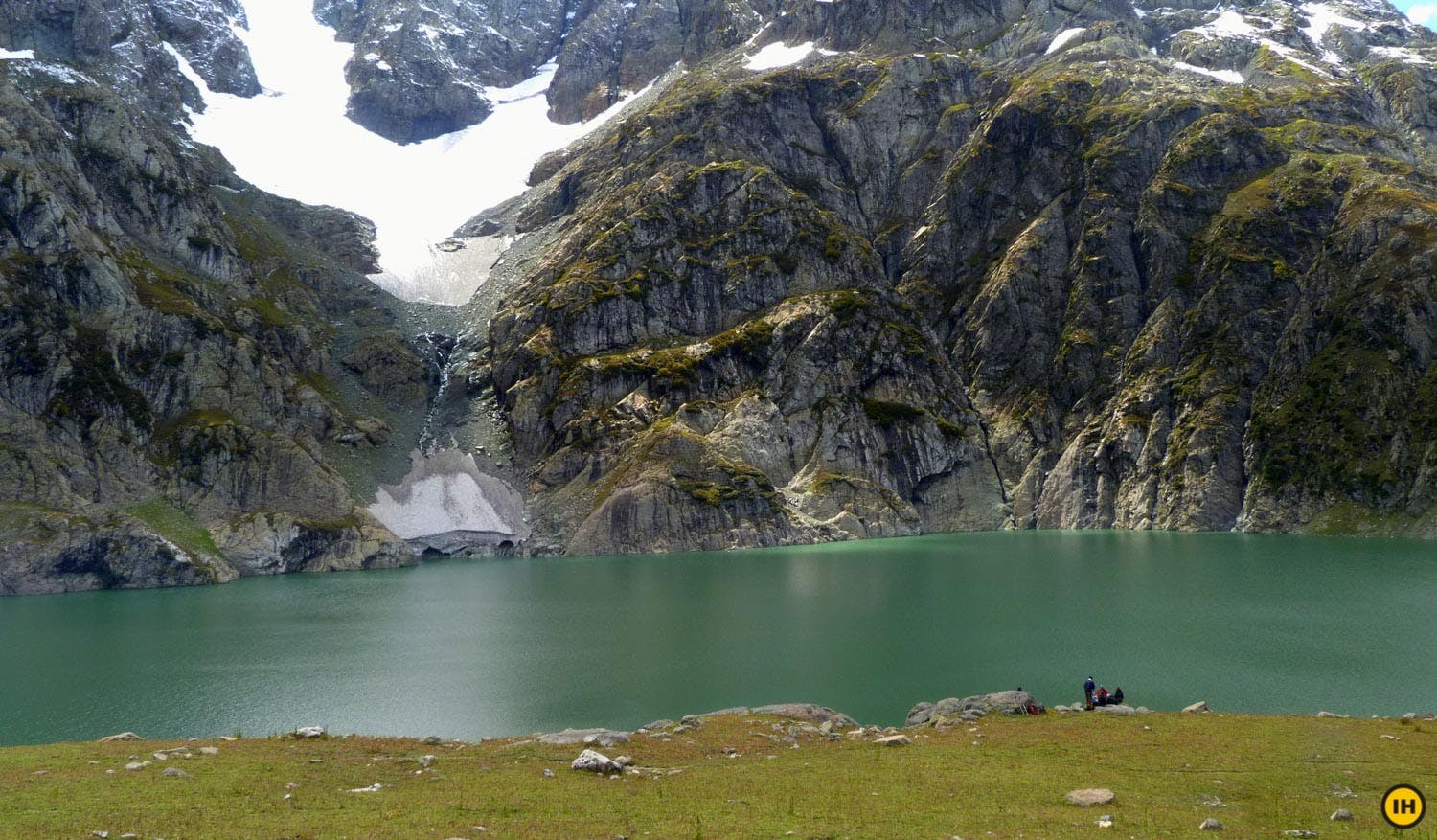 Today, almost ten years after we explored the trek, the whole world now calls it the Kashmir Great Lakes trek. Our legacy of naming a trek in Kashmir will stay forever.
But I want to reveal a tidbit here. I think Sandhya and I had an inkling for what was coming our way. In our original exploration invite, we had already called it the Kashmir Great Lakes trek. Serendipity? I don't know. 
The Birth of Green Trails was in Kashmir
Today, Green Trails is a much acclaimed initiative of Indiahikes. The Green Trails team has removed over 50 tons of waste from our mountains across the country. They have been able to set up model trekking villages in remote corners of our country. Upcycling, recycling of mountain waste has taken a new shape under Green Trails.
It has earned respect and recognition across the country. Governments, NGOs have worked closely with our Green Trails team to leave our mountains better. 
But not many know Green Trails started in Kashmir, with the very first exploration Sandhya and the team did. 
Sandhya narrated the incident to me:
When we reached our first lake, the Vishnusar, we were very surprised to see the amount of litter around the lake. We realised day trippers and campers had done a lot of damage to the lake. 
Mind you, we were just exploring the trek. In our knowledge, no one knew about trekking in Kashmir. But here we were staring at cans of juices, empty beer bottles. This was almost like going to the North Pole to find a grand Indian wedding happening there. 
It disturbed us greatly, but we continued with our explorations. 
When we finally got to Nandkol and Gangabal, we were aghast! We were in the most stunningly beautiful landscape of our country and around us were mounds of camping litter. 
For the first time, instead of just caring about our own litter, the entire exploration team decided to clean up the areas around the lake as much as we could. It was a spontaneous act. We neither had equipment nor bags. But we rustled up some gunny sacks to gather up whatever we could. 
This was our first act to keep our mountains better.
When we got back from our treks I remember we held a long discussion among ourselves. The future of trekking would not be in safe hands if we did not step in at this stage.
Indiahikes was being seen as the torch bearer of trekking in our country. We had to set the norms for a new sustainable trekking format in our country. We could not wait for the government to step in.
What we did, others would follow. By then a lot of smaller trekking agencies had sprung up. They copied everything we did.
In the next few months one of our trek leaders suggested the name Green Trails for the movement. We loved the name. It stuck and we still use it today. 
Very early on we kept the Green Trails team away from the main activities of Indiahikes. We wanted them to work without hindrance or any self interest of Indiahikes. I am glad we took that decision.
Today if the Green Trails team has achieved so much in protecting the environment, I think a large part went in how unhindered they went about their work. 
How Kashmir Great Lakes Improved Tourism and Trekking In Kashmir
By 2014, trekking in Kashmir had grown exponentially. Unfortunately, the Tourism Department of Kashmir was still unaware of Indiahikes. Trekking in Kashmir was now in the air. The tourism department on their own was trying to promote trekking. 
A chance encounter with the then Director of Tourism, Mr Talat Parvez Rohella, changed a lot about trekking in Kashmir. He was very progressive in his thinking. He realised that while Kashmir was known for tourism, no one knew Kashmir to be a trekking destination. He wanted to change that.
He was surprised at the number of trekkers Indiahikes was carrying. He was very impressed with the vast amount of information our website carried. He immediately asked us to team up with them.
He wanted us to take a team of tourism department folks for the trek up to Vishnusar — just to show them the trekking potential of Kashmir. We did that. The local tourism folks had not seen the beauty of Kashmir like this before. 
That was our first close association with the tourism department of any state. We realised that even the government could actually be serious about promoting an activity like trekking — which in our minds was a very small niche of tourism that no one really cared about.
The tourism department of any state is now more conscious about the impact of trekking on tourism. While they still consider it extremely niche, they are waking up to understand that trekking is no longer as small as it looked. 
Trekkers not only trek, they spread good word about the state. They spend a longer time in the state (usually 6-10 days). Being from the higher income background, they spend more too. Outside trekking they stay in hotels, eat in restaurants, use public transport — while being very environmentally conscious. Trekkers are the ideal tourists any state wants.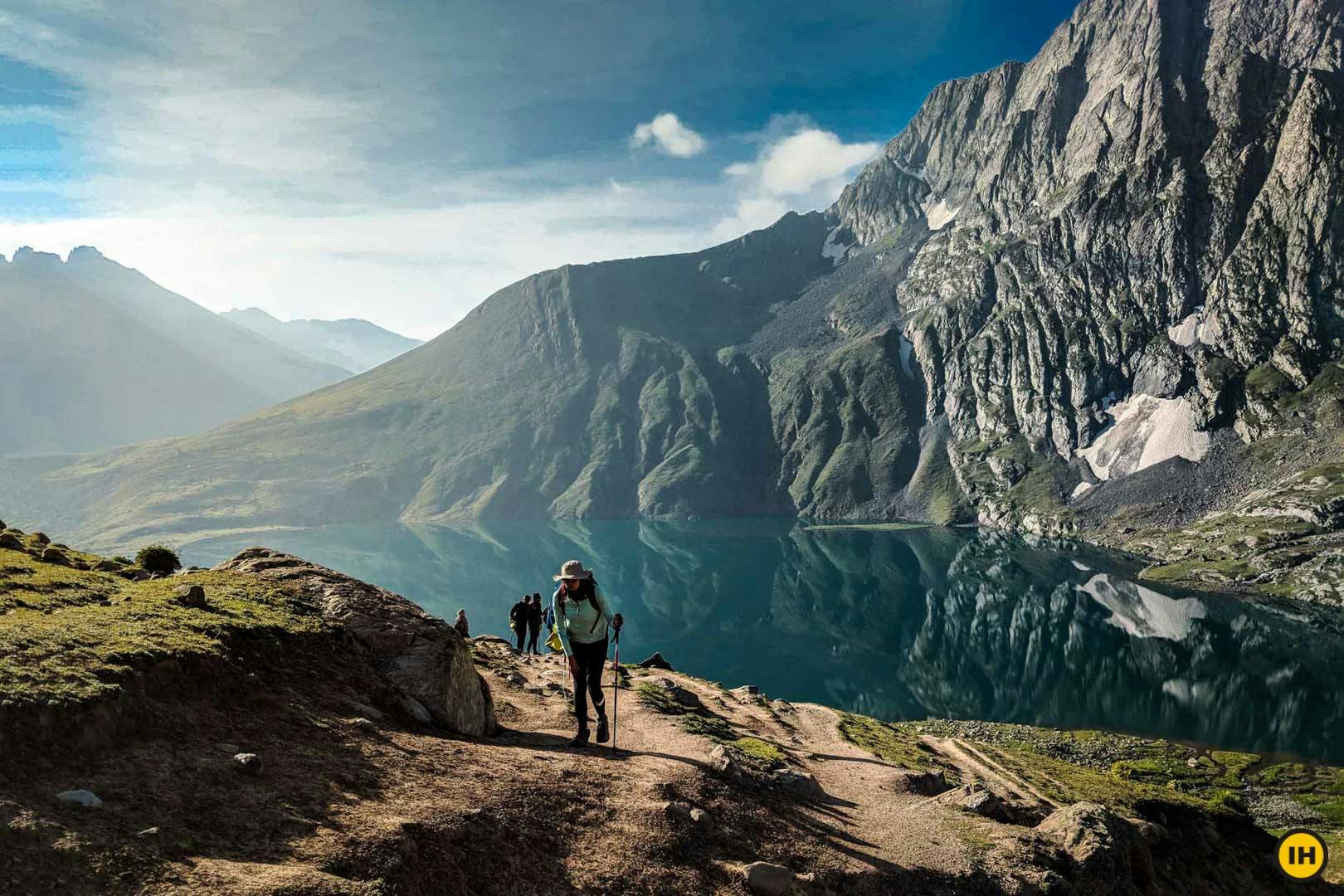 Trekking In Kashmir Today
We explored the Tarsar Marsar trek in Kashmir in 2014. If the Kashmir Great Lakes was beautiful, then Tarsar Marsar gobsmacked us. Kashmir was unearthing itself just like how we had predicted. 
In 2015 we explored the remote Warwan Valley trek. It was a trek that connected the deserts of Kargil to the greenery of Kashmir. 
If the Kashmir Great Lakes and Tarsar Marsar had stunned us, the Warwan Valley trek took things to another level. It was the Kashmir that even Kashmiries had not seen. We have, even until now, not seen anything as beautiful as the Warwan Valley trek. But the trek still remains at the documented level. 
Trekking in Kashmir has always been interrupted by unforeseen events. Some known and some unknown. 
In 2014, the great floods of Kashmir washed off a good part of the trekking season. 
In 2016, terrorism started to increase with more and more local folks getting involved. It was no longer a cross border affair. Burhan Wani was killed. The valley erupted in violence. The entire trekking season was wiped out. 
In 2017 and 2018, trekking started to limp back to normal. But the air of uncertainty always hung around. We couldn't even launch the Warwan Valley trek.
In 2019, Article 370 was scrapped. After a month of trekking, the valley was abruptly shut down. We had to evacuate 162 team members from Kashmir.
In 2020, Covid is now on us. The fear of the disease lurks everywhere. Treks until July are cancelled, August could follow suit.  
Will trekking return to Kashmir? Yes, it will. Will trekking in Kashmir be as simple as trekking in Himachal or Uttarakhand? That will require the political air to settle. 
The Legacy Of Indiahikes
While trekking in Kashmir continues to be ravaged by uncertainties, there is no taking away the fact that two of the greatest treks of Kashmir was brought out to Indian trekking by Indiahikes — the Kashmir Great Lakes (or KGL as it is fondly known) and the Tarsar Marsar.
If it wasn't for Kashmir, Green Trails would not be such a big movement as it is today. Trekkers would not be trekking in Kashmir with the ease they have today.
That is the legacy of Indiahikes and the impact of our explorations in Kashmir.
We'd love to hear what you thought after reading the story. Drop in your thoughts in the comment box below.
Latest Videos
"How we explored the Kashmir Great Lakes trek"
"Why Kashmir Great Lakes is the prettiest trek in India"
"Best time to do the Kashmir Great Lakes trek"
Sign up for our much loved Weekly Mailer
We have terrific trekking tips, trek updates and trek talks to look forward to