The Story Of Indiahikes
Share this story
Sandhya and I started Indiahikes almost 10 years ago with one vision: to define the future of trekking.
What began as one humble blog post about the Roopkund trek has now blossomed into India's largest trekking community and an authoritative source of all trek related information.
Ten years later, the Indiahikes website is the largest database of trek information in India. Thousands of trekkers use the information on the Indiahikes website to go trekking on their own. Credible information has become the fulcrum that has taken trekking forward in India. Being the last word on trek information is part of our core values.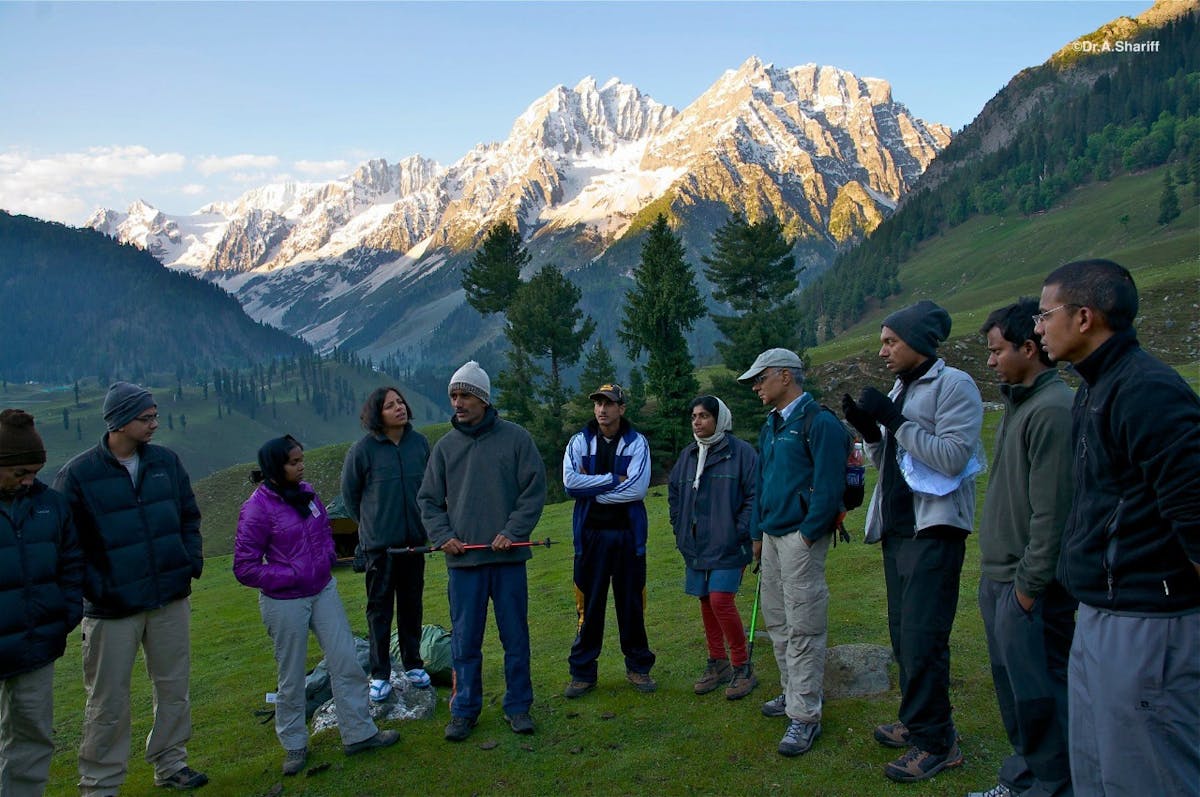 Arjun and Sandhya on the first Kashmir trek. PC: Dr A. Shariff
It was just not information. Indiahikes changed modern trekking practises in India. For example, safety in trekking was not given any importance. Safety was assumed to be the responsibility of the trekker. We didn't like that. We brought in new safety equipment, processes and a training system. We put back the responsibility of the safety of a trekker to where it belonged — with the organisation.
Being the last word on trek information is part of our core values
Very early in our organisation making, we realised that with the growth of trekking, managing the environmental impact would be critical. Being the leaders, we had to set the right example — and the policies for the future.
It was Sandhya's thought to make "Green Trails" a separate division of Indiahikes. We did not want this division to be influenced by any other interests of Indiahikes. This division would be responsible for setting the standards for environmental trekking.
Today the Green Trails team has transformed how trekking is done in our country. Over 50 tons of litter has been brought down from the mountains. Mountain trails where the Green Trails teamwork are pristine. Our community work has created model villages in waste management. Our upcycled products have reduced landfill waste by 60%. Our Green Trails team now works closely with the forest department, the government and NGOs to set new standards for the future.
I think one of our biggest contributions is how we have changed the way trekking is done in our country. From the equipment used to the processes followed, or new treks explored things have fundamentally changed since Indiahikes arrived. Treks like the Kashmir Great Lakes or Kedarkantha were brought into Indian trekking by Indiahikes.
Even now we continue to define the future of trekking in our country. New treks are getting explored. Our trek leaders are now globally accepted outdoor leadership experts. Our alumni of trek leaders work in the best outdoor industries across the world — which is a proud moment for us and a testimony of our training systems. On the other hand, the best outdoor trainers from across the world work closely with Indiahikes.
Everything put together reflects in the trekker experience. I believe there is a world of difference.
Sign up for our much loved Weekly Mailer
We have terrific trekking tips, trek updates and trek talks to look forward to