Tips From A Fellow Trekker For Your Annapurna Base Camp Trek
Share this story
I went on the Annapurna Base Camp trek in late October 2017 with Indiahikes. They do it in 8 days' time (+1 buffer day). While you might already have done your share of basic research on this trek and Indiahikes have almost got it all covered here,  these tips will make your experience even better.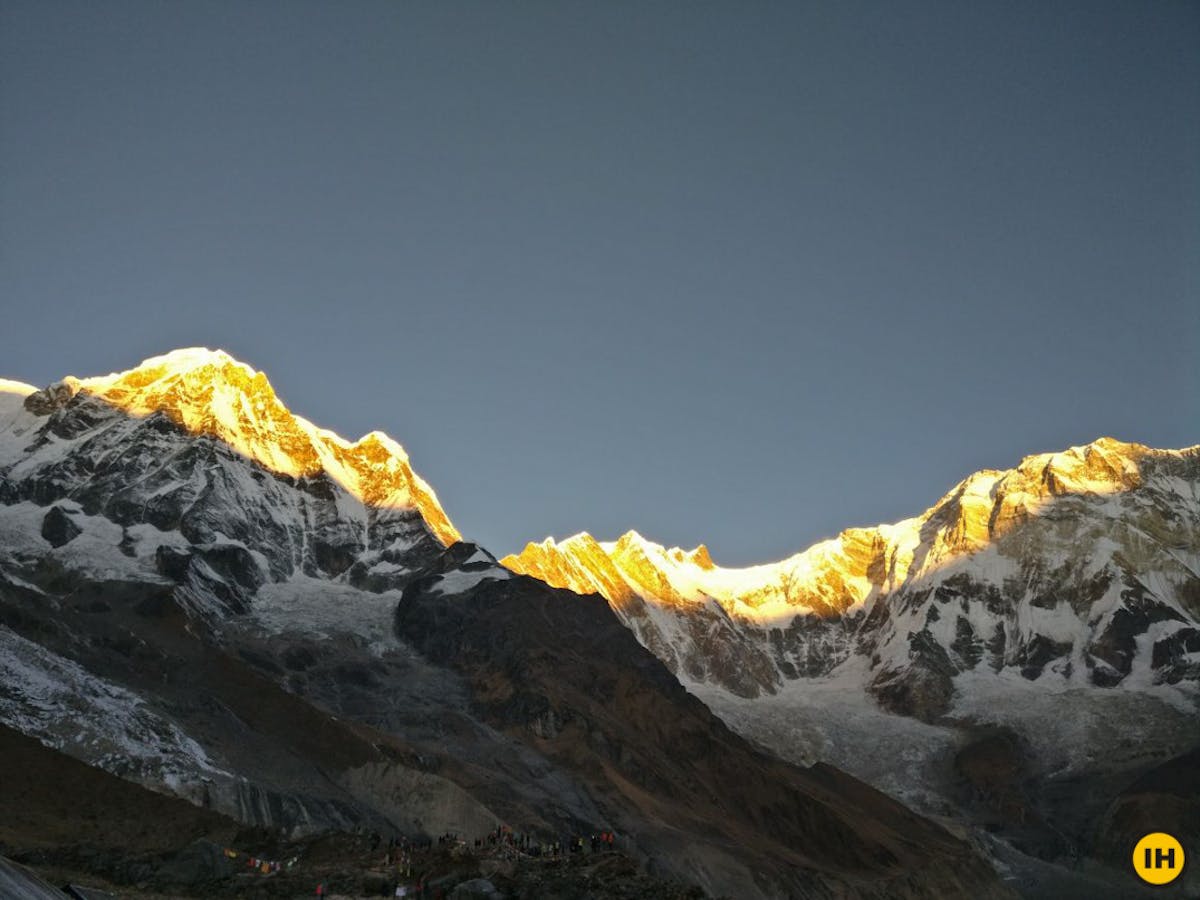 First rays of the sun, light up the entire Annapurna range, on the way to Annapurna Base Camp. Picture By: Rohit Ghiya
Before The Trek
1. Climb stairs
Yes, running and strength training is all very important to build your stamina for this great Himalayan trek but do not forget to do a fair bit of stair-climbing. Your legs will thank you when you find out that about 80% of the trek is- ta-da! – stairs; high steps (I am 5'3″). And you come down the same set of steps that you climb up.
2. Kneecaps
Buy a good pair of kneecaps and yet another one to support your ankles/shin/calves. The latter was so handy for me.
3. Get a strong back or else offload your rucksack
I was 2-treks old before this (Rupin Pass and Tarsar Marsar) and had never offloaded my rucksack. With the high stairs on this trek and my not-so-strong back, I had to offload after a day (not in favour of it though). So make that choice. If you are not going with a trekking group then porters are available.
4. Good shoes and a not-too-long poncho
It rained quite a bit and even snowed during the trek. This made the trail quite slippery. Ergo good shoes are important. Also, make sure that you can see your legs while wearing your poncho (cut it short if you cannot). It is important to see your feet while climbing up the steps else…
5. Hydration pack (good to have)
While walking ~10 km a day, you will find carrying a hydration pack extremely convenient compared making multiple stops to get your water bottle out. I did sweat more than usual on this one and cannot stress more about the importance of hydration on this trek (or all treks in general).
6. Sunscreen is an absolute must on this trek. Go for high SPF. I would recommend Neutrogena Ultra Sheer
Carry a lightweight Sunscreen Spray of SPF 70. The spray makes it easy to spread it on arms and legs. It is suitable for the face as well but do not spray directly on it.
7. Lastly, if you give a damn about and are prone to acne
The weather can be extremely dry so carry a heavy moisturizer. For dry/combination skin, Aveeno Dermaxa Emollient Soothing Cream works great and also doubles as a lip balm (triples as a hand cream too). You will sweat tonnes so carry gentle face wipes.
Other quick tips:
1. There are tea houses along the trek that need pre-booking unless you are feeling lucky.
2. Do not rely on the slow wifi in the tea houses to make your travel bookings back home.
3. Both the base camps (the ABC and the Machapuchhre one) were extremely cold during my time of trek. Carry multiple thin layers to keep warm. Do not forget the gloves.
4. Carry a vacuum flask to keep the drinking water warm if you tend to catch a cold too quickly.
5. Carry a pillow case with you if you are finicky about used pillows in the tea houses.
6. Go on a course of Diamox if you are concerned about Acute Mountain Sickness.
When On The Trek
1. Do not forget to get up in the middle of the night at ABC to take in the beautiful starlit sky and find yourself surrounded by the majestic mountains. You will remember it your entire life! It gave me goosebumps…
2. This trek is a double treat. You will also cross the Machapuchhre base camp before ABC. This fish-tailed mountain is probably one of the world's most beautiful so do not forget to click a picture with it in the backdrop. 😀
3. I saw many eight & seven-thousanders during the Pokhara-Kathmandu flight so look out for that. And no, Everest is way out of the way.
4. Safe food choices: English breakfast, dal bhaat and pizzas (it'll be all yak cheese)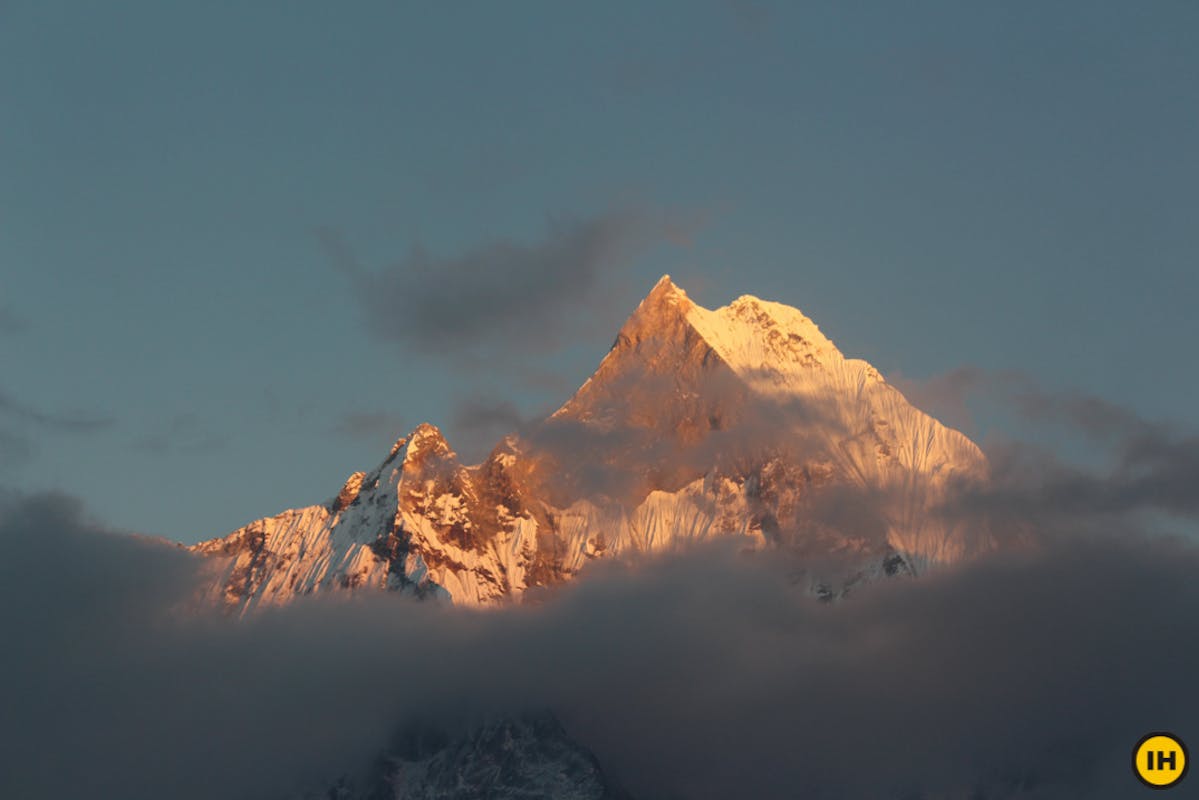 The enchanting Machapuchare peak as seen from Machapuchare base camp. Picture By: Rohit Ghiya
After The Trek
1. Hog on some amazing food by the lakeside at Pokhara. We went to one of the wood-fired pizza places.
2. There are various options for adventure sports at Pokhara to try out.
3. Do not miss a club night at Kathmandu – great fun, great people!
I have lived a great deal of my life in Himachal and Kashmir but these mountains were oh so gigantic!
Garima Jain is the creator of the blog- A Little Bit Of Everything, where she first published this post. Follow her blog to hear more from her.
What you should do now
1. If you want to see a complete list of treks that we run: Head over to our upcoming treks page. You'll find help in choosing a Himalayan trek in a specific season.
2. If you want to work with us: Head over to our careers page. We have lots of positions open. We also have lots of applications coming in. So the sooner you apply, the better.
3. If you want to see the 13 best treks of India: Then get our free guide here.
Sign up for our much loved Weekly Mailer
We have terrific trekking tips, trek updates and trek talks to look forward to