How A Training Program At Indiahikes Changed My Perspective Of Trek Leading
Share this story
At Indiahikes, we define the future of trekking in India. The year-round training program at Indiahikes is what leads to Indiahikes being the largest and safest trekking organisation in India.
Right from doing pioneering research and implementing sustainable trekking practices, setting the highest standards of trek safety, delivering the best trek experience, to working with the best outdoor leaders in the country.
In order to set in motion a new Trek Experience for our trekkers, 35 Indiahikes Trek Leaders attended a training session at Benog Base Camp. The training session was led by Gerrit Onstein, an outdoor educator from the Netherlands, with over 30 years of experience in the field, along with the Training & Experience Team of Indiahikes.
By the end of the training program, our Trek Leaders looked at their roles as outdoor leaders in a new light. Senior Trek Leader Syama Krishna pens down his thoughts on the training program.
Working with Indiahikes for the last year and a half, I have witnessed how nature can be a catalyst in bringing out the best in us.
I've seen my trekkers sharing food on a cold stormy night in the dining tent, crawling out of their sleeping bags into the cold night to be a pee buddy for their tentmate, or looking out for their teammate on a challenging day's climb –– simple acts like these become an exercise of love and care.
In fact, I have seen myself evolve as an individual in the loving embrace of mother nature. The pulsating summit climbs, surreal sunrises and sunsets, star lit skies, the sweet mountain air, and the lovely trekkers that I have met, have all played a pivotal role in shaping who I am. 
Having been in the mountains for quite some time now, I have come to realize that nature has transformative power.
A Trek Leader (TL), providing this transformative experience to trekkers from all walks of life,  requires a certain set of skills or the right facilitation strategies.
These facilitation strategies are essentially the ability of a TL to direct self-learning in a trekker. With the right facilitation skills, a TL can mold any moment on a trek into an everlasting memory, for their trekker.
│Indiahikes Training Program at Benog Tibba
The Indiahikes' training team from Bangalore headed by Lakshmi Selvakumaran conducted a 2-week long facilitation skills training program for all the TLs in the Indiahikes Benog Tibba basecamp.
The training program at Indiahikes was facilitated by Geritt Onstein, an outdoor educator from the Netherlands with over 30 years of experience.
The training gave us insight into how a trek can be approached in a holistic way to promote learning. 
The program was also intended to build a safe space for ourselves to grow, to learn and come together for one very strong reason––to revolutionize the way trekking is looked at.
We wanted to set the ball rolling for promoting experiential learning on our treks and to make trekking a wholesome experience for you as a trekker.
As a part of the training program at Indiahikes, ten of us (Trek Leaders) planned and went together on a 3-day trek to Brahmatal. We divided ourselves into three groups at random, with each group being the "Trek Leader team" for a day, and the rest being trekkers for that day. 
The goal of the trek was to work on our personal development, absorb each other's skills and to, of course, have a blast.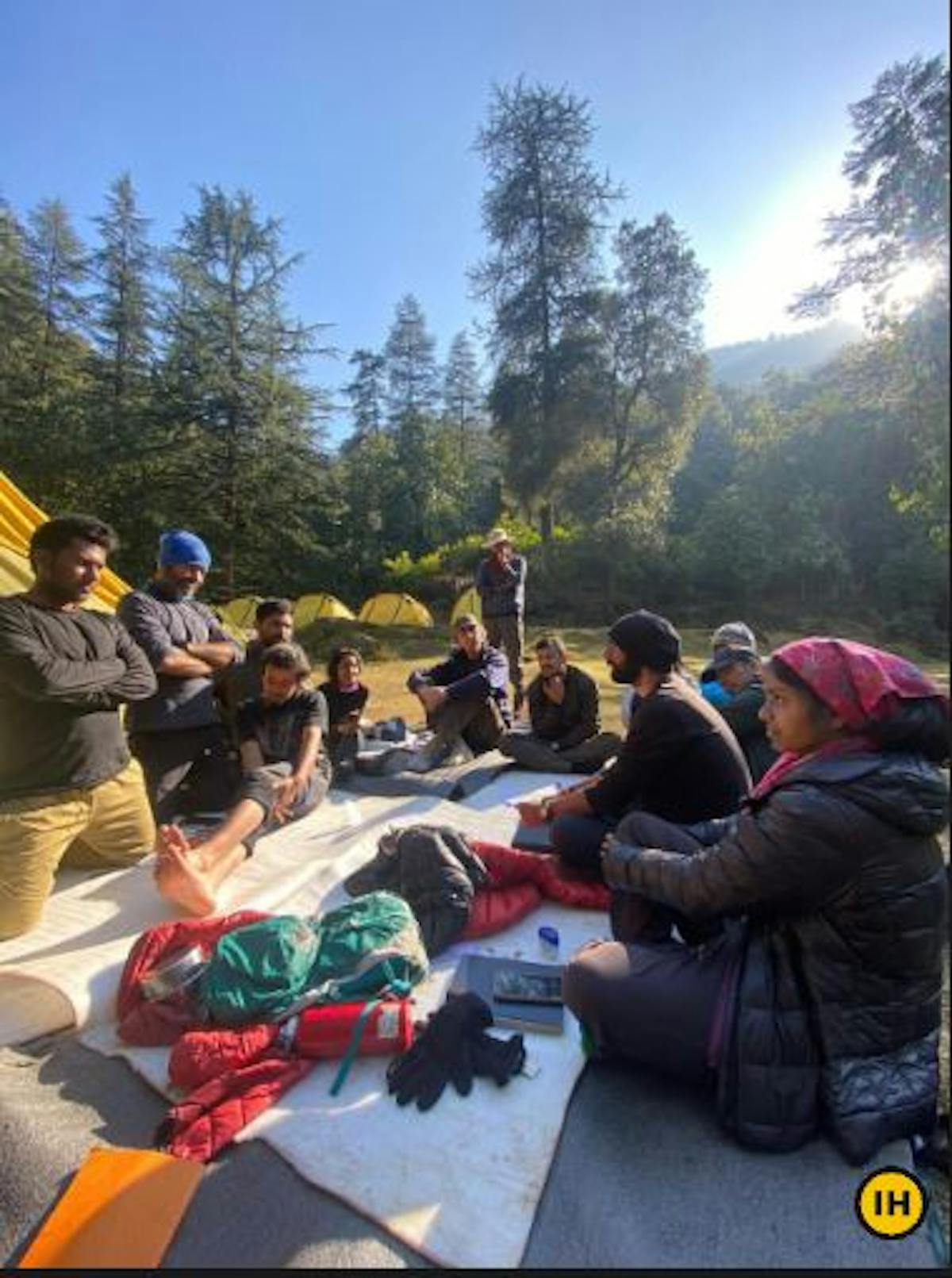 A session underway at the Benog Basecamp Trek Leaders training program. Picture by Izzat Yaganagi
│Facilitation brings out new things through each step of the trek
It was Day 1 of the trek. I wasn't on the trek leading team of the day and was having fun as a trekker, prancing through the beautiful forest trail, having endless conversations about food and football. At one picturesque spot, the entire group was asked by the TL team to stop. 
The spot was beautiful, with the sunlight dancing around the trees, the gentle breeze pampering us and the dense forest extending its welcome. The TL team then asked us to hug a tree of our choice. 
Everyone picked their own tree. Some hugged the trees with expansive branches. Some hugged the trees which reached out to the Skies. Others, picked ones that signified change to them through their eclectic shapes. I hugged a tree that seemed to resemble my stoic self.
The entire training program with Gerrit and the Indiahikes team was filled with several such moments for me. Moments of learning and reflection, questions.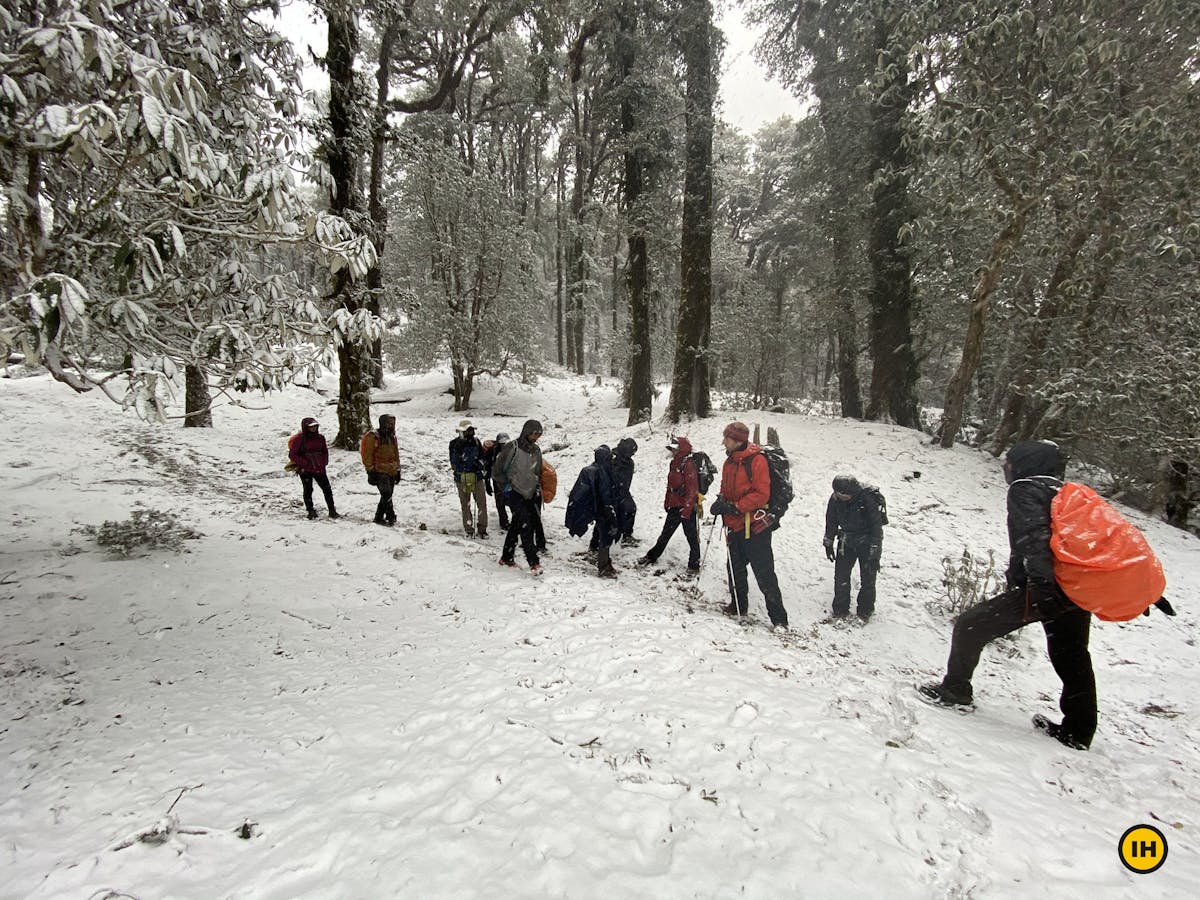 The team making its way through the forest section on the Brahmatal Trek. Picture by TL Pradyumna
│I had a transformative experience
We were then invited to share a secret with our tree. Taken aback with the proposition, I took a minute to gather my thoughts about what I wanted to share with the tree. 
Rummaging through my vault of secrets, I slowly felt an air of solitude begin to lull me into a reverie. I started to become aware of all the chatter in my head.
Every thought I had, was in slow motion. I felt and thought it through right from its inception to being accepted in its entirety.
While this awareness built up internally, externally too noticed a change. I could observe things more deeply. The sound of a nearby stream felt like music to my ears and the tree I was hugging grew ever so close to me.
Then, a moment of pure joy as my affinity for the tree I hugged washed over me. An overwhelming sense of peace took over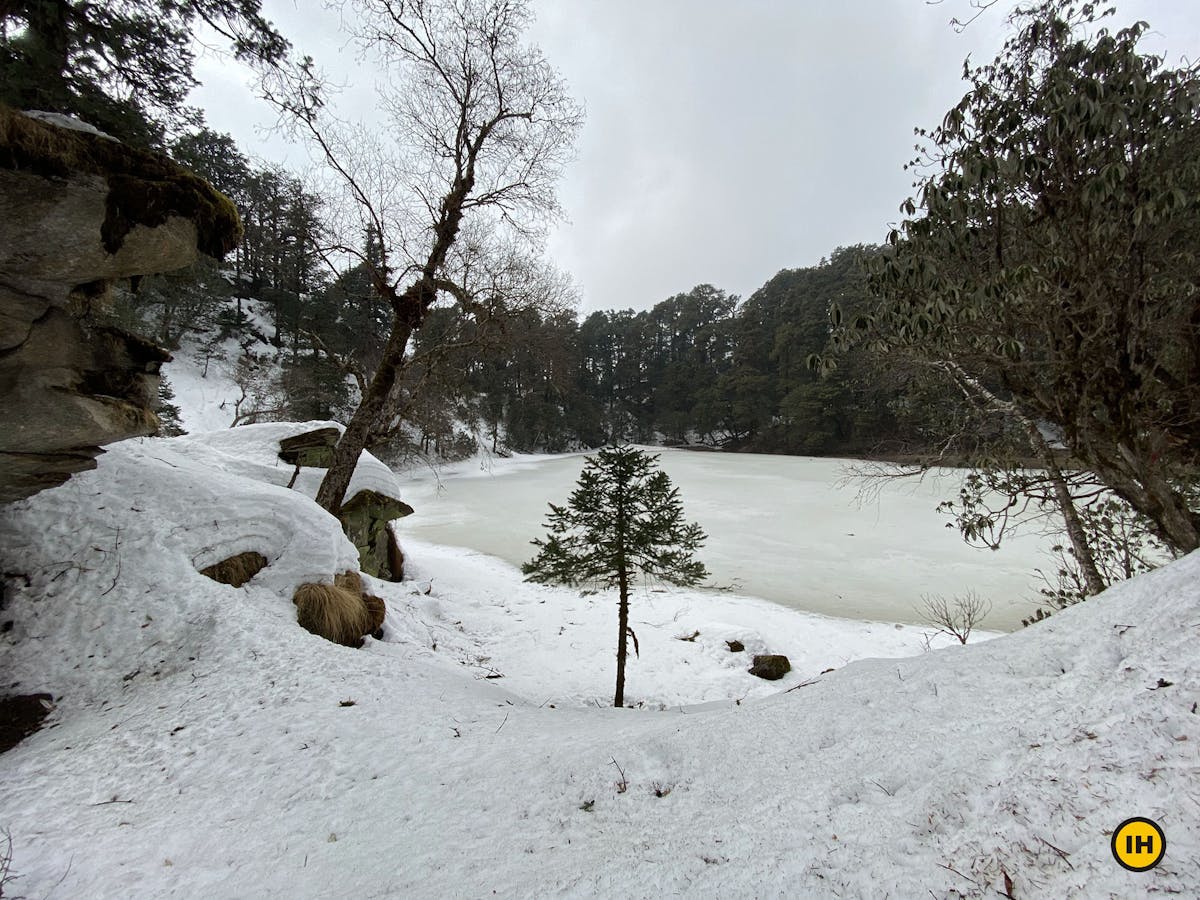 The stunning Brahmatal Lake surrounded by forests in winter. Picture by TL Pradyumna
│The potential of reflection, realization and learning
All this made me attentive to one thing only –– to listen to what the woods had to say to me, to pay heed to their stories and find my narrative in it. The intimate moment I felt with the lovely tree being my only contribution to shared space. 
After what seemed like an eternity, I heard the TL team ask us to open our eyes. It had been two minutes. This realization was followed by a few beautiful words from the TL team on how the forest was an interconnected system like the WWW or Wood Wide Web. 
After the debriefing, I was left pondering over how I have thrived in the comforts, material and beyond, that the forests have had to offer. Yet somehow, I have always looked at every tree as, well, just another tree. As I started to move from the spot towards our campsite, I looked back at my tree, and the forest that welcomed me and I felt a part of me was entwined in their roots.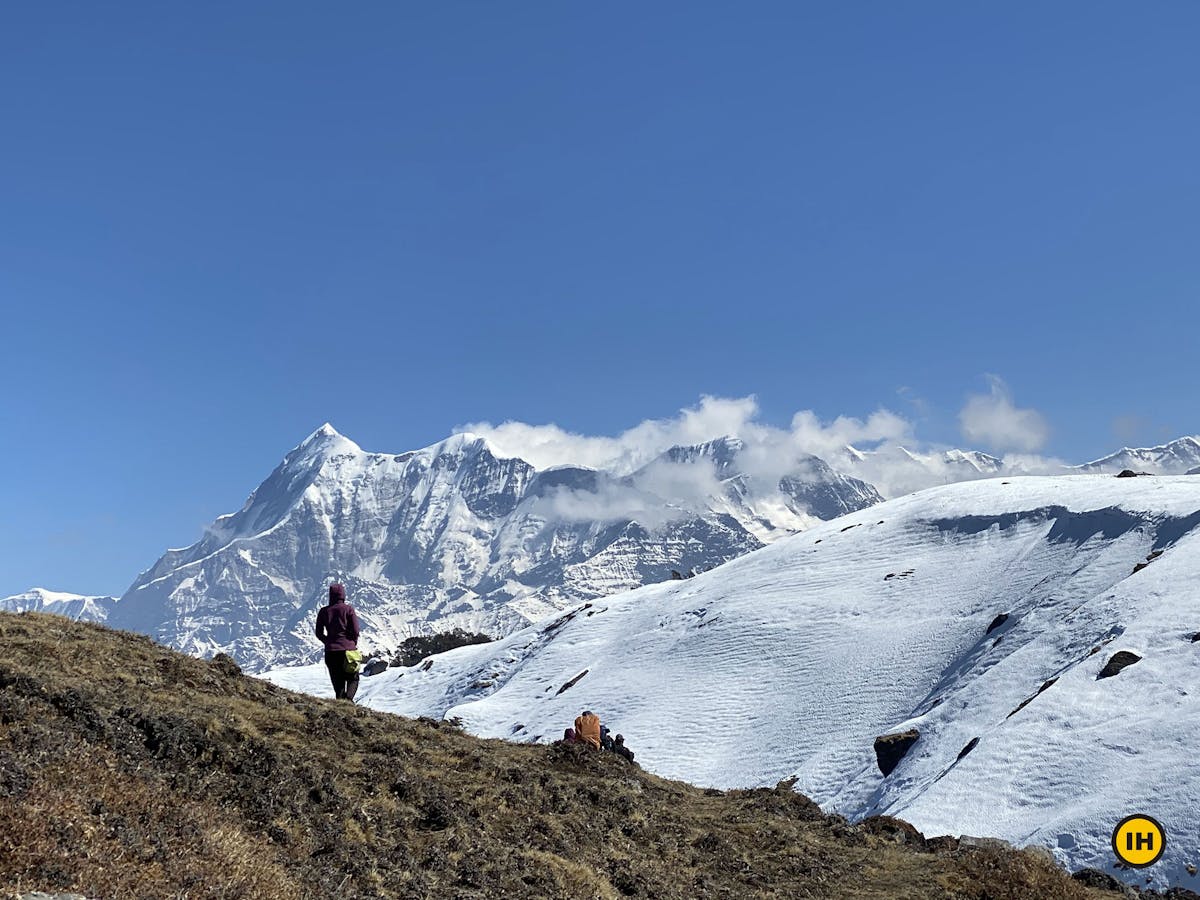 A team member enjoys a quiet moment of reflection, standing below the awe-inspiring Mt Trishul. Picture by TL Pradyumna
│What does this mean for you as a trekker?
Primarily, the chance to see your trek as an opportunity to enable your inner self. 
When I say this, I want you to see the trek bring out a new version of yourself. For example, a summit day push on the trek for me is not just a day where my team will get to see big mountains and take Instagram-worthy photos. 
I want my trekkers to know that after that summit climb or pass crossing, they will never look at their lives the same way.
It will be a day where they discover the expanse and might of the mountains within themselves. Their sense and purpose of life has broadened. And they feel a deeper connection with themselves and nature.
On your next trek with Indiahikes, you can expect reflection sessions and discussions facilitated by your TL. 
Yes, sometimes you will be playing Mafia too, but chances are that you'll enjoy these other immersive activities even more. These could be as simple as pitching a tent or learning the right way to pack a backpack. 
This is what we call learning through reflection on doing or simply: Experiential Learning.
At the end of your trek, what we want you to recognise is that the trek isn't merely an inspiring break from monotony, but it is the break that allows you to find inspiration in everyday life and work. 
We want our trekkers to become cognizant of group dynamics and learnings––how do people so different from ourselves deal with conflict, how do they trust others, how do they come together to achieve common goals on a trek. 
Once your awareness of these issues is heightened on a trek, you can take your learnings back to your workspace to make work more meaningful and to carve an identity for yourself through your approach.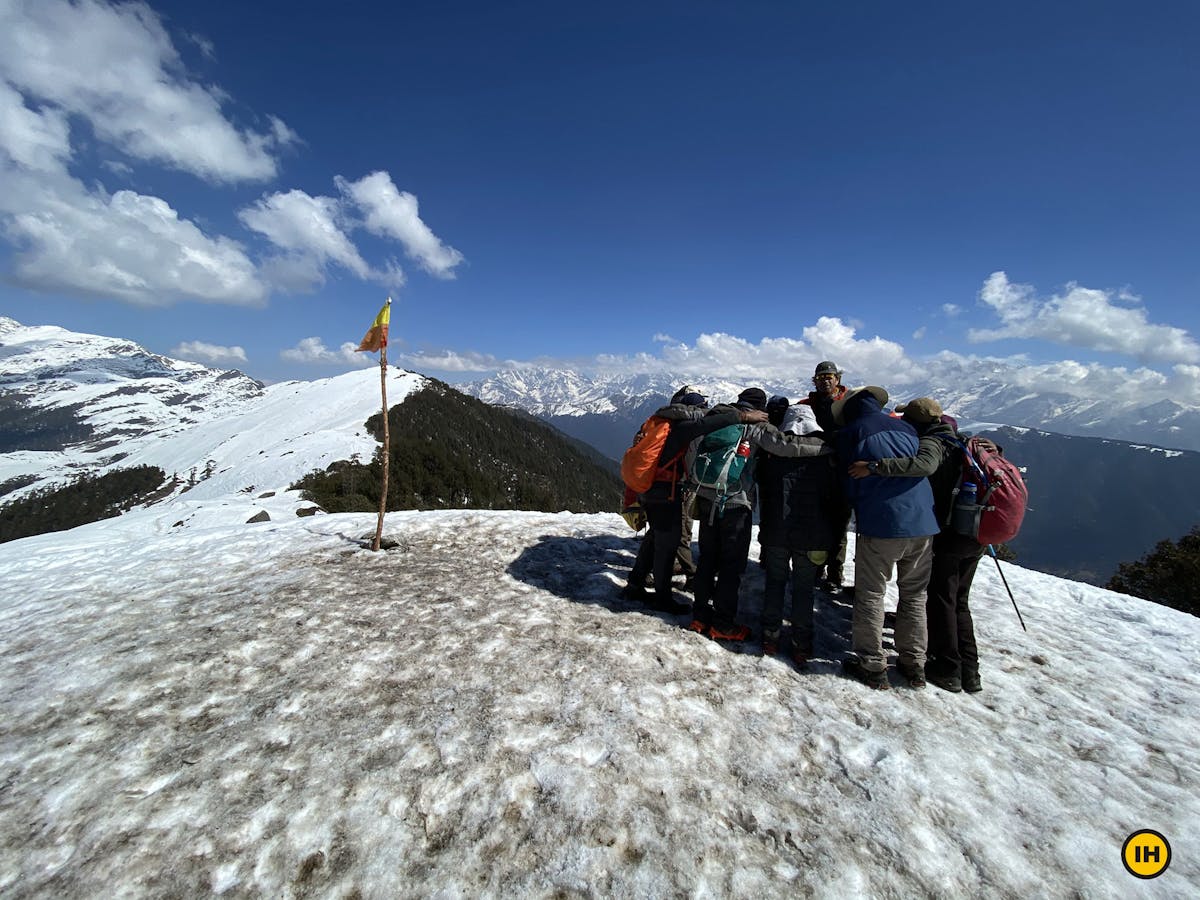 Cherishing this beautiful moment full of learning, realization, and transformation. Picture by TL Pradyumna
│Learning and fun need not be exclusive of each other.
I have come to realize that I have grown up in a society where teaching and learning are looked at as separate processes. However, this approach when applied to real life scenarios falls flat as it discounts the presence of complex external factors. This makes the learning laborious.
Enter experiential learning and you begin to see a significant difference in how much fun learning is. This shift is tangible as experiential learning takes into account the complex external factors too and involves the person as a whole.
Trekking in India is definitely moving towards being a testament to this. Indiahikes has taken the initiative to incorporate facilitation in our ELP and family batches.
 But, it would be the first time that facilitation and experiential learning would be rooted in our mainstream treks too. We have a lot to look forward to in the coming months, and I hope we can walk this journey together.
Related Videos
"What Does It Mean To Work At Indiahikes"
Sign up for our much loved Weekly Mailer
We have terrific trekking tips, trek updates and trek talks to look forward to