Why Trek Leading Is A Great Option For Women 
Share this story
There is a definite change that has been happening in the outdoor industry.  More and more women are coming to the mountains. More than 20,000 people trek with us every year, out of which, 32 percent of our trekkers are women. Out of these, 80 percent of them are single women who either come alone or with their friends.
With this increase, we're seeing another heartening trend. We're getting more women applicants for the role of a Trek Leader.
Indiahikes hired its first woman Trek Leader in 2016. In the last three years, the number has gone up to five. These women travel and now work regularly in the remotest corners of our country.
So, today we'll share with you the stories of these women who decided to breach the outdoor field to pursue their passion. We try to find out why Trek Leading can be a great option for women.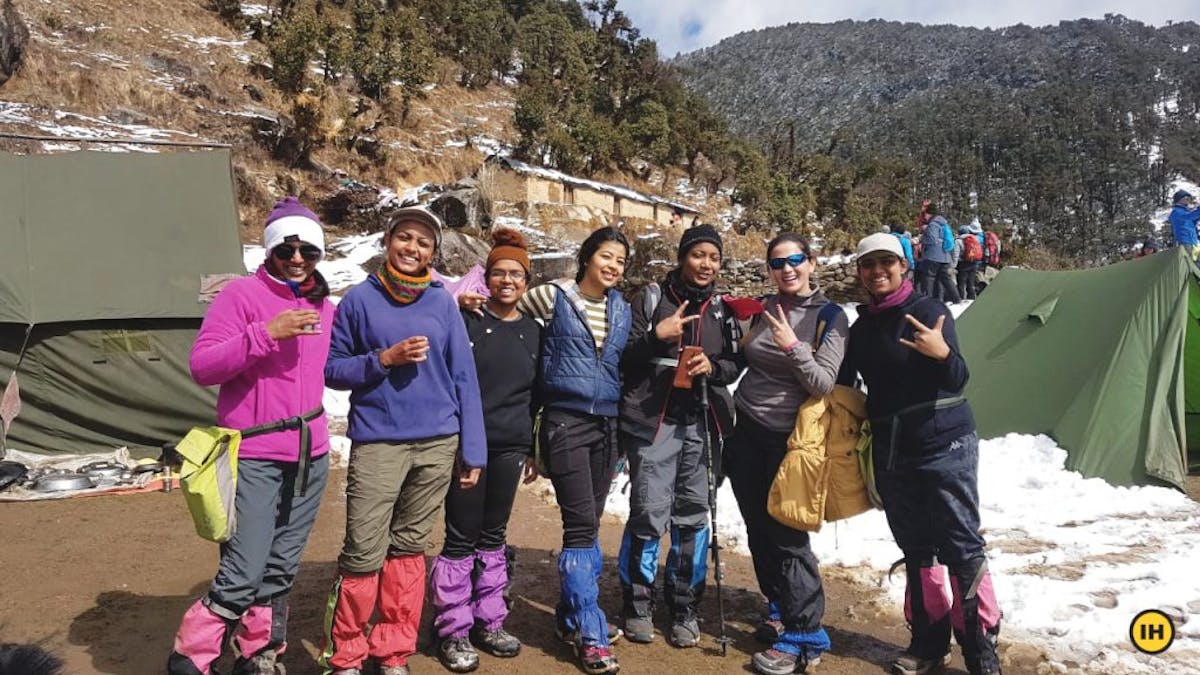 Meghna and her trekkers entroute Bekaltal, on the Brahmatal Trek.
What Inspired These Women To Move To The Mountains?
For Meghna and Jaya, the simple reason of being in love with the mountains was enough.  Meghna, who has been with Indiahikes since January of this year, says, "I wanted to be in the mountains after I completed my mountaineering courses. I found out that I had the skill and inclination and I decided to get into it."  
Jaya was a lawyer before the mountains came into her life. Her first Himalayan Trek to Buran Ghati changed the course of her life. At 35, moving to a job that demands physical strength in difficult terrain with harsh weather is not easy. However, Jaya was never apprehensive. "Age is just a number," she says.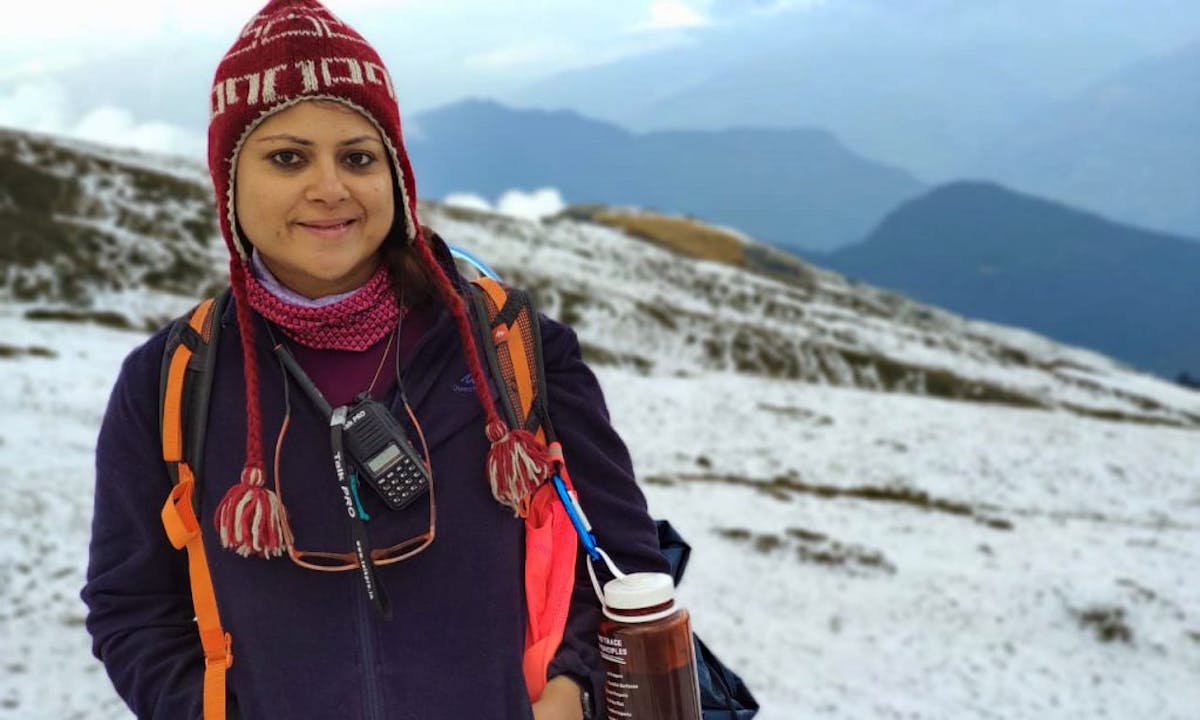 Trek Leader Jaya on the Deoriatal Chandrashila Trek.
Isha, on the other hand, has a different story. For her, moving to the mountains was a way for her to share what she experienced amidst these Himalayan giants to other people. For a decade, Isha worked as a Software Tester. In this time, she was an avid traveler and passionate trekker who frequently visited the Himalayas.
Her love for trekking grew every time she packed her backpack and found friends on the trek she would cherish forever. However,  she was inspired to turn her passion into living when she met a Woman Trek Leader for the first time in December 2018 on a trek to Kuari Pass. It was then she decided to give the passion inside her a name.
While her friends were apprehensive about the switch in her career, Isha did not lose focus. "They often said, women at this age-long for a career that doesn't demand any physical strength. But you are moving to something that demands you to be on the go, all the time. Now, it's been a month in the mountains and I have never been content in a job this way before." she says. Isha recently celebrated her 34th birthday.  You would see her performing either a headstand or some difficult asana at the campsites if you are on a trek with her!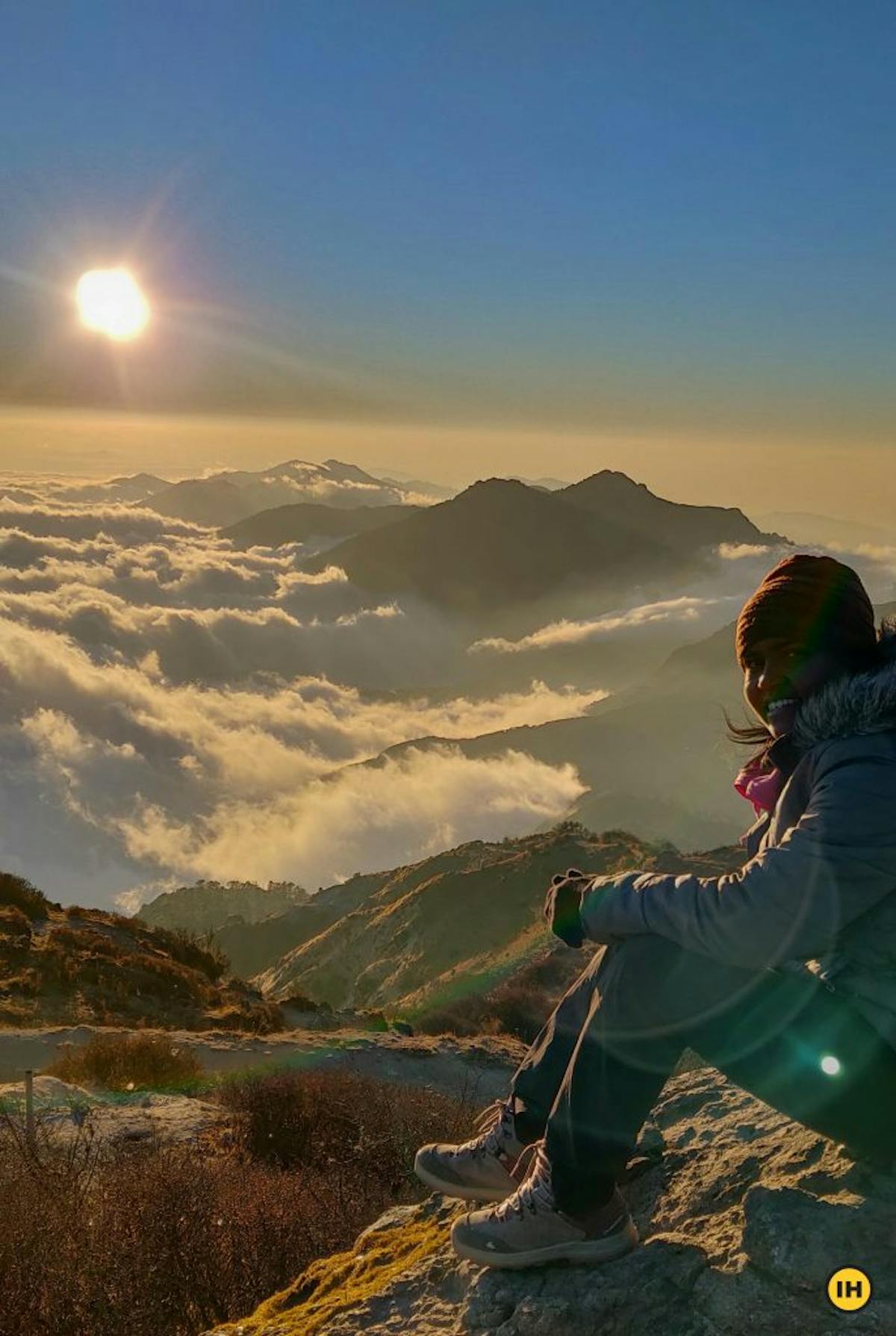 Trek Leader Isha enjoying a beautiful sunset in the Himalayas.
Neytra, another Trek Leader with Indiahikes, is an explorer by nature. When she was exploring remote villages in Spiti, Arunachal, Nagaland and Mizoram,  she realized she loved meeting new people and taking time to understand the local culture. "I would take my rucksack and move to one village to another!" she added.
So Neytra decided to take the plunge. She decided to turn from lawyer to a Trek Leader to fall in love with different geographies and villages all over again.
'With required support, everything falls in place'
Jaya has been married for the past ten years. When she decided to move to the mountains, she found her strength and motivation in the constant support of her husband.  
"My husband has been a great pillar of strength for me. It is actually my husband who insisted on following what makes me happy. He has been very supportive throughout. He was the one who helped me find courses and applying. In fact, applying at Indiahikes was also because of my husband's support," says Jaya.
For Meghna, it was her mother. "If it was not for her, I wouldn't be living my dreams," she observes.
Isha, who quit a job she was doing for 12 years to pursue trek leading, found support in her parents. "Although my friends questioned my choice and even told me the kind of money I would make would not be the same, my parents never questioned it. People who know me well are aware that I am a very simple person. Whatever I will get here will be enough for my sustenance," adds Isha. "When they see me now they tell me that I inspire them to explore what they love. Such small things matter to keep going," she adds.
Breaching The Male-Dominated Field
Getting into this job is difficult. When Meghna first sent out her application, she did not get any responses from most organisations. "Most of the people think it's a male-dominated field. I also felt the same in the beginning. Especially when I applied and didn't hear from them. I assumed that women do not have enough scope in the mountains. But when I started my outdoor journey at Kailash Rath, and then at Indiahikes, I realized that we can enter the outdoors and succeed here."
"Of course, due to lower testosterone levels, muscle mass and build, carrying the same load of a backpack will be harder for women on an average than it is for men. Undeniably, we need to work harder to achieve the same results. But there is a lot more to trekking than just lugging load up a slope," Jaya notes.
According to her, as a Trek Leader, you should be aware of Mountaineering and trekking techniques, have an awareness of the human body and know how to respond to medical emergencies. Along with this, you also need to have knowledge of the terrain, local flora, fauna and culture of the people in those hills. "These are all just as important, and women are well equipped with mastering these just the same as men," she says.
Neytra, however, believes things are looking up for women. "During the Basic Mountaineering Course days in Nehru Institute of Mountaineering (NIM), our instructor said that there were very few women when NIM started off.  Back then, every woman's batch would have 30 students. There were 85 students this time. So, the number speaks for itself that women are no more hesitant to explore the outdoors. It's also because our parent's generation is little open to let us go and don't hold their daughters back," she says.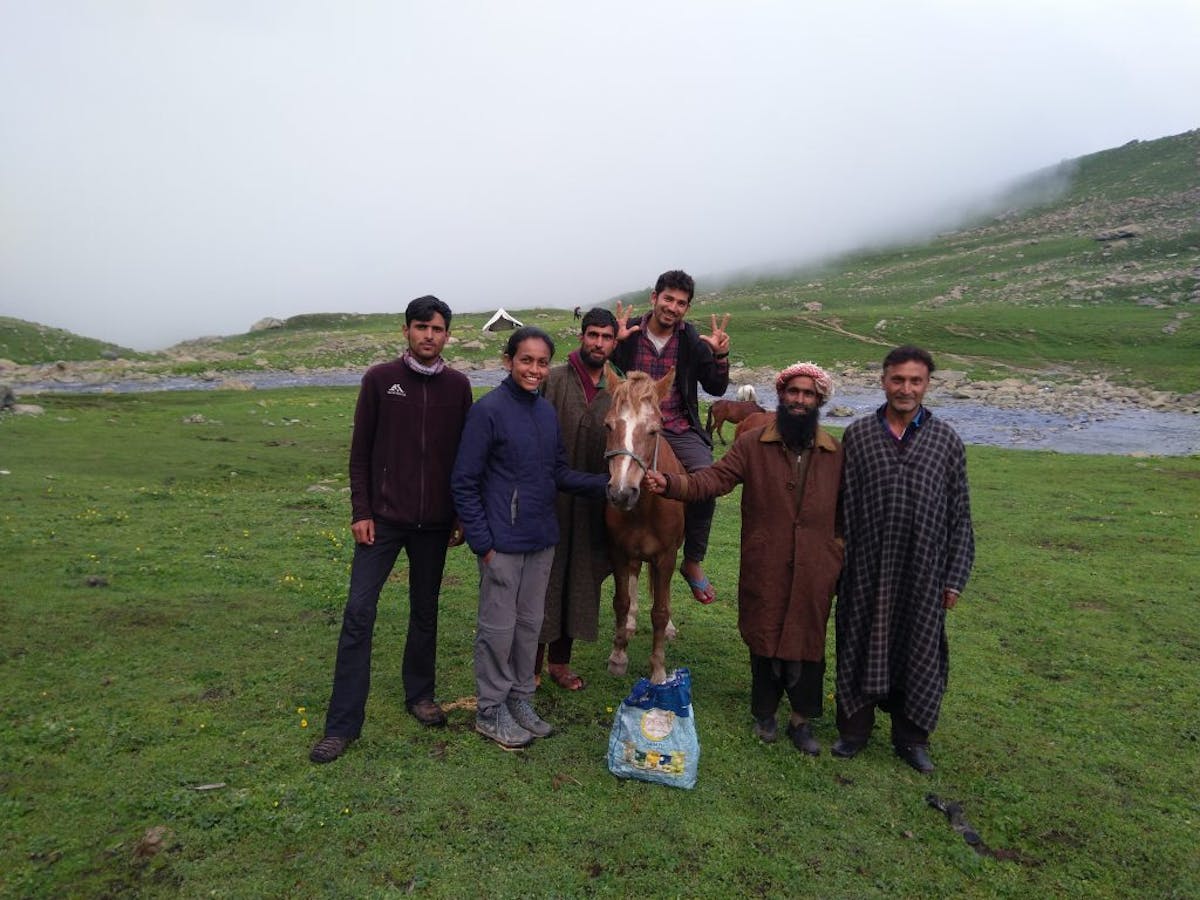 Meghna with the Indiahikes staff on the Kashmir Great Lakes trek.
'Women make good trek leaders'
Lakshmi Selvakumaran, who looks into the training of Trek Leaders and mountain staff, does not believe that trek leading is a male-dominated field. "Trek leading is a new role and a new career and we see that women are already venturing out and making a career out of outdoors," she says.
"Women are naturally good at being outdoor leaders given that they are emotionally strong, level-headed and are quite skilled at facilitating learning in the outdoors," she adds.
"Most of our staff are men. Unlike regular office jobs, trek leading requires you to stay in close physical proximity with the opposite sex, sometimes sharing quarters and tents. This can make some women uncomfortable. Leaving these apprehensions aside, women make excellent trek leaders. They bring with them greater empathy, a natural ability to teamwork and a healthy team spirit. We haven't seen any difference in performance between women and men trek leaders," shares Sandhya our co-founder.
Women Trek Leaders are at par with their male counterparts with all the skill set required to lead in the outdoor fields. The Women Trek Leaders at Indiahikes have gone through all the technical mountaineering courses and some of them have applied for Wilderness First Responder courses as well.
Women at Indiahikes
Indiahikes has hired eight women Trek Leaders in the last few years. The number may be small in comparison to the men, but it's growing at a good pace. In fact, it's heartening to look back and see that one of our first few Trek Leaders in 2008 was our current co-founder, Sandhya UC. It was she who led the first international trek of Indiahikes in Georgia, along with Swathi Chatrapathy, our Chief Editor as her Assistant Trek Leader.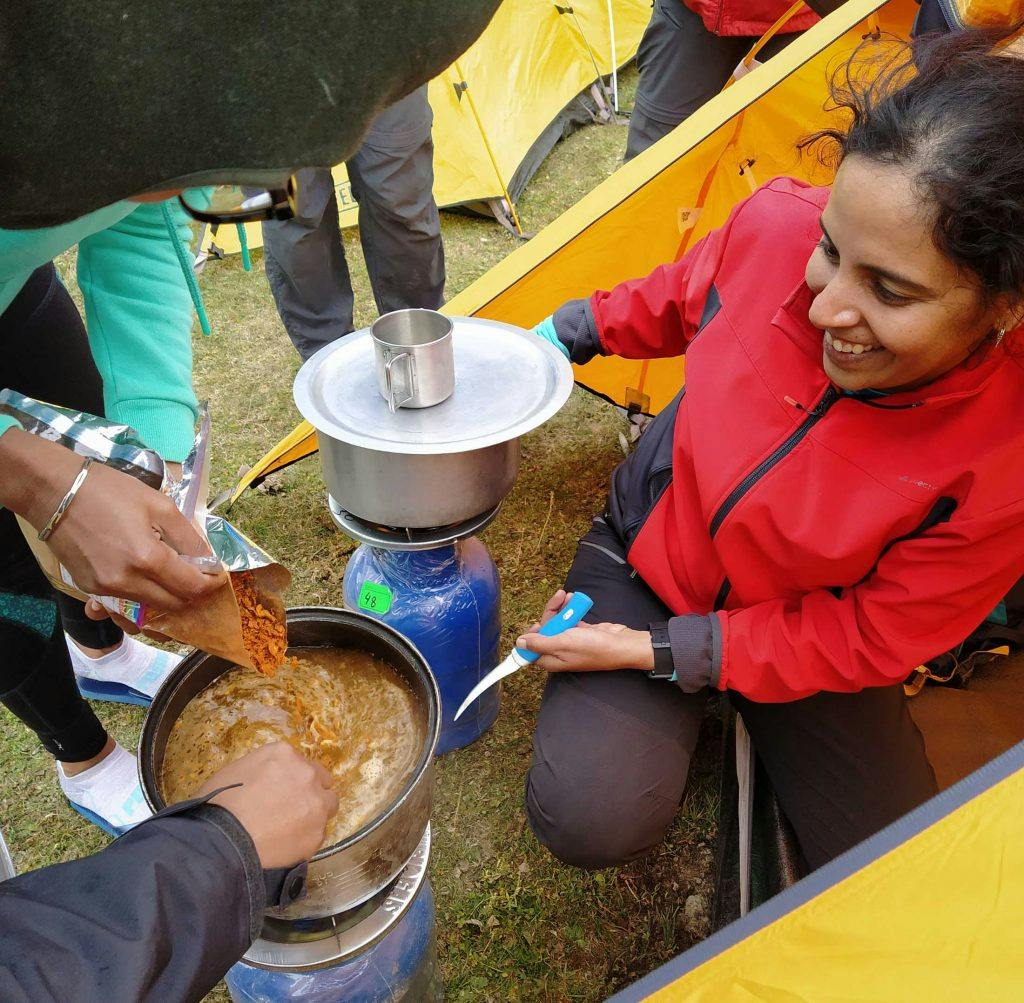 What we also know is that inspiration can set off a chain reaction. Hopefully, these stories tell you that it is possible to challenge yourself like these women did and pursue what you love. Women trek leaders lead the same treks as their male counterparts do. They are venturing the outdoors and are now in good numbers.  They are here to stay.
Have you trekked with a women trek leader? Have you been inspired by a woman trek leader? If yes, do let us know in the comments below.
Sign up for our much loved Weekly Mailer
We have terrific trekking tips, trek updates and trek talks to look forward to