How Trekkers Help The Economy In The Mountains
Share this story
How Trekkers Help The Economy In The Mountains
Category Indiahikes Impact
By Swathi Chatrapathy
2019-12-19
I have a small story for you today. It's about how you as a trekker, are making an impact on someone's life. Someone you probably don't even know exists. 
Very often, I think of writing to you with such stories, but rarely get a chance to because so many other things turn up. 
So today, I'm taking the chance to share this story with you.
Last year, I was driving from Wan to Lohajung, two villages at the base of the Brahmatal trek. These two villages are 14 km apart, but the journey takes nearly an hour on treacherous mountain roads.
If you've been on these mountain roads, you'll know that it requires great skill to drive on these roads.
It also requires sturdy, robust cars. 
That day, I was in a brand new Bolero. It was white and sleek, just two days old. I could still see the agarbatti and match stick from the previous day's pooja for the new car.
Our Trek Manager, Dhansingh ji, had just bought this car.
He had bought it by making a down payment of Rs 3 lakhs. Barely two days old, he had hired a driver and put the car to work. 
He already had the familiar yellow and black logo pasted on it. "Indiahikes, India's Largest Trekking Community" it read. It had become one among the vehicles that transport Indiahikes trekkers. 
Why is this significant?
Dhansingh Ji is from Wan, a small village in the foothills of the Himalayas. 
He completed his 12th grade at Mundoli and stopped studying after that. "I was bad at Maths," he shrugs. 
After his schooling in Mundoli, he did a Search And Rescue Course.
In 2013, he was summoned for rescue action during the Uttarakhand floods. "I was in Rope 4, which meant looking for casualties," he recollects. "I cannot remember how many bodies I saw and removed from the floods. It was devastating. I couldn't do it for long," he says.
After the floods, he spent more than a year in search of the rare keeda jadi, a medicinal herb that fetches a lot of money for every kilo. It was not very respectable work, neither was it in good books of the law. 
While this was easy money, it was never his calling. He had always pictured himself in the outdoors, doing good work for the betterment of his society. 
Later in 2014, his friend, Raju da, who was working at Indiahikes, suggested that he join Indiahikes. Dhansingh ji took his suggestion and began working with us. 
Dhansingh Ji joined us as a porter. He would lug heavy backpacks, tents, sometimes full gas cylinders and climb uphill. 
"When no mules could go from Pathar Nachuni to Bhagwabhasa (when there was deep snow), there would be Dhansingh moving heavy equipment on the snowy trails. He had a way with knots and he knew how to tie heavy equipment together, including gas cylinders" shares Manish Pasad, our Chief of Operations. 
Once he noticed Dhansingh Ji's technical skills, he moved him to the role of a technical guide. 
Over the next two years, Dhansingh ji learnt the ropes of running a trek, and began involving himself in the operations of our treks. It was his involvement and hard work, coupled with Manish ji's guidance, that took him higher up the ladder. 
In 2019, as I write to you now, Dhansingh ji is at Lohajung. He is a Trek Manager with Indiahikes, the go-to person on the slope, with at least 20 others reporting to him. He is managing the entire operations work of the Brahmatal trek for the winter season, hosting over 800 trekkers in three months.
Why I'm telling you Dhansingh ji's story is because this is not just his story. 
Most of our local staff members have such stories. 
They have all joined Indiahikes in their late teens, as porters, helpers, most of them without much of an education. 
They all worked their way up to become Trek Managers, Operations Managers and Store Managers. 
And today, without them, Indiahikes would cease to exist as we know it.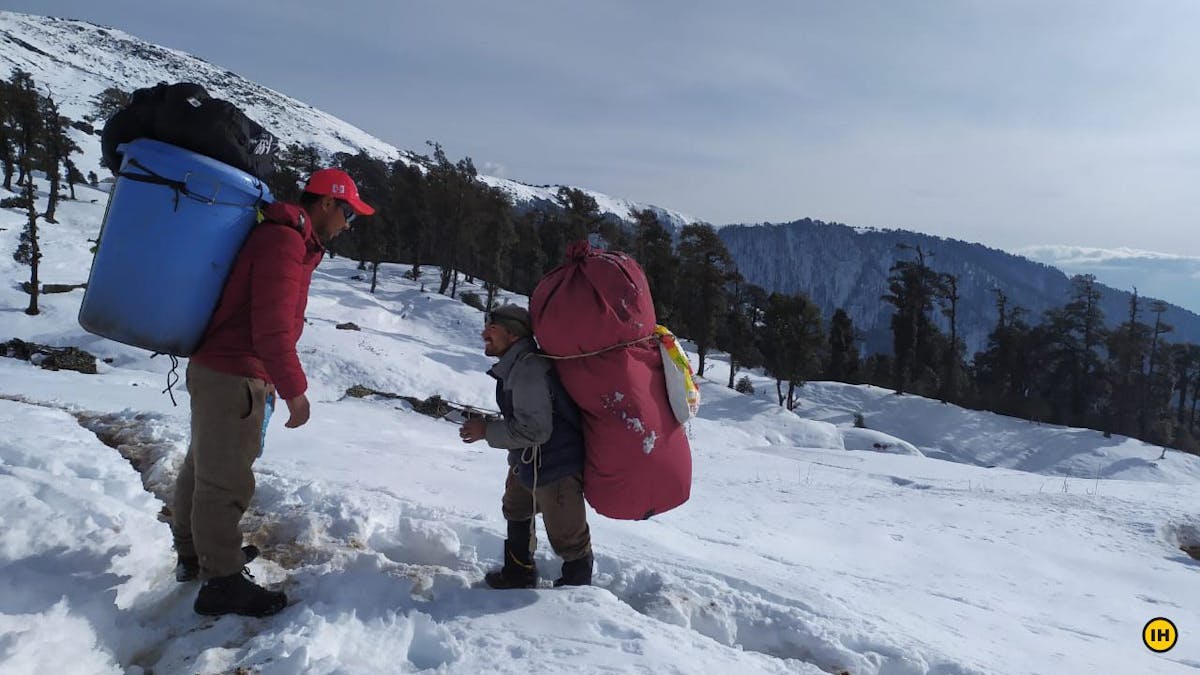 Dhansingh Ji in the red cap, speaking to a porter on our Brahmatal Slope. Picture by Ropa, one of our staff members.
Where you come in, in this story
When you trek with Indiahikes, you are not just signing up for a trek. You are setting in motion a chain of events that deeply impacts the economy of the region you're trekking in.
When we started Indiahikes, we knew that to grow an organization, it had to grow at the roots. And our roots lie in the mountains and in the economy of the mountains.
And that was one of the big problems we wanted to solve — the lack of infrastructure and professional skill in the mountains, and the overall economy of the region. 
Many trekkers have this misconception that mountain folk should move to bigger cities for better opportunities to earn better. They think that when they move to bigger cities, they can send more money home and grow the economy. But what we have noticed is something else. Mountain folks are usually exploited in the city. They are given the lowest form of work — which is close to menial. Their inherent skills and intelligence are never explored. 
In a city, they are awkward, out of place and soon begin to despair. 
"At Indiahikes, our objective is to have mountain folk earn like city folk do. And to retain those earnings within the mountains. The fact that people like Dhansingh ji are buying cars, employing other people, and sending their children to private schools itself is testimony that the local economy of our mountain folks is growing tremendously," says Arjun Majumdar, our founder. 
Added to that, we extensively train mountain folk with skills they can utilize to scale up and grow within their society. It takes time, enormous effort and money to identify talent, hone skills and help our mountain staff grow. And our operations team, led by Manish ji, are constantly working in this direction. 
Today, it's a matter of pride for us that we have 20 permanent employees in management roles from the mountains, and under them about 80 more, all of them in high income positions, with the capability of training others in their community.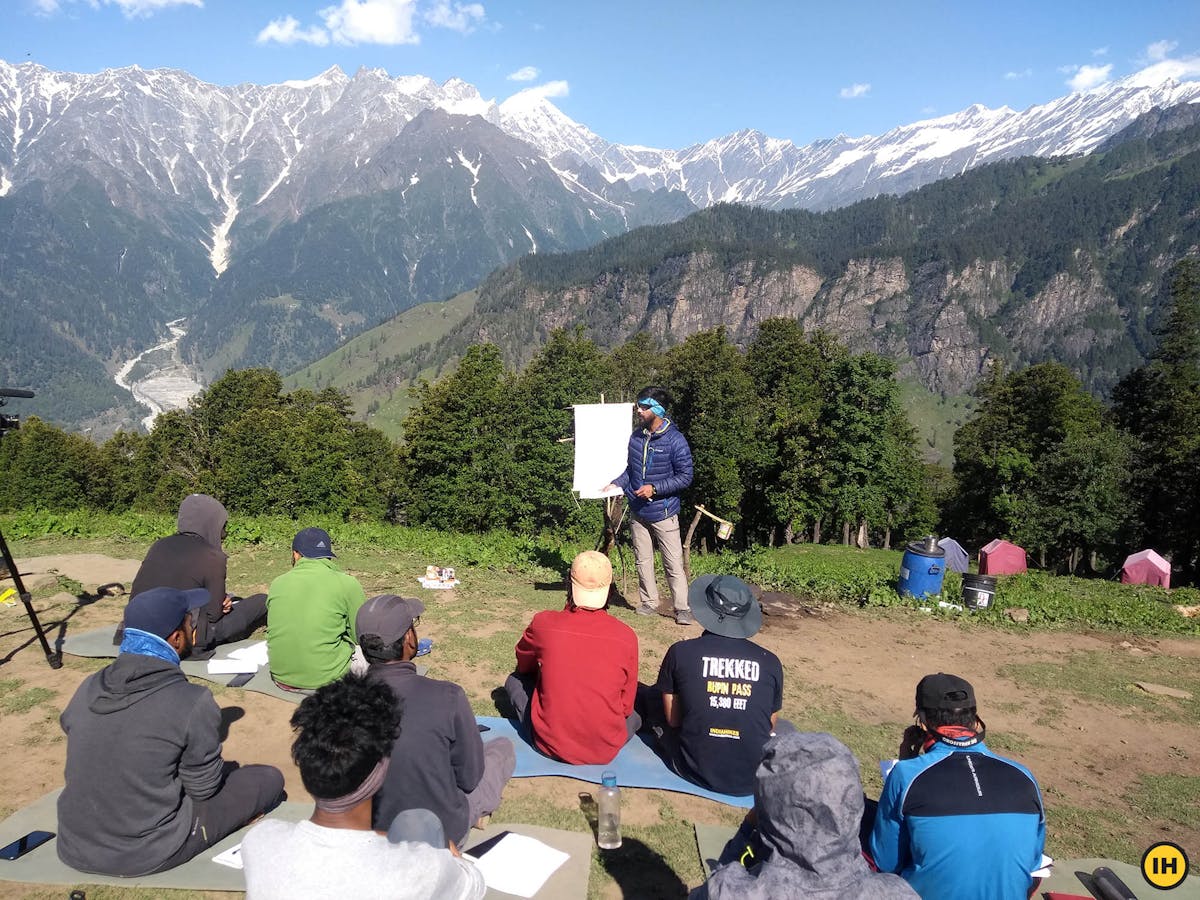 Indiahikes staff in a training session at Gualaba. Picture by Samkit Jain
You might have met some of our mountain staff
We have Bhandari ji from Uttarkashi. He has a story very similar to Dhansingh ji, and was involved in Rescue operations in the 2013 floods. After that, he joined Indiahikes as a freelance guide. Having studied Pharmacy, he had many skills that could help train others. So he automatically entered a managerial role and now is an indispensible Operations Manager at Indiahikes.
Then there's Jagadish ji from Sankri, who is a Trek Manager with us. People call him Kazi bhai. He joined us as a porter way back in 2013, progressed to the role of a cook / guide, and now takes care of the entire operations of Kedarkantha and Har Ki Dun treks. Within Indiahikes, he is known for his brilliance, inventiveness and problem-solving acumen. He is our home-grown inventor. The number of gadgets he has built on the slope is incredible.  
You might have met Khushi from Lohajung. He was a helper with us in 2013, working seasonally. "When I found out that he excelled in Math in school, I put him on training to learn accounts," shares Manish ji. "He started small, managing accounts of our store, learnt how to use a computer and manage Excel sheets. Now, he's one of the only mountain staff members who knows Excel and Accounts very well," Manish ji adds. He is also in a managerial role now, taking care of a part of the operations of our treks. 
There's also Mahi, another young lad from Lohajung, who showed promise in communication and project management. From 2013 to now, he has grown from being a helper, to being a cook, learnt English to widen his communication skills, and took over the entire operations of the Hampta Pass trek in Manali in 2015. He even managed our operations internationally on our Nepal treks. Now he manages overall operations out of our Dehradun office.
There are so many others. It's hard to name them all here and share their stories. But when you go on a trek, ask to meet them and talk to them. They may share with you stories from the past, of how they have grown professionally and helped strengthen the economy of their society.
Which brings me back to your role in this
When they interact with you, they learn what the outside world is doing. They develop a larger vision for themselves and for their families. 
It inspires them to start small businesses, to urge friends and relatives to start something of their own. For example, some of our staff have started to give out a portion of their home as a homestay. Trekkers love the experience — but so do our mountain staff and their families! It grows their income too. 
Sometimes a small conversation with you gives them an insight into healthier living, managing money, learning better communication skills. Spending a few minutes with you starts a chain of events that no amount of training can give. 
By spending time with you they learn skills in computers, use of mobile and internet. They download apps and become good at using them. 
They also get ideas to make trekker experiences better. Last week our mountain staff and Pradhan of a remote village on the Deoriatal Chandrashila trail suggested we start camping at a buffer area near the forests instead of staying in a lodge. They thought it would give a better trekking experience. These insights wouldn't have come if they had not interacted with our trekkers. 
It is just not interacting with them. When you sit in their vehicles, eat in their dhabas, you are not only aiding the economy, but unknown to you our mountain folks are learning just by observing you.    
That's why I am writing this story today. Whether our mountain folks tell you or not, simply by being with them, you play a big role in changing their lives for the better.
If you have interacted with our mountain staff, share your experiences in the comments below.
Sign up for our much loved Weekly Mailer
We have terrific trekking tips, trek updates and trek talks to look forward to