5 Ways To Purify Contaminated Water In The Outdoors
Share this story
One of the biggest concerns for any trekker is finding potable water on trails. The situation has worsened in recent years. "Ten years back, at least some water tanks (in the forts of the Sahyadris) had potable water. This has drastically reduced over the years due waste thrown in them by irresponsible trekkers. Now you'd be hard pressed to find even a single water tank with potable water on most forts. It is a sickening sight to see plastic wrappers and other filth floating around in the water tanks," says Saurabh Sawant, Head of Documentation at Indiahikes.
Having said that, most Himalayan streams are still gushing with healthy water due to their proximity to the glacial sources. But rivers, ponds and streams on treks further south – say in Sahyadris or Aravallis – record higher levels of contaminants and pollutants. Here, trekkers fear running out of water and falling prey to dehydration in the wild, especially on multi-range treks.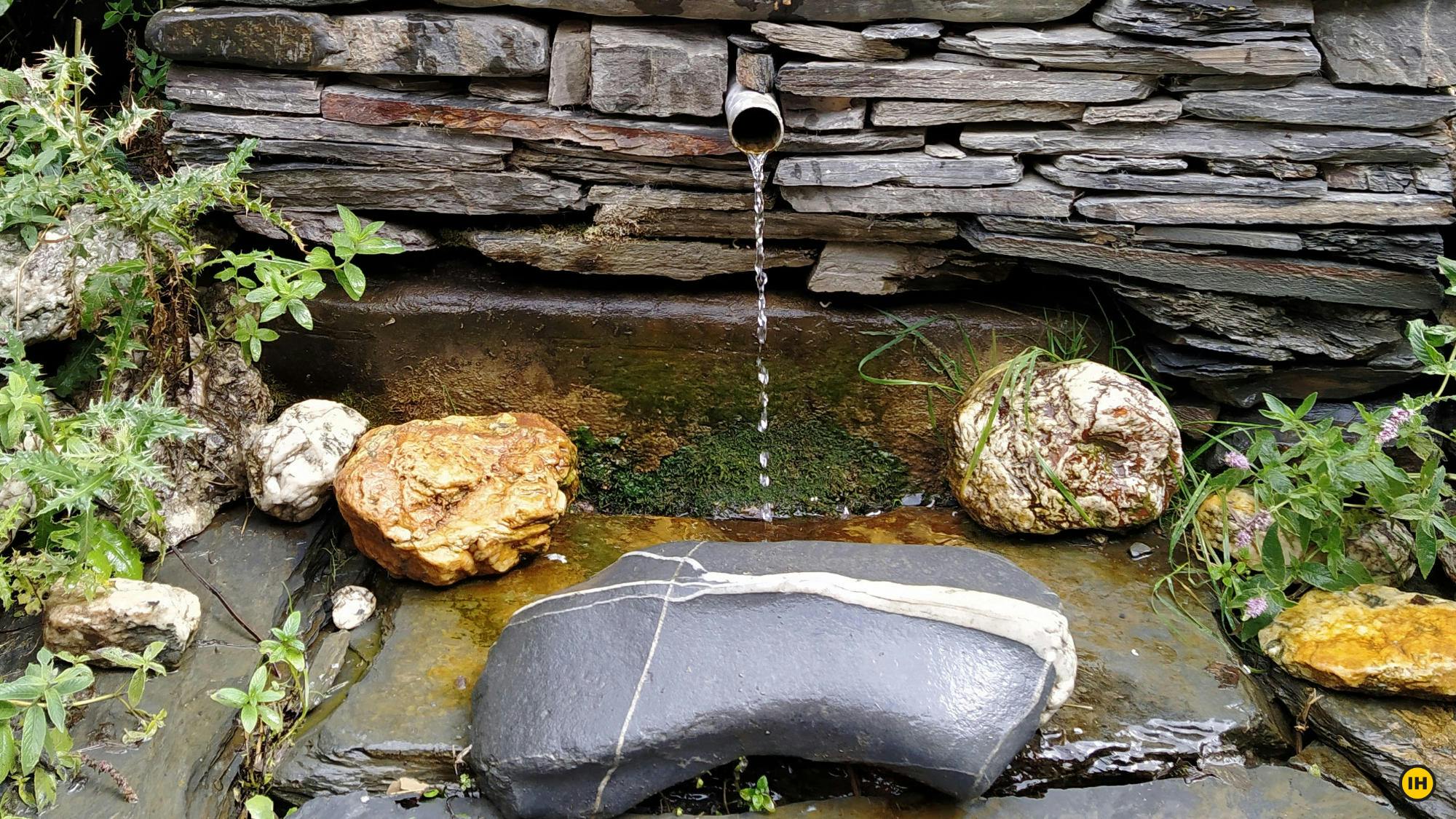 So we quizzed our Trek Leaders, and experienced trekkers on how to turn contaminated water into potable water. And, they listed some nifty methods.
While you can use these methods on all treks, you needn't worry about it if you are trekking with us. On an Indiahikes trek, you will notice that we camp near rivers or streams, as moving water is often cleaner than the still water in ponds or lakes. This is why we rarely camp near still water bodies. And if we do, we take extreme precaution to ensure that you get hygienic water.
There is no one-size-fits-all method
Many factors can influence your method of choice. These factors range from the source of water, geographical location, hiking styles to the cost of filters. A good way to go about it is to experiment with various styles to gauge which method fits your trek. It's okay to use a combination of methods. In fact, many seasoned trekkers do that to ensure that the water is clean enough to drink.
But here is a preliminary step if the water source is murky and contains a lot of debris – use a clean cloth to sieve out the dirt and debris. Move to the filtration/purification processes only after that. Sieving takes some load off the latter processes.
Here are some ways to do that:
This is the most popular method amongst trekkers. It uses chemicals to purify the water. There are expensive and economical options available under this category.
AquaMira Water Treatment drops
This comes in a combination of two little bottles – Part A and Part B. You mix 8 drops Part A + 8 drops Part B to get chlorine dioxide. Add this mixture to 1 lt of water, shake and let it settle for 15 minutes. If the water is too murky, keep it for half an hour.
"These two bottles can be used for approximately 115 lts of water, which means can last you for around 20-24 days of trekking over 4 years," says Karthik Maddineni, Field Instructor with Outward Bound, and former Indiahikes Trek Leader.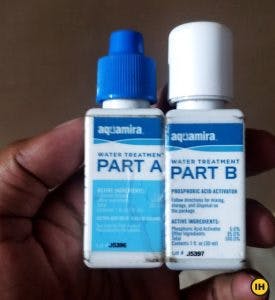 Pros:
It is compact – just two tiny bottles that easily fit in your backpack.
The process requires minimal effort
Can filter large quantities of water at a time
Cons:
The water is chemically flavoured, so tastes odd.
Time taken depends on water temperature and quality of water. Could take hours.
It is expensive. Priced around Rs 4,400 in India.
Bleach/Cloriwat
"Seasoned/hardcore trekkers usually opt for this one," Karthik notes. This is a Sodium hypochlorite solution, a chemical that kills protozoa and bacteria present in the water. While choosing a bleach, buy the cheapest option without fragrances. This eliminates any added chemicals. Remember, we just need the bleach.
"Add one drop/lt for flowing water and 2 drops/lt for stagnant water," Karthik suggests. Agitate (or shake) the water and leave it for half an hour.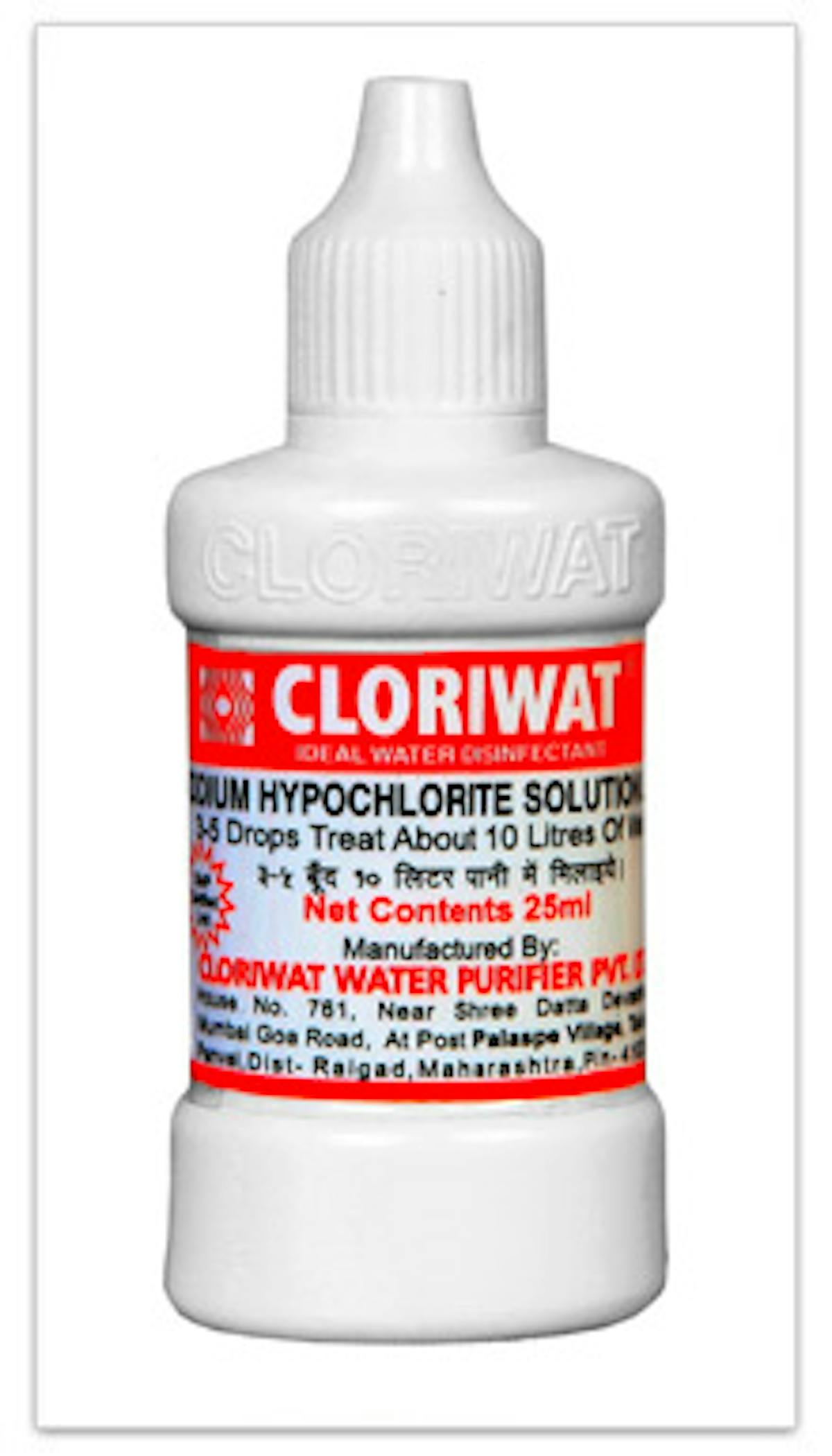 Cloriwat is used by hardcore trekkers. It kills all harmful microbes in the water. Picture by Cloriwat ©
Pros:
This is a good bet for a budget trekker
Not cumbersome and is easy to use on the go
It is also light and easy to carry
Cons:
The water is chemically flavoured
Takes time (between 30 mins to 4 hours) depending on the quality of water and temperature
2. Gravity filter
Trekkers averse to chemical purifiers look at portable filters. This one works as a two bag/bottle system. You collect water in a bag by dunking it in a stream or pond. Then, hang the bag on a tree or at a higher level. A pipe connects this bag to a filter. And another pipe connects the filter to your bottle or hydration pack. The time taken for clean water to trickle out of the filter depends on the filter and the quality of water.
If the water is dirty, after every cycle the filter gets clogged and you need to clean it. Otherwise, the whole process slows down. In India, you find such filters priced anywhere between Rs 2,500 to Rs 7,000.
Pros: 
Can filter large quantity – around 5 lts of water at a time
Filters are easily replaceable and can be cleaned
It requires minimal effort after a hard day's trek
There are no added chemicals in your drinking water
Cons:
It is bulky and takes up space in your backpack
You need a place to hang it. In a forest you may find branches, but it will be a challenge above the treeline.
Doesn't work well with shallow sources of water as you cannot dunk the bag completely and a lot of mud comes along from the shallow source
3. Drink-through bottle filters
These are less bulkier alternatives to gravity filters. Indiahikes founder, Arjun Majumdar's personal favourite is Aquaguard Water Filter Bottle. This is a bottle fitted with a filter. So, all you do is fill the bottle with murky water and it filters as and when you squeeze the bottle to drink.
Another option that Arjun reviewed was LifeStraw Go. This also comes as a bottle. But instead of squeezing, you suck the water through the filter. (Read the LifeStraw Go review here). In India, price range for such bottles begin with Rs 1,000.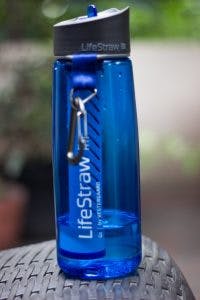 Pros:
Can be quickly used to sip through any water source
Convenient for on the way water sources
Cons:
Cannot purify large quantity of water to be used for cooking or storing
4. UV purifiers
This method uses ultraviolet light to purify water. The apparatus consists of a UV tube which you stick into your water bottle and stir for approximately 10-15 minutes. Sometimes, the UV also comes attached to the bottle cap. So, you just fill the bottle and shake it so that all water particles come in contact with the UV and get purified.
Pros:
It is light-weight and not bulky. So, fits easily in your backpack and is easy to carry.
It is also low maintenance as you don't need to clean or replace
Cons:
It can filter only one bottle at a time. So, it is a challenge is you are trekking with a group.
It is totally dependent on batteries. So, if you run out of batteries, well, all the best.
It's a purifier and cannot filter dirt. So, it needs to be used in combination with a filter.
5. Boiling
In the end, there's always good old boiling, a method that many seasoned trekkers use. It is a foolproof way which does not require chemicals or fancy filters. "For a long trek like Naneghat-Bhimashankar (95 km over 6 days) where I have to rely on dubious water sources, I usually filter and boil," says Saurabh.
Pros:
This is a traditional fool-proof method which kills bacteria, viruses and protozoa.
The water is not chemically flavoured, so no odd taste
It requires absolutely no additional equipment. Just the kitchen utensils and a burner.
Cons:
But it requires fuel/firewood. And it could get challenging to boil so much water for a group.
The process is time-consuming and cannot be employed on-the-go
It is a challenge in monsoon when firewood is damp keeping the fire burning is a task
In the end, you see there are several ways to filter/purify water. So do not let the absence of potable water stop you from trekking. Instead, research and read up about challenges that could pop up on your trek. Pay attention to the geographical location. Find out about the weather, temperature. Try to spot water bodies on maps while chalking out the route. Talk to fellow trekkers or enquire about the trail in a trekking community. All these will lead you to a method that fits well with your trekking plan.
If you have some go-to practices to ensure that you drink clean water on your treks, do tell us. We are eager to learn more. If you have tried any of these methods, how was your experience? Tell us in the comments below.
Sign up for our much loved Weekly Mailer
We have terrific trekking tips, trek updates and trek talks to look forward to