Trekking Has Helped My 8 Year Old Son Grow In Confidence
Share this story
"We took our son Arjun on his first trek when he was 4. It was my husband's idea to introduce him to the mountains as early as possible. We both are well aware of how transformative this sport can be.

My husband has been trekking since his younger days. In fact, I was also introduced to this world by him. He took me on my first Himalayan trek to KGL for our wedding anniversary back in 2014.

It was a surreal experience. Not only did I get to see the raw side of nature, I also discovered new things about myself. I went on several treks after that. Trekking became fulfilling for both of us!

So when my husband suggested taking Arjun on a trek after he turned four, I was all for it. Thus, in 2017, the three of us went to Deoriatal Chandrashila on a snow trek.

I still remember how excited Arjun was during that trek. He walked the entire trail on his own and only needed help to cross the patches of snow. He may not remember everything but he certainly has some very fond memories.

For his next trek, we waited till he grew slightly older. We planned to go in 2020 but the pandemic didn't allow us.

Finally, we got the chance to trek this April. We had done our bookings well in advance. This time, we were going to Har Ki Dun with Indiahikes.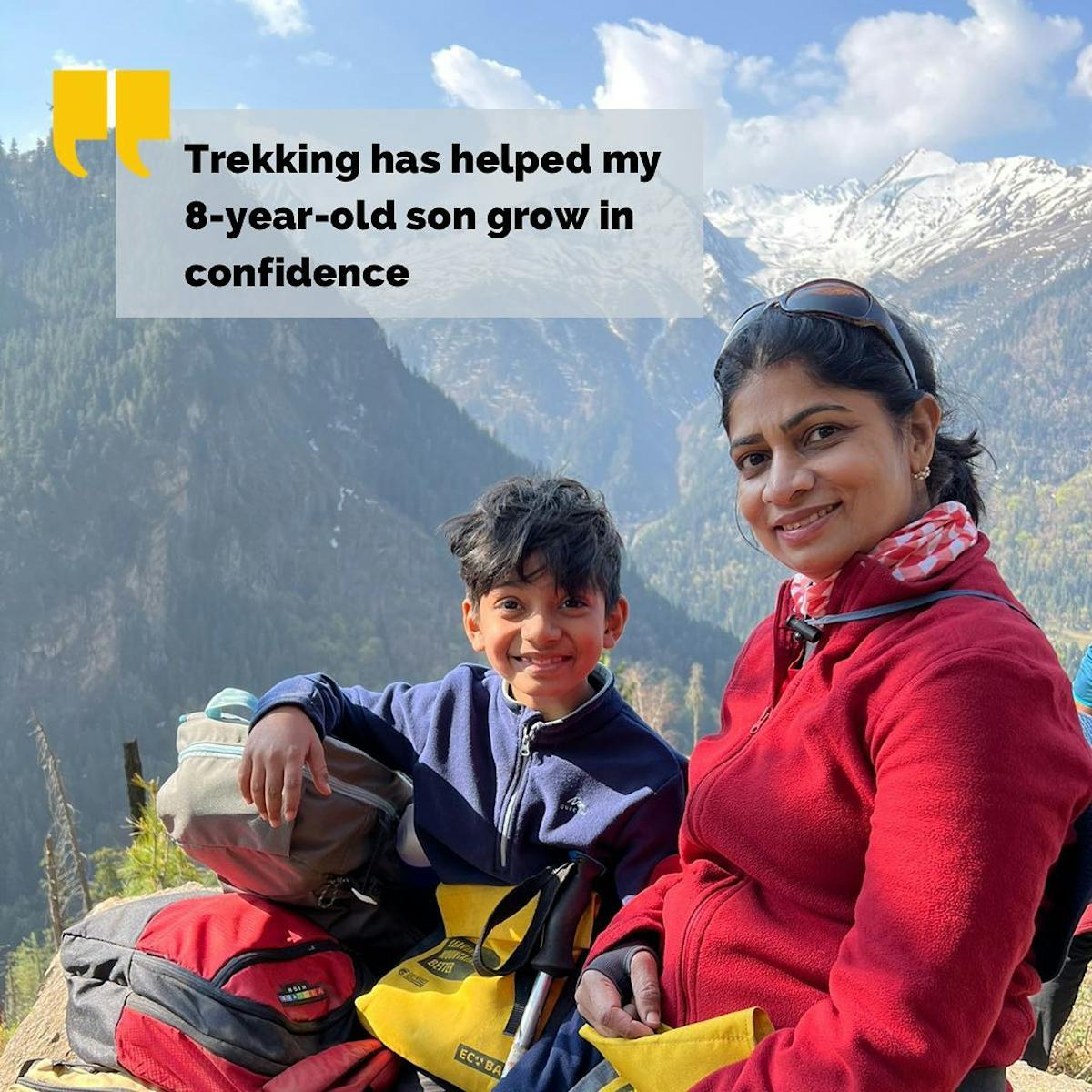 Dr Kavita Raghotham and her son, Arjun on the Har Ki Dun Trek.
To prepare for the trek, Arjun started running in January. His activity levels had reduced due to the lockdowns. Then, in March, he joined swimming classes as well. He wanted to enjoy the trek thoroughly.

His hard work paid off as he did the entire trek with ease. Even I was surprised. And it really boosted his confidence. His belief in himself and his abilities grew manifold. He learned that with hard work, he could achieve anything.

He was also inspired by the discipline of the Indiahikes team. He now does his tasks, be it studying or daily chores, with a lot more focus.

He has become more thoughtful as well and has started journaling. Also, he doesn't shy away from interacting with people anymore.

As a parent and as a trekking enthusiast, it gives me a lot of satisfaction to see my son learn and grow through the sport."

- Dr Kavita Raghotham (@kavitaraghotham), Indiahikes Trekker
Related Videos
My Indiahikes Trek Experience On Deoriatal Chandrashila 
3 Reasons Why I Loved The Dayara Bugyal Trek
Sign up for our much loved Weekly Mailer
We have terrific trekking tips, trek updates and trek talks to look forward to