Why Switzerland Needs To Be Trekked and Not Travelled
Share this story
Guten abend from Switzerland. I'm writing to you from my hotel room in Belalp, a small mountain village tucked away near the border of Switzerland and Italy.
Outside my window, three prominent peaks of the Swiss Alps are towering over the valley. The sun is about to set. It's casting a golden glow on the grasslands, the pine forests, and the snow-capped mountains. A small hut is engulfed in fog, slowly peeking in and out. I've to pinch myself to check if this is real.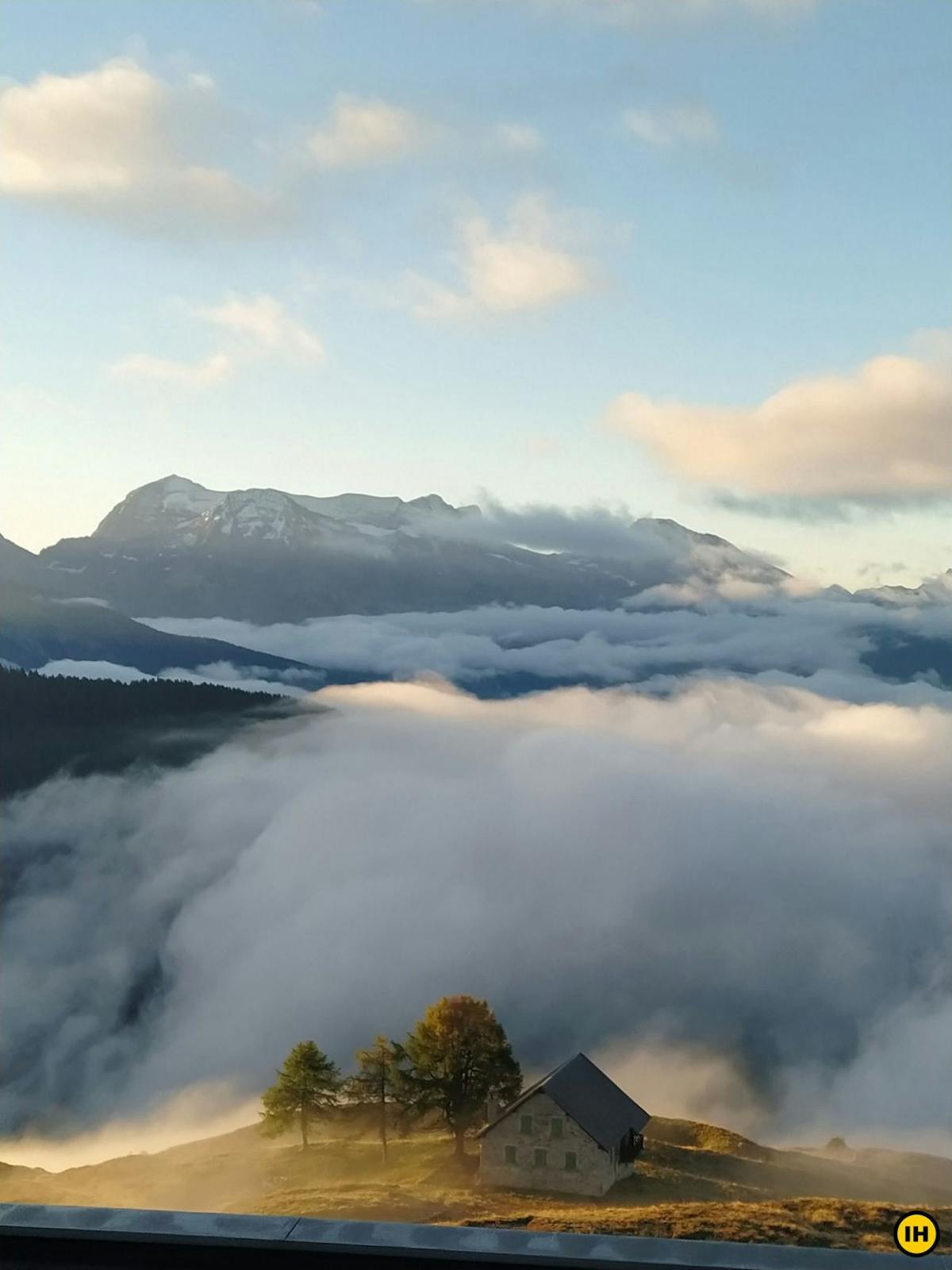 The mountainside as I see it from my hotel room in Belalp. Picture by Swathi Chatrapathy.
It's a huge honor to be invited by Switzerland Tourism to represent Indiahikes and write about trekking and hiking in this country. 
From the minute I arrived here, I've been trekking in the coveted Swiss Alps and the countryside of Switzerland. It's been 5 days and I've had 5 astonishingly different experiences. 
Most of all, I've seen spectacular sights that no tourist does. I'm seeing Switzerland like a true Swiss person. This has been possible only because I've been trekking.
That's what I want to tell you about today —  Why experience Switzerland as a trekker and not as a traveller. 
Here are a few of my thoughts.
You'll see a real, unembellished side of Switzerland
Over the past five days, I've had a chance to compare a popular tourist destination in Switzerland with the many hiking trails I've been on. 
I was at Zermatt for a day (it is a busy Swiss town), with the majestic Mt Matterhorn looming over the city. While I cannot take away the mountainous allure of Zermatt, I found it overtly decorated for tourists. The streets, the hotels, the restaurants, the stores, they're designed to impress tourists. They don't have an innate charm.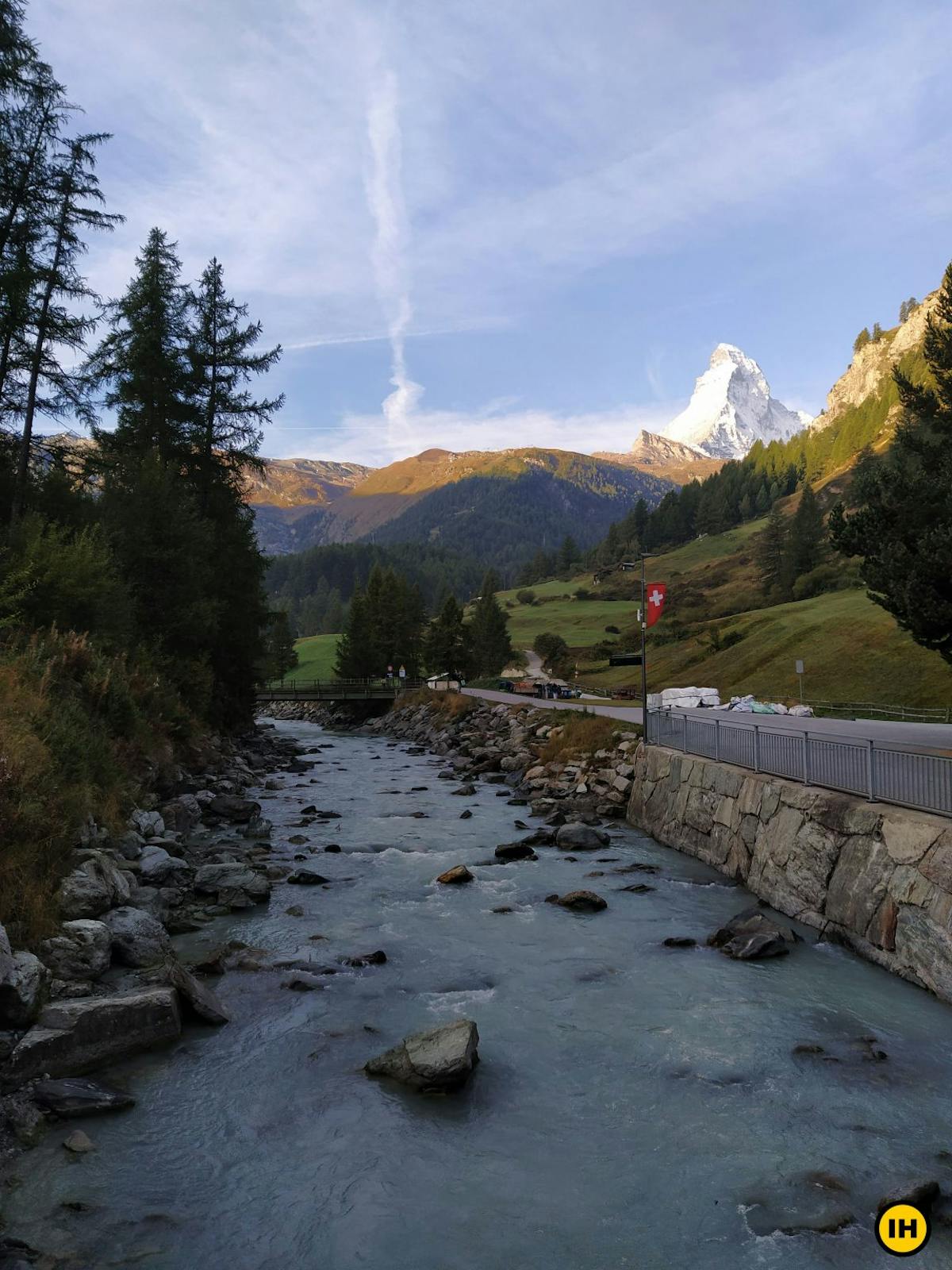 Mt Matterhorn watching over the city of Zermatt. Picture by Swathi Chatrapathy.
But the magic happened when we got slightly away from the main town of Zermatt into the heart of the Pennine Alps. The  touristy embellishments completely disappeared. No more gift shops, no more spas and branded stores.
As I trekked around, what I saw was a completely raw form of Switzerland. You'll see this especially if you're trekking in the countryside trails. 
For example when I was on the Lötschberg-Südrampe trail, I saw the real Switzerland. 
I saw Swiss people in their homes, how they care for their children, how they decorate their homes, what plants they grow in their gardens, how they dry meat and preserve it for the winter, how they rear animals, how they look at the world outside… What I saw was a country and its people going about its daily life without pandering to tourists. It's Switzerland the way a Swiss person sees it.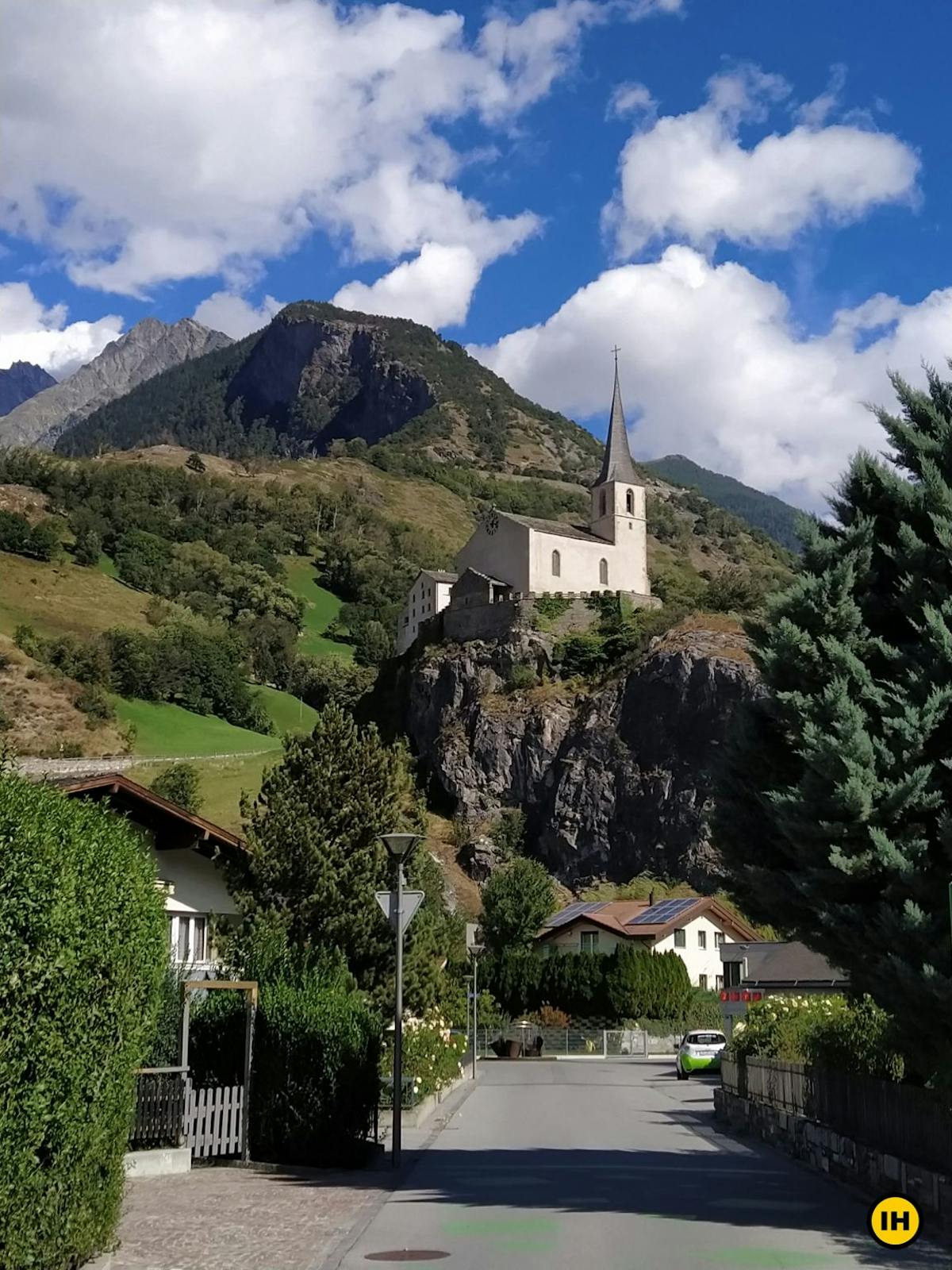 A picture-perfect church in a small town called Raron, where not many people visit. Picture by Swathi Chatrapathy.
I did not think a homely side of Switzerland existed at all, given that it's such a tourism-driven country. But I was quite wrong. Most parts of Switzerland still remain non-touristy and that's the side of Switzerland I want you to see.  
The real beauty of Switzerland is beyond the cities. And the beauty is unprecedented.
Most people who visit Switzerland go to the known names — Interlaken, Zermatt, Lucerne, Geneva, Zurich...
People hesitate to look beyond these names mostly because they fear that they'll not see the best of Switzerland. 
Let me tell you, this is a complete misconception. Switzerland is especially more beautiful beyond these known names.
Every unknown nook and corner of Switzerland that I went to is mind-bogglingly beautiful! It is raw, yet you cannot find a fault in the landscape. It always leaves you stumped.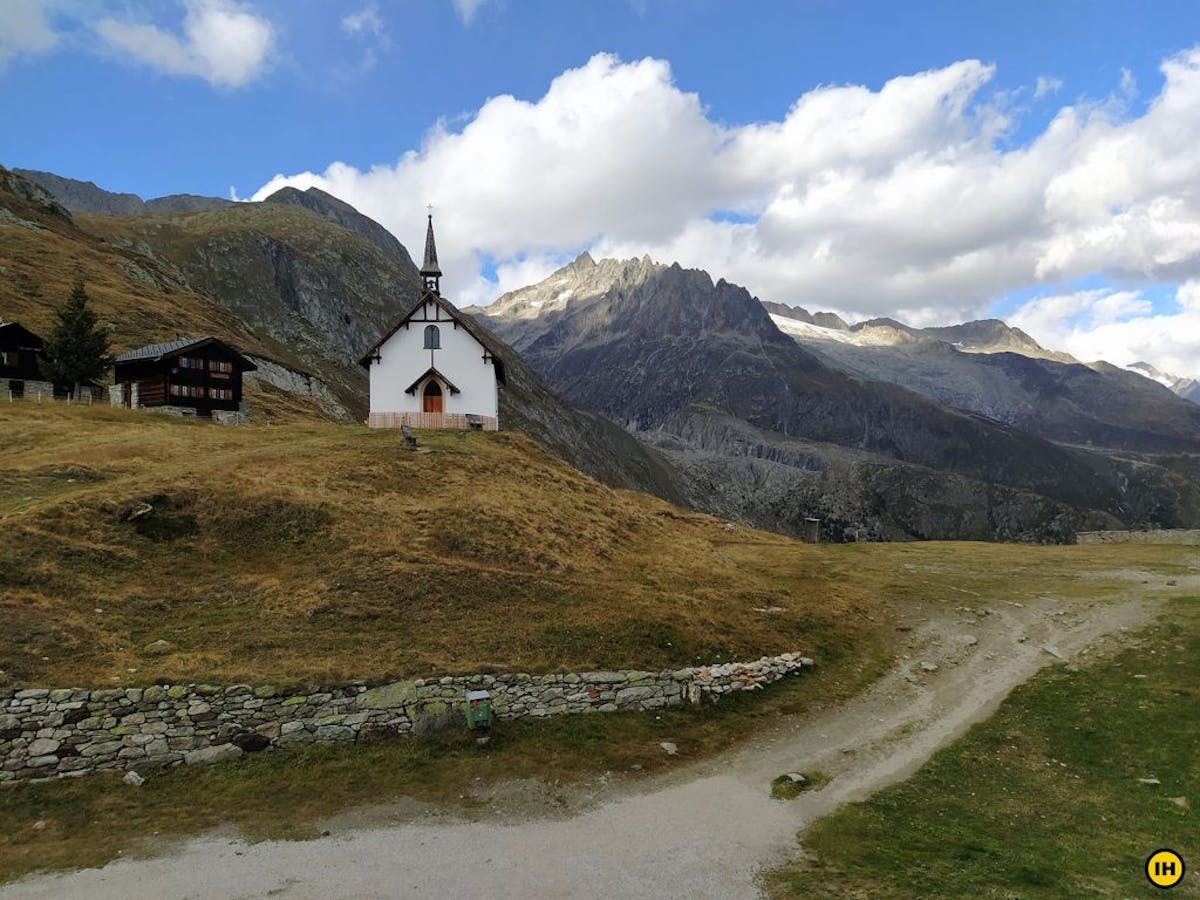 More gorgeousness from Belalp. Far right in the picture is actually a glacier tumbling down the mountain. Picture by Swathi Chatrapathy.
Today, this place I'm in — Belalp — is as picturesque as any other vantage point in Switzerland. Two days ago, I trekked to the Kandersteg valley; it is as charming as the famous Lauterbrunnen and Appenzell. When I trekked to Lake Oeschinesse, I found it as alluring as the waters of Interlaken. 
When you trek in Switzerland, you'll appreciate the beauty of the country like never before, because it's your own two legs that take you there.
I read a quote by Johann Wolfgang von Goethe somewhere here, which stuck with me — "You've only truly been somewhere if it was on foot."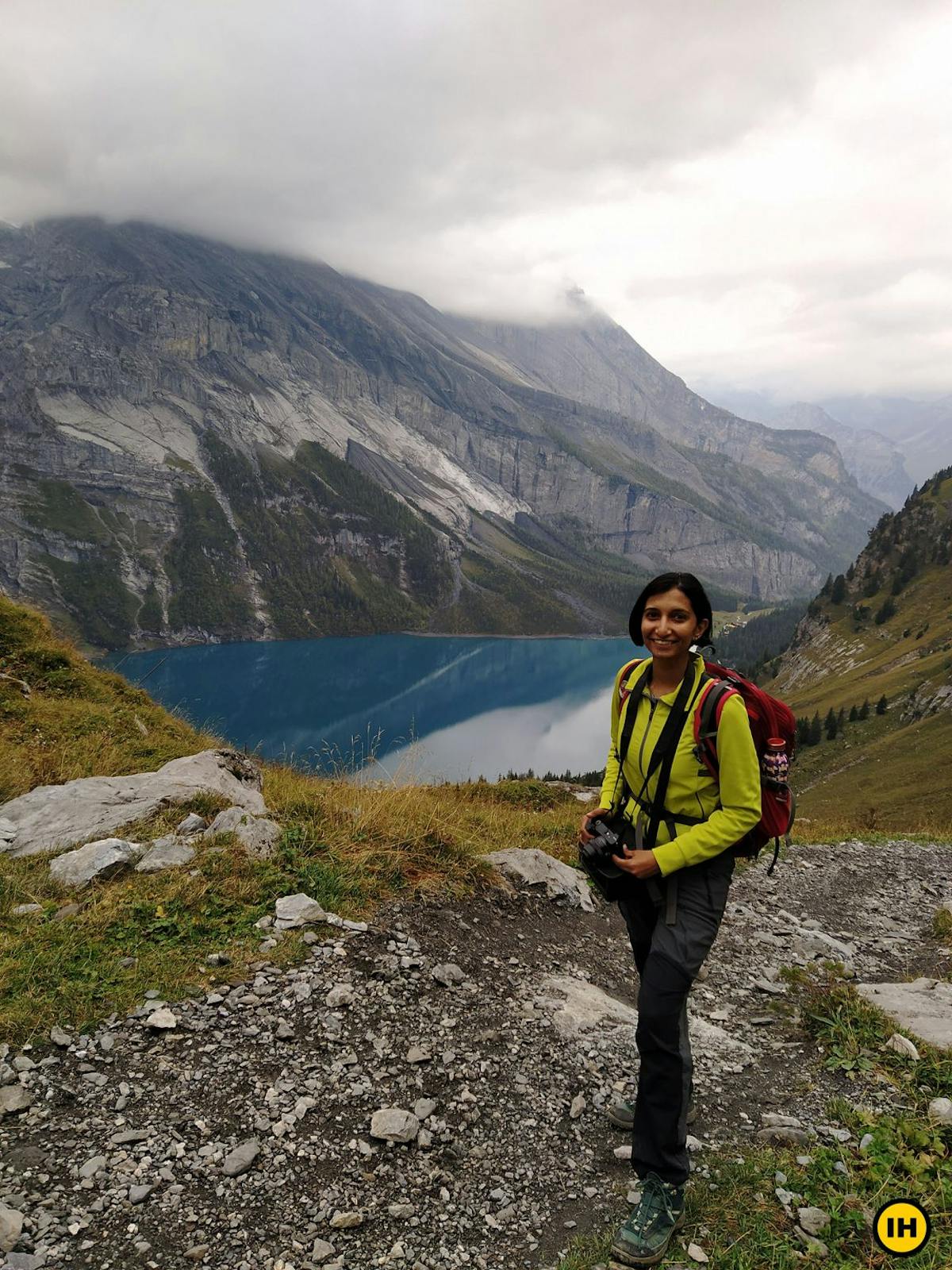 The breathtaking sight of Lake Oeschinesse. Picture by Swathi Chatrapathy.
Switzerland has a fascinating trekking culture
As trekkers, we always love to see how others trek. As Indiahikes, we've been to Georgia, Kyrgyzstan, New Zealand, Scotland, Spain… And now for the first time in Switzerland. 
I got a chance to witness and be part of such an intrinsic trekking culture that it has left me determined more than ever that everyone must trek. I'll tell you why.
To the Swiss people here, trekking is so inborn, it's as normal as grocery shopping. 
I noticed this on my very first day here, when I trekked up to a mountain hut called Blüemlisalphütte. It was not an easy trail, it was a complete ascent of 6 hours, with an altitude gain of 4,700 ft. 
Yet, I saw young kids with their parents on the trail, I saw 70-year-olds, I even saw a new mum with her 1-year-old baby on her back. 
Even on our climb to Mt Breithorn, a slightly technical climb over a glacier, I saw an 80-year-old man climbing easily.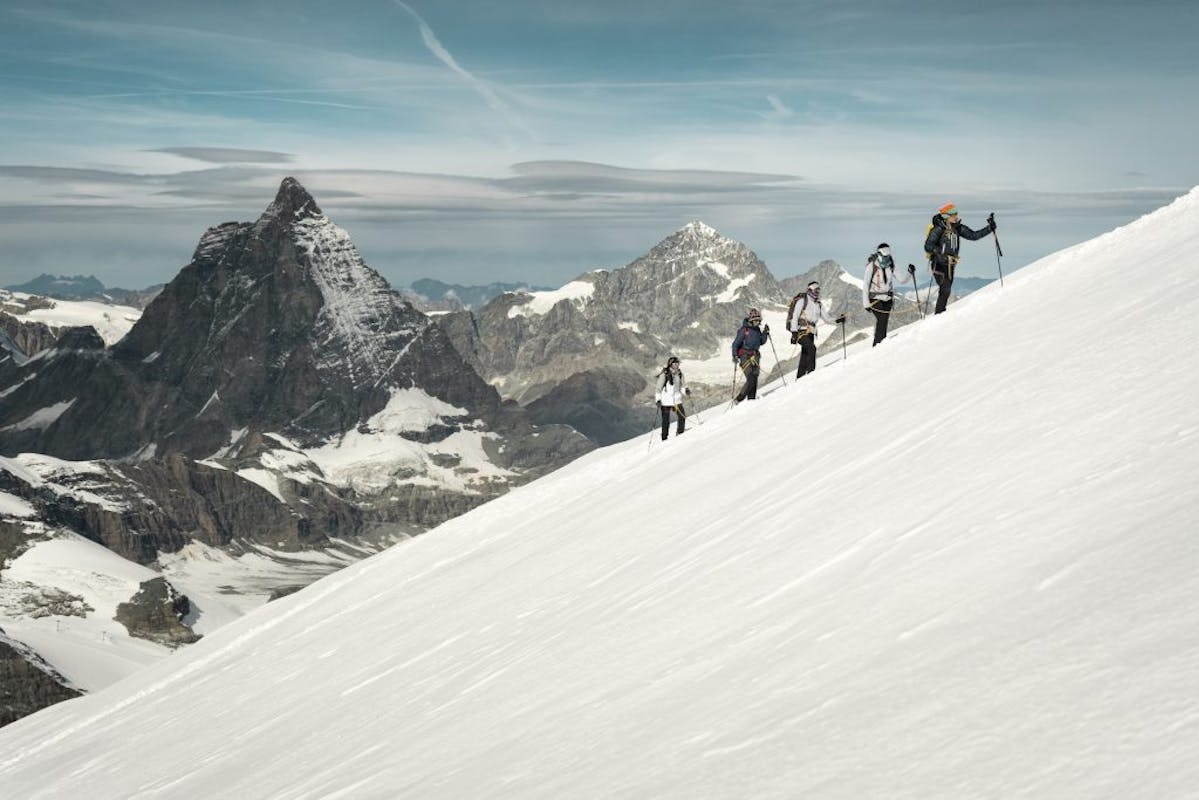 The ascent to Mt Breithorn with Mt Matterhorn in the backdrop. Picture by Nicole Schafer, taken for Switzerland Tourism.
At every train station or bus stop, you'll spot people with rucksacks and trek poles, peering into a map or a Swiss Topography app, planning some trek or the other.
What I also noticed is that most of them are natives of Switzerland. They are not outsiders trekking in Switzerland. 
Trekking is part of growing up in Switzerland. As a result they are more fit, more confident as a society. They are more open and accepting. As I moved across the country, this realisation hit me again and again. Just walking up and down the mountains have played a big part in shaping the people of the country. 
I realised a deeper respect for our Indiahikes vision that Everyone Must Trek. It can change society!   
Unfortunately, very few tourists join this rich trekking culture of Switzerland. Indians don't seem to be aware of trekking in Switzerland. I did not spot a single Indian trekking or hiking over the past five days. 
Indians are a lot more adventurous than they were earlier. They are looking to explore new destinations and try offbeat adventures. I think it is time for Indians to venture to such destinations as Switzerland. 
Trekking here makes you learn about Switzerland in and out!
For four days out of five, I've been on my own in Switzerland, figuring out trains, buses, hotels. It's been an absolute adventure!
I'm studying maps more than ever, talking to locals more than I usually would, feeling a sense of independence that I would never otherwise feel in another country.
Today, if you ask me, I probably know the geography and know-how of trekking Switzerland better than many Swiss people. :P 
This is always the case with trekking. In Georgia, I remember learning details about where we could fill our cooking stoves with LPG, where we could get transport to remote base camps, how much to bargain, what comes cheap and what's expensive. 
Trekking makes you learn about the tiniest details of a country, which gives you a very interesting insight into how a country and its people think and work. 
If that's not what traveling is all about, then what is it? 
Final thoughts 
Those are some of the thoughts that have been playing on my mind over the past few days. 
There's a lot to learn from the trekking culture in Switzerland — the incredible amount of information available (something we've been striving towards for a decade at Indiahikes), the accessibility of trails, the top notch infrastructure on trails and mountain huts, the fit lifestyle of the people here, the inherent understanding that the outdoors are a place of learning.
At the same time, I find that when it comes to high altitude trekking, we are probably more hardened in India. Our mountains are more rugged, more demanding, they climb quicker. There are lots of safety practices at Indiahikes that I notice are at a global level, where even the Swiss can learn from. 
Perhaps they'll get a chance to trek in the Indian Himalayas and adapt some of our good practices too. 
Today I am in my last few days in Switzerland. It's been a fleeting visit. But I hope my visit will inspire you to trek in Switzerland too.  
If you have any questions about trekking in Switzerland, put down your thoughts in the comments below. 
In another post in the following weeks I am going to lay down a detailed guide on how to go about trekking in Switzerland (including managing the costs). 
Until next Thursday! 
Sign up for our much loved Weekly Mailer
We have terrific trekking tips, trek updates and trek talks to look forward to