How A Trek with Indiahikes Changed My Lifestyle For Good
Share this story
How A Trek with Indiahikes Changed My Lifestyle For Good
Category Transformation Stories
By Somwrita Guha
2019-07-16
I'm writing this on my flight back from Delhi to Kolkata, earphones playing two Himachali songs on loop that I heard myriad number of times in the past week.
In this homeward bound from my trek to Brahmatal, it seems like my mind has plunged into a deep meditative state while my heart is still throbbing with memories from the trek.
This was my first trek ever. I needed a break and I wanted to go solo to some place to unwind. My cousins and friends recommended Indiahikes and I booked my Brahmatal Trek (9th March-14th March) because I do have a fascination for less-hyped things. This trek didn't seem to be as popular as a few others yet the photos looked promising.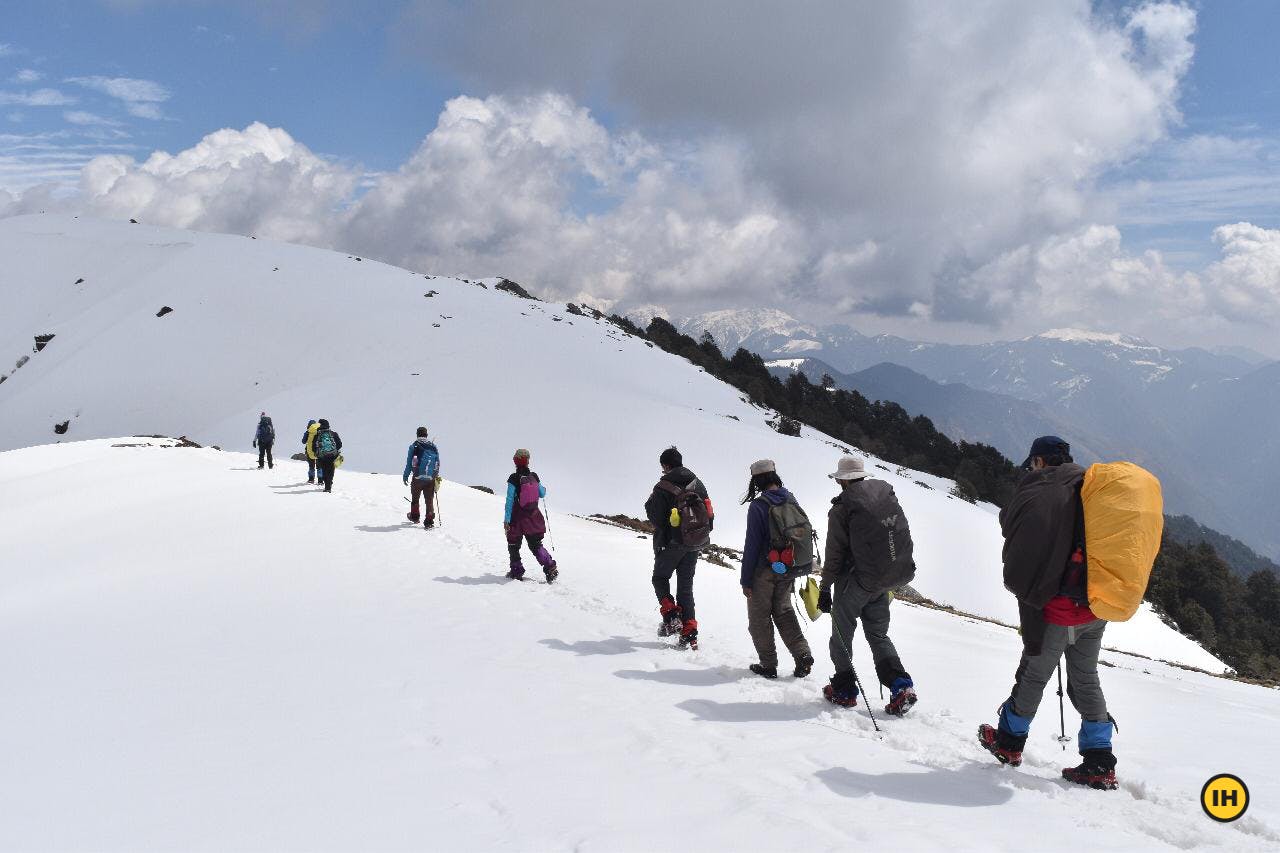 A pre-trek fitness reality check
While booking the trek, I was unaware that this decision might change quite a few things in my lifestyle for the better. A trek with Indiahikes isn't only about the number of days you are on the trek but it's about how you learn things and apply it in your life in general.
I started running a month before the trek and soon realised how unfit I was. I knew that I have to cut down on cigarettes if not quit completely and this didn't seem to be an easy task for a person trying to quit for the last 12 years. It struck me that I need to put my health first to be able to achieve this.
Learning to see the world through a child's eye
A month passed and I was finally at the base camp in Lohajung. We drove through Wan Village and then trekked to Kugina Top, the trail of which was just discovered 3 days before we went there. We were one of the first thirty people to go there.
Within the first 15 mins of ascending, I got my first asthma attack. I took my inhaler and thought to myself that there is no way I can do this if this is my state on the first day. Everyone in the group was faster than me.
But for some reason it already felt like a family. I felt I had my back with some rock solid support from a well-equipped Indiahikes Team. I continued to walk and it gradually got better.
Once we covered 60% of the trek, we found snow. I've never ever touched snow in my life before. It was a moment of pure joy. I sat on it without caring if my back was freezing. I touched it until my fingers were a bright pink. We played with it like little children out on a park on a sunny day. I didn't feel 28. I felt like I was a 10-year-old.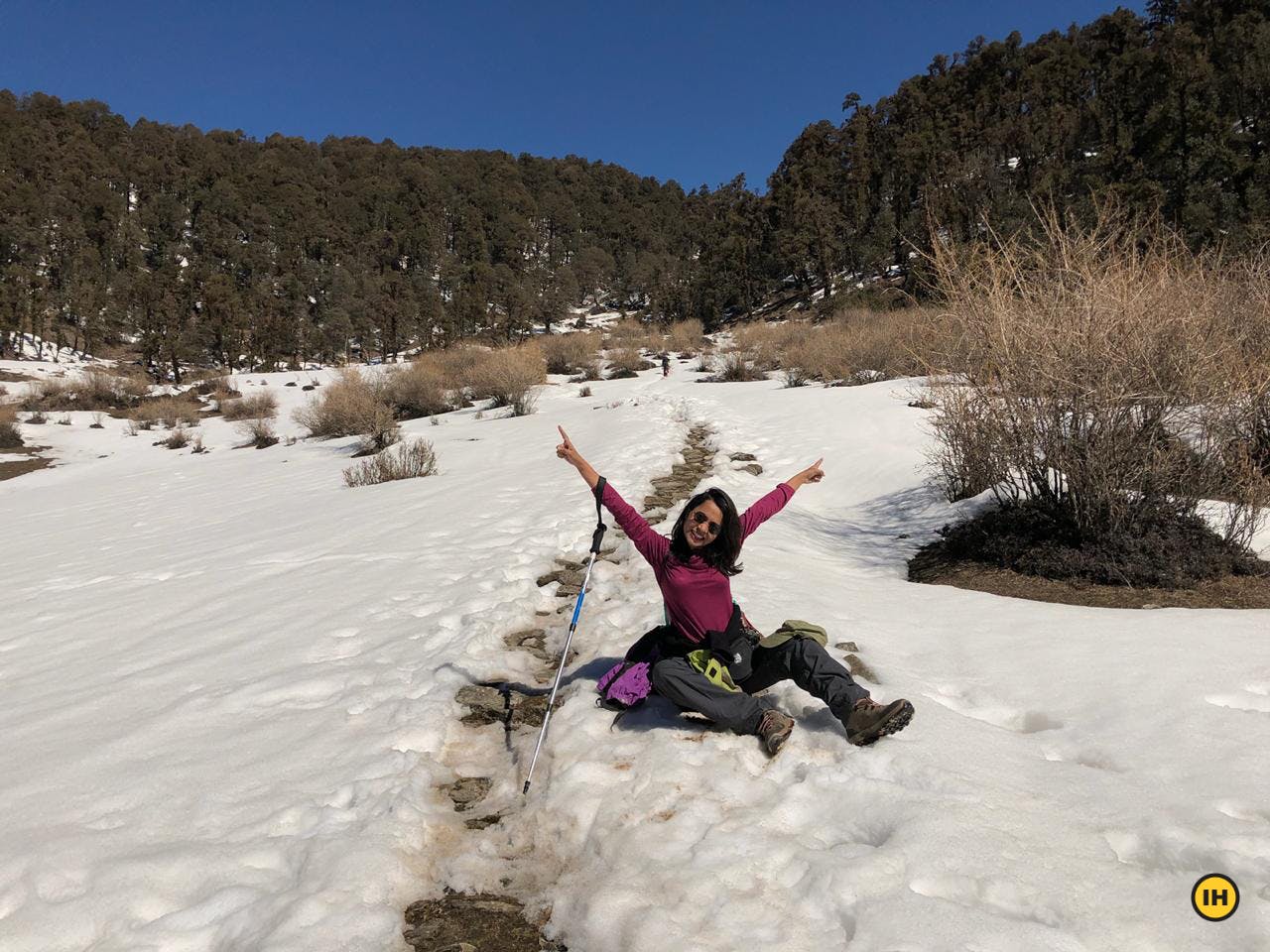 We saw a beautiful view of Mount Trishul from Kugina Top. The same night we stood under a sky full of stars at Lohajung as our Trek Leader gave us the most outstanding insights and stories of constellations. I'm a big sucker for asterism. I've always star gazed and made my own constellations. This experience that night was not something which was mentioned in the itinerary but it was the most beautiful thing ever.
Appreciating the mountain's simple comforts
The next day we started from Lohajung. We walked on snow and through beautiful forests. It was a trail worth remembering for a lifetime.
Our pace was good and we reached our camp fairly before time. We did snow slides and it gave us such a rush that it seemed like our age has come down by a decade or so at least. Cliched but we just couldn't stop ourselves from making a snowman, but we did it with a Gandhi twist.
Once our childhood fancies were met, we walked to the Bekaltal Lake. It was serene. A frozen lake in the midst of the forests and misty mountains.
The evening was spent singing soulful songs and horror stories at the dining tent. It started snowing. Once again a first. I had never seen snowfall before. As night came I was sceptical of how warm the tents or sleeping bags will be. I don't know if it's just me but I found it to be one of the cosiest setups for sleeping. It seemed like I belonged there and that for once and for all the mountains have embraced me as its own. I know not if I've ever felt that way even in my own bed in my house.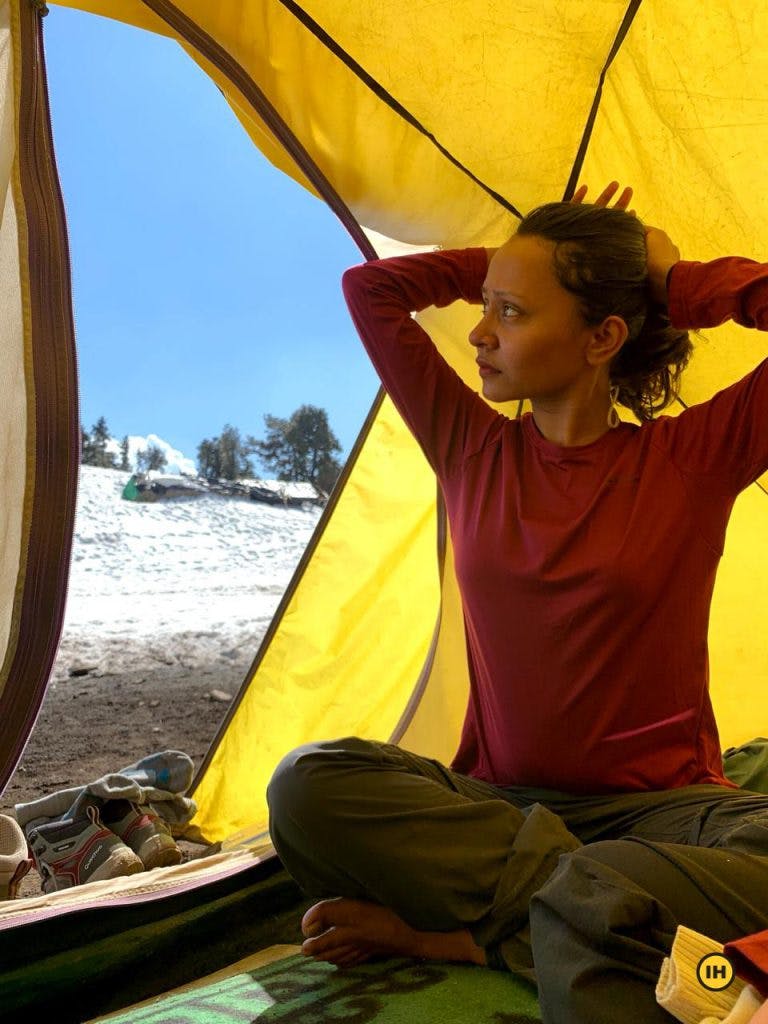 I also find it important to mention that as a non-vegetarian, I never thought vegetarian food could taste that good. Especially after knowing the harsh weather conditions in which the kitchen staff prepare food at high altitudes. I thought the menu was always well thought of with a perfect mix of breakfast, lunch, snack and a light dinner.
Making a family from strangers 
The next morning we were supposed to go to Khorurai via Jhandi Top. The snow was quite deep. I fell twice and was glad I did. I find falling quite liberating. It seems like it's just one step away from me getting up in full gusto trying to take over the world. To me the trail to Jhandi Top looked like it wasn't from this planet. There was just endless expanse of white snow that kissed a spectacularly blue sky at the horizon with a group clouds playing around flirtatiously.
Jhandi Top seemed like our summit as we couldn't do Brahmatal for the incessant snow in the weeks preceding our trek. We came down to Khorurai and camped there that night. The campsite was surrounded by Oak Trees and looked like a heavenly abode covered in snow. We played games at the dining tent in the evening and by then it was tough to remember that 9 of us (it was a small group) arrived solo and were strangers three days ago. It seemed like a family.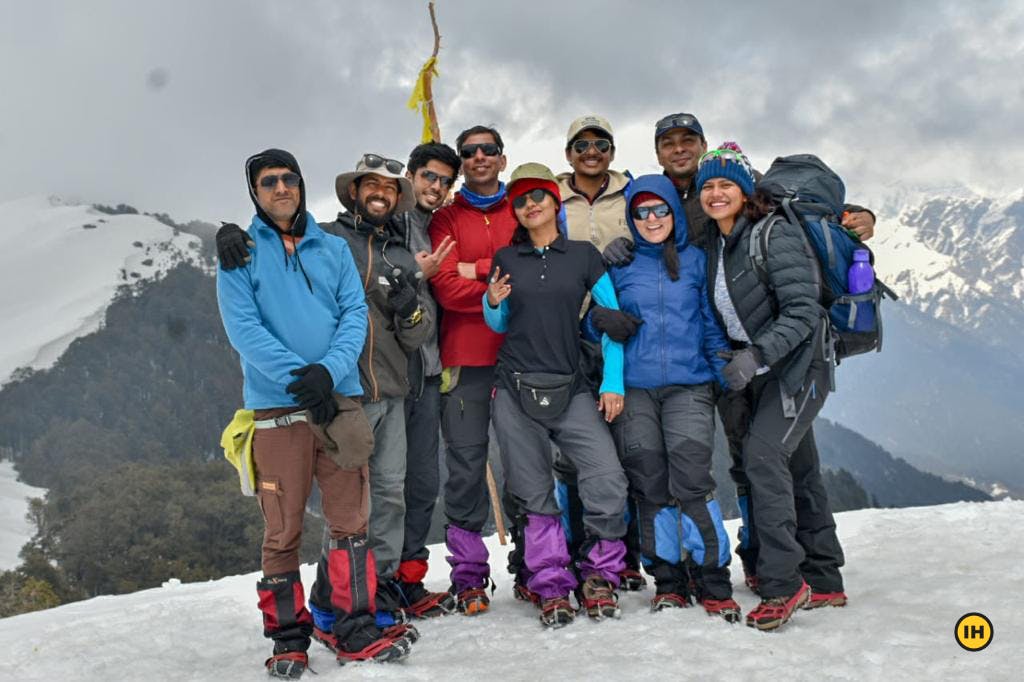 Leaving the mountains cleaner than we found them
On the next day, we descended from Khorurai to Lohajung. On our way down, we met local women and children. I'm really fond of human interaction with people from the hills. Their simplicity overthrows me. I remember drinking water straight from a small spring, with the cool fresh water directly falling into my mouth. It seemed like I had become one with nature.
Half way while descending we came across a place which had tonnes of litter. It seemed like some people had camped there and left everything from cigarette packets to food wrappers, sanitary napkins to socks, even a pair of trousers and everything that we didn't need. It's just that they failed to realise that the mountains don't need it either.
Till then, on all days we picked up litter wherever we could and put it in our eco bags but this time our eco bags wouldn't suffice. We got three sacks. I remember picking up used sanitary napkins amongst other things and I know not if I would have done it if it wasn't for the mountains. It failed to matter. We knew we must clear the mess and we did. We gathered three sacks full of garbage and put it on the mules. It was the most liberating thing to do. It seemed like I could give something back to the mountains in my own small way for it choosing to make me its own even if it was for a numbered days.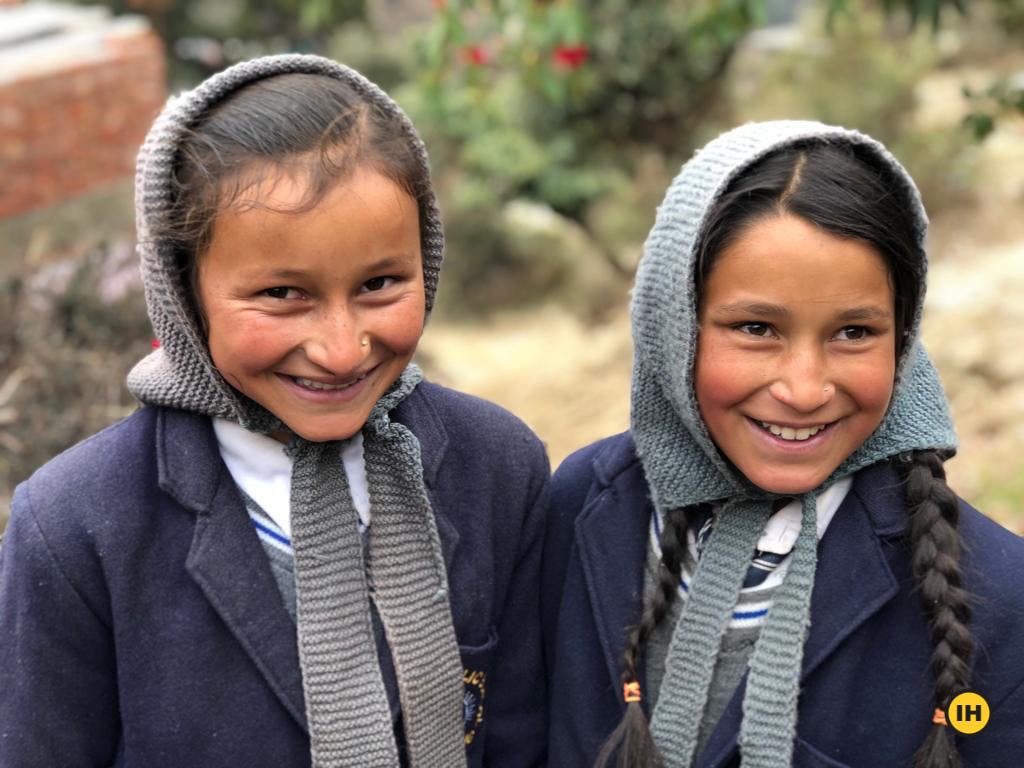 Becoming a better version of myself
We came back to Lohajung and my heart already felt heavy with the thought of leaving the next morning. The group decided to go out for coffee and dinner on the last night to a local cafe. We watched the last sunset at Lohajung with someone playing the guitar. Our laughter echoed through the hills.
The mountains humble you down. It asks you not to confuse happiness with comfort. It tells us to be more grateful for things that we take for granted, like a hot bath and a comfortable bed.
Somewhere in my mind's diary I noted that I will make myself see this version of me more often: The one who can manage to not smoke or drink for 6 days, the one who wakes up early and appreciates the beauty of a sunrise, the one who exercises, is punctual, drinks  enough water, eats nutritious meals at the right time, packs a light bag and a lighter heart and is irretrievably in love with the mountains.
These are some really basic habits that can do wonders to anyone's life. And most of them are absolutely mandatory on a trek. Including leaving the mountains cleaner than you found them.
Apart from the last point (I'm environmentally conscious) most often than not I fail to do most of the things I mentioned perfectly. This trek shook me up and told me that I can do these all-year-round. I guess that's what a community does. It pushes you to become a better version of yourself.
I'm waiting to reunite with the hills with a longing as intense as what a mother has for her child. Until then, I'd try to be a better version of myself. Because, as I said earlier, a trek with Indiahikes isn't about the numbered days you spend trekking, it's about what you do before and after it too.
Sign up for our much loved Weekly Mailer
We have terrific trekking tips, trek updates and trek talks to look forward to