Trekking teaches you humility, says 17-year-old Saheb
Share this story
Saheb Singh Chadha comes across as a wise, young gentleman. And much of his wisdom could be credited to his rich trekking experiences. In a candid chat, Saheb reveals what trekking could mean to a child.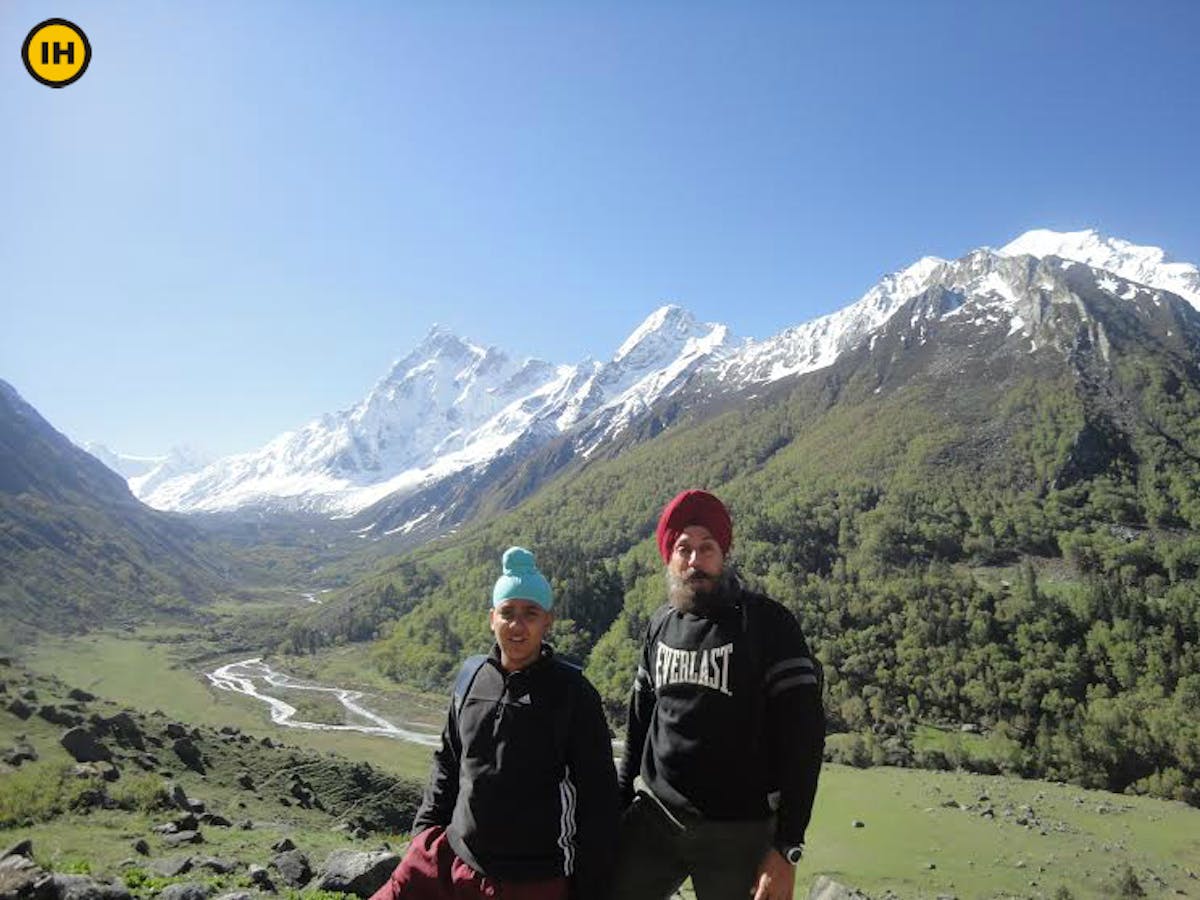 Saheb with his father on Har Ki Dun trek
Saheb started trekking quite early in life. He treks to Hemkund Saheb (Valley of Flowers trek) every year on a pilgrimage. But his first trek – the "real" one, as he likes to call it – was an 8 kilometer day trek from Mastrang to Chitkul in Baspa Valley, Himachal Pradesh
Why did you start trekking?
I'd never miss the opportunity to trek whenever my father offered to take us (my siblings and me). But my independent love towards the mountains was triggered during the mountaineering course at the Nehru Institute Of Mountaineering (NIM), in Uttarkashi.
What was first trek like and what were the changes in you, after the experience?
The Adventure Course at NIM was the first time. I was on my own. So all the major changes happened after this trek. I became self-sufficient, challenged my limits, rather, discovered new limits. I became fitter, both physically and mentally. The course inculcated willpower, determination, resilience and the ability to keep pushing yourself to reach your destination. It was a life changing experience, and probably one of the best decisions of my life. After the course there was no looking back. A new love, a new passion was born.
How supportive are your family, friends and school about your trekking?
My family is very supportive, particularly my father. He allows me to venture off alone. Initially my mom was hesitant to let me go into the mountains completely alone. But she gave in and let me go solo.  Many of my friends want to join me on my treks after we pass out of school. My school, has been supportive overall, they recognized that I went for a course and were very appreciative.
How important do you think trekking is for children?
I believe it's important to inculcate this hobby at an early age. It contributes to your physical fitness. More importantly, it teaches you humility. When you're trekking amongst these pillars of rock and ice, these Goliaths, that have stood for an eternity of time, you realize what a tiny speck you are in the vast fabric of time and space. You realize how small, how inconsequential you are, when you compare yourself to them. These are experiences which children should have.
What kind of support you think is necessary for children who want to trek?
 I think that if a child wants to pursue trekking as a passion, then his/her parents should be supportive. They should allow, rather encourage the child. Of course, the child's safety must be kept in mind, and appropriate measures should be taken. A child shouldn't be allowed to go off alone until they're mature enough, and have had prior trekking experience with other people. Schools play an important role here and should also recognize the child's achievements.
Share one unforgettable moment in your trekking experience
It happened on the Chandrashila-Tunganath trek. It was the second week of April. This early in the season, the peak is covered with snow. No one had been on the summit in the past 2-3 months. But there I was, attempting the summit and opening the route with a local guide named Raghubir Ji.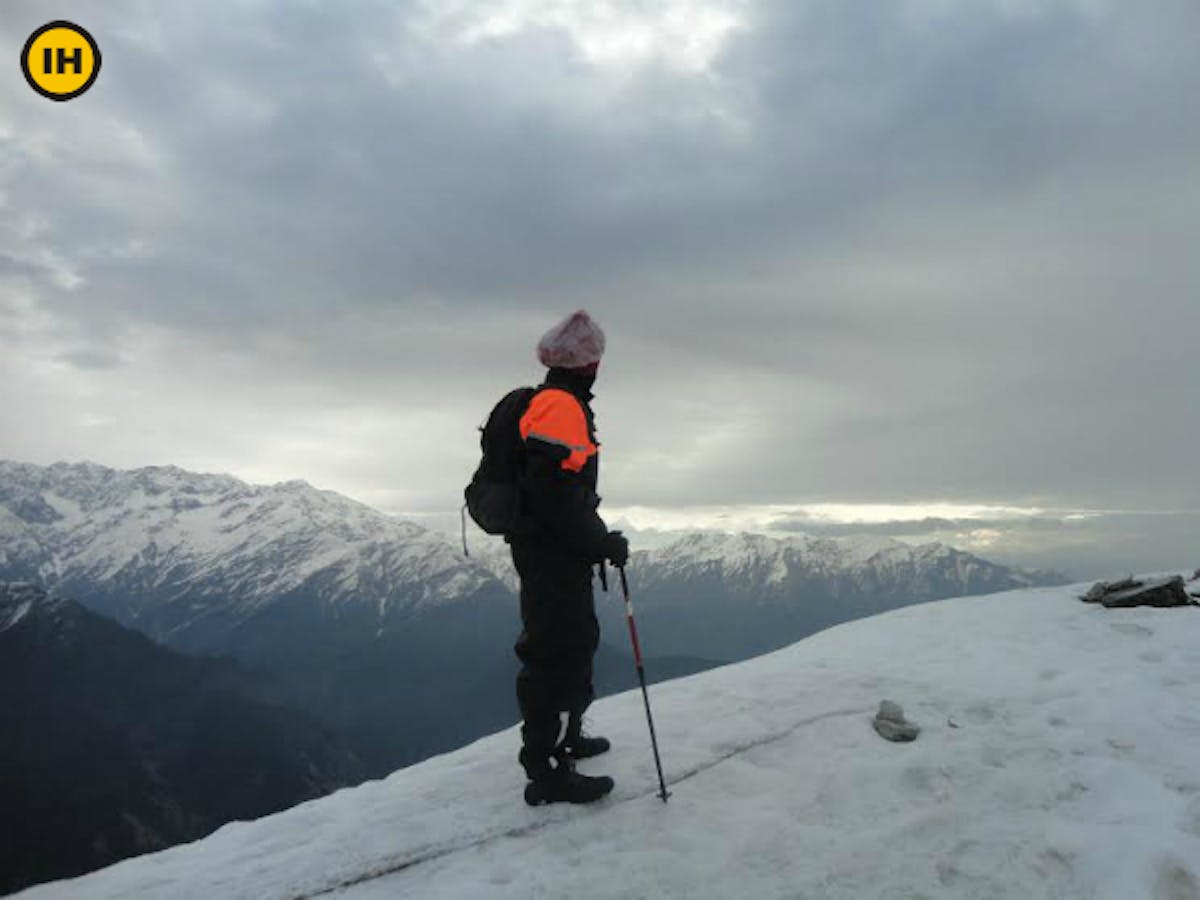 Saheb on Chandrashila summit – 12,083 feet
We decided to start early, at 3.30 am so as to be back before sun rays hit the snow. Once the sun is out, snow starts melting and your feet start sinking in, making it difficult to trek.  It was drizzling and all around us the peaks were engulfed in clouds. At 6 am we reached Tungnath. Now Chandrashila was just one kilometer away. The incline was close to 40 degrees and my feet had started sinking in the snow. Suddenly Raghubir ji exclaimed, "Bhaiji, baraf padh rahi hai (Sir, it is snowing!)" Sure enough, flakes were falling all around us. But from where I stood, the summit was clearly visible. So I told Raghubir Ji that if it snows any harder, we will turn back. We made a mad dash for the summit and summited at 7 am. The view was breathtaking. Even though the peaks on the Gangotri and Kedarnath side were obscured by clouds, the peaks on the other side – like Rishi Kot, and Hardeol -were glinting golden in the light of the rising sun. It was spectacular. But then, far away I saw a blizzard closing in on us and we started descending quickly. It happened in a blink. As soon as we left, clouds engulfed the summit. We had just managed to escape the blizzard. That's my unforgettable memory.
What future plans do you have for trekking, and otherwise?
After 12th, I have many treks in mind and lots of friends want to join me. I plan to finish my mountaineering courses and start climbing peaks. Someday I hope to climb Mt. Everest, and the other eight thousanders. I want to go trekking in Nepal too. Outside trekking, I want to study Political Science, hopefully from one of the top colleges in Delhi University.
Any suggestions you would like to give youngsters like you regarding trekking…
Trekking is a great learning experience, the overall feeling of elation, ecstasy, joy you get on completing a milestone is unbelievable. It's not about the destination; it's about the journey and various little experiences you have along the way which make the journey worth remembering. So put on those boots and get trekking.
Sign up for our much loved Weekly Mailer
We have terrific trekking tips, trek updates and trek talks to look forward to