What I learnt after battling a Snowstorm on the Everest Base Camp trek
Share this story
What I learnt after battling a Snowstorm on the Everest Base Camp trek
Category Trekker Space
By Christopher Immanuel
2016-09-27
Have you ever been stuck in a snow storm? Let me tell you, experiencing a snowstorm at an altitude of over 16,500 ft can take a lot out of you.
Our story occurred on the Everest Base Camp trek in April 2015. To give you a perspective, our trek ended on April 24th, just one day before Nepal was hit by the massive earthquake that took over 8000 lives.
Little did we know that the storm was brewing from days before.
I'll start with the calm before the storm.
It was Day 8 of Everest Base Camp trek via Gokyo Ri. It was the day we would climb to Gokyo Ri, a summit overlooking two stunning lakes. It was a grand climb! In hindsight, it was the best view of the Everest range we had. I remember marvelling at the four highest mountains in the world, the Ngozumpa glacier spread out in front and the frozen Gokyo lakes. I had seen pictures of the lake before – two strikingly blue lakes with jagged mountains around, and the little Gokyo village on the banks. But what we saw that day was nothing like I'd imagined. The entire valley was under a thick blanket of snow. The lakes were frozen and the village almost indiscernible!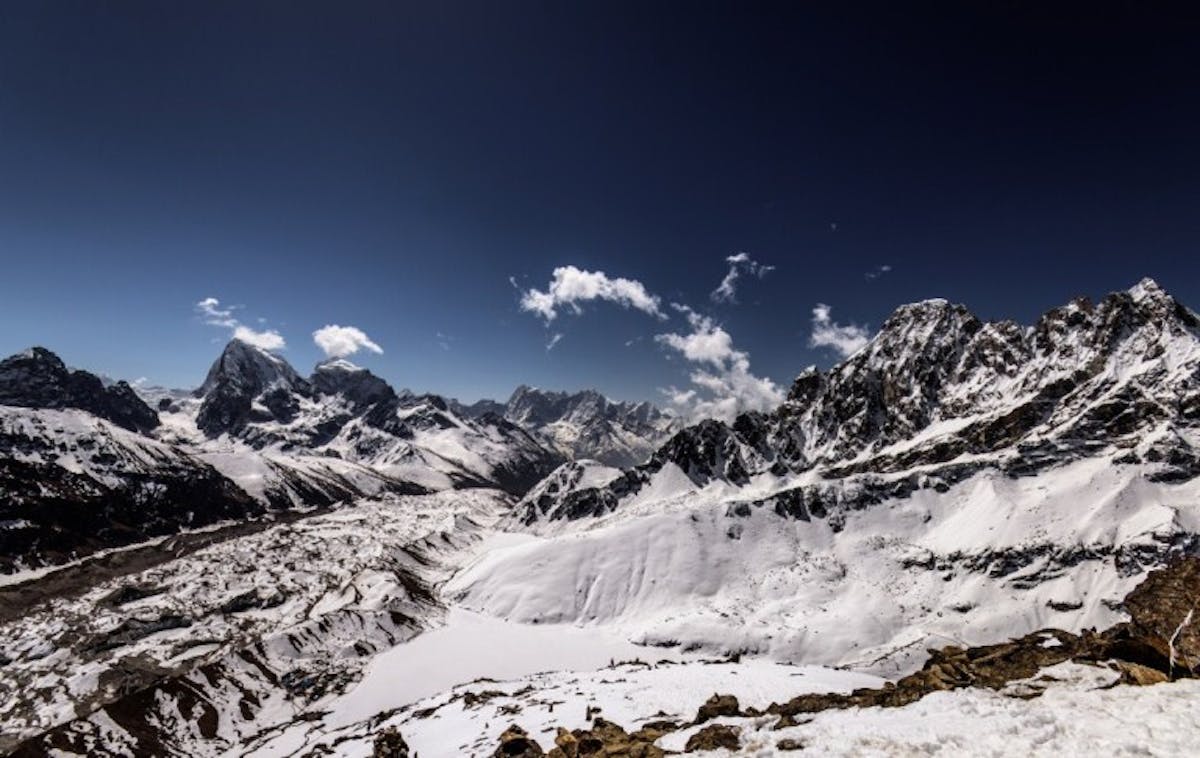 The view from Gokyo Ri summit. The Gokyo Lakes are frozen over here and you can see the Ngozumpa glacier behind the Gokyo lake. PC: Christopher Immanuel
Most of us were awe-struck by the view, oblivious to everything else. But two members on the team, fellow trekker Martin and Trek Leader Ramesh, did not miss the warning signs – there were high clouds over Namche Valley, and they didn't look friendly. Martin had been a meteorologist and a helicopter pilot. Both he and Ramesh knew that we would have to cross Chola Pass – our destination the next day – before a full-blown blizzard could hit us.
After spending around 30 minutes at Gokyo Ri, we made our way to Thangna, our camp for the night. The mountains we grew up reading about in our geography textbooks, were right there- just within our reach!  Everest was massive, flanked by the very beautiful peaks of Lhotse and Nuptse. Makalu joined the cluster. Cho Oyu was solitary, away from the mountains of Khumbu valley, standing as a guard between borders of China and Nepal. I didn't have to remind myself that I was trekking among the highest mountains in the world.
To reach Thangna, we had to cross the tricky Ngozumpa glacier. It was deceptively sunny when we started trekking to Thangna.  Apart from Martin and Ramesh, none of us had an inkling of what was in store.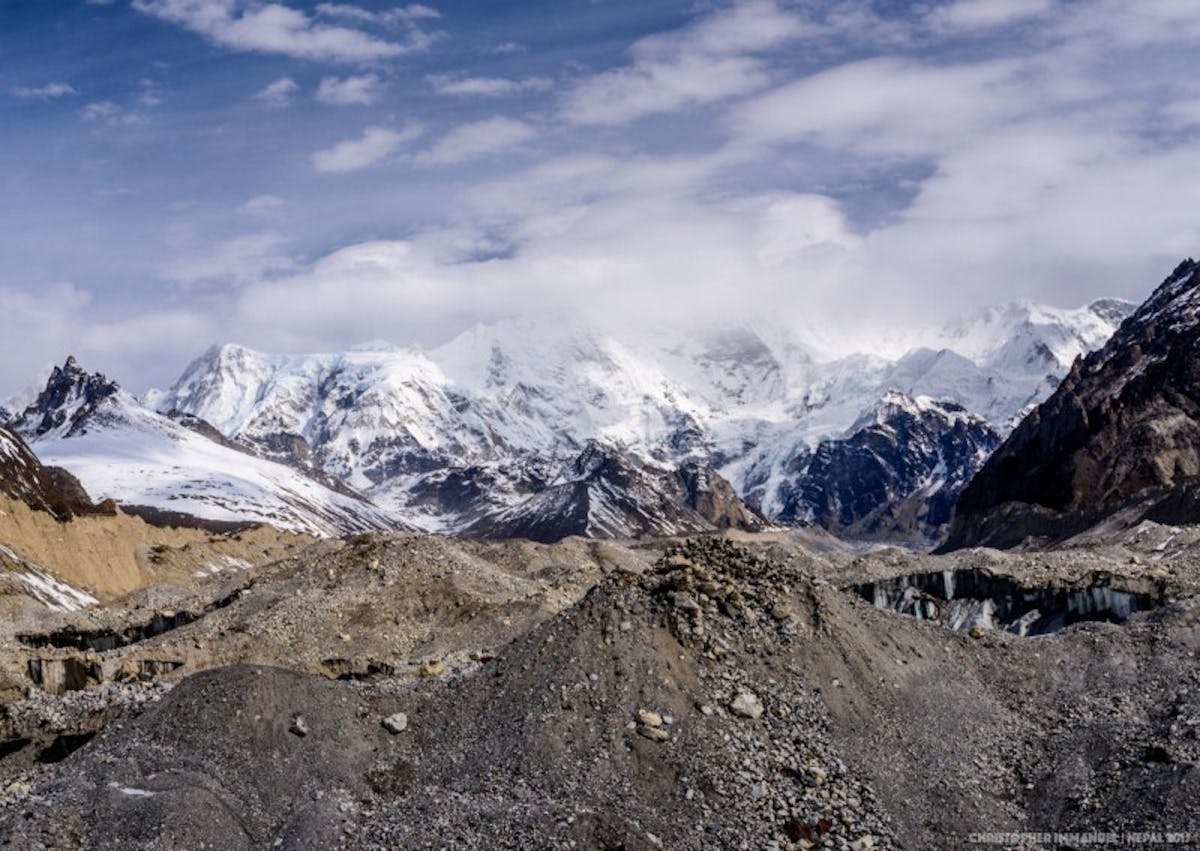 Crossing the Ngozumpa Glacier. Do you see the cloud cover on the distant mountains? PC: Christopher Immanuel
As the day went on, clouds started closing in on us. By the time we reached Thangna, the skies were ominous. Dark grey clouds loomed over us, with shafts of sunlight piercing through. The air around us grew more chilly. After a while, even the little bit of sunlight disappeared.
It turned completely dark.
We thought it would pass.
Here is the caveat when you are trekking among the highest mountains in the world: These mountains act as fortresses against the winds. They trap the wind within them and don't let them out.
On this trek, the mountains that surrounded us – Cho Oyu, Gyachung Kang, Everest, Lhotse, Nuptse – stood especially tall. The clouds were not passing; they were here to stay.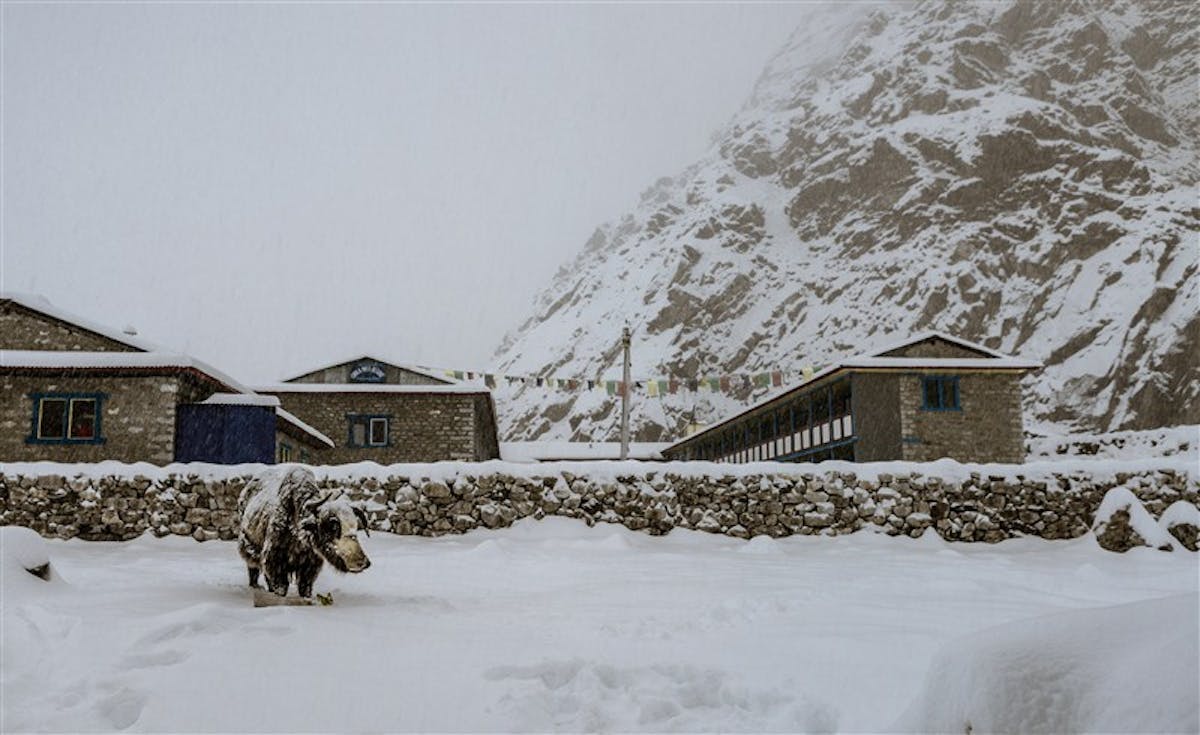 The storm at Thangna. PC: Christopher Immanuel
That evening, the temperature fell steadily until it fell to negative numbers. I remember how glad we were just to have a roof over our heads. We went to bed with our teeth chattering, hoping morning would bring along with it some sunshine.
The next morning, we woke up to 3 feet of snow outside our camp. Turns out, the storm Gods were just getting started. The sky showered powdery ice onto the earth ceaselessly. Our camp, which was brown the previous evening now had a sugary frosting all over.
Knowing that it wasn't safe to go ahead in such bad weather, Ramesh made it clear that crossing the crevasse-ridden Chola Pass was not an option. "Fresh snow hides everything – good and bad," he told us.
The plan he came up with was crazier.
He proposed that we trek all the way to Phortse Thanga, almost to the very beginning of the EBC trek! To give you an idea, Phortse Thanga is the camp right after Namche Bazaar. That's three days of trekking – he wanted us to descend 30 kms  and do it as soon as possible.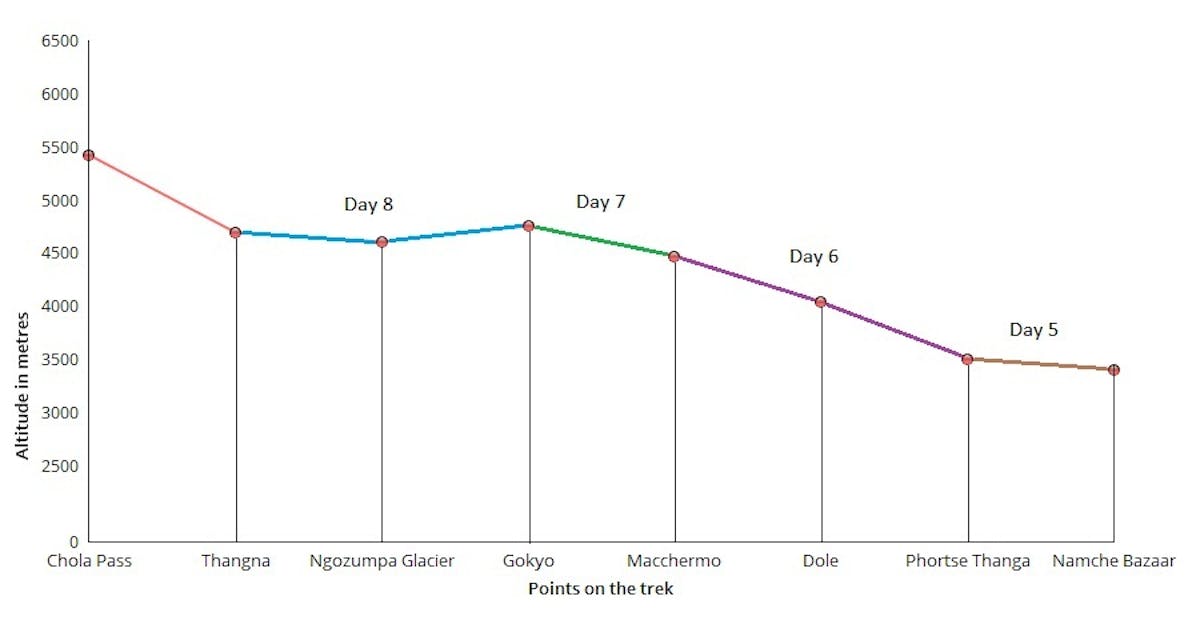 The altitude chart of Gokyo region.
That was the beginning of the most memorable trek of my life.
It is odd to think back to the night before the storm. I had seen the clouds at a distance, but I hadn't given them a second glance. To me, they had just been elements adding to the scenery. I was so confident everything would go perfectly – that we would go to Chola Pass, and then to Everest Base Camp. I had pictured myself looking at climbers' tents at the Base Camp, the massive blocks of ice around Khumbu Glacier. I had been victorious in my imagination! There was never a seed of doubt.
But just 18 hours later, I stood there, bags packed, ready to go, but headed in the direction away from Everest Base Camp. Suddenly, my decisions weren't mine any more. My decisions were being made by the mountains around me.
Thus, we started out from Thangna. The visibility was poor. We couldn't see beyond 10 metres. So our team split into four smaller groups so that we would all be responsible for each other.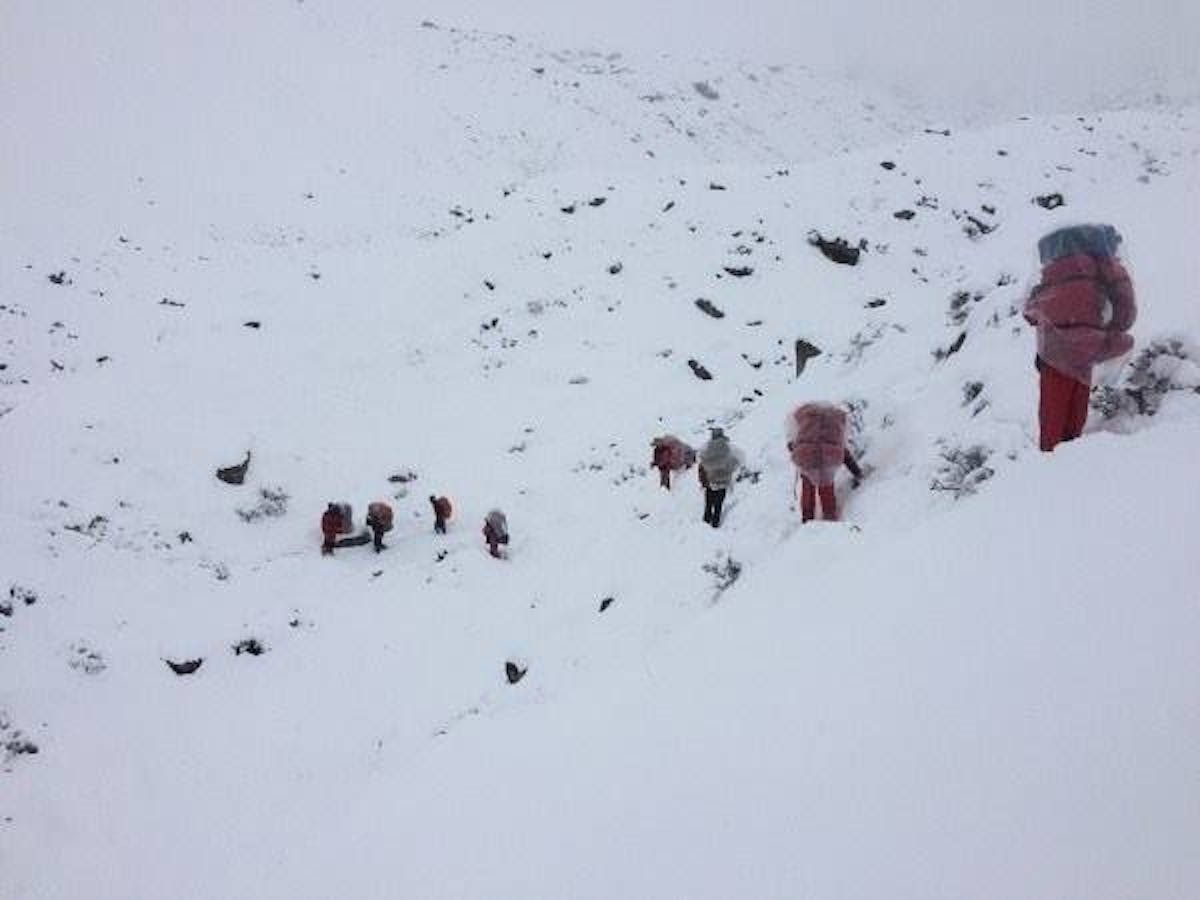 To avoid crossing the Ngozumpa Glacier in this weather, we went further ahead and crossed a glacial stream to hit Gokyo. This is a picture from that trail. PC: Sarah Carter
The blizzard came at us from all directions. We trudged through knee deep, and at times, waist deep snow. The air was cold and sharp, it cut right through our layers. Wind whistled past us, intent on throwing us off balance. It was a full blown storm and we caught in the middle of it!
As for the trail, well, it didn't exist. The most experienced Sherpa, Lakhpa, was carving a trail through thick snow. Lakhpa was from Macchermo. He knew these trails like the back of his hand. For as long as we were with him, we were safe. He took us on a new path from Thangna to Gokyo,  making a trail through the heavy snow, bypassing the Ngozumpa glacier. Crossing that glacier in this weather would have been suicide!
More trekkers from Gokyo joined us as Lakhpa lead the way. I couldn't imagine what we would have done without him. With Lahkpa's guidance, we reached Macchermo in a few hours.
The camp was deserted and covered in 3 feet of snow. There was not a single person apart from us at the camp. They had all seen the storm coming and made to lower campsites.
By now, my legs were tired. My feet were numb. We had constantly descended for 4 hours. It didn't help that my shoes were wet from wading through deep snow.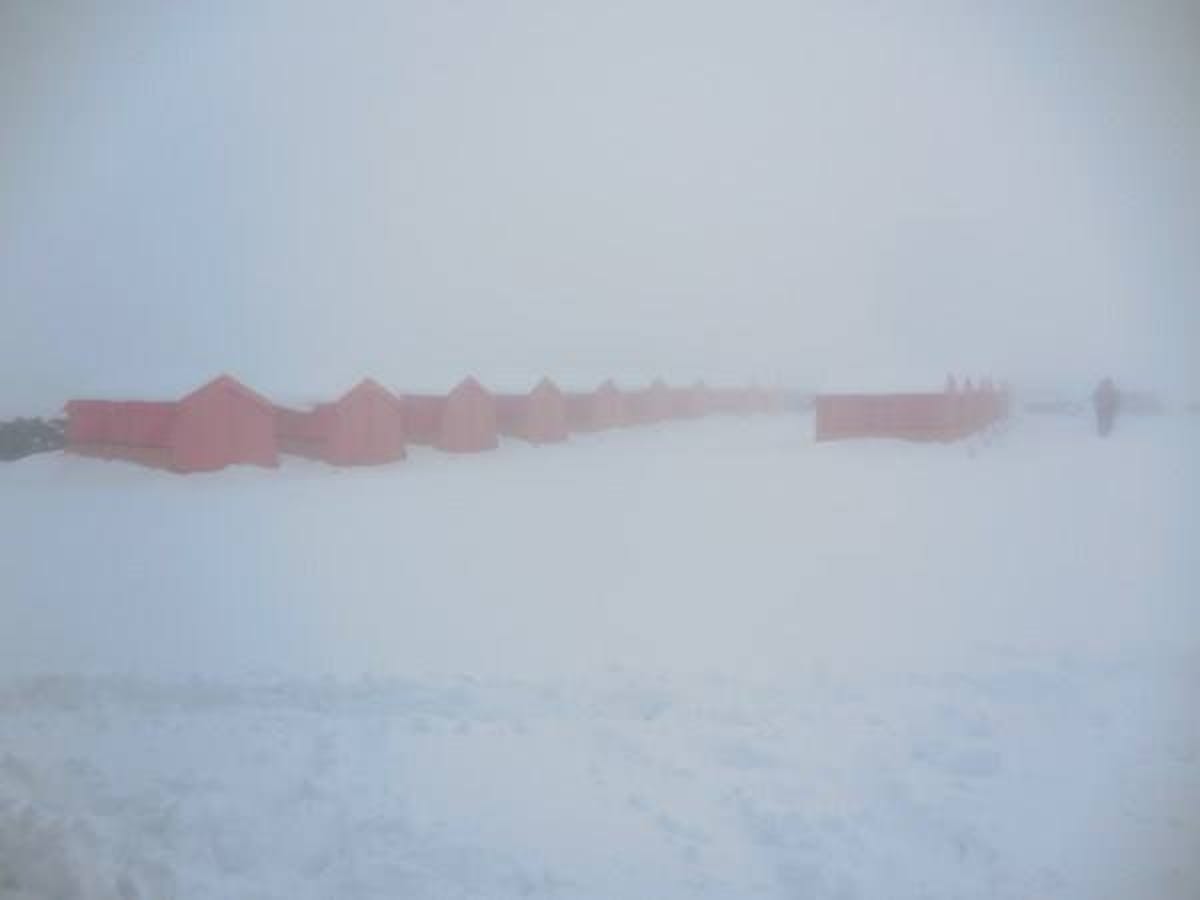 Our lunch stop- Macchermo. PC: Sarah Carter, a fellow trekker.
We stopped for a break to have lunch here. I had been trekking with the second group out of the four we had split into. All through the storm, we had been quiet, just focusing on getting our feet moving through the heavy snow.  That was the first time I had gotten to speak to the team. Martin and few others had the resilience and unfazed quality of mountain goats.  They were optimistic about making through the storm in one piece. Their confidence did not seem to comfort rest of the distraught team, who were questioning their decision to come on this trek in the first place.  I, on the other hand, just felt overwhelmed by the decision of the mountains.
As I was taking time with lunch, I told my team to move ahead. I told them I'd follow them along with the third group. Ramesh, the trek leader was in the third group. Once they ate, I left with them for Phortse Thanga.
Our downhill climb was quite strange. The more we went downhill, the less intense the winds got. In fact, the wind stopped howling altogether. It was just the scrunch of our wet shoes breaking into snow. However, the fog was constantly getting worse.
I got a little impatient with the pace of the group so I picked up speed. Ramesh didn't want to let me go all by myself, so he came along with me. We walked so fast, we zoomed past other trekkers until Ramesh decided to check if everything was okay with the rear guard. He asked me to go ahead to Dole. He would catch up later. So I kept rushing downhill.
I was descending blindly, when suddenly, I realised there was no one in front of me or behind me. The fog was so dense that I couldn't see beyond 5 metres.
It was as if I was in a different place altogether. Just half an hour ago, my surroundings had looked different!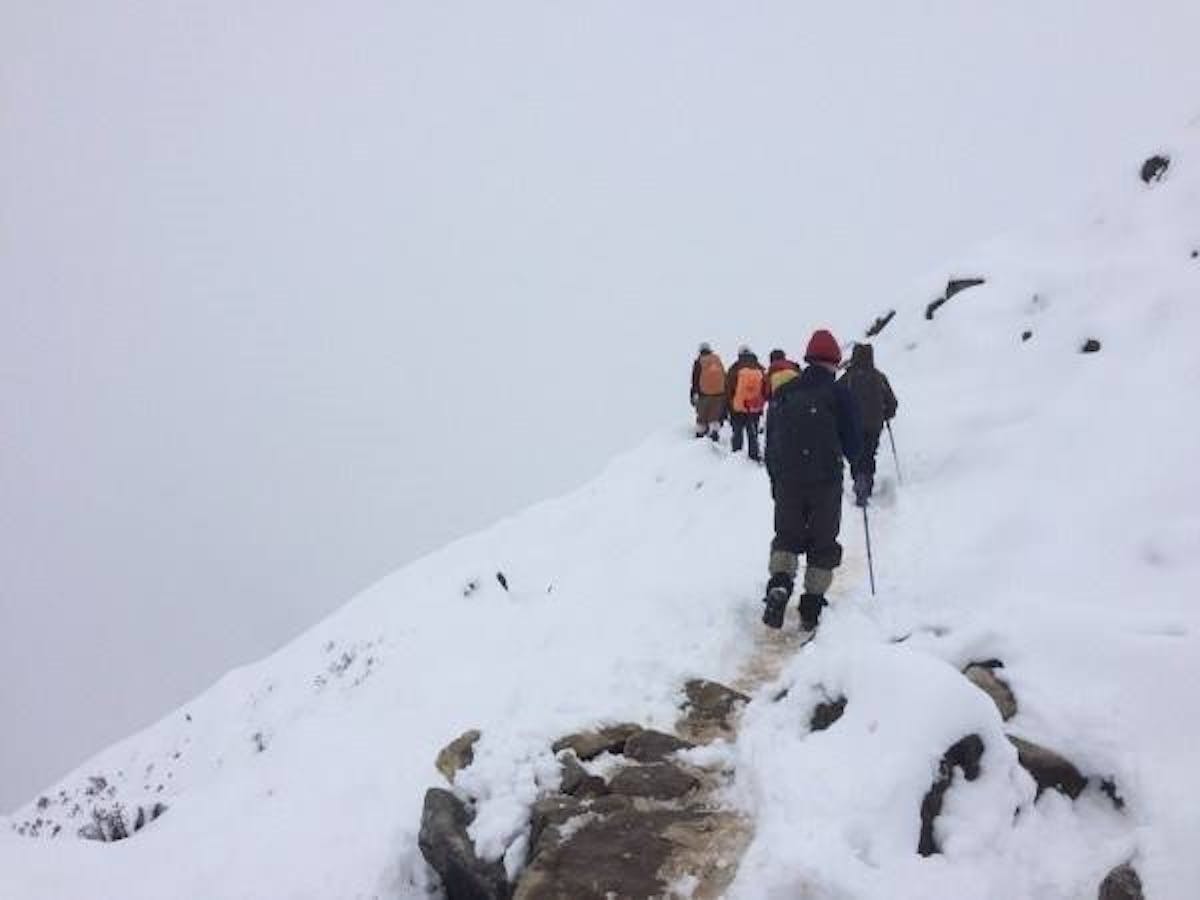 The Dole-Machermo ridge walk. PC: Sarah Carter
I tried to keep calm and remember the trail from Dole to Macchermo. We had walked on this trail few days ago, and yet, I couldn't recognize anything in this weather. If I remembered correctly, the trail was a ridge walk. To my right would be a mountain and to my left, a 200 metre drop. If I were trekking from Dole to Macchermo, Cho Oyu would have been rising in front like a snow wall.  Few days ago, Cho Oyu had been our marker on this trail. Now, with my back to Cho Oyu and no hope of seeing beyond 5 metres in this whiteout, I took my best guesses. I continued to walk.
But there was only so much I could walk. I began getting anxious. What if I'm on the wrong path? What if I walk in the wrong direction and no one finds me? I might even walk right off a cliff and no one will know! My worst fear was that I might lose the will to go on.
My mind was racing. On this snowy, muddy path, everything suddenly looked untrustworthy. Every rock looked like a Yeti. Every footstep like a trap into a crevasse. I was completely paranoid.
Ironically, my surroundings were solemnly quiet, almost mocking my clamorous mind.
I had a few sips of water to calm myself down and try to think straight.
I had planned for this trek for ages. I didn't want my trek to be cut short because I couldn't go on. I didn't want to be the guy who would eventually need a helicopter rescue.
That's when it dawned on me that I had a whistle in my backpack! I pulled it right out. I filled the air with shrill noise from the whistle. That was the longest half an hour of my life – walking around haplessly into oblivion with nothing but a whistle to rely on.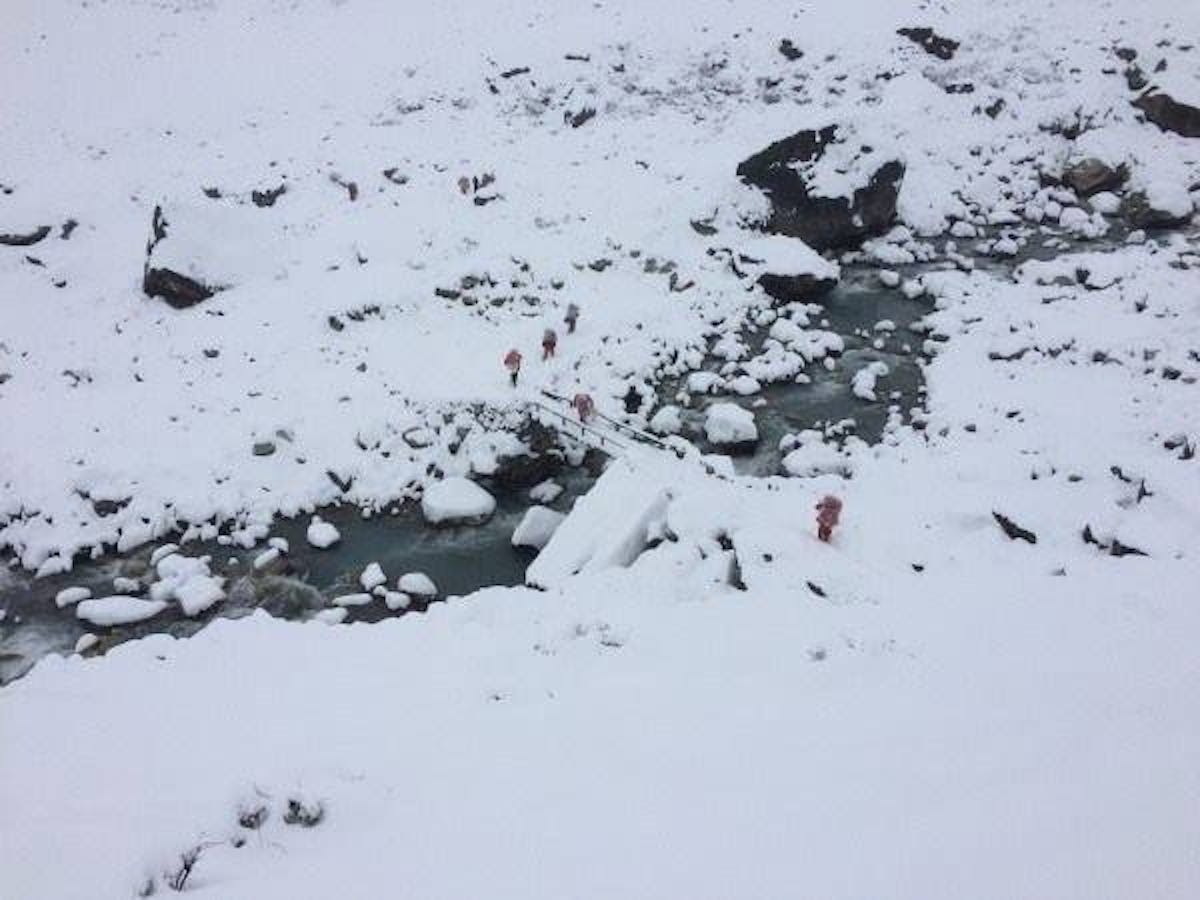 Crossing glacial stream near Gokyo lakes. PC: Sarah Carter
To my relief,  I heard quick footsteps trudging through snow. I blew my whistle harder, hoping whoever it was would come in the right direction.
Slowly, a shadow emerged from the whiteness around me. It was Ramesh! Having heard my whistles, he had come hurriedly to find me. Turns out, I had wandered off course. And I was walking in the wrong direction. More than anything, I was losing hope rapidly.
With Ramesh's guidance, we were back on the trail and reached Dole in no time. I started following other trekkers on the trail as Ramesh waited for the rear guard. The incessant snowfall had stopped.
We had descended from 4690 metres and were now below 4000 metres. The fog had started clearing up. I caught up with the front group who were with Lakhpa. I made it to Phortse Thanga with them.
As I was crawling to Phortse Thanga, I knew I had lived to see another day. I wasn't going back from this trek. I would still complete the trek, even if it meant working harder the next few days! More than anything, that relieved me. Nepal had more to give me.
It was a hard day. It broke many of us, it made many of us. I noticed people crying in their tents that night. I empathised. I had been lost for an endless half an hour, where I walked on hoping my next step isn't off the cliff.  It isn't easy, taking things on faith and trekking in these conditions.
Ramesh spoke to us before we went to bed. He told us the next day was going to be just as hard. We would have had to walk from Phortse Thanga all the way up to Dingboche, the camp before Pheriche. Pheriche is the point you set off for Everest Base Camp.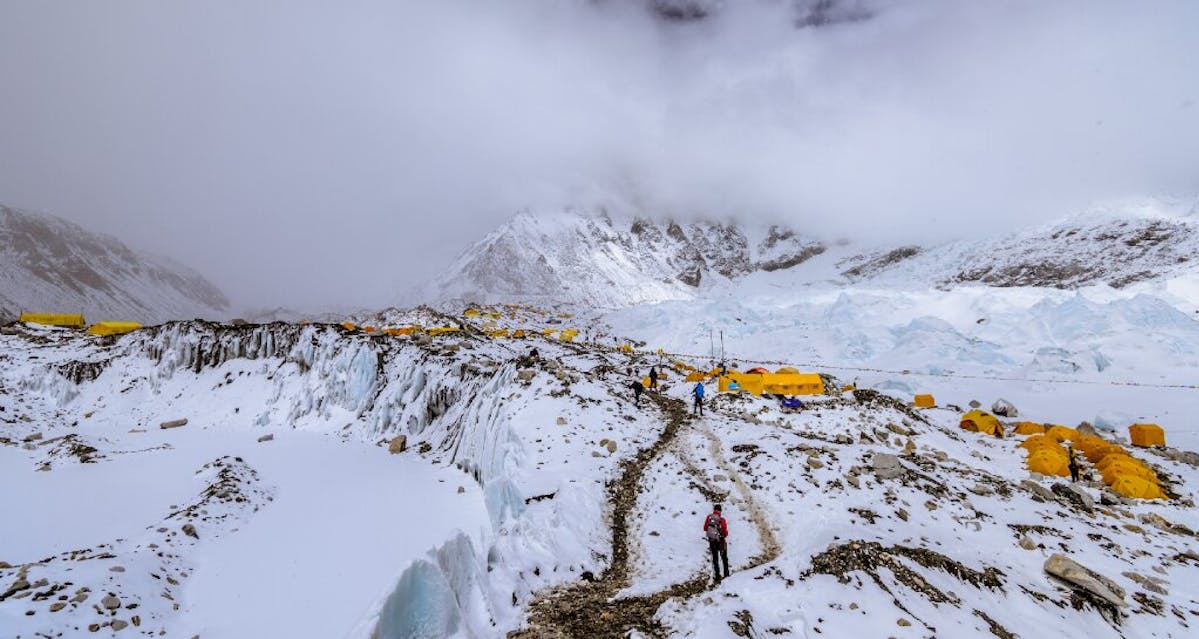 Climbers' tents at Everest Base Camp. PC: Christoper Immanuel
The rest of the trek was a smooth sailing after this storm. We couldn't help but feel a change in us as we headed back from the Everest Base Camp. As were descending to Namche, I remember mouthing "Good luck" to trekkers marching their way up this trail. They didn't know what was in store, what they would get out of this magnificent trek. I hadn't known either. Two weeks ago, that was me – excited about a bucket list trek. I was an optimistic and excited trekker, taking it one day at a time.
This experience made me realise that there is an inviolable belief in us, in all of us, that nothing bad could possibly happen to us. It is a thought bred by living in cities and settling into comfortable routines. Then this thought becomes a part of your psychological make up. However, the mountains change that complacency.
The mountains make you realise that trekking amongst them is not just a bucket-list goal. It transcends all of that. It becomes something that humbles you, something that makes you respect everything else around you before you respect yourself. I know I will be carrying this experience with me wherever I go. A part of me will always wander around the Yeti Valley in Nepal, my spiritual home.
Sign up for our much loved Weekly Mailer
We have terrific trekking tips, trek updates and trek talks to look forward to