The Realities of Trekking to Auden's Col
Share this story
Trudging across the vast snow desert that was Khatling glacier, Arun Joshi heard a shout. One of the snow bridges had given way. It collapsed into a crevasse – taking their porter down into it. 
They rushed to him, as carefully as they could, navigating crevasses. To their relief, they saw that the sacks, bags and sleeping bags the porter carried had arrested his fall. "It was only due to the amount of luggage he was carrying, he was saved. We were able to retrieve him," Arun later recounts.
It didn't end there. After some time, another porter vanished into the ground. And again, near the end of the glacier, his friend fell into a crevasse. "He anchored himself because he was a trained mountaineer. By the time we ran to him, one of his arms slipped and gave away. We retrieved him just in time. He was in shock," Arun says. 
Khatling glacier has a notorious reputation. So treacherously placed are the crevasses that John Bicknell Auden, who explored this route in 1939, came close to a near-death accident himself. His ice axe saved the day. Auden credited his guide for being able to cross this glacier. He called his trek on the glacier "tedious and upsetting" march over severe icefall that seemed to extend to the length of the valley.
The teams that have successfully crossed Auden's Col over the years would be inclined to agree. Arun says, "The entire time we were on the glacier felt like a game of Russian roulette. The question playing in our minds was – Who is going to be next?"
Watch our talk show episode with Arun Joshi, who shares the realities of trekking to Auden's Col
The Glamour of Auden's Col
Auden's Col is a trek that is seen as the Holy Grail of trekking in India. A depression in the ridge between the Jogin and Gangotri massifs, this col is perhaps one of the toughest pass crossings in the country.
The col was first crossed by Geological Survey of India geologist and explorer Auden in the year 1939. It was a feat that could only be repeated in 1983 – 40 years after Auden's initial exploration!
This trek has given many teams a taste of defeat in the mountains, far more than it has let them succeed. Such is the mystique surrounding the trek. However, the glamour surrounding the challenge of the trek has blinded many trekkers from fully comprehending what it is like to trek in Auden's Col.
With stories from Arun Joshi, who did the trek in May 2017, and Mahesh Srinivasan, who finished the trek in June of this year, we'd like to offer a perspective on what it is truly like to be on this trek. Arun's team trekked in the summer after El Nino, when there was absolutely no snow cover on the mountains. Mahesh Srinivasan's team trekked this year, where the mountains saw an unusually long winter and had heavy snow cover. These starkly different conditions would give a more rounded idea on what it is to be on this trail.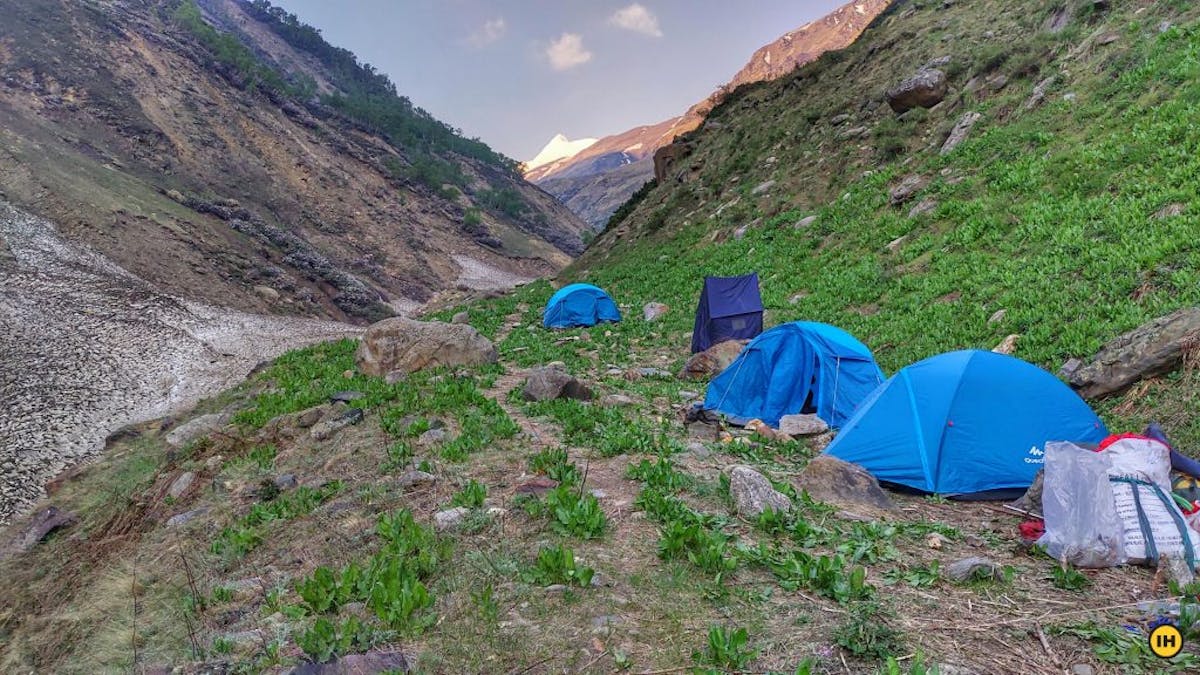 At the Nala campsite on the trek to Auden's Col. Picture by Krithika Mahesh
The Beginning: Rudugaira Valley
The trek begins innocently enough from Gangotri. Located on the banks of holy Bhagirathi river, Gangotri is a hub for climbers, trekkers and pilgrims alike. The Gangotri National Park is home to the glacier that feeds the river Ganga. It is also a host to difficult treks and highly technical peaks. No wonder this park is revered in religious and mountaineering circles.
The first day of the trek climbs out of Gangotri into the narrow confines of Rudugaira valley, populated by Bhoj, Cedar and pine trees. The trail winds through a few landslide-prone zones and hard snow patches, depending on which season you are going in. Compared to what is to come, these sections are relatively easy.
However, it isn't without its fair share of trouble. Mahesh recounts, "There was a section of the path where the snow bridge was not too safe. There was a risk of sinking into the river flowing beneath it. Our guide suggested climbing up higher and traversing on a steep slope to avoid walking on it. However, the slope was filled with loose scree and stones making it highly unstable to walk on! To make matters worse, a family of mountain goats much higher on the slope was causing continuous rockfalls! We narrowly escaped being hit by huge stones."
After traversing through the loose stones to the other side, they found more scree and landslide-ridden sections to be navigated. "There wasn't even a foothold available that could safely carry our body weight. A slip here would have sent us hurtling down 50 feet below!" he says.
"These adventures always seem like fun after they are done, but at that moment our hearts were in our mouths!" he adds.
Heading out of the Moraine soon after Camp 1. Picture by Krithika Mahesh
Rudugaira Base Camp to Crossing Auden's Col base camp
The second day takes you higher to the grazing grounds of Rudugaira where you get your first taste of the mountains. Surrounding the meadows of Rudugaira are the Gangotri group of peaks to the east and the Jogin group to the north.
The real adventure, however, begins when the trail moves out of this camp. There isn't any trail to walk on. You take what Arun Joshi calls "the path of least resistance."
As a lot of glaciers have melted in recent years, the ridges have opened up on the path to Auden's Col Base camp. "There are a lot of loose boulders – which means you can't really walk. Even if you are in a team, there is no section here where you can rope yourself up. You will have to cross these boulders one at a time. If you go as a team, you have a chance of uprooting these boulders, which could cause a snowball effect. You have to be very sure of your footing," says Arun.
The only respite on this exhausting walk over moraines and cracking glaciers is the view. In your climb along the trail, you are greeted by the magnificence of the Garhwal Himalayas. Auden's Col pops into view as you ascend, flanked by majestic Gangotri and Jogin peaks.
You may even spot pugmarks of Himalayan bears and snow leopards on the trail, a reminder of the wilderness you are in. It is this sight that overrides your tired legs, all the way until Auden's Col base camp.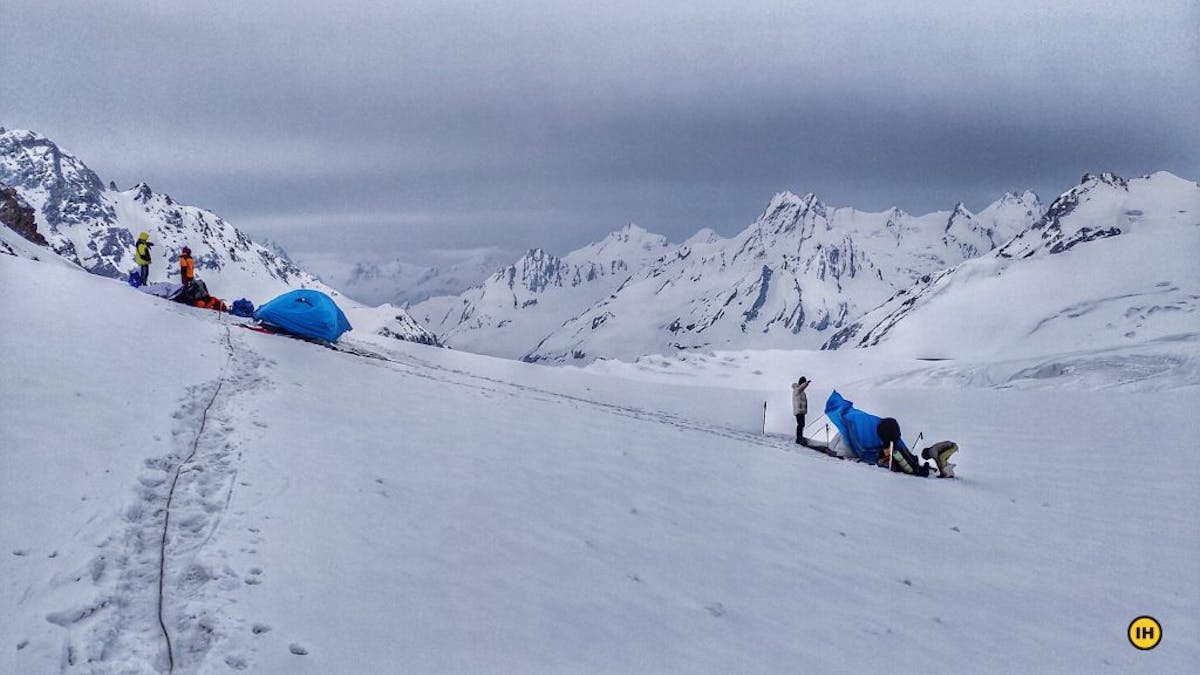 The campsite on Khatling Glacier. Picture by Krithika Mahesh
The push to Auden's col
As with any pass crossing day, the day for Auden's Col crossing starts early. It is easily a 10-12 hour day, depending on the conditions and fitness of the team. The climb to the Col is on a steep slope of hard snow, riddled with crevasses that are about 15 to 18 ft wide. Usually, trekking expeditions rope up here and follow footsteps carved by guides.
For Mahesh's team, the ascent to Auden's Col was a comedy of errors. "Progress on this ascent was painfully slow and the col summit which is clearly visible throughout feels deceptively close. It is a comedy of errors when 7 of you are climbing a steep slope, roped up like criminals. Each person walks at a different pace and wants to stop at different times. There are a lot of calls from different people to stop and start causing confusion, pushing and pulling." he said.
If there is soft snow collected over the slope, the effort on this climb quadruples. Arun Joshi's team spent an hour climbing just the last 100 meters to the col!
Despite one's lungs screaming in rarefied air, legs exhausted by the slog, it is impossible not to be overwhelmed when you approach the Rabbit's Ear of Auden's Col. From the col, you see the Khatling glacier stretching out below you like an expanse of undulating white dunes, flanked by mountains of rock and ice. You are at one of the highest points you could be in Garhwal Himalayas.
The euphoria of this moment is snapped away the moment you look at the descent. A steep 70-degree snow gully to the base of the glacier!
"The entire day of trekking is so long that by the time you reach the base of the glacier rappelling down the gully, you are out of water. And there is no water source there. You will have to eat snow," recollects Arun. "It is not a pleasant experience."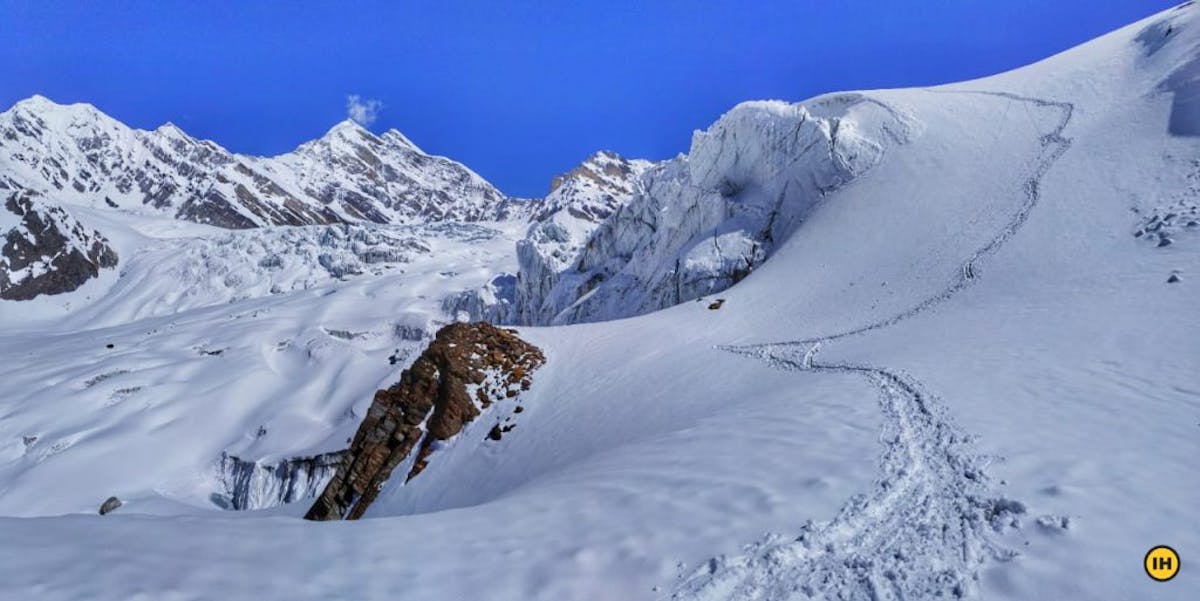 A stunning view of Khatling glacier. Picture by Krithika Mahesh
From Khatling to Bhilangana Valley
The traverse over Khatling Glacier is downright dangerous without a sure-footed, experienced guide. While Arun's team saw team members going into a crevasse one by one, Mahesh and his team spent three days on Khatling glacier due to bad weather. They barely had food in those three days — sometimes there wasn't space to set up kitchen tent, sometimes their stove malfunctioned in the cold.
Towards the end of the glacier, Arun's team had de-roped, thinking there are no more crevasses to cross. It was right then his friend fell into a crevasse. He had to anchor himself to stop his fall so that Arun and the team could save him.  Far more than the Auden's Col, the teams felt lucky they survived the Khatling Glacier.
Auden himself believed that his guide was the reason that he could traverse this treacherous glacier. "It was largely due to his fearlessness and athletic balance that we managed to get down through the maze of block, wedges, and crevasses. On this day he excelled himself with absolute sureness on difficult ice. The end of the day was his and we all acknowledged it" he had written. 
"Even the exit from the glacier is tricky! We could not just walk straight out of the glacier into the snout of the Bhilangana river. We had to traverse through a section full of large car-sized boulders and climb up a hill to get down on the other side," Mahesh says.
It is only after you enter the remote and wild Bhilangana Valley do you relax. You are back in lowlands — meadows and dense jungles all the way up to Gangi village. After days of walking over moraines, snow and ice, being back on flat ground is a humongous relief.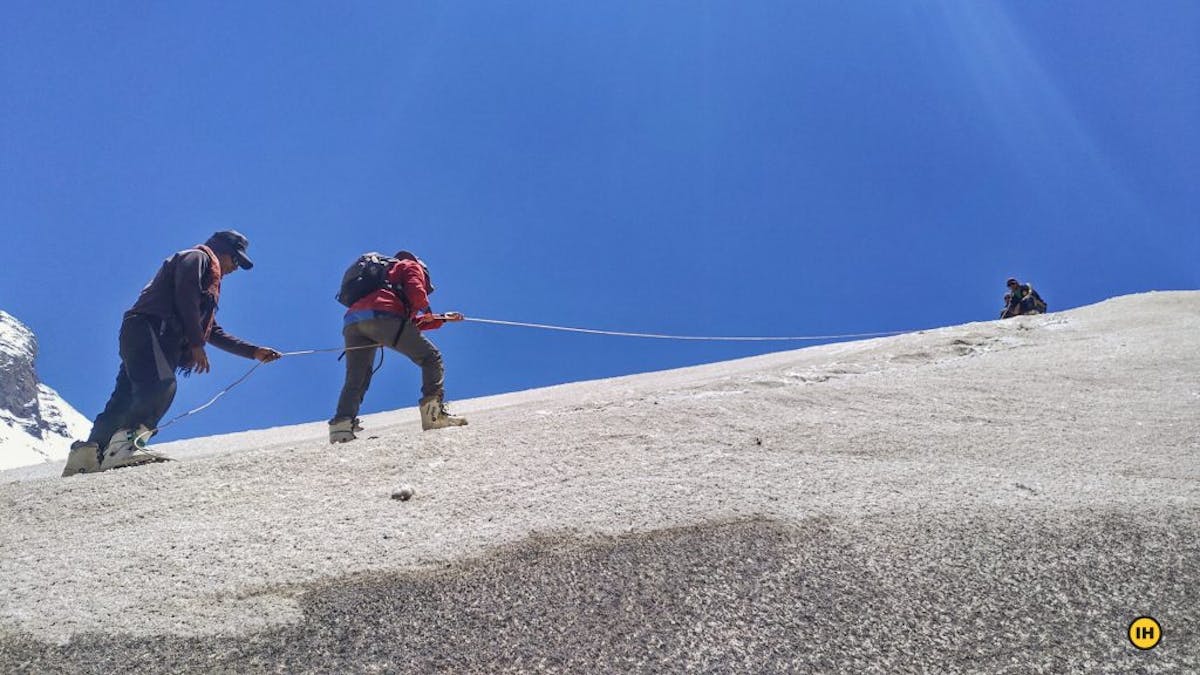 Climbing the steep sections of Auden's Col with a rope. Picture by Krithika Mahesh
Reflections after climbing to Auden's Col
"It's not really a trek you do for beauty," Arun observes. "Most of us do it for the mental challenge… Of course, physical strength is a given, you have to be at your fittest best. But you must have the experience to navigate tricky sections, that's where the challenge lies. Where to put my foot, how do I cross this river, how do I navigate this crevasse?
"At 17,000 ft, with no water, snow all around, ensuring you don't step into a crevasse, escaping rockfalls, navigating boulder zones, this is a trek that requires you to be mentally on alert throughout. You cannot let your attention wander. A small fall can jeopardize the entire trek. "It's not really a holiday. You have to be okay to take on the misery of this trek," Arun concludes.
Being on Auden's Col is challenging and often miserable, and certainly not glamorous. It is not a trek that you do to "conquer" it. Being okay with taking on misery is an important quality to have on difficult trekking expeditions such as this one. Treks like this one require a certain amount of self-sufficiency from the trekker — to not only be able to traverse technically tricky sections but also have an ability to save himself/herself at the end of the day. This requires a good amount of experience in the mountains. Only with experience and skill set that can make you a self-sufficient trekker, can you consider doing this trek. Along with a knowledgeable guide, of course.
As Auden himself noted: "The col is not one that could be crossed by unequipped parties."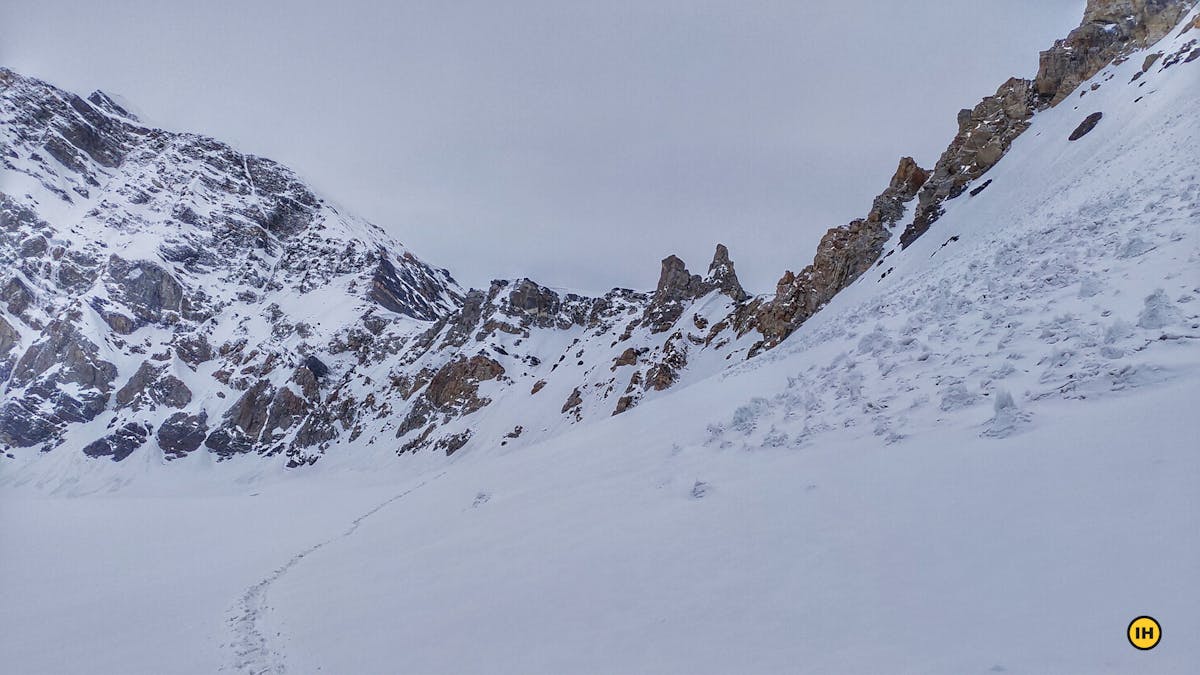 Looking back at Auden's Col from Khatling Glacier. Notice the Rabbit Ear flanking the col. Picture by Krithika Mahesh
If you have ever done Auden's Col, share your stories in the comments section below. We'd love to hear them.
Sign up for our much loved Weekly Mailer
We have terrific trekking tips, trek updates and trek talks to look forward to