How Six Days With My Dad At Kuari Pass Got Me Hooked To Trekking
Share this story
In all these years, I had never thought about spending exclusive time with my dad. Mostly all four of us — mom, dad, my younger brother and I –did stuff together. Although I felt bad when Amma had to drop out of the trek due to a personal emergency, it turned out to be a great opportunity in disguise for me. It dawned on me that six days in Daddy's company would be a totally new experience. While there was fear combined with apprehension, excitement overpowered everything.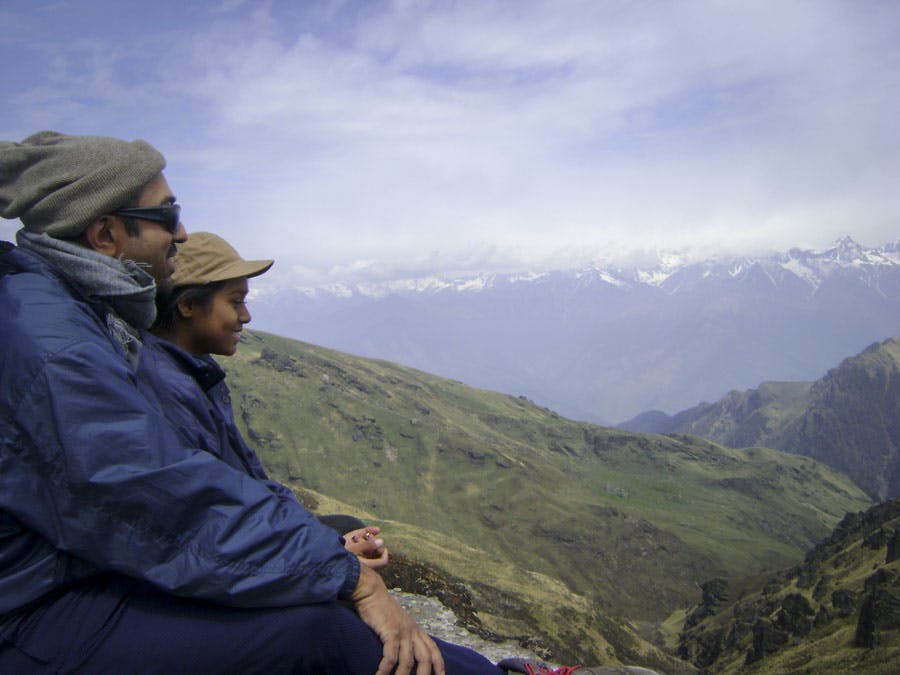 Embarking on a new adventure
As we prepared for the trek, a lot of questions jostled in my mind. What sort of trek mates would I meet? How interesting would it be to spend the next few days in the company of only strangers?
Before I could sort these thoughts out, all of us were in a van on a 12-hour journey from Haridwar to Joshimath! On alighting, we had to climb a flight of 50 stairs, a mini trek in itself. That is when trek members started casual conversations, mostly joking and teasing each other. At the Joshimath accommodation, the most exciting bit for me was the dormitory. While most adults had concerns and questions, I thoroughly enjoyed sleeping in a dorm!
Reaching Gulling, our first campsite 
Day 3: After brief introductions with our trek leader Tanmay, we started our trek from Dhak village. The first two hours was a killer ascent in hot weather. We stopped every half-hour for a water break. Slowly we left civilization behind. At Krachi village, it was fascinating to see how the village folk grind flour using a water-powered mill. After a brief stop for lunch, we trekked to our first campsite — Gulling.
Gulling is located in a clearing in the jungle. We were welcomed by the kitchen support staff with hot tea and channa. We hogged like we were seeing food after ages. By now the temperatures were dipping and we could feel the thin mountain air. We needed several warm layers.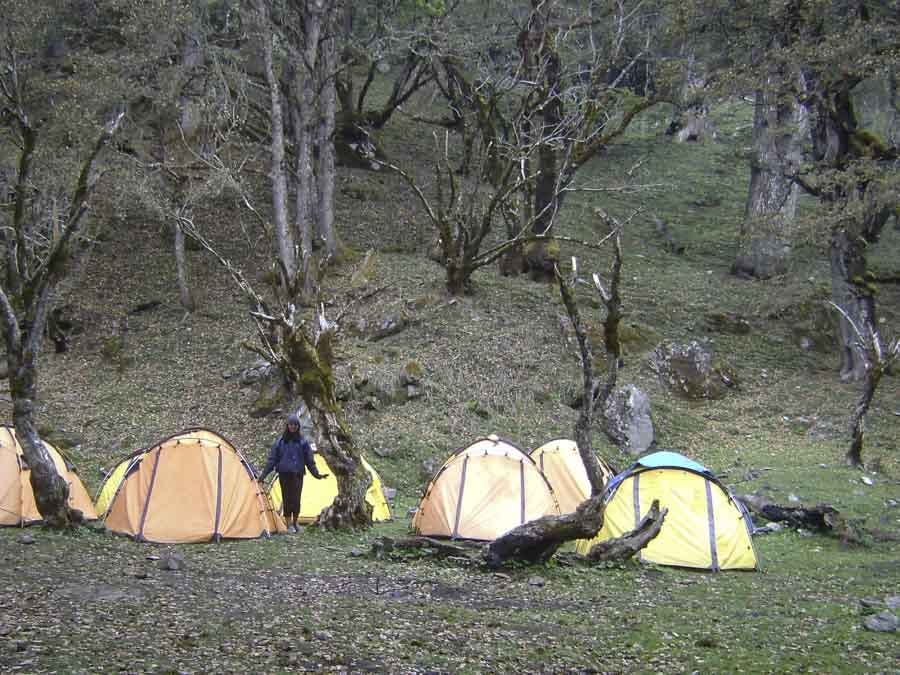 We huddled in the dining tent and played a game of Mafia. This helped us acclimatize and know our fellow trekkers better. We retired early and were asleep by 8.30 pm.
A short trek to Khulara, campsite 2
Day 4: I woke up with a slight headache, but now I knew how to fix it. I kept myself well-hydrated and trekked at a steady pace. Believe me, I did quite fine and also felt in sync with nature. I decided to stay in the front with our guide and ditch Daddy for the day. I had realised that both of us had fun because we were in the company of others whose lives were inspiring.
The trek was a lot shorter than that on Day 3. By 1 pm we reached campsite 2, Khulara (11,000ft). This campsite is a beautiful flat meadow surrounded by a lot of snow-covered peaks.
Tanmay briefed us on some of the peaks visible from the campsite. I was thrilled that we were so close to them. My dad and some of the others played cricket. Meanwhile, we discovered a few animal bones, which made our Khulara stay more eerie and interesting! Finally, we decided to head to our tents and call it a day.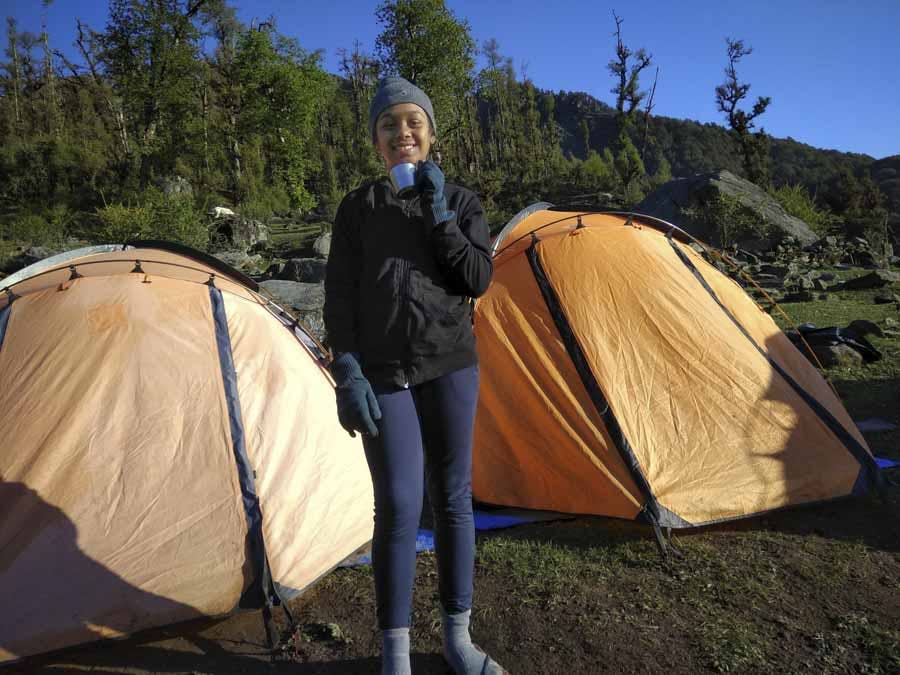 Youngest to summit!
Day 5: The excitement was palpable that morning because it was Summit day! After breakfast we collected our dry fruits and then we were off. It was a 3-hour climb and a 6-hour descent. We summited Kuari Pass at around 12.30 pm. The therapeutic experience when you summit is something you cannot replace with anything else. The mountains and nature communicate so much… which we fail to recognise when we are busy.
I, the youngest of the lot, was the third to summit, successfully completing the Kuari Pass trek of 13,052 ft. After our photo moments at the summit, our trek leader pointed out and named each of the 42 peaks we could see from the top.
Then we began our descent. Six hours of trekking later, we reached our next campsite, Talli. It was completely surrounded by jungle; even going to the toilet was an adventure involving crossing a river.
Back to the plains
Day 6: It was a long day with a 7-8 hour descent. There was a lot of rain and hail but very little snowfall. We also had to walk about 5-6 km on a ridge, i.e., flanked on one side by the mountain and a 1,000 ft. drop on the other side. Scary but exciting.
Soon it was all over. All of us were in denial and refused to leave the mountains. I got another opportunity to relive my wonderful dormitory experience. We all stepped out for dinner and then hit snooze mode.
First trek – more wonderful memories than accomplishment
When we finally reached Bangalore, all I was looking forward was meeting my mamma and my little brother. By the way, the mountains do teach you to deal with emotions as well.
Now when I look back… I have so many memories that bring a smile to my face.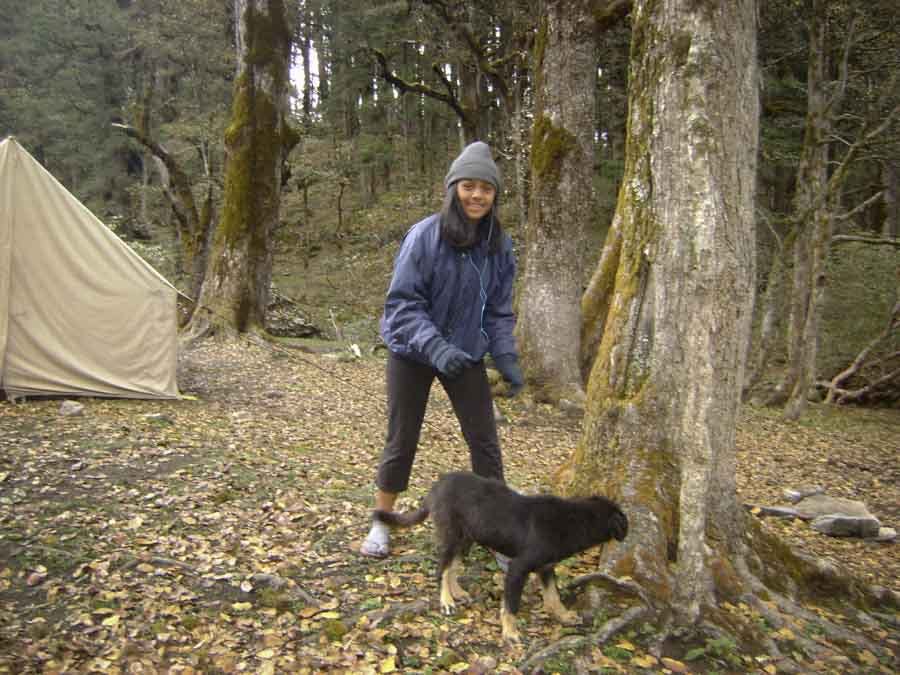 There were the times when all of us would keep asking our trek guide Pankaj, "Aur kitna door hai?" and his standard answer would be,"Aur thoda hai." And the times when our trek leader told us to set our watch according to mountain standard time and not be late. The times when Daddy and I shared a lunch box so that we wouldn't have to wash two lunch boxes [the water was just freezing].The times when we would sit and ponder in the middle of the night whether or not to use the washroom [because it takes literally 15 mins for you to get ready to go to the washroom].
There were instances when we would all sit in the dining tent refusing to go out because it was too cold and have the most hilarious conversations. We were totally okay compromising on hygiene. Can you imagine anyone contemplating whether or not to brush their teeth [because our hands would get numb and we wouldn't be able to use them for a while]? Having a bath was anyway restricted, which we were immensely thankful for!
Already yearning for my next trek
It's almost been three weeks since the trek now and I still have so much to share in every conversation with people around me. Trek moments will always linger with me. I have been throwing hints at home already about going on another trek. So, hoping to see you guys soon! 
Parting note
A big thanks to India hikes and their staff: Tanmay – Trek leader, Pankaj – Guide, Amar Bhai – Co-guide and Rakka Bhai –kitchen in-charge, for his delicious food, especially his soups.
A note from Maanya's father
"My daughter threw pleasant surprises at me every moment. It dawned onto me that she is super courageous, yet calm in her ways. She also picked up smart life skills – pitching tents, understanding altitude and AMS, living with minimal resources. Now the narrative at home is, "Whether anyone joins me or not, I am off for the trek." Both my wife and I are glad that a Dad and Daughter trek has added a beautiful streak to our relationship. I would highly recommend that if you love trekking, try it out with your child. Those uninterrupted moments of silence can never match the urban chaos. We are planning to repeat this experience while my wife treks with our 6 year old son!" – Nandan Kumar, Maanya's father
Sign up for our much loved Weekly Mailer
We have terrific trekking tips, trek updates and trek talks to look forward to