3 Unconventional treks for first-time trekkers
Share this story
Today I want to share three treks that first-time trekkers rarely see.
But before getting to that I want to ask you something. Is it necessary for a first-time trekker to always start with an easy-moderate trek? The answer may surprise you.
"We usually advise first-time trekkers to start with an easy-moderate trek. But it's not necessary. If you are physically prepared, you can start with a 'moderate' level trek too," says Nandana Kamasani, Head of Experience Coordination at Indiahikes.
First-time trekkers need to know this. Even if you have never set foot in the Himalayas, you can do a 'moderate' level trek, which climbs up to 15,000 ft. The only condition: you should be prepared.
But hang on, not all 'moderate' level treks suit a first-time trekker. There are some that I wouldn't advise a first-timer to try. A good 'first-time' trek is one that gets you hooked on trekking. It is a trek that has the best of all worlds. From great forests to superb mountain views to open grasslands and also a thrilling adventure.
I want to share three offbeat 'first-time' treks with you today. I'll also tell you why they work well as a first Himalayan trek, even though they come in the moderate (Level 2) category.
Let me start with the most off-beat trek on the list.
Ranthan Kharak Trek | Moderate (Level 2)
This trek is in Kumaon. It has big mountains, magnificent forests, undulating meadows, and vast clearings. Kumaon is largely unexplored and has received little attention from trekkers. Kumaon's Ranthan Kharak trek is one of the many undiscovered trekking gems in Kumaon.
From the Ranthan Kharak trek, India's highest peak, Nanda Devi, is visible, as is its sister peak, Sunanda Devi (also known as Nanda Devi East). We can see the sun rise over these two formidable peaks from our Chophu camp. On our right, sticking out of the clouds, is the jagged peak of Nanda Kot.
On the far east, we have Mt. Mrigthuni. On the west, the five magnificent Panchachuli peaks are visible from the Ranthan Kharak ridge.
But there is more to Ranthan Kharak.
The forests are exceptionally dense and deep. Flora and fauna enchant every moment. The trees and birds in the virgin forests are just as diverse as the ones we see on our Goechala Trek.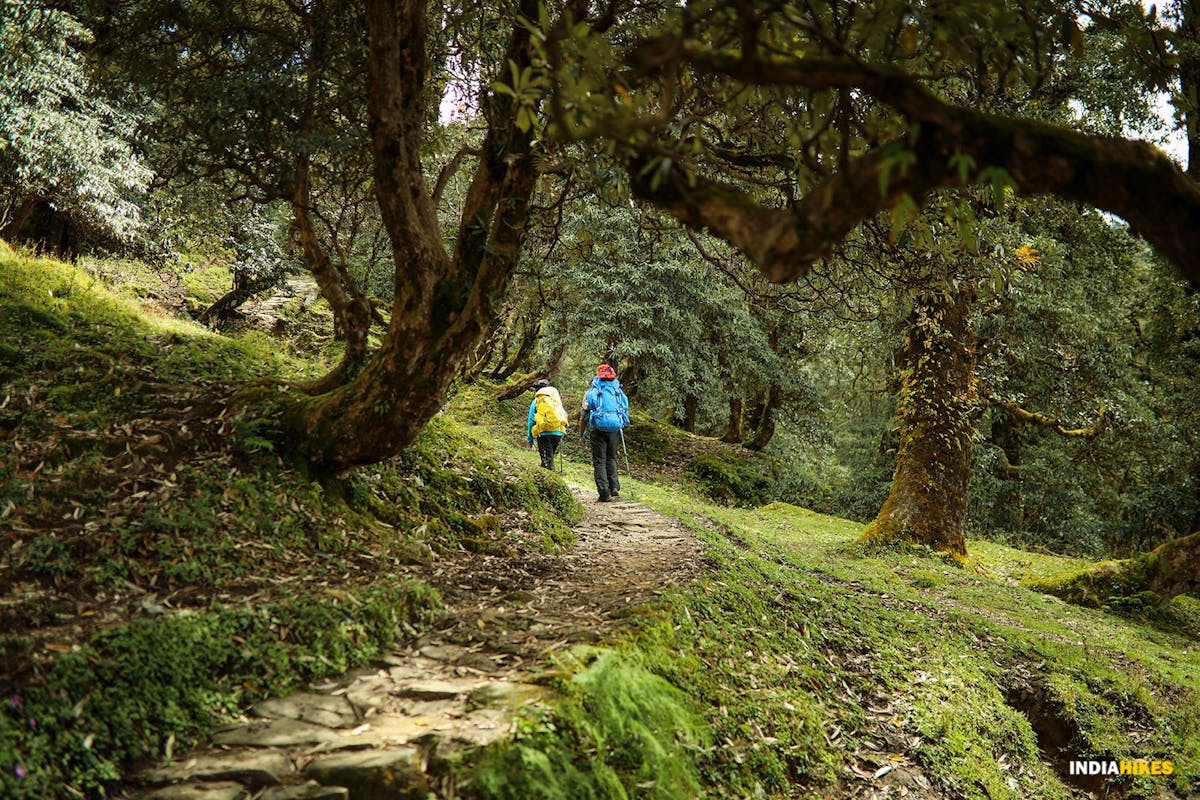 The diverse, dense, and virgin forest of Ranthan Kharak trek. Photo by Jothiranjan.
Kharak means "clearings" in the local language. On this trek, there are some stunning clearings to trek through. In two such clearings, we set up camp. You don't get to camp in such settings every day. Frankly, we find the clearings on the Ranthan Kharak trek more beautiful than those on the Kedarkantha.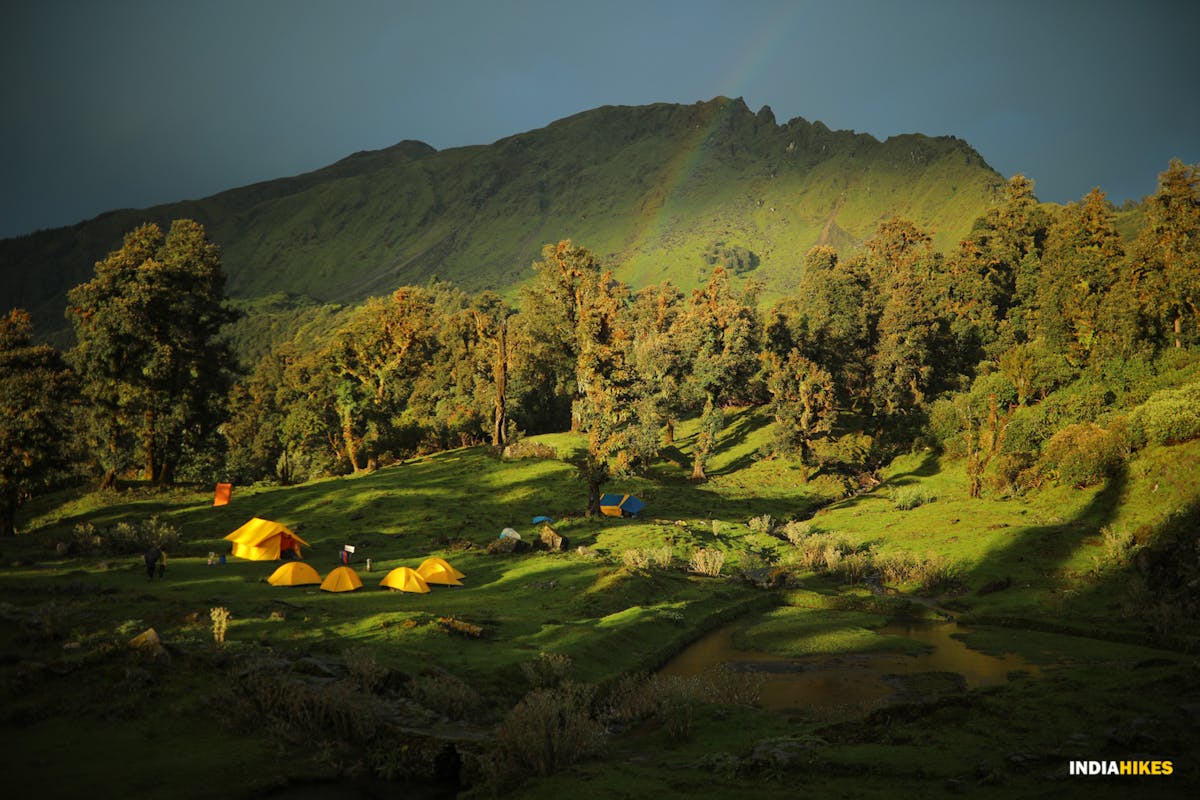 Camping in the charming Bajimanian Kharak. Photo by Jothiranjan.
Ranthan Kharak Trek is a gem in the Kumaon Himalayas that our trekking community still needs to discover. It is a rare opportunity that you must not let go of.
To get an idea, watch this video about the Ranthan Kharak Trek:
View Ranthan Kharak trek
Ali Bedni Bugyal Trek | Moderate (Level 2)
The Ali Bedni Bugyal is arguably the most beautiful alpine meadow trek in our country. The twin meadows are so vast, that if you wish to explore them fully, you would need two full days. (Watch: Why we love Ali Bedni Bugyal trek)
The scenery is breathtaking, with the vast greenery stretching out before you. The ground beneath your feet is soft and spongy, with patches of wildflowers dotting the landscape. The air is cold, crisp, and fresh. Mt. Trishul and Mt. Nanda Ghunti tower over the meadows in the distance.
The trek is not only about the meadows. Walking through the ancient oak forests on this trek is also something to look forward to. These woods are home to trees over 800-1,000 years old. The tall trees create a natural canopy that blocks out much of the sun, casting a dappled pattern of light and shade on the forest floor. The oak trees are truly impressive, with their thick trunks and gnarled branches stretching upwards towards the sky.
The forest floor is covered in a layer of fallen leaves and twigs, creating a soft and crunchy surface beneath your feet.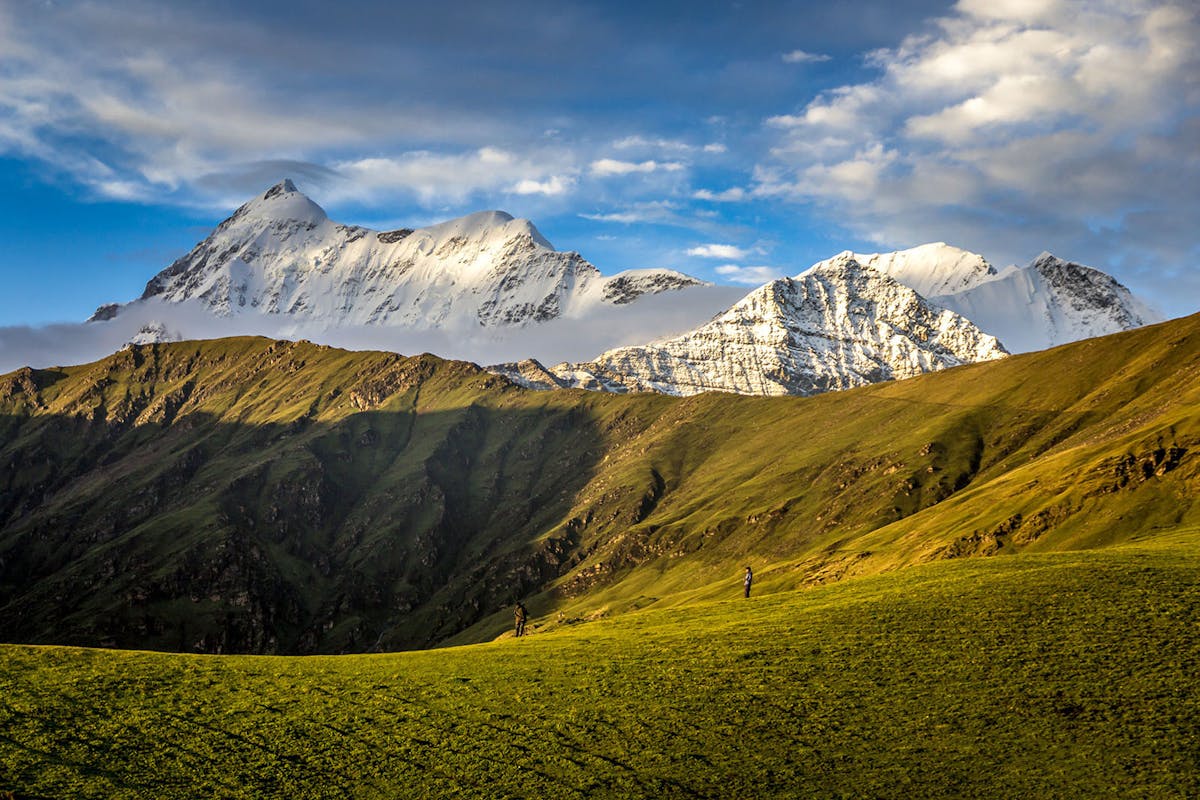 Mt. Trishul rising over the Ali meadows. Photo by Tarun Gupta.
View Ali Bedni Bugyal Trek
Phulara Ridge Trek | Moderate (Level 2)
Finally, we have a trek which most first-time trekkers don't try, but they must — the Phulara Ridge trek.
It is one of the most coveted ridge treks of our country. It has a 3-hour long ridge walk, with a 250 degree view of the magnificent snow-capped mountains from the ridge.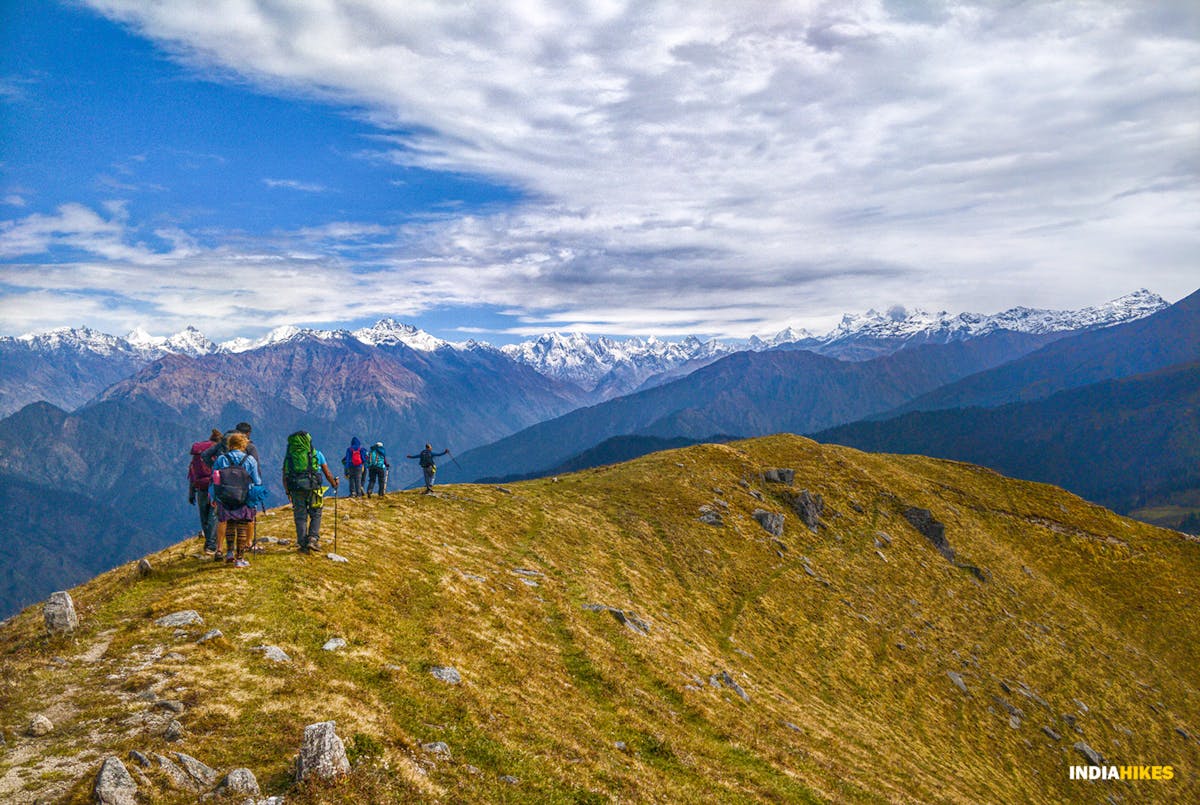 The stunning Phulara Ridge with 250 degree view of snow capped mountains. Photo by Oishy Halder.
Just below the ridge, the charming meadows of Bhoj Gadi and Pushtara are almost too idyllic to be true. Tiny flowers in myriad colours pop out under your feet as you walk on these meadows. Which is why the trek is also called "Phulara" meaning flowers.
Phulara Ridge trek is also known for its secluded forest. "These forests have rarely been trodden on. You are likely to be the only ones on the trail," shares Suhas Saya, Head of DIY and Exploration at Indiahikes, who explored the Phulara Ridge trek.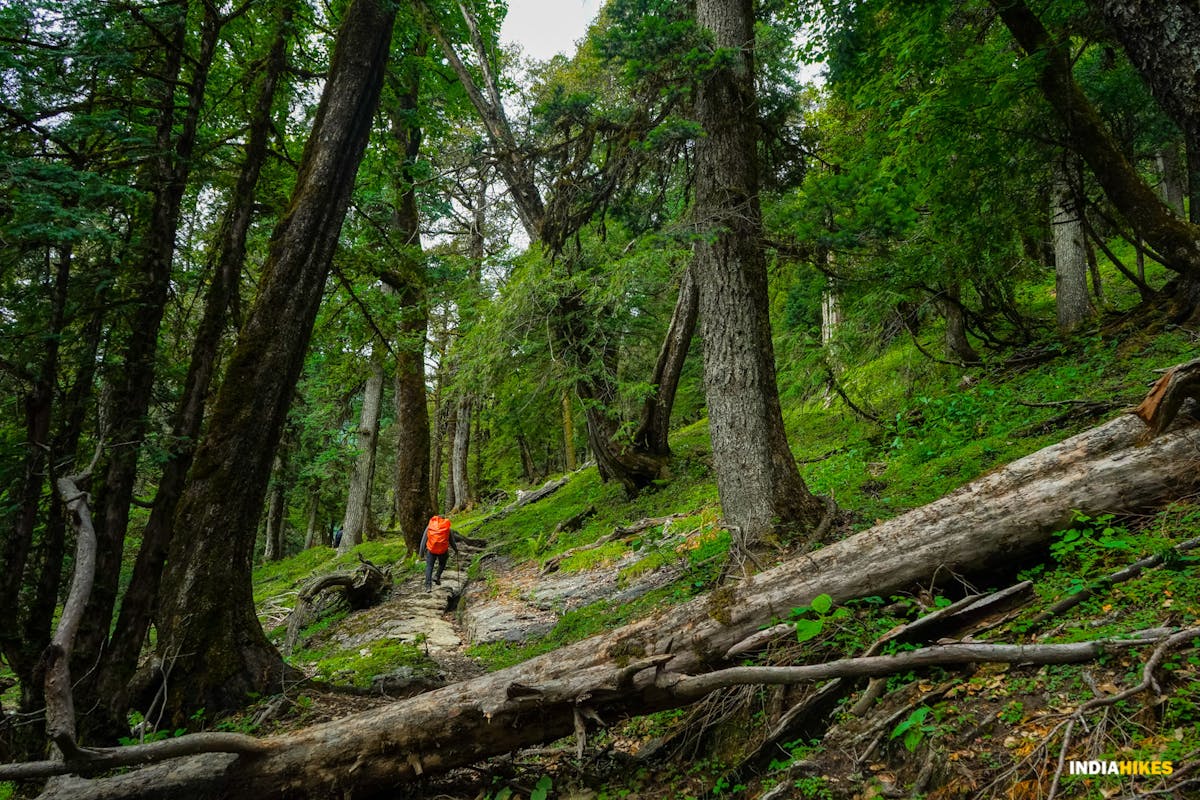 The secluded forest on Phulara Ridge trek. Photo by Abhishek Kumar.
The trek also has some lovely clearings to walk by. This region is known for its pretty clearings and the trek does not disappoint.
But it's not a trek which requires prior trek experience. In fact, as a first trek, it gives you an incredible perspective of what true adventure in the Himalayas can feel like.
View Phulara Ridge Trek
That brings me to the end of the list.
Sometimes trekkers don't step on some of these great treks assuming they are meant for more seasoned trekkers, simply because they see a different difficulty rating on the trek. What it requires is preparedness and good fitness. With that you can be one of those trekkers who get to experience these rare offbeat treks.
If you need any help with these treks, drop in a comment.
Sign up for our much loved Weekly Mailer
We have terrific trekking tips, trek updates and trek talks to look forward to